Every time I recall the second-generation Honda Legend – and it has to be a mental picture, because I haven't seen one for yonks – I cringe. I get one of those near-disaster shudders, a flashback of embarrassment.
One evening in 1993, having gone to some sort of press event in the West End, I slipped into the driving seat of a white Legend saloon to drive home. I'd offered a lift to a couple of journalist friends, and off we purred in this most extraordinarily comfortable of executive cruisers, gassing away as we circled around Trafalgar Square and I aimed for the gap of Admiralty Arch.
How much is your car to insure? Find out in four easy steps.
Get a quote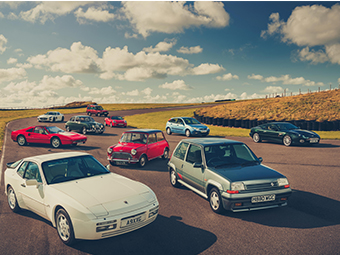 Then, as now, The Mall is one of the widest, least cluttered thoroughfares in London, and a little pressure on the throttle saw the big Honda surge down it towards Buckingham Palace. I'd just branched off right up Constitution Hill when a blue light flashed behind me.
Did I realise, said the officer, as he studied me blowing into a breathalyser bag, that I had just been doing 60mph "…Sir." I had to admit, with genuine surprise, that I didn't. The single glass of free wine consumed earlier meant I was sober: "Is this your car, Sir?" For that week, yes, but the £27,700 vehicle was Honda UK's property. I could see my friends sniggering away inside it. I seemed to stand there for hours, waiting to feel the impact of the book being thrown at me as the policeman radiated his power and considered his options.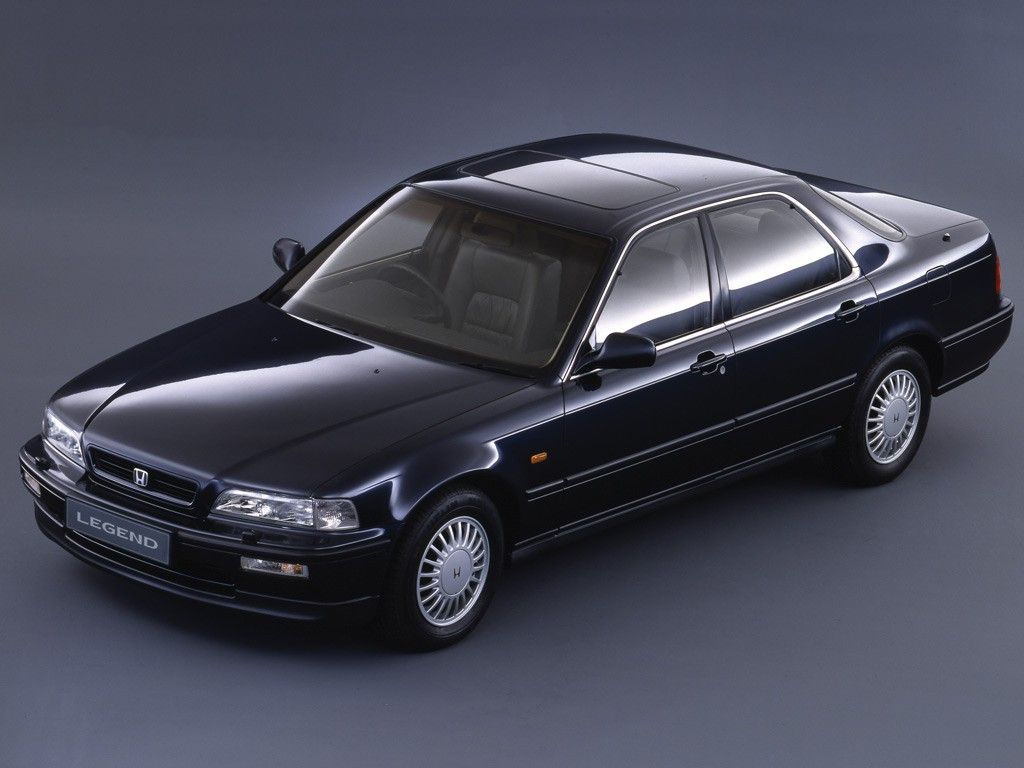 Eventually, he told me if I agreed to be more careful in future then I could be on my way. I retook my perspiring place at the wheel and set off with a display of showpiece driving. For the next 15 minutes the police car followed me around Kensington and Chelsea as I did between 25 and 28mph and exhibited exemplary lane discipline.
It's not fair to blame the Legend for my carelessness, but it was such a refined and smooth machine, with its 3.2-litre V6 from the R&D boffins who brought you the very distantly related 3-litre V6 in the NSX, that it was hard to appreciate its rapidity. It could reach 60mph in 8.2sec (which I suppose I had just discovered) and top 140mph, which for the size and bulk in those pre-aluminium body days, was pretty impressive.
The first Legend had been a co-production with Rover, largely the same car as the Rover 800, but in 1991 Honda elected to leave the Brits well behind with this all-new one, coming up with not just a brand new V6 engine (25% more powerful and 20% larger than the outgoing 2.7 yet identical in weight) and a longer wheelbase but also a sophisticated all-double-wishbone suspension system.
It was really tipped at the US market, where the car was marketed as the Acura Legend, and there it was astonishingly successful, selling over 49,000 examples in its first full year, 1992, as it joined the Lexus LS400 in mauling the mid-size Lincolns and Cadillacs, if not quite worrying Mercedes-Benz and BMW.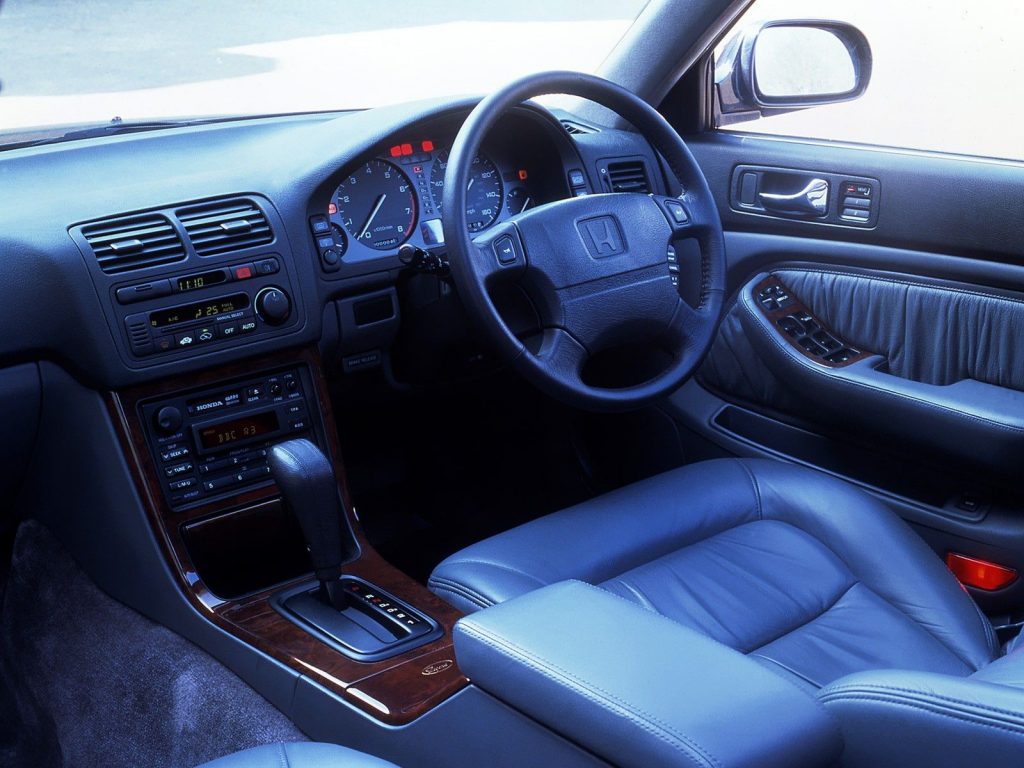 Recalling my law-breaking week with one again, the driving position and comfort were fantastically good, even if the soft leather upholstery was fighting an odd visual battle with the grey plastics and wood-effect garnishes, while the huge automatic gearshift lever tried to suggest a games console. Mostly the car was about serenity, and Honda had even made the 'soft-close' doors unslammable.
For a large, front-wheel drive car (with, unusually, a longitudinally-mounted power unit – the old Legend's was transverse), it states in contemporary reports that the cabin was on the tight side, although it didn't seem so to me. Certainly not on the saloon.
But for the two-door coupé offered alongside it in 1992, I'll grant that the accommodation was intimate. Then again, the two huge doors and the lower and sleeker roofline on the same, long wheelbase, made the car feel almost as indulgent as a Jaguar XJ-S, plus it shared a feature with the Honda NSX – the same door mirrors! In Japan, this was one of the first cars to feature a primitive optional sat-nav although, being non-GPS based, a road atlas must have still seemed the best option for the lost Legend owner.
Perhaps it was crappy British roads, perhaps the finesse of many established rivals, but both the Legends had poor damping for ride on urban Tarmac, and the automatic gearshift was a little jerky. Then again, Honda set out to produce a sportier car than its predecessor, to set itself apart from the spongy Toyota Crowns that matched it for size.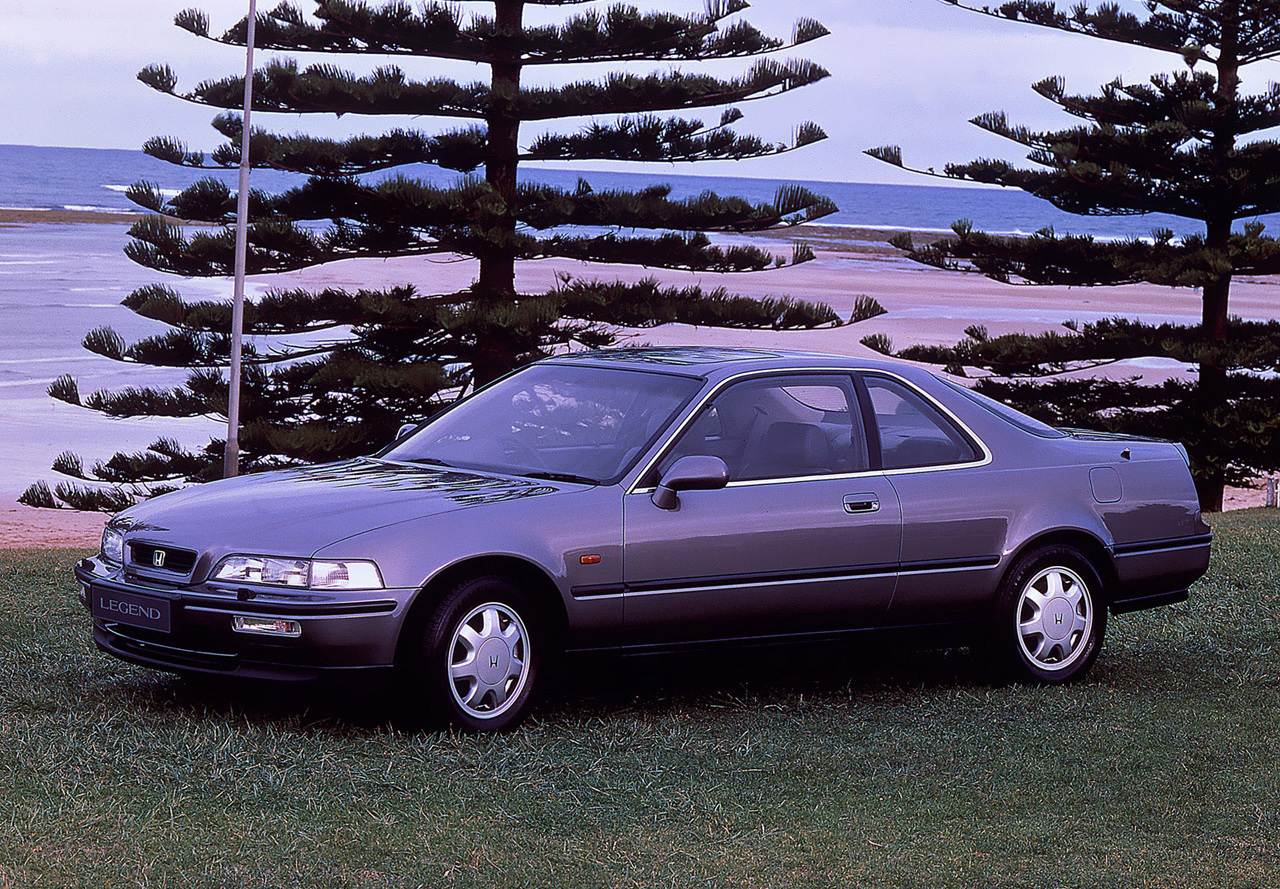 The first Honda Legend was built in the UK at Cowley, alongside the mechanically near-identical Rover 800, for the European market. Encountering one of those nondescript saloons on UK roads was always an unusual moment. With this new Legend, sightings would be rarer still now it was a prestige import from Japan.
Who bought them? I certainly never met an actual owner, as they were numbered in the modest hundreds for each year until 1995, when Honda replaced the car with a third-generation so desperately anodyne in character, and so little promoted, that it seemed UK sales were simply mythical rather than legendary. Its very obscurity led to epic depreciation, while the servicing and parts costs after 20 years did for the very small number remaining.
I didn't tell Honda that the status of its Legend test car had been verified on the Met's database, although I might have said how deceptively fast it accelerated. I was sorry to have to give up the luxury car lifestyle after a week. Now, after reacquainting myself with this long-forgotten machine, I'd love to drive one – legally – again. Meanwhile, for any present-day owner, a Festival of the Unexceptional entry form surely awaits you…
Read more
Unexceptional classics: Executive car edition
Retro Rematch: TVR Griffith vs Honda S2000
Do androids dream of early retirement? Honda ends Asimo development