It's hard to imagine two cars can share so much yet feel so very far apart. Conceptual twins that could scarcely be more different in execution and experience. The Honda S2000 and TVR Griffith may be sports cars as God intended – front-engined, rear-wheel drive, two seats, no frills and a fabric roof – but they diverge in philosophy to such an extent that any comparison at all seems slightly contrived. They stand alone.
Well, maybe. But the thing about cars with a singular vision is that they attract loyal, fanatical followings from the moment that they're launched. Then, as time goes by, the faithful spread the word. Simultaneously, progress – for good and bad – heads in a different direction. It's inevitable that a broader, more inclusive formula prevails. So, these one-offs become yet more distinctive, more exotic. Now, it's not just the fanatics. Everyone can appreciate what makes these cars special. And right then and there, the prices hit an upward curve.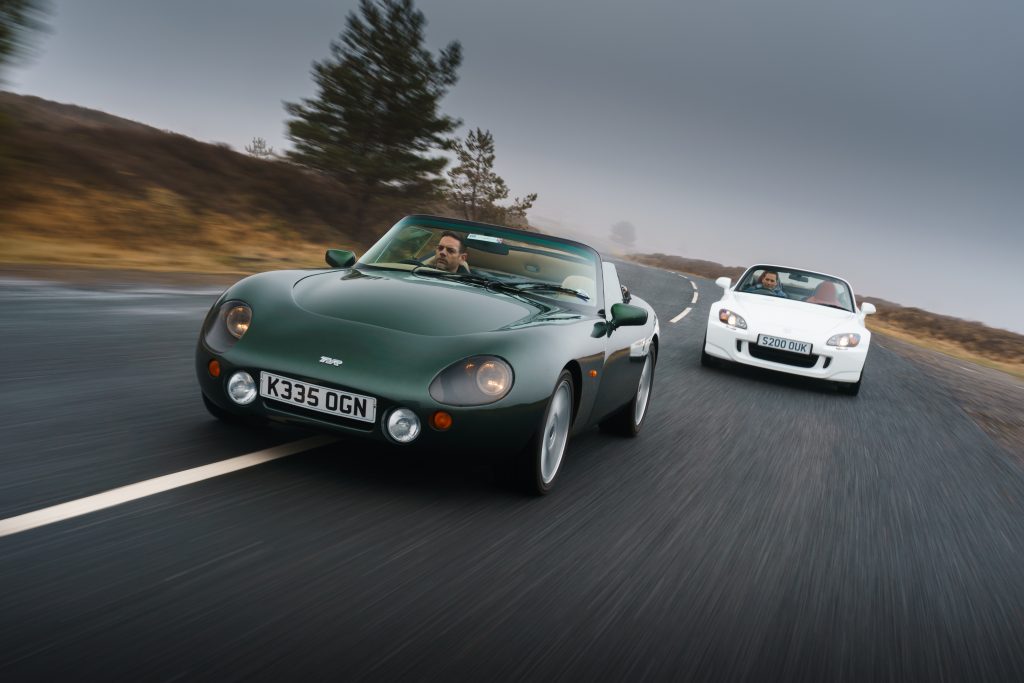 The Honda S2000 and TVR Griffith are already appreciating. This they do have in common. And they're different. Not just to each other but to all the prevailing trends: Turbocharging, downsized engines, ballooning weight and ever bigger dimensions leading to ever bigger brakes and tyres… the vicious circle that keeps on eating all the things that enthusiasts cherish. Feedback, agility, delicacy, fluidity, individuality, noise and, yes, maybe a bit of good ol' fashioned fear. They may be poles apart in so many ways but they stand united in a sense, and they overlapped one another back in the day, the Griffith range selling from 1992 to 2001, the S2000 spanning 1999 to 2010. Each goes its own way and each serves-up a unique driving experience. Excuse enough to bring both to the North Yorkshire moors to discover why they're becoming so sought after.
TVR Griffith 4.3: The hills are alive… with the sound of V8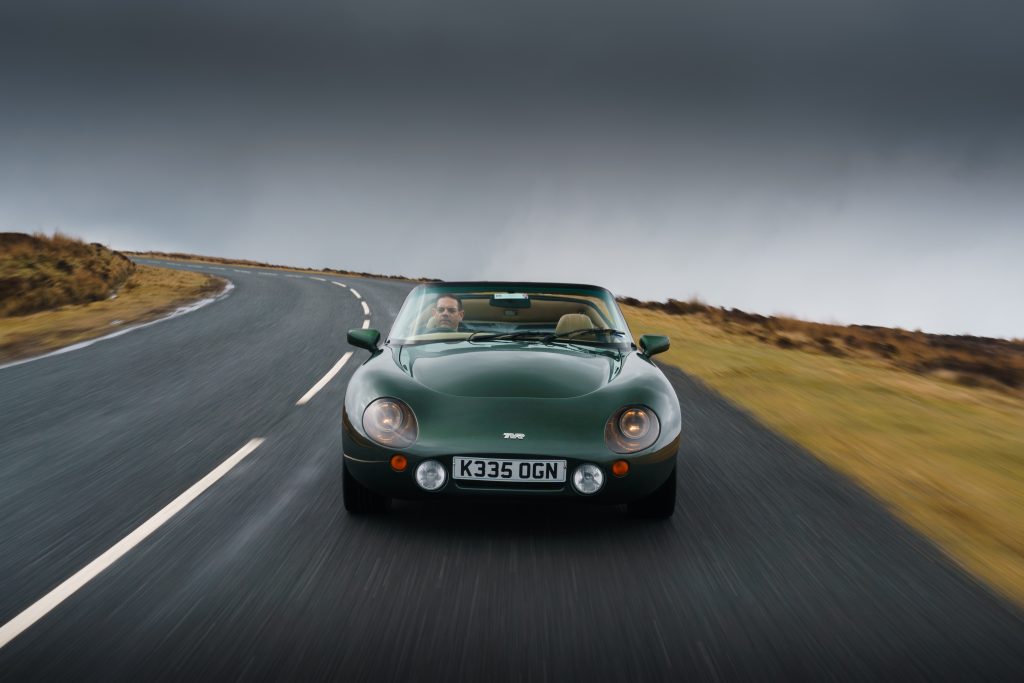 It doesn't seem so very long ago that you'd see TVRs rumbling past regularly. The Griffs always looked the best. So clean and simple but wide, low and sinister, bassy V8 note thudding from every pore. It never seemed like an exhaust note, more that the whole car was summoning this great energy and hurling it into the atmosphere. You only had to see, hear and feel one trickle past to know the Griffith was deeply and unsettlingly dangerous to know. Which made this fierce, angry little car pretty much irresistible. Then, all of a sudden, they disappeared. Chimeras, Griffs, Tuscans, Cerberas… where have they all gone?
Just catching sight of Sam Shuttlewood's Griff cutting quickly across the Moors is enough to know that the world is a better place when there's a TVR nearby. At first it's just a tiny, fast-moving and unidentifiable dark green blur against the typically murky sky. Then the noise comes in waves, out of sync with the visuals but full of intent. Sam's car is a '92, the hotter 4.3-litre with and the big valve head, no cats and developing 280bhp at 6000rpm and 305lb ft at 4500rpm. A 4-litre was also offered with 240bhp and later the Griffith 500 would arrive with 340bhp, but none quite sound as fierce as an early 4.3. It is truly glorious.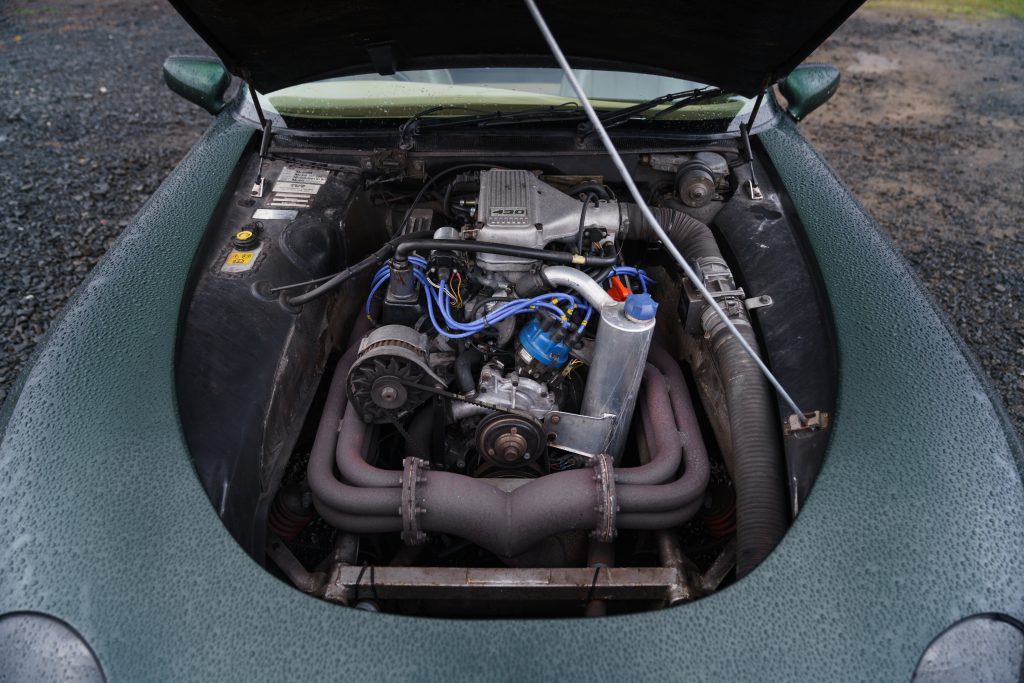 Up close the Griffith doesn't look quite so wide and menacing any more. Instead it's small and perfectly proportioned, although there's still just enough muscle for the Griff to count as burly rather than delicate. Open the bonnet and the Griff really does look like a car from a bygone age. The V8 is pushed way back towards the driver and well behind the front wheels for balance. Just as you'd hope. But the simple, backbone chassis constructed from triangulated tubular steel with outriggers (you'll be wanting to check this whole structure for corrosion, of course) looks rudimentary and the details are best described as, um, workmanlike. Quality in general is pretty shocking (especially if you've just stepped from a Honda S2000) but the payback for all this simplicity is a front mid-engined car with double wishbones all around, a thumping great V8, a five-speed manual gearbox and limited-slip differential and a kerbweight that only just busts a ton. I say this as much as a reminder to myself as to inform: There's no traction control nor ABS, either.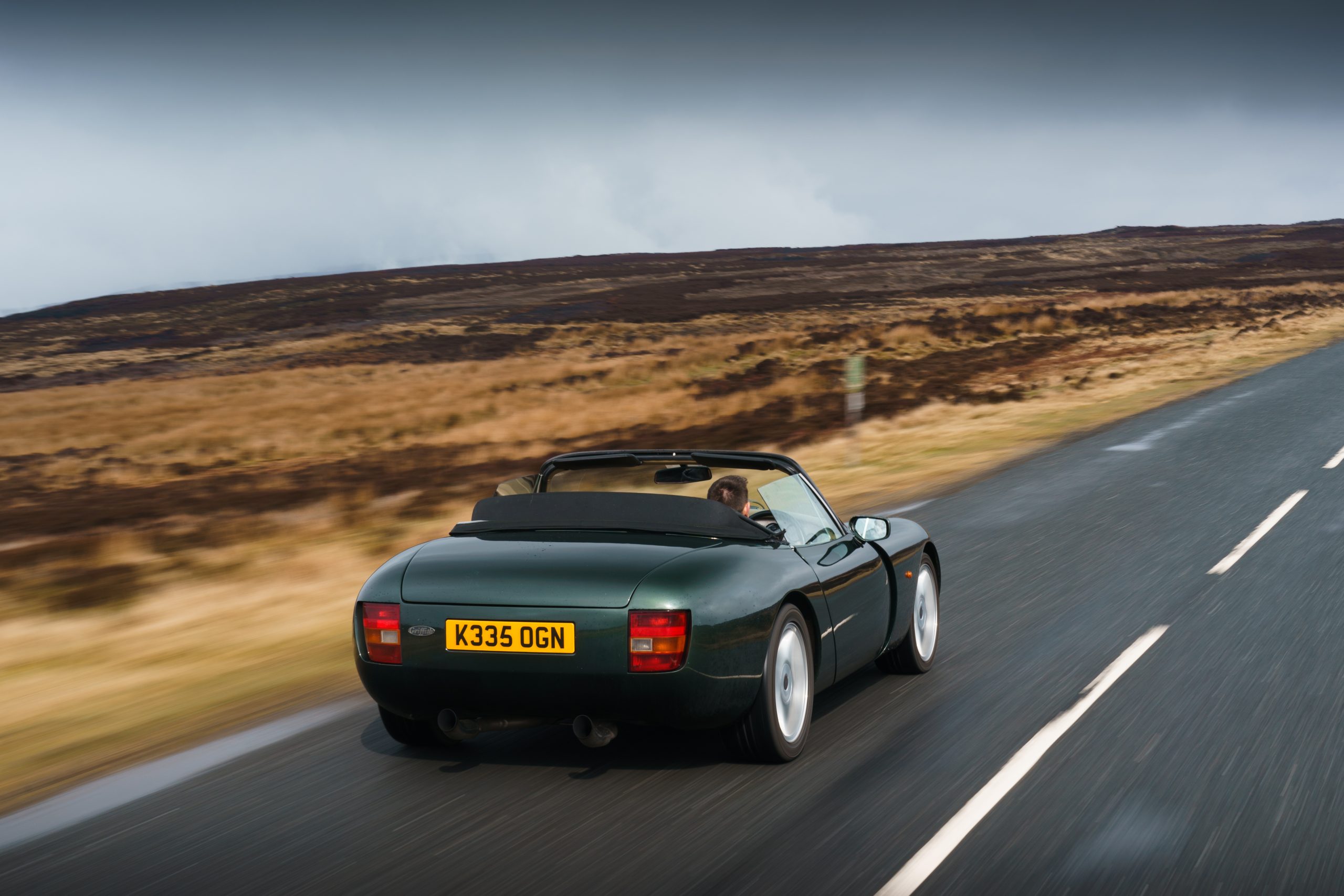 Luckily, the Griff isn't quite the fire-breather its reputation might suggest. Not because it doesn't have real, grown-up performance, but because it communicates so clearly and feels – at least by modern sports car standards – relatively soft and easy-going. I love the driving position, so low and hugged by the wide transmission tunnel. The small, chunky-rimmed Personal steering wheel is a cool touch, too, reminding me of '80s F1 cars. Another throwback is the deep-rooted physicality to every control. The unassisted steering is heavy at parking speeds but soon frees-up and matches the tough, mechanical gearbox that you shift from your shoulder. Even the brakes, which look laughably tiny behind bigger 17-inch wheels (fitted to ease tyre replacement) feel strong once you commit with a bit of muscle.
The best thing of all is that the Griff feels very natural to drive. Later models became sharper, both in terms of power delivery and the knife-edge feel of their chassis, but more demanding and less predictable. You can sense the beginnings of that trend here – the Griff's steering is quick and the front-end is very responsive, with a much softer set-up at the rear to enhance traction – but as the car is generally less aggressive and the Rover V8 engine more inherently torquey than later TVR-designed AJPV8 and Speed Six engines, the experience feels considerably less edgy than its successors.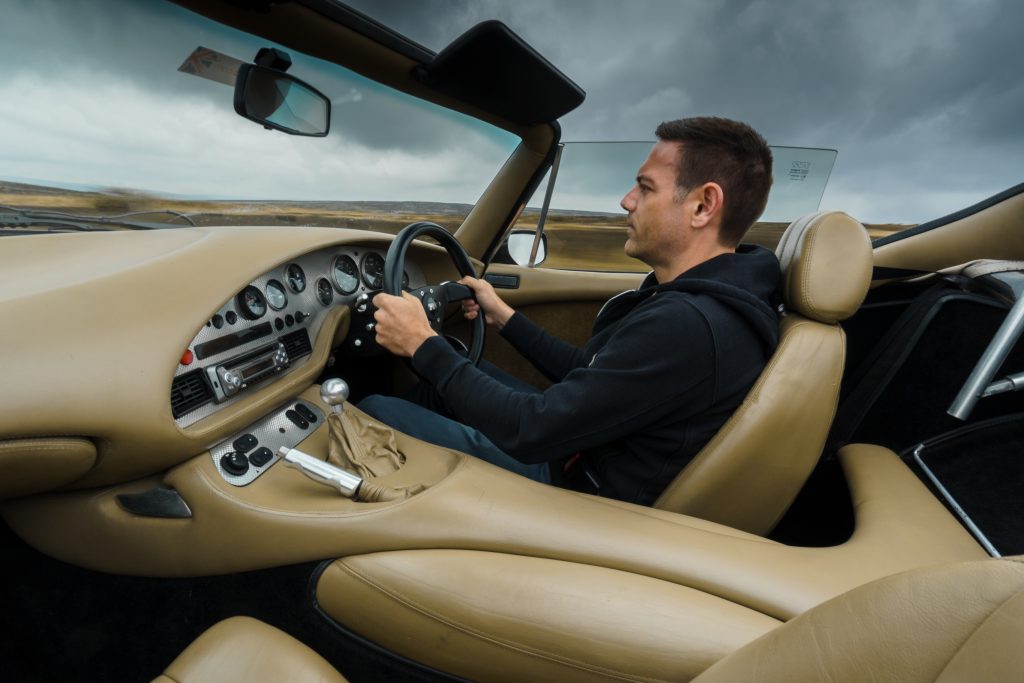 No doubt the Griff could still bite if provoked but up on the Moors it feels very well sorted. The structure is stiff, the steering has feel and nuance and even the damping feels nicely tied-down. However, it's all about that engine and the hefty five-speed 'box operated by that stubby little gearshifter. They really are the heart and soul of this sportscar and 30 years later their appeal is only getting stronger. The V8 is bursting with character and can adapt to your moods, too. Want to potter about with the engine and exhaust burbling away? No problem. But when you want some real fury it delivers in mighty, angry, intoxicating style. The noise and response as it pulls to 6500rpm is just awesome. There's no other word so apt.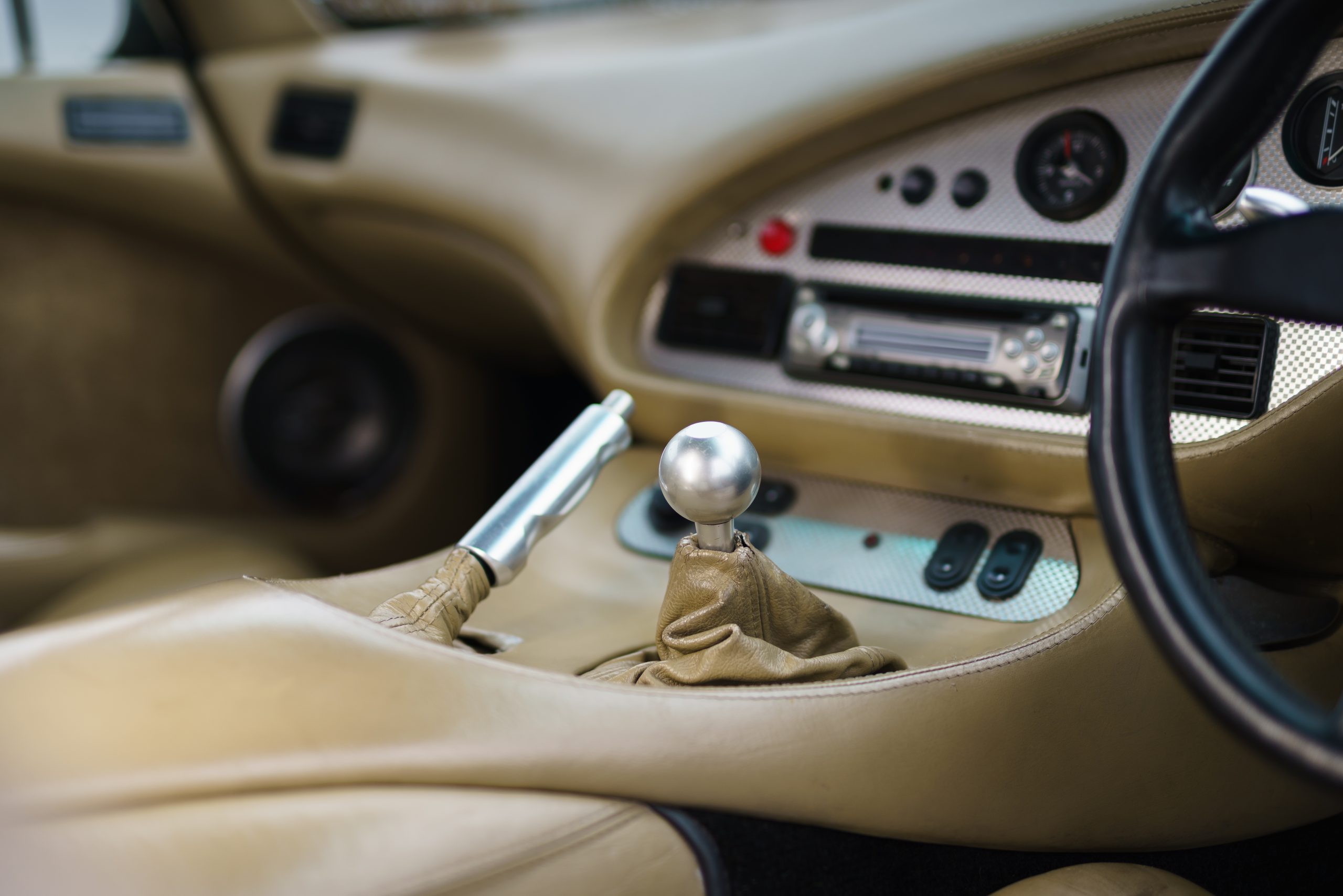 Push hard and you'll find even more evidence of TVR's future dynamic template. The total lack of understeer and the slight nervousness at high speeds, particularly over cresting turns, and the tendency to roll into oversteer if you really start getting a move on. With unassisted steering this is ill-advised unless you're very confident/competent/have good life insurance. Just sit back, enjoy the view, the wacky and possibly disintegrating interior, the noise and the easy, endless, booming performance. The Griffith is peak TVR. And that, so long as you go in with your eyes wide open, is a very fine thing indeed.
Honda S2000: So near yet, grrrr, so far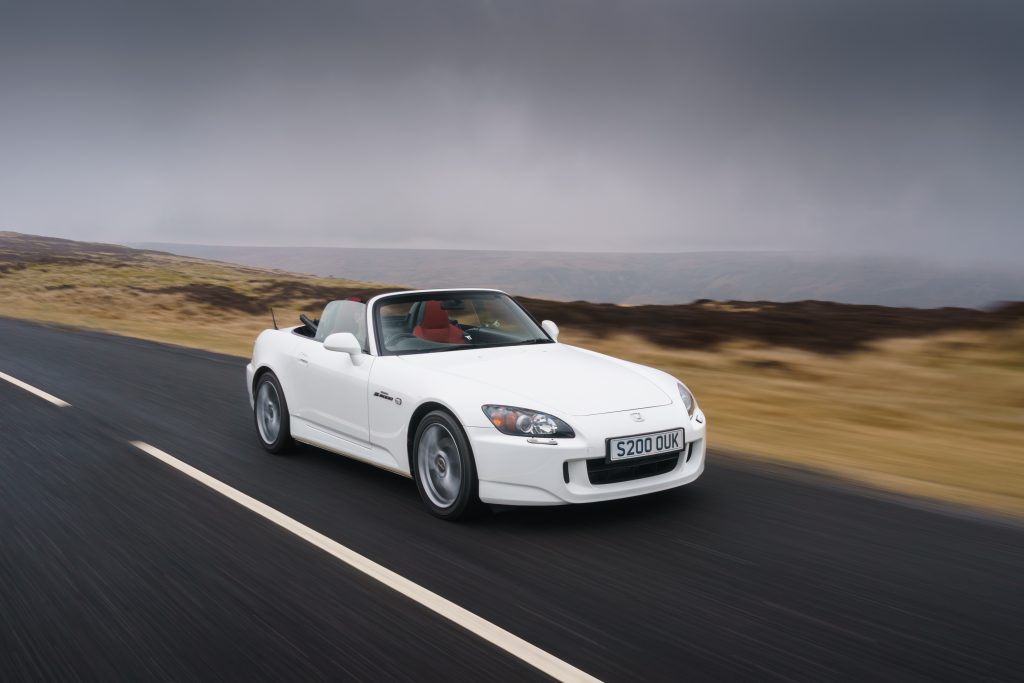 Expectations were high when the Honda S2000 emerged in 1999. This was the company that had redefined what a mid-engined supercar could be with the NSX and now, perhaps, was set to do the same for the traditional sportscar. If it possessed the engineering purity of the NSX but coupled with a more accessible price and the friendly, playful dynamics so often encouraged by a front-engined, rear drive layout, surely it would be a new icon. The MX-5 trick only sharper, faster and ready to embarrass Porsche. I remember tearing open car magazines at the time, desperate to know just how incredible Honda's new hero had turned out…
Can it really be that 23 years have since passed? The S2000 looks remarkably modern. It's not just the taut, almost minimalist styling, either. There's something about the tight shutlines and impeccable detailing that still feels completely fresh. I'm not a huge fan of the Championship White finish of this run-out Edition 100 model from 2009, but there's no question that the S2000 is an understated design masterpiece. It still sounds pretty tasty beneath the skin, too.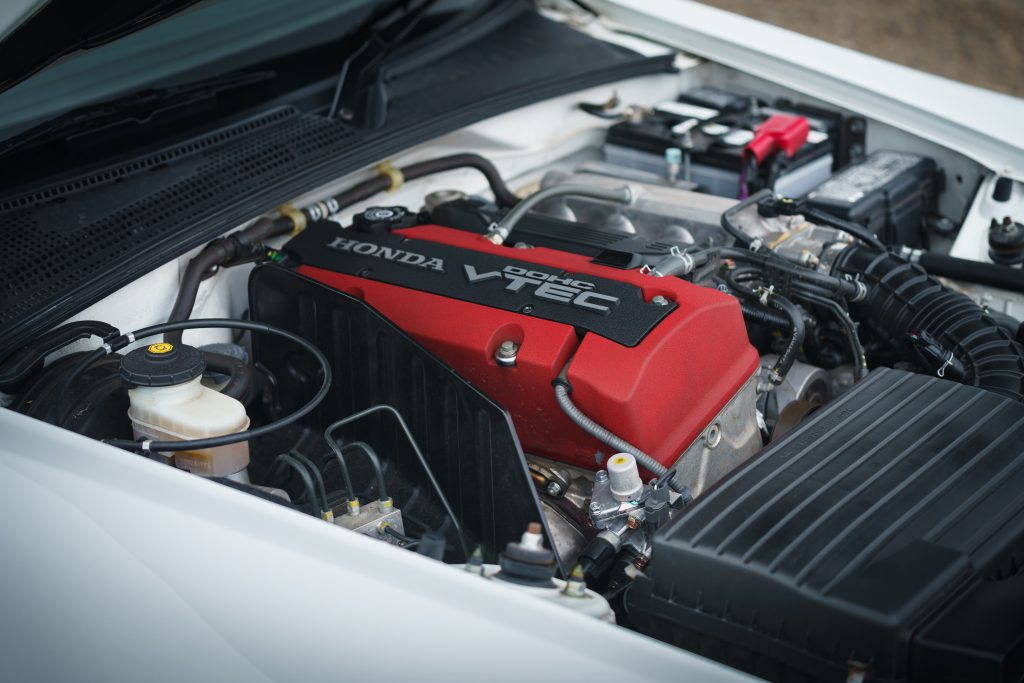 Like the Griffith, the S2000 is celebrated very much for its engine and gearbox, even if they come from completely opposite ends of the spectrum. The S2000's 2-litre in-line four cylinder VTEC engine, the fabled F20C, produces 237bhp at 8300rpm on its way to a 9000rpm rev limit and a meagre 153lb ft at 7500rpm. It is the very definition of a screamer. The F20C is connected to a simply fabulous 6-speed 'box and Torsen limited slip differential. Performance isn't quite up with the TVR but 0-60mph in 6.2-seconds and 150mph is not too shabby.
Honda's attention to detail wasn't just lavished on this jewel of an engine, though. There are double wishbones at each corner, an extremely stiff monocoque with a centralised backbone tunnel, diagonally braced at each bulkhead and with large sills labelled the 'high X-bone frame', and Honda went to great lengths to centralise all the masses to create an extremely low yaw moment. In other words, perfect 50/50 balance and no nasty oversteering surprises. Read the engineering story and then open the aluminium bonnet to reveal that engine in all its red crackle-finish glory and the S2000 seems completely out of this world. Why didn't everybody buy one of these?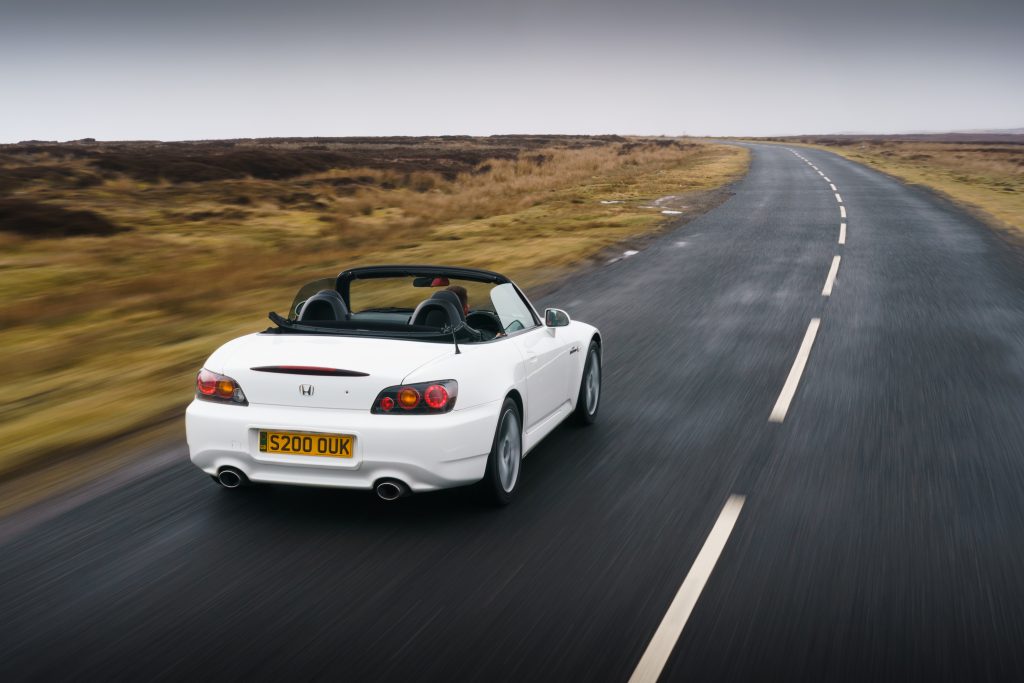 Jump in and you start to understand. That stiff steel structure is probably great for suspension tuning but it doesn't leave a huge amount of room for humans. The central tunnel is lower but intrudes more than the TVR's, offsetting the pedals to the right. Even the seating position is oddly high. You can't adjust the lovely steering wheel for reach or height, either. This seems an impossible oversight for a company such as Honda, especially considering its heritage in making the mid-engined formula so much more useable. Where was that thinking for this front-engine project?
It does feel out of the ordinary, though. The digital dash has a sweeping rev counter with the red zone set at 9000rpm, speed readout below it and water and fuel gauges nestled beside. The aluminium sphere atop the tiny gearlever with 6-speed shift pattern etched in red feels lovely and when you click into 1st the throw is deliciously short and positive. Already the engine is centre stage, buzzing frantically through the car. It is the exact opposite of the loping V8 that infuses the TVR. There's no musicality whatsoever. It's harsh, thin, busy and utterly tuneless. The fireworks are way up near the red zone.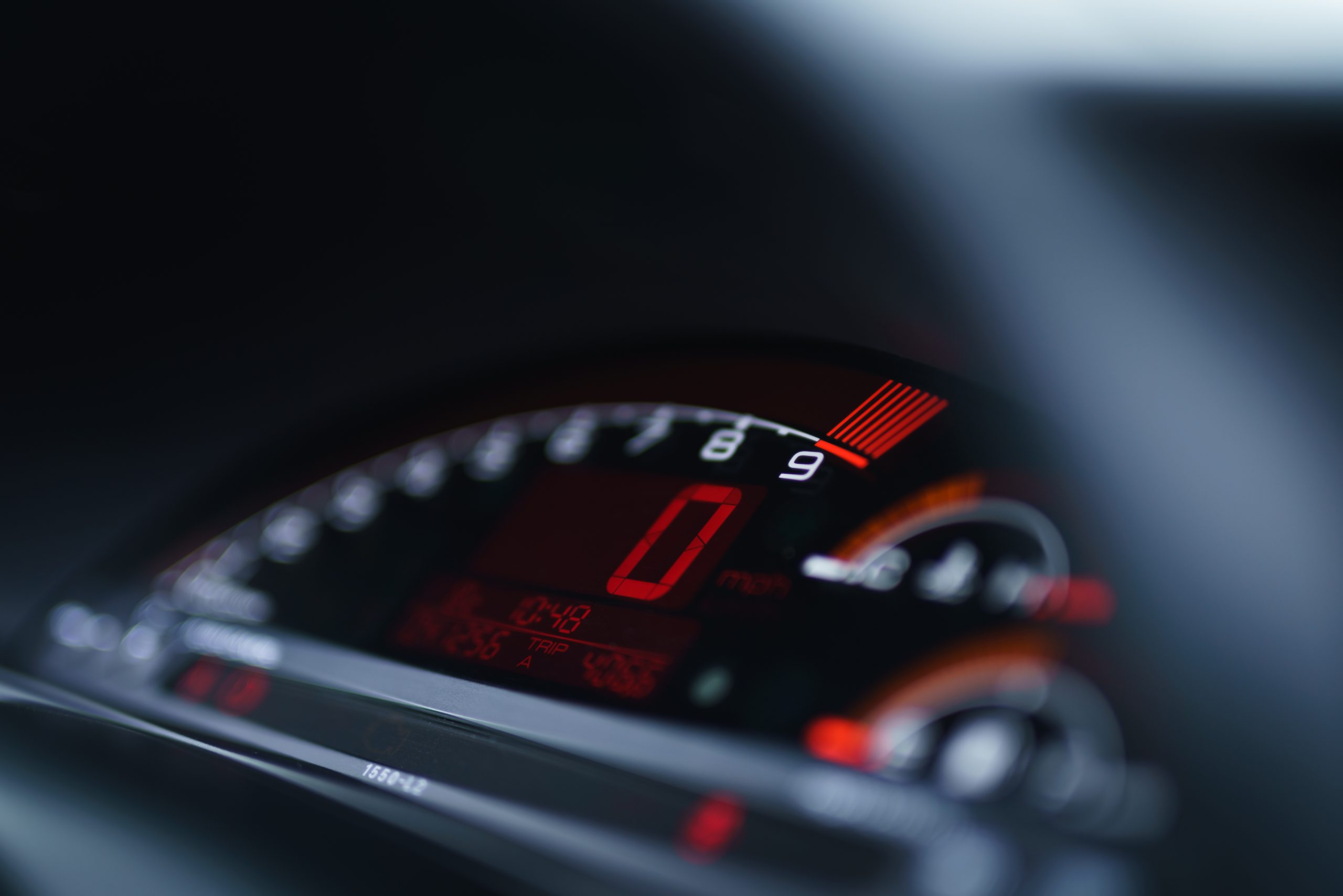 At low speeds the S2000 is truly a curious thing. The engine feels every bit as meek as 153lb ft at 7500rpm sounds, the electric power steering gives no feedback whatsoever and the chassis feels stiff and stable but strangely flat-footed. There's no immediate agility and athleticism and as the engine is so flat low down you can't energise the chassis with a quick squirt of power. The S2000 is disinterested and the wonderful gearbox and excellent brake feel are the only two dynamic high spots.
So you go searching for the magic. Keep your foot in – yep, more. Don't shift yet. Still no. You're getting close – and then the engine hits 5850rpm, the cam lobes change and things start to get interesting. Now the engine is primed to deliver that frenetic power, high-lift cams and short stroke combining to create a crazy appetite for revs. Above 6500rpm the F20C finds its voice and the S2000 starts to feel as focussed and pure as the engineering behind it suggests. It's a manic experience and the engine feels harsher than other VTEC motors, but finally there's some performance to enjoy and the power to start loading the chassis.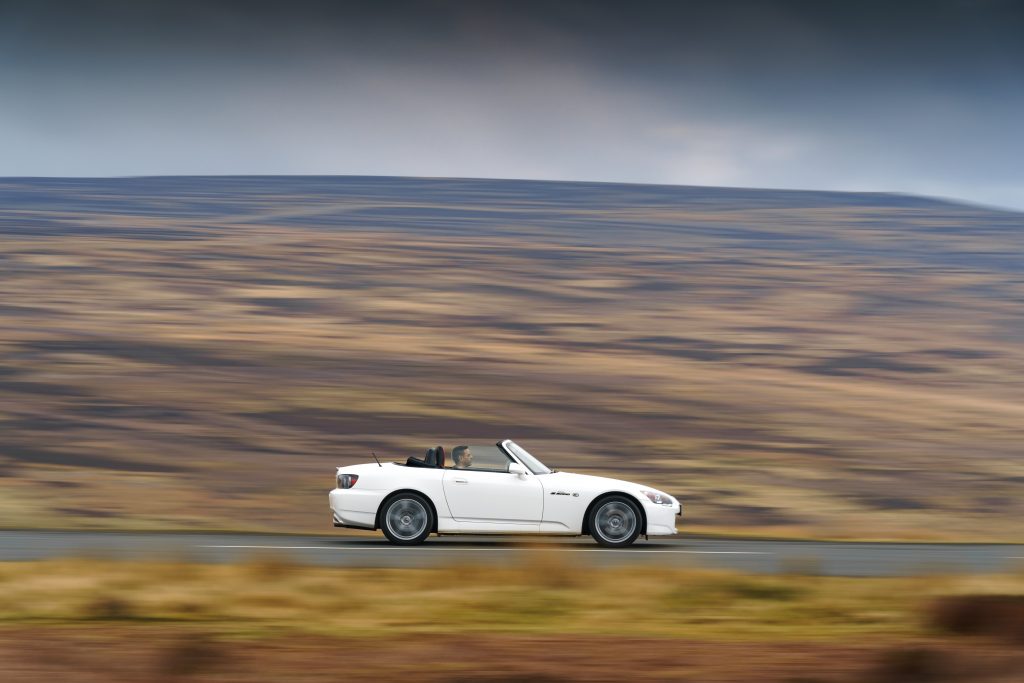 Sadly, the steering doesn't suddenly spring to life at this point and in damp conditions the S2000's lack of feedback does make it feel a little untrustworthy. Early cars were renowned for snappy on-limit behaviour but this final iteration is pretty predictable and easy to manage. However, without clear communication it's not easy to take a leap of faith to discover its mostly benign balance. Should you get there you'll find gentle understeer and then swift but easily corrected oversteer. The truth is that even in the damp there isn't the torque to ride out long, lurid slides. The S2000 prefers a precise, nicely poised approach and doesn't want to waste what torque it has with spinning wheels.
I park the S2000 with mixed feelings. I love the engineering and the tight, functional styling. The gearbox is so fast and precise and from 7500-9000rpm it's thrilling, too. But the engine is harsh and so weak at low revs, the chassis is competent but never sparkles and feels like it could still spring a nasty surprise and the steering is everything that's bad about ePAS. I guess the truth is that I adore the concept and regret that somehow Honda never quite made all of its incredible ingredients blend into a fully realised whole. The S2000 is unique and tantalising with sky-high engineering quality. For some that will be enough and I totally understand. For me, it's a case of what might have been.
Fast facts: 1992 TVR Griffith 430 vs 2009 Honda S2000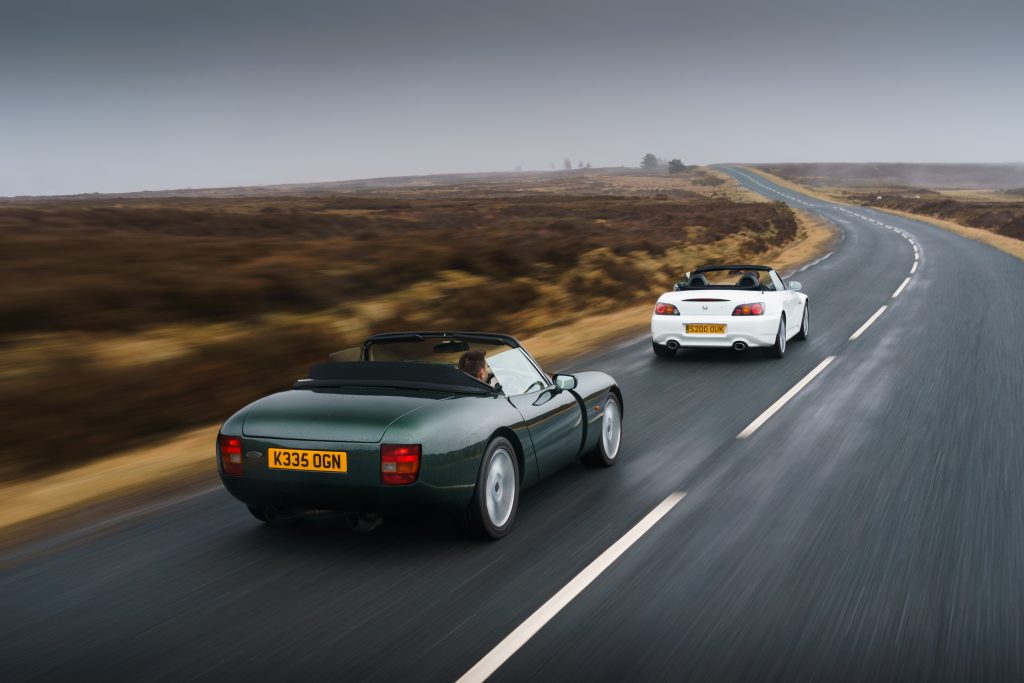 Price range (fair to concours): £11,000 to £24,000 vs £8500 to £22,500
Engine: 4280cc V8 vs 1997cc 4-cyl VTEC
Power: 280bhp @ vs 237bhp
Torque: 305Ib/ft vs 153Ib/ft
Gearbox: 5-speed manual vs 6-speed manual
Kerbweight: 1060kg vs 1271kg
0-60mph: 4.7 seconds vs 6.2 seconds
Top speed: 161mph vs 150mph
Editor's note
What other pairs of cars would you like to see Hagerty and contributor Jethro Bovingdon bring together? While suggestions on a postcard would be welcome, it may be simpler to leave us a reply in the Comments, below. Thank you! James Mills.