At the wheel: Charlie Patterson
Owned since: September, 2020
Current condition: Approaching the finish line
Hands-on or hands-off? Hands-on – it's an XJ-S, after all
Charlie Patterson is Client Service Advisor Assistant Manager for Hagerty. He will defend the reputation of the Jaguar XJ-S until he is blue in the face – a sight to behold that prompted one new team member to dash for the CPR kit.
2 February, 2021: How I bought a Jaguar XJ-S by accident
It's funny how things turn out. Last September I took my daily-driver Volvo XC70 for a routine service at the local marque specialist – AR Mills in Oxfordshire – and before I'd even settled the bill I'd bought the car of my dreams.
The garage owner had spotted my Hagerty Drivers Club jacket when I was paying the bill and a conversation ensued around old cars. "What constitutes a classic?" he asked. "Depends who you speak to," I replied, before attempting to pin down the definition, which is rather like trying to keep hold of a fish out of water. For me it will always be a vehicle that you aspire to, something that has desirability, pedigree, a side-serving of motorsport heritage and sufficiently limited availability to keep demand bubbling away.
How much is your car to insure? Find out in four easy steps.
Get a quote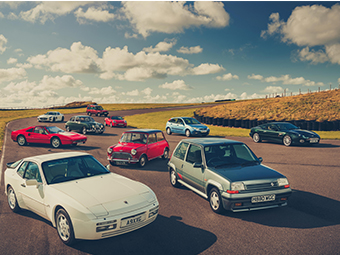 At this point he told me he was something of a classic car fan too, and suggested I take a look at a British classic tucked in the corner of their workshop. He lifted the counter desk top, we walked through the back door of the office and he lead me into the busy workshop. There, tucked away in a quiet corner of the building, sat a gorgeous late model Daimler 250 V8 saloon.
I have always loved these cars. They are famed for their 2 ½ litre Turner V8 engines that meant they could give a 3.4 Litre Jaguar Mk II a run for their money. Edward Turner was a motorcycle engineer who worked with Ariel then Triumph, and would rise to become Chief Executive of BSA Group's Automotive Division, made up of BSA, Ariel, Triumph, Daimler and Carbodies (the London taxicab company).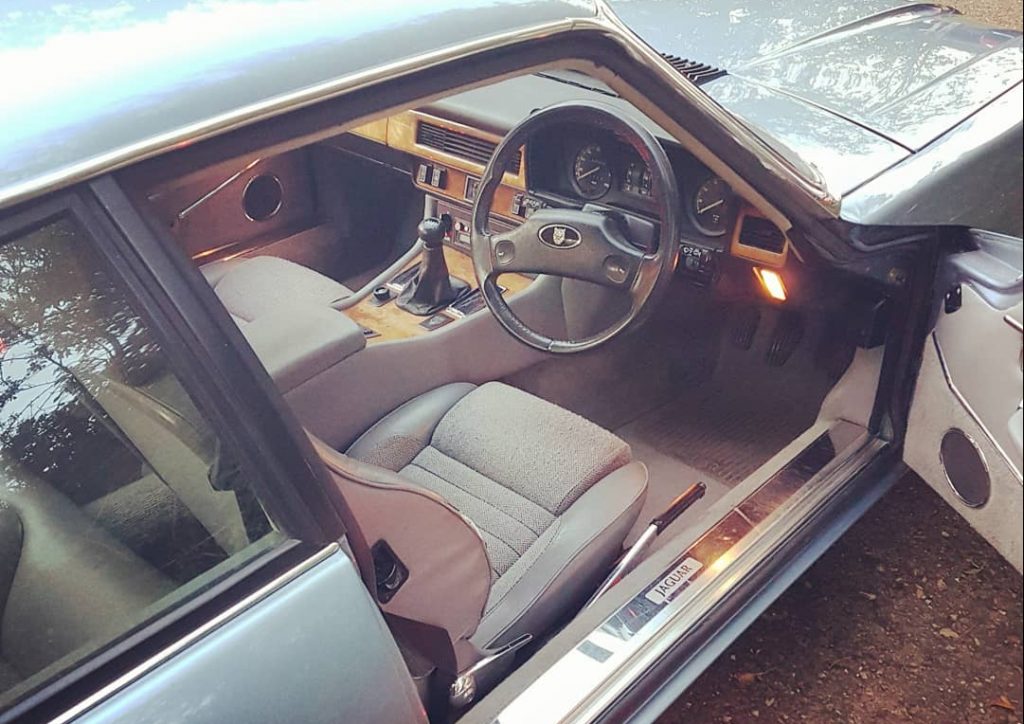 However, sitting alongside the Daimler is a car that truly captivates me – a dusty but straight 1980's Jaguar XJ-S.
As if on autopilot, I find myself walking round, noting just how good its Malcolm Sayer-designed body looks under the film of dust. "Is this yours too?" I ask. "Oh no, it was a client's. He has sadly passed away and his son has asked us to make it ready for sale."
Thud! As my jaw hits the ground, I am now trying to contain my excitement, summoning my best casual body language as I walk around the car again a second time in as many minutes.
"It looks quite straight doesn't it?" I blurt out, "Oh, and it's a manual gearbox too, you don't see many of those." I know I'm hooked, he knows I'm hooked. This could be a very expensive Volvo service!
Cutting a long story short, I successfully negotiated on two fronts. First, there was the arrangement to be made with the lovely gentleman whose father had so clearly cherished this Jaguar for many years; then I had to pitch to my dear long-suffering wife. Amazingly, she allowed to get to the end of my "investment potential" story without shooting down my dream. The deal was done.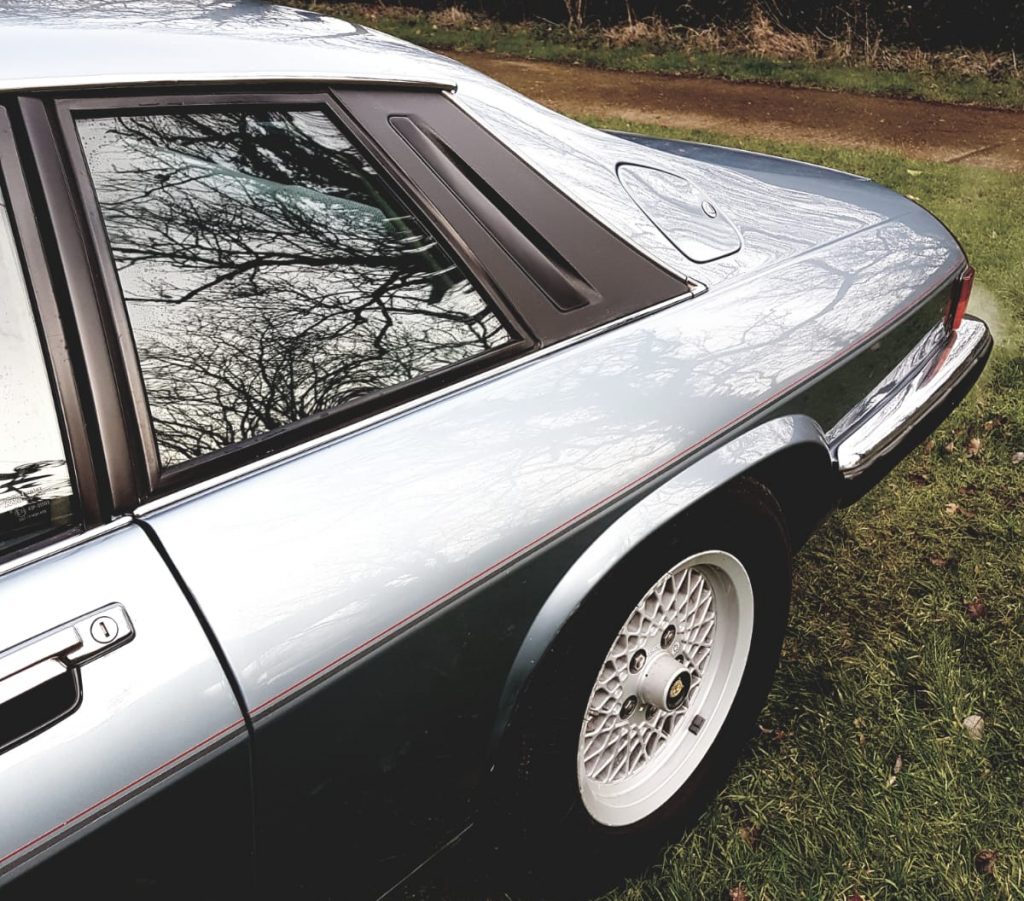 So taking stock, what exactly have I ended up with? It's a late 1988-built Jaguar XJ-S 3.6 coupé, 5-speed manual, finished in Arctic Blue with Cheviot Tweed interior, and first registered in January 1989. It has had only two owners before me, had 55,000 recorded miles from new, retains the supplying dealer number plates, window sticker and – wait for it – three sets of keys. Oh, and the handbooks and toolkit are present with full service history in evidence.
Jobs on the "to do list" include a new headlining, new plugs and leads, a full brake service and overhaul, a gearbox mount, machine polish and paint correction.
But that will all have to wait until my next running report. For now, if you're a Jaguar enthusiast or XJ-S fan, please share your comments, below, so we can talk all things Browns Lane.
27 April, 2021: What lies beneath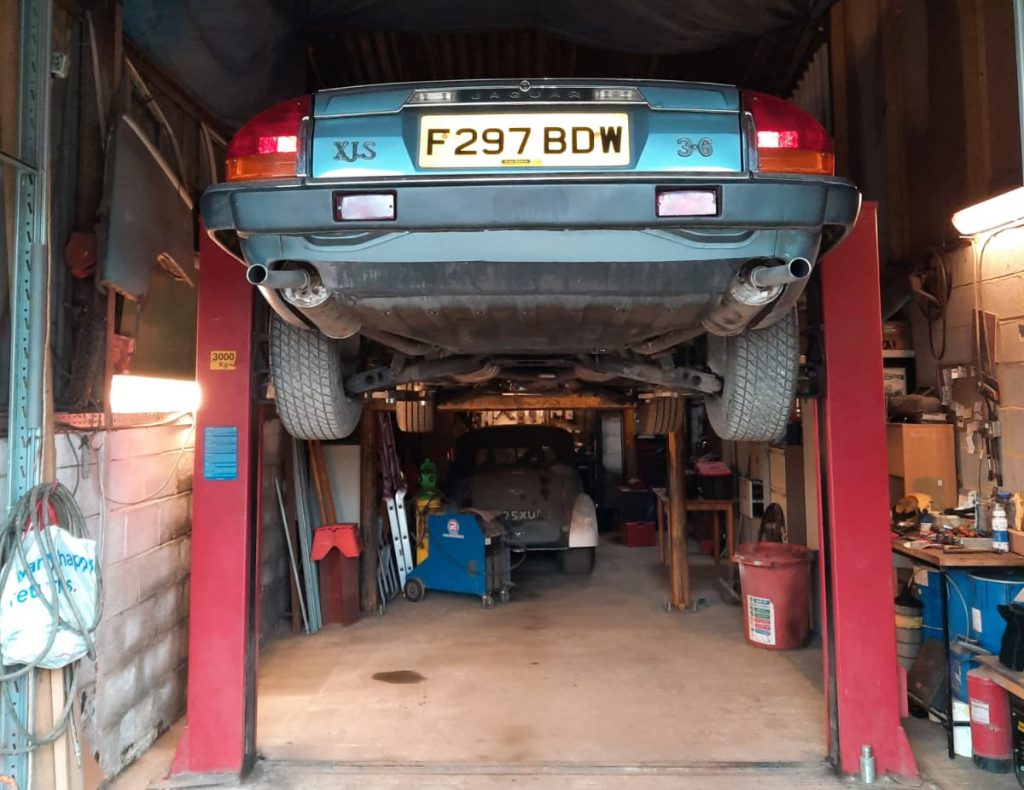 It may sound like a throwaway cliché but there are three letters that strike terror into the heart of Jaguar XJ-S owners: MOT. To say I was a tad apprehensive about the upcoming MOT for my XJ-S 3.6 is like asking how I felt about diving into a swimming pool filled with jellyfish. Given that we are dealing with a 1980s Jaguar, I had, ahem, concerns.
So when the kind offer arose to borrow some ramp time to inspect the underneath of the XJ-S I grabbed the opportunity with both hands. And you can imagine my relief when I started to prod around, shine a light into the recesses and discovered that the news was surprisingly positive. It appears the car has lead a charmed life and reflects the relatively low mileage (55,000) for the year.
The front and rear brakes are looking good, and I'm especially happy that the inboard discs and callipers are in great condition on the rear, as they are buried away in the rear subframe and it's not an easy or cheap job to have them overhauled. All the brake pipes turned out to be nicely greased, the floor was solid and free from corrosion, and even the jacking points and sills were in good order, again not bad at all for a 32-year old car.
My XJ-S 3.6 has not even covered 1000 miles over the past decade, which on the one hand is great as I have a low mileage original example however, and on the other it means it's been sat around waiting to seize. Jags love to be driven and cars that sit around develop running problems or corrosion issues and need to be recommissioned.
The clearest sign of this lay with the 3.6-litre, straight-six engine, which was a little hesitant and lumpy under load when accelerating. Admittedly it was getting better slowly with use and gallons of fresh super unleaded but still not nearly nice enough for a car of this calibre. At this point the power of the car community kicked in…
By chance I was talking to a Hagerty client about my car's lumpy running, as he insures three XJ-S with us – two 1970's pre HE V12 coupés and a later 3.6 like mine – and he suggested I change the spark plugs, HT leads, distributor cap and rotor arm. I also replaced the air filter, all the parts came promptly from Berkshire Jag Components and I can happily report that now the cat purrs along as intended by the manufacturer, with the six' now silky smooth and feeling decently quick through the gears.
With the car driving properly I turned my attention to some cosmetic issues. These included new bonnet gas struts (gone is the very uncool wooden prop) and replacement for the cabin's sagging headliner, the latter a considerable expense at £245. I used a glass reinforced plastic complete headlining kit from Myrtle, ordered through Jag Hedlinings. The product was a little tricky to fit owing to some poorly located pilot drill holes in the fibreglass backing board, especially for the rear view mirror, sun visors and interior light but mostly for the simple fact that XJ-S's were never noted for having capacious interiors! However, after one or two expletives, we got there in the end.
After all this, I am delighted to report that the XJ-S also passed its MOT. I shall relish the chance to put some decent miles on it this summer, if we can. But there's still more to do – as there so often is with an old car. Other cosmetic tasks like wheel refurbishment and minor paint repairs are next on the list. Meanwhile, I'm off to waft about in style…
XJ-S fan? Bookmark this page as Charlie will regularly report on his Jaguar XJ-S.