Price: £3995
Mileage: 26,200
Condition: Fresh from the drawing board of Roy Axe
Seller: Car & Classic
We've not had a Rover as an Unexceptional Classified for some time, but what a car to bring us back into the fold. A look around suggests enthusiasts of the marque are somewhat spoiled for choice considering the survival rate of so many cars from the 80s and 90s, with numerous Metros, 200s and 400s battling for our attention in the classifieds.
How much is your car to insure? Find out in four easy steps.
Get a quote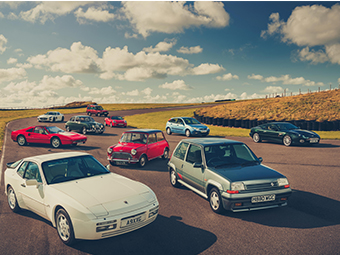 None this week were quite as special as this 1990 Rover 820si Fastback though. Well, not "special", but you know what we mean. There's something striking about the fastback models of the 800 series, catching the eye in a way neither the saloon nor even the coupes seem to manage.
Perhaps it's that more direct lineage to the Rover SD1 that the 800 replaced. The 800 hasn't quite attained the same following as its predecessor. Thanks to a lack of appealing features like a V8 engine or rear-wheel drive, it's never likely to, but good standards of build and an even gentler standard of owner means 800s seem to pop up for sale with surprising regularity.
While the Cowley plant can take some credit for the 800's persistence, the 800's similarity under the skin to the Honda Legend no doubt plays a part too. The companies became partners in the 80s, and the timing of the 800 was right for both; Rover needed an SD1 successor, and Honda wanted to muscle into the "full size" segment in the US with something grander than the Accord.
Like many Rover-Hondas of the era the two cars were similar in some details and differed in others, but each company benefitted from the other's knowledge in certain areas. Honda enjoyed Rover's expertise in building large and luxurious cars, while Rover adopted Honda's engineering focus, using double-wishbone suspension and Honda engines for the higher-spec models.
Sometimes they had to settle too, of course – Austin Rover treasure trove AROnline notes that Honda's requirement for a narrow car (due to Japanese taxation) meant the Rover team couldn't make the car quite as wide as it would have liked.
The two cars were quite different though, and this Rover 820si is a good illustration of that. For one, Honda didn't get a fastback. For two, the 820si's four-cylinder engine was all-Rover, developed new for the car and with multi-point injection. It made a decent 131bhp, and this being the '80s (though this car is a '90), a relatively modest kerbweight of 1310kg to pull along.
At 10.4 seconds to 62mph and 125mph flat out, it's no flier, though this car has some driver appeal in the form of a manual gearshift – something no self-respecting luxury-focused model would offer today, but not so strange at the time.
And just look at what you get. It's tempting to think that all the automotive bargains from that 1980s-1990s golden era have disappeared, and even looking at previous Unexceptional Classifieds, people often ask strong money for cars that, in your head at least, are worth no more than a couple of hundred quid.
So £3995 seems like a steal for an 820si this tidy. The MOT history is a sea of green as far back as 2012, with only a brake disc corrosion advisory on the 2021 test to take account of. From the photographs both the bodywork and the interior look fabulous, the pre-facelift styling looking sharp from all angles and the three-spoke steering wheel sportier than the airbag units that followed. A slightly wavy instrument binnacle cover is the only thing notably amiss.
When people are charging similar money for slightly ropey Metros and Rover 100s these days, it might be time instead to focus our attention on big, bold bargains like the 800 instead.
Read more
Unexceptional Classifieds: Reliant Robin Mk3
Unexceptional classics: Executive car edition
Driving the Kingsley KR Series, a restomod Range Rover