Price: £4495
Mileage: 32,000
Condition: Missing a wheel, but otherwise great
Seller: eBay
Doors? Three. Seats? Four. Previous owners? Three. And wheels? Just three of those too, because for the first time we've selected one of Britain's best-known and oft-derided automotive creations for our Unexceptional Classified, the Reliant Robin.
How much is your car to insure? Find out in four easy steps.
Get a quote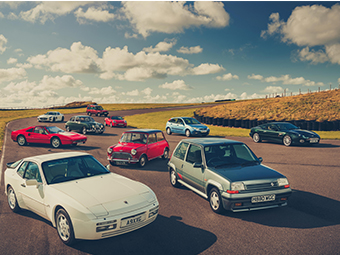 As far as derision goes, the seller is at pains to point out that they don't all handle like the cars in that old Top Gear segment, which seems to have taken over from those fleeting appearances in Mr Bean as the default Robin reference of choice. Until the next gag comes along, Robin owners everywhere will just have to get used to telling people that the Top Gear team weighted one side of the car and welded the diff to get it to turn turtle.
Away from popular TV shows, the Robin was more of an object of necessity. Its missing wheel and sub-450kg kerb weight was a way of allowing it to be registered and taxed as a kind of large and ungainly motorcycle though not, as the persistent rumour goes, to allow it to be driven on a bike license.
Its characteristics also meant it was simple to build, and therefore affordable like its Regal predecessor, and low pricing made it popular despite its apparent limitations. As did remarkable fuel efficiency, owing once again to low weight and the aerodynamic benefits of a tiny frontal area.
Three generations of Robin passed following the car's 1973 launch, using first a 748cc engine and then later an 848cc, both all-alloy units of Reliant's own design. All were attached to a four-speed gearbox and all sent their power to the rear wheels.
If you fancy some pub trivia, then thanks to that forward-set front wheel, the Robin is, technically, mid-engined. The real benefit to the "delta" wheel arrangement though (compared to the "tadpole" layout favoured by sports three-wheelers) was practicality. Stick a wheel at the back and you sacrifice cabin space, but put it at the front and you've got room for a box full of passengers and stuff behind it.
And so we come to the Reliant Robin you see here, which is one of the late Mk3 models. They're easily spotted, thanks to friendly, bubbly headlights snagged from a Vauxhall Corsa. It was almost enough to give the car a modern look at the time, though despite claims of computer involvement, we suspect it was one of those old ABC computers you used to have in primary school, as it clearly didn't have the processing power to render a curvier rump.
Anachronistic or not, Mk3 Robins seem to be prized these days, and they were relatively rare, built only in 1999 and 2000 – though after B&N Plastics bought the license in 2001, similar cars were available for another couple of years.
The one we've found on eBay is a pre-B&N model from 1999. It looks, dare we say it, quite handsome in bright red, almost like a proper car, and thanks to that composite body and minimal miles, has escaped most of the ravages of age. The simplistic cabin wasn't really updated for the Mk3, but again the brutalist dashboard and seats from a 1980s school minibus both wear their miles well.
The seller appears to be a serial Robin owner and claims this one's a good'un. The MOT history agrees – the last splash of red was in 2008, though the last time it did any more than a hundred-or-so miles in a year was 2017. For all the seller's reassurances Robins never were long-distance cars, so that's understandable.
At £4495 the price is hard to stomach for those of us who remember when, perhaps aided by their punchline reputation, you could find a Robin for a few hundred quid. But today it's a seller's market, particularly for the nice ones, and few unexceptional classics are more recognisable.
Read more
Unexceptional Classifieds: Vauxhall Cavalier Estate
The Death Eaters, Chapter 2: Reliant Regal
10 British sports cars you probably forgot existed