With UK temperatures hitting a record 40C (106F), you might be looking at ways to keep cool. We suspect the supermarket has run out of paddling pools, the DIY store has sold out of desk fans, and placing a handkerchief over your head just isn't cutting it. If you could sleep in your fridge-freezer, you would.
Buying a roadster – essentially a two-seat convertible – is a simple and surprisingly affordable way to escape the heat. With the roof down, you're free to enjoy the feeling of a cool breeze in your hair, although wearing a hat is recommended if you don't want to arrive at your destination looking like a beetroot. Get your hair slicked back and don a pair of Wayfarers for the full effect, baby.
How much is your car to insure? Find out in four easy steps.
Get a quote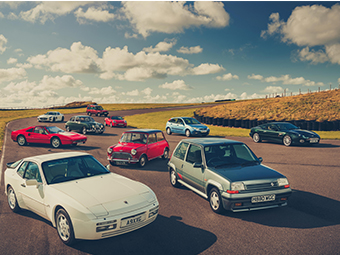 Buying a roadster on impulse needn't break the bank. A budget of £5000 is enough to secure the very best examples of our six choices, and because we've avoided the obvious candidates – contrary to popular belief, Miata isn't always the answer – they should escape the customary price hikes when the sun is shining. Boys and girls of summer, your roadsters await.
Renault Wind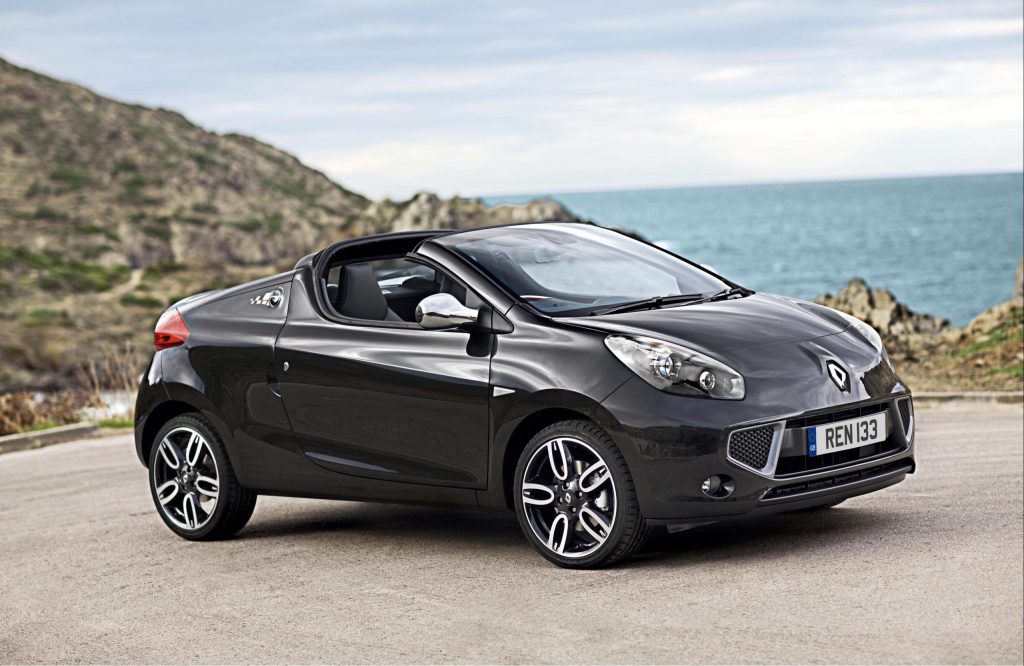 If the threat of being the butt of flatulence-based gags is the only thing preventing you from buying a Renault Wind, you really ought to take a second look at this French curio. Underneath the concept car styling lies the chassis from a Renault Twingo, with power sourced from either a 1.2-litre turbo or the 131bhp 1.6-litre engine from the Renault Sport Twingo 133. Renault could have avoided the fart jokes by calling it a 'Twinster'.
In truth, the Wind is more 'targa' than 'roadster', with an electrically powered roof that opens and closes in the style of a (considerably more expensive) 575 Superamerica. Don't worry, unlike the Ferrari, the Wind features a protective flap to prevent water, leaves and dust from entering the cabin when the roof is closing. Still want that quarter-million pound Ferrari?
At the time of writing there were 40 Winds for sale on Auto Trader, with prices ranging from £2500 to £6000. Aside from the body panels, everything is sourced from other Renault models, so servicing should be cheap. Just check when the cambelt was last changed, and if you're bothered by the name, remember it's not difficult to remove the badging and polish away all evidence of the name.
Chrysler Crossfire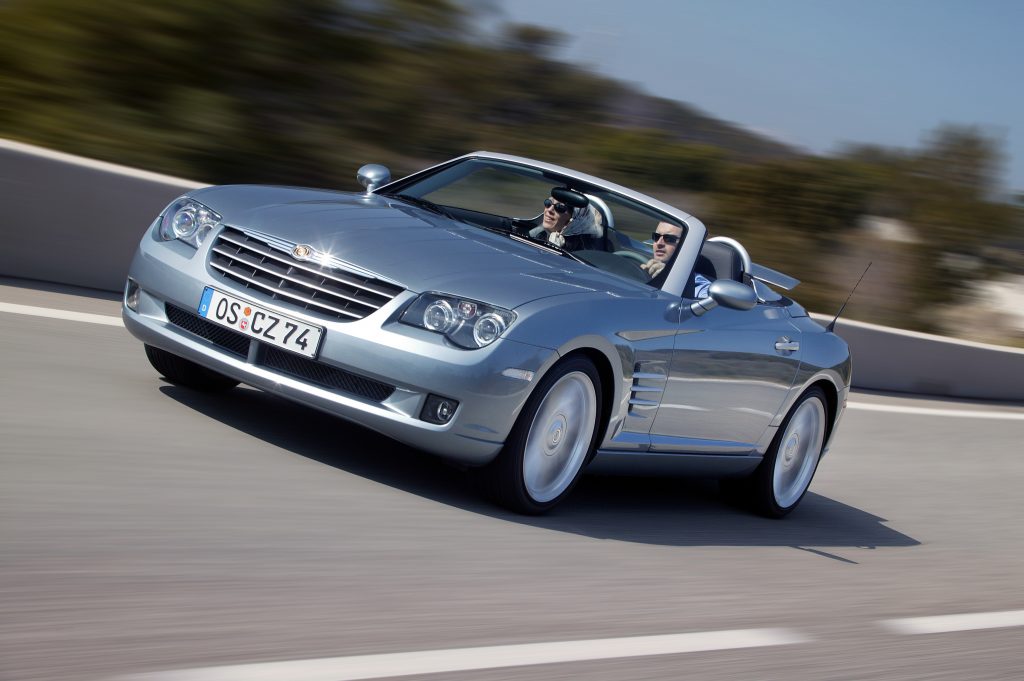 It was built by Karmann in Germany, shares many of its components with the second-generation Mercedes-Benz SLK and stayed remarkably true to the Eric Stoddard concept of 2001. So why is the Chrysler Crossfire so often overlooked? Jeremy Clarkson's quip about it looking like a dog doing its business doesn't help, although the roadster version is arguably more attractive than the coupé.
Power is sourced from a 3.2-litre V6 engine, which sends 215bhp to the rear wheels via a six-speed manual gearbox or a five-speed automatic transmission. It even has an active rear spoiler, a feature shared with another Karmann special, the Volkswagen Corrado.
The 330bhp supercharged SRT-6 is a rarity in the UK, especially in roadster form, so stick with the standard car, which is ideal for cruising a boulevard with the top down. B-roads aren't really its thing; we could say something about the Crossfire making a dog's dinner out or corners, but we won't. Instead, we'll laud it for being an SLK in an American suit.
Audi TT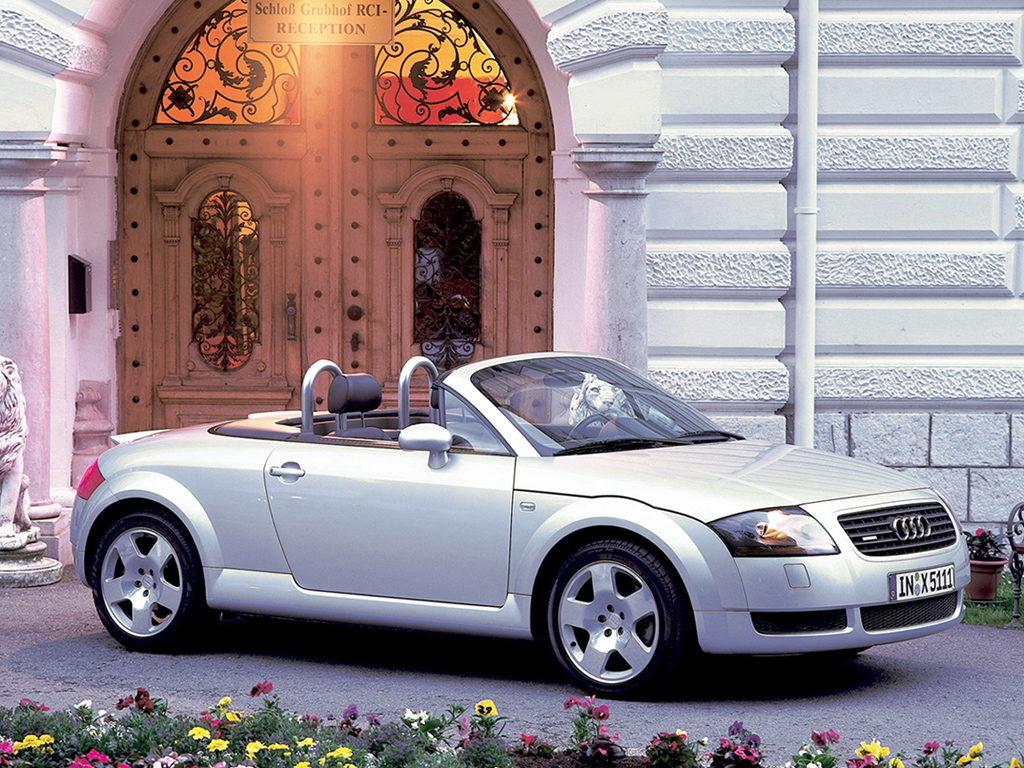 Pound-for-pound, we reckon the Audi TT is the most stylish roadster you can buy on a budget. Just £1500 is enough to secure an early example with a 1.8-litre turbocharged engine, although you'll need to double the price to secure a TT with a 3.2-litre V6 engine. Either way, that's not a lot of cash for a – cliché alert – concept car for the road.
It all comes down to what you want from your roadster. If you're after something for posing with the roof down or enjoying the bold interior with the roof up, the 150bhp version of the 1.8 T could be all the TT you'll ever need. Alternatively, the 180 and 225 models offer more poke, but without the higher running costs (and nicer soundtrack) of the 3.2.
Opt for a TT with quattro four-wheel-drive and you can continue to enjoy the roadster long after the heatwave has left the front pages. Remember, a roadster is for life, not just for 40C heat.
Toyota MR2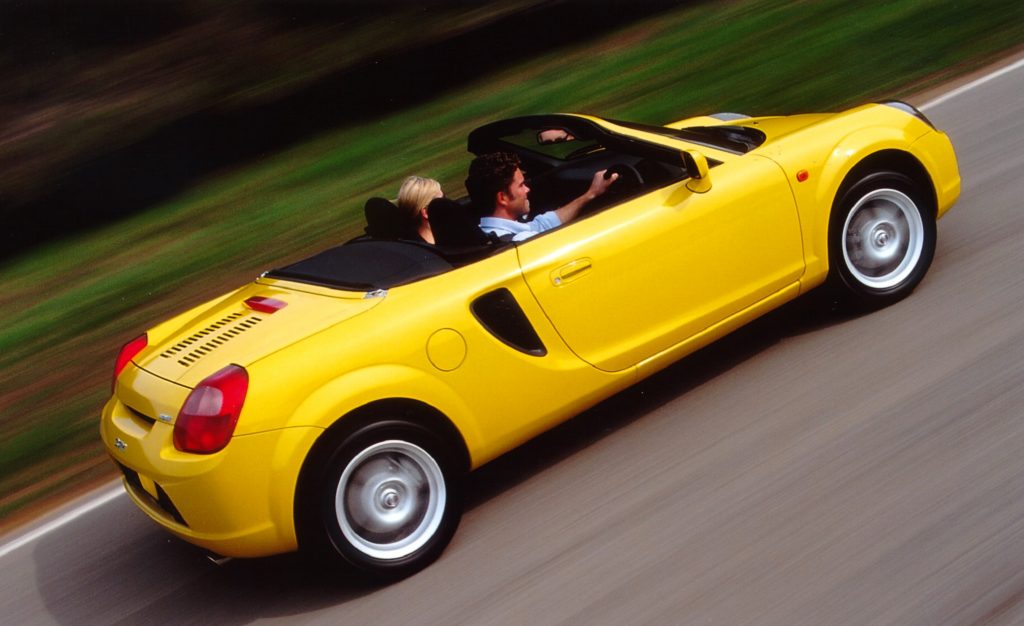 When the third-generation (W30) Toyota MR2 arrived here in 2000, it was mentioned in the same breath as the Lotus Elise and Vauxhall VX220. Two decades on, it's as affordable as an MG TF or second-generation Mazda MX-5, but there are many reasons why you might choose the Toyota over its more familiar rivals – and not only because it was selected for the 2021 Hagerty Bull Market List.
While some cars (and their owners) pile on the pounds when they get older, the W30 MR2 is actually lighter than the original W10, tipping the scales at just 990kg to 1045kg, depending on the spec. The 1.8-litre VVT-i engine develops 138bhp at 6400rpm, with the low weight contributing to a 0-62mph time of 8.0 seconds with a manual gearbox or 9.3 seconds with the SMT (Sequential Manual Transmission).
Like all MR2s, rust is a big issue, so check the rear subframe, sills and under the carpets. The lack of storage is a common criticism of the third-gen MR2, but just get used to packing light. Suncream and shades are all you need when the sun is blazing. Well, perhaps some token gesture toward clothing, as the rules on driving naked aren't entirely clear.
Ford Streetka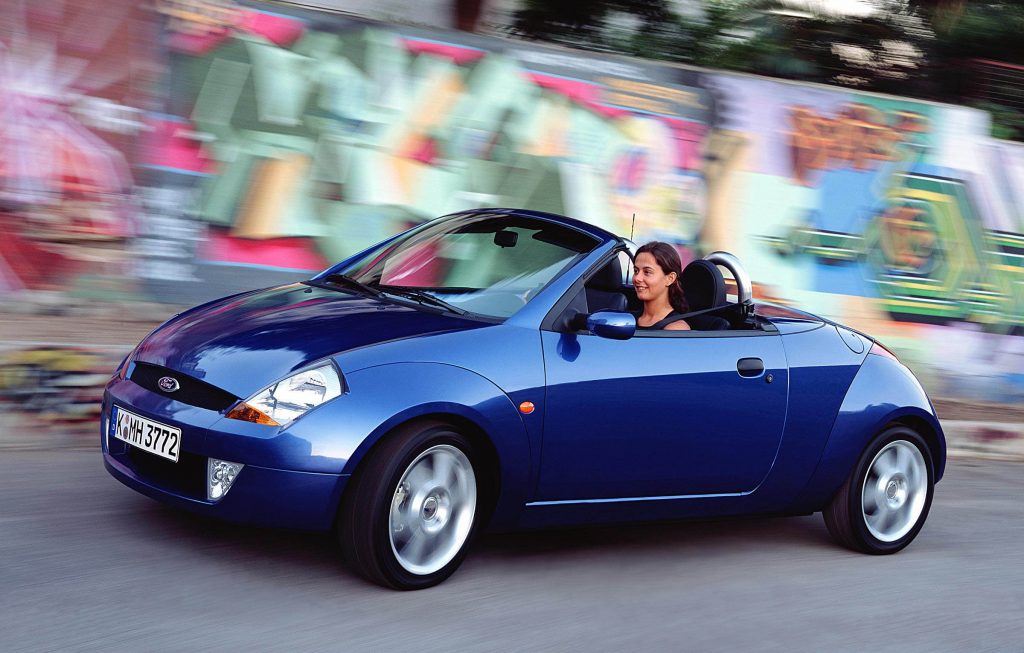 If it's good enough for Kylie Minogue… Okay, so 'the princess of pop' was paid a handsome fee to promote the Ford StreetKa, but you'll certainly impress your, ahem, neighbours if you arrive home in this roadster. Your author would insert something about 'being so lucky', but the editor would probably remove it.
We're big fans of the standard Ka – Antony Ingram called it "a very fine Ka-lassic" – but its 1.3-litre engines were unable to squeeze the best out of its superb chassis. The StreetKa, which was designed in-house and built by Pininfarina, gets a 1.6-litre Duratec engine producing a useful 94bhp, which is enough to propel Kylie's favourite roadster to 62mph in 12.1 seconds, although it feels faster when you're behind the wheel.
The majority of buyers upgraded to the Luxury model for air-con (great during a heatwave) and heated seats (not so great during a heatwave), but all versions get a 'keep-fit' roof and chrome roll-over protection hoops. Not convinced? Welsh fashion designer Julien MacDonald said: 'I believe a beautiful car is the ultimate style accessory. StreetKa is sexy and sporty – a car that would make anyone who drives it look and feel amazing.' Yes, like Kylie, Julien was paid to say that.
Smart Roadster Light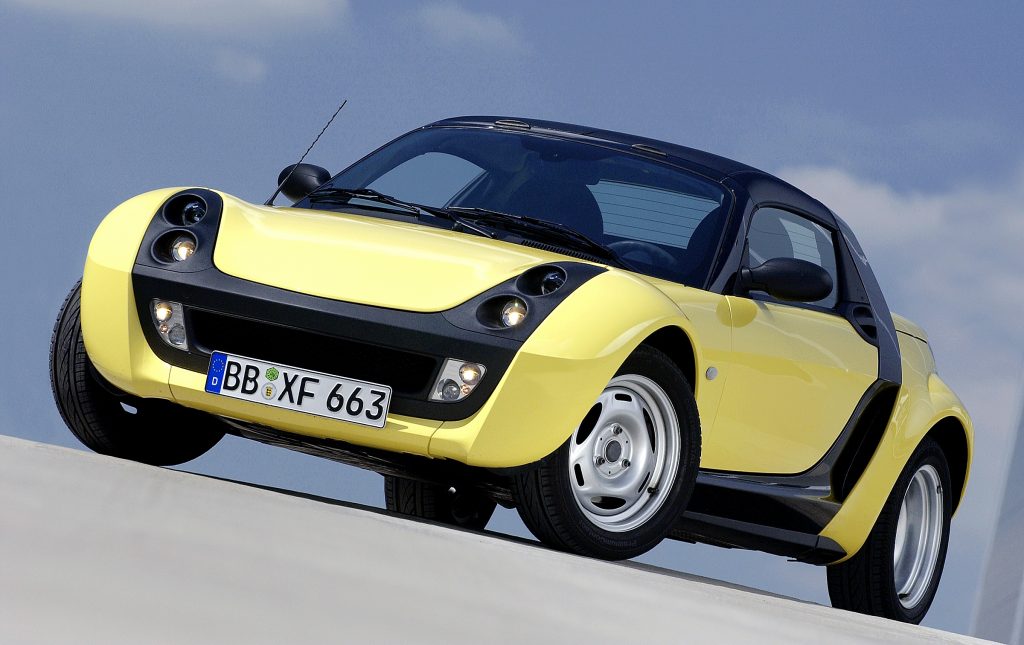 You may have read our ode to the Smart Roadster, so its inclusion on our list of affordable roadsters will come as no surprise. It's an MG Midget for a new generation, weighing just 790kg and blessed with an 698cc turbocharged triple sending power to the rear wheels. The automated manual transmission continues to divide opinion, but it's not a reason to dismiss the Roadster.
Our pick would be the 'Diet Coke' version of Smart's miniature supercar. The Light might weigh the same as the standard car, but the 15-inch steelies should appeal to true enthusiasts. The electric ragtop is replaced by a removable hardtop, the steering wheel is smaller and there are none of the luxuries you don't need. As a result, it's the most agile and enjoyable Roadster; a case of 'less is more'.
Like our other choices, the Roadster isn't perfect, but if you're chasing perfection on a budget, the smart money goes on the Mazda MX-5. What's your favourite affordable roadster? Let us know in the comments below.
Read more
Retro Rematch: TVR Griffith vs Honda S2000
8 inflation-busting roadsters for summer fun
Cool runnings: 5 checks for your car's cooling system in a heatwave