For many, the wind in your hair experience of driving a roadster is as good as it gets. Driving roofless on a sunny day is a sensory experience second only to riding a motorcycle, and in a roadster there's no helmet to separate you from the sights, sounds and smells of a top-down cruise.
It is, you might have noticed, the season of the drop-top: those few blissful months where more often than not the weather is on your side and the canvas can come down on even the shortest of trips. You can of course enjoy a soft-top at other times of year – they're excellent on a crisp winter morning too – but since we all wear fewer layers when the sun's out, the same should apply to your car, too.
How much is your car to insure? Find out in four easy steps.
Get a quote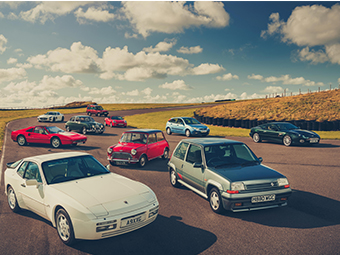 And don't think for a moment that a sporty roadster will set you back silly money. After browsing the classifieds to fast-track you to some tempting cars, Hagerty has done much of the homework for you and the good news is there are some cracking cars for no more than £5000. Just don't let that sunshine blind your good judgement: We've not inspected any of these cars, so make sure you do all the usual used car checks before swapping money for keys.
BMW Z3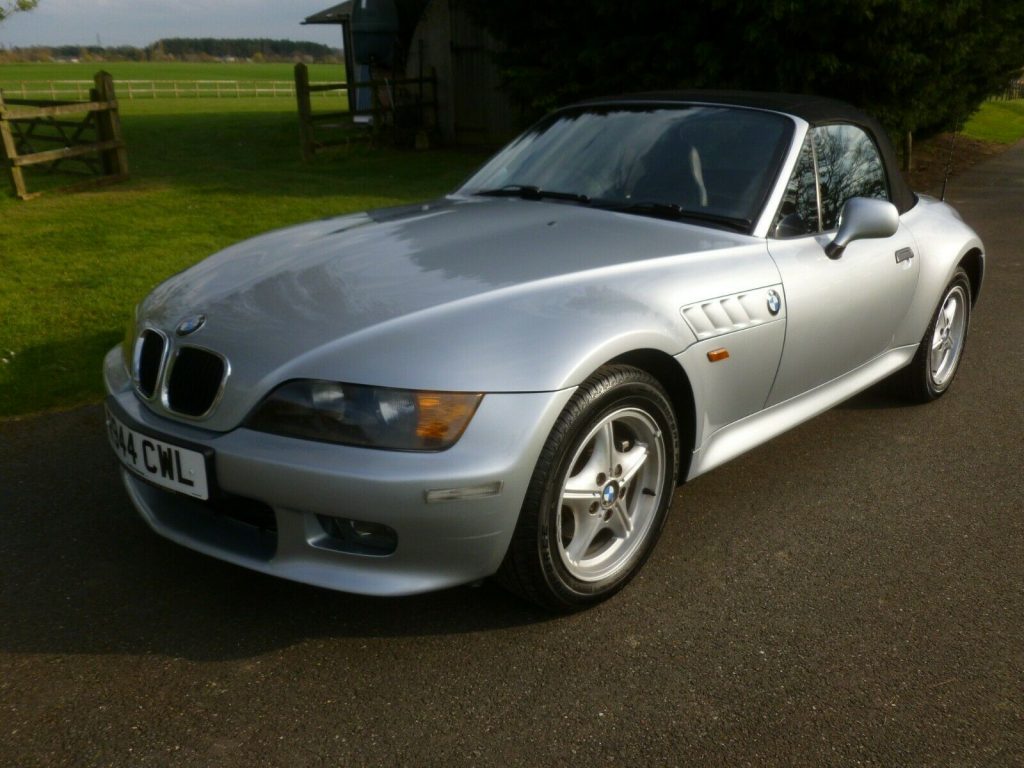 So popular was the roadster segment in the 1990s that even BMW, a brand not known for chasing trends, at least back then, got in on the act. BMW had made roadsters before of course – the Z1 with its retracting doors had only recently departed – but the Z3 threw off the conservative clothes of BMW's saloons and dived straight in at the deep end.
In some ways, the shedding of clothes was literal. Under the Z3's skin was a mix of E36 and E30 components, much like the E36 Compact. The interior was unique though, with a similar, ever-so-slightly retro flavour to the exterior styling, which references the beautiful 507 of the 1950s (if not to the extent of the later Z8).
Our £5k budget doesn't go quite as far with Z3s as it does with some other cars here. Most will be the 1.9-litre four-cylinder, which was more cruiser than sports car. You can find early 2.8-litre straight sixes though, and at a fiver under four grand, that's what you see here. An MX-5 is still more nimble and engaging, but with six cylinders, a Z3 sounds great and goes well, whether the roof is open or closed.
Daihatsu Copen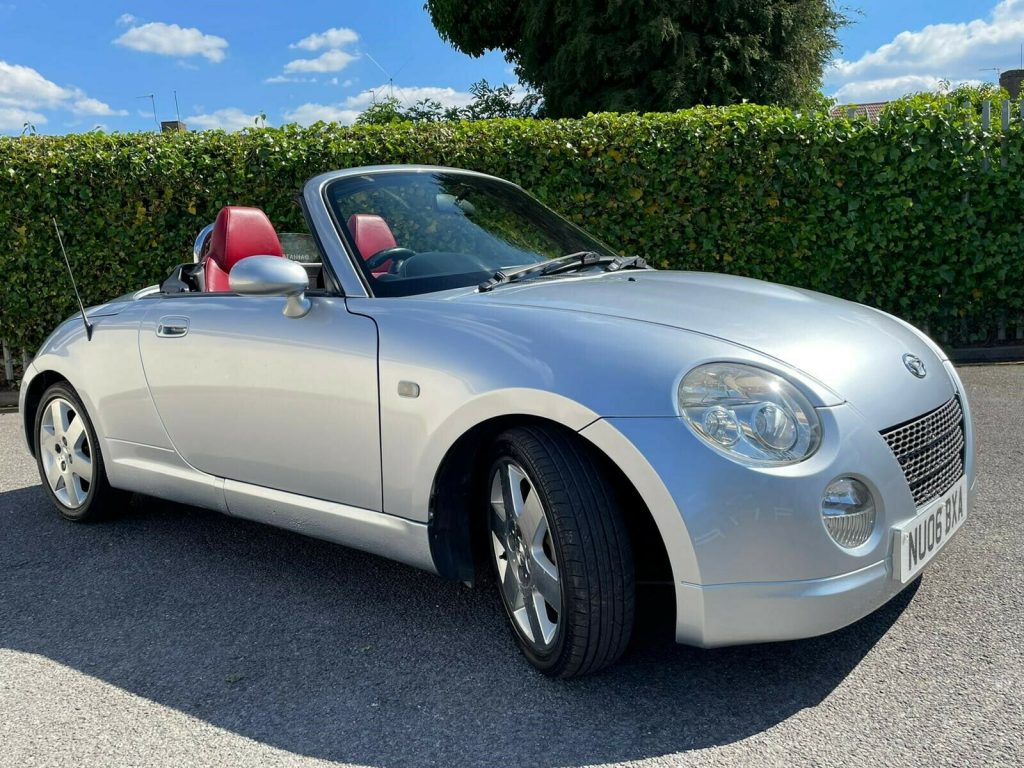 Daihatsu's Copen was a revival of Japan's micro sports car boom of the early 1990s, when the Autozam AZ-1, Honda Beat and Suzuki Cappuccino all hit the streets within a couple of years of each other. Fitting into Japan's kei-jidosha small-car rules, they were otherwise fully-fledged sports cars – just rendered in miniature.
The Copen doesn't quite have their legendary status. Some enthusiasts dismiss it because it's front-wheel drive, while the cutesy looks – like the anime sidekick to an Audi TT – can be offputting for others. But because it was officially sold in the UK there are still a fair number about, and if you're not bothered about power oversteer, then who cares that it's front-wheel drive?
Later UK models got a larger and slightly less frenetic (read: better for touring and more frugal at speed) 1.3-litre engine instead of the kei-appropriate 0.66-litre turbo four like our classified find, but used prices suggest there is no preference for either engine. If you do plan on weekends away, just remember that with the roof down, luggage space is toothbrush-only.
Honda CRX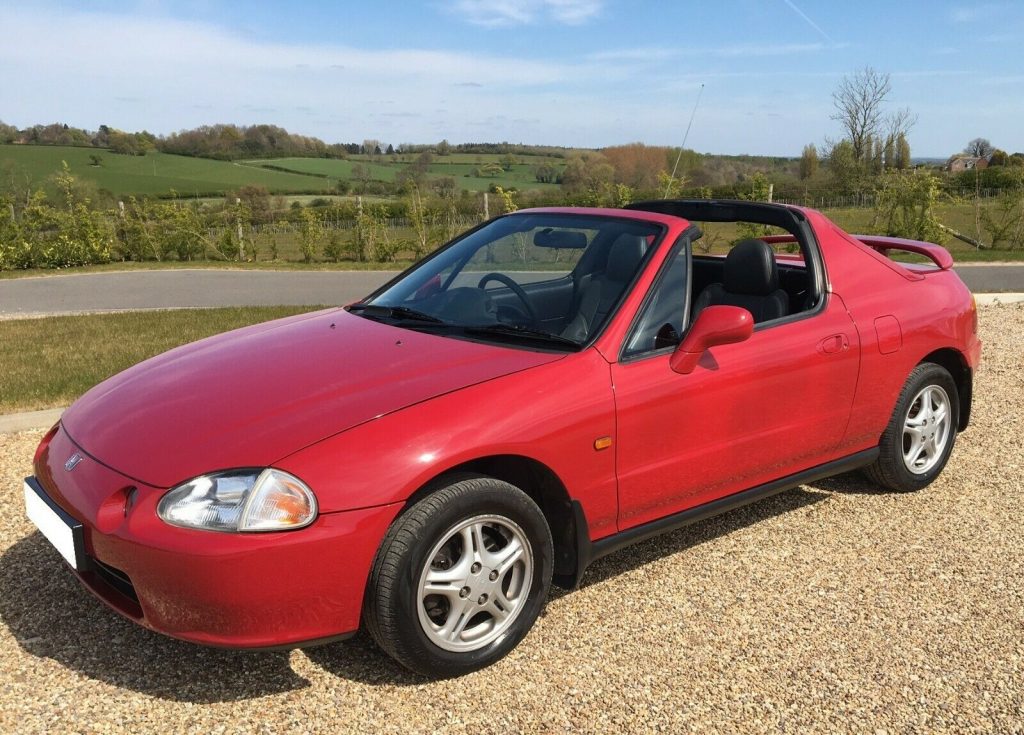 The third-generation Honda CRX wasn't even granted the CRX name in some markets, instead called the Civic Del Sol or simply the Del Sol. It's fair to say it's not as beloved as the wedgy 1980s variants either, but in taking a completely different design direction, it appeals in a different way.
The car we found on eBay has a good example of the CRX's party piece: the "Trans Top", an electric mechanism that hoists the entire boot panel, slides the Targa-style roof inside it, and then closes it again – years before Porsche adopted a similar system for its 911 Targa. It's ruinous for boot space though (a manual panel was available, which fares a little better).
To drive these CRXs offer similar fun to spicier versions of the contemporary Civic. This one misses out on the most potent 157bhp B16 engine like the immaculate samba green car we discovered recently, instead getting a 125bhp D16 four-cylinder, but with a sweet five-speed manual gearshift and nimble handling, it's a legitimate alternative to the rear-drivers here.
Mazda MX-5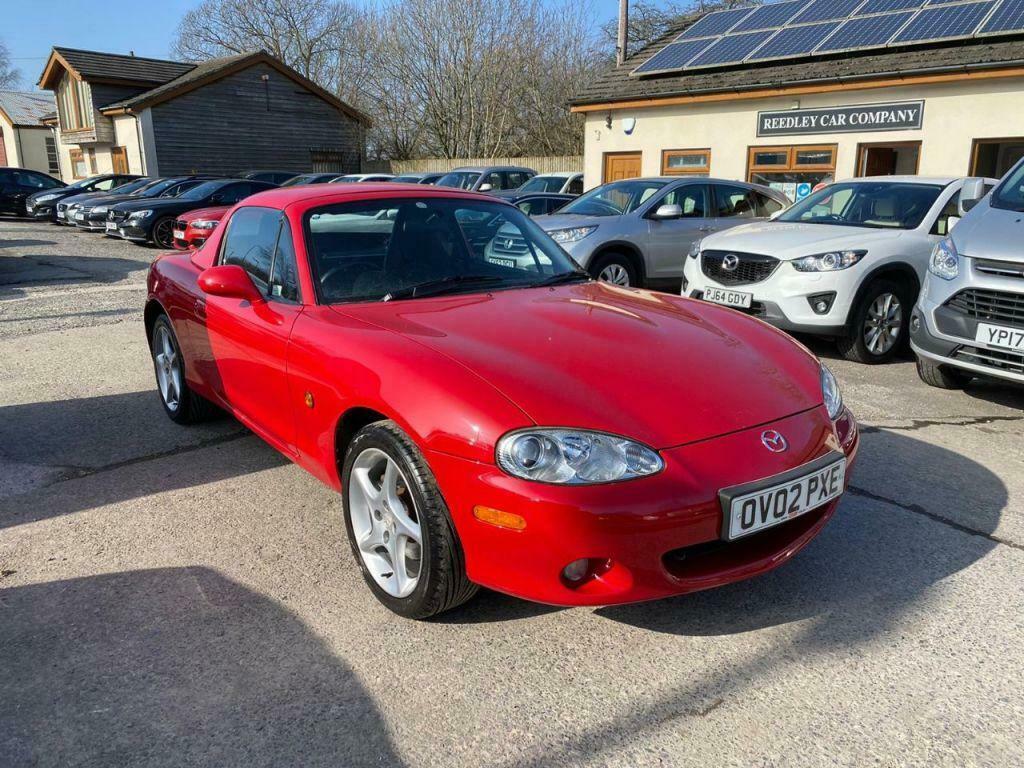 Recommending an MX-5 is a bit of a cliché these days, but they really are that good. The world's best-selling roadster is also one of the best full stop, but the market is developing rapidly and today's affordable MX-5 looks a little different from how it might have done a few years ago.
You can still find decent first-generation cars for under £5000, but they're now thin on the ground. Some are charging five figures for them, which may be hard to justify if you want an MX-5 to actually use – and you do, because who puts an MX-5 in a bubble? As such, you're now better off looking for Mk2 and Mk3 cars, and of those we'd opt for the Mk2 which ran from 1998 to 2005. It's not quite as grown-up as the later Mk3, but the Mk2 is very similar to drive to the bubbly Mk1, and slightly easier to live with.
The 1.8 is the car to go for, with a useful 138bhp and 119lb ft (the latter a fifth more than a 1.6 Mk1). Watch out for rust as they can suffer badly, and don't pay more for a special edition – condition is more important than toys or fancy paintwork. Our 1.8 Sport from 2002 is the kind of thing to look for: little mention of rust in MOTs, and a hard top as well as the regular folding roof – tricky to store, but expensive if bought separately.
Mercedes-Benz SLK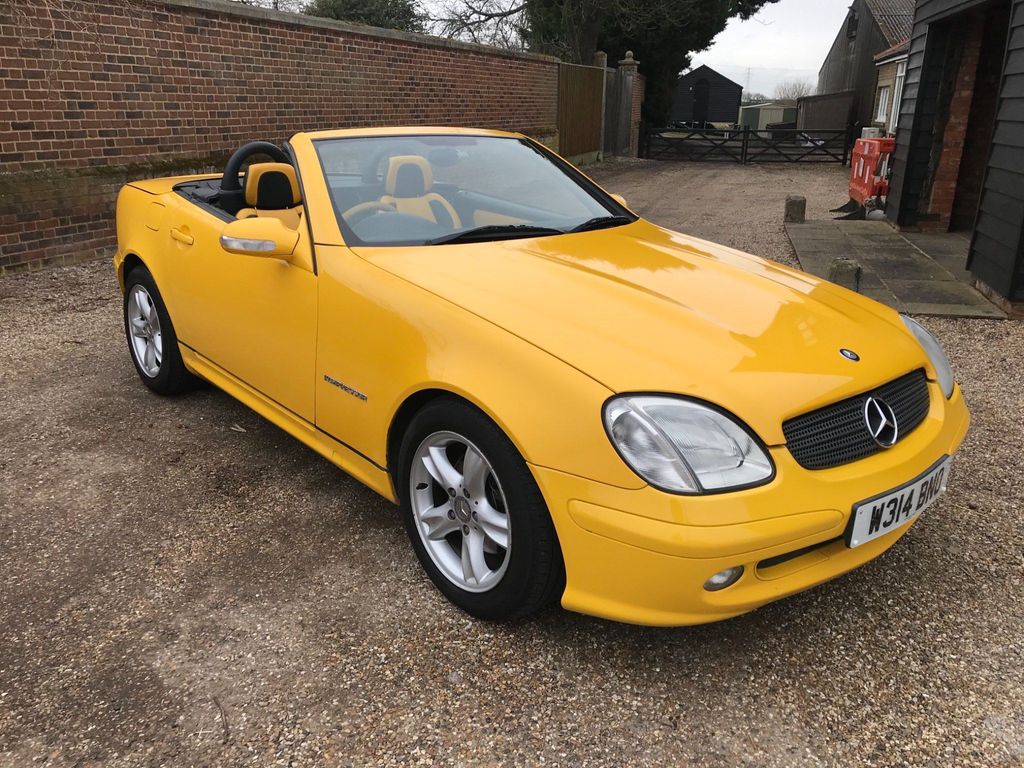 If the Renault Sport Spider is considered unfortunate for debuting at the same time as the seminal Lotus Elise, then the original Mercedes-Benz SLK must be considered unfortunate making its debut the same year the Porsche Boxster arrived – coincidentally, in 1996 just like the Elise and Spider.
In isolation, the SLK was hugely desirable. Time has dulled the impact of its styling but critics and buyers alike considered it genuinely gorgeous back in '96, and its folding metal roof gained plenty of column inches too, giving it all-year-round appeal like few other roadsters, and inspiring a decade and a half of copycats; everything from the Peugeot 206CC to the Ferrari F8 Spider owes its roof to Merc's popularisation of retractable hardtops.
Today the SLK isn't the sharpest drive, particularly as many are automatic. They can suffer from rust, too, and issues caused from neglect as prices reached rock-bottom. But five grand is more than enough for a nice one – like the yellow-over-yellow car we found, specified through Mercedes' Designo personalisation scheme. Those supercharged engines are long-lasting, too.
MGF and TF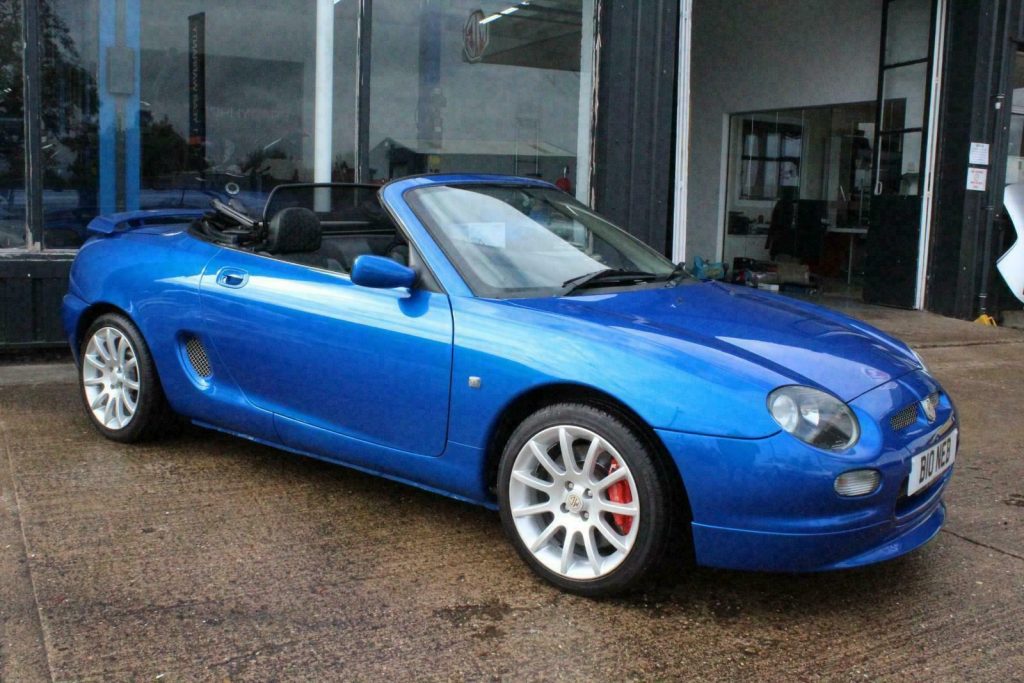 You'll struggle to find better value in a two-seat roadster than the MGF. For a long time more popular in the UK than the Mazda MX-5 that rejuvenated the class, the stock of MGFs remains plentiful, and while the cleanest and best looked-after models are creeping upwards in value, it's possible to find thoroughly decent cars for quite a bit less than the equivalent MX-5.
The MGF's strengths are the power and response of its K-series engines, a ride quality that wouldn't be out of place in a family saloon (bit of an archaic reference these days, isn't it? Maybe that should be "family crossover"…), and good roadholding. Weaknesses include familiar K-series mechanical maladies, a lack of feedback and precision compared to its MX-5 and MR2 rivals, and a driving position that many find feels too high for a sports car.
There are plenty of specialists around to sort the F's engine issues these days though, and given the low prices our five grand budget should get a great example. There's plenty of choice too, from the more relaxed early Fs and 1.6-litre TFs, to the surprisingly sporty 160 Trophy like the car you see here.
Renault Wind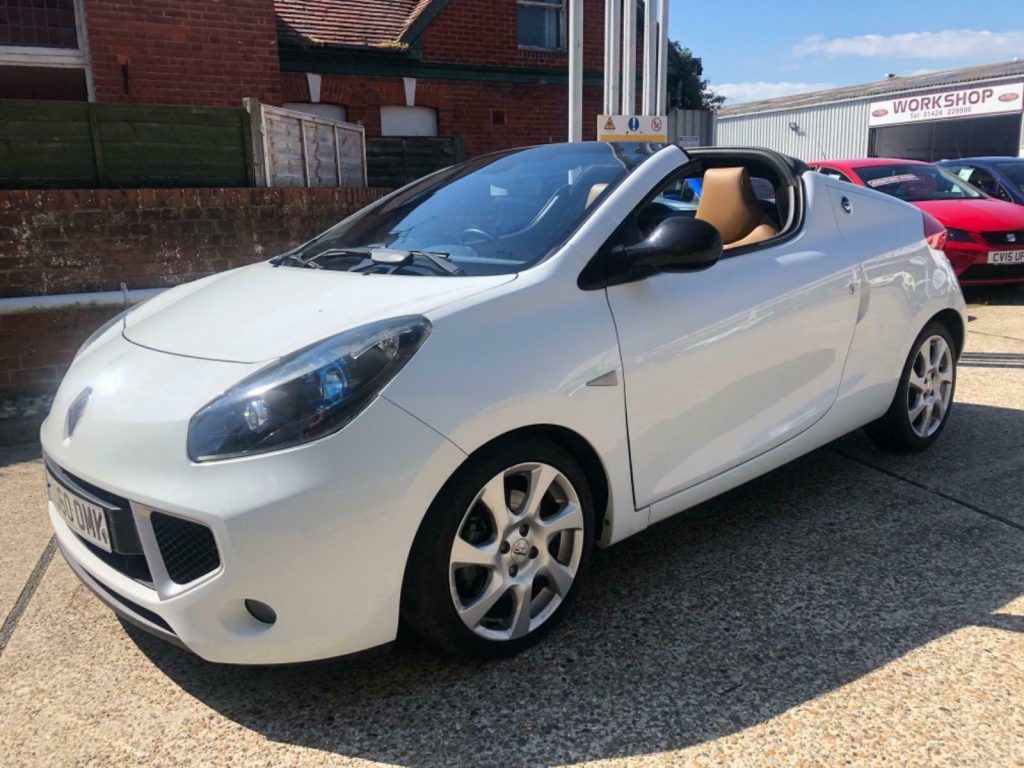 Compact front-wheel drive platform, revvy 1.6-litre engine, innovative Targa roof arrangement… no, it's not another Honda CRX, but instead Renault's 2010s equivalent, the Wind. And amusing name aside, it's actually worth a look.
The reason is that underneath the slightly oddly-proportioned exterior is a Renault Sport Twingo 133, which was a joyful little thing. You get the same rorty 1.6-litre four-cylinder (a 1.2 turbo motor was also available, and a little easier-going) and effectively the same chassis, which means equivalent levels of fun behind the wheel. The roof is clever too, flipping on a pair of hinges like that of a Ferrari 575 Superamerica.
Typically we'd opt for one in the vivid blue metallic Renault offered, but the Wind we've found looks quite sharp in white paintwork with a tan interior.
Smart Roadster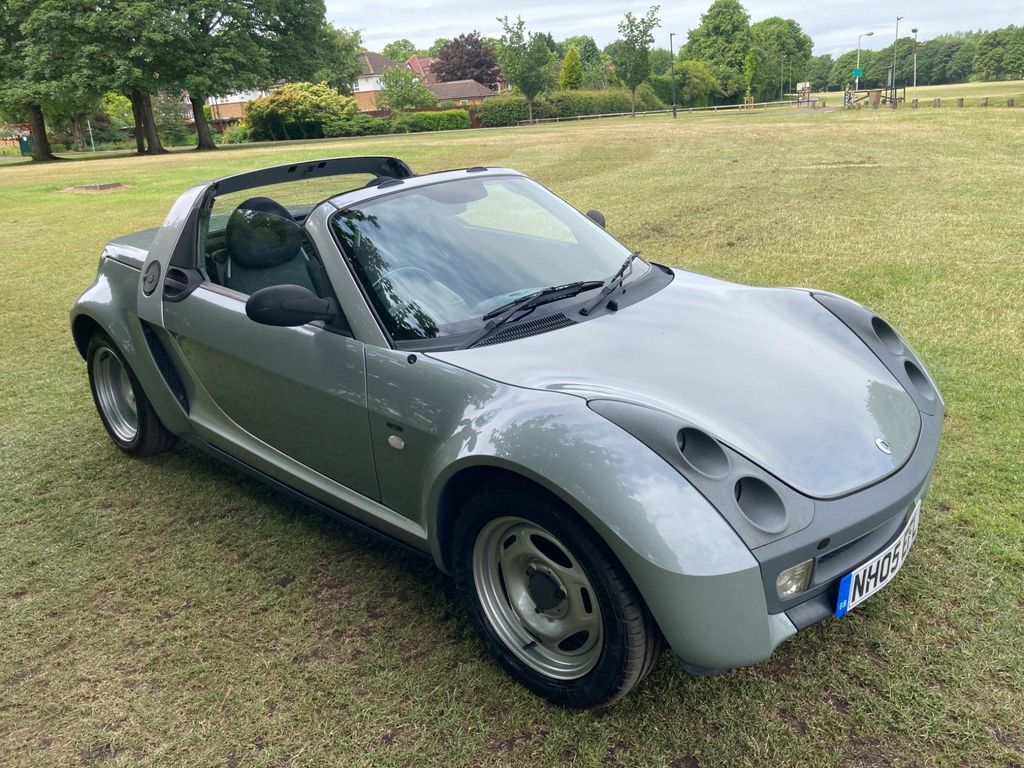 It's not unusual to see Smart Roadsters cresting our £5k budget these days, particularly the sharp-looking Brabus models which gave Smart's diminutive sports car a dose of Autobahn attitude. The bulk though remain below five grand, and they're a characterful alternative to some of the more traditional roadsters here.
Appropriately, a traditional roadster was what Smart set out to replicate – its literature at the time suggested it was a revival of the "roadster classics of the '50s and '60s". The irony was that owners quickly discovered the Smart Roadster could leak like a '50s roadster too, with sometimes expensive results for the car's unfortunately-placed ECUs. Contemporary warranty claims were one reason the "Roadie" lasted from only 2003 to 2005.
A good one though can be a joy. Sure, Smart's automated manual gearbox takes some getting used to, but the Roadster looks fabulous, weighs very little, and sips fuel like the most miserly of superminis. It's a neat handler too, though the steering is relatively low-geared. Our classified example is a rare "Light" special edition, with skinny steel wheels, a two-part removable roof and a basic cabin – but reviews at the time hinted it was the best of the bunch to drive.
Toyota MR2 Mk3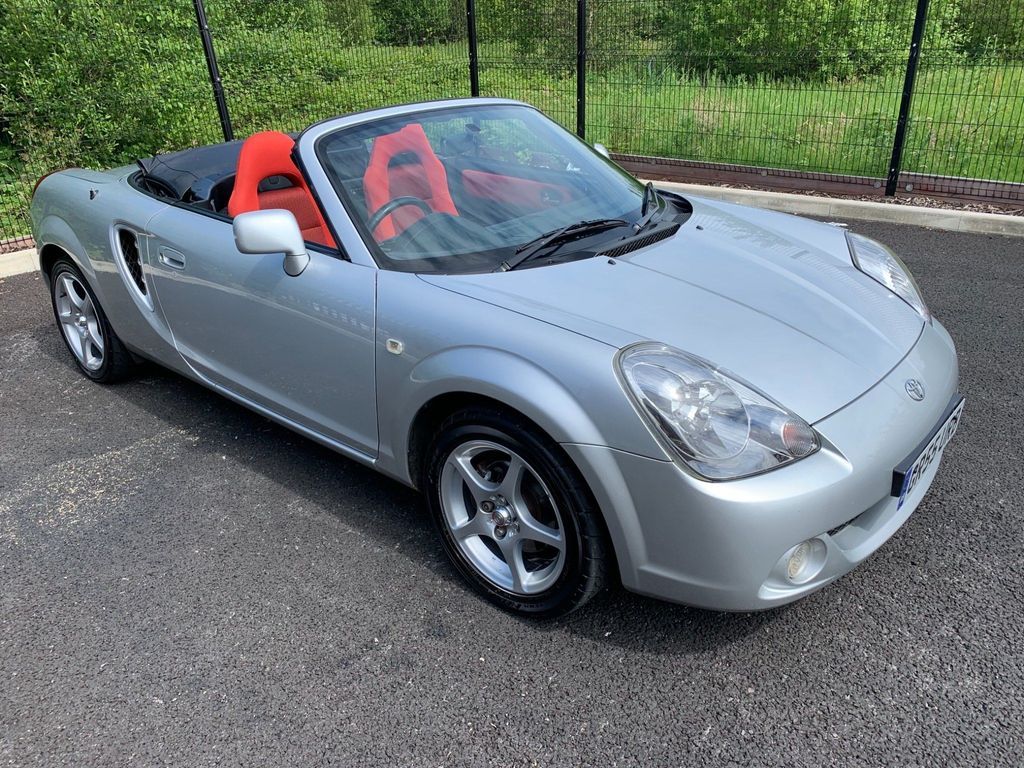 Whisper it, but the third-generation Toyota MR2 – a star of the 2021 Hagerty Bull Market list – is a better car out of the box than a Mazda MX-5. It's more accommodating for taller drivers, it generates less scuttle shake, the engine is more enthusiastic, and the handling is sharper.
Like the MGF, it also has a few downsides which can hinder it, depending on your preference for roadsters. Being mid-engined, it's not as DIY-friendly, the aftermarket isn't as vast, the range wasn't as broad as that of an MX-5 or Z3, and mechanically it's not quite as trouble-free as the Mazda – though you can avoid some of those issues for opting for a facelift model, like the car we've found.
This car's silver over red is a classic combination, though we'd want to see it in the metal to be certain of its condition. Buy a good one though and you'll love it – it's a bit like a budget Lotus Elise.
Also read
Nine cost-effective convertibles for family fun in the sun
11 alternatives to the Jaguar E-Type
Turbos, V6 engines, DSG? These 9 hot hatches did it first