The last of the Spring frosts are coming to an end, the days are warming, birds are singing and car traders are shaking up their stock as they gear up for drivers searching for a convertible that will be perfect for high days and holidays. In popular culture, the four-seat convertible has long played second-fiddle to its two-seat alternative. Built from sensible family vehicles rather than designed from the ground up without a roof, they are viewed as somehow less exciting but what's not to like when you can take along those nearest and dearest to you and enjoy the perfect day out – or even a week or two on the road further afield?
The four-seat convertible class probably hit its peak in the 80s and 90s. There were offerings from Audi, BMW and Mercedes, and for those that didn't want a German car, the not-so local Saab dealer could help. Whether large, hatchback-size or even a supermini, if a family car didn't have a ragtop variant then the range would miss out on considerable reflected glory. Some drivers took matters into their own hands, commissioning a coachbuilder like Karmann or Baur to do it for them.
How much is your car to insure? Find out in four easy steps.
Get a quote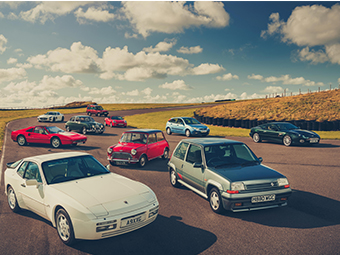 There are but a handful of four-seat drop-tops on sale today, many towards the top of the market. The humblest pair both come from BMW, in the form of the Mini Convertible and BMW 2-series Convertible (and the latter isn't long for this world), while Volkswagen offers a soft-top version of its T-Roc crossover.
However, in the modern-classic space, choice is plentiful. A budget of just £5000 is enough to pick up the spiritual predecessor to those BMW, Mini and Volkswagen drop-tops, and a bunch more besides. While many true classics have risen out of reach, the modern classic arena is a fruitful place. An MX-5 or MGF will run rings around any of these for pure driving enjoyment, of course, but for enjoying the summer with more than one other person, see how tempted you are by one of our nine convertibles below…
BMW 3-Series (E36) Convertible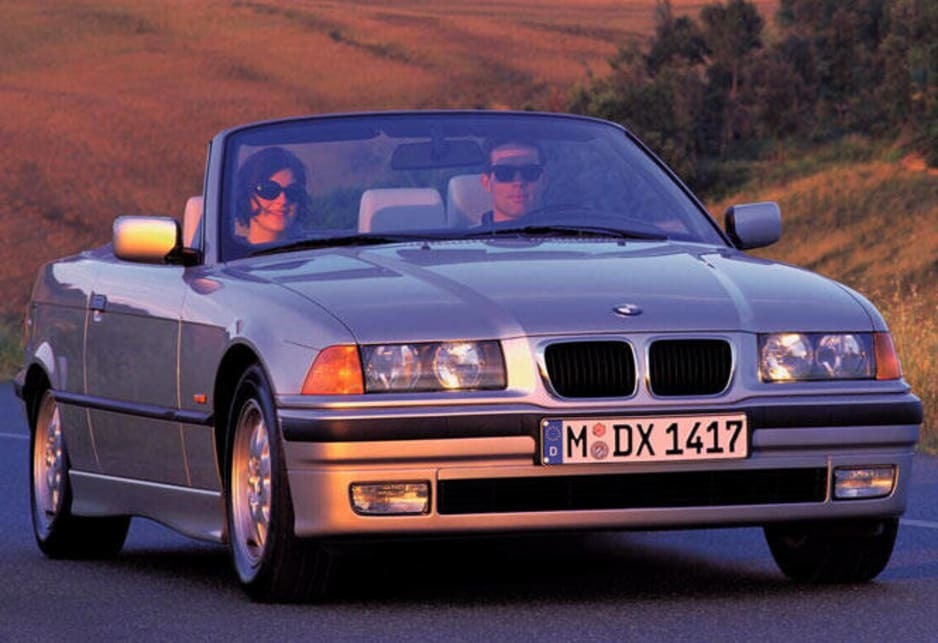 It's too late; E30 cabrios have gone much the same way as any other E30-generation BMW 3-series, the rising tide of M3s lifting up all other ships. You could probably find a ropey one for our budget but a much better bet might be the larger and more sophisticated, and modern classic in its own right, E36.
We'll concede that there's something not completely satisfying about the styling. M3s (over budget) just about pull off the look on their wider tracks, larger wheels and with an M body kit, but lower-end ones can look a touch dumpy – the least crisp of all E36s, it could be argued.
What you do get is room enough for a pair of rear-seat passengers, a wide choice of engines (even the straight sixes should be under £5k for all but the nicest ones) and a fine chassis. Like all E36s – and so many cars of this age – one of the main issues is rot but on the upside the convertibles are unlikely to have been modified. Inspect the roof carefully, check that it remains watertight around all seals (a hose or watering can should do the trick) and remember that it's a straightforward job to clean the fabric roof and proof it with specialist products.
Ford Escort Cabriolet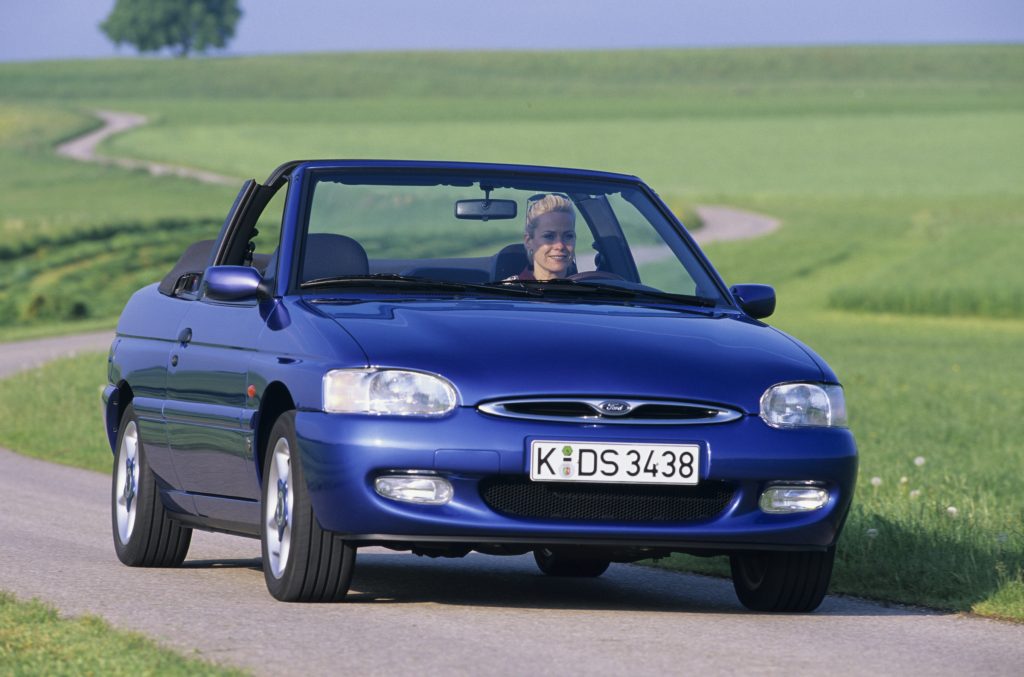 Along with Golfs and Minis there is a good supply of drop-top Ford Escorts available. What's more, they're a much more affordable way into an old 'Scort than the tin-tops, even for models otherwise rising in price like XR3is.
Perhaps they're suffering from the usual snobbishness over roofless versions of humdrum family cars, but their loss is your gain. You'll get to enjoy lower prices and even outside of concours examples, a car that's often in more original condition – former buyers are less likely to have modified these Escorts than those with fixed roofs.
Mk3 and Mk4 models are pushing our £5k budget these days but offer plenty of boxy 1980s appeal, while later Mk5, 6 and 7s now look quite distinctive in their own right. While not exactly sporty, the last of the line cars were, in both quality and dynamics, a considerable improvement over the earlier 90s Escorts too.
Mini Convertible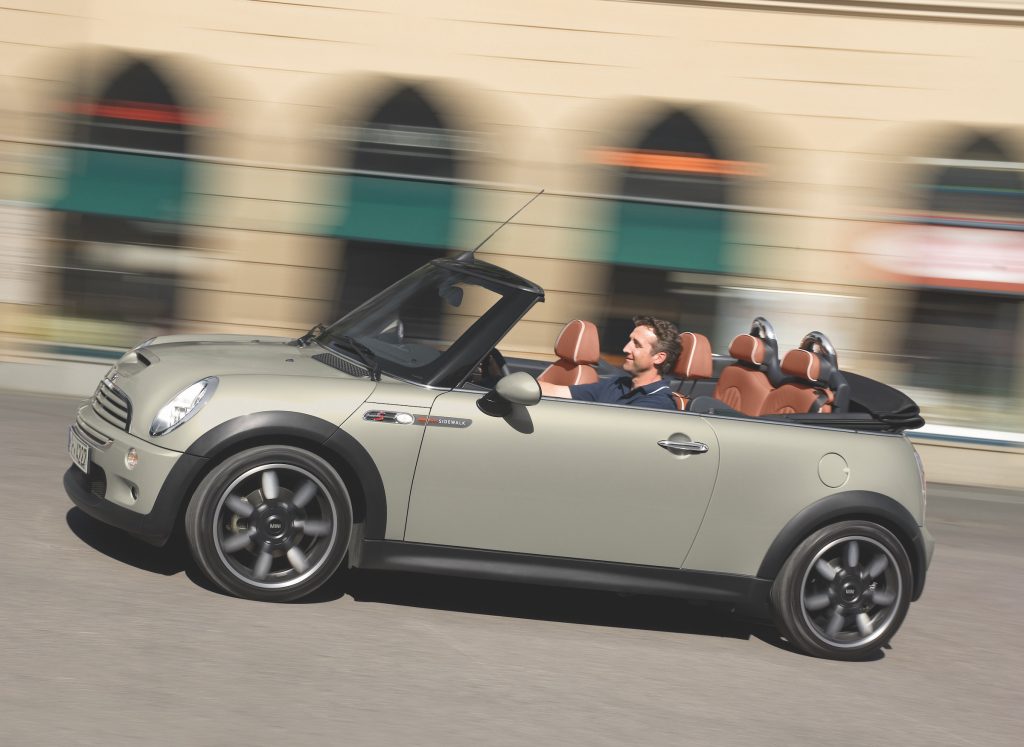 Much as we'd like to have included the classic Rover Mini convertible on this list, their scarcity means you'll never find one for under £5000 – it's tricky enough getting hold of decent examples of the regular classic Mini for that kind of money now.
What you will find are numerous BMW Minis sans roof. The earliest models arrived in 2004 making them old enough to apply for a driving license, and if you're doing just that yourself in 2021 then a Mini drop-top is just as old as a 1987 Mini City was when the Oxford-built cabrio was new.
They're still a great steer too. Sure, they wobble a little more than the fixed-roof Minis, but it's still a nimble car with talkative steering, just as Minis (old or new) should be. And you can just about squeeze a couple of kids or friends in the back seats, even if they'll feel a little hemmed-in by the pram-style roof. The ride comfort is on the firm side, though, so do test drive one before you let your heart rule your head.
Peugeot 306 Cabriolet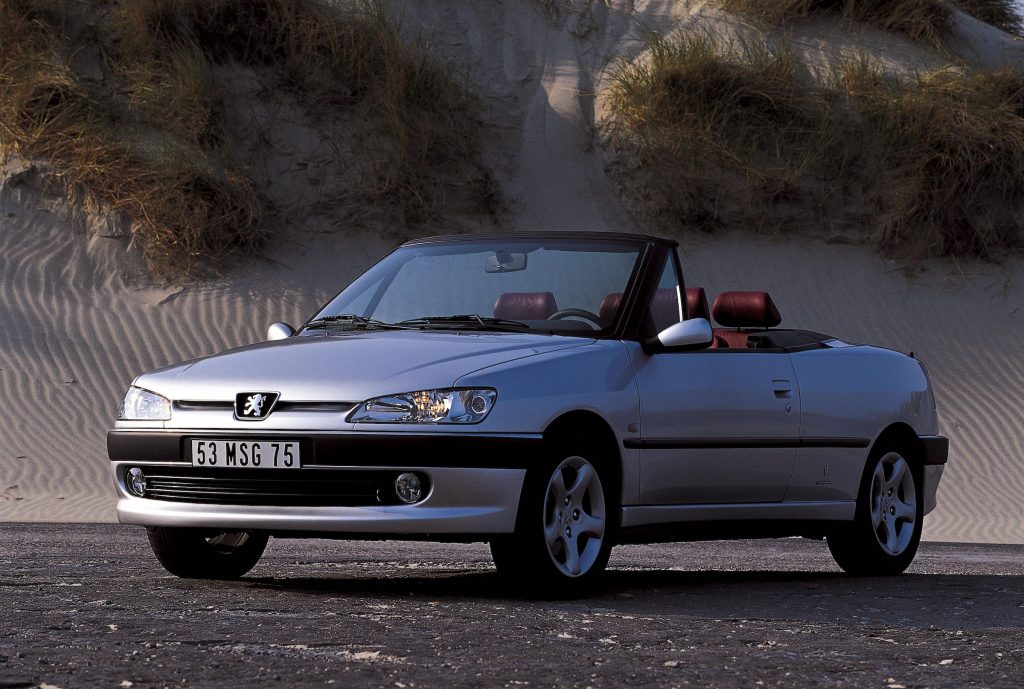 There probably isn't a prettier convertible on this list, and for some that will mean the Peugeot 306 Cabriolet does its job better than any other here. Even if you don't agree with Autocar, who described it when new in 1994 as "sexier than a sackful of E-types", you have to say the 306 is rather handsome.
There are usually a few for sale at any given time so you can be choosy when… well, choosing. The cabrio survived the 306's mid-life facelift so you'll find examples with both front and rear end designs, and while it never got the full GTi-6 drivetrain, most were motivated by a 2-litre twin-cam from the XSi.
Contemporary reviews reckoned scuttle shake was minimal, though with years and changing perceptions they'll probably feel a bit wobbly now. They handled well and the ride comfort was pleasingly calm, and with enough space for four adults as well as their luggage, you can let others enjoy open-air motoring. Old Pugs aren't immune to rust and roofs can be scraggy, but the good news is our budget should net the absolute best with cash to spare.
Rover 200 Cabriolet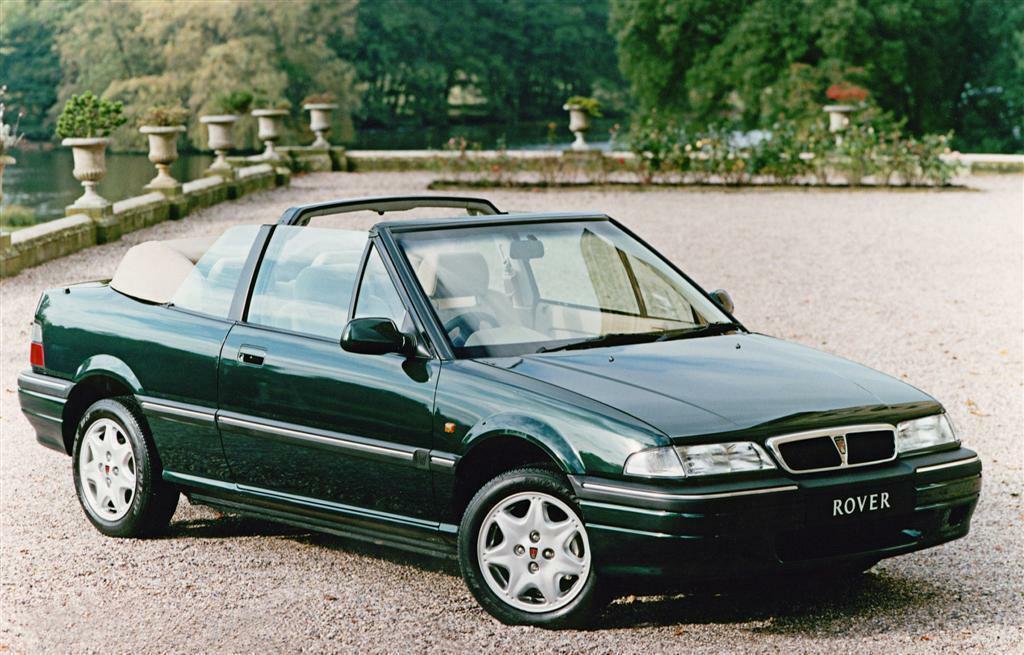 The R8 generation of Rover 200 and 400 has been a usable modern classic for a while now but in recent years the subtle upwards creep of prices for certain models suggests people are now cherishing the best-kept models.
There's impressive variety to the R8 family of Rovers, covering everything from the expected five-door hatch and four-door saloon to sporty three-doors, the two-door coupé often dubbed "Tomcat", and the convertible variant you see here. And while some dealers are asking more than our £5k limit, you should still find a good one for under it.
What are the benefits? Handsome styling (not as pert as the 306 Cabrio, but classier than the Escort), and a choice of revvy K-series and Honda-sourced motors. Driving one to the riviera and back in 1992, Car praised its sharp steering and good grip; both no doubt modest by modern standards, but surely enough to provide a few grins on a sunny B-road.
Saab 900 Convertible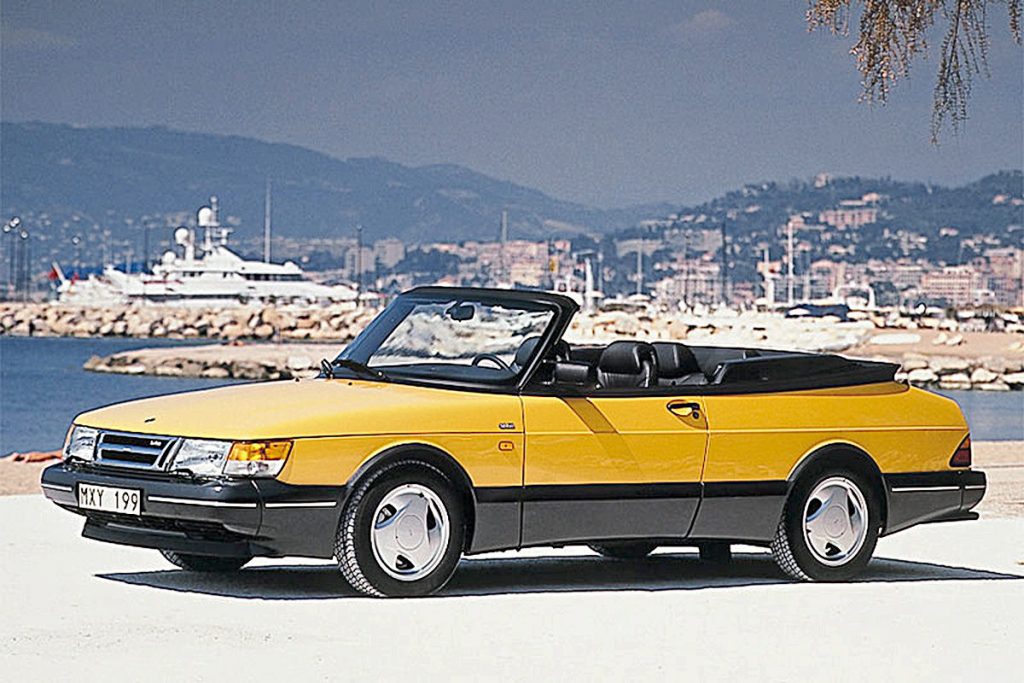 You have a choice here. Search around and it's still just about possible to find tidy pre-General Motors 900 drop-tops on the market for under five grand, and they're about as usable as classic cars with folding roofs get. Mechanicals are stout, although the gearbox can be a weak point, and the styling is distinctive. On a recent Hagerty livestream, renowned designer Frank Stephenson called the 900 the best design you can buy on a low budget.
Or, if your tastes are more modern-classic than classic, there's the "GM900" option – the range built upon the platform of the Vauxhall Cavalier (albeit heavily adapted by Saab), which got its own convertible variant. This extended all the way until 2003 in convertible form.
They still look good, and while there are a few well-known issues (they can chew through coil packs), they're generally dependable too. The biggest downside is scuttle shake – the 900/9-3 was fairly floppy as a tin-top and cutting off the roof didn't improve matters – but opt for one of the low-pressure turbo models to stave off torque steer, and treat it as a cruiser rather than a sports car, and there's a lot to like.
Suzuki Vitara Convertible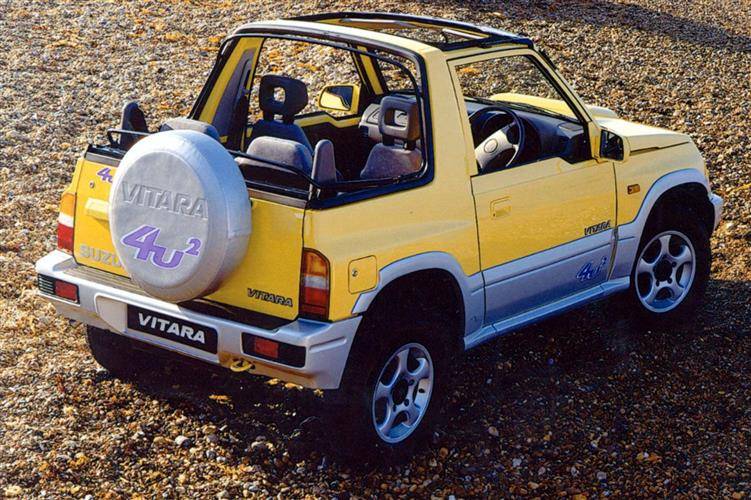 People often buy off-roaders on the premise of their all-weather ability. We'd argue that often excludes good weather, since an SUV's strengths confer little advantage when the roads are bone dry and the weather is hot. If anything, perched high in an air-conditioned box, you're further than ever from fair-weather fun.
Unless you buy into that small niche of soft-top 4x4s, that is. Jeep Wranglers and Land Rover Freelanders both let you strip back the roof on certain two-door models, but few have embraced the concept as widely as Suzuki. The Japanese brand has made soft-top SJs, Jimnys, and even the quirky X-90, but the Suzuki Vitara is among the most affordable and usable, and early examples have retro appeal these days too.
Operating the soft top involves manual labour – it's closer to the tent you get on a Caterham than the swish electrical numbers of others on this page – but if you've got a garage it's just simpler to leave it down the whole time anyway. Rust can also be an issue; it's an older Japanese car, after all. But as an affordable set of wheels in which to arrive at – and perhaps even drive onto – the beach, it's a fun and off-the-wall car.
Triumph Herald Convertible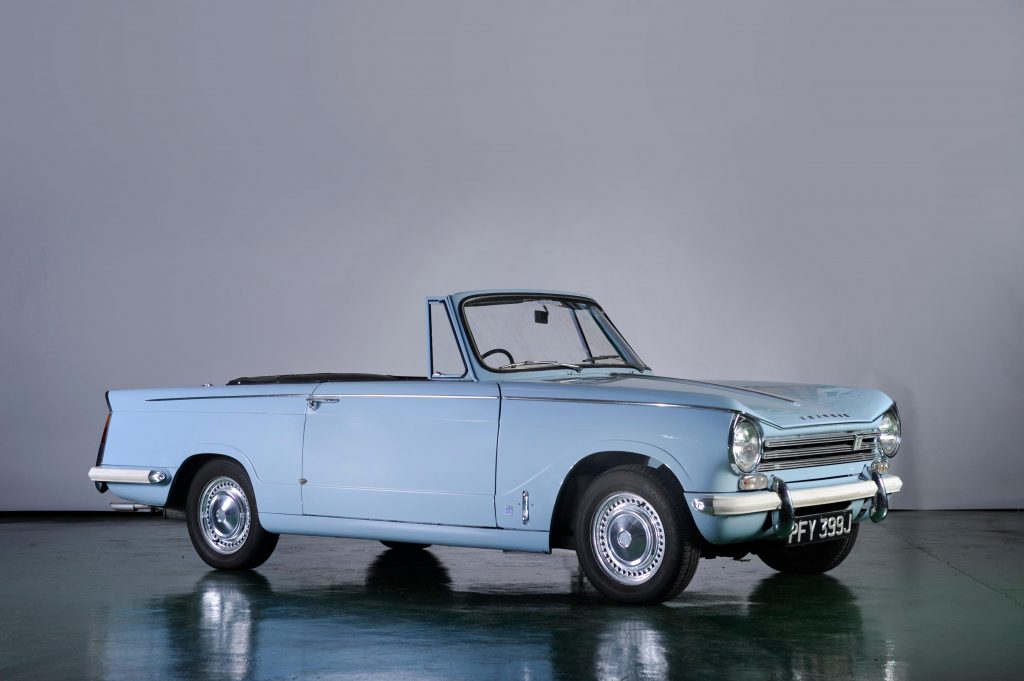 The price of truly classic convertibles is rising steadily, lifting old Beetles and Minors beyond our £5k limit. One that remains attainable though, if not for much longer, is the Triumph Herald.
The Herald is a somewhat overlooked classic today, lacking the glamour of Triumph's own sports cars and the ubiquity of contemporaries from British Leyland and Ford. In its favour, the Herald is spectacularly easy to work on (the whole front flips forwards; owners will happily point out you can sit on a front tyre to do most jobs) and rather handsome, with a body that was designed by Giovanni Michelotti.
That all applies to the convertible too. The body-on-frame construction means the chassis is no weaker without a roof, and ensures it's just as easy to fiddle with as the saloon – Spitfire parts are a common upgrade. At this money you may have to deal with rot and a ratty roof, so inspect examples carefully and budget accordingly.
Volkswagen Golf Cabriolet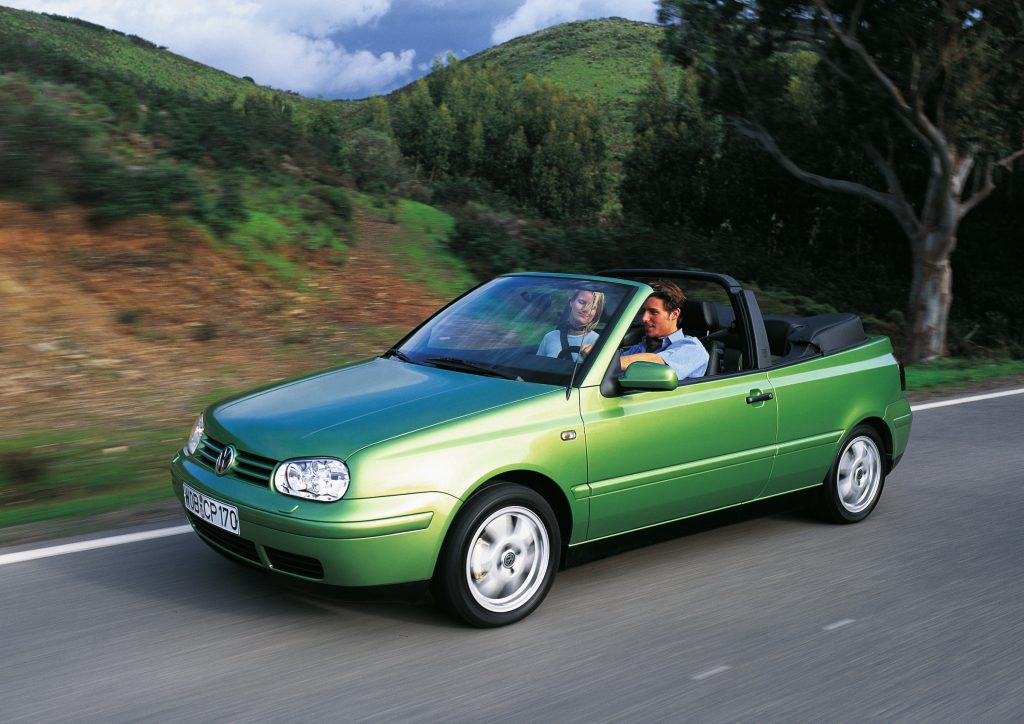 Volkswagen's Golf has long been the ultimate safe-bet car. To those not particularly interested in cars it checks every box, up to and including a respected badge, and to enthusiasts there have always been a few performance models knocking around to spice up the commute without compromising on usability.
It follows then that a soft-top Golf is the ultimate safe-bet convertible, particularly if you can't get away with the two seats of a Mazda MX-5. It does all the Golf things that matter, like starting most mornings, not guzzling fuel and seating four adults, but when the sun finally has its hat on the Golf can still come out to play. Mk1 models are creeping out of reach but Mk3 and "Mk4" (the latter largely a facelifted Mk3) are well within our budget and have burgeoning retro appeal.
To some the Golf's methodology will make it feel like the most boring way of doing something fun. The Margherita pizza of top-down motoring, or the caffeine-free, sugar-free Coke of cabrios. Better though to view it as the most entertaining way of being very sensible and grown-up, like sprinkling marshmallows onto your muesli.
Also read
Remembering BMW's Z8, the rare retro roadster
Retro Rewind: Mazda MX-5 1.8i vs MX-5 R-Sport
The Boxster at 25: How the roadster's renaissance played out at Porsche