With a name like Spitfire and handsome styling is it any surprise that the everyman sports car proved so enduring? Triumph top brass probably couldn't believe their luck when it continued to fly out of showrooms from the early 1960s until the beginning of the '80s. That made it one of the few cars that could be bought bought from new by two generations of the same family. Was that your family, perhaps?
As a small open sports car the Spit had youth appeal. From the dainty and pretty MK1 (called the Spitfire 4) through to the popular and powerful 1500, there are Spitfires to suit almost every taste and budget, with certain versions available from as little as £3000 – if you're prepared to tackle a project. Those after a very early (and rare), concours Mk1 example could spend up to £25,000.
How much is your car to insure? Find out in four easy steps.
Get a quote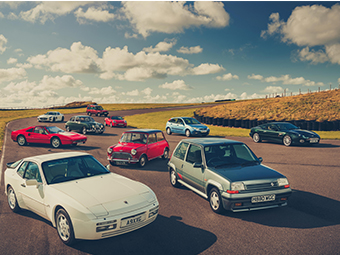 Based on the Herald, the Triumph Spitfire was made possible by the former car's separate chassis design. This ensured that while the designer Giovanni Michelotti could pen a nice new set of clothes, the bare bones of the car and its running gear effectively already existed, a cost-effective approach. Rebodying a separate chassis allowed Triumph to expand its range far more widely than a monocoque could have done with a similar budget, especially as the panelling work could be subcontracted to different pressing companies.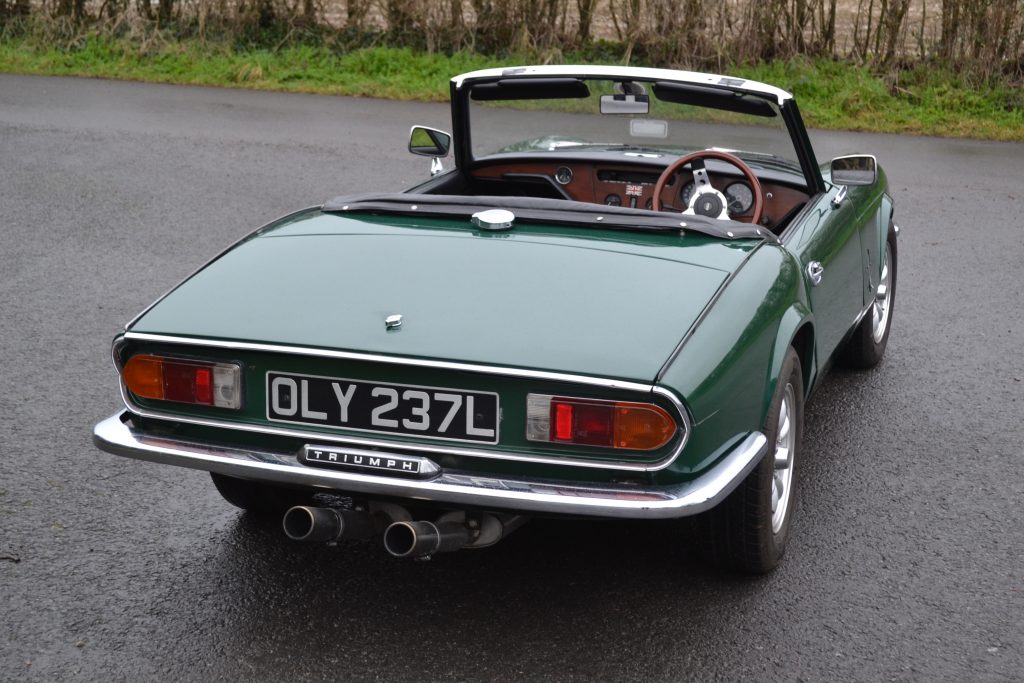 And the Spitfire's design endured. Just two major facelifts were applied in the car's nineteen year lifespan – in 1967 for the Mk3 and in 1970 for the MkIV, which continued as the 1500 with the same smart new rear as the larger Stag – which you can find our Buying Guide for here. The Spitfire epoch encompassed five different models and sired the GT6 – a fixed head, six cylinder Spitfire targeted at MGB owners – to boot.
By the end of production in 1980, 314000 Spitfires had been produced. And it went on to influence cars like the Mazda MX-5 (reviewed here in our Retro Rewind series). These days, it's an eminently enjoyable regular use classic, and one which will not lose you money. If you're tempted – and who isn't – read on.
What's it like to drive?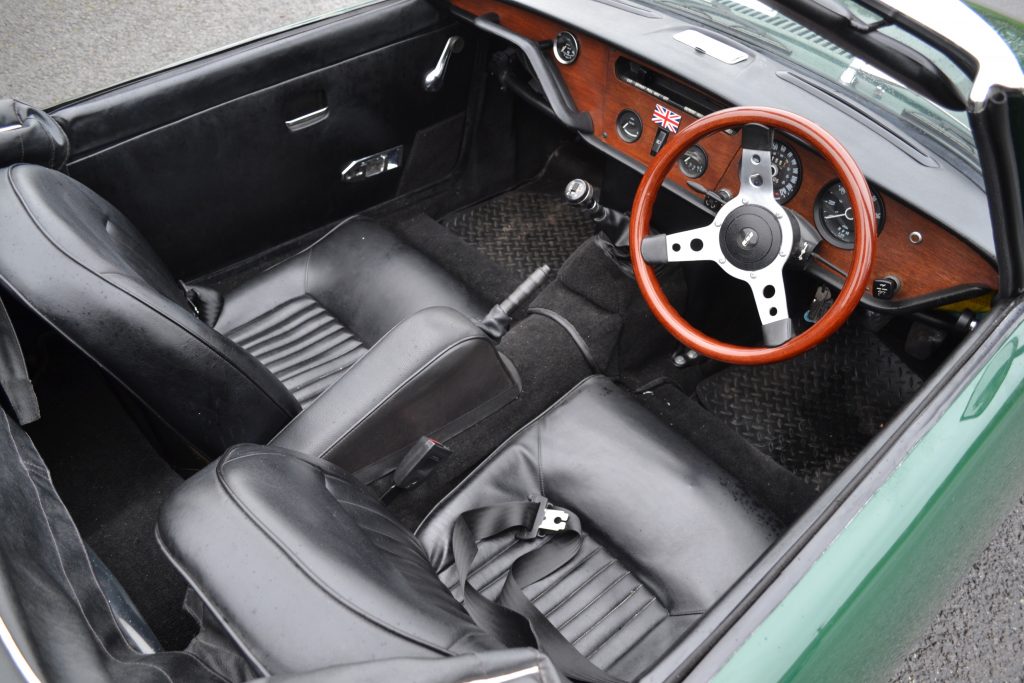 That depends upon your level of talent, really, and your honesty about it. The front-engined, rear-wheel drive layout is a recipe for driving enjoyment come rain or shine. However, broadly Triumph Spitfires fall into two camps from a driving perspective – pre 1970 cars with a rounded finish to their tail have no lower wishbones in the rear suspension design, meaning that under harsh braking or cornering the inner wheel can "tuck under" and lead to less predictable handling. Cue a rapid-rise in the driver's heart rate.
The post 1970 cars with a square tail rectified this issue and are far more user friendly. And we'd add that, if you have the requisite talent and are prepared to start slowly and treat the car with respect, you can in fact half drift the earlier cars around bends in a rather satisfying manner at almost any speed. Get it wrong though, and a Spitfire will make it very clear that you need more practice.
They aren't the largest of cars. If you're over 6ft tall, especially with the hood raised, and there's minimal width so you should try one for size before buying, especially in the age of online auction and classified sites. The last thing you need is to enjoy a few glasses of vino collapso on a Saturday night, buy a Spitfire and then find that your legs are fouling the steering wheel and your head is in the airstream above the windscreen surround.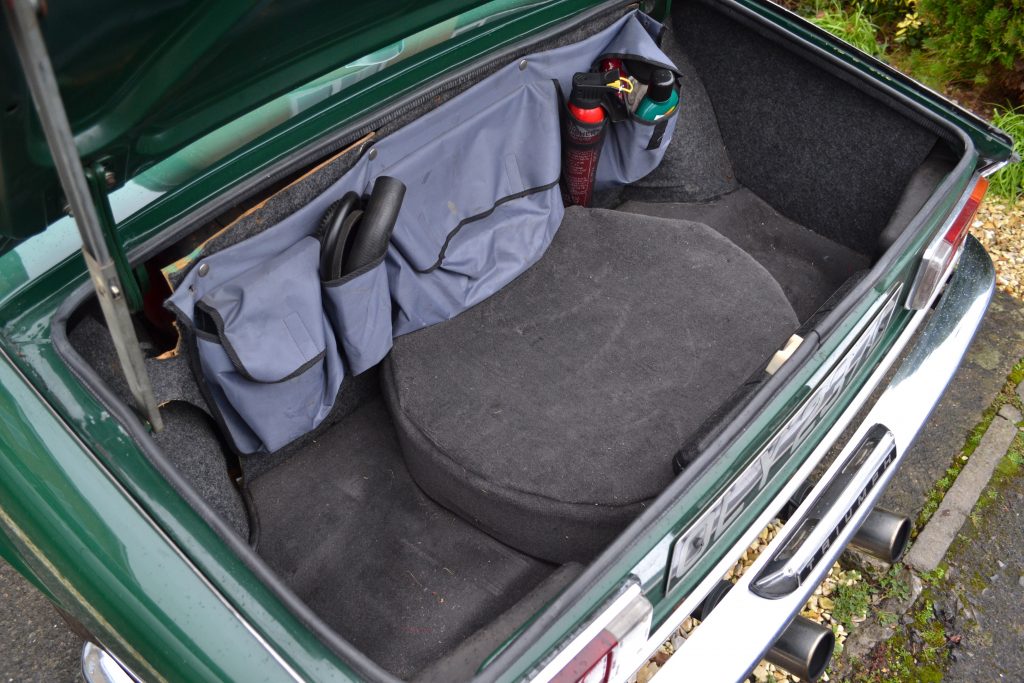 But once in, a Spitfire has a good driving position, clear visibility and the controls are placed almost exactly where you want them to be. Remember, an early 80s Spit was out of date when new, but considering it's effectively 1950s technology it held up well. Expect snug space for two and maybe a couple of overnight bags in the boot and you'll be pleased, imagine the Spitfire is in any way a capable grand tourer and you'll come away disappointed.
How much does a Triumph Spitfire cost?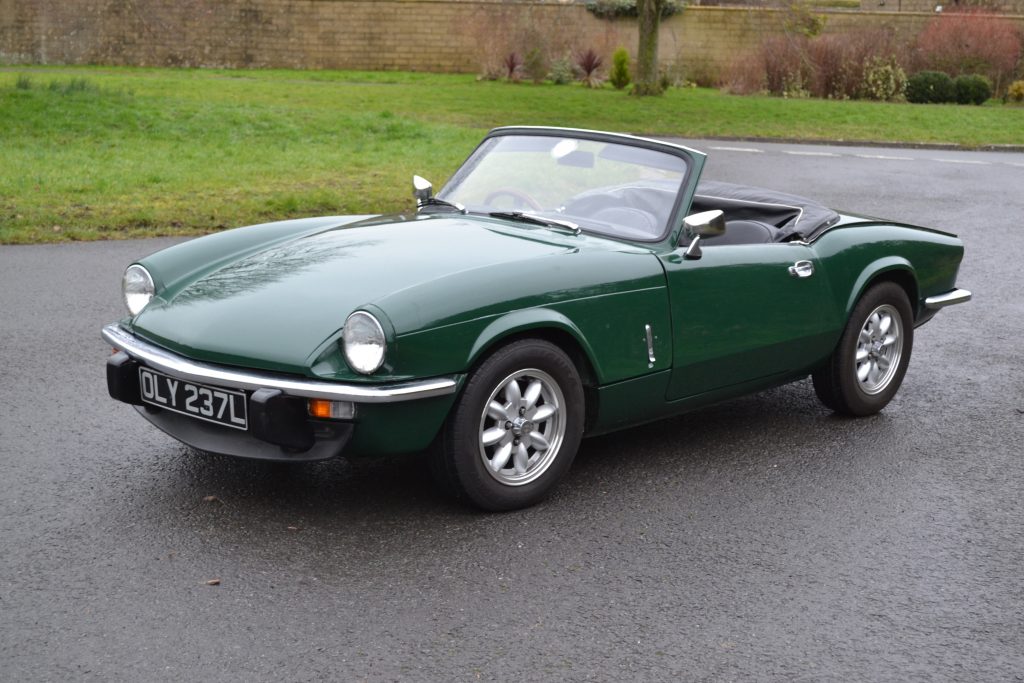 The Triumph Spitfire has been a card-carrying classic for decades, and values are finally out of banger territory across the range. The most desirable Spitfires are those with odd numbers; the delicate and pretty Mk1, the powerful Mk3, and the usable 1500. The Mk2 retains a high value but the MkIV makes excellent sense for those looking for a cheap way into a classic British sports car.
As you'll see from browsing the Hagerty Price Guide, the very best Mk1s can fetch up to £24400, though decent usable cars can be had for around £13000 and projects for under £7500. A Mk2 will be around 10 per cent less, with perfect Mk2s, fetching around £22800, usable cars starting around £12000 and projects under £7000. A Mk2 is no worse than a Mk1 save for the collectability angle, they still have the pretty low chrome bumpers, the simple hood and the basic delights of the Mk1, though with a shade more power.
Mk3 Spitfires were introduced from 1967 and brought about a larger engine, more power and a folding hood, and while the raised front bumper isn't so pretty they remain a desirable car. They also offer good value for money when set against the more collectible earlier models, with the best Mk3s fetching just £14000 – similar money to an average Mk1 or Mk2. £7000 or so will get a decent Mk3, while projects can be had from as little as £3000.
From 1970 the MkIV arrived, and about £11,000 is all you need for a really good example, while a 1500 is likely to fetch nearer to £11,100 in perfect condition. Just over £6000 will get a good example of either, while £4000 or so will find you a usable car. If you're looking at cars priced around £2500, the odds are that they'll be projects.
Many Spitfires are modified, with things like sports seats, Minilite alloys and performance exhausts all common mods. This doesn't adversely affect the value of an average example, though we'd avoid odifying anything at the top of the pile in terms of value as modifications can deter the true collector and knock as much as 20 per cent from the value of an otherwise concours example.
How much does it cost to service?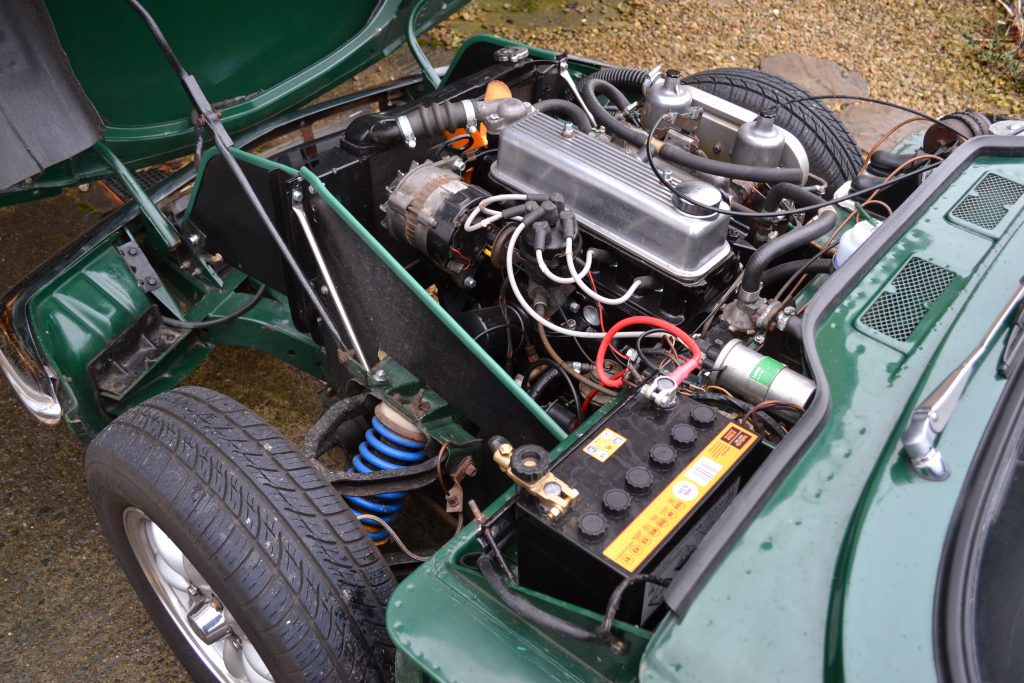 A complete service kit for a Triumph Spitfire can be bought for around £40 from a specialist such as Rimmer Bros. This includes air and oil filters and spark plugs, points, a condenser and a fanbelt. On top of that you'll need the oil for an oil change, just shy of four litres meaning that a single can of 20w50 should be more than enough.
Modern fuel lines can be ethanol resistant, but some specialists might advise an inhibitor in the fuel in case of perishable parts in the carburettors. (For more information, see our guide to preparing for the introduction of E10 fuel.)
Specialist Anglian Triumph Services, based in Norfolk, would charge in the region of £90-110 for a full service including the replacement of any non ethanol compliant fuel hoses, while the labour rate is £35+VAT.
What goes wrong and what should you look for when buying a Triumph Spitfire?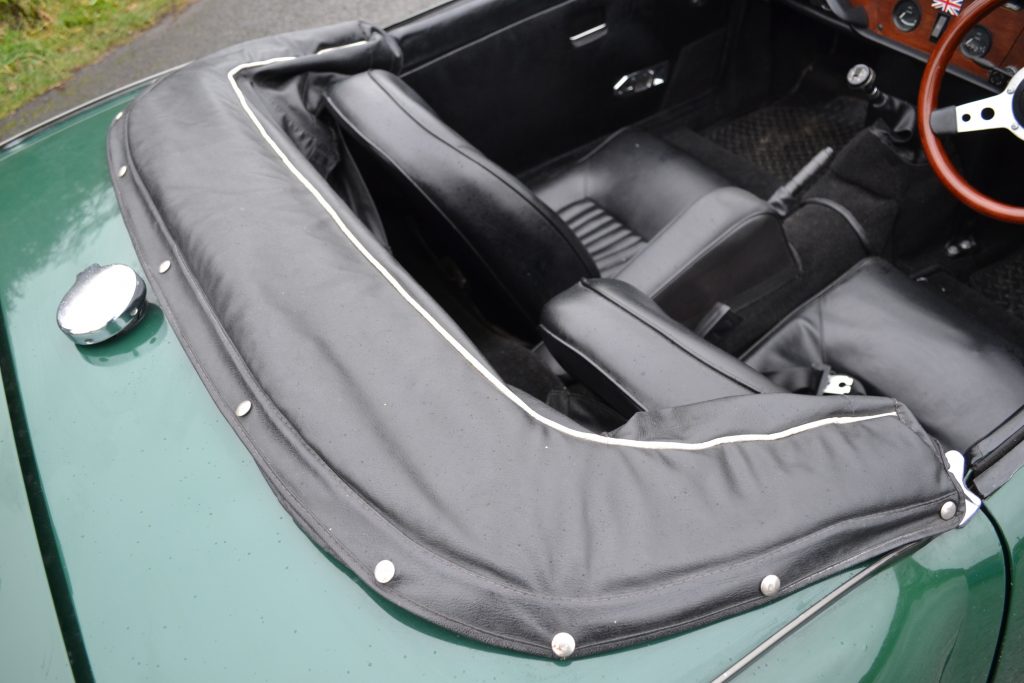 The bodywork can mostly be ignored on a Spitfire because it's not a monocoque; the panels don't impact upon the strength. The bulkhead may have structural importance, but the panelwork is bolted to a separate chassis. The exception is the sills – strength was built into them to offset the lack of the Herald's chassis outriggers, so any rust here can be bad news.
The one thing to check with the shell is how well the panels fit – badly restored Spitfires exist, and poor panel fit will affect the looks, potentially be at greater risk of damage, and ultimately require money to rectify.
Front trunnions can be weak, but specialist Canley Classics, in Fillongley
Warwickshire, sells a replacement front end setup which does away with them altogether.
David Aspinall of Anglian Triumph Services says: "What you get depends on your budget – Spitfires have gone up in value and what used to be an expensive car can now be seen as a cheap one. Chassis don't tend to rot, but sills can, floors and boot floors can. Screen frames can be structural and need to be checked. In the past, we've found 1976-1978 cars to have issues – the steel wasn't as good.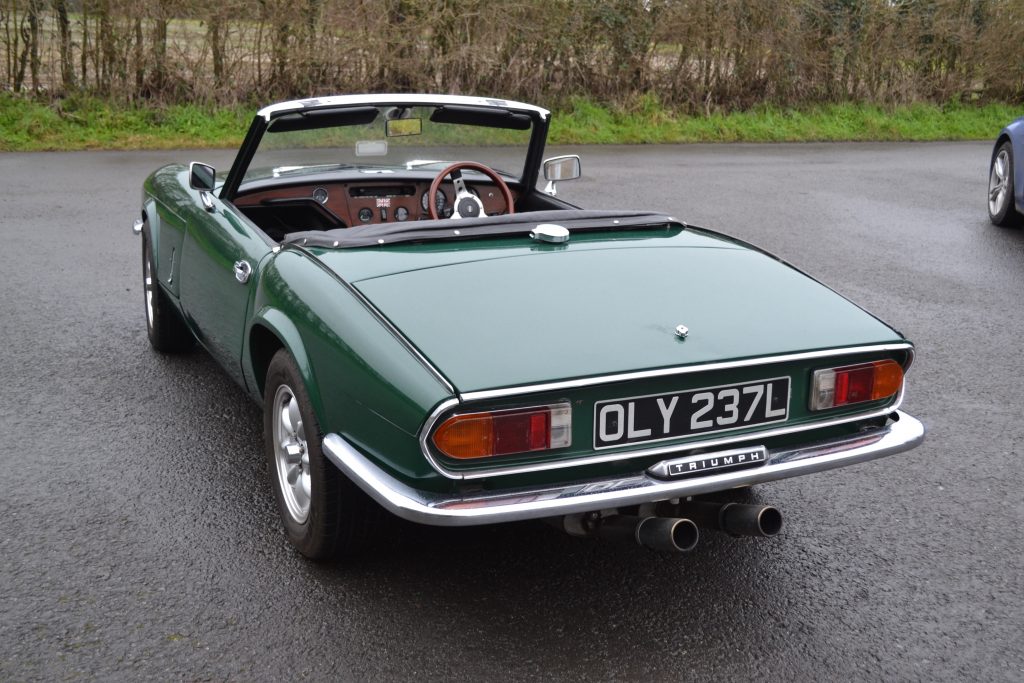 "If the sills have been replaced, the difference between Heritage and reproduction sills is fitment and some repro panels are worse than others. Rear quarters and under the bumper are trouble spots on a poor car. If someone's selling for much over £6000 you don't want to see a load of underseal all over the place as it could be hiding things, while the higher end of the market has to be nice everywhere. Lift the seats and carpets to check the floors, look at the floors from underneath the car too. Front arches can be rust prone, as can the front of the bonnet around the lights. In my opinion upgrades rarely improve the value of a car as much as history and provenance. Leather seat covers can be desirable to some, likewise mohair hoods, but a vinyl one is adequate and original spec. Check the hood fits, too – if they've been poorly fitted, they might not close properly."
As a replacement vinyl hood is in the region of £150 excluding fitting, a tatty roof shouldn't preclude any purchase, assuming the rest of the Spitfire is fit for duty.