Bob's a good guy. You'd like him. Bob's into cars, hangs out in "the People's Republic of California," drives everywhere with the roof down and shares the sort of colourful stories you'd gladly pass on to other petrolheads. He never tires of questions and has even been named Man of the Year by car magazines. Oh, and Bob's the guy who had the idea for the Mazda MX-5.
Not that Bob Hall would ever take credit for the smash-hit roadster. When I interviewed him, for the 25th anniversary of the MX-5, he was at pains to credit Kenichi Yamamoto, Mazda's head of research and development, Masao Yagi, a designer in Mazda's California studio, and Mark Jordan, a designer who'd later join and refine Yagi's early ideas.
How much is your car to insure? Find out in four easy steps.
Get a quote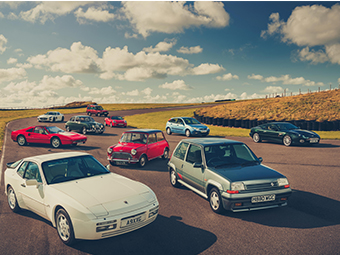 Hall was a journalist on good terms with Yamamoto San, and went on to take a job with Mazda in its newly formed California design studio, a couple of years after suggesting in passing the idea for a two-seat sports car, in the mould of British classics like the Lotus Elan, Triumph Spitfire and MG B roadster. Hall, Yagi and Jordan would work nights on the 'offline' project – so called because it was an informal creative proposal. Unbeknown to them, on the other side of the world, Mazda design teams in Tokyo and Hiroshima were also kicking about ideas for a sports car.
Soon enough, what started as a bunch of informal sketches morphed into a prospective R&D project. Suits had to be convinced of the numbers. A case had to be made for the return of the traditional two-seat roadster. Only then could a more formal competitive internal process commence.
Hall convinced the management that a lack of sales was down to a lack of choice. Build it and they will come, he promised. (More than a million MX-5s have been built. If you ever meet Hall, ask him for a tip on the horses.)
Tokyo favoured a mid-engined, rear-wheel drive car – the modern approach. Hiroshima pitched a front-engined, front-wheel drive configuration, almost a precursor to the Lotus Elan M100. Then the trio from California stepped up, thinking they'd blown it with a traditional layout, and pulled the dust sheet off their clay model. 'Build that one! Build that one!' shouted the head of the Tokyo studio.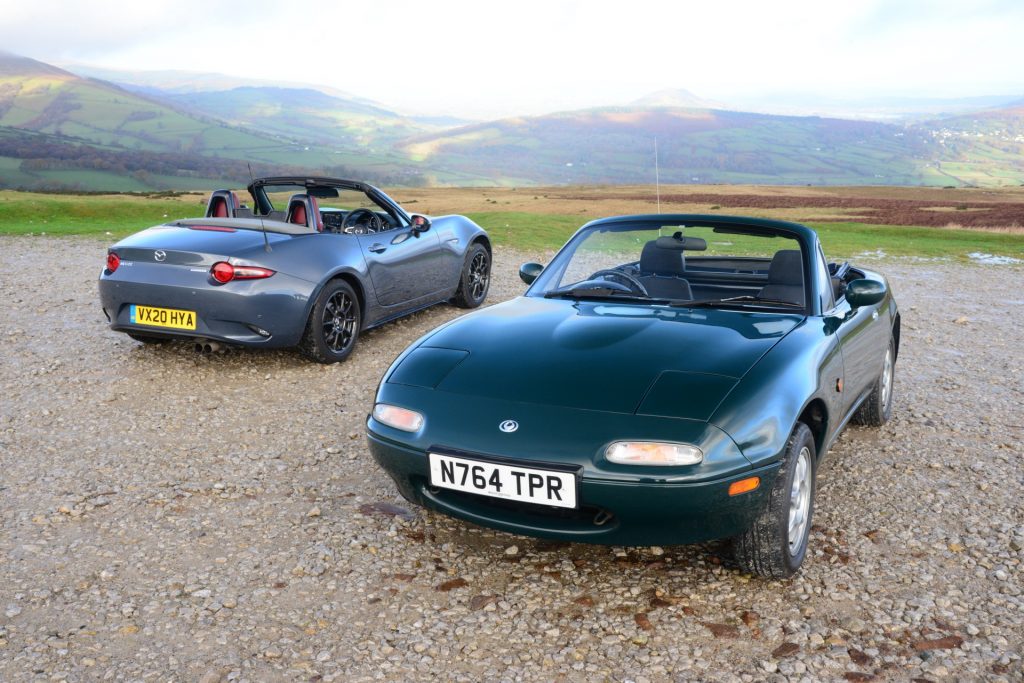 The MX-5 was launched at the Chicago motor show in February, 1989. It reinterpreted the formula for a lightweight two-seat sports car and redefined how much fun drivers could have on a budget.
In a way, we all owe Hall a debt of gratitude. At its inception, cars like the MX-5 were few and far between; within a handful of years showrooms were livened up by models including the BMW Z3, Fiat Barchetta, MG F, Mercedes SLK and Porsche Boxster. Who cares whether they made money for their makers – they made driving fun again for a generation that had missed out on the sports cars of the 60s and 70s.
And remarkably, the MX-5 continues to make driving fun to this day. Now into its fourth generation, we thought it was high time to take a trip down memory lane, and reunite a new MX-5 R-Sport with a 1995 1.8-litre Mk1 MX-5 to find out whether the car that Bob helped create remains true to itself.
Mazda MX-5 1.8i Mk1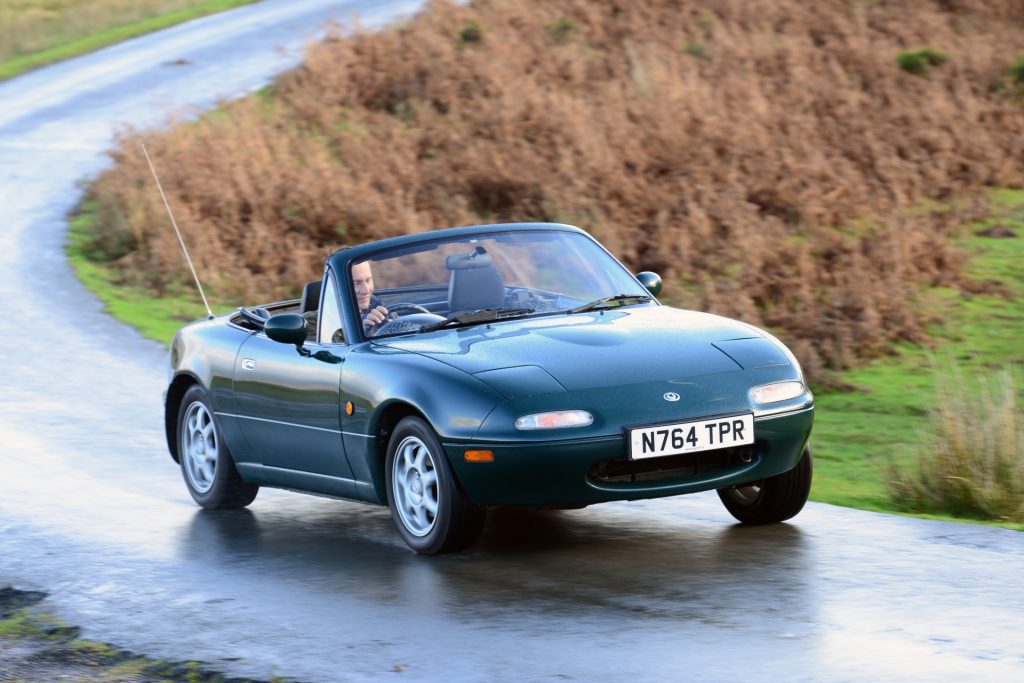 If your young son or daughter climbs into an original MX-5 and surveys the surroundings, they will be disappointed. "Where's the touchscreen? Why aren't there any touchpads or rotary controllers? How do you connect a phone?" Tell them to twist the switch that operates the headlights – Yes, really! A switch rather than a photoelectric sensor! – and they will be amazed, mesmerised by the headlights rising and falling like someone lifting a hand to wave at oncoming cars.
What they may not notice as this happens with the MX-5 at a standstill is the car ever so slightly shuddering as a motor lifts and lowers each lamp assembly. It might seem insignificant but it perhaps best illustrates 32 years of engineering progress. You barely feel a high-speed lump or bump in the Mk4 MX-5 but in the original car the body subtly flexes and twists almost continuously, just because that's how cars were in the late '80s.
They were also pretty spartan. Unclip the pair of latches, shove the roof back – easy to drop but a challenge to raise from the driver's seat – and the cabin is brightened up but there isn't much to see. There are signature sphere-like air vents, rudimentary heating controls, a radio and, er, nothing else. Still, at least there's a glovebox; there's no room for such luxuries in today's MX-5.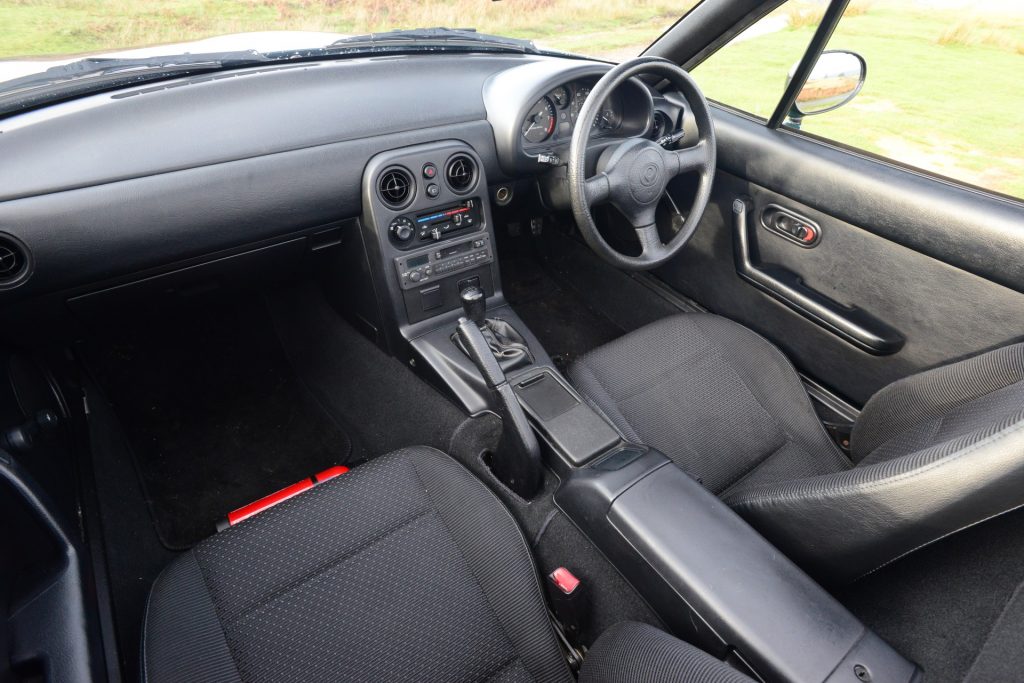 The seats don't offer a great deal of support, especially to the shoulders, neck and head area, and the big, plastic steering wheel hardly screams "Drive me now!" but the important thing is that the driving position works just fine, especially the pedal spacing. Before you know it, you're putting those pedals to good use. The 1.8-litre four-cylinder has a distinct, cammy growl, sending subtle vibrations through the bulkhead, and the throttle response is as perfectly crisp as a Granny Smith.
Whether you drive it slowly or briskly you can't fail to feel included. Get past the parking-speed workout and the unassisted steering as good as runs your hands over the surface of the road. There's a bit of body roll, but after the suspension settles you can zip through corners, feeling the transition of grip from wheel to wheel and easing the throttle to change the car's stance.
Unsurprisingly, it is that thing so widely talked of these days – an analogue car. You make all the decisions, not the machine, tweaking the steering, playing with the throttle and easing off the brakes if you feel the front wheels begin to lock. As with the Lotus Elan, on which the MX-5 was modelled, it is the place to come and learn about the intricacies of car control without ever feeling like you're risking life and limb every time you open the throttle.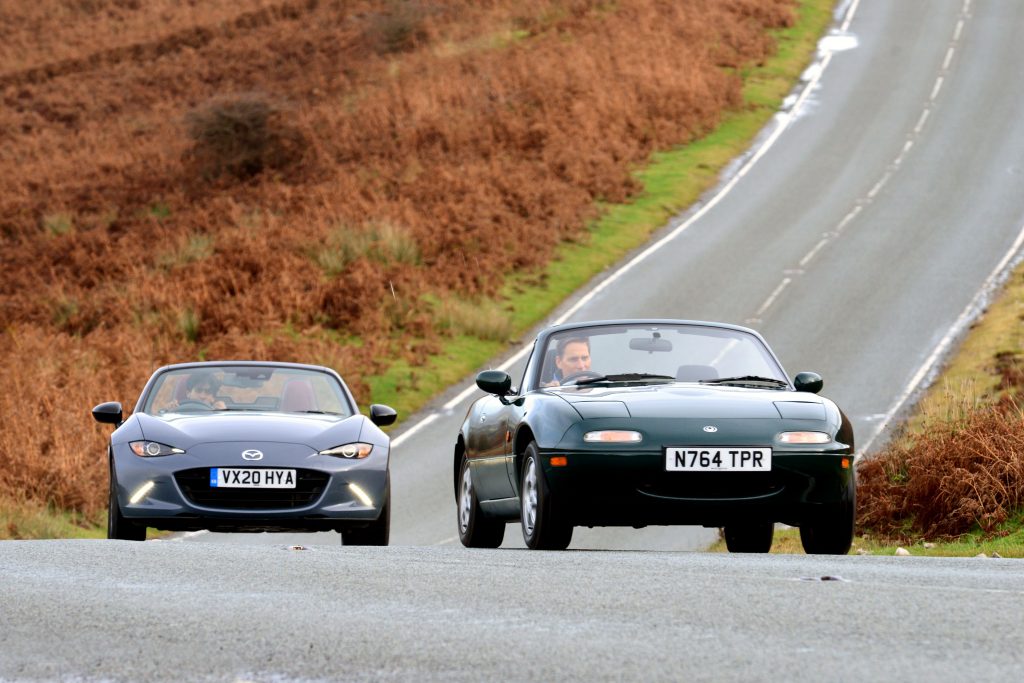 It is joyous on the roads around Wales, a little less so on the long drive back along the M4 and into Kent, where you'll wish for better sound-proofing and a sixth gear. And lest we forget, face an emergency and you're on your own. There's no anti-lock braking, stability control comes down to the driver's wits and, should the worst come to the worst airbags aren't there to protect you. Which makes the Mk4 MX-5 all the more remarkable. It delivers all of this and so much more, yet engineering advances mean it weighs much the same as the original car.
Then again, it may be that this absence of technology makes it appealing to anyone wanting to take on their first classic sports car. There's less to go wrong, and what is present rarely throws a spanner in the works. So long as an original MX-5 has been serviced, had wear and tear components replaced and a diligent owner has cleaned and treated the underside with protective products, the little two seater should keep on giving drivers a thrilling time for decades to come.
Today, a concours car is listed in the Hagerty Price Guide as fetching around £10,000 for an early, 1989 1.6i. A shabby example that will doubtless give an MOT tester plenty to fault could cost from as little as £1500, although for a good to excellent condition car, it will be somewhere around £7000. The 1.8i version as driven here, which expanded the range from 1994, doesn't differ greatly in price to the 1.6i.
If the chance arises, snap one up and give it a good home. The original MX-5 may have been designed to be as simple as possible but it is so much more than the sum of its parts. Bob and co did a great job.
Mazda MX-5 R-Sport 1.5 Mk4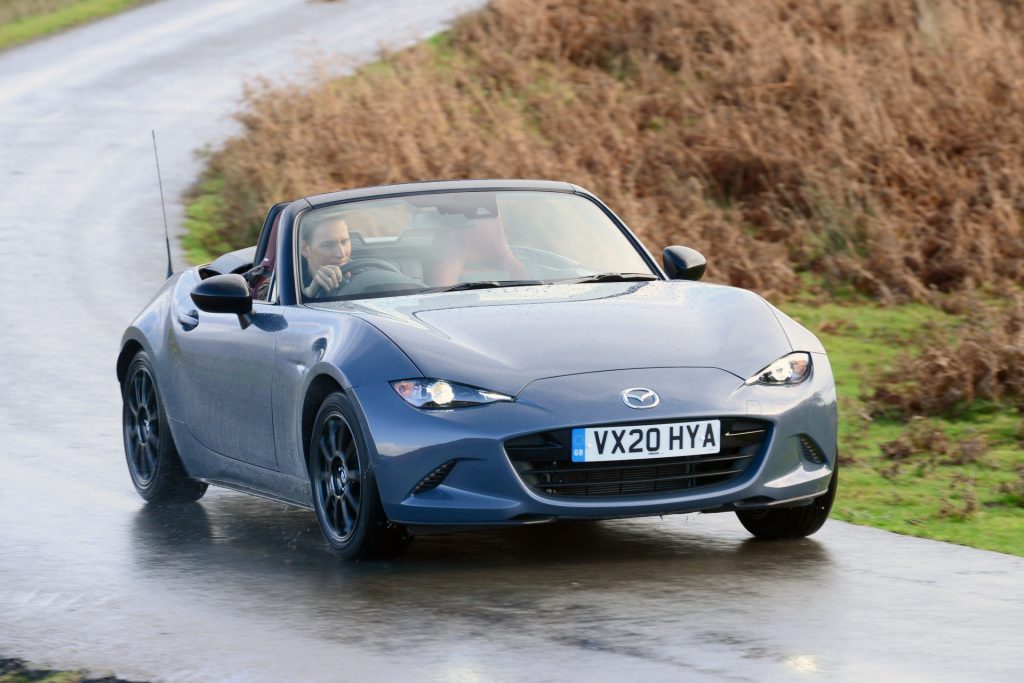 Gosh this is a clever car. Not Knight Rider clever; clever as in small footprint, little weight, a decent EuroNCAP crash rating – with all the desirable active safety equipment – and, best of all, an ingenious roof mechanism.
Really and truly, the roof of the current MX-5 is as user-friendly as they come. Just release one lever and push it down until it latches into place, a concertina arrangement meaning it forms a tonneau cover for itself. Figuring out the packaging probably gave engineers sleepless nights but boy was it worth it because you can lower or raise it in the time it takes to put on a pair of sunglasses.
And it's indicative of the thinking that went into the fourth-gen roadster. Why switch to an electric motor when the correctly executed system could be operated by hand in less than half the time – especially when the mission is to make a car that weighs no more than a ton?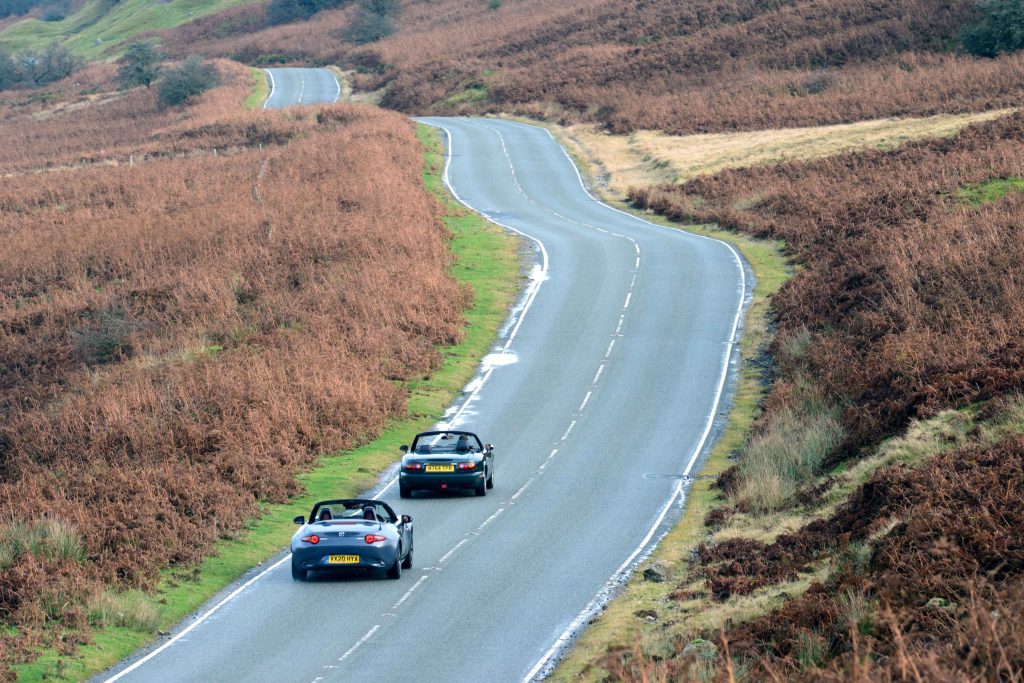 It's the first MX-5 that doesn't do retro. The car has a modern aesthetic – referred to as Kodo, and introduced by Ikuo Maeda, Mazda's long-serving design director – that's at odds with its predecessors, and to some eyes it will be all the more appealing for it. Inside, things feel more snug than ever. The car has a higher waistline and the dashboard envelopes the driver, while the seat is, as ever, as close to the floor as clearances allow. Yet there's more legroom and elbow room, while the quality of the materials is a world away from the Mk1, as you'd hope.
There's a touchscreen and simple rotary controller, climate control, heated seats – which support in all the places where the original car's don't – and a heater that delivers warmth even on the coldest of days when the roof's open to the elements. Leave the infotainment system off and it feels charmingly simple – with just the rev counter, speedo and the road ahead for company.
It's a relief to find that the MX-5's traits haven't been lost to the hurdles that the modern-age presents every car maker. They are noticeable in the first few hundred yards: The nose darts from left to right with just the slightest steering input; the gearshift requires nothing more than a flick of the wrist; the brake pedal bites the moment your foot leans in; and the car seems to shrink around you – not that it needs to, given its diminutive proportions.
On winding and rolling roads around Wales the MX-5 magic comes flooding back. It's not how fast the thing goes; it's how fun it feels. And although the steering isn't a patch on the unassisted vibrancy of the Mk1, the latest model makes up for it with perfect balance (thank the 50:50 weight distribution) and a rigid structure that the engineers of the Mk1 couldn't have dreamed of.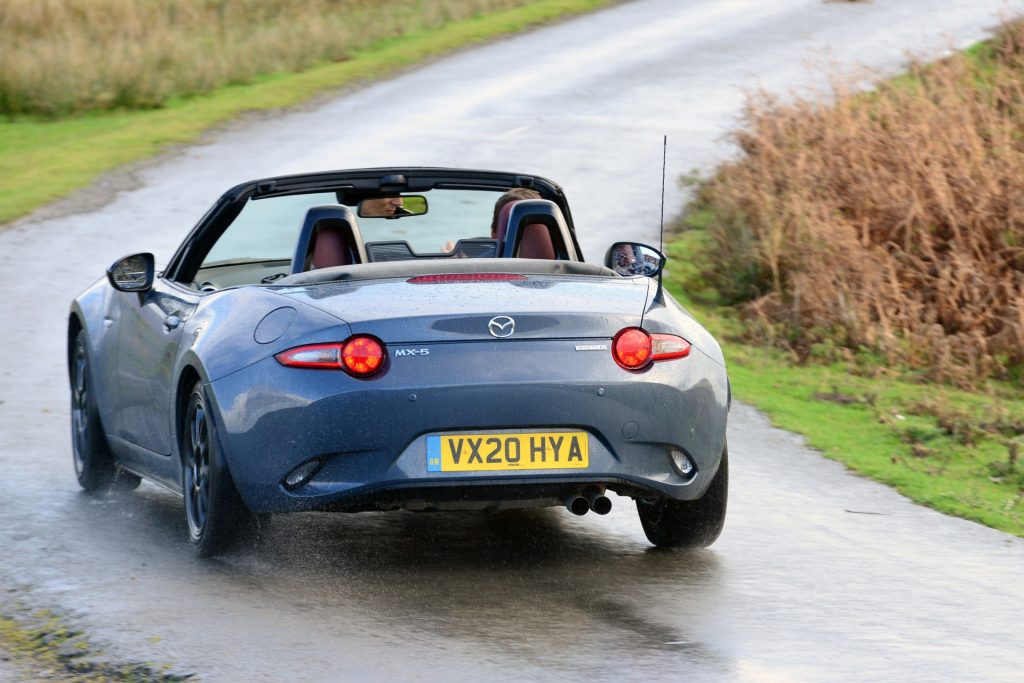 Turn off the stability system, drive the socks off it and it doesn't wilt – it asks for more. It has an honesty about it that is refreshingly uncomplicated in an age when sports cars offer driving modes for rain or shine, road or track, valet parking or fuel-saving (but no setting that prevents influencers from making fools of themselves). The 1.5-litre engine has 130bhp and will rev to 7500rpm without protesting. As with its forebear, that's enough power to safely see you past slower traffic, enough that you concentrate on the challenge of maintaining momentum and – most important of all – enough that you'll be grinning from ear to ear.
You can lose yourself in the moment in this car. And then, when you have to do the boring stuff, like commuting or shopping, it takes it in its stride. In that respect, it does nothing more than the original MX-5 does. Which is probably why, after almost 32 years, the car endures. Bob Hall and his merry band of volunteers promised themselves they'd create a simple roadster that would be within the means of most car enthusiasts. Against the odds, it's a promise that their successors have kept.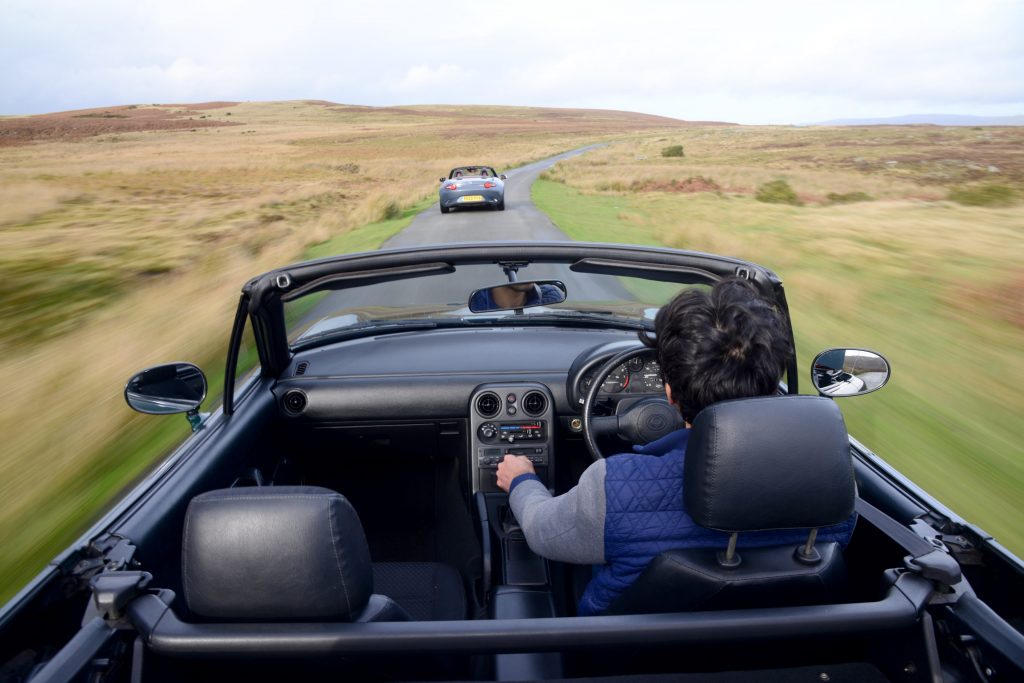 Fast facts: Mazda MX-5 1.8i vs MX-5 R-Sport
Price: £6,900 (HPG condition #2) vs £27,700
Engine: 1.8-litre 4-cyl vs 1.5-litre 4-cyl
Power: 128bhp vs 130bhp
Gearbox: 5-speed vs 6-speed
Kerbweight: 990kg vs 1100kg
0-60mph: 8.2sec vs 8.3sec
Top speed: 126mph vs 127mph