It takes just a few days of sunshine in the UK to forget that the weather does anything else, and it's usually around this point that thoughts turn to buying some kind of soft-top. There really is little better than cruising around with the roof down when it's balmy out, even if it seems like less of a great idea in October when the rain is making a sound like a heard of antelope galloping across the canvas.
One way of getting around this issue, at least in theory, is by acquiring one of the less common breed of hard-roofed drop-tops. These come in several flavours, from the folding metal or plastic roofs popularised by Mercedes-Benz with its SLK in the 1990s, to lift-out Targa panels, unsurprisingly brought to bear by Porsche with its 911 Targa in 1965.
How much is your car to insure? Find out in four easy steps.
Get a quote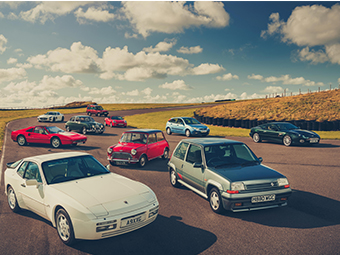 The Honda CRX of 1992, known in some markets as the Del Sol or Civic Del Sol, was offered with this lift-out Targa arrangement too. But this being a Japanese car of the 1990s, there was also a more technological solution: the Trans Top.
Undoubtedly one of the cleverer roof arrangements offered on a car, the Trans Top has to be seen in action to be appreciated. Firstly, the occupants undo a lever that locks the roof panel to the roll bar. The boot panel – which is genuinely a boot, and not an engine cover as the CRX's buttressed styling might have you believe – then lifts up on a pair of rams to roof level.
The roof panel then hinges at the front, the rear lifted up on its own pair of rams. A rail then slides out from the boot lid, at which point the occupant flicks the roof panel lever closed again, locking it to the mechanism. The whole enchilada is then motored back into the boot panel, like a CD being drawn into an early 2000s Hi-Fi, and the boot panel then descends again, leaving you with an open roof.
Predictably, there are a few drawbacks. One, it takes a bit of time, though the DIY version is hardly the work of a moment. Two, it's heavy, adding about 23kg to a car that had already consumed more pies than its Civic cousin. And three, the bulky mechanism basically halved the size of the CRX's otherwise decent boot space.
Honda CRXs of this generation were also know for leaking, so despite the hard roof it would need to be checked for its water-resisting performance – even when you find one as immaculate as this 1992 CRX for sale on eBay for £6995.
If you're a CRX nerd (and your author very much is), it's basically the holy grail of weird Hondas. I'd prefer the lift-out roof, if I'm honest, but otherwise this is exactly as a CRX Del Sol should be. It's unmodified, it's a VTi – giving it a 157bhp twin-cam VTEC 1.6, the most powerful engine offered in the UK – it's a manual, and even the original five-spoke wheels have survived un-swapped.
Perhaps best of all is the colour, Samba Green Pearl, probably the most vivid shade offered on a car that's all about being seen. The MOT history is spot-on too – it hasn't had a failure since 2016, and that was an easily-fixed braking issue, and importantly the only advisory for rust is on the front suspension, which is considerably better than "absolutely everywhere", which is normally the case for old Hondas.
Being front-wheel drive may deter some sports car traditionalists, but those into their 90s oddities will surely appreciate its combination of features, colour and originality. If I didn't already have three cars competing for one garage space, I'd be heading up to Bishop Auckland myself.
Also read
Honda S600: the highest-revving sports car | Revelations with Jason Cammisa
Where the NSX succeeded, these 3 mid-engined Japanese moonshots failed
Future Classic: Honda Insight