If the recent warm weather has put you in the mood for top-down summer driving, you're not alone.
But what car to take? The open-topped roadster is a rare beast in the modern car market, outside of really high-end models, but for a time in the 1990s the market exploded with desirable two-seaters that, for a while at least, made us forget all about hot hatchbacks and other affordable performance models.
Below is our chronological, extensive (but by no means comprehensive) list of the roadsters offered to UK buyers during that 1990s boom – with a hint at why each one is worth a look, and what you can expect to pay if you want to grab a drop-top before summer really gets into its stride.
1989 Mazda MX-5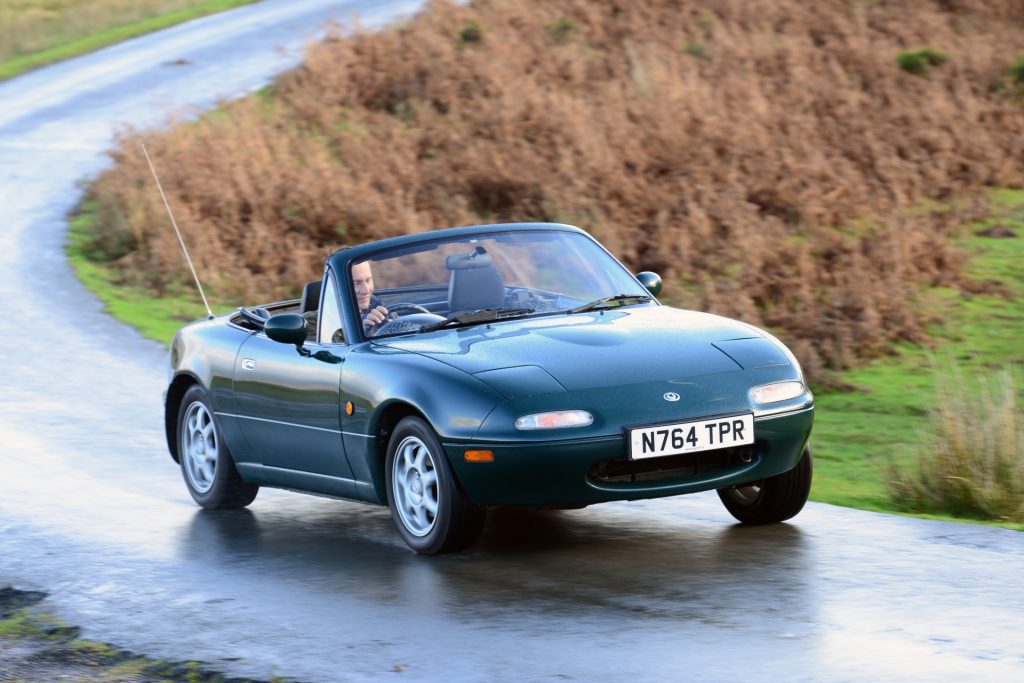 What is it? The best-selling open-topped two-seater of all time. Technically a child of the '80s but who's counting? The MX-5 landed in the UK in 1990, so it's in our list. Four cylinders, a manual gearbox and rear wheel drive, the MX-5 is a dictionary-definition sports car that became an instant classic.
Why was it great? Take your pick: The MX-5 looked great, it was affordable, it was blinding to drive, and it effectively revived a dying segment. Its enormous success means global knowledge and expertise is virtually unmatched outside of Minis, Beetles and Mustangs, and a good Mk1 MX-5 today is still about as fun as cars get.
What should I pay? The days of one-grand MX-5s have been and gone. Double that and a bit more will get a rough one now, four-plus something presentable, and £10k or more for a seriously nice one with low miles. Some ultra-rare Japanese-market specials go for even more and imports no longer have the stigma they used to, but ensure all the desirable original bits are still attached.
1989 Lotus Elan M100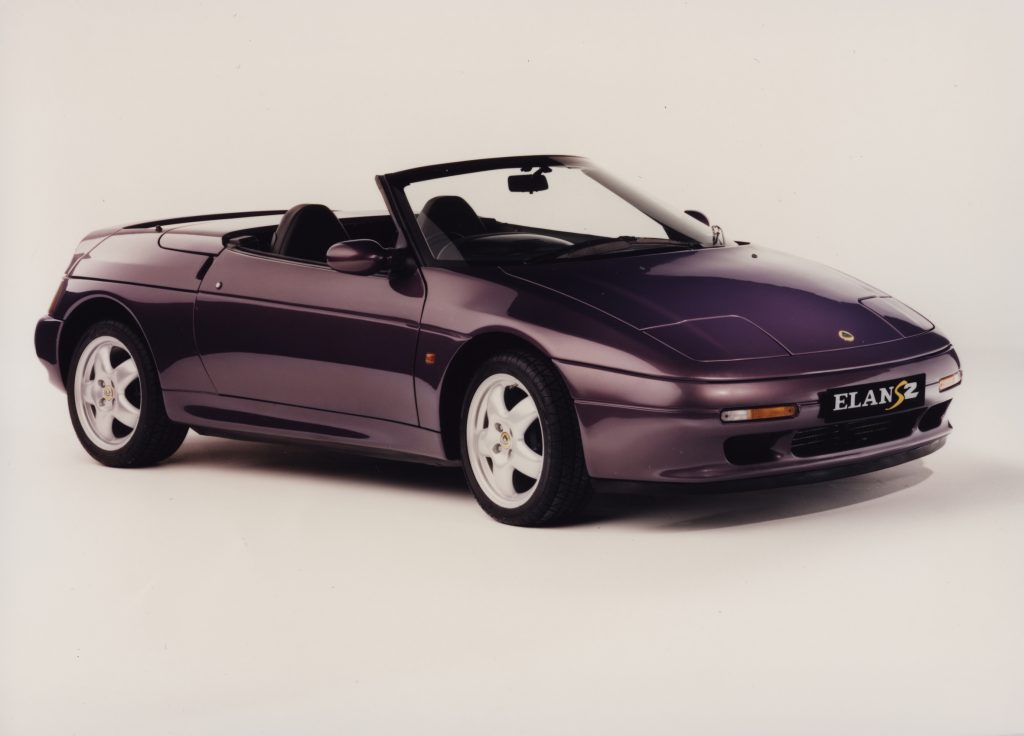 What is it? If the 1980s Mazda is here the 1980s Lotus deserves to be too. The first-ever front-wheel drive Lotus and a remarkable sports car in its own right, redefining front-wheel drive handling at the time. Just had the misfortune to be launched at the same time as the cheaper, even more fun Mazda.
Why was it great? This was Lotus doing what it does best, setting new technical and dynamic boundaries. Road testers respected rather than loved it, but few cars in 1989 were quicker point to point, and a well-driven M100 Elan will still surprise you with its cross-country pace today.
What should I pay? Turbos cost more than naturally-aspirated cars, though condition has more bearing on price. £9300 gets an excellent nat-asp car, £10,500 for a Turbo, though you can pay a lot less if you're prepared to put some work in.
1990 TVR Griffith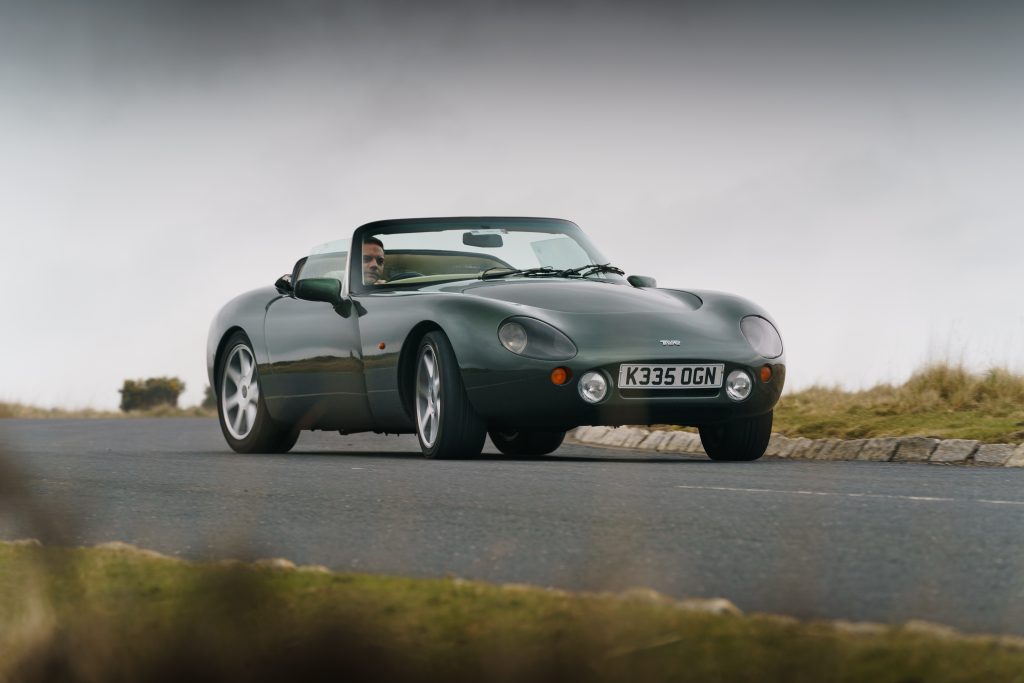 What is it? Possibly the definitive 1990s TVR roadster, with iconic and really quite pretty styling, a grunty Rover V8 under the bonnet, and a dose of attitude that few other cars offered at any price.
Why was it great? TVRs always offered a lot of noise, performance and excitement for the money, but Peter Wheeler really got into his stride as the 1990s dawned, and the Griffith was emblematic of this; it's perhaps the definitive TVR. What the brand's reputation doesn't tell you is that a good Griff really is great to drive even today.
What should I pay? Prices have been going up for a while now and all but the ropiest cars will be more than ten grand, while an excellent car could be £15k-plus. The monstrous 500s can cost upwards of £20k.
1992 MG RV8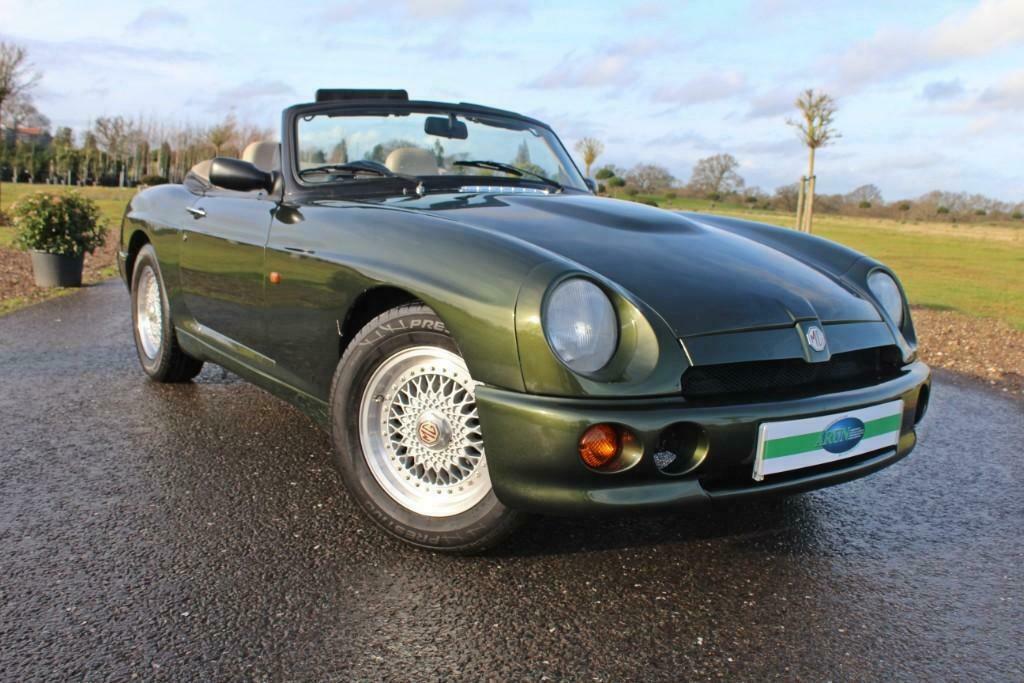 What is it? Essentially a really heavily-developed MGB launched a decade after the original disappeared. Oh, and powered by a 3.9-litre Rover V8. Think of it as a TVR sanctioned by the Rover Group in response to the likes of Mazda and Lotus kick-starting the segment as the '90s dawned.
Why was it great? Great is probably overstating it, as the RV8 received mixed reviews in period; it might have been a lot quicker and more luxurious than an old rubber-bumper MGB, but it was still somewhat archaic under the skin. It's more appreciated today by collectors.
What should I pay? Most RV8s sell through auctions these days, and prices seem to hover around the £20k mark for the majority of cars. The very best can go for just shy of £30k, though that's less than it was five years ago.
1992 TVR Chimaera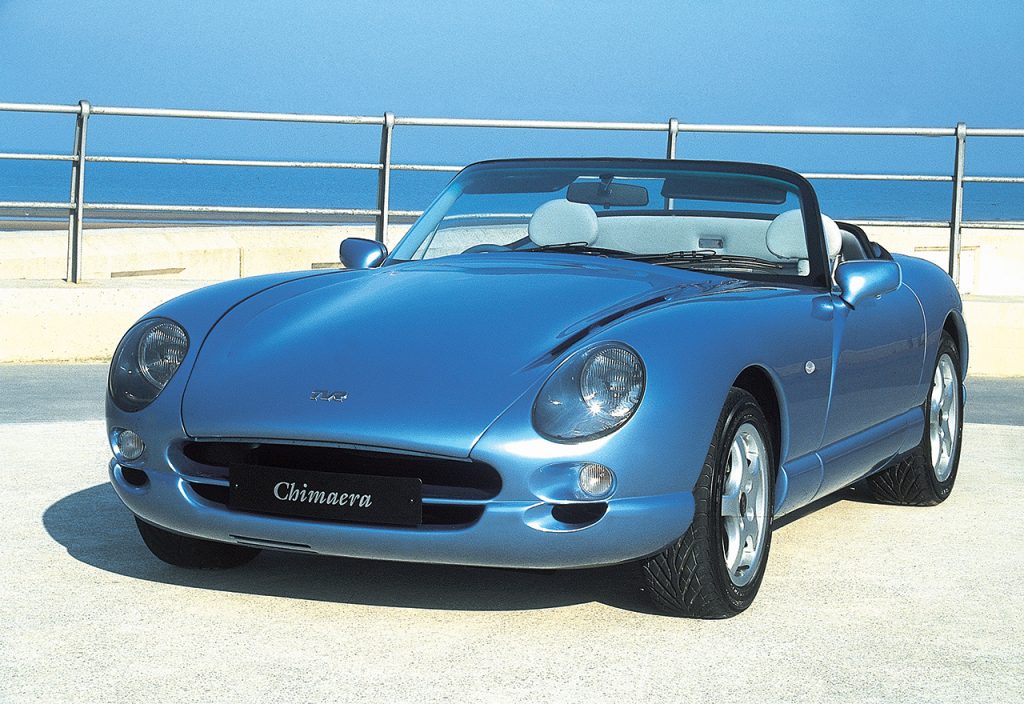 What is it? It's probably unfair to say TVR was cashing in on the '90s roadster boom, as it'd been producing the things non-stop well before Mazda arrived on the scene, but as one of the easiest TVRs to drive and to live with, perhaps the company had one eye on the mainstream with the Chimaera.
Why was it great? The Chimaera was less extreme than its little brother, the Griffith, but it was still a drop-top powered by between four and five-litre Rover V8s, and still looked absolutely fantastic. It's an ideal entry point to TVRs today, being a little more affordable and liveable than others from the period.
What should I pay? An 'entry-level' 400 is one of few TVRs you can still find in perfectly acceptable condition for under £10k, while under £15k is enough for an excellent one. There are still plenty about so be choosy with your preferred colour, and with condition.
1993 Suzuki Cappuccino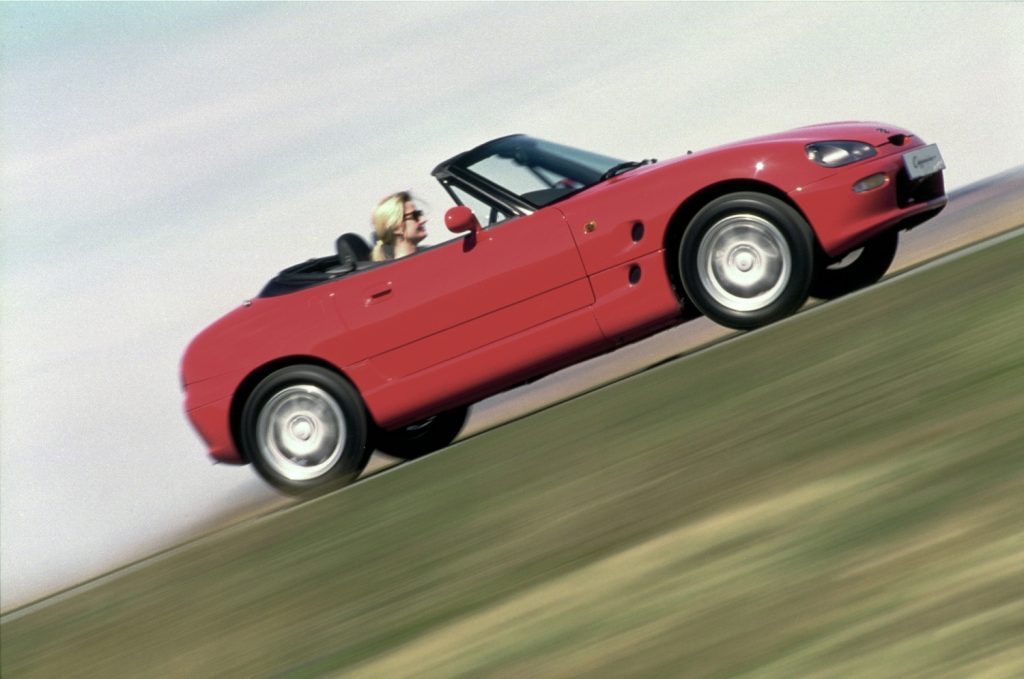 What is it? It looks like a TVR Griffith that went through a hot wash, but only has 3/8ths the cylinder count. Part of the "ABC" of Japan's '90s kei sports car trio (the others being the Autozam AZ-1 and Honda Beat) and the only one to be sold in the UK through official channels.
Why was it great? The Cappuccino was a true sports car, just in small scale, its 657cc engine sitting up front and powering the rear wheels. Nominal 64bhp gentlemen's agreement output is a massive fib; these things will match an MX-5 on acceleration and can be tuned for even more.
What should I pay? Pricing's all over the shop. Good ones can match Mk1 MX-5s – think seven or eight grand for pampered low-milers – but there are some properly rough cars out there, so inspect thoroughly and beware the really cheap stuff.
1994 Alfa Romeo Spider
What is it? The replacement for Alfa's by-then geriatric 105-series Spider, which had endured more facelifts than a down-on-their-luck Hollywood star. Drive went to the 'wrong' wheels, but twin-spark and V6 engines and Pininfarina styling were all welcomed.
Why was it great? As a styling exercise the 916-series Alfa Romeo GTV on which the Spider was based was one of the cars of the 1990s. The Spider arguably isn't quite as perfect, looking a little rear-heavy without a fixed roof, but it was still striking and all the better for enjoying those Alfa engine noises.
What should I pay? The Spider's probably one of the best cars on this list for getting designer flash for not much cash – three grand gets you through the door and don't accept anything less than absolute perfection, and ideally a V6 engine, above seven or eight.
1994 Caterham 21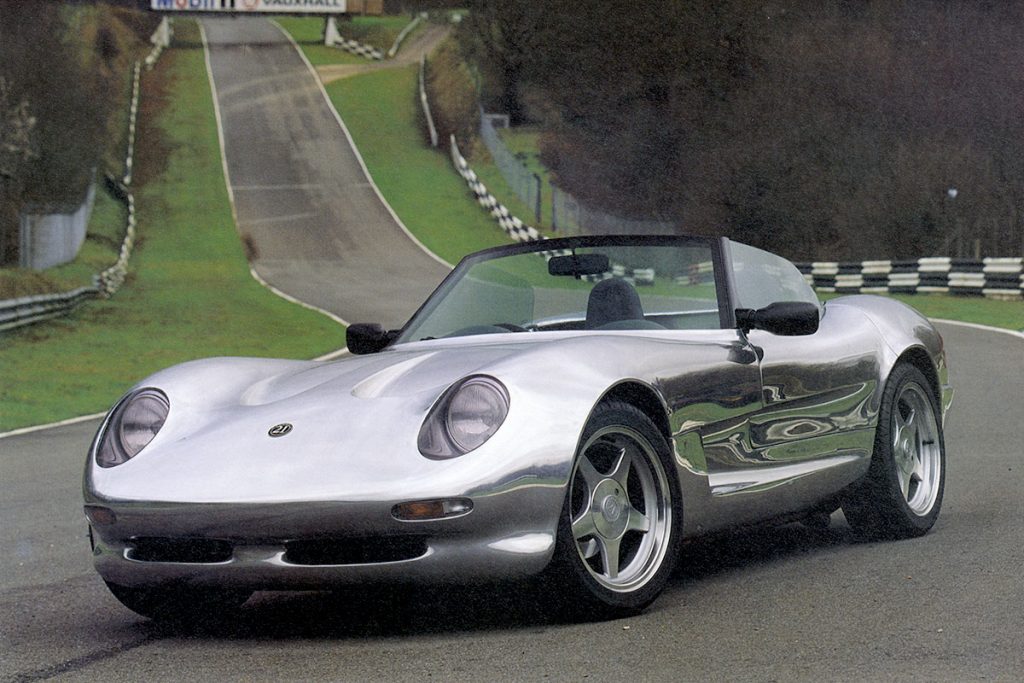 What is it? The forgotten Caterham. Very broadly speaking, a Seven in a vaguely 1960s-looking body that could have been a Lotus, or a Ginetta, or any number of other British roadsters from that period.
Why was it great? It was a Seven that didn't look like a Seven, so it'd struggle not to be great. It still weighed three-fifths of sod-all (658kg at a minimum) and a slight awkwardness from some angles and details (hello, Mondeo tail lights) could be overlooked. The Lotus Elise however, launched two years later, couldn't be.
What should I pay? Err… we're not sure really. Caterham only sold 49 of the things and they come up for sale once in a blue moon. One sold through Silverstone Auctions in 2015 for £16,000 and another was offered privately recently for "over £20k", so use that as your guide.
1995 Fiat Barchetta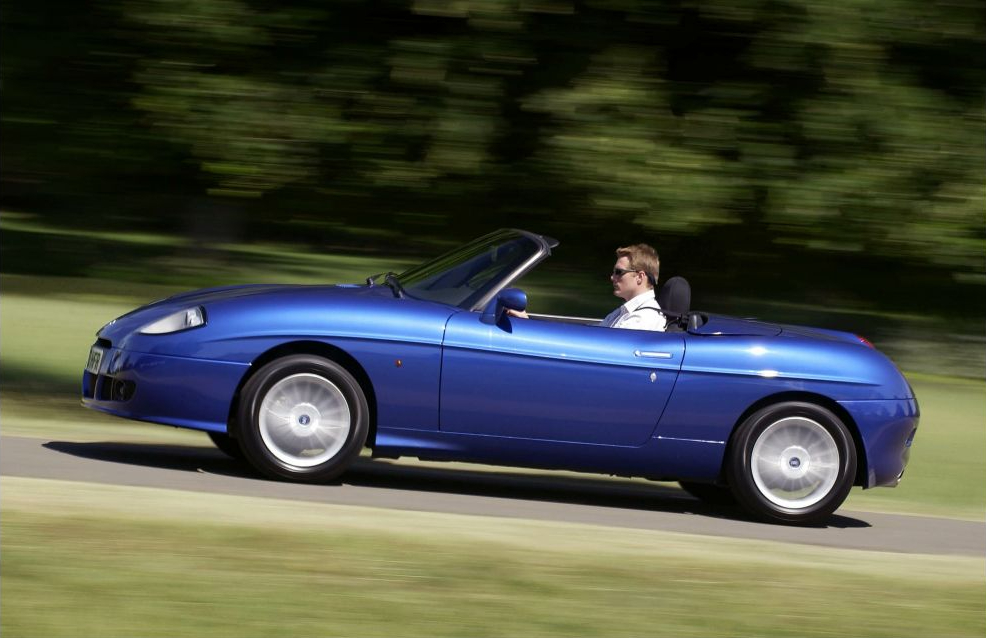 What is it? One of the prettiest roadsters of the '90s. Based on Punto underpinnings but you'd struggle to notice. Fiat even went to the trouble of extending the distance between the front wheels and the cabin, which gives it a pseudo rear-drive look that few makers of front-drive roadsters go to the effort of doing.
Why was it great? In the eyes of some, the Barchetta beat Mazda at its own game. Truly pretty but also more original, and a bit more raucous and characterful. Ultimately hobbled by its supermini roots, and UK cars being left-hand drive only, but alongside the Cinquecento, Punto, Coupé, and the genius Multipla, this was Fiat at the top of its game. Facelift car that arrived in the 2000s (as pictured) wasn't quite as pretty, though.
What should I pay? Cheapies still come in at under £3k, though you're risking rust and other problems for that. Ten grand gets the very best, some of which may now be well-kept imports from Japan, of all places. Since it's LHD only, worth extending your search to continental Europe too.
1995 MG MGF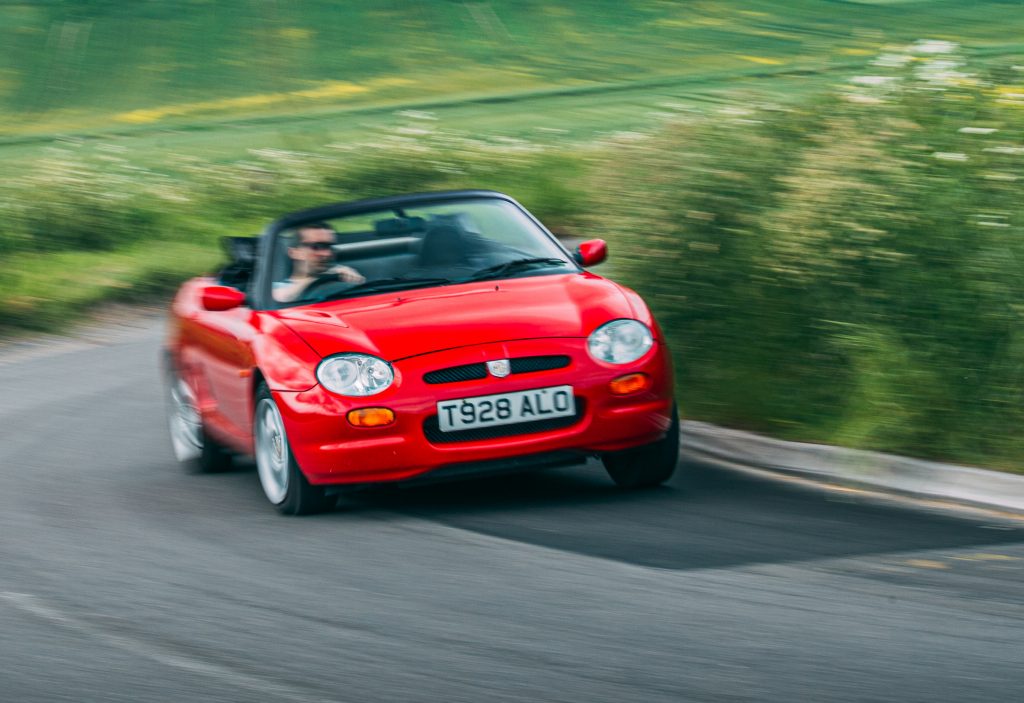 What is it? Rover proving it could go toe-to-toe with the best in the world, if not quite beating them. Amazing what a box full of Metro bits and some ingenuity will do – the MGF was a proper, mid-engined sports car that in the UK at least, consistently outsold the MX-5.
Why was it great? This was the car the UK press had been crying out for since Mazda built a better British sports car in 1989. The MGF wasn't as agile or feelsome or fun as the Mazda but it was more comfortable on its Hydragas suspension, and its styling was more modern too, a far cry from the half-hearted RV8.
What should I pay? MGFs are a bargain. Average ones are in the one-grand range that MX-5s haven't been in for years, while £3k is enough for a genuinely nice one and £5k gets the very best.
1995 BMW Z3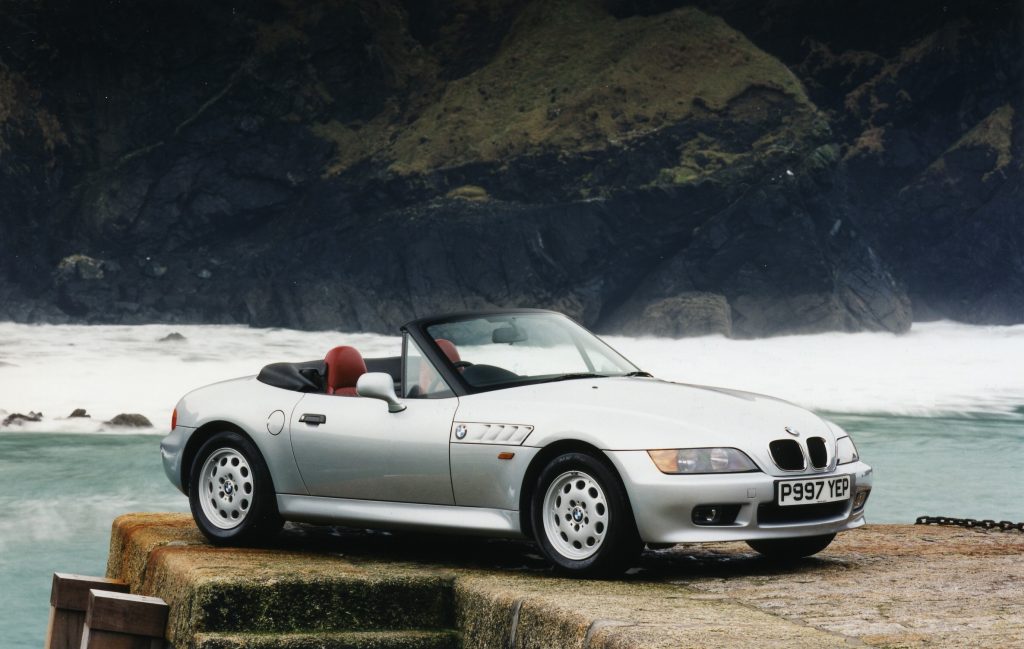 What is it? Weirdly, one of very few 1990s MX-5 rivals to actually match the MX-5's basic layout. A proper front-engined, rear-drive two-seater with, in basic versions at least, a four-cylinder engine, though BMW also offered a straight six, making the Z3 a kind of modern-day Healey 3000.
Why was it great? In some ways it wasn't. The Z3 never handled as well as an MX-5, while the four-pot ones lacked verve and the six-pots were maybe a bit too GT-like. The Z3M is revered today but was another mixed-bag in period. The styling has always been distinctive though, and the overall vibe is that of an MX-5 for grown-ups.
What should I pay? Prices are a little more than MX-5s as a rule, maybe through shorter supply. £4600 for a good 1.9, and a grand more for a good 2.8, while concours cars can be double that. Z3Ms are well into collector territory: few dip under £15k and the best can be over £30k.
1996 Lotus Elise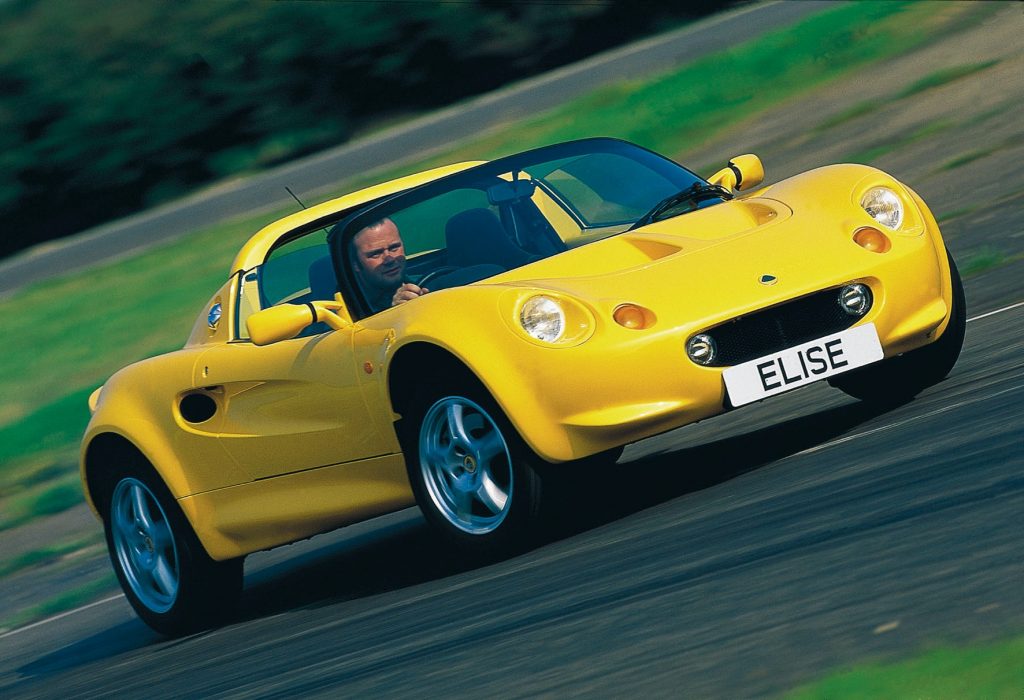 What is it? One of the greatest Lotus ever, by definition making it one of the greatest sports cars ever. Light, compact, fiendishly clever in its construction, visually distinctive, and at launch, a real bargain.
Why was it great? For all the reasons mentioned above, plus an absolutely magical combination of ride, handling, and steering feel. Weight of little more than 700kg meant the very earliest cars extracted remarkable performance from a humble 118bhp Rover K-series.
What should I pay? The days of the sub-£10k Elise are sadly long gone. The Hagerty Price Guide reckons £16,600 for a 'good' car but you'll now struggle to find one for much less than £20k. The mechanically similar S2, launched in 2001, is now the most affordable way into an Elise.
1996 Renault Spider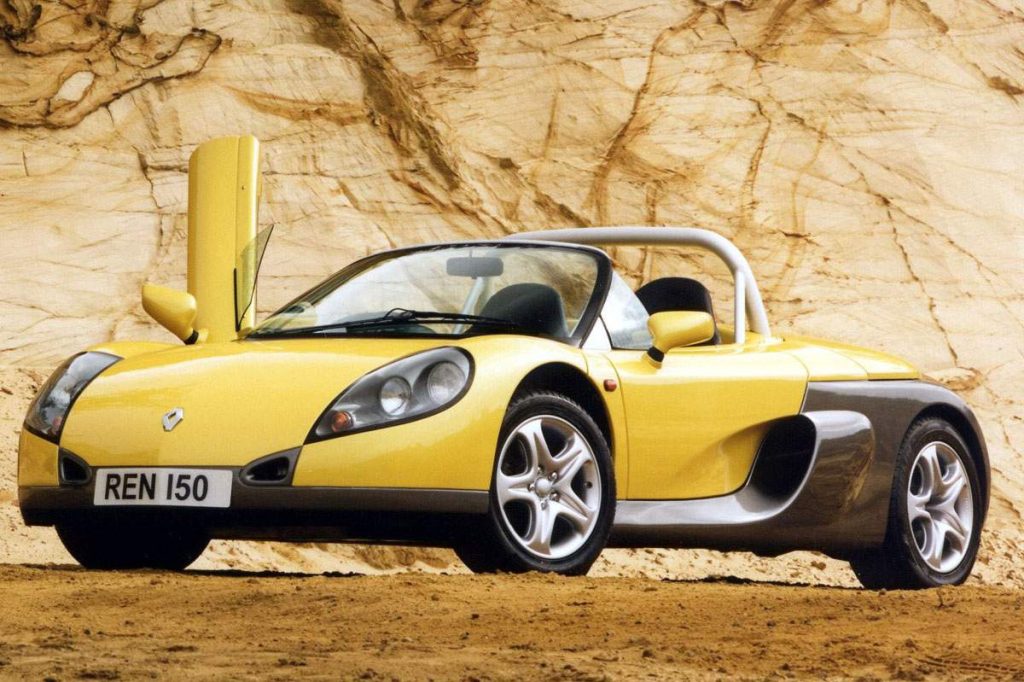 What is it? A fabulous-looking French roadster with Clio Williams power that, a bit like the Elan M100 in 1989, had the spectacular misfortune of being launched at the same time as one of the all-time greats, in this case the Lotus Elise.
Why was it great? The Spider's another car that wasn't necessarily "great" but was more than alright. Early cars were mad-looking things with just an aero screen but most got a windscreen, which actually makes the Spider look prettier to our eyes. They drove well and were built like a racer, but an oddly heavy one, at 930kg.
What should I pay? Something in the mid-£30k range seems typical for Spiders, though a low-miles, storied car from Renault UK's old heritage collection went for more than £45k in 2022 on Collecting Cars.
1996 Mercedes-Benz SLK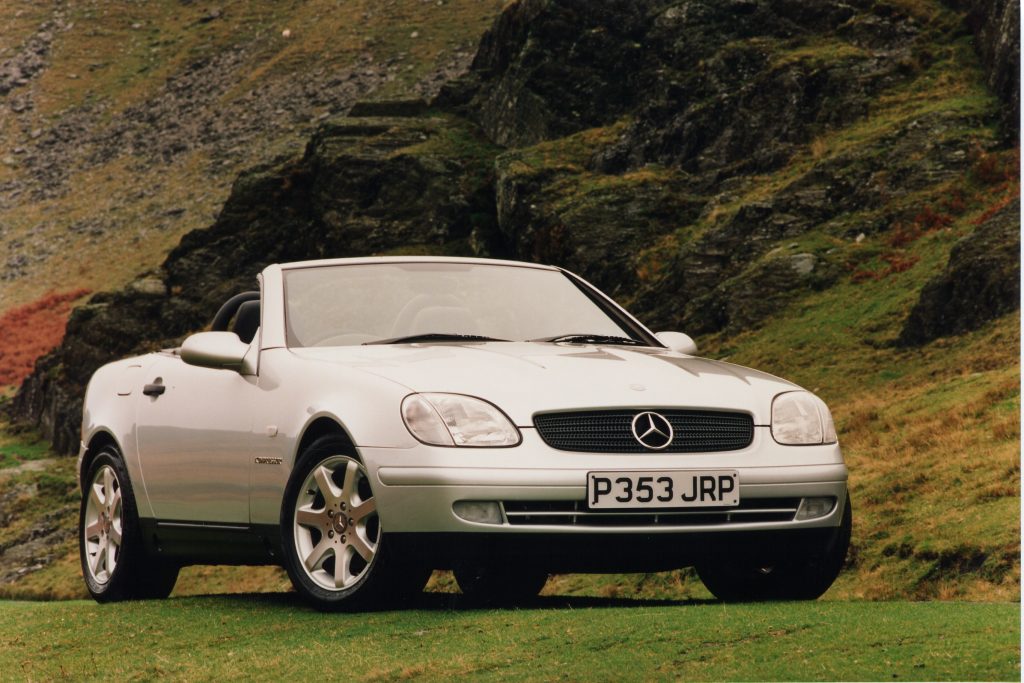 What is it? The car that kicked off the late-'90s and 2000s trend of folding metal roofs, though the R170-generation SLK was also one of the more handsome 1990s roadsters, and spent most of its early years being compared favourably, visually at least, with the Porsche Boxster.
Why was it great? A Mercedes badge and that roof gave the SLK most of its appeal. Mercedes pitched it as a smaller SL – SL 'Kurz', German for short – with pretty looks and some bright, oh-so-'90s colours. Handling was a bit prescriptive and the four-pot engines harsh, but buyers didn't care.
What should I pay? You'll not need much if you simply want any SLK, with the cheapest in the two-grand range. Three or four gets a good one, and prices now intersect with the R171 second-gen model launched in 2004. Bank on something in the teens for the range-topping SLK 32 AMG.
1996 Porsche Boxster
What is it? Alongside the Elise and MX-5, probably the best roadster of the 1990s, and neatly fills a niche neither of those cars occupied. The Boxster was convenient for Porsche, spreading costs with the new 996-generation 911, but the mid-engined layout gave drivers something different too.
Why was it great? Mid-engined handling didn't come much more accessible in the 1990s. Even sensible old Toyota had struggled to tame its MR2, but Porsche's car was an absolute honey, as manageable as it was interactive. The 204bhp flat six wasn't a monster but it sounded better than almost any rival's engine.
What should I pay? Boxsters are a spectacular bargain. The car in the 2022 Hagerty Bull Market cost its owner just £2000. You can realistically expect to pay £5k for a good one, £10k for the best, and a touch more for a 3.2-litre S of equivalent age.
1998 Mazda MX-5 Mk2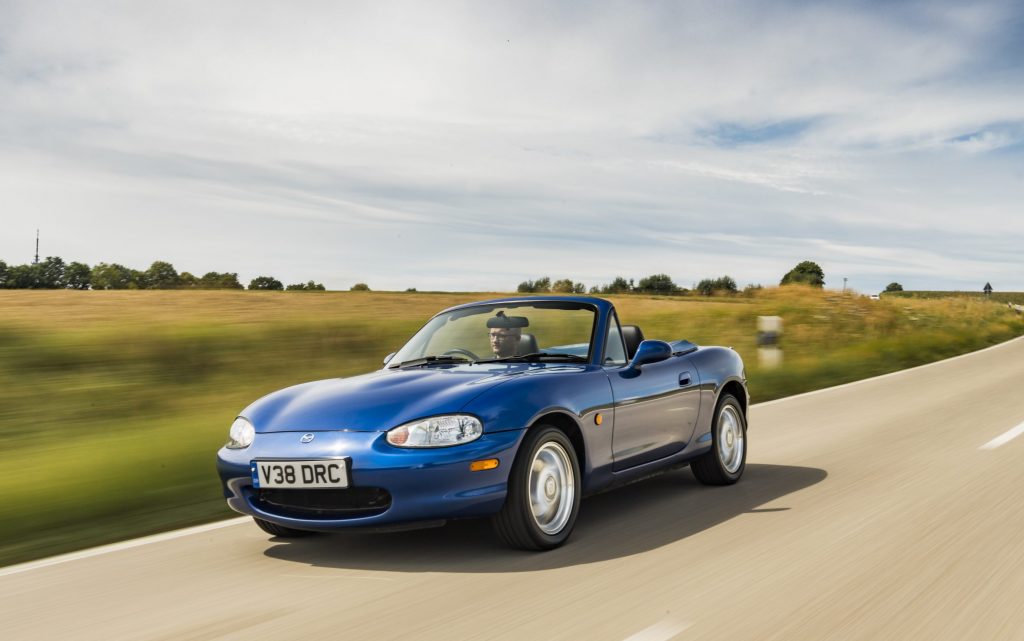 What is it? Mazda's difficult second album that didn't prove difficult in the slightest. Effectively the same car under the skin, the Mk2 or 'NB' MX-5 refined everything that needed refining with the original, offered more performance and structural stiffness, and still sold by the boatload.
Why was it great? The Mk2 became more liveable without any obvious downsides next to the original – even a small weight bump was offset by the extra shove. Safer too, since UK models now got airbags as standard. With hindsight, even more susceptible to rust, but still wicked fun.
What should I pay? Like-for-like, Mk2 MX-5s are a bit cheaper than Mk1s. Two or three grand gets a decent one, £5500 a really nice car, and a little more for special editions like the desirable 10th Anniversary with its six-speed 'box and blue Alcantara trim (pictured above).
1999 Honda S2000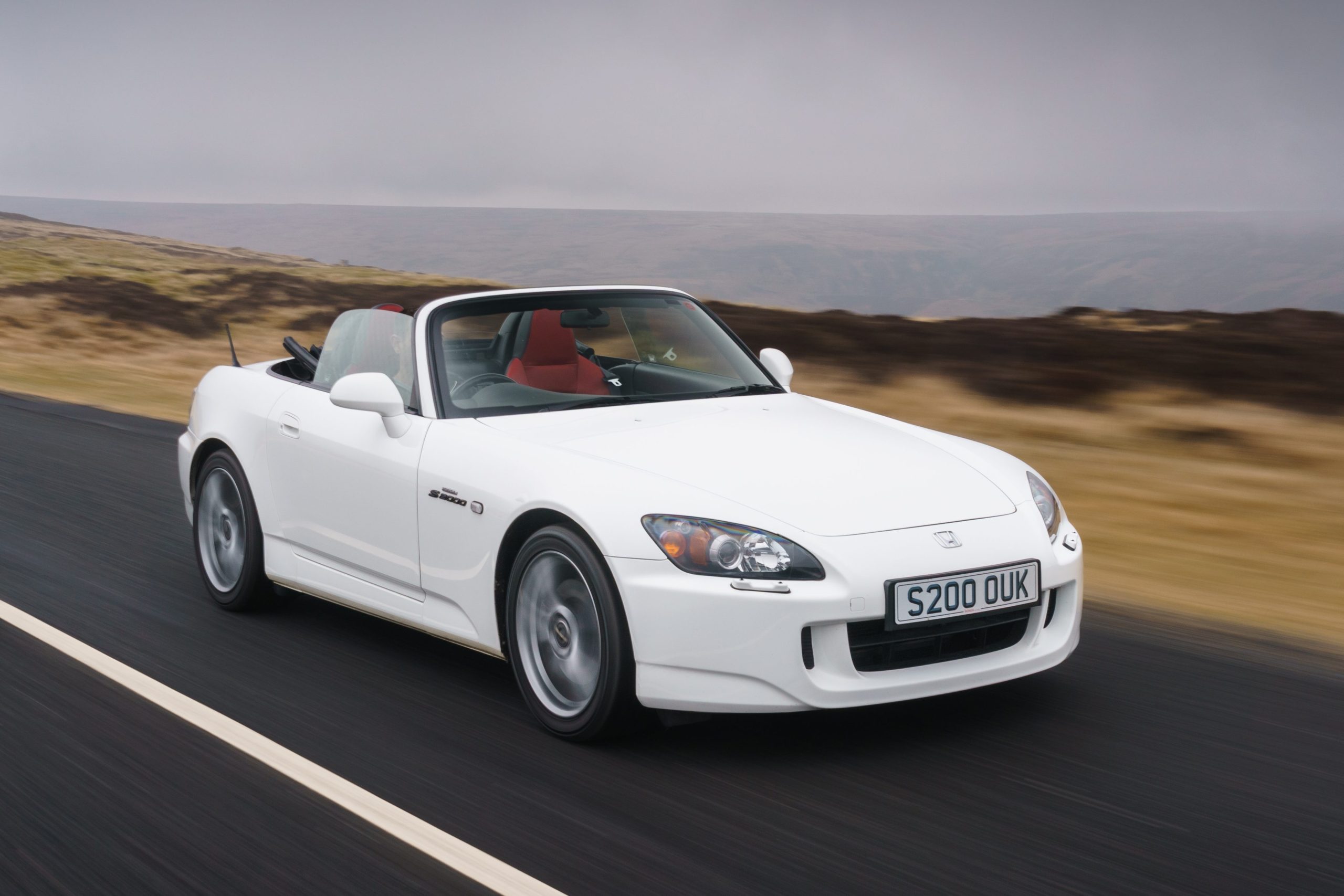 What is it? Honda making an MX-5, just in a very Honda way – more attention to detail, and even more revs. Ultimately bigger, heavier, and more expensive than the Mazda, but then performance was in the Boxster big leagues.
Why was it great? Depends who you ask. The UK press was actually a bit lukewarm on the S2000, which was even more peaky than other VTEC Hondas but also curiously numb and a bit spiky in corners. In the US, where roads are perhaps a bit better for exploiting it, coverage was much more positive.
What should I pay? S2000 prices are, broadly, twice that of a Mk1 Mazda MX-5 – call it ten grand for a good one and twenty for the best. Just be glad you don't live in the US, where people are paying six figures for the S2000 CR, a kind of half-way-to-Type-R special edition.
1999 Audi TT Roadster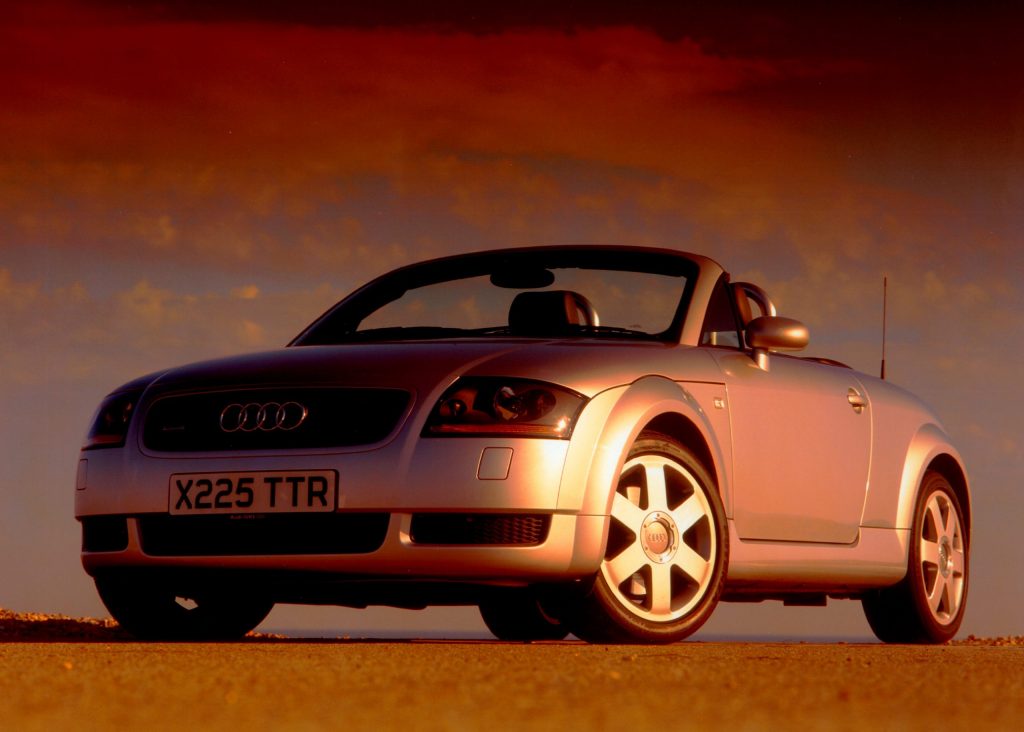 What is it? The drop-top version of one of the most iconic shapes of the 1990s. Loses that fabulous roofline but gains infinite headroom, and with the roof down you can see more of the brilliant cabin design anyway.
Why was it great? The TT was never much rated as a handler and probably never will be, but as an objet d'art it was virtually unmatched in the 1990s. What the Roadster lacked in purity alongside the coupe, it gained in flash – particularly with one of the greatest concept ideas committed to production, the optional baseball glove leather trim.
What should I pay? You'll pay more or less the same for a TT Roadster as a Coupé – there's a few hundred quid difference in the Hagerty Price Guide (around £5000 is enough for an excellent one, regardless of the 180 or 225 engine) but in reality, condition matters much more.
2000 Toyota MR2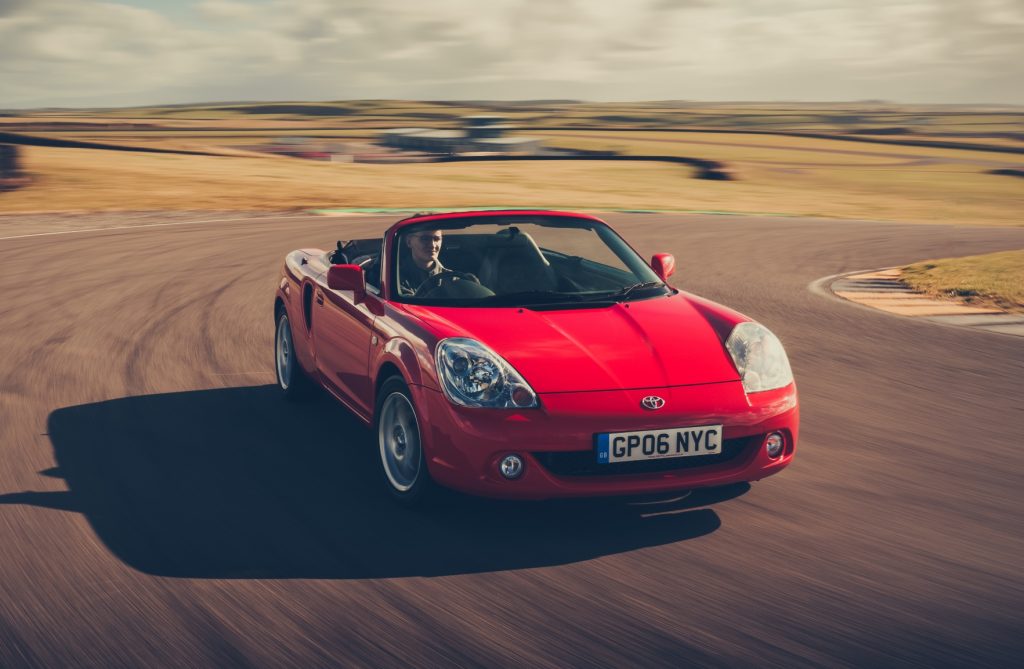 What is it? Another potential MX-5-beater. Took the MGF approach of spinning a front-wheel drive powertrain around, in this case from the contemporary Celica, and putting it behind the driver, to create a mid-engined roadster. We're forgiving it a 2000 launch in the UK, because it arrived in Japan in 1999.
Why was it great? The handling. MR2s were less friendly than MX-5s but more agile for the really keen pilot, and Toyota's 1.8-litre engine was more eager than Mazda's. The downside of the MR2 was lousy luggage space – a cubby under the bonnet, and a different-shaped cubby behind the rear seats.
What should I pay? Similar to an MX-5 of similar vintage. Scruffy ones are still very cheap but if you can spare £4-5k then you've enough for a nice one, and the very best aren't a lot more than that, for now at least.
Check out the Hagerty Media homepage for daily news, features, interviews and buying guides, or better still, bookmark it.