From its surprising inspiration to how it transformed Porsche's manufacturing base, this mid-engined Wunderkind turned around Stuttgart's fortunes. But 25 years on, does it still retain the essential character that made it such a hit at launch?
In 1992, Porsche suffered its worst year ever, with sales of just 15,000 cars globally. The 928 and 968 were not selling in the numbers expected, and the evergreen 911 was never a big-numbers car due to its relatively high price. In short, Stuttgart was on its knees.
A seismic shift in its approach to production growth was needed, and inspiration came from – of all places – Mazda and its MX-5. In North America, the Miata (its US name) had been a huge sales success, proving that the two-seater, open-topped market was still alive and kicking. Porsche was quick to see the potential in developing its own more affordable two-seater, and laid down the gauntlet to its design teams.
How much is your car to insure? Find out in four easy steps.
Get a quote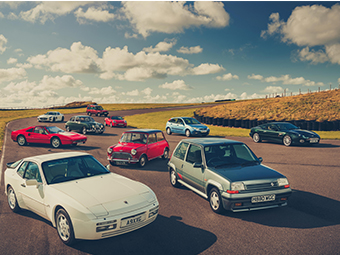 The end result – the Boxster concept – was revealed at the 1993 North American International Auto Show, and wowed audiences enough to convince Porsche that it was on the right track. But for the Boxster to go from concept to production, a giant of the Japanese car industry enters the story.
Toyota was the master of lean manufacturing (or Kaizen), a system which Porsche needed to emulate to cater for the Boxster's anticipated production levels. Under the leadership of Wendelin Wiedeking, Porsche managers were shipped out to Japan to study Toyota's methods of manufacturing and understand the myriad inefficiencies of the German sports car maker's production process.
In short order, a consultancy comprising ex-Toyota employees was contracted to make the necessary changes at the Stuttgart factory. "It was the biggest shock for the company to accept that Japanese were walking around, not able to speak either the Schwabian dialect or German and telling people what to do," Wendelin Wiedeking, Porsche's chief executive said at the time. "They were tough guys. They were absolutely aggressive to the people. And we wanted it that way."
Egos may have been bruised but Porsche survived. At the end of 1996, the company reported its first profit in four years, after losses running into hundreds of millions of pounds.
Another major shift towards greater efficiency was introducing parts commonality between model lines, something which Porsche had previously ignored, favouring bespoke lines for each model. Consequently, the upcoming 996-generation 911 and first Boxster both shared the same new 'flat'-six engine, as well as bonnets, front wings, headlights and interiors.
Reaching series production in 1996, the Boxster trounced all expectations, with global sales of 146,874 by 2004. But now in its fourth generation, is the essential character that seduced so many buyers still evident in the car you'd buy today? We drive the original Boxster and latest model back to back to find out.
First-generation '986' Porsche Boxster
I haven't driven a first-gen Boxster since I was a cub road-tester at Autocar, but the very original example I'm sitting in today, perched atop Burbage Moor in the Peak District, brings back memories of what we then regarded as a highly accomplished and quite unique car (the only flat-six, mid-engined model on the market then – and now, in fact).
Owned by photographer Dan Bathie, who bought it for just £3600 six months ago, the bodywork is near-flawless, with original-looking paint, too. It sits a little lower than standard thanks to non-standard springs (a common mod), but otherwise this 1998 first-gen with 93,000 miles showing is as near to original as a 23-year-old car can be.
And oh, how modern it still feels. Yes, the three-spoke steering wheel is larger than its modern equivalent and thinner-rimmed, too. But it effectively gears down the steering, which in a mid-engined car on fast Peak roads may not be a bad thing. And just like in the 996-series 911 there's that neatly integrated, red-trimmed instrument binnacle, incorporating three overlapping main dials displaying speed (in 25mph increments), revs (redlined at 6,800rpm) and one combining coolant temperature and fuel level.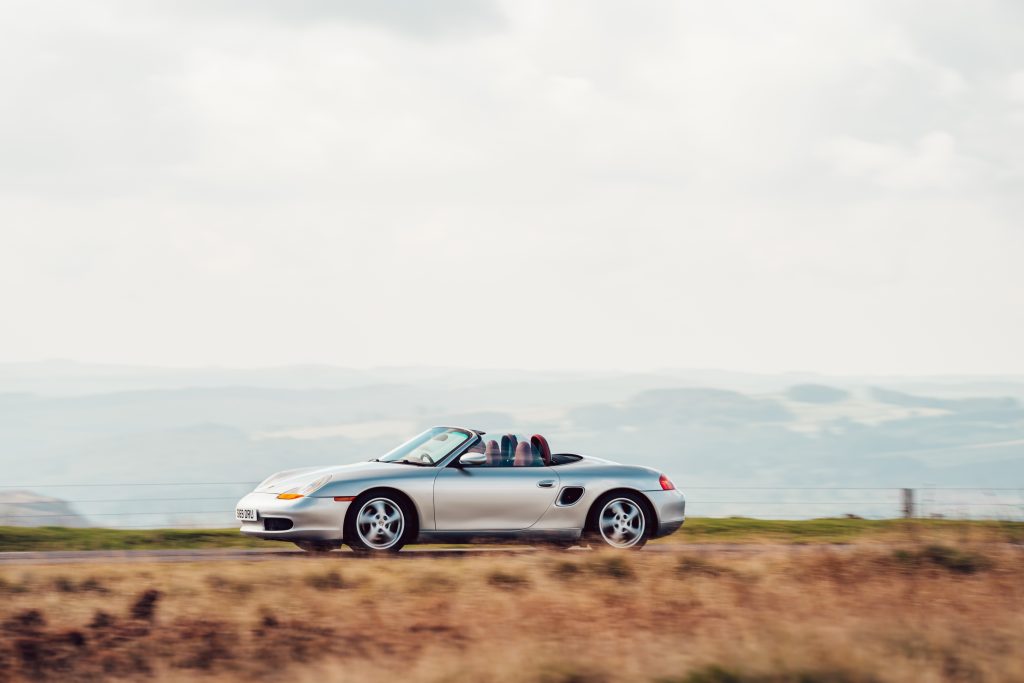 Given that this was Porsche's first volume product, you have to be ever so slightly impressed by the build quality in what is clearly a well-used car. While the supportive and comfortable seats have a nice 'patina', the door cards, carpets and dash still look factory-fresh in their stand-out peach-red hue. When the 986 arrived in the UK, it had a price tag just shy of £34,000, but I'm pretty certain that this one would have cost quite a bit more, knowing Porsche's tendency to charge extra for items like the climate control and cruise control I can see, plus a stereo (Bathie has replaced the previous non-original 'Halfords special' with a neat-looking, period-appropriate Continental unit).
Turn the ignition key in its dash-mounted slot, and the engine settles into its distinctive flat-six 'burr'. Engage first through the quite long-throw five-speed gearshift and release the relatively light clutch, and we're away, relishing the open, well-sighted Peak District roads. With a mere 180lb ft of torque at a high-ish 4500rpm, the 2.5-litre boxer motor needs to be worked quite hard before it reaches its sweet spot, but weighing just 1250kg it never feels anything less than biddable. In fact, you soon find any excuse to shift up and down the 'box, given how slick it is and how willing the engine is to bother its redline.
The sun is making a rare appearance in this part of the world, so we're roofless – a part-automated process that takes but a few seconds to complete. I'm waiting for the inevitable shake and shimmy from the body of this near-100k mile survivor, but not a bit of it. Yes, over some of the worst surface scars, you feel some flex, but you would in many hard-top cars of this age. What does stand out is the steering, though. Power-assisted via a good ol' hydraulic pump, it feels like a grown-up, more refined S1 Elise as you start to go faster and deeper into bends. There's a tactility about it which you seldom experience in a modern car, but without the kickback from road imperfections that often marks out steering systems from the last century.
I must admit to having one of my scariest driving moments in a 986 Boxster, while validating its top speed on Millbrook's High-Speed Bowl. Nearing its 150mph V-max, a gust of wind hit the side of the car while it was inches from the upper Armco, and everything went 'light' for a second. A front-engined car would have shirked it off, but with its flat-six mid-mounted, the momentary risk of turning into a flying machine became very real.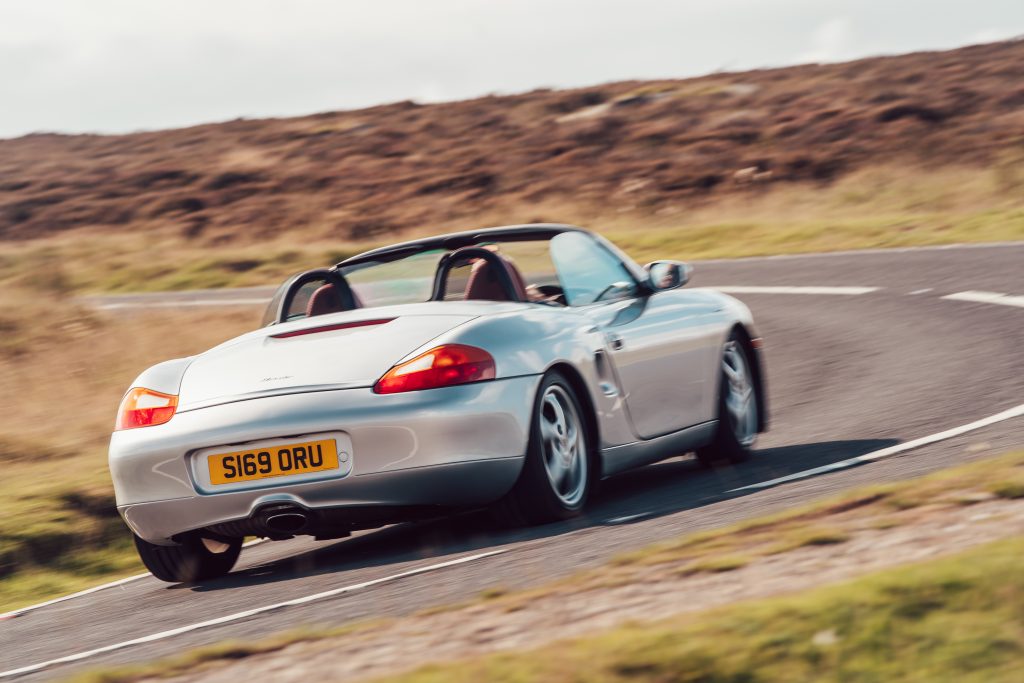 But not today. That same configuration is a boon on these roads, the 986 changing direction with alacrity and composure, the engine's performance feeling completely right-sized for its dynamic repertoire, without the need for any electronic interference (indeed, traction control was an option, and Porsche Stability Management still a few years away). It's been said before but I'll say it again; Porsche's entry-level car never once makes its owner feel as though they should have spent more, and today it's a veritable used performance car bargain.
In short, this early 986 is still a bit of a revelation today, and you can see why it allowed the Boxster moniker to endure, collecting 43,000 UK sales along the way.
2021 Porsche Boxster 25 Years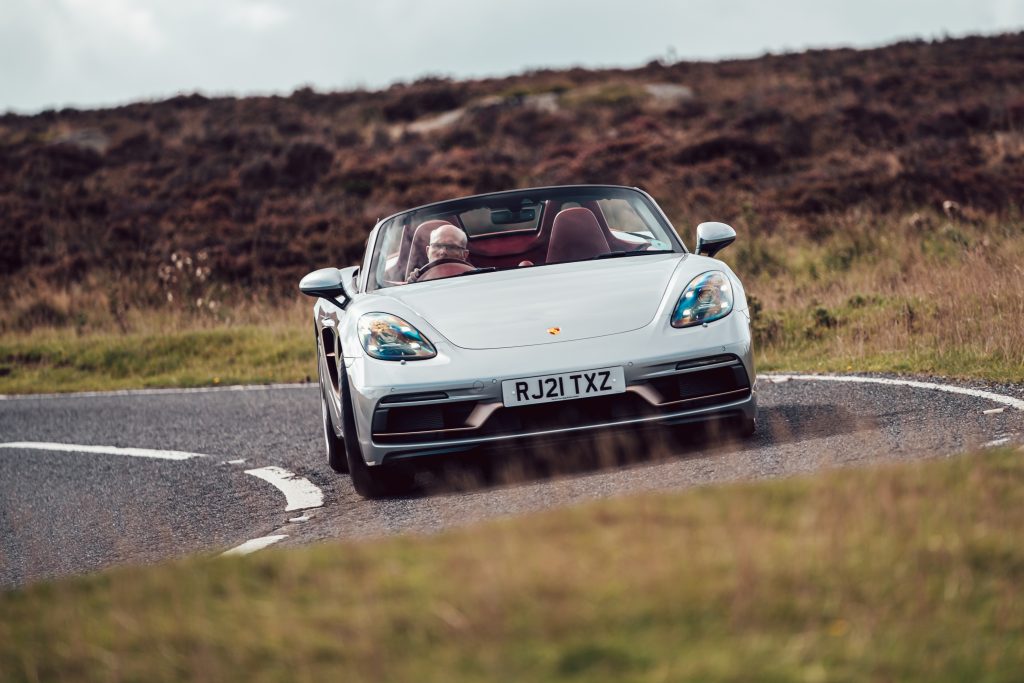 So, if you were to jump forward 23 years and double the power through a Boxster's drivetrain, would it still feel like… well, a Boxster?
Happily, many of the visual cues remain present and correct in the Boxster 25 Years in which I'm now perched, and that's before you realise that this carefully specified limited edition model is meant to conjure up a visual reimagining of the 1993 Boxster concept, with its gold wheel rims, red fabric hood and silver paintwork. Costing £72,760, it's actually not far off parity with the price of the 1996 Boxster, either, taking into account inflation.
Greater adjustability marks out the driving position, versus the older car, but the overlapping main dials, location of the cruise control and ignition slot – and even the view from the front screen over the rising offside front wing – are immediately familiar from the 986.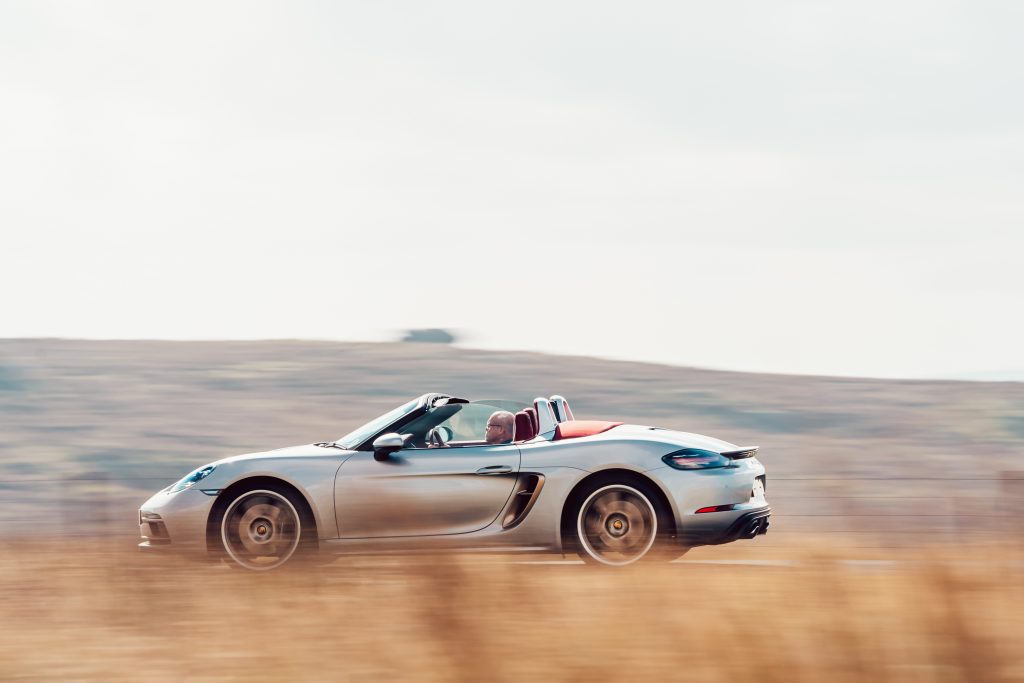 Inevitably, this fourth-generation Boxster has grown in size and weight, though not unreasonably given how much safer/stronger cars now need to be, and the market's demand for higher equipment levels. In a nutshell, the 25 is 48mm longer, 213mm wider and 155kg heavier. But viewed from the side, especially, the 356 and 550 Spyder-inspired design references remain, and it's only when you approach this year's car from the front or rear that you realise how petite the older car appears parked alongside it.
But the 25 stays true to the Boxster's original layout: mid-mounted atmospheric flat-six engine (since 2016 a blown flat-four has also been available in either 2.0-litre or 2.5-litre guise for the regular Boxster), useful luggage stores front and rear and an easy-to-operate soft-top (fully electric in the new car). Even each car's windscreen rake is nigh-on identical.
Start up, and the 4.0-litre 'six' – identical to that in the Boxster GTS – has a surprisingly old-school vibe about it at idle. It's so gloriously mechanical, that you find yourself sitting and listening to the cacophony behind you for a minute or two, impressed that in this age of engine homogeneity, the sound of internal combustion can still bring a smile to your face at a mere 1000rpm. Flex the long-travel organ-pedal throttle and engage the first of six gears in the manual 'box (PDK transmission is optional) and you instantly realise how much more substantial the 2021 Boxster feels on the road, and this isn't purely down to its moderate weight gain. Structurally, it's in another league to the 986, poor surfaces refusing to corrupt its composure, even riding on 20-inch rims (versus the older car's standard 17s).
Now we're enjoying the flow of these Peak District roads again, but more liberties can be safely taken, exploiting the Boxster 25's significantly higher reserves of grip, body control and braking. Strange, though, that its gear ratios – especially second and third – are so tall. It's quite easy to find yourself reaching the national speed limit in second with plenty more to go before hitting the 7,800rpm redline, and that means it can feel tardy lower down as you wait for the engine's sweet spot to arrive from 5,000rpm. You soon drive around this quirk, but it would be good to compare the same engine with the seven-speed PDK and its shorter intermediate gearing. That said, the manual shift is slick and quick, with a nice mechanical feel to it, and mated to a relatively light clutch.
With 281bhp per tonne versus the 986's 161bhp per tonne, the Boxster 25 obviously covers ground more rapidly. The steering, while not quite as alive as the older car's, is still beautifully communicative and with a higher-geared ratio you despatch faster bends with a flick of your wrists, rather than flex of your arms.
And when Dan Bathie, the 986's owner, tries the new car his impressions are largely positive. "I think that the character of the original model has been retained – it felt like home as soon as I sat in the driver's seat. The driving position is even similar, and what a great sounding engine.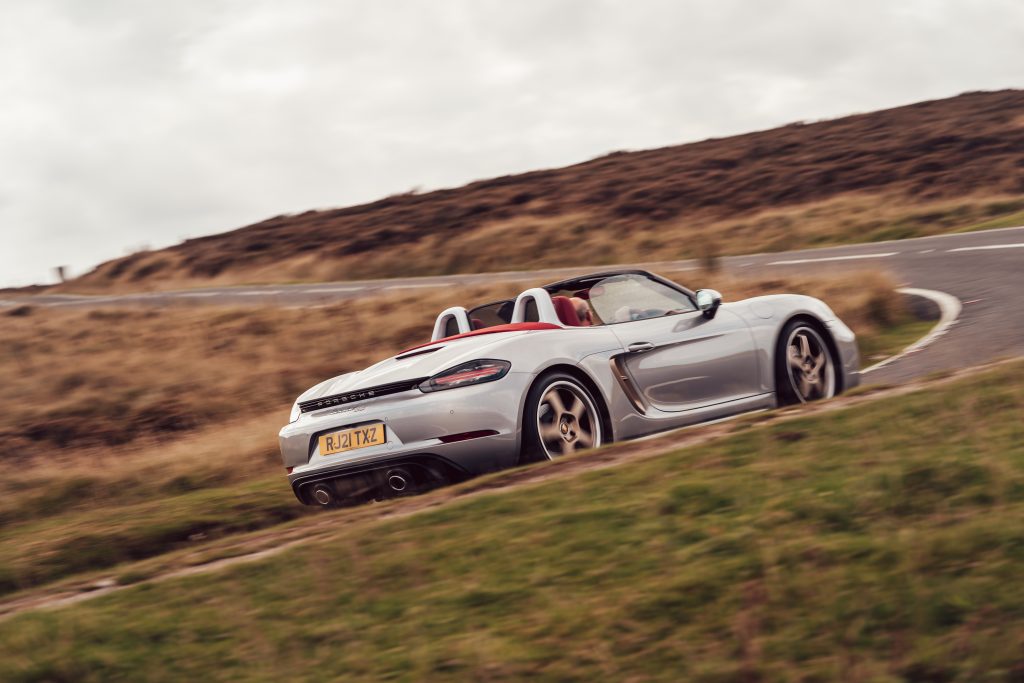 "But in the real world it's frustrating that you can't deploy all the power. You need to be in first or second gear to enjoy that fabulous engine note above 5,000rpm; in the higher gears you'd be well into illegal speeds."
And maybe Bathie has a point – one you'll often hear car enthusiasts debate about many modern performance cars: for all that the Boxster has been fettled and honed into the storming, intense, blisteringly fast and brutally efficient sports car it now is, how much of this evolved brilliance is employable on today's roads? As I watched Bathie depart in his 986, its little 2.5-litre engine at full-chat as he accelerated away, I had to admit to a spot of envy.
1998 Porsche Boxster 986
Engine: 2.5-litre, horizontally-opposed, 6-cyls
Power: 201bhp @ 6000rpm
Torque: 180lb ft @ 4500rpm
0-60mph: 6.7 secs
Max speed: 149mph
Price new: £33,950 (1996)
2021 Porsche Boxster 25 Years
Engine: 4.0-litre, horizontally-opposed, 6-cyls
Power: 395bhp @ 7000rpm
Torque: 310lb ft @ 5000-6500rpm
0-60mph: 4.5 secs
Max speed: 182mph
Price new: £72,760
Read more
Retro Rewind: Audi RS2 vs Audi RS6
Retro Rewind: Mazda MX-5 1.8i vs MX-5 R-Sport
Retro Rewind: Ford Fiesta RS Turbo vs Fiesta ST