Picture this 1994 scene. A young, thrusting city banker is at his desk at Barings, idly flicking through the pages of a Porsche brochure, mulling over the exact specification of his next 911. Little does he know how much his life is about to change.
In a year he'll be out of a job (like everyone else at Barings Bank, thanks to colleague Nick Leeson) but for now the most pressing problem is prompted by a phone call from his darling wife on his Nokia 232 mobile. She's pregnant and that Porsche is hardly a family car.
How much is your car to insure? Find out in four easy steps.
Get a quote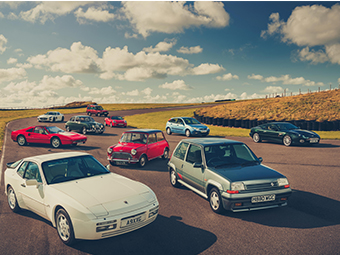 Enter the Audi RS2 Avant, a practical estate that proudly wears Porsche badges alongside its four rings. And, unlike a previous collaboration with SEAT on the 'Engine System Porsche' Ibiza, this time the partnership is all about performance.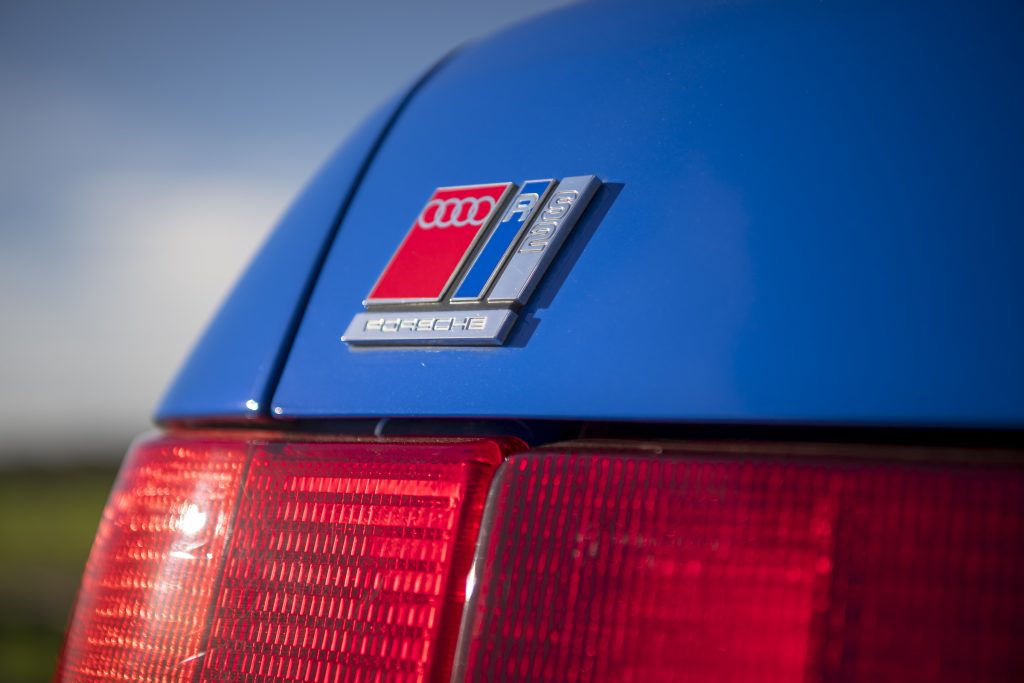 Based on the Audi 80's B4 platform every RS2 is built at Porsche's Rossle-Bau factory in Zuffenhausen, which has just finished assembling the Mercedes-Benz 500E. And the 959. With Porsche taking on the engine, chassis, brakes and interior design the RS2 is the first Audi überwagon and the first RS model. Our banker couldn't be happier – well, at least until Barings collapses.
Fast-forward almost 30 years and the world has changed. Today's wealthy hedge fund managers, bitcoin miners, YouTubers and TikTokers could indeed buy any number of family-friendly Porsche models, such as the Cayenne, Macan, Panamera or even the electric Taycan. Or they could indulge in the RS2's latest offspring, the new Audi RS6.
A technical tour-de-force with supercar-baiting speed, the RS6 is the ultimate Audi estate. But with Audi's shift towards electrification it may well be the last of the breed. Do we need any better reason to bring the pair together on the B-roads of Northamptonshire?
1996 Audi RS2 Avant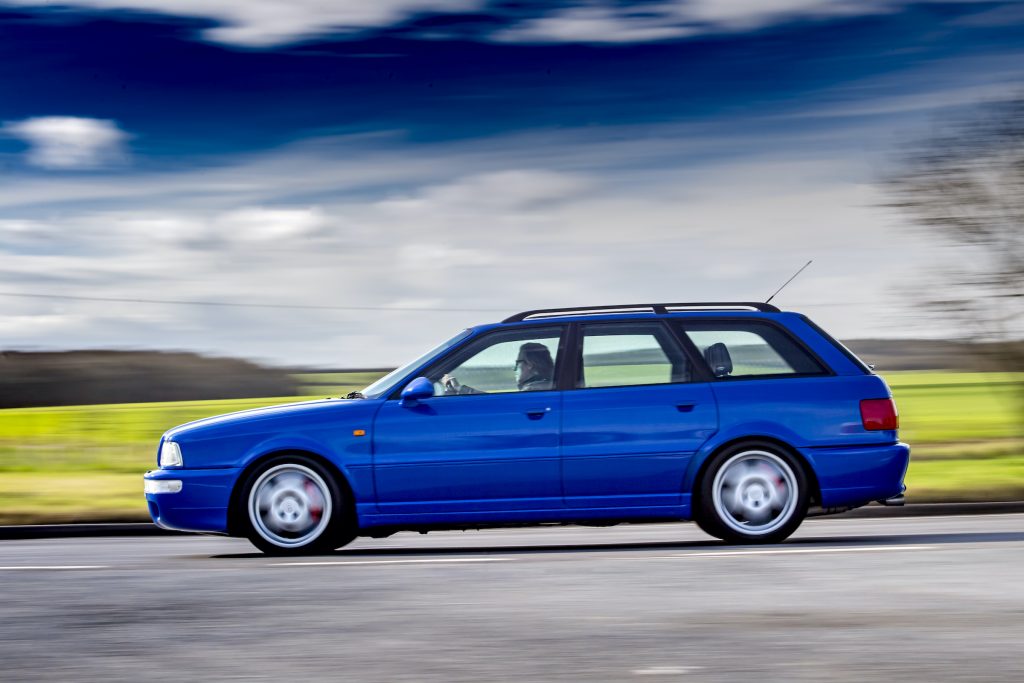 It was a rare privilege to drive an Audi RS2 back in its day. Only 2,891 cars left the Porsche factory between March 1994 and July 1995 and just 180 of them were right-hand-drive like this one. Of the latter, about 150 made it to Britain, with the remainder finding homes in New Zealand and South Africa. A search on howmanyleft.co.uk reveals 124 cars licensed or SORN at the time of writing, so it is an even bigger treat to be handed the keys to Audi UK's example.
Although the RS2 was offered in over a dozen hues it has never looked better than in Nogaro Blue. Aside from a few chips to the black mesh on the lower air intake this car is completely unblemished, having covered just 4,500 miles since it was registered, as one of the last off the line, in September 1996.
It's not a big car by today's standards but it still takes a little time to walk around and soak in all of Porsche's handiwork. Most obvious are the bright red brake calipers (Porsche-branded, but made by Brembo), poking through the 17-inch, five-spoke Porsche Cup alloy wheels. You'll see the Porsche name beneath the RS2 badges front and rear and twin tail pipes poking out of the back. It sits 40mm lower than a regular Audi 80 Avant, but there's still plenty of room between nose and road.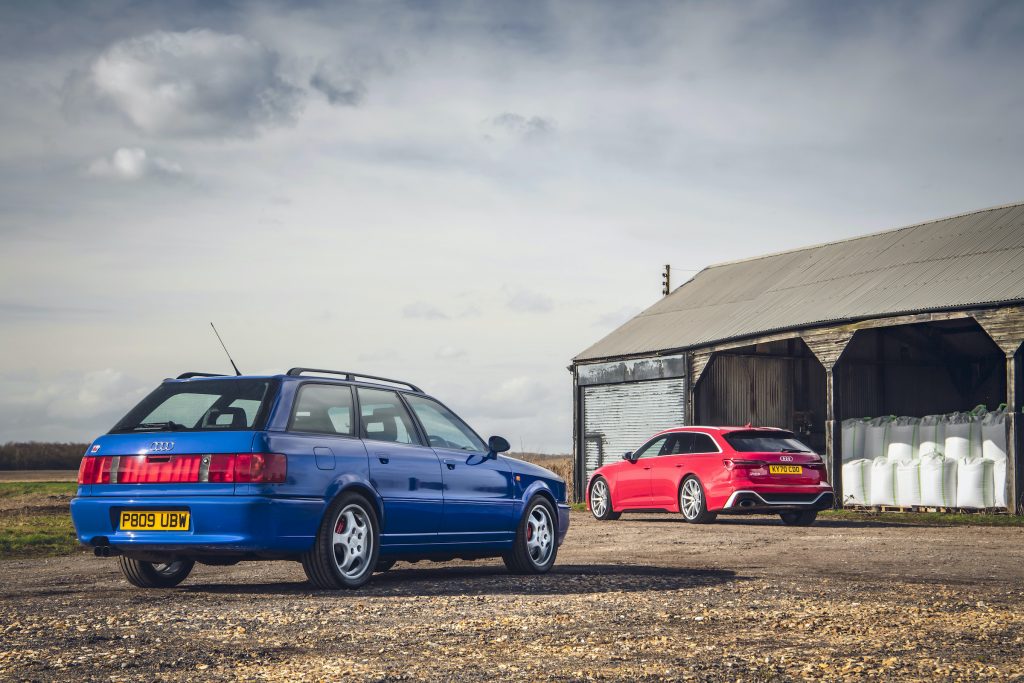 Open the bonnet and you may well be bemused at first. The 2.2-litre five-cylinder engine sits inches from the grille and is canted over so that it appears to be off-centre. That makes room for the larger turbocharger and hefty intercooler that Porsche installed, together with new injectors, a new camshaft, ECU and induction and exhaust systems. The words "Powered by Porsche" and "20v Turbo" are cast atop the engine for proud display at cars and coffee events.
Move inside and you're met with a blaze of blue Alcantara for the seats and door trims, with gloss carbonfibre on the dash and door caps. The white instruments and ancillary gauges are analogue artworks and wait to be brought to life with a twist of the ignition key.
The Recaro front seats are figure-hugging but positioned high so that you feel almost perched on the car rather than in it. The driving position does set you up well for visibility (also thank the thin pillars) and to press down fully on the three pedals, which is definitely required to get the most out of the RS2.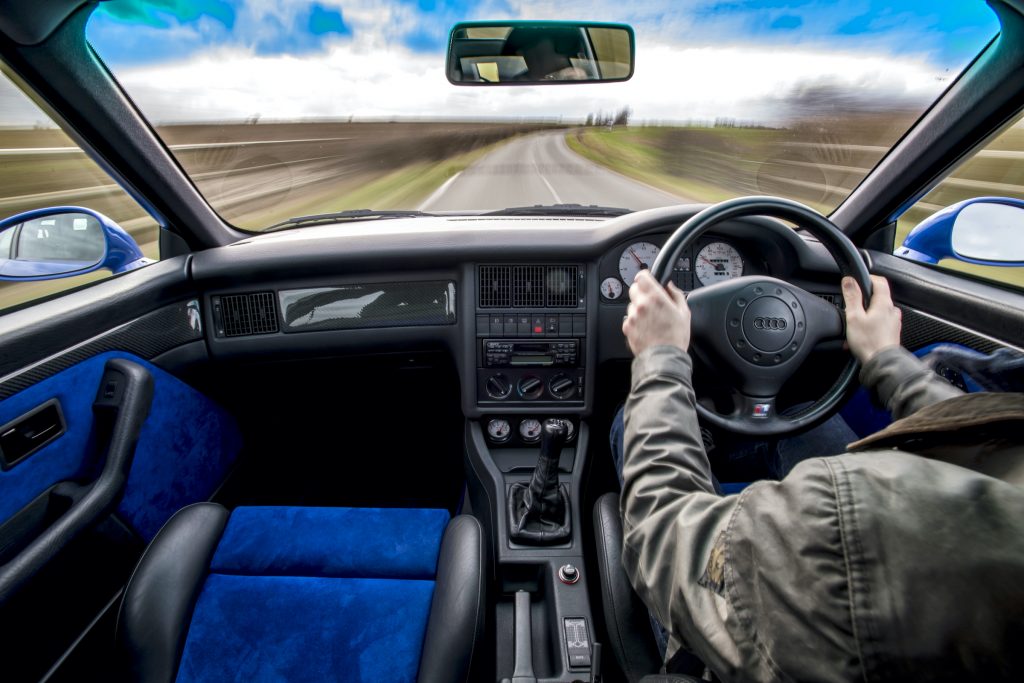 There's no question that this is still a very fast car. Testing the RS2 when it was new, Autocar hit 62 mph from rest in 4.8 seconds. Even more impressively the magazine's testers launched it to 30mph in just 1.7 seconds, beating the mighty McLaren F1. The quattro all-wheel-drive system doubtless provided that epic traction and the rear differential can be locked in slippery conditions for even more grip.
Today it's dry, though, and with the man from Audi watching, we're behaving ourselves. That's not say we don't thoroughly enjoy the feeling of old school turbo boost, the deliberate action required on clutch and lever to shift between the RS2's six gears and the car's remarkably compliant, almost floaty, ride. The brakes need a serious shove and the lack of initial bite is a little concerning until you get used to it. The dive under braking and ensuing squat when the car's back on boost are verging on the dramatic and body lean through the corners is pronounced.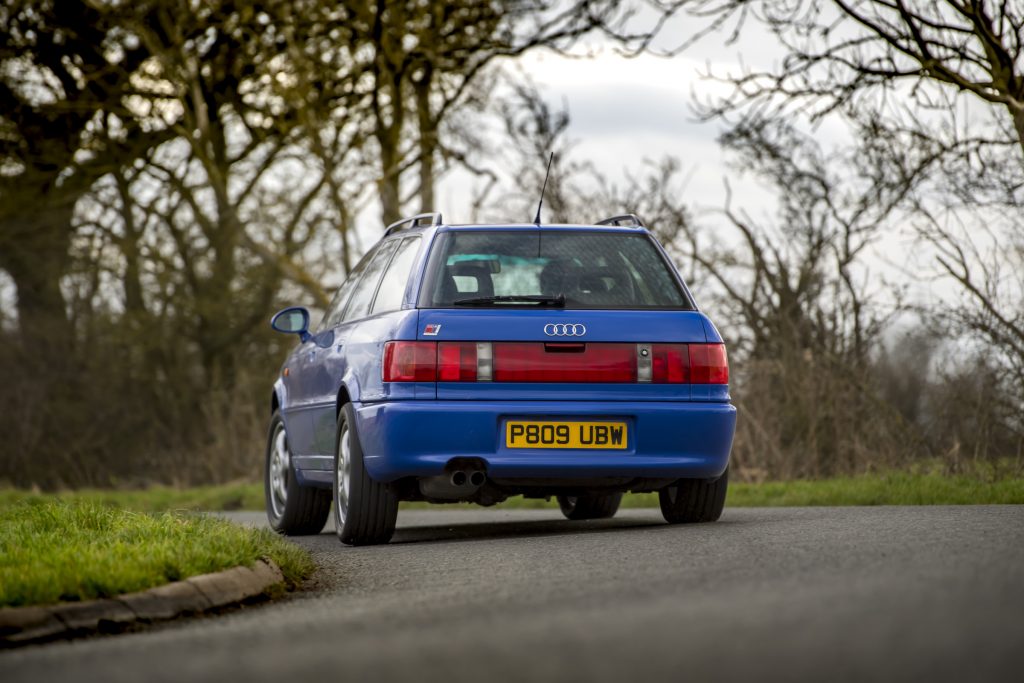 Yet these are all welcome warnings from a chassis that has a propensity to understeer, which can be cured in a hot hatch style with a lift of the throttle or avoided altogether once you've figured out the power delivery. Approach a bend a little more slowly, but get on the power again way before the apex, count to three, and the RS2 will hurl itself away from the corner. Get it right and it's hugely satisfying, get it wrong and you're caught in a void of turbo lag.
The off-beat thrum of Audi's five-cylinder engine is quite muted from inside and mostly what you hear is a whoosh of turbo and the whistle of wind around the door mirrors, making the RS2 subdued and weirdly relaxing in a way we weren't expecting.
It's a car that takes a little time to understand, even longer to master, but one that is rewarding and genuinely characterful because of that.
2021 Audi RS6 Avant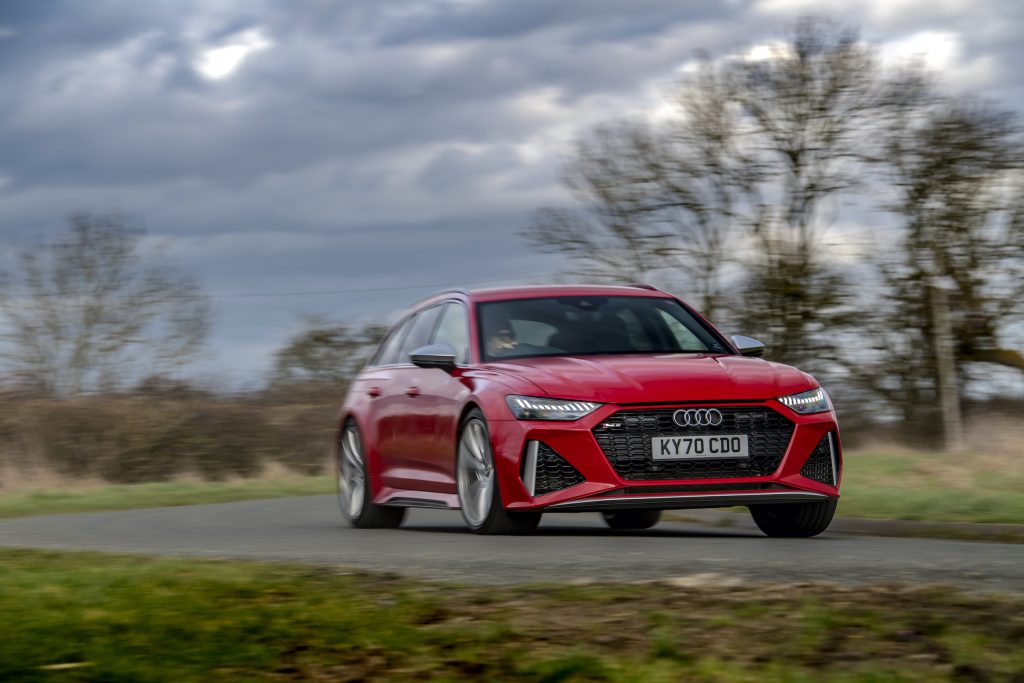 If patience is not one of your virtues then the RS6 provides instant gratification. Well, almost instant gratification, as you'll need to configure the car's driving dynamics system to the max.
Once everything (steering, suspension, power, sound) is set to its most extreme the RS6 will deploy a bewildering 592bhp through its quattro all-wheel-drive system. It will throw itself down the road at a pace that's unfathomable when you consider its size and heft. 0-62mph takes barely 3.6 seconds. And all you need to do is find a suitable straight and press as the throttle as hard as you dare.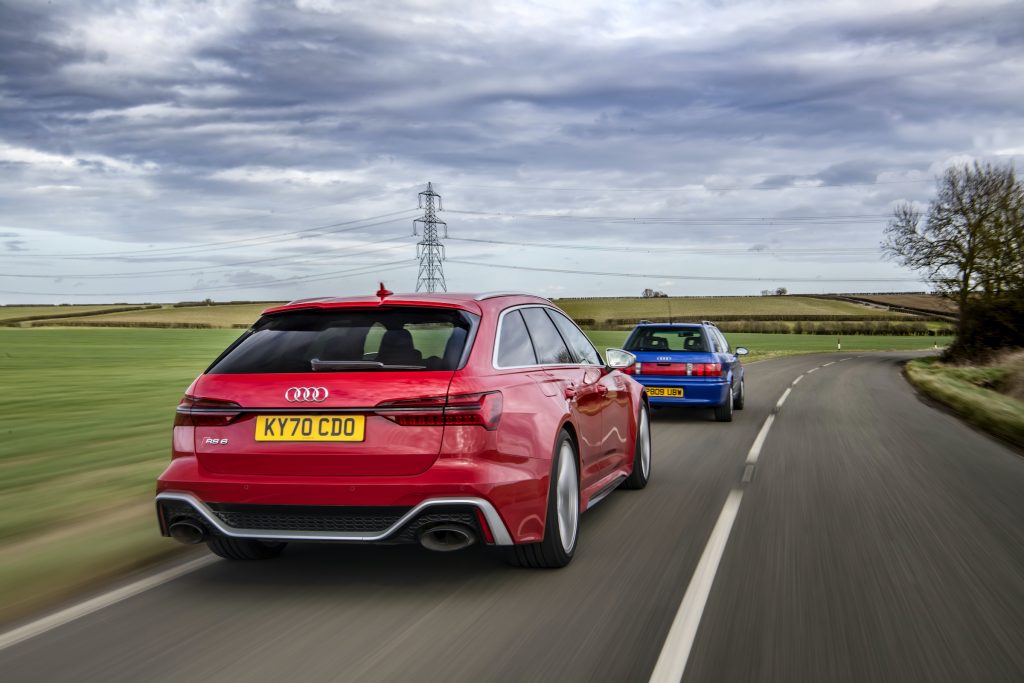 The car's acceleration is brutal, its stopping power exceptional and its cornering capability stupendous. Fitted with a rear-wheel steer system the RS6 turns in sharply, masks its bulk, and is empowered with such prodigious grip that it's hard to imagine a bend it couldn't simply blast through.
Yet, somehow it all feels too easy. The eight-speed auto shifts up just as fast on its own as if you use the paddles (maybe faster, since you won't accidentally head-butt the rev limiter) and even downshifts for corners and, though there is some audible drama from the twin-turbo four-litre V8, most of that is reserved for people outside the car.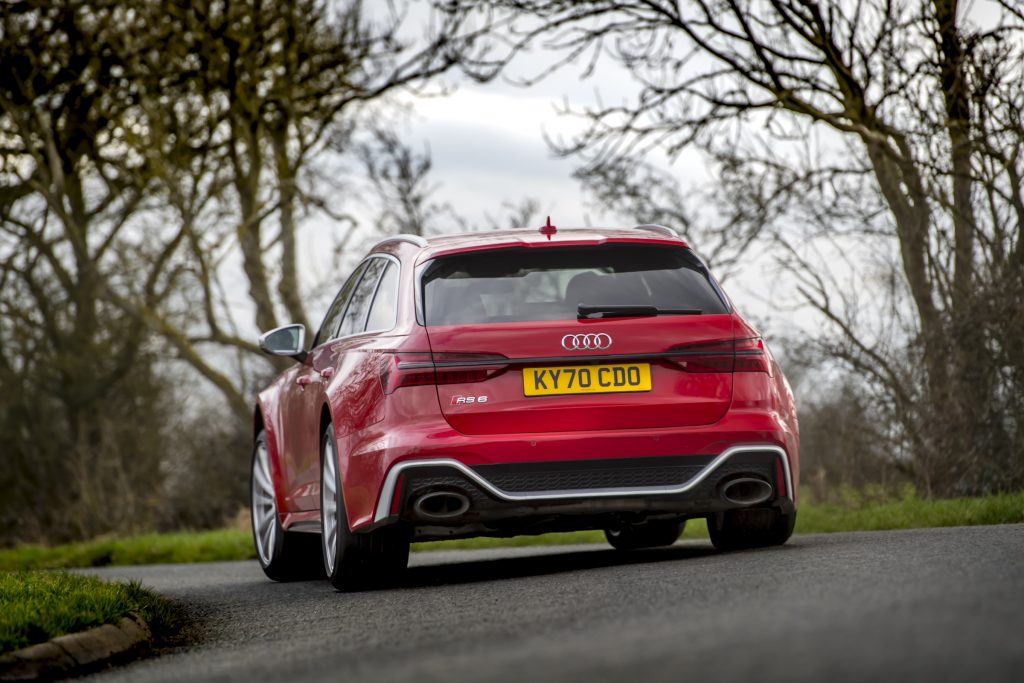 Inside you'll be ensconced in the rich leather bucket seats, enjoying the glow of the various screens, and shine of the sleek aluminium trim. There's no question this is a wonderful place to cross a continent or two.
This latest RS6 is by far the most aggressive-looking Audi Avant to date. Its extended arches are almost touring car-wide, its front splitter sniffs the road and those 21-inch front and 22-inch rear alloys leave barely a gap beneath the wings. It still an estate car, mind, and an awful lot more subtle than the Lamborghini Urus with which it has much in common.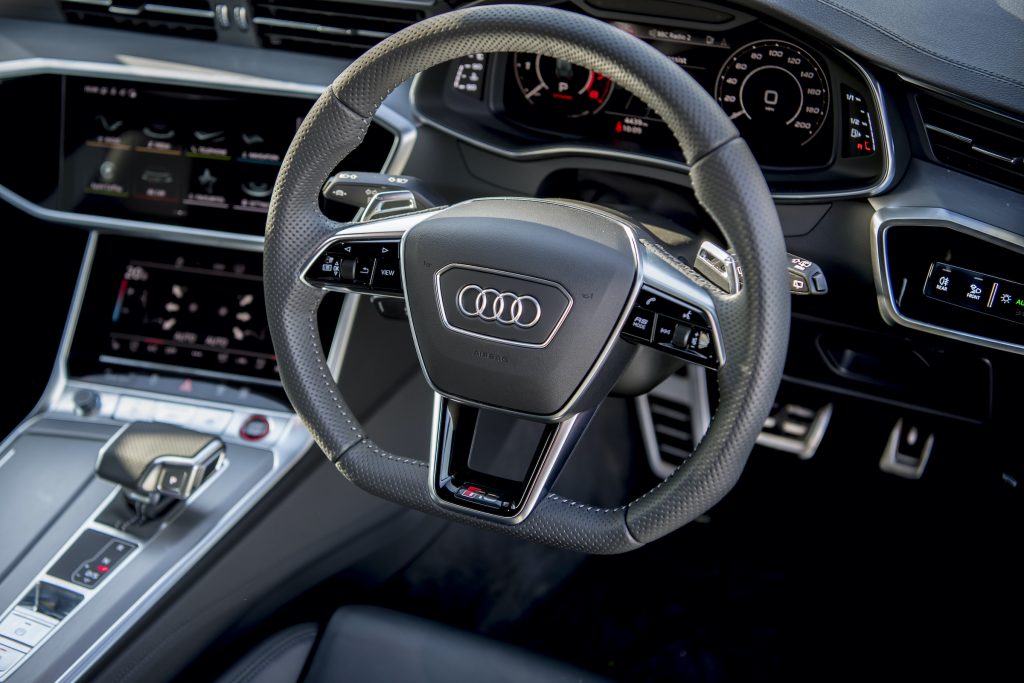 Dial down the histrionics and the air suspension can be squishy, the steering finger-light and the gearshifts buttery smooth, if that's your fancy. Try efficiency mode and you might even see fuel economy rise above 20mpg.
The RS6 is perhaps the ultimate all-rounder. You could do your daily commute, thrash down for a ski in the Alps one weekend and take on a track day the next.
It is a remarkable achievement, and quite possibly the last of its kind, and should be lauded for that.
Of course, for the £100,000 price you could buy an RS2 and a tidy Porsche 911. Now that's something to think about.
Fast facts: Audi RS2 v Audi RS6
Price: £40,000 approx vs £100,035 (as tested)
Engine: 2.2-litre 5-cyl vs 4.0-litre V8
Power: 311bhp vs 592bhp
Gearbox: 6-speed manual vs 8-speed automatic
Kerbweight: 1,525kg vs 2,075 kg
0-62mph: 4.8 secs vs 3.6 secs
Top speed: 163mph vs 155mph (limited)