Tip: To view all images in gallery mode, click on any photograph
Welcome to the 2022 Hagerty UK Bull Market list. An annual compilation of cars that should be both a pleasure to drive and live with, it highlights emerging trends and changing tastes across the enthusiast car scene.
Our team has gathered 10 very special cars that should appeal to the heart, using cold, hard data to help ensure that they'll appeal to the head, too.
How much is your car to insure? Find out in four easy steps.
Get a quote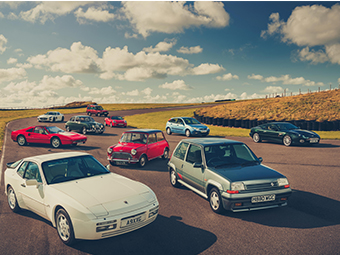 Our selection of 10 classic and modern-classic cars spans everything from humble family hatchbacks to high-performing supercars – some you'll be familiar with, others you'll enjoy getting to know.
To inform our choice of cars, Hagerty's Valuation team analysed both its market valuation data for condition #2* (one level below concours) and insurance quotes and policies, looking for indicators that suggest a car is increasingly in demand among drivers. Hopefully it may help you avoid the dreaded d-word: depreciation. We want you to enjoy your next car, no matter whether it's a Maserati or a Mini, on every level. Our selection can help steer you along that road.
2010–2015 Ferrari 458 Italia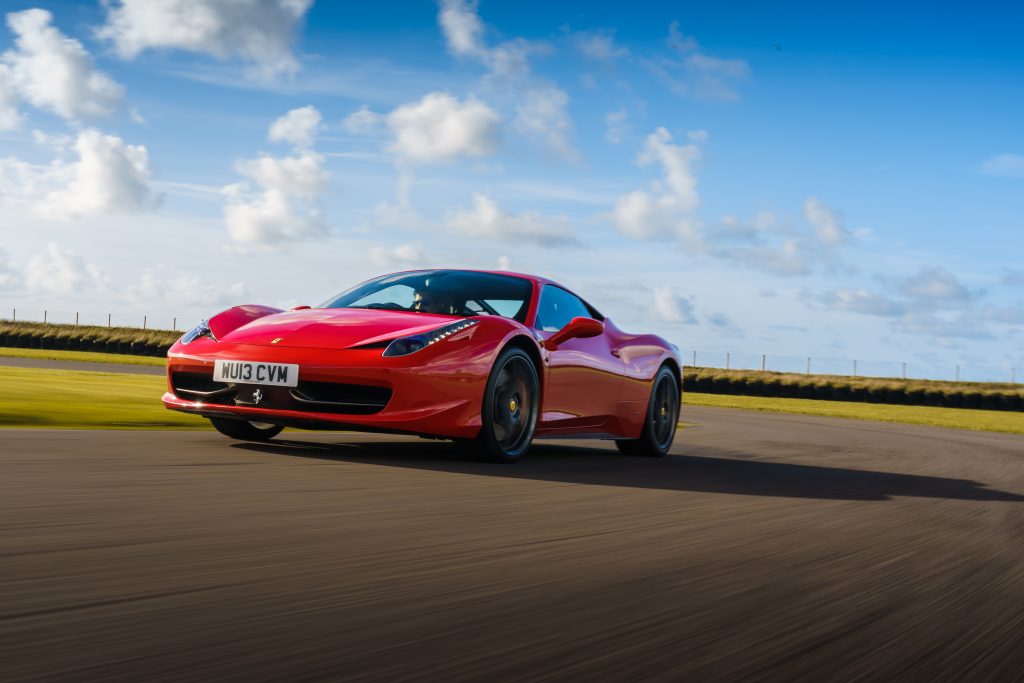 The 458 Italia marked the end of an era at Ferrari. It was the last naturally-aspirated V8 car made in Maranello – and arguably the finest.
When it arrived in 2010 it was a giant step up from the F430. Where the F430 was a little subdued the 458 was outrageous, an attention-seeking road missile that owed at least some of its design to the Enzo.
Pininfarina's striking exterior styling, free from the vents and ducts necessary to cool turbocharged engines and dramatic for its cab-forward fighter cockpit-like passenger compartment, was supported by an interior that threw away long established traditions, banishing the gated gearshift for good and replacing analogue instruments – large, central tachometer aside – with digital. Ferrari had finally entered the 21st century, and what an entrance it was.
At its heart was that V8. The magicians of Modena extracted 562bhp from its directly-injected 4.5 litres – that's 125bhp for every 1000cc. In doing so the engine redlined at 9000rpm. Just the thought of it is enough to send a slight shiver up your spine.
Sending that power to the rear wheels was the job of a rapid-fire dual-clutch transmission that would shift gears way faster than humanly possible with a manual clutch and lever. Those who bemoaned the loss of such interaction had only to experience the brutally relentless acceleration to change their minds.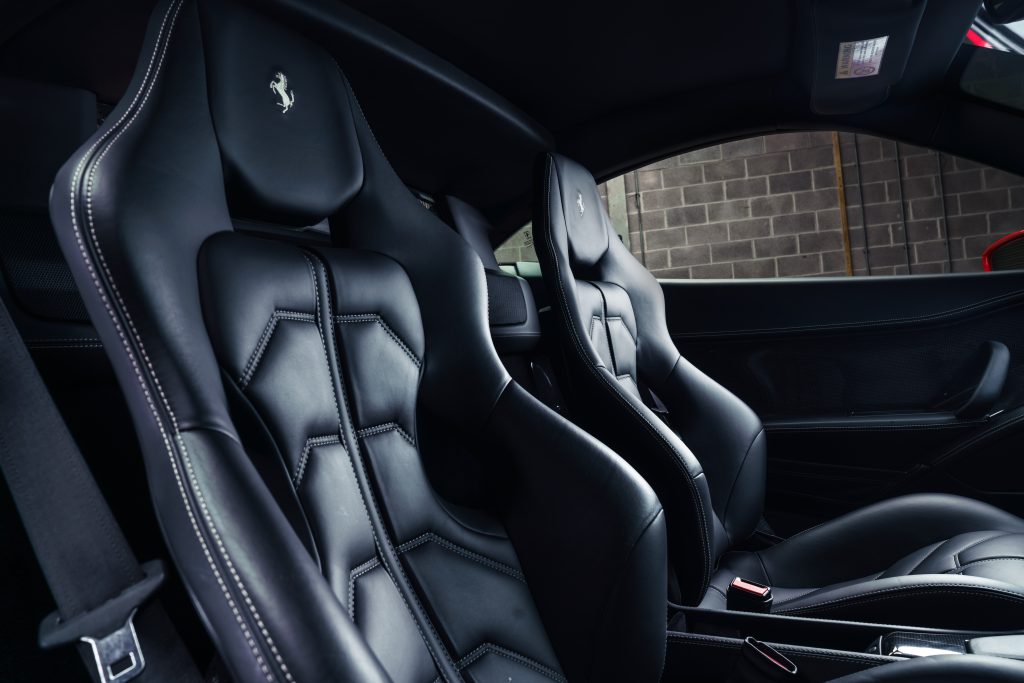 The process begins by settling into the low bucket seat, inserting a conventional key in the steering column and turning it to prime the ignition. The engine starts with the dramatic push of a big red button on the steering wheel, exploding into life with an automated aggressive blip of the throttle. Take a moment to admire the acres of carbon fibre and hand-stitched leather. You'll need rather longer to figure out the infotainment and information controls and the twin digital displays each side of the central rev counter.
A pull of the right-hand paddle engages first gear, but there's no creeping forward like a conventional auto; if you want to move you need to let the 458 know it with a press of the pedal.
Do so with caution as the 458 can launch itself to 124mph in 10.4 seconds and go on beyond 200mph. The engine really is a masterpiece, being both rich in torque and unbelievably eager to rev to its limiter. Gearchanges are a matter of nanoseconds and they come in quick-fire succession as you hurtle towards the horizon.
Braking is by ceramic discs which are astonishingly powerful, while the steering is so quick and direct that it initially takes a little time to get used to before becoming second nature.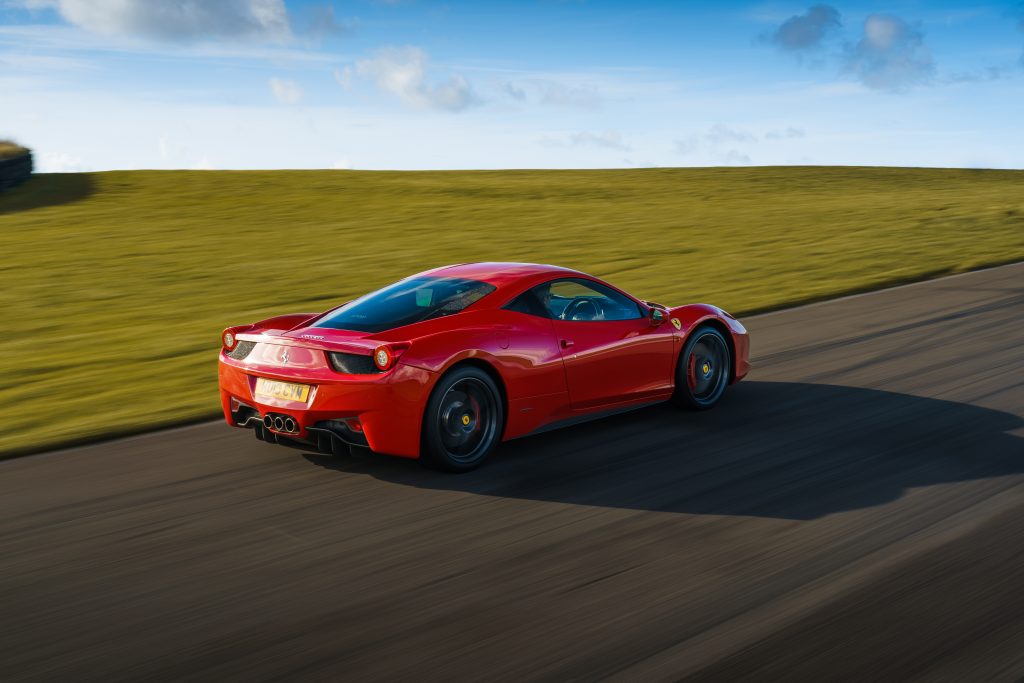 With its manettino switch offering up a number of different traction and driving modes and the transmission also able to operate as an easy-going automatic, what's even more amazing about the 458 is that you really could drive it every day. We would expect a 5800-mile example like this one, kindly loaned by VR Warrington, to be set aside by a collector.
The 2013 458 Speciale added more of everything to the recipe – more power, more rawness, more exclusivity – but such is the brilliance of the standard 458 Italia that we'd not hesitate to pocket the difference and put it toward running costs or, indeed, another plaything.
Now that Ferrari is offering extended warranties and maintenance programs for older cars we would be very tempted to do exactly that. The last of the naturally-aspirated V8 Ferraris, and one of the last cars from the Prancing Horse stable to be designed by Pininfarina, may have been made in large numbers but it is as special and thrilling as a Ferrari should be.
2013 Ferrari 458 Italia
Engine: V8, 4497cc
Transmission: 7-speed dual-clutch automatic, RWD
Power: 562bhp at 9000rpm
Weight: 1565kg
The Hagerty Valuation Team says
Hagerty Price Guide range, Fair to Concours: £104,000 to £200,000
Is the 458 Italia becoming a collectable Ferrari? Hagerty has evidence to suggest it is. Hagerty has seen values of the average value of the cars we insure worldwide increase by 3.7% in 2021 compared with the previous year. At auction, they've also performed well in 2021 with a sell-through rate of 82 per cent, a significant increase from 68 per cent in 2020.
Who's buying them? Well, typically Hagerty would see 34 per cent of insurance quotes come from drivers born between 1965 and 1981 (Generation X), but in the case of the 458 Italia, it's 46 per cent. Hagerty believes it is this younger buying generation that are currently fuelling the increase in values of more modern collectable cars.
1998–2002 Maserati 3200 GT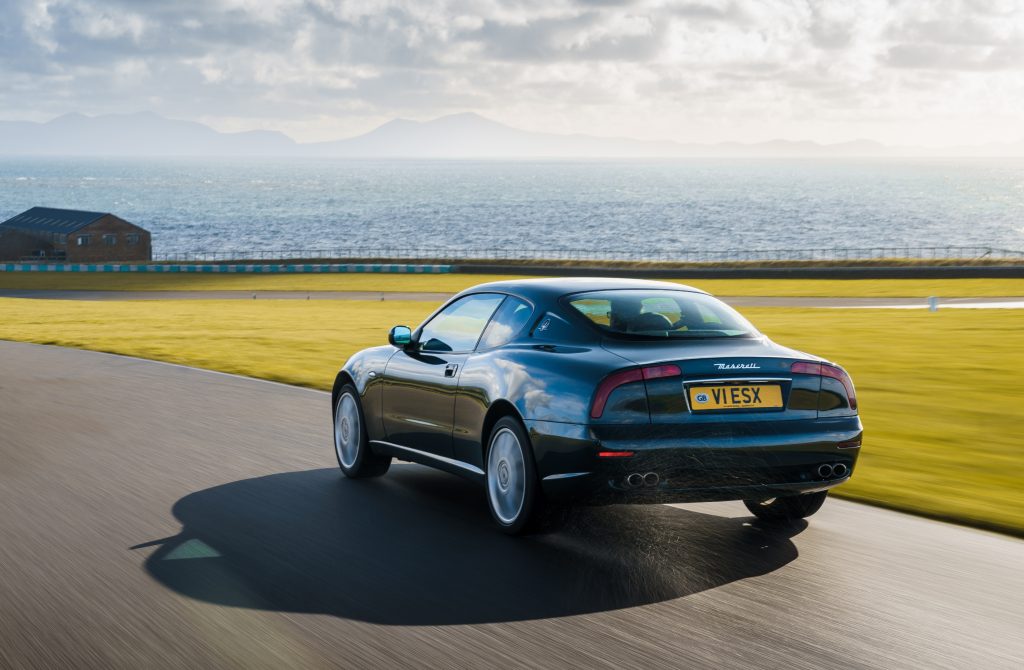 Yves Saint Laurent said 'Fashions fade. Style is eternal.' It's easy to imagine, then, why someone would have fallen for the Maserati 3200 GT when it was new. Maserati wasn't an à la mode brand, it was a name that evoked motor sport pedigree, timeless Italian design, exclusivity and a dare-to-differ spirit that most car enthusiasts would salute. Oh, and the 3200 GT happened to look fabulous.
Designed by Giorgetto Giugiaro (who had past form with Maserati, working on the 1967 Ghibli and 1971 Bora) it was at once both elegant and muscular, as well as playful, with signature details such as the boomerang-shaped rear light cluster and the distinctive Maserati trident badge set into the C-pillar and radiating glamour on the grille.
It was a car that encouraged you to share it with the world, even if you knew, in your heart of hearts, that the sensible thing would be to take your £60,000 pot of money and spend it on a Porsche 911 or Jaguar XKR.
Yet just as the style of the 3200 GT was enticing, so were its mechanical ingredients. Under the direction of Fiat, which took control of Maserati in 1993, and Ferrari, which acquired a half share of its old adversary in 1997, a grand tourer was conceived with a powerful V8, twin-turbo engine driving the rear wheels, double wishbone suspension and the choice of a six-speed manual or four-speed automatica gearbox.
There was just one problem: Reviews of the 3200 GT were lukewarm. Despite the GT's promise, most road testers reported unease with the driving experience, which felt ill sorted alongside the competition. To try and calm the car's character a little and make it less stressful for whoever was at the wheel, Maserati's engineers introduced fine-tuning changes from 2001.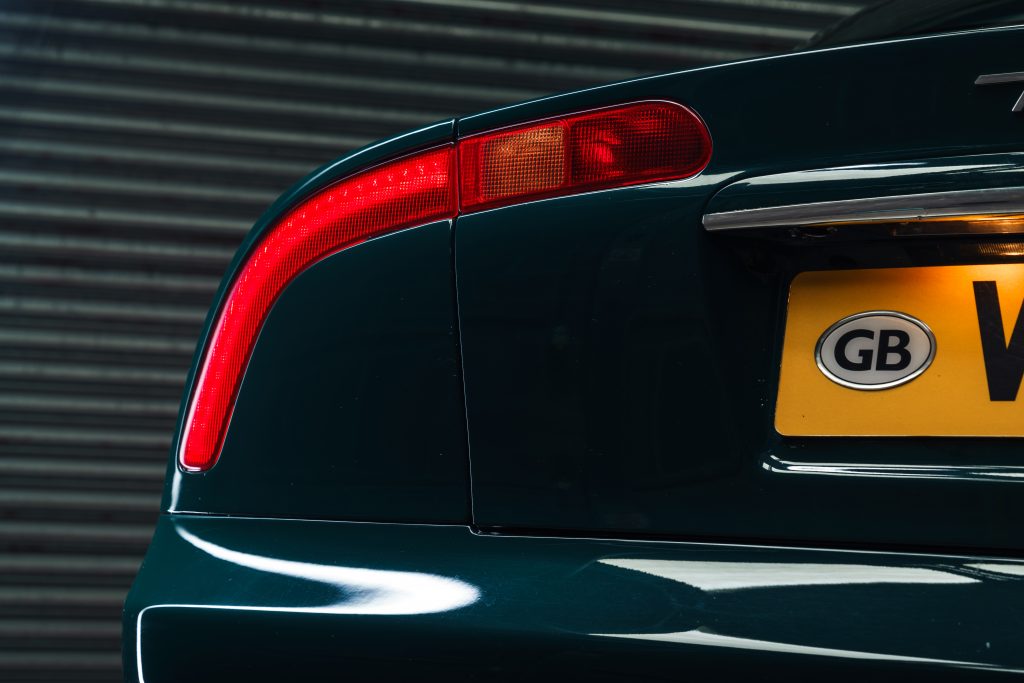 In the interim, however, stories were circulating about high running costs – aka unreliability – and Maserati set to work on more comprehensive revisions, resulting in the 4200 Coupé of 2002, a car which was significantly better to drive and featured a Ferrari V8 but, thanks to design changes (as it turns out, not all boomerangs return when thrown away), lacked some of the eternal style of the earlier version.
All of which is to say car enthusiasts in a position to buy a Grand Tourer like the 3200 GT have been hesitant, often viewing it as a risk they just can't afford to take. And that has meant that prices for average examples have been – how best to put this – competitive. The old cliché of a lot of car for not a lot of money can be rolled out, and liberally, to this Maserati.
Sitting in the leather-lined cabin gives you a warm glow. Richard Pole's 1999 example is ageing remarkably well, which, dare we admit it, is a pleasant surprise. The Burgundy leather tastefully complements the Verde Moss exterior paint, and feels thick, supple and expensive, even after 80,000 miles of use, while the switchgear and other touch points are free from wear.
Last year, Hagerty included the Aston Martin DB7 in its Bull Market list, a car that's directly comparable with the 3200 GT. What the Maserati offers over that is cabin space. There is more headroom and legroom; you could offer a couple of people a ride in the back seats and they won't curse you along the way – all thanks to the Maserati's longer wheelbase.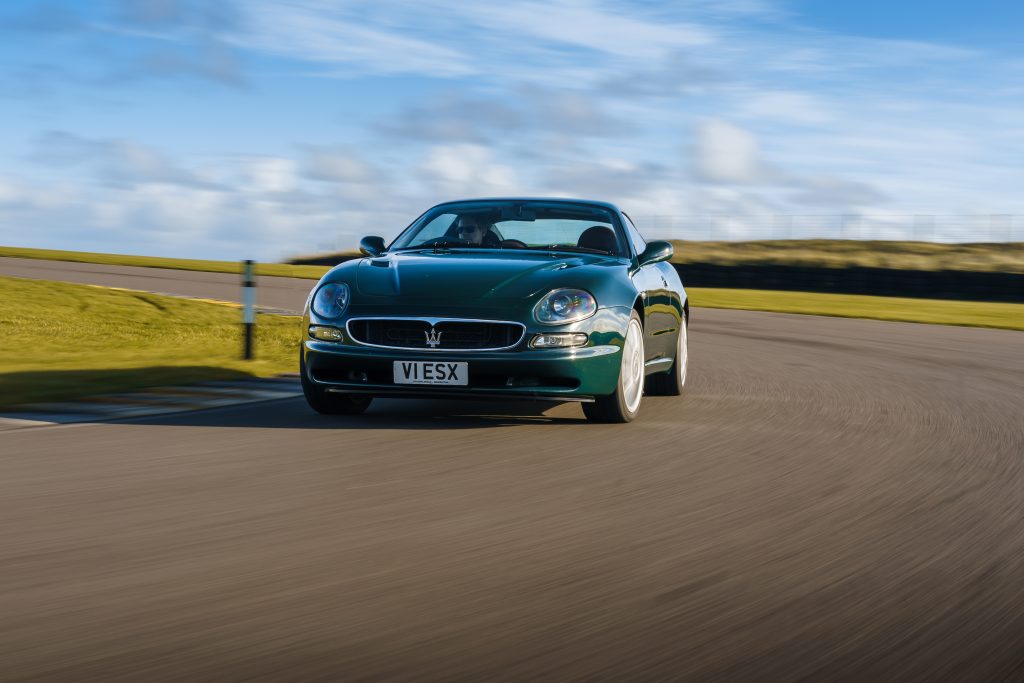 If the star attraction is the way this car looks, the way it goes is a welcome supporting act. The 370bhp engine is rumoured to develop more power still, but internal politics ensured a lower quoted output than the V8 of Ferrari's F355. Regardless, when those two turbochargers come on boost, the 3.2-litre V8 surfs along on a wave of torque, generating the sort of pace that would leave a contemporary Porsche 911 Carrera floundering.
Sure enough, there are quirks with the way the rest of the 3200 GT conducts itself – namely the steering and over-eager throttle response – but this is a car you could happily point in the direction of the South of France and make the journey in a heady mix of comfort, speed and, of course, style.
For that sense of timeless style alone, there will be those who will forgive it anything.
1999 Maserati 3200 GT automatica
Engine: twin-turbo V8, 3217cc
Transmission: 4-speed automatic, RWD
Power: 370bhp @ 6000rpm
Weight: 1565kg
The Hagerty Valuation Team says
Hagerty Price Guide range, Fair to Concours: £8900 to £26,650
The Maserati 3200 GT has the combination of factors that Hagerty identifies with collectable cars: a high-performance model from an evocative manufacturer, an instantly recognisable design and made in limited numbers. It is also becoming more common at UK auctions with about a dozen consigned each year, compared with around five a year in 2016, and we've seen a 75 per cent sell-through rate, over the past 18 months.
1939–1940 MG TB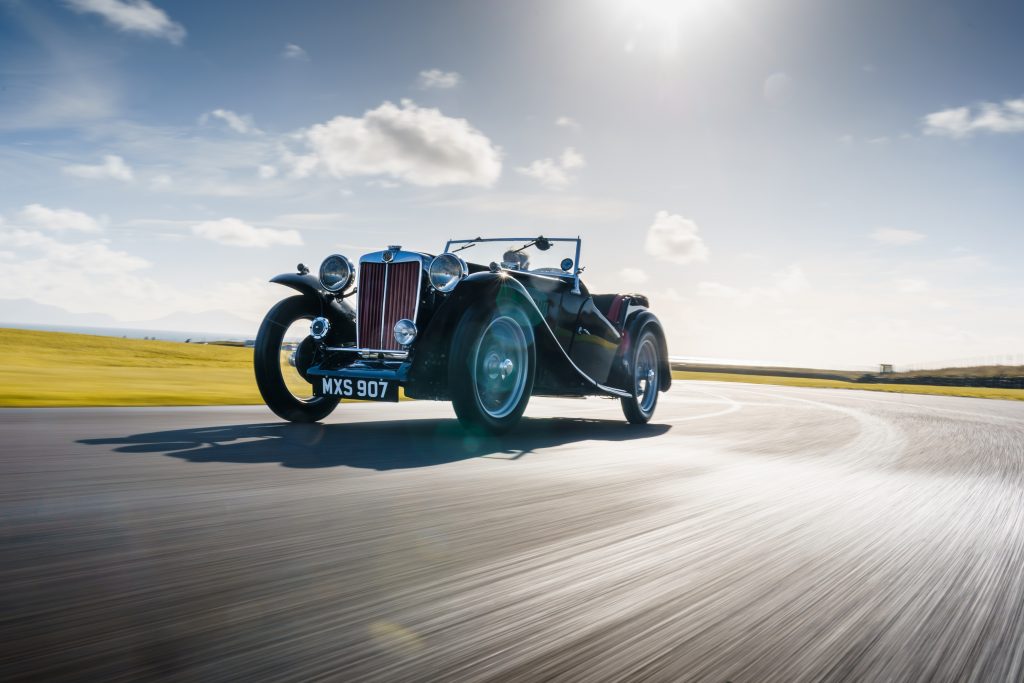 The TB Midget is the rarest of all MG T-series. Launched in May 1939, just 379 were built before the outbreak of World War II when the Abingdon factory in Oxfordshire was hastily reassigned to the war effort.
Visually it was little different from the two-seater TA roadster of 1936, save for new wire wheels and cooling vents in the bonnet. But make no mistake, the TB marked a significant moment in MG history: the introduction of the XPAG engine.
This 1250cc engine was smaller than the one it replaced, but a good ten per cent more powerful. In fact, the XPAG was so well engineered that it would go on to power almost every MG for the next 15 years — including the Goldie Gardener MG Land Speed Record car that topped 200mph.
The XPAG was mated to a four-speed transmission shared with the MG VA saloon, which allowed the TB to accelerate to 60mph in 22.7 seconds and cruise comfortably at around 70mph. Clearly this engine was great for drivers, but not quite so good for their wallets, as it put the TB in a higher taxation band than its predecessor.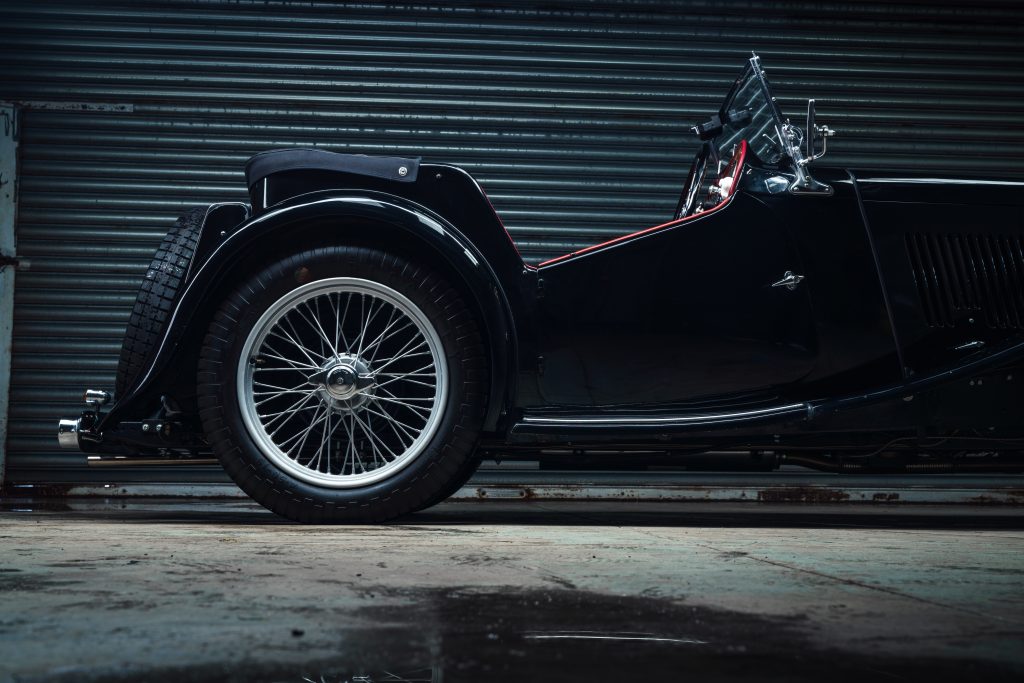 Alaric Coombs, owner of this TB, is planning to put this performance to good use by entering the Mille Miglia. "Although the TB didn't run, an entry was accepted for 1939 so it's eligible for the retrospective," he says.
Alaric's matching-numbers car is one of perhaps 80 that survive today. Recently rebuilt, it is a delightfully dainty machine. Pre-war cars are an increasingly rare sight on the roads but Alaric uses it as often as he can, even if it's just to pop to the shops.
He's a brave man, because there's no denying the vulnerability one feels behind the huge steering wheel. The bench seat has no belts and the scooped out, rear-hinged doors are so low that you feel you might spill out in the corners. Still, there's no shortage of elbow room – which you need to muscle the surprisingly heavy steering.
The gearchange is a bit of a reach and has no synchromesh on first but is otherwise conventional, and the tiny pedals are also "normally" positioned with accelerator on the right and brake in the middle. It's quite eager off the line and willing to whip the rev counter needle around the dial, with the XPAG making its 55bhp at 5250rpm. Stopping is a different matter, with the drum brakes requiring a huge shove on the pedal to provide any kind of retardation.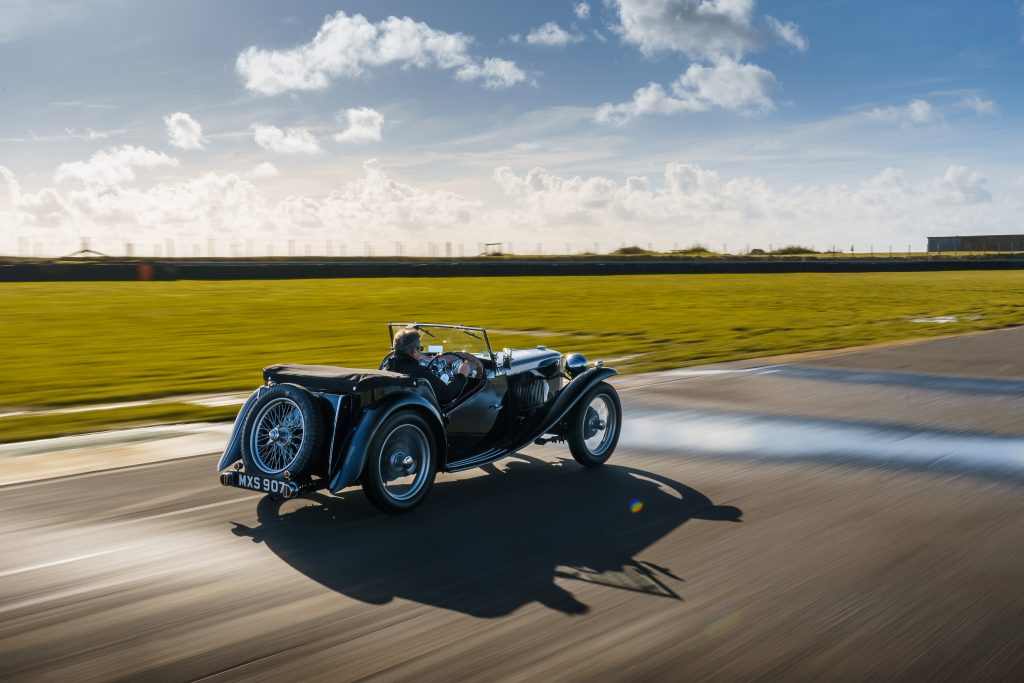 The oldest car in the Bull Market by a comfortable margin definitely requires some recalibration to drive, but is immensely rewarding in its own way.
'You're very much part of the car," says Alaric," What happens is very much down to you and you need to have your brain engaged."
1939 MG TB
Engine: 4-cyl, 1250cc
Transmission: 4-speed manual, RWD
Power: 55bhp @ 5250rpm
Weight: 787kg
The Hagerty Valuation Team says
Hagerty Price Guide range, Fair to Concours: £25,200 to £59,900
The oldest car in this year's Bull Market list, the MG TB has been chosen because it potentially offers entry into a host of historic motorsport events including the Mille Miglia. Added to its rarity, this makes it a popular model: 84 per cent of the T Series cars that Hagerty tracked at auction in the last two years sold: that's above the 75 per cent average. With good parts supply and simple mechanics, this is a terrific entry into the older classic car scene.
2001–2006 Mini Cooper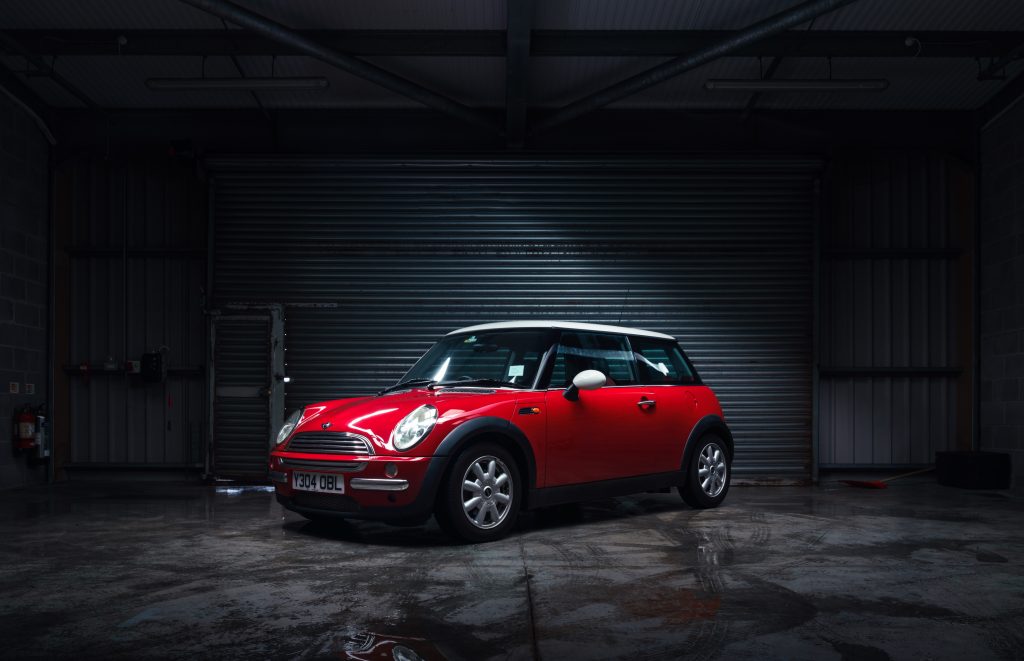 It would be easy for outsiders with little interest in our hobby to imagine that it's the preserve of wealthy individuals. But as we all know, not a bit of it – the beauty of our scene is its inclusivity, and few cars are as inclusive as a Mini, no matter its generation.
BMW's new Mini was actually surprisingly old when it made its public debut at the turn of the 21st century. Work had begun on the project in 1995 under Rover, with Frank Stephenson's unabashedly retro design selected early in the process. It was a delightful homage to the original Austin, no longer quite as mini in stature but still carrying off that effortless, classless vibe that Minis always maintained. Compared with today's expanded and expansive Mini range, however, these early R50 models are still pretty small.
Inside, the centrally-mounted speedometer and shelf-like dashboard also aped its predecessor but there was, unsurprisingly, more solidity and more space inside, with a proper hatchback and room for adults (just) in the back seats.
Most importantly of all, the Mini was still fun. Whether you opted for the entry-level One or the warm Cooper version it was – and still is – a hoot to drive.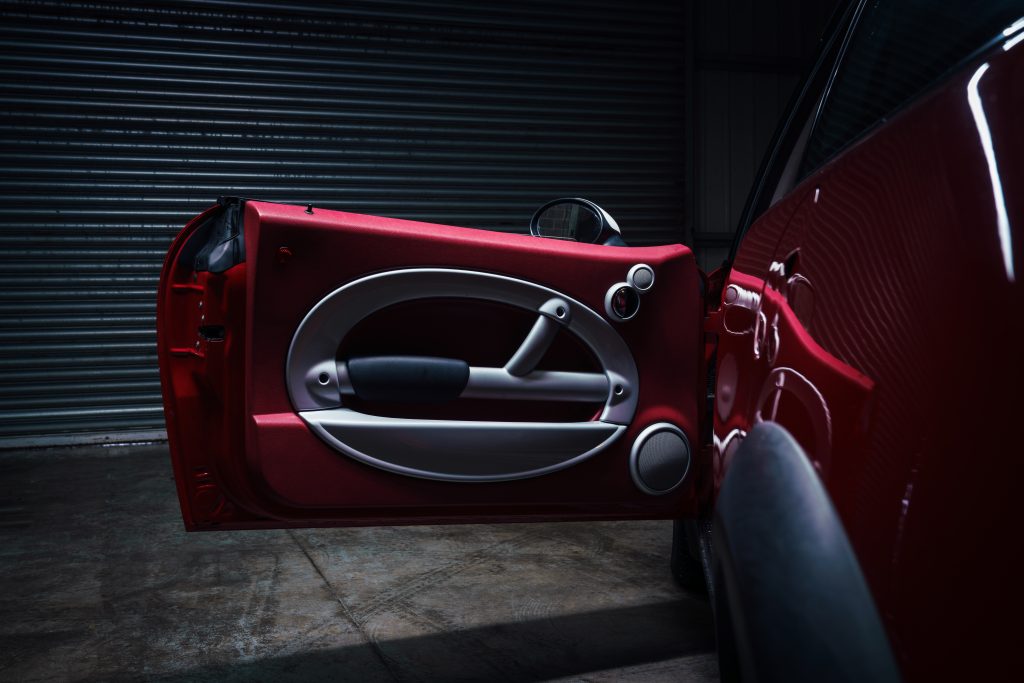 There were questions over whether its oddball engine (designed by Chrysler and built in Brazil) could deliver, but a fruity exhaust note and a rev-happy nature provided the answer. The One had an engine map that essentially prevented full throttle being used, as way to restrict power output and keep insurance costs low, but in unrestricted Cooper guise the 1.6-litre four-cylinder engine made 113bhp.
That's good enough to hit 62mph in less than ten seconds provided you are quick with the gears, which is pretty easy thanks to a slick-shifting 'box. The all-round disc brakes provide solid stopping power, helped by the fact the Mini didn't pile on too many pounds in its reinvention.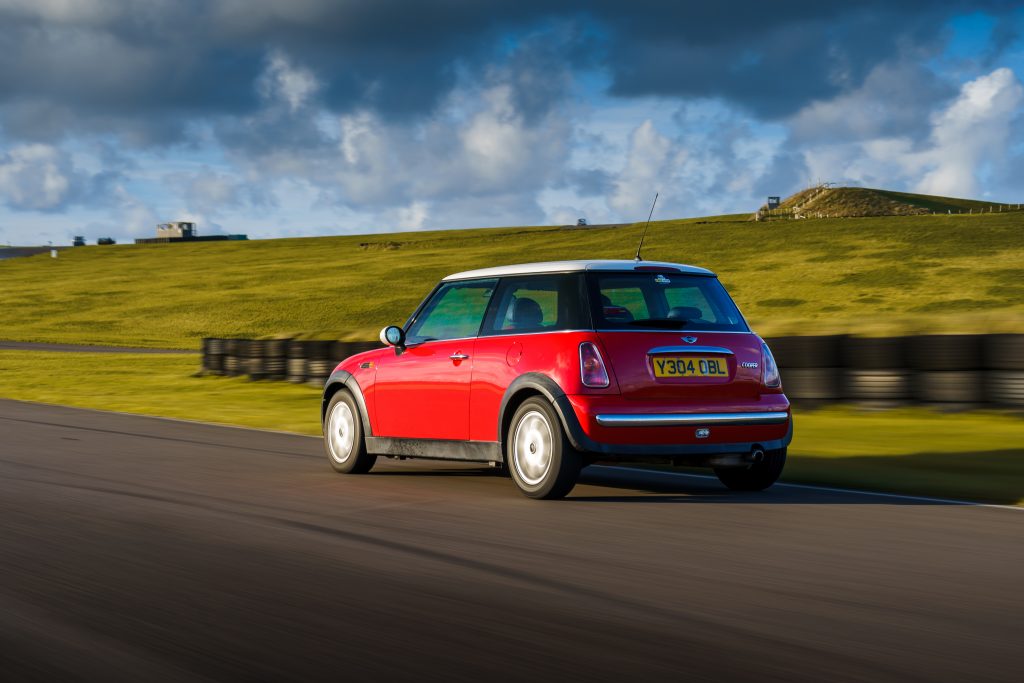 That lightness of being really helps the handling and the car is impressively capable in the corners, with feelsome power steering allowing you to position it perfectly. Like the Clio Williams it responds to a judicious mid-bend lift of the throttle by tightening its line and widening the driver's grin. Alongside its playful side the Mini also has a more mature personality, with reassuring build quality and refinement for long distance drives.
The car you see here is one of the very earliest Mini Coopers made, before official mass production at the Cowley factory began in 2001. Owned by Tanya Field, a self-confessed Mini maniac and co-founder of the Mini Y Register, who named it "Flash", the car's red paint still pops against the contrasting white roof and mirror caps. The cabin has red seat inserts and striking red door cards, but a black dash. You'd almost think a mistake had been made at the factory, but this quirkiness is all part of the charm. And charm is something that these early Minis certainly have to the max.
2001 Mini Cooper
Engine: 4-cyl, 1598cc
Transmission: 5-speed manual, FWD
Power: 113bhp @ 6000rpm
Weight: 1050kg
The Hagerty Valuation Team says
Hagerty Price Guide range, Fair to Concours: £900 to £6650
This is what we like to call a 'bookend' car. In other words, it's a car that began a journey for a manufacturer, in this case when BMW took control of Mini, and bookend cars are, historically, popular amongst collectors. There's no shortage of activity behind the humble, modern Mini Cooper. More are coming to auction, with over 40 each year since 2019, and we are witnessing average sell-through rates of 92 per cent, which is impressive. This is being driven by drivers born after 1964; 65 per cent of Hagerty insurance quotes for the R50 generation Mini Cooper are in that demographic, versus an average for all vehicles of 58 per cent.
1996–2004 Porsche Boxster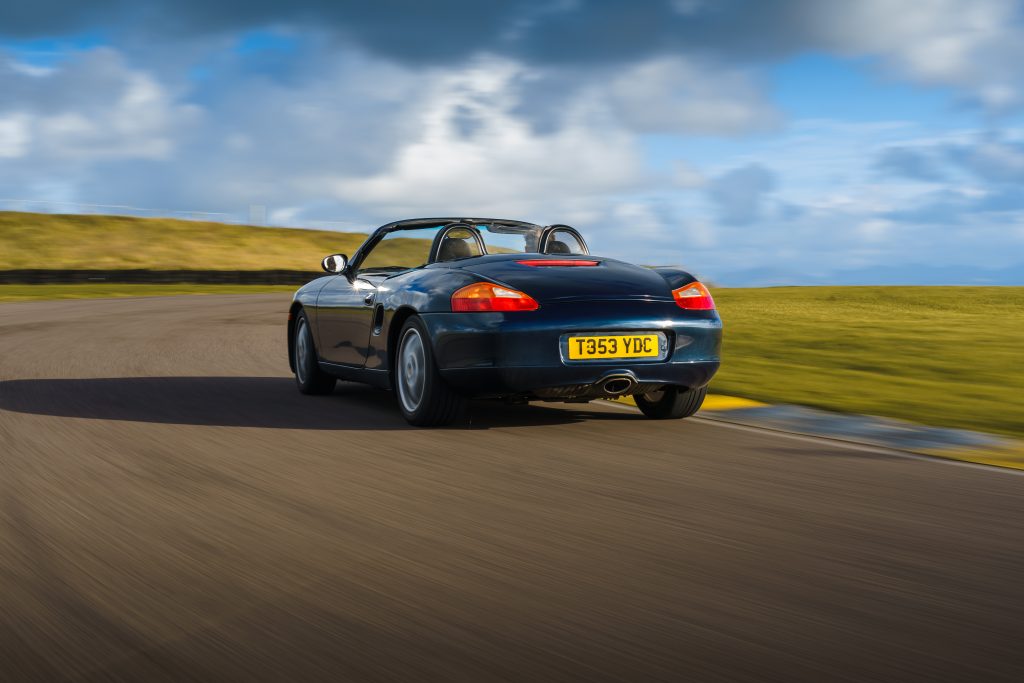 Several cars have been credited with saving Porsche over the years; the 924 of the 1970s, the Cayenne of the 2000s, and the company's pivot to electric power with the Taycan will no doubt ensure its survival into the future. But in the 1990s it was the Boxster – by sharing its componentry with the 996-generation 911 and debuting far more efficient production methods at the company – that helped save Porsche.
Today the 986 Boxster (its name a cocktail mix of Boxer and Speedster) is seen as one of the most affordable ways to put a Stuttgart sports car on the driveway. It expanded Porsche's customer base in 1996 too, but what you may not remember was just how many early reviews decreed it a better driver's car than the 911 of the day.
Modest power from the new watercooled 2.5-litre flat-six proved little hindrance, though with 204bhp and a 0-60mph time in the mid-sixes, it was undoubtedly one of the Boxster's weaker attributes. As was the car's styling, seen as flabbier and less dramatic than the 1993 concept that spawned it, but viewed through the lens of 2020s motoring, the accessible performance and '90s curves (with those characteristic 'fried egg' headlights) no longer seem like limitations.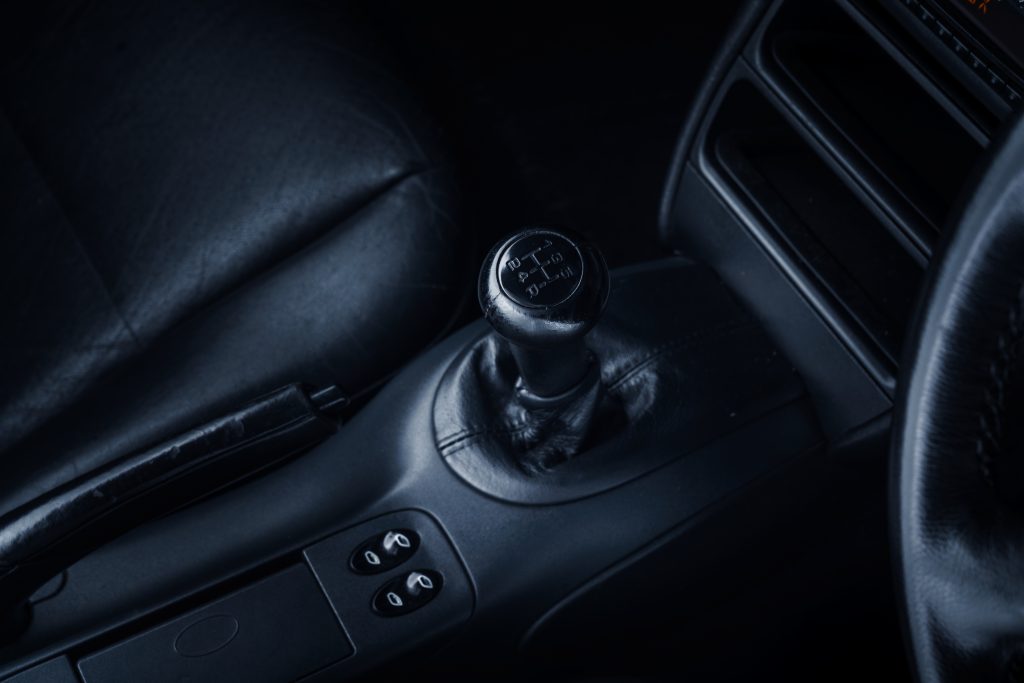 Nor, any longer, is price. At launch, the £33,950 Porsche asked for a Boxster was at the upper end of its class, though still little more than half that of a 3.6 Carrera, which was £61,395 that year. But Robert Gardian, the owner of the car you see here, paid an astonishing £2000 for it. While that's lower than most, you can still get a decent Boxster today for little more than a similarly decent Mk1 MX-5. Gardian's car has needed only standard maintenance since, and while it isn't used daily, it is certainly used regularly, both on his local Welsh roads and further afield.
Some criticise the 986's cabin for feeling a little cheap, but that's only by the standard of other Porsches. Today it feels sturdy, with well-padded seats and an ideal, low-set driving position. The distinctive Porsche instrument binnacle sits ahead of the steering wheel, and there's enough stowage space to make this roadster surprisingly practical, including handy cubbies in the doors' armrests. Talking of usability, the Boxster boasts a boot and a 'frunk', so you can pack a fair number of bags for weekend escapes.
Such everyday details will be forgotten within minutes though, as you'll be distracted by the quality of the Boxster's controls. The steering weight is surprisingly meaty for a car that today feels quite small, but once up to speed the weighting is nigh-on perfect, and it's not long before your fingertips register subtle messages from the road. Balance is notably mid-engined, but not scarily so, and the modest output and precise, predictable throttle response keep you out of trouble either way.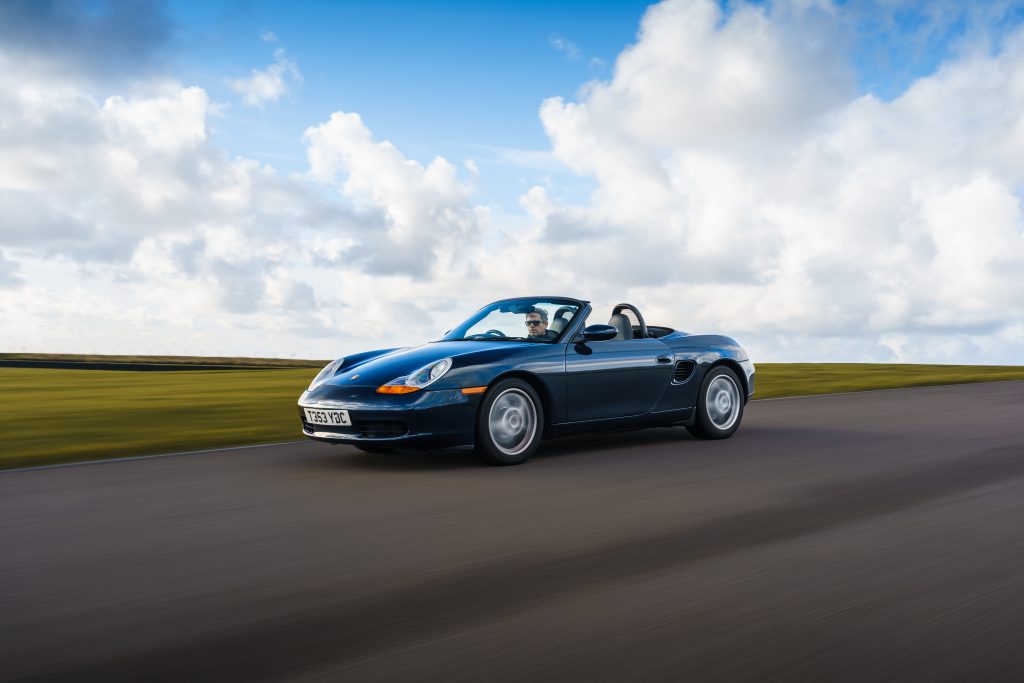 The highlight has to be that flat-six though: Cultured at low revs, the note hardens as you pass around 4000rpm, and the gearshift is as sweet as they come whether racing up or blipping down the 'box. For a car more than two decades old, the brakes still feel mighty, too.
There are some known mechanical issues with these early Boxsters, from scoring in the cylinder bores to failure of the intermediate shaft 'IMS' bearing. You can refer to Hagerty's buying guide for more details, but specialists are now well versed in rectification and prevention.
After some time behind the wheel, it's hard not to conclude that the two grand Gardian paid – or even the five grand at which 986s are plentiful – simply will not buy you a better car. That Porsche crest on the bonnet is just the icing on the cake.
1999 Porsche Boxster 2.5
Engine: 6-cyl boxer, 2480cc
Transmission: 5-speed manual, RWD
Power: 204bhp @ 6000rpm
Weight: 1250kg
The Hagerty Valuation Team says
Hagerty Price Guide range, Fair to Concours: £4,875 to £12,650
The Boxster is becoming an increasingly familiar sight at auction in the UK. In 2017, fewer than 50 were sold that way, but in 2021 we've seen that number treble, to nearly 150 sales. The sell-through rate sits at 89 per cent, too. This indicates that the original, 986 Boxster has found its place with the modern-classic crowd, drivers who want a car that's as useable and turn-key reliable as it is exciting to drive with the roof down and flat-six singing. A rise in average values of 5.3 per cent since mid-2019 is a further reflection of its current popularity, as are the number of adverts that exceed our top Price Guide value – usually a marker of a model increasing in value.
1961–1994 Renault 4L
Hindsight is a wonderful thing, and Renault had the benefit of it when developing the 4L or "Quatrelle" in the late 1950s. Rival Citroën's 2CV had been roaming France for a decade, and Renault knew it could offer similar characteristics in a package that would appeal to even more people.
The 4L replaced the post-war, rear-engined 4CV, and offered more of virtually everything: space, reliability, safety, and performance – though its utilitarian style was a matter of taste. Front-wheel drive, the 4L effectively flipped around the 4CV's engine to drive the front wheels, a layout which gave the car one of its most distinctive elements – a gearshift sprouting from the dashboard, its linkage crossing the engine bay to the front-mounted gearbox.
The use of fully independent suspension, much like its 2CV rival, gave the 4L another of its unique characteristics, a wheelbase 45mm longer on the right than on the left. The 4L's rear suspension was sprung by adjacently-mounted torsion bars, helping to give it enormous wheel travel and a 2CV-style pliant ride – and with never more than 34bhp available from later 1.1-litre versions, it's not like the 4L ever had the performance to trouble its uneven wheelbase…
An ultra-basic R3 was briefly offered, but it was the 4L that buyers really responded to, to the tune of more than 8 million units between 1961 and the final (Slovenian-built) models leaving the factory in 1994. It remains the best-selling car France has ever produced.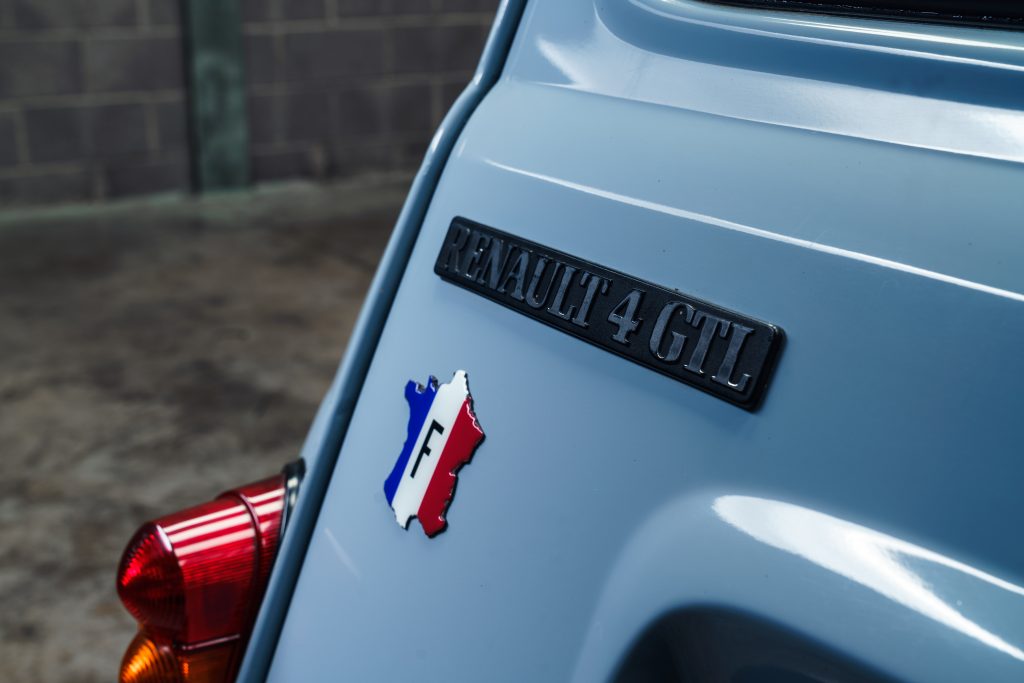 Our Bull Market car is a 1987 GTL 'Clan' special edition, owned by Nick Bailey and imported from its home market. The year and model make it one of the final iterations of the 4L. As such it wears plastic exterior cladding, incongruous tartan-style trim, and a hollow-sounding plastic dashboard packing such decadent touches as an LCD clock and the switch for a heated rear window. Instruments are as unpretentious and fancy-free as the simplest French bistro, with just a speedometer flanked by a Connect-4-style bank of warning lights.
Sink into the plump driver's pew and you're presented with an upright wheel close to a similarly upright windscreen, with well-spaced pedals in a footwell unhindered by any kind of central tunnel. The windscreen and doors feel close, but that upturned gearknob couldn't be better placed.
The 1.1-litre four fires up happily warm or cold, and it's then you discover the gearchange is just as mechanical to use as it is intriguing to behold; it's effectively a conventional H pattern, just mounted on a horizontal plane. Like similar cars of the period the Cléon-Fonte four-pot prefers revs to lugging, but you're up to fourth in no time and ready to experience the 4's cornering behaviour.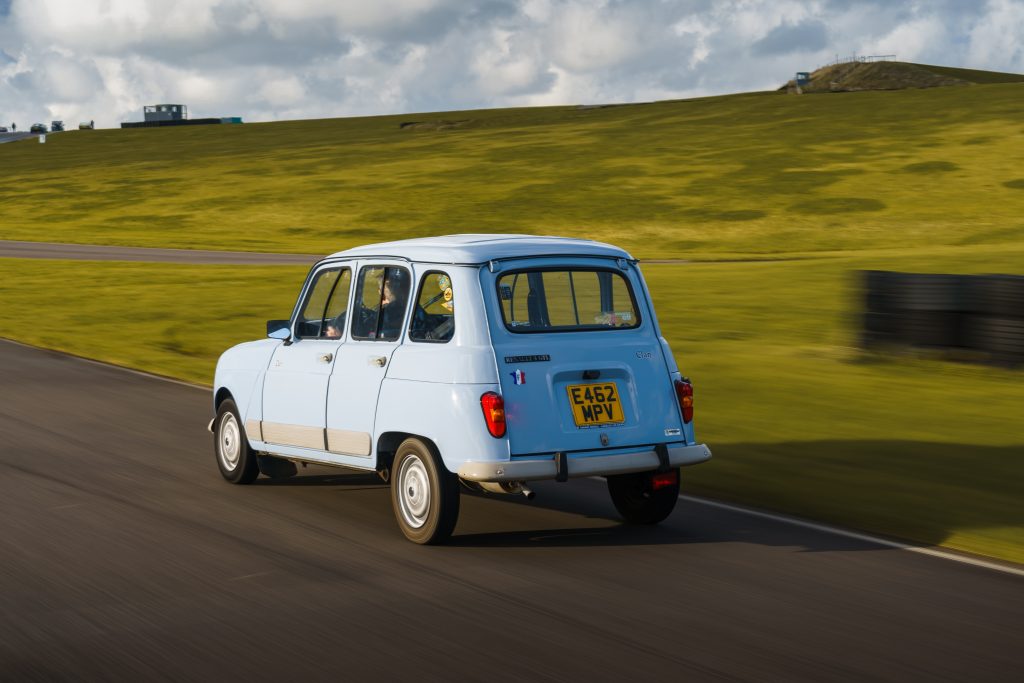 Onboard, it all feels undramatic. The crisp steering is light initially but weights up quickly, perhaps to dissuade any overly enthusiastic cornering. As an outside observer, you can see why – it looks hilarious, not quite adopting 2CV levels of lean but still listing like a dinghy in a storm.
The brakes need a solid squeeze to shed momentum, and the rainy weather shows up limitations in the heating and ventilation system (though the 4L's narrow rubber cuts through standing water like a charm), but there's little here that would put you off regular use.
Of all our cars in the 2022 Hagerty Bull Market list, the little 4 feels the most likeable. Much like the Mini from last year, it is classless, slow to age and a reminder that driving is one of life's great liberties. Yes, you could buy something faster, but the whole point of the 4 is that, today at least, it offers an escape from the increasingly fast pace of life. Get onboard and enjoy the ride.
1987 Renault 4 GTL
Engine: 4-cyl, 1108cc
Transmission: 4-speed manual, FWD
Power: 34bhp @ 4000rpm
Weight: 720kg
The Hagerty Valuation Team says
Hagerty Price Guide range, Fair to Concours: £2800 to £8400
The Renault 4 was produced in vast quantities but not all that many were sold in Britain. It means it's a rare find at auction in the UK, which is why many choose to source one from abroad. Over the past year, values have increased by seven per cent, but our data shows that over the past two years, values have climbed by 39 per cent, driven by the few that have sold at auction. And with recent auction results exceeding Hagerty's valuation for a concours condition example, there are no signs that demand is about to let up.
1993–1995 Renault Clio Williams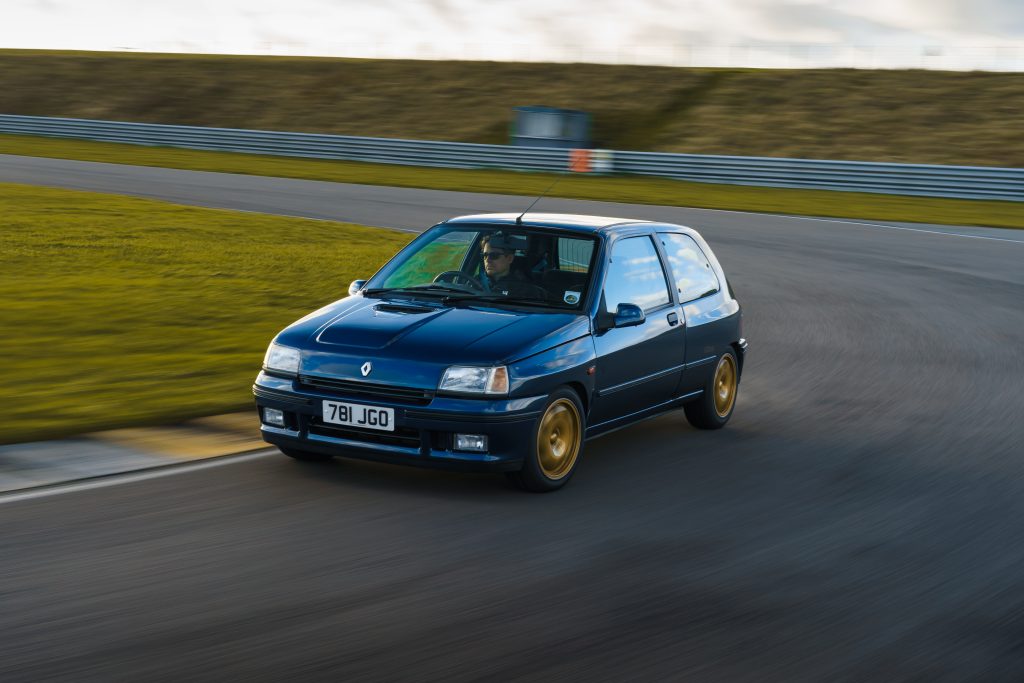 Homologation Special. Those are two words guaranteed to raise the heart rate of any car enthusiast. It's essentially a more technical way of saying "race car for the road" – or, in the case of the Renault Clio Williams, rally car.
Odd then, perhaps, that the road-legal version of a car developed to take on Group A and Group N rallying bore the name of a Formula 1 team. But remember, this was 1993, an era of close ties between the French and British companies, when Prost and Mansell had won successive titles, and selling all 2500 cars needed for homologation would undoubtedly benefit from the F1 association.
The car was wholly developed by Renault Sport, however, with the Clio 16v, already a cracking hot hatch in its own right, as a base. It gained the reinforced front subframe from Renault's Clio Cup race cars, together with revised suspension to include uprated springs and dampers, rear torsion arms and meatier anti-roll bars. The track was widened by 34mm, and those glorious gold Speedline alloy wheels were squeezed under the 16v's blistered arches.
A more robust gearbox was installed to handle the 148bhp produced by the bored-out 16-valve engine. Now displacing the maximum two litres allowed by rallying rules, it also got new camshafts, conrods, pistons, bigger valves, a stronger crank and a lightweight exhaust, although the Williams was actually a tad heavier than the 16v despite the removal of anti-lock brakes.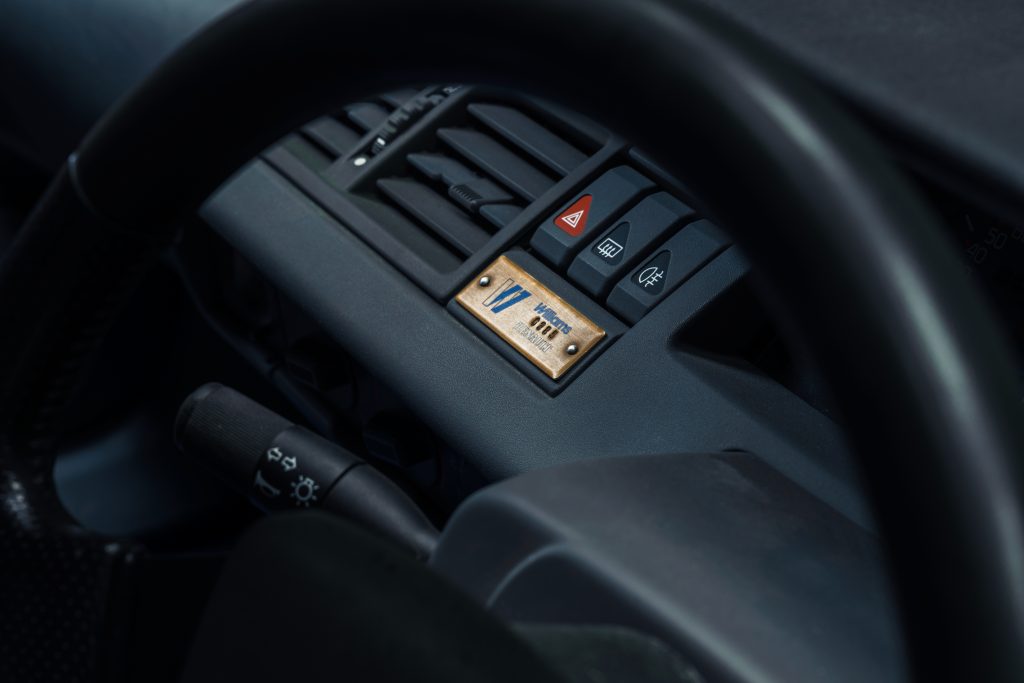 All Clio Williams were painted in 449 Metallic Sports Blue, fitted with more figure-hugging seats and given a small, numbered plaque on the dashboard – number 385, in this car kindly loaned to us by owner Dominic Taylor-Lane.
That would have made this car one of the last Clio Williams, since just 390 were earmarked for the UK, but – and to the annoyance if not surprise of buyers of the original Williams – Renault would build on the formula with second and third iterations that brought the total number of Williams built to 12,100. There were no special dash plaques for these cars, although they did see the return of ABS brakes.
In these early Clios you feel like you sit on top of the controls, held up in the squishily supportive seats and bearing down on the pedals. Sports seats and steering wheel aside, that's just the way things were with the standard versions of the supermini – it was never the most comfortable driving position.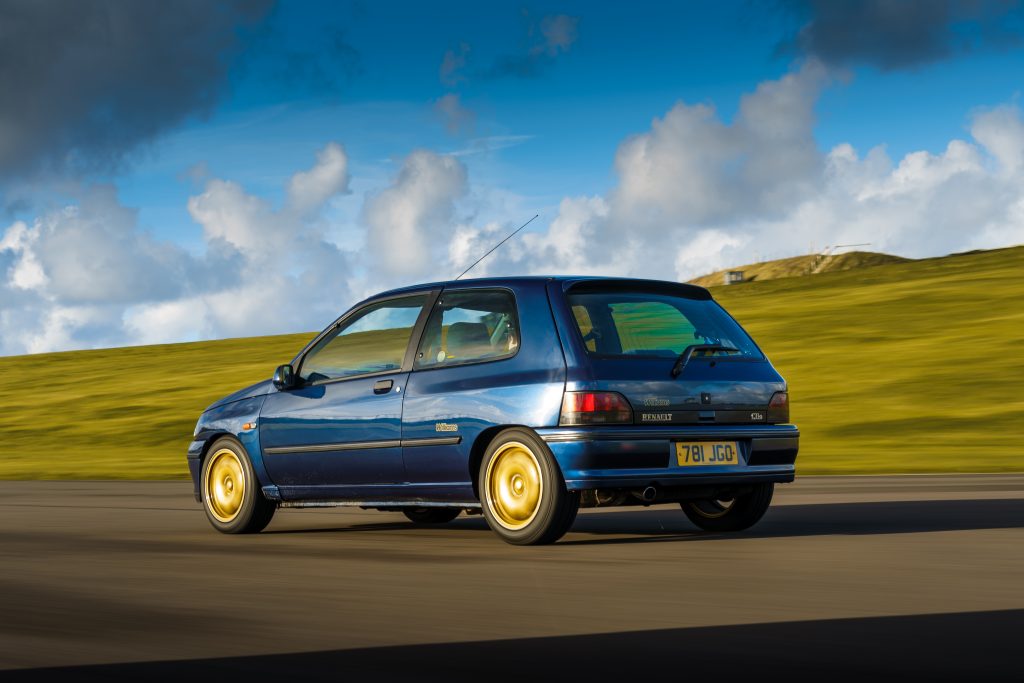 Twist the key and it's instantly clear that this supermini has a supersized engine, as a threateningly bassy note resonates through the body panels and even the base of your seat.
By today's hot hatch standards the Williams' power output isn't enormous but with just 981kg to propel it feels plenty quick. The naturally-aspirated engine is really torquey, pulling strongly from as little as 2500 rpm and as the revs rise beyond 4000 so does the aural drama, with a tuneful induction note that encourages you to reach for the red line in every gear.
The Williams isn't really about straight-line speed though. Like so many cars of this era, the assisted steering has more meat to it than you'd expect but provides plenty of feedback. Naturally, the Clio does default to understeer but, like all the best French hatches, a quick lift of the throttle cocks a rear wheel into the air and the back of the car rotates to set you back on the right course.
In the right conditions you'll even exit the corner with an armful of opposite lock, imagining, if only for a moment or two, that you're trading stage times with Jean Ragnotti on the Monte Carlo Rally.
1993 Renault Clio Williams
Engine: 4-cyl, 1988cc
Transmission: 5-speed manual, FWD
Power: 148bhp @ 6100rpm
Weight: 981kg
The Hagerty Valuation Team says
Hagerty Price Guide range, Fair to Concours: £8400 to £24,267
Low mileage examples of any Clio Williams are rare, and sales at auction are modest – at fewer than 10 a year. This, we suspect, is a car many owners can't bear to part with. The Clio Williams' limited production numbers and motorsport heritage make it very collectable. Plus, it's of the right era: Hagerty has tracked a rise in the values of 1990s homologation cars and it has the potential to follow the trajectory of the 1980s hot hatches such as the Renault 5 Turbo (featured in last year's Hagerty Bull Market) and the Peugeot 205 GTI. Recently, Hagerty has recorded examples with over 100,000 miles advertised for prices exceeding our 'Excellent' Price Guide value, often a sign that the market for the car is moving up.
1977–1986 Rolls-Royce Camargue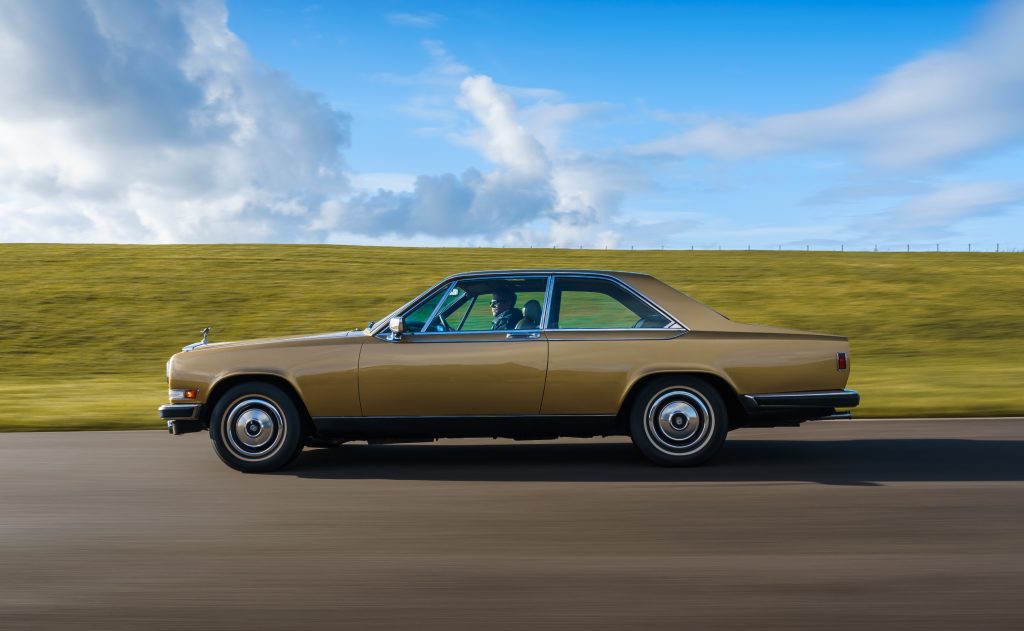 There is no other car in the Hagerty Bull Market with the sheer presence of the Rolls-Royce Camargue.
It's not just the size of this Great British land yacht, it's the boldness of its Pininfarina bodywork. Compared to the cars it followed and those that would continue in its place the unashamed angularity is extraordinary.
The Camargue, the world's most expensive car at the time, was controversial in its day. And because of this it was far from a roaring success. Some 531 cars were built between 1975 and 1986 and it has regularly appeared on ugly car lists across the world. But never judge a car by a list written by someone that's never seen one in the wild, let alone sat in and driven one…
This grande dame has its supporters, including us of course. James May agrees that the Camargue "has presence, like that pug-faced but well-dressed bloke down the pub." He's right, there is a certain dappery about the Camargue. It's a non-conformist car for those that find much to admire in unconventional objects. Perhaps that's what drew its owner, Jonathan Parkin, who was generous enough to loan us his?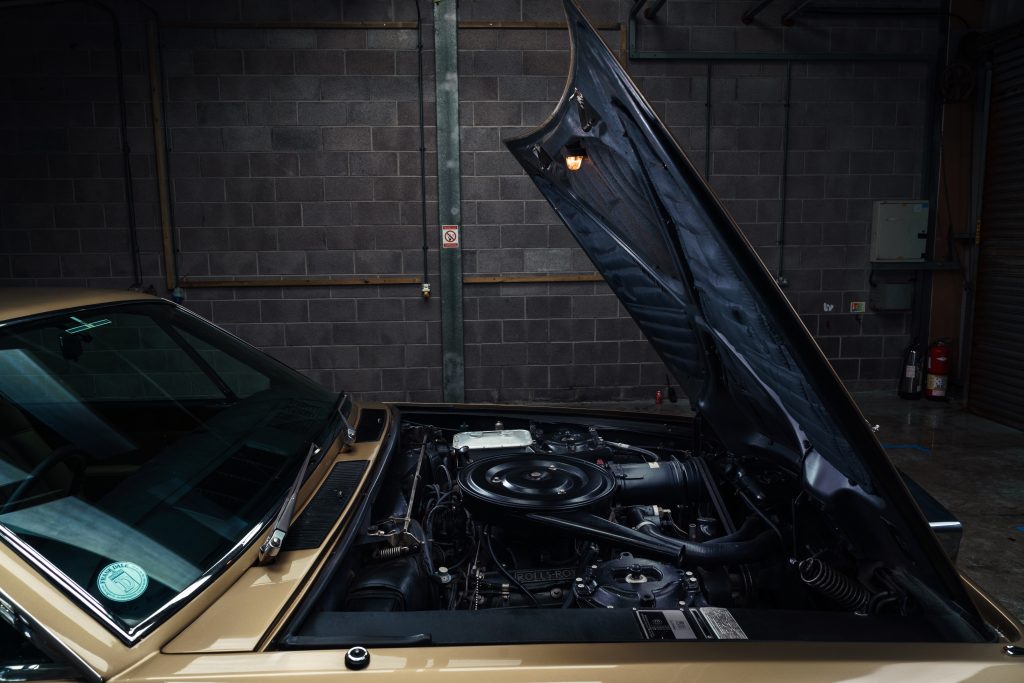 The price tag was certainly the stuff of ill-gotten gains, a Camargue costing £29,250 in 1975 – equivalent to almost £291,000 in today's money – making it the most expensive car in the world at the time.
Does it feel it? Unquestionably. The Connolly leather is rich, the Wilton carpets are so deep you just want to remove your shoes and socks and curl your toes into them, and you can see your reflection in the acres of polished walnut.
The dashboard is more like the control panel of a Seventies private jet, with the most wonderfully over-engineered switchgear, including large, over-the-top rotary switches to raise and lower the electric aerial or adjust the speaker balance. There's even twin zone air conditioning, which was a world first.
The engine, Rolls-Royce's standard 6.75-litre V8, only makes its presence known on startup. From then on it's simply there to serve in the background, and that adage that the loudest sound you'll hear in a Rolls-Royce is the ticking of its clock, stands up to scrutiny here.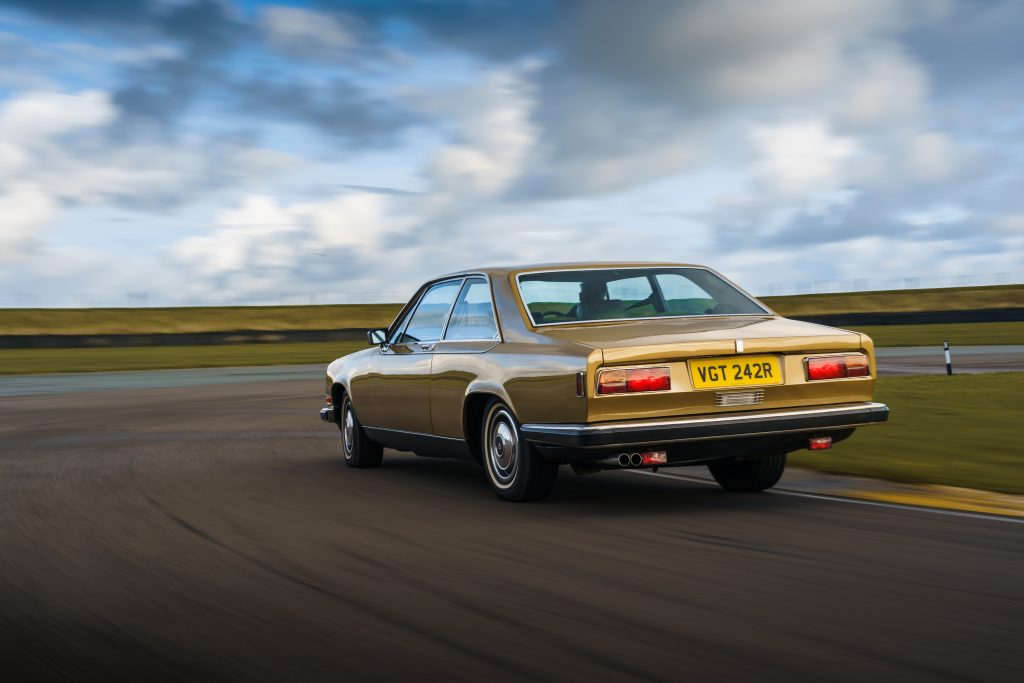 Driving is wonderfully wafty. The steering is agreeably light, the power brakes quite sharp and the transmission's focus is purely on providing seamless shifts, not instant response. That said if you do fully depress Oxford to Wilton the Camargue will raise its bow, squat its stern and steam ahead with surprising vigour – although frankly, it feels a little uncouth to do so.
All the while you sit at an SUV-like height, the Spirit of Ecstasy serving as you guide to positioning this glorious behemoth on the road, riding on the most sumptuous suspension available. Unlike the Silver Shadow, commandeered for weddings for so many years, the Camargue is just so un-common. In every sense. And yes, we will take ours in gold, thank you.
1977 Rolls-Royce Camargue
Engine: V8, 6750cc
Transmission: 3-speed automatic, RWD
Power: Sufficient
Weight: 2329kg, although a gentleman would never ask
The Hagerty Valuation Team says
Hagerty Price Guide range, Fair to Concours: £25,000 to £70,000
Slowly but surely this bold car has been attracting attention all over again – and values reflect this. Average values in the Hagerty Price Guide are up by 20 per cent. Auction sell-through rates are rising, too; They ranged from 46 to 50 per cent in 2015-2016, whereas in 2021 so far, that rate is at 83 per cent. In Europe this year, two examples of the Camargue have sold for more than €100,000 and cars advertised for private sale in the UK are priced above the Hagerty Price Guide value, an indication that prices may be on the rise.
1969–1976 Triumph TR6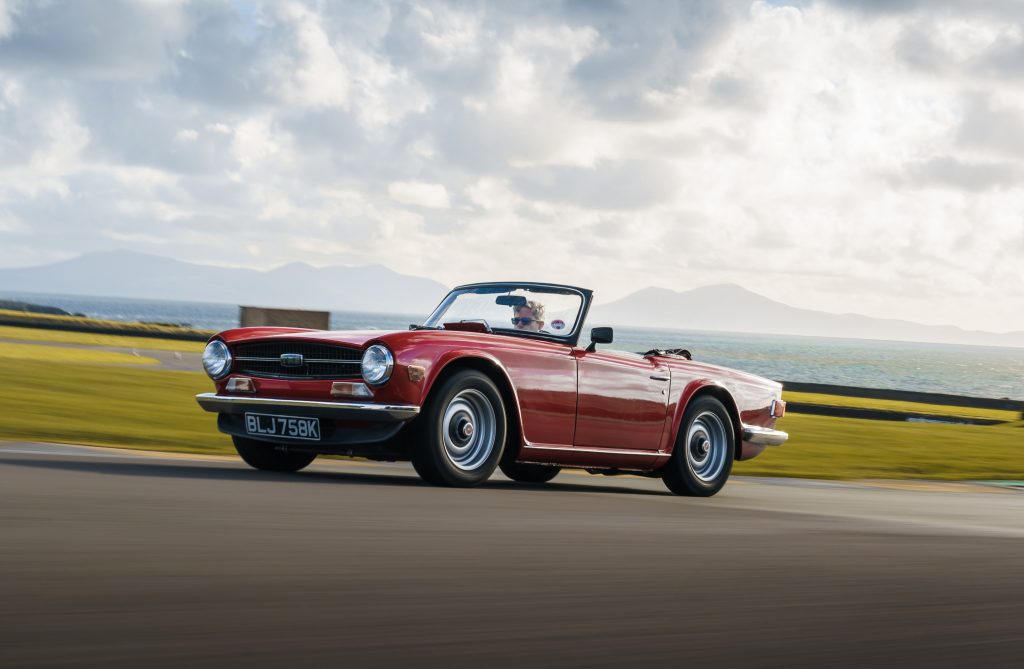 It was James May, Captain Slow to his fans, who declared the Triumph TR6 the "blokiest bloke's car ever built". It's a man's car, he reckoned, a car that would "leave the seat up" if it went to the lavatory.
He has a point. The curves that gave a finishing flourish to the earlier TR4 and TR5, styled by Italy's Michelotti design house, were chiselled off by Karmann, the German company that had the job of shaping the 1969 TR6. Set against the moody skies of Anglesey, the red TR6 gathered for Bull Market 2022 has a squat, no-nonsense stance that hints at the driving experience to come. Its lines are straight, the nose and tail vertical; it's as if it's modelled on the blocky straight-six under the bonnet.
That driving character is what has kept Peter Hall, the car's owner, faithful to his 1972 TR6 for the past 30 years. It's simple, with a relatively big engine upfront, two seats in the middle, a roof you may as well leave down and rear wheels that do the driving. This singularity of purpose means you know exactly what you're going to get when you slide behind the wood-rimmed wheel, crank the engine, pull up your flying jacket's collar and give it some gas.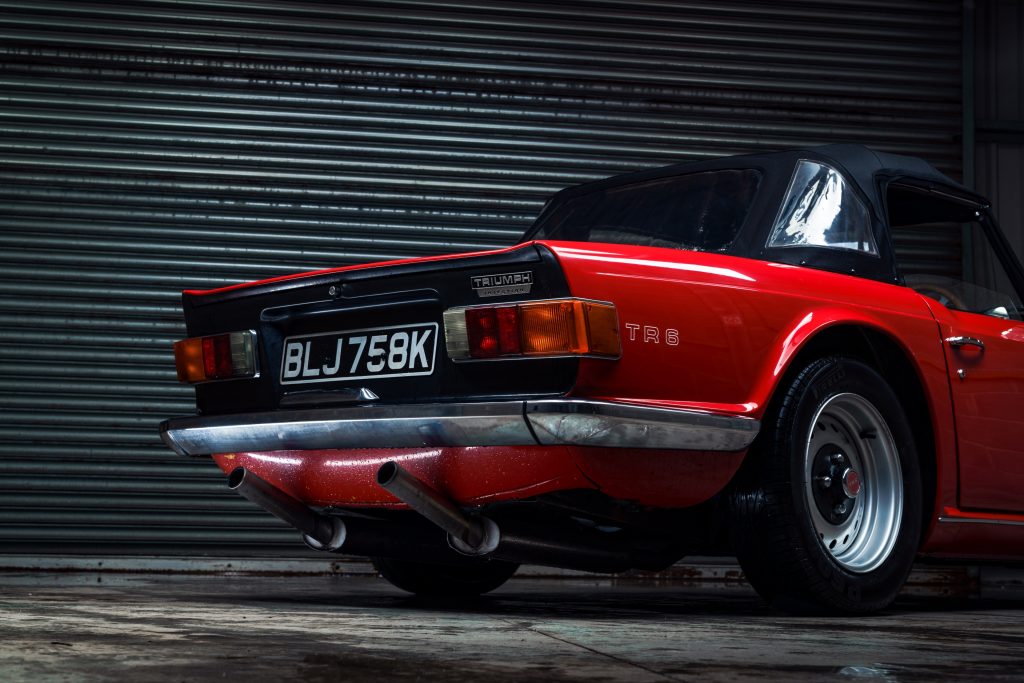 It sounds just as you'd hope. A noisy, rorty, sporty note that you'd only ever get from a sports car of the TR6's era, like playing a Beatles or Stones track on a pub's old jukebox. It never fades, even at a cruise, in part because this car has a sports exhaust, but also because that's how Triumph wanted it to sound as you pulled up alongside an E-Type, gave them a knowing nod and set off from the lights in a drag race.
It was sometimes reported in the day that a TR6 could outrun the more powerful E-Type on a winding road, and around the track the 150bhp, fuel-injected machine feels a reassuring car to hustle, telegraphing all the right messages up through the narrow chassis, via the seat of your pants, and to your fingertips through the steering. Sure, the chassis flexes, but that's to be expected when the roots of this car can be traced back to the 1953 TR2.
And flex or no flex, you feel snug sat right down in the 6's cockpit, glancing over the top of the wood-veneered facia, right arm pressed against the door and left thigh wedged against the tunnel for the four-speed overdrive gearbox. And no matter how hard or gently you're going in the 6, you're part of the process. You'll relish the sound of the engine snorting away, blip the throttle for downshifts, and enjoy the unassisted nature of the steering, brakes and even the gearchange, which does without much springing. Even without a perfect summer's day, a wonderful stretch of road and inviting pub along the way, it's a joy to punt along.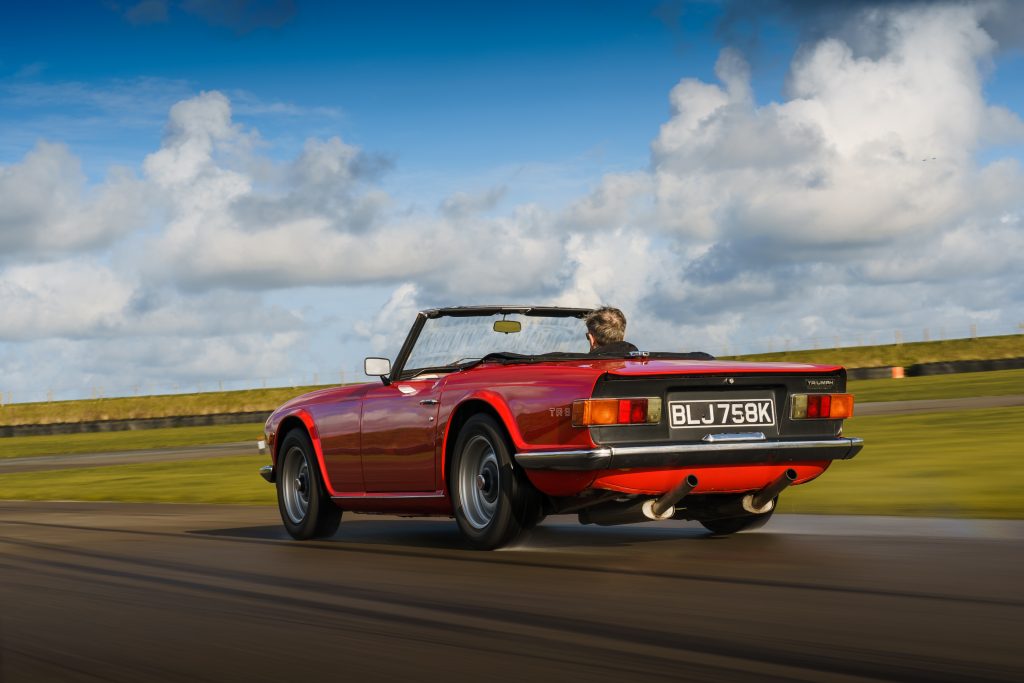 Happily, then, if you can picture yourself at the wheel of a TR6 on your favourite stretch of road, you'll be pleased to know these aren't rare cars. More than 8000 were sold in the UK and a good 5000-plus are recoded with the DVLA.
That means there's a TR6 to suit most budgets and a buyer can afford to be picky; if you haven't owned a car of this era before, don't rush and look at as many as you can. Rust can be a serious issue, especially on the separate chassis should it take a firm hold around areas such as the suspension mounting points and the differential pick-up points. For in-depth advice on what to look for, start with the TR Register.
Finally, a word to the wise – consider cars from America. The TR6 was hugely popular there, accounting for the great majority of its 94,000 sales, and cars that have lived in dry states could be a smart buy. No matter which country you source it from, though, you're assured of one thing: a simple, simply satisfying British sports car that even James May would approve of.
1972 Triumph TR6
Engine: straight-six, 2498cc
Transmission: 4-speed overdrive manual, RWD
Power: 150bhp @ 5500rpm
Weight: 1130kg
The Hagerty Valuation Team says
Hagerty Price Guide range, Fair to Concours: £6200 to £31,000
Hugely popular when new, there is a continual supply of Triumph's TR6 in the marketplace. The Hagerty Price Guide shows values have increased by an average of nearly 13 per cent over the last 24 months – but the last 12 months have seen things adjust with a fall of five per cent. Despite this, with sell-through rates of 82 per cent, at auction, the TR6 seems a sound investment.
1979–2002 Volkswagen T3/T25 camper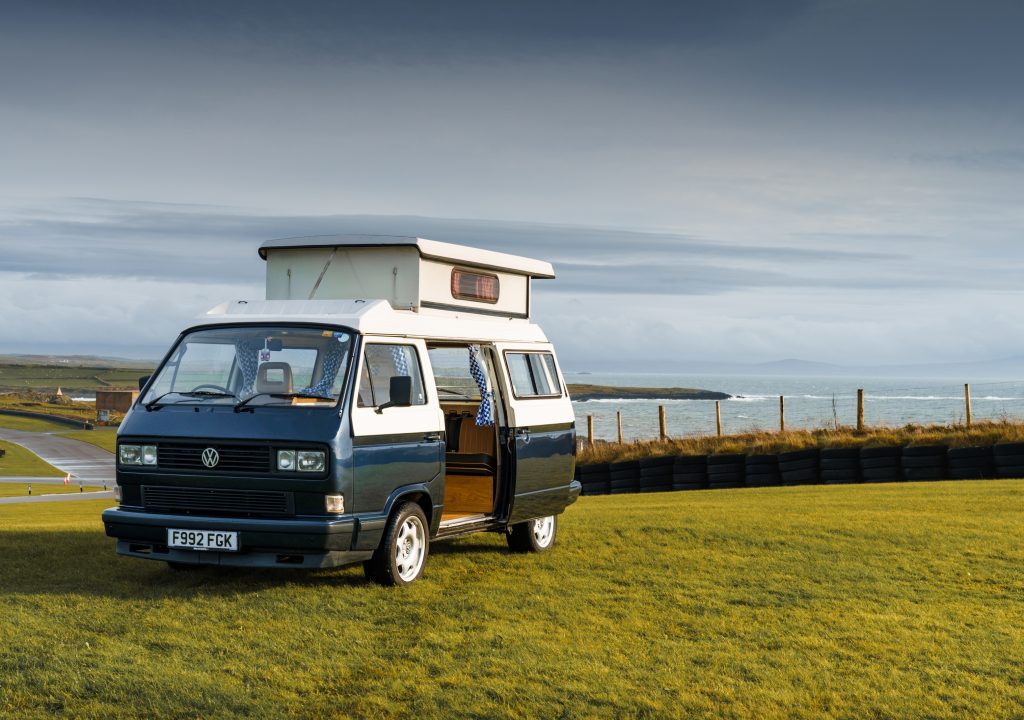 If the past couple of years have proved anything, it's that people crave escape. Here's a classic that can deliver just that – a break from the routine, a weekend or week away, or even, for the free-roaming souls out there, a chance to rent out the house, pack the van and spend a year touring Europe and beyond.
The world looks a little different from the captain's chair of a Volkswagen Type 2 "T3" Transporter, popularly known as the T25. Like the Land Rover Discovery on last year's Hagerty Bull Market, the T25 cuts an unsporting but recognisable form as it looms over the low-slung roadsters, coupés and hatches that make up the rest of our lineup.
Marketed under numerous names, but known as the Transporter in Europe, the T25 was the third generation of Volkswagen's practical rear-engined working vehicle, and was introduced in 1979. Family lineage to the "bay window" Type 2 was clear to see, but its squared-off detailing brought the new van more in line with Volkswagen's contemporary passenger car range.
Some aircooled motors made it across, but while the engine was still mounted at the rear and drove the rear wheels, the T25's main advancement from 1983 onwards was water cooling (still in boxer formation), and later the use of inline diesel power, both naturally-aspirated and turbocharged.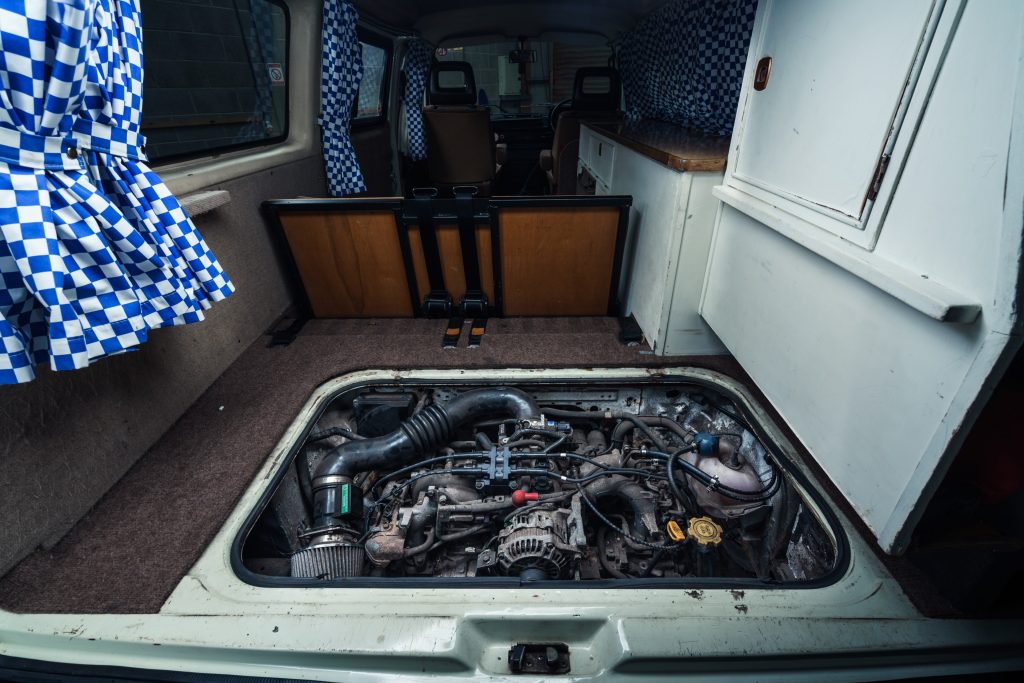 Early cars are distinguished primarily by round headlights, while a package of revisions introduced in 1986 brought with them rectangular headlights and in some variants, larger and more integrated bumpers not dissimilar to those of the "big bumper" Mk2 Golfs.
Narrowing down an original-specification T25 is tricky these days though, because like almost all Volkswagens, both home-brew and third-party aftermarket modification is wildly popular. The van you see here, for instance, is a 1989 model and has been heavily upgraded – though only some of those changes, such as the wheels and paint job, are visible.
The most significant change is an increasingly popular modification in the T25 scene: a watercooled Subaru flat-four engine. A comfortable performance upgrade over any of the originals (the 2-litre makes around 115bhp), the units are plentiful and affordable, and take the sting out of long-distance touring, particularly when combined with taller third and fourth gear ratios, as is the case here.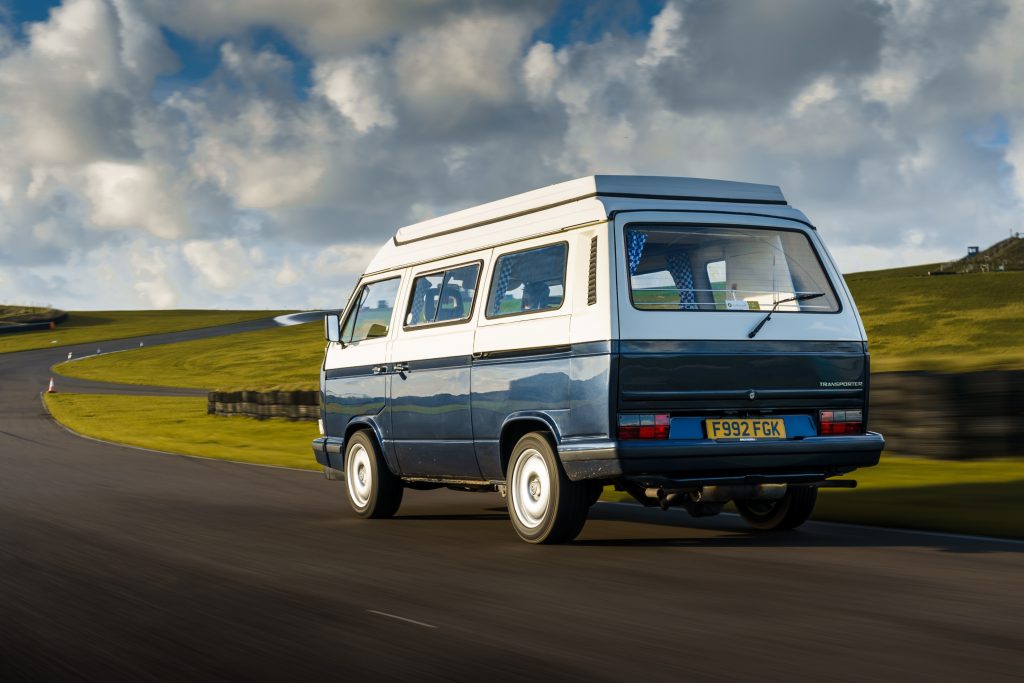 With what must be one of the world's longest gear linkages (just think about that tortuous path from the very front to the very back) the shift can take a bit of stirring, but otherwise it's as easy to drive as anything else here. The ride can get a little bouncy but mostly it just lopes along at a relaxed gait, with good brakes, more than adequate performance in upgraded form, and easy-going power-assisted steering on this particular van.
It's immensely satisfying cruising along in the T25, surveying the world from an elevated perch. The upright driving position surprisingly comfortable and the view forwards unhindered by a bonnet, since you're sitting over the front wheels. The van's owner, Simon Smiddy, encourages using the revs too. In that respect it's much like an old aircooled bus. just a lot quicker, while brilliantly the Subaru engine makes all the right old-school VW noises too, especially through a full stainless exhaust system.
You won't be carving up many corners, but then you can't sleep four or cook any meals in the back of any of our other Hagerty Bull Market choices, so the classic experience here is a little different. For once, you might even say it's more about the destination than the drive. It's no less enjoyable though, and a great example of how you shouldn't disregard the value – both financial and intangible – of a modified classic.
1989 Volkswagen Transporter (T3/T25)
Engine: 4-cyl boxer, 1994cc (Subaru engine)
Transmission: 4-speed manual, RWD
Power: 115bhp @ 5600rpm
Weight: 2000kg (est.)
The Hagerty Valuation Team says
Hagerty Price Guide range, Fair to Concours: £5600 to £23750
Hagerty has tracked values of the earlier 'bay window' and 'split screen' campers increase significantly over the past few years, a trend that the rise in 'staycations' during the pandemic has helped to maintain. Hagerty believes that, compared with the earlier versions of the VW camper, the T25 presently offers a great deal: whilst not as pretty, it has improved handling and crash protection and the earlier versions even maintain the air-cooled charm. More are appearing at auction, but sell-through rates are averaging around 72 per cent, which is under the average, but younger people seem to be buying them with around two thirds of Hagerty T3 owners worldwide born since 1964.
Don't miss the 10 cars from 2022 Hagerty US Bull Market – click here for the full report