Desperate times call for desperate measures, and this is the situation Porsche found itself in during the early 1990s. A global recession had hit 911 sales and its headline model was beginning to look outdated to many sports car buyers. The company needed something new, was inspired by the success Mazda enjoyed with its MX-5, and turned to Toyota for help in rethinking all its manufacturing processes, in the hope it would swell the kitty. Sure enough, the original 986 generation Boxster was a sales hit.
Conceived in 1992 as a proposal from Porsche's own Pinky Lai and Grant Larson, the simple two-seat roadster clearly drew on the mid-rear-engined 550 Spider of the 1950s for its purity of line. However, the Boxster was mid-engined and made its debut as a concept at the 1993 North American Auto Show in Detroit. Its reception was nothing short of rapturous and Porsche's bosses gave it the green light for production.
How much is your car to insure? Find out in four easy steps.
Get a quote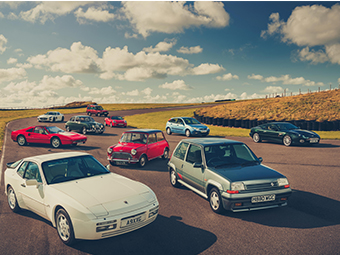 Part of the Boxster's genius was it shared the same front end from the windscreen forward as the next 911 model, the 996. This slashed development costs for both models, even if the Boxster ended up with a slightly toned down look from the concept and not everyone was wowed by the 'fried egg' headlight design. Even so, time has softened this opinion and many now regard these original headlights as part of the appeal of early Boxsters.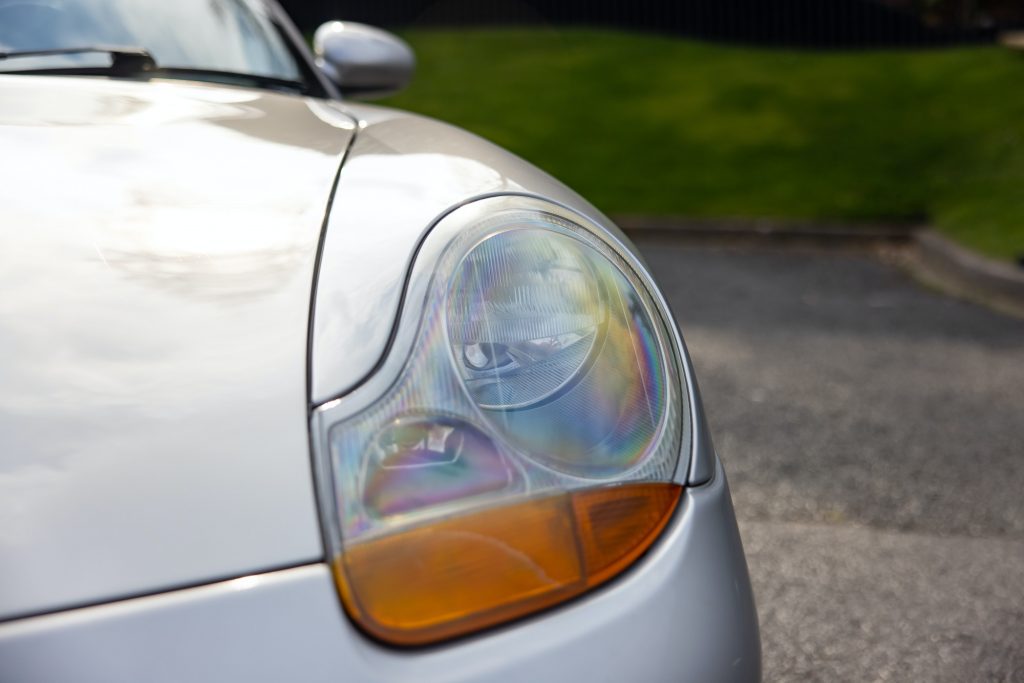 Production cars appeared in 1996 with a 2.5-litre, mid-mounted flat-six engine. It produced 204bhp to give 0-60mph in 6.5 seconds, which was deemed decent but not great in contemporary road tests. However, everyone agreed the Boxster was blessed with superb handling, weight distribution, brakes, and steering. It was also comfortable, affordable, and had a very effective roof even it was fabric rather than a folding metal item like its Mercedes SLK rival's.
Porsche offered a Tiptronic automatic gearbox alongside the 2.5's five-speed manual transmission. The auto had buttons on the steering wheel to offer a degree of manual control of changing gear, but this was still an automatic gearbox. If it didn't appeal to keen drivers, it certainly found favour with a raft of customers who were new to Porsche showrooms and the 986 quickly became the best-selling car Porsche had ever made. It held this accolade until the Cayenne SUV was launched in 2003, and gave the company the broader demographic it so badly needed, with younger buyers coming to the Boxster, families choosing the Cayenne and older drivers steering toward the 911.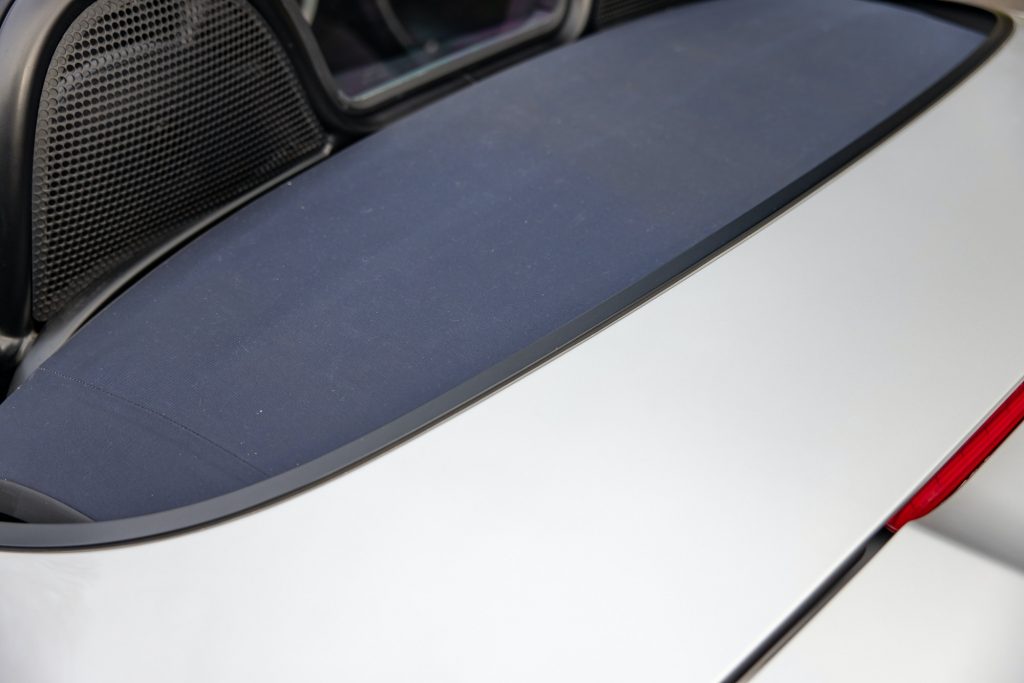 Recognising that its customers wanted something more potent, Porsche introduced the S in 1999 alongside a new 2.7-litre base model. The S came with a six-speed manual gearbox and a 250bhp 3.2-litre engine that delivered 162mph flat out and 0-60mph in 5.9 seconds. It cost £8000 more than the 220bhp 2.7 model but was still considerably cheaper than the 911 it was edging towards in performance terms. Identifying marks on the S are its red-painted brake calipers, drilled brake discs, and white-faced instruments.
A facelift in 2002 saw the fried egg headlights replaced with ones similar to the 911 of the period. Other notable changes included bumpers with added mouldings for a more aggressive look, clear indicator lenses, and a glass rear screen for the hood. However, Porsche wasn't quite done with the 986 before it replaced the original Boxster in 2005 with the 987 generation; the limited-edition 550 Spyder was launched and only 1953 were made as a nod to the year when the first 550 Spyder was introduced. It came with a 266bhp version of the S's 3.2-litre engine, making it the most powerful 986 version. It also had suspension lowered by 10mm, silver paint the same as used on the Carrera GT, and a Cocoa Brown hood. It's quite the catch today.
What's a Porsche Boxster like to drive?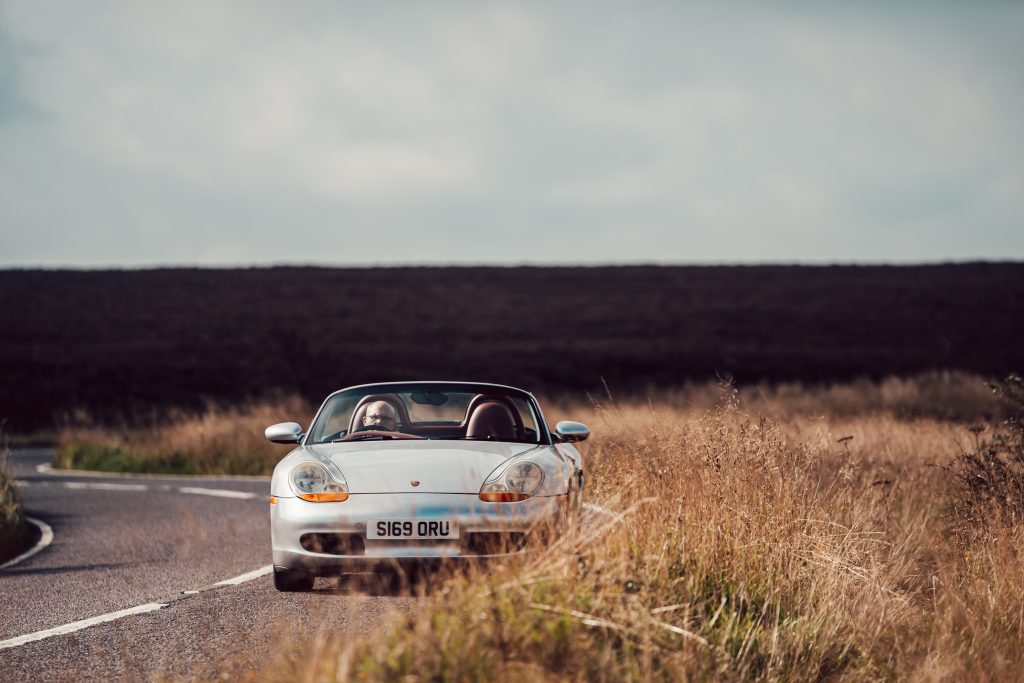 A neglected Porsche Boxster that has been maintained on the cheap will still feel surprisingly able to anyone who has not tried a properly sorted car. For this reason, it pays to drive several for comparison before committing to buying one. When the suspension, brakes, engine and steering have all been kept in fine fettle, you are in for one of the biggest treats among modern classic cars. It's a delightful drive.
A 2.5-litre 986 can feel a little ordinary on first acquaintance. Its engine needs to be worked hard to get the best from it, though it has decent low-rev lug for mooching around town and that's fine for the daily commute. Where it comes into its own is on snaking A-roads where you can use full revs in its intermediary gears. Above 5000rpm, the flat-six engine takes on a harder sound that lets you know this is a sports car with proper pedigree. It pulls hard and the five-speed manual has a typically Porsche action that rewards a deliberate action that's not rushed.
What truly marks out these early Boxsters, though, is the handling, brakes and steering. Similar to the Lotus Elise, the Boxster lets you carry momentum through corners rather than being a point-and-squirt sports car. It rides smoothly, so dimples and ridges don't upset its composure, while the power-assisted steering offers plenty of feedback. When you do need to scrub off speed, the brakes are strong and always fade-free.
In a 2.5, you will rarely feel the car is challenging your ability as it's so well balanced. Try the S model and its added power can unsettle the rear wheels if the car doesn't have the optional traction control fitted. It's not something to be wary of or put off a potential buyer, more that an S has the extra grunt to fully exploit the Boxster's undeniably brilliant chassis and indulge its driver when the moment arises.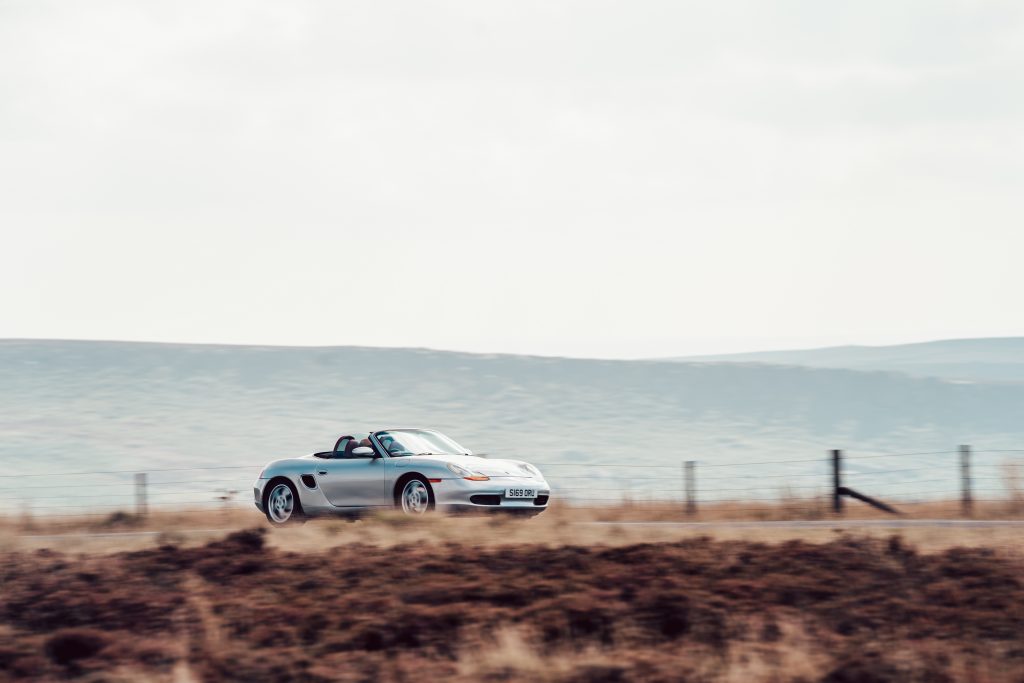 Off the line and through the gears, the S's bigger punch can be felt with every press of the throttle. However, you will also feel more of the road surface's pockmarks as larger standard wheels and firmer suspension set-up edge it more towards being a sports car than a roadster.
For this reason, many find the later 2.7 is the best of the 986 Boxster bunch. Its 220bhp is a useful step-up from the 2.5's 204bhp, yet the 2.7's suspension is more supple than the S version's. If you want a touch more power, facelifted 2.7s from 2002 onwards came with 228bhp, though you'd be hard pressed to tell the difference on the road.
For day-to-day driving, the 986 Boxster makes a compelling case as a modern classic as it has more than enough performance and cruises easily on the motorway. It's refined with the roof up, with facelifted cars a bit quieter thanks to their glass rear screen, while the cabin is not too blustery with the roof down. Fuel economy averages out at around 30mpg for all Boxster models, so running one as your everyday car won't drain the bank balance. The combination of the front and rear boots gives the Porsche more luggage space that you'll find in any of its rivals from the same period, while build quality is also a strong point.
How much does a Boxster cost?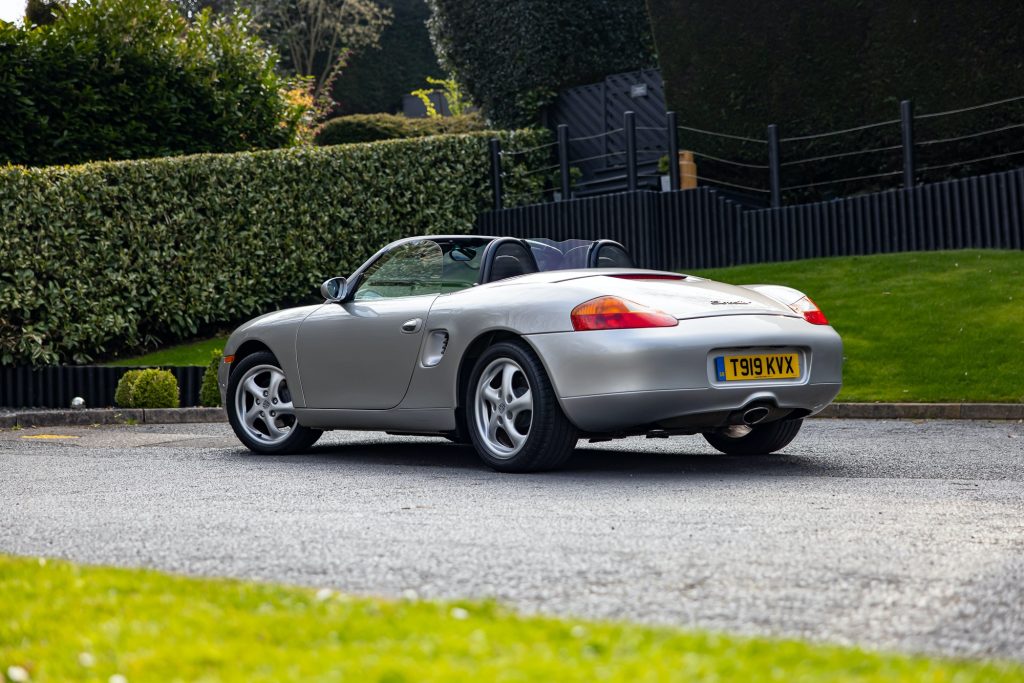 Scan the classifieds and you'll struggle to find a Porsche Boxster from the 986 generation for less than £5000 now. Those that do fall below this threshold are likely to be high milers with patchy service history and the dreaded rust, though you may get lucky and find one in decent nick at a bargain price. The reality is, though, almost everyone has woken up to early Boxsters becoming desirable modern classics and values are now starting to reflect this.
The days of early 'fried egg' headlight 2.5s being shunned are long gone and these original models are now surely becoming sought-after. Find a mint, low-mileage example and reckon on spending £12,500 according to the Hagerty Valuation Tool. Some might raise an eyebrow at that, but try to find another car of the same performance, quality and ease of use for less – you'll struggle.
Good, usable 2.5s and 2.7s with plenty of life in them and packed service records will cost from around £6500. That's about the same starting money for a tidy S, but reckon on spending closer to £9000 for a well sorted S either from a knowledgeable private seller or specialist. The very best S cars will have no trouble fetching £15,000 so long as they are immaculate and accompanied by a fully stamped history.
For the rare 550 Spyder, prices sit in the £15,000 to £20,000 bracket for cars with around 50,000 miles regardless of whether they have the manual gearbox or Tiptronic auto.
What goes wrong and what should you look for when buying a Boxster?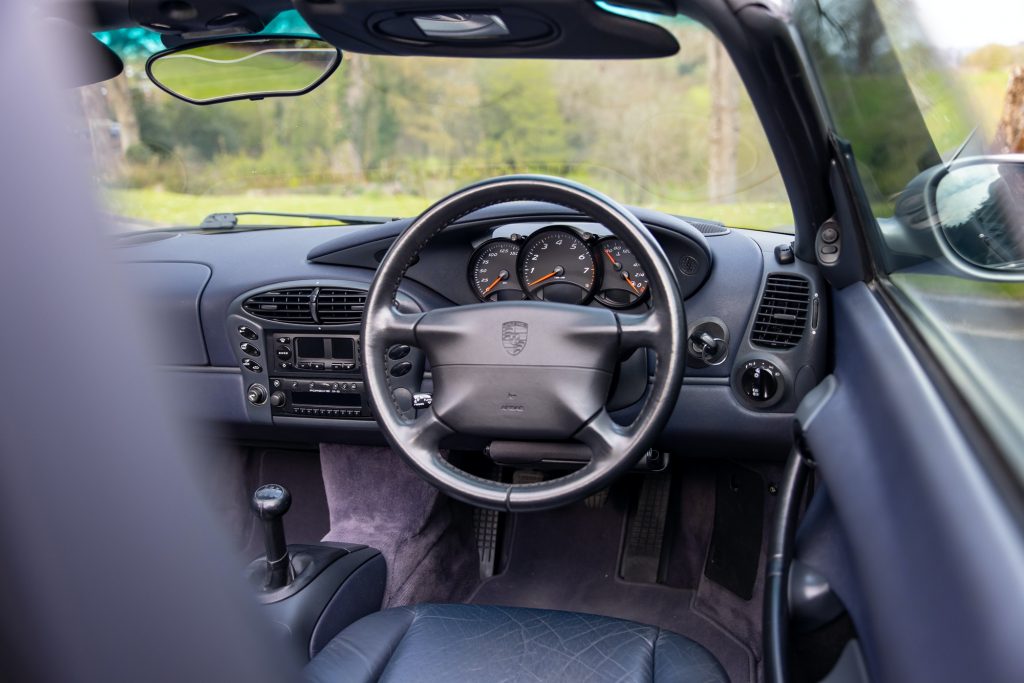 The Boxster 986 is a robust car, which is good for long-term ownership prospects but also means they can cover up wear and tear. If you're not confident about checking over a Boxster, make sure you have it inspected by one of the many independent specialists around the country as the cost of this could save you a great deal further down the line.
From the outside, start with the hood. A cloudy rear plastic screen can be replaced for around £250, while a new roof is about £1200 fitted. Make sure the plastic trims around the door glass sit properly and the windows close fully when the doors are shut. Blocked drain holes can cause leaks into the cabin which then flood the ECU under the passenger seat, so look for signs of water damage and check the drain holes.
Still on the outside, have a good look at the front radiators behind the grilles in the bumper. They can become clogged with leaves and debris and corrode. Even apparently clean radiators can hide crud behind them, so it's wise to budget for their replacement unless there's a recent bill in the service history for this.
With the rear boot lid open, feel for damp carpets. If they are wet, it's a good bet the coolant tank has split and needs to be replaced, which is around £250 from Porsche. Now we're in the engine bay, let's address the number one concern raised by any prospective Boxster owner: the IMS bearing. The intermediate shaft has become notorious for failing and wrecking the engine, but it's much less of a worry than many will have you believe. The 2.5 is less prone to the fault as it used a dual-row bearing, while cars from 2000 switched to a single row bearing. If the work to replace the bearing in any Boxster is not documented, you should think about accounting for £1400 for an uprated bearing the next time the engine has to come out to replace the clutch. You can then also fit a new water pump and rear main oil seal, which leaks but is not disastrous as a failed IMS bearing.
Other engine faults to be aware of are cracked cylinder bores, which should show up as 'mayonnaise' on the dip stick and oil filler cap. This will also cause engine overheating, so don't believe any seller who says the car just needs a new thermostat.
Ignition coil packs fail with age, but are easy and affordable to replace, while the mass airflow sensors (MAF) are also straightforward to sort. A tell-tale for faulty MAFs is a hesitation from the engine under acceleration. More serious is if the VarioCam's chain tensioner guide has worn to the point of breaking up, which lets broken fragments swill around the engine. Uprated guides are available as a replacement.
Gearboxes are tough and trouble-free, but look for fluid changes in the service records. You should also expect to see bills for new suspension bushes and arms every five years to maintain the Boxster's superb handling.
Which is the right Boxster for you?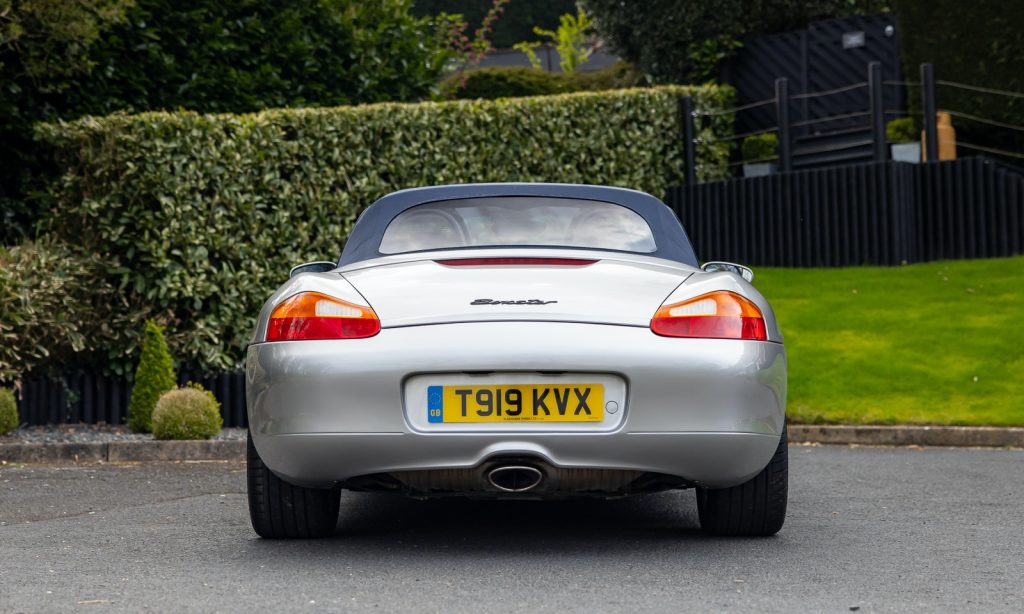 Collectors are beginning to move in on perfect, low miles early 986 Porsche Boxsters as the car to have. For some, the original form of the Boxster will always hold the most appeal, but others might find the 2.5 is not quite as swift to drive as they imagine a Porsche should be. On a twisty road, the 2.5 is brilliant, but we'd lean more towards the 2.7 as the better all-rounder for most drivers. Its added power makes normal driving a little more relaxed, while overtaking and enjoying yourself is also more easily attained.
The Boxster S is a different prospect. It's a harder-edged car. This doesn't preclude it from being used daily, but you will find yourself dodging potholes and speed bumps much more assiduously. The reward comes when you open up the taps to use the full power of the S.
When you have settled on choosing between an S or the non-S models, the biggest choice is which gearbox works for you. The manual will hold the most appeal for enthusiast drivers, either in five- or six-speed forms. Choosing the five-speed Tiptronic auto doesn't turn the Boxster into a slow coach, but you will need to remember it doesn't come with the instant changes of a PDK double-clutch transmission as used in later Porsche models.
Read more
Boxster at 25: Driving the car that saved Porsche
Buying Guide: Porsche 911 996 (1997 to 2004)
The Porsche 924 wasn't born a Porsche. It became one