Since December 2017, our good friends across the pond at Hagerty US have published the Bull Market list. An annual compilation of classic and modern classic cars that should be both a pleasure to drive and live with, it highlights emerging trends and changing tastes across the enthusiast car scene.
Better still, the Bull Market list helps drivers make informed decisions when embarking on the exhaustive task of choosing their ideal classic from the thousands available. And although our advice is to buy with your heart and feel an emotional connection with a classic car, knowing that the head has helped steer the heart to a car that is increasingly in demand, and therefore more likely than not to increase in value, should help ensure that your money doesn't evaporate like bodywork turning to rust.
How much is your car to insure? Find out in four easy steps.
Get a quote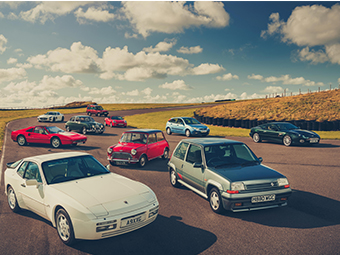 We decided it was high time that Britain's drivers had a Bull Market list of their own, so here it is. Our selection of 10 classic and modern-classic cars for the heart and the head spans everything from humble family hatchbacks to limited-edition supercars – some you'll be familiar with, others you'll enjoy getting to know.
To inform our choice of cars, Hagerty's Valuation team analysed both its market valuation data for condition #2* (one level below concours) and insurance quotes and policies, looking for indicators that suggest a car is rising in value and increasingly in demand among drivers. We want you to enjoy your next classic car on every level. Hopefully this selection helps steer you in the right direction.
1994 – 2004 Aston Martin DB7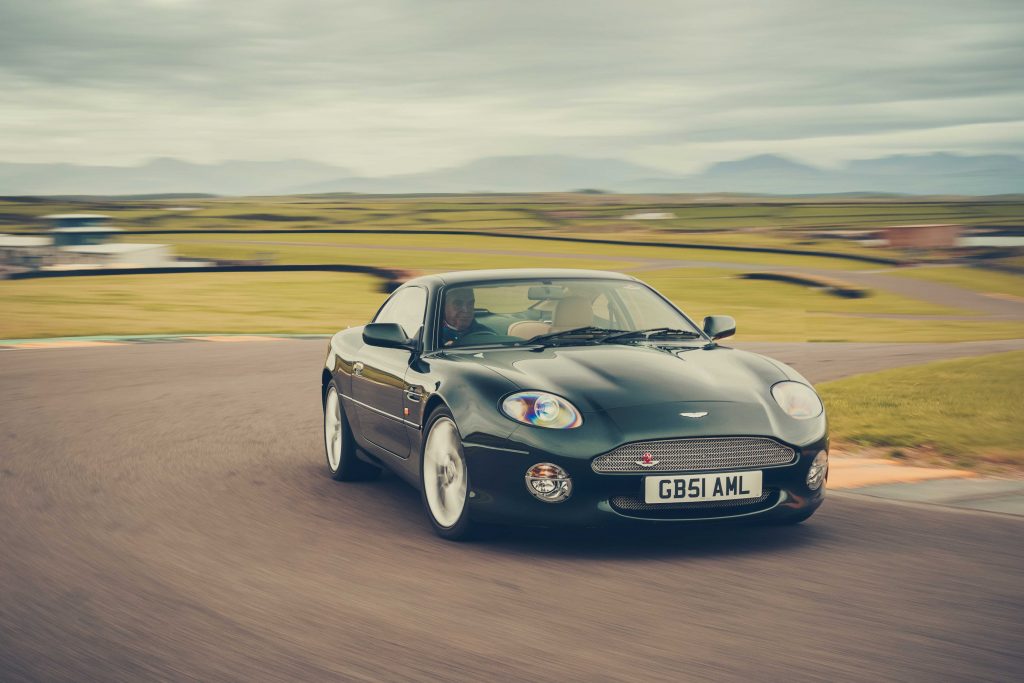 The DB7 was never meant to be an Aston Martin. It was a car suggested to Jaguar by Tom Walkinshaw Racing as an affordable replacement for the XJ-S, relying heavily on its existing structure and engineering. Jaguar rejected it, so Walkinshaw turned to his young designer Ian Callum and said, "You'd better make it an Aston Martin then." In that moment, the DB7 was born.
There is some truth in the oft-peddled suggestion that it was the car that saved the company, though perhaps not for the reason most think. Truth is Ford already owned Aston Martin, as well as Jaguar, and while the DB7 did convince them not to offload it in difficult times, it was the later V12 Vantage version that convinced Dearborn to sign off a transformative investment in Aston's future that paid for a new generation of cars and new factory. The Vantage moved the DB7 from conventional coupe territory into the realm of the supercar, and proved comfortable and credible in that space. And the Vantage was not engineered by TWR like the DB7, but by Aston Martin, bringing back in-house the engineering expertise it had allowed to dwindle to almost nothing.
They are very different to drive because the Vantage was so much more than a bigger engine. Its structure, suspension, brakes, gearbox, wheels and tyres were all either seriously modified or entirely new. The DB7 is the rougher diamond for sure, its 3.2-litre supercharged six lacking the class of the 5.9-litre V12, but there's charm in that gruff engine note and a more sporting edge to its handling not just because it carried less weight but also because the Vantage was set up to be more of a grand tourer.
That's how Geoff Billington, the owner of the DB7 driven here, uses his Vantage. "Ever since I was a little lad, from about 12 or 13, I wanted an Aston Martin. When I went to Chiltern Aston five years ago, the managing director picked this car out for me – 17,000 miles on the clock and three previous owners. I only intended on keeping it for a couple of years, just to say I've owned an Aston, but I've had it ever since and put another 12,000 miles on it, taking it to events like Le Mans Classic."
For Billington, it's the marque that appeals most about the ownership experience, fulfilling a long-held ambition. Other than a minor issue with the battery, the car has been turnkey reliable and independent specialists that he uses have been faultless.
The memories of appraising DB7s back in the day come flooding back when we settle into Billington's car. Much of the interior is sourced from Jaguar and Ford parts bins, and there's no getting away from the fact it's cramped. That's because underneath it all lie the bones of a car designed in the early 1970s. The V12 pairs nicely with the automatic gearbox, and while the engine sounds just the ticket, the car feels every inch the tourer it was intended to be, with a heavy feel and considered movements rather than a flighty feel.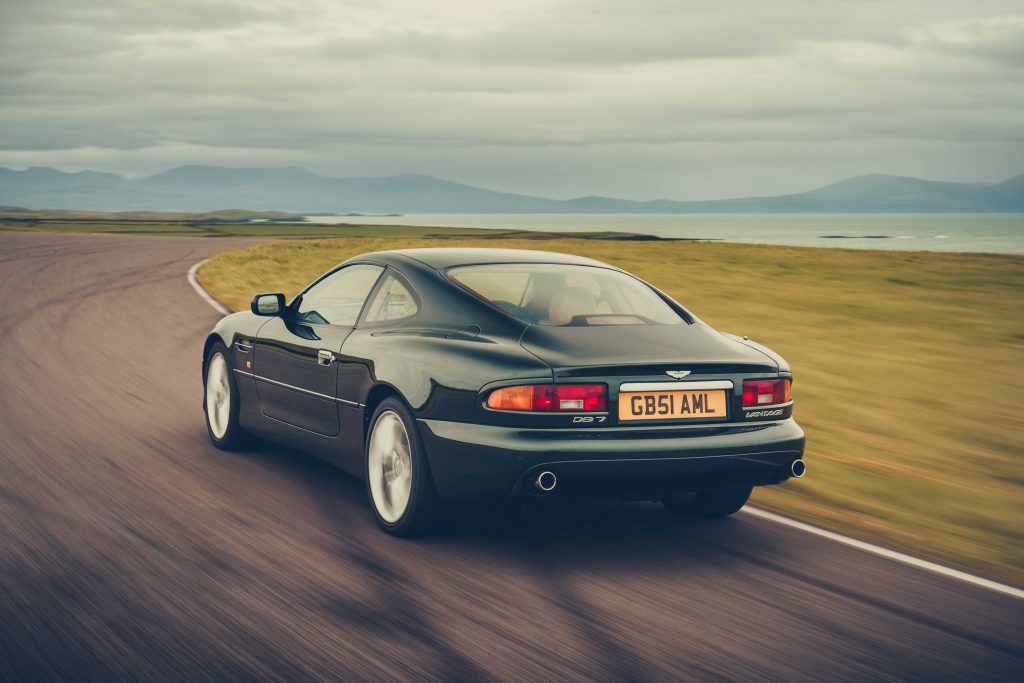 Volante versions, while elegant, wobble about more than the coupe. The ultimate DB7 (limited-edition Zagatos aside) was the run-out GT model, tweaked in almost all areas from engine output to suspension tune, but they're rare and expensive. For those wanting the best blend of ability and value, a nice clean Vantage is probably the best of the lot.
As for Jaguar, after spending far too much time and money developing a brand-new sports car called the XJ41, Ford cancelled the car and approved the brilliant XK8 instead which was based on, you guessed it, an XJ-S floorpan. They could have saved themselves a load of bother if they'd just said yes to Walkinshaw to begin with. But Aston Martin fans will be glad they didn't.
2002 Aston Martin DB7 Vantage
Engine: V12, 5935cc
Transmission: 5-speed automatic, RWD
Power: 435bhp @6000rpm
Weight: 1875kg
Hagerty value condition #2: £31,580
2019 Hagerty value condition #2: £37,680
Hagerty 12-month value change: -£6100 (16.2%)
It may seem odd to start with our first Bull Market list with a car that has lost value in the last 12 months: the average Hagerty Price Guide 'excellent' value across the DB7 range has dropped from £37,680 in 2019 to £31,580 today. But it's an Aston Martin, and as we know, the fortunes of that company rise and fall like waves on a particularly choppy sea. Surely Aston Martin will bounce back and – as has happened so many times in the past – a certain secret agent may help. As the cars' age and miles creep up, well-preserved examples should become more sought after. Before this year, values were relatively stable at around the £37,000 mark; now may well be the time to buy while prices are low.
1985 – 1988 Ferrari 328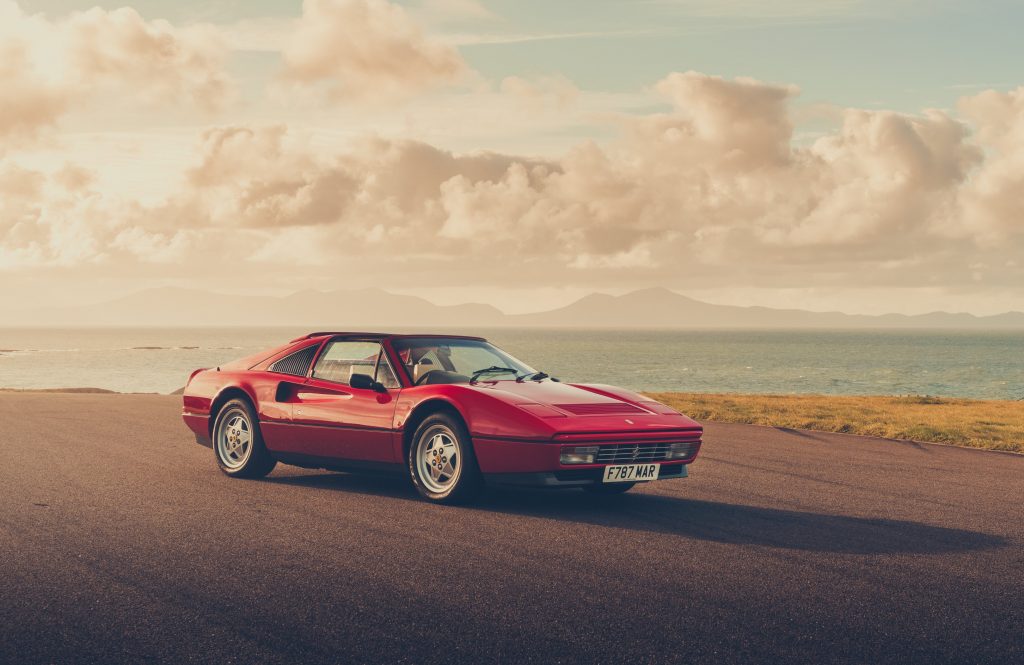 As a crude measure of just how attention-grabbing the Pininfarina-designed Ferrari 328 GTS is, we park it next to the SLS AMG Black Series in the pit lane garages at Anglesey Circuit, ahead of the arrival of all those joining us for two days of photography and driving. Without fail, each and every guest gravitates to the blood-red Ferrari.
It looks sensational, as much a throwback to the '80s as MTV, Margaret Thatcher, Motorola brick phones and the Sony Walkman. The bodywork is impossibly low, barely over hip height, with a ground-scraping nose, retractable headlights and cooling slats for the nose-mounted radiator. There's a removeable roof section, too, and it's a doddle to operate; release a pair of clips, step out and lift the targa panel clear, before storing it behind the seats.
You'll need to remove that roof, because the 328 GTS's height serves as a reminder of how little thought Ferrari gave to accommodating people in comfort. Even if you're an average-size driver, under 6 feet tall, your head is above the roofline. Tilt forward and you can connect your head with the windscreen surround. Ouch. The driving position is chronically offset, with the pedals and steering wheel bearing little relationship to the seat. But like waiting all evening for your meal to arrive at your favourite Italian restaurant, you can forgive this because the surroundings are so delicious – a masterclass in Italian design aesthetics, where form triumphs over function.
An evolution of the 308, the 328 features a tubular steel chassis, independent suspension using unequal-length A-arms, coil springs, hydraulic shocks, and anti-roll bars. The gearbox was a five-speed manual, take it or leave it; the age of the robotised F1 transmission was but a glint in a Ferrari engineer's eye. Lift the engine cover and you'll find the gearbox's life partner, an uprated, 3.2-litre version of the V8.
Given the car's 267bhp at 7000rpm, you may scoff at the thought of a Ferrari with no more power than a modern hot hatch – especially when the 328's heir, the F8 Tributo, delivers more than 700bhp to its rear wheels. But remember, the 328 is a sports car born of the analogue age, before computer modelling, aluminium or carbon structures, carbon-ceramic brakes, ABS (other than the last of the production run), ESP, manettino switches and an army of sensors talking to one another millions of times a second. You're on your own.
That much is apparent as you go to pull away. The clutch is heavy, the steering as tough as any gym workout. On the move, the 328 GTS commands respect. It is pure, undiluted and absolutely devoid of a safety harness, so you drive it with respect – the slow in, fast out kind of respect that racing drivers of years gone by talk about. The noise is surprisingly muted until the rev counter's needle rushes for the redline. The speed builds plenty fast enough and the gearbox is a delight – albeit once the oil gets up to temperature. Take liberties, as we did in the interests of research, and it will punish you, at which point the tyres will howl and let go with enough warning that you can concentrate on muscling that steering and getting things back on the straight and narrow.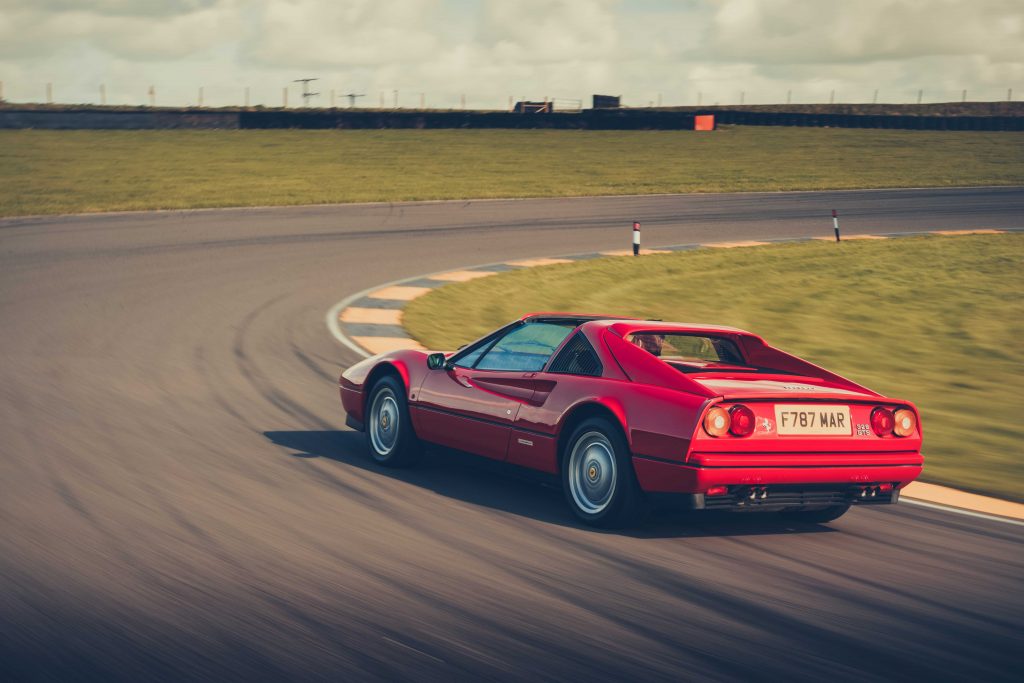 This masterpiece in aesthetics is surprisingly rare in the UK, as 130 right-hand-drive models were sold. Choosing one today is about your budget, the car's condition and history. The ideal would be to find one as original and low-mileage as this one, a 5000-miler kindly loaned by Vanrooyen Warrington. Not long after we drove it, the car was sold, and we can see why. For all its, ahem, quirks, the last of the analogue Ferraris provides an experience that is somehow magical, a fairy tale from a fading era.
1988 Ferrari 328 GTS
Engine: V8, 3185cc
Transmission: 5-speed manual, RWD
Power: 267bhp @ 7000rpm
Weight: 1325kg
Hagerty value condition #2: £80,650
2019 Hagerty value condition #2: £82,300
Hagerty 12-month value change: -£1650 (2%)
Ferrari 328 values shot up in the first half of the 2010s: our top value for the car was around £30,000 in 2012, but by 2016, our 'excellent' condition value peaked at just over £100,000. Since then, it has dropped annually as the feeding frenzy for more modern classic Ferraris has subsided. So why buy now? Well, from 2016 to 2019, values fell at roughly 11% per annum, but last year, this reduced to just 2%. It has all the markers of a successful classic: a legendary manufacturer, rarity and that 1980s look that is so attractive to Generation X buyers.
1998 – 2004 Ford Focus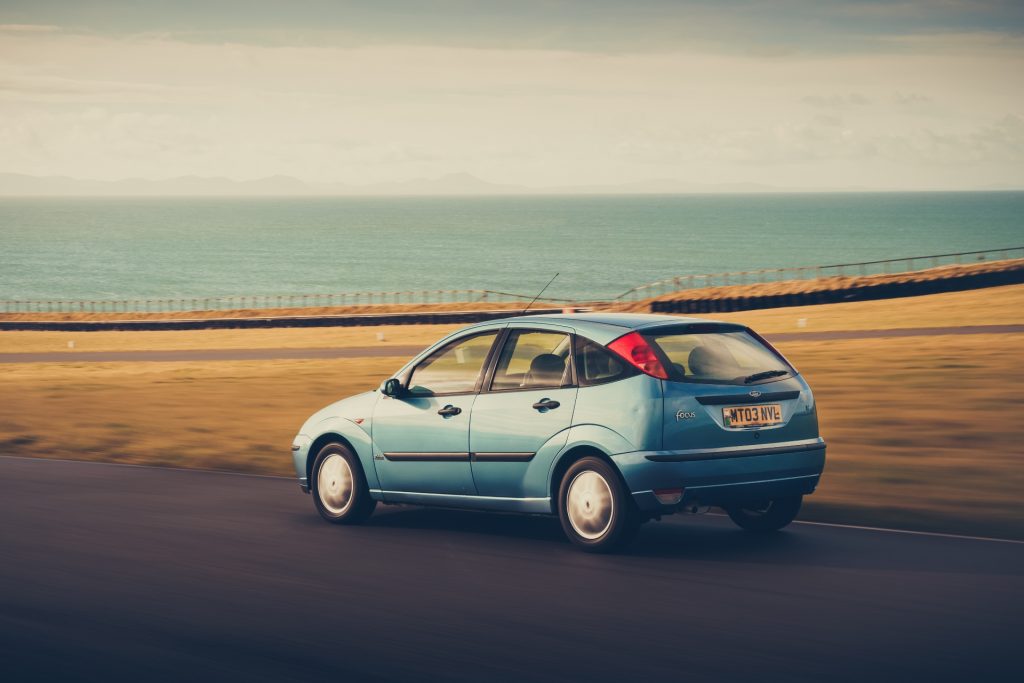 The thinking and development that went into the original Focus was influenced by Ford receiving a thorough drubbing from critics and customers alike. The last of the Escorts had been panned, and management at Ford realised they had taken their eye off the ball in a market where cars were selling on more than price. Driveability, safety and style were becoming as important as a discount and a free set of mats and flaps.
New faces appeared behind the scenes at the Blue Oval, and the resulting Focus took the company in a new direction. It looked fresh and different parked outside the homes of Britain, owners could be heard telling neighbours how good it was to drive, comfort and safety were impressive, and you'd be proud to receive one as your next company car.
Today you'd be proud to own one as your next modern classic car, too. Getting back into the Focus after more than two decades reinforces the impression of what a terrific car it was – and remains. Our example is owned by serial classic car collector Andy Jones. He uses the Focus as a cheap and cheerful runaround, and by golly is it cheap and cheerful, only £600 to Andy, and, as we come to find, faultless to drive.
"These are such good cars. Ford was ahead of its time with the Focus, over-engineering the car, and that shows in the way it still feels so good to drive after all this time. The fact you can pick them up for peanuts makes it all the more remarkable," Andy says.
And sure enough, it is faultless to drive. The engine of Andy's 70,000-mile, 1.6-litre Focus is a gem, pulling enthusiastically, revving smoothly and giving the family hatchback a good turn of speed. But this car's ace card is the way it feels so poised through twists and turns. The steering and chassis have a rare harmony, whereas a comparable VW Golf would feel underwhelming and out of shape.
The rest of the package is good, too. Take the dashboard. The design may not be to all tastes, but the usability of it will be to everyone's liking. In an age where the average family car is a touchscreen on wheels, with menus buried within menus, the Focus has a clarity of purpose that makes it free of distractions and safe to operate any feature or function with just the slightest glance and hand movement.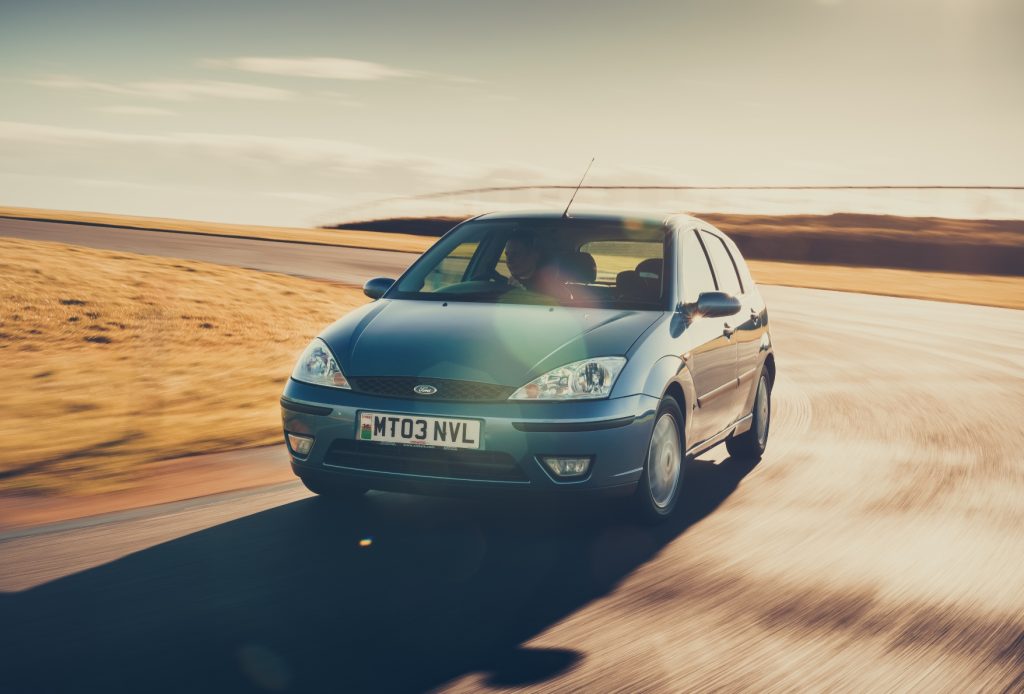 Needless to say, word is spreading about the Focus. Although hundreds of thousands were sold in Britain, really nice examples that have been well cared for and show no signs of rust or neglect require noticeably more dedication to find. But persevere you should – and not just because it is such good value for money. This is the car from a time when Ford returned to the top of its game. In one of the most competitive industries around, the Focus is a case study in corporate wakeup calls. Thank heavens Ford responded the right way.
2003 Ford Focus 1.6i 16v Zetec
Engine: 4-cylinder, 1596cc
Transmission: 5-speed manual, FWD
Power: 98bhp @ 6000rpm
Weight: 1171kg
The Hagerty Valuation Team says
Hagerty value condition #2: £1400
2019 Hagerty value condition #2: £1300
Hagerty 12-month value change: +£100 (7.7%)
Hagerty has long championed the unsung heavy lifters of the automotive world, the unexceptional saloons, estates and hatchbacks that take us to our offices, drop our kids at school and transport us on holiday. Values for the Focus are low: even an 'excellent' example can be purchased for around the £1400 mark, fair ones for much less. We believe that this is a very small outlay for a piece of automotive history, and one that could even qualify you for entry to the 2021 Hagerty Festival of the Unexceptional Concours De l'Ordinaire.
1959 – 1967 Jaguar Mark II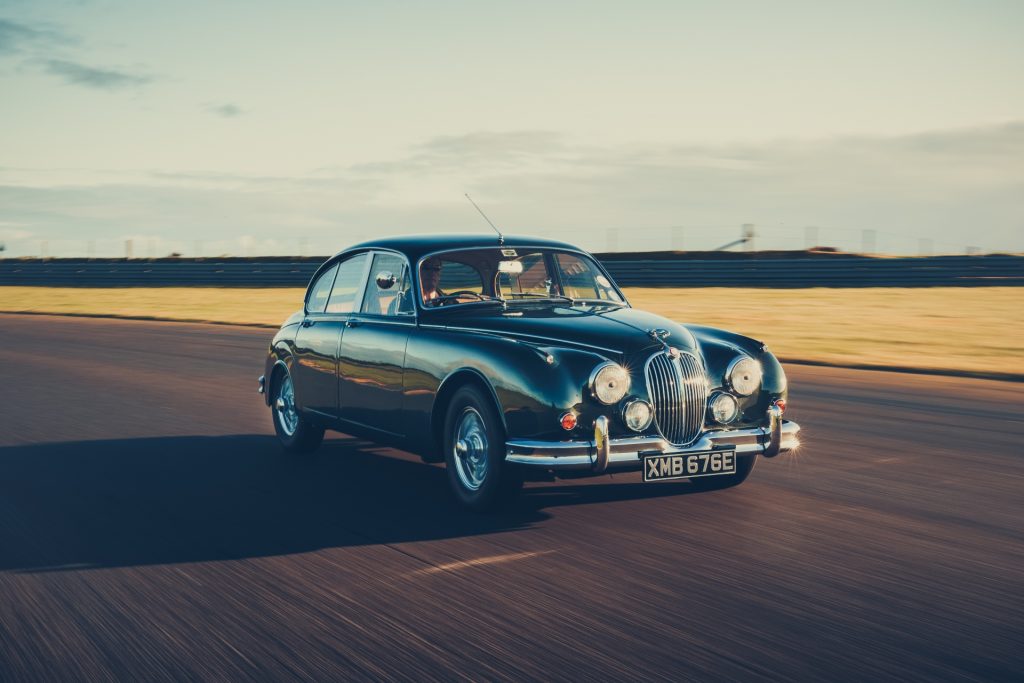 It took John Holcroft five years to restore his Jaguar Mark II. There was a lot of pain along the way, with the engine having to be removed no less than four times, as one problem after another reared its ugly head. But like so many, John was smitten, so he persevered with chasing perfection. And the end result, it has to be said, is quite perfect.
The interior is as regal as they come. You could be taking tea with the Queen in here. Not an inch of the cabin space is untrimmed, with leather and veneered wood wherever you look. But the intimacy of the cabin's proportions signals clearly that it's a sports saloon rather than a gargantuan, palatial limo.
Smiths and Lucas instruments peer back at the driver, small wing mirrors sit just above the period quarterlight windows and you can operate the main beam for the headlamps using a foot-operated button on the floor. A column-shift for the automatic gearbox sits just behind the thin-rimmed steering wheel. It is every inch a special environment, a car that's confident of its identity, a car with all the sense of occasion you'll get from the Ferrari 328 GTS.
John bought his car in 2000. "I'm a motor mechanic, and I served my time on these. I'm a BMC and Rolls-Royce apprentice. The car came via a customer and had been sat for 20 years in a disused building, rotting away." Bar the paint and veneer, John did the lot himself during the five-year restoration.
The Jaguar Mark II was arguably the car that its predecessor should have been. Although really only a comprehensive facelift of the Mark I (initially called the Jaguar 2.4 Litre and 3.4 Litre) it sported a larger glass house, new grille and modern interior design, yet somehow unlocked the potential in the design and turned it from a modest success into a sensation.
Actually, it was what was going on beneath the skin that really transformed the car, and not just because the 3.8-litre engine developed for the D-Type racer had become an option, albeit in somewhat less ferocious form. More importantly, the car was a very early adopter of four-wheel disc brakes and, crucially, came with a higher rear roll centre and widened rear track that transformed the somewhat skittish handling of the Mark I for the better. No wonder, then, that it became one of the most fearsome and feared machines on the saloon car racing scene of the era.
As a car in which to feel good about life as you waft around, there is something to be said for the 2.4-litre cars. After all, they still have that look and Jaguar's classic twin-cam straight-six, but it is revealing that even in period, this substantially cheaper model was the slowest selling. By the time it came out in 1959, Jaguar has already won Le Mans five times that decade and had its world-beating XK sports car series, so customers found the sporting versions more appealing.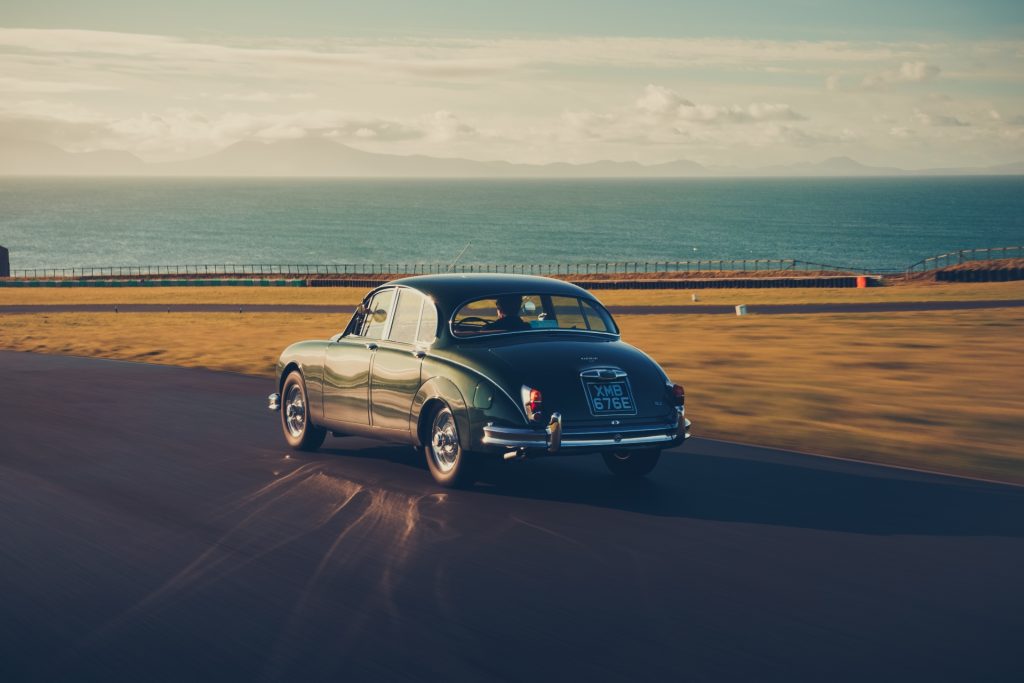 So the temptation is to go for the best: an early 3.8-litre car with a manual, overdrive gearbox – and there is no question that all other things being equal, they are the ones to have. But actually, the 3.4-litre comes closer than their respective reputations would ever suggest, and unless you're planning on driving your Mark II harder than most people would chose to drive a 60-year-old car these days, a 3.4-litre may well provide no less real-world enjoyment, and do so for a considerably lesser outlay.
In both cases, these are fine things to drive. Even today, they feel strong and effortless, with excellent brakes and nicely controlled and balanced handling. The Mark II is a car that has built up a stellar reputation for an old saloon. How nice it is to see that, for once, it turns out to be thoroughly deserved.
1967 Jaguar Mark II
Engine: Straight 6-cylinder, 3781cc
Transmission: 3-speed automatic, RWD
Power: 219bhp @ 5500rpm
Weight: 1520kg
Hagerty value condition #2: £27,700
2019 Hagerty value condition #2: £21,700
Hagerty 12-month value change: +£6000 (27.6%)
Like the Mini, the Jaguar Mark II is an iconic classic: it has been collected and cherished since the day it was first sold. In recent years, values have been relatively steady and have not fluctuated as wildly as its prettier sibling, the E-Type. However, values have already risen by nearly a third this year, yet we feel that the Mark II still has potential for growth. This year, in the five months from May to September, six examples sold at UK auction for over £50,000. Compare that to the previous 18 months, when only five sold at that level. With the E-Type's 60th birthday in 2021 that will attract attention to the marque. If you want a good Mark II, now may be the time to buy.
1989 – 1998 Land Rover Discovery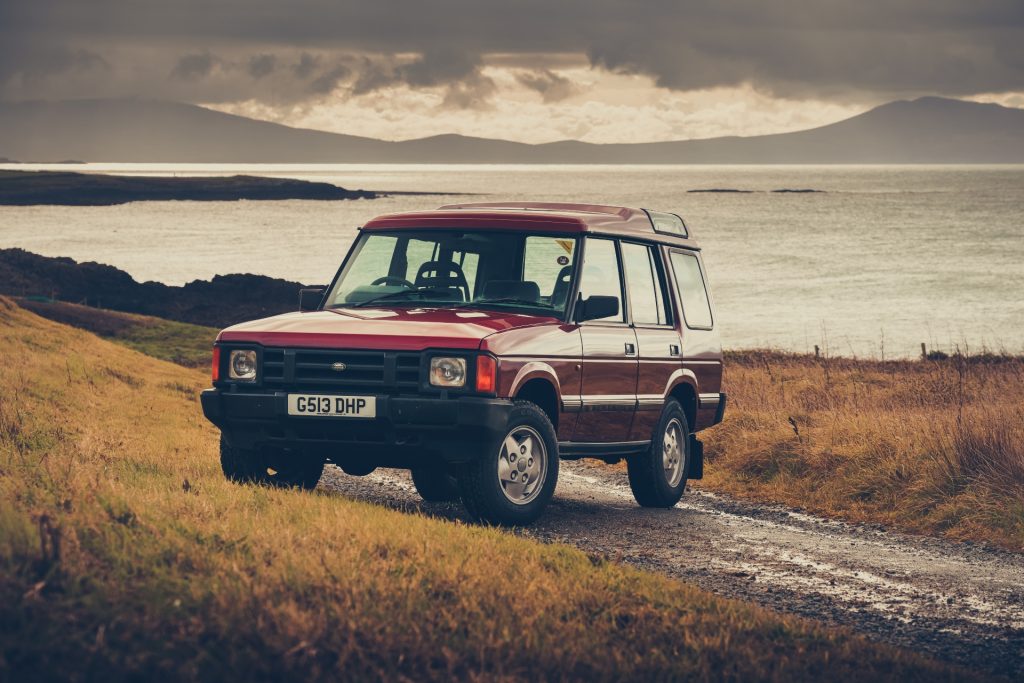 The reason Roy Preston found himself with his Foxfire Red Land Rover Discovery is the same reason plenty of off-road fans found themselves with a Disco: the Defender was too expensive. "I wanted a trials car. I used to trial Land Rovers in the '70s and wanted another go, but the Defender was too expensive, so I ended up spending £1500 on a Discovery instead."
After initially dipping into the Discovery as a sensible and capable budget trials car, he now owns seven and runs the Project Jay Preservation Group, for those looking to rescue and run the Series I Disco – known within Land Rover as Project Jay. This 1991 V8 is one of only a handful of five-door prototypes built for Land Rover dealers following the launch of the three-door in 1989: the 'G-WAC' plate is a telltale marker of a vehicle originally registered to Land Rover itself.
There's much more to the original Discovery than simply being today's affordable classic Land Rover. The Discovery was a very different offering to the Defender – and even the Range Rover with which it shared a chassis, four-wheel-drive system and doors. It was envisaged to be more affordable and more utilitarian (if less aristocratic) than the Rangie, yet it was leagues ahead of the agricultural Defender for comfort and road manners. It was the happy medium in the Land Rover lineup.
If well cared for, they can handle high mileage. This example has notched up more than 200,000 miles. Yet the curiously coloured blue interior, which was designed with the help of Jasper Conran, son of Terrance Conran, cleans up nicely and still, to this day, looks pleasingly different and proves usefully functional. If you can find one with its original 'manbag' clipped to the central console, you'll have a sought-after original feature.
To drive, the five-speed manual gearbox – complete with high- and low-ratio transfer box, and locking centre differential for proper 'go anywhere' ability – is a little, er, characterful. But once you've found a gear in there, the 3.5-litre Rover V8 rumbles pleasingly and gives the Discovery a usefully amount of get-up-and-go low in the rev range. More than that, the chief impression you take from spending time in the Discovery is just how much glass there is. After the heavy pillars and raked back body styles of SUVs of the 21st century, the classic Disco's slim pillars, low waistline and tall roof, and even those additional windows just aft of the trademark roofline 'step', make it feel like you're commanding an orangerie.
A Land Rover isn't a Land Rover without that all-empowering sense of indomitability, and even on a brief foray over some awkwardly steep grass verges, the Disco feels effortless. The slow but predictable steering lets you know all about the grip on offer at each wheel, the pedals have decent modulation and it's a car that feels reassuringly in control even at a challenging angle.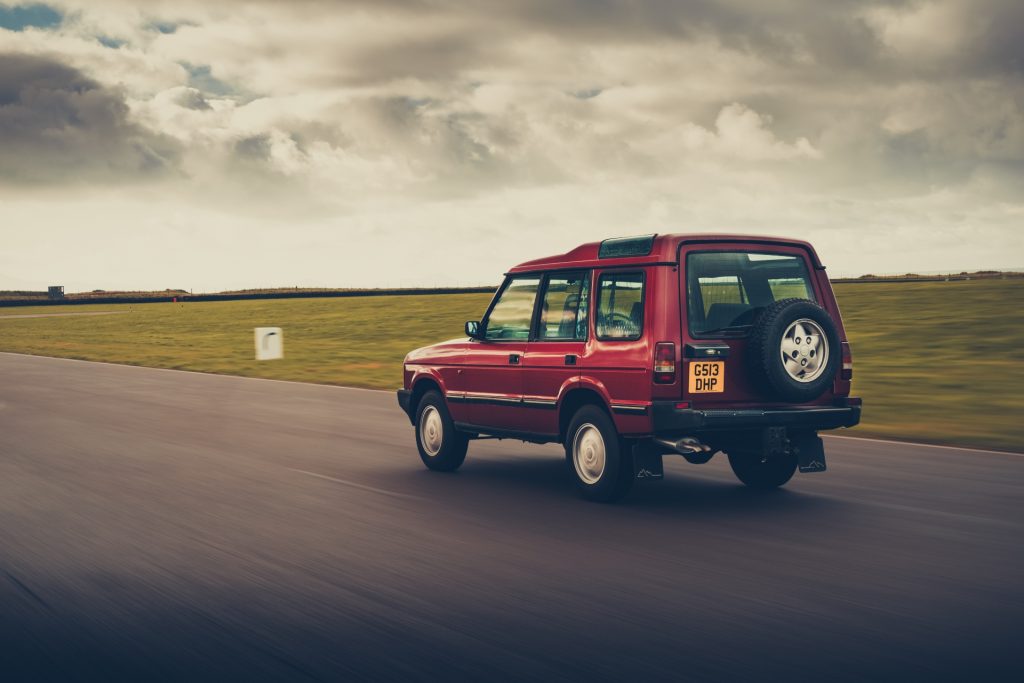 Sure, expecting it to feel anything other than ponderous on the road is like expecting your sofa to double up as a lilo, but there's no doubting the honesty and character in every nut and bolt of the Disco.
Watch out for rust, which Preston explains is the number one reaper of the Series I Discovery, but if you can find a solid one, then this is a significant car in the history of Land Rover, one of the UK's most popular brands.
1991 Land Rover Discovery
Engine: V8, 3532cc
Transmission: 5-speed manual, 4WD
Power: 150bhp @ 4750rpm
Weight: 1,925kg
Hagerty value condition #2: £9800
2019 Hagerty value condition #2: £8500
Hagerty 12-month value change: +£1300 (+15.3%)
Values of classic Range Rovers in both two- and four-door configurations have rocketed over the past five years, and we believe it's about time the Series I Land Rover Discovery followed suit. Until recently, even the best could be bought for a few thousand, but in recent months, exceptional examples have achieved much more: in June, CCA sold one for £12,320. Our 'Excellent' guide price stands at £9,800 but is likely to be revised upwards soon.
2010 – 2015 Mercedes-Benz SLS AMG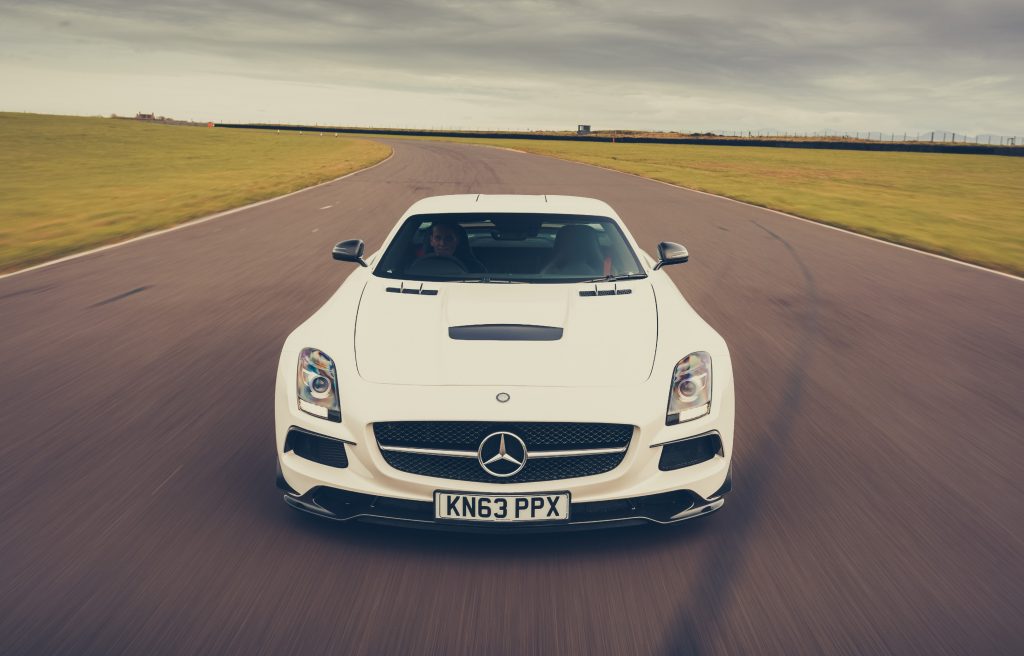 The Mercedes-Benz SLS AMG is like nothing else. It is effortlessly cooler than the SLR McLaren that preceded it, and an unashamedly different character to any of its peers, which range from the Lexus LFA to the Ferrari 599. There's something almost art deco about the SLS's lines and the arch of its gullwing doors when raised – particularly in its standard guise rather than the Black Series we have here, which drips machismo from every wing and vent.
The SLS marked the start of AMG's evolution into a sub-brand in its own right. Developed entirely by Mercedes' performance arm, the front-mid mounted 563bhp 6.2-litre V8 was claimed to be the most powerful naturally aspirated engine in production at the time.
It even lived up to the Super Light Sport moniker. A kerb weight just north of 1600kg – or just under for the Black Series that shaved 70kg off of the standard car – is impressive for a car this huge. The bonnet alone is so long that it creates its own horizon. Such is your distance from the car's nose that, initially, it feels like you need a rudder more than a steering wheel.
However, in practice, the SLS AMG is a deft and vigorous steer. Even the standard model has a poise to it that you might not expect of a sporting grand tourer. The Black Series injects more aggression – but it's aggression that just 15 lucky individuals got to experience from new.
With 622bhp and a rev limit raised from 7400rpm to 8000rpm, the seven-speed dual-clutch automatic 'box mounted physically lower, and a tauter take on the dual-mode damping, it eggs you on in a way that the more laid-back standard car doesn't.
With oily, beautifully weighted steering that's responsive without being neurotic, it is easy to get carried away with the visceral-feeling SLS AMG Black Series. But it will make you pay if you take liberties. There's plenty of grip at both front and rear ends, but when it does decide to let go, it does it quickly and with little care for the consequences. On track, it's more manageable and epically entertaining to drive hard, but on road, the firm ride and hair-trigger throttle response of the Black Series can quite easily cause the otherwise impressive lateral traction to break. At which point you will clench every part of your body.
But that's not to say that you can't drive it and enjoy it in all conditions. It is, at heart, a grand tourer and it will eat continents with remarkable ease – even if the Black Series' anti-socially loud exhaust never quietens down. And, frankly, why would you want it to?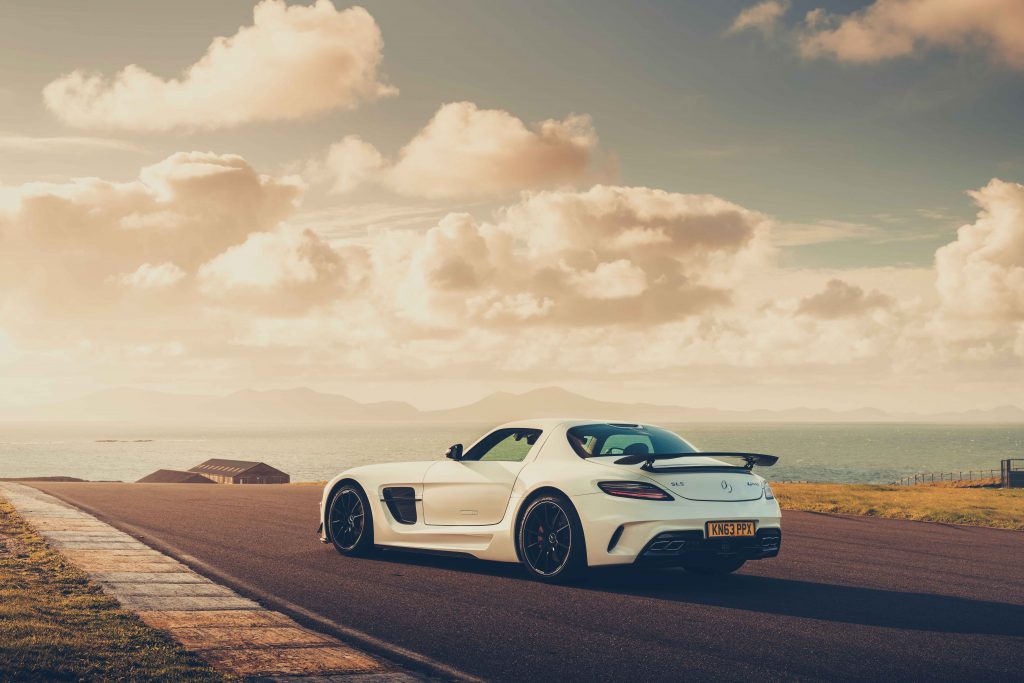 The SLS AMG is, more than anything, just a strikingly beautiful vessel for that extraordinary V8 motor. When battery power takes over and we look back to the finest moments of internal combustion, this will be one of them. The noise. Oh, the noise…
Yes, this is already an expensive and rarefied car. But if you can, you should buy one, because they're only getting more expensive and more rare. And if you do, make sure you drive it, and drive it properly. You'll be doing a fine service to all of us in earshot.
2014 Mercedes-Benz SLS AMG Black Series
Engine: V8, 6208cc
Transmission: 7-speed dual-clutch automatic, RWD
Power: 622bhp @ 8000rpm
Weight: 1550kg
The Hagerty Valuation Team says
Hagerty value condition #2: £166,500
2019 Hagerty value condition #2: £167,000
Hagerty 12-month value change: -£500 (0.2%)
The spiritual successor to the 300SL. As with most modern performance cars, values tend to dip at first and until very recently, according to statistics provided by Auto Trader, advertised prices of both body styles were dropping each month compared with 12 months previously. Then, from September 2020, asking prices rose: the convertible by 2.3% and the coupe by 2.5%. Values range from around the £100,000 mark to about £600,000 for the rare Black Series. As Mercedes gears up for the era of electrification, the SLS could be a high-tide mark from the petrol era.
1961 – 71 Mini Cooper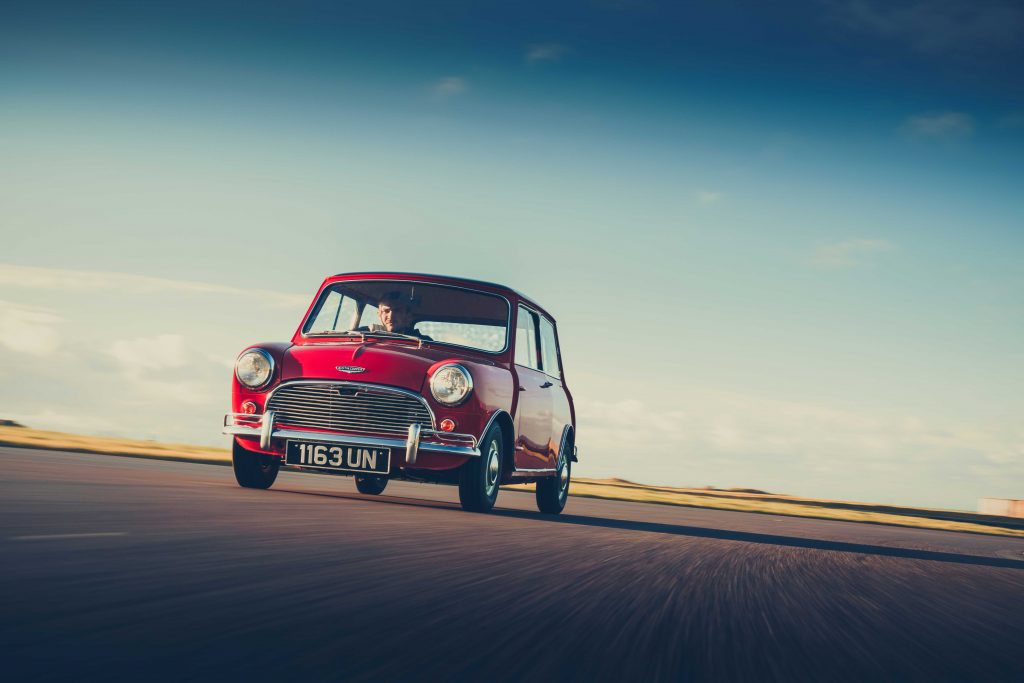 John Cooper would have had many thoughts on his mind when he tried to convince a deeply sceptical Alec Issigonis that the latter's still-new Mini could be as successful on the rally stage and racetrack as it was at bringing customers to showrooms. But starting a relationship that would remain key to the Mini proposition nearly 60 years later was probably not among them.
Issigonis resisted, but his bosses at BMC could see that a warmed-over Mini bearing the name of the current Formula 1 World Champions would be a potent force in the showroom. And so in 1961 started the 10-year story of the original Mini Cooper, progressing through three generations of Mini, five different engines, standard and 'S' versions until the car had been made a film star, a fashion accessory and a competition whizz-kid with three Monte Carlo rally wins the highlights of its success in motorsport.
Berwyn Jones' family owns the rare, 1961 Cooper featured here. Bought new in October of that year, by the local doctor who was a close family friend, it was passed on to the Jones family in 1977. Berwyn used it on a regular basis until the mid-1980s, when he decided to carry out a restoration. These days, it mostly attends shows.
"The car is the same age as me, two months older, so the car and me will be 60 next year. It has been with me so long I wouldn't think of parting with it," says Berwyn. The Cooper gave the Jones family the bug, as they now own no less than 10 Minis. Oh, and a Wolseley Hornet.
"Issigonis was ahead of his time, responding to the oil crisis, turning the engine the other way around, putting the drive through the front. He set the template." At the time of meeting, Berwyn and family say they don't have anything planned to mark the 60th anniversary of the Cooper – "…but we'd like to if we can." It's a sentiment countless fans of the Mini Cooper will echo.
There is not time to detail all the Coopers here, but all came with tuned engines with twin carburettors, disc front brakes and close-ratio gearboxes. All were made in reasonable numbers save the 970cc 'screamer' of which fewer than 1000 were made and far fewer survive.
To drive any is a hoot, but it is the S models that best fulfil the promise of the Cooper badge. They are actually a real challenge to drive fast, not because they're treacherous but because there's a very definite technique required to get the most from them. Even the 1275cc cars don't have much power by modern standards (unless race-prepped), so it's all about maintaining an ambitious entry speed, scrubbing off excess speed before the apex and, above all, trying as hard as possible not to laugh yourself off the road. Light, insect-agile and flooded with feel, even today it's highly debatable whether a front-wheel-drive car with more enjoyable handling has been made.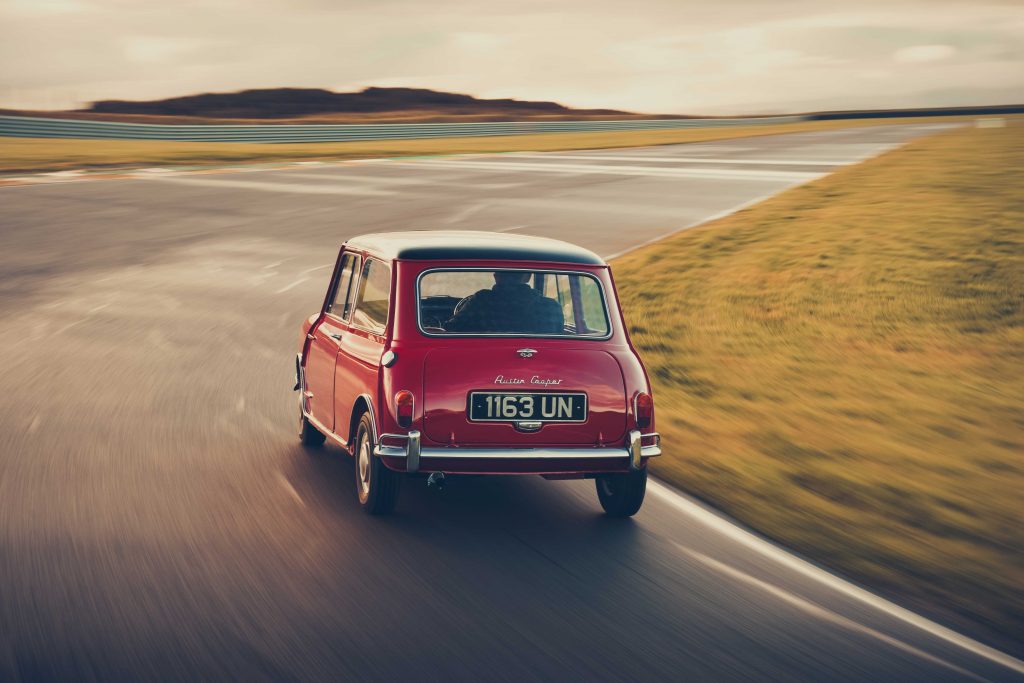 As remarkable as the drive is the car's packaging. Parked alongside any of our other Bull Market list cars, the Mini Cooper is a postage stamp in a sea of envelopes. Yet when you get in, there's enough room for four people, while the boot has the original false floor (so widely used today). Peering through the boot, Berwyn Jones points out the apertures left from when the car was assembled using a rotisserie spit.
Next year, come what may, the community will find a way to come together and mark the 60th anniversary of this remarkable car. We look forward to joining the celebrations.
1961 Mini Cooper
Engine: 4-cylinder, 997cc
Transmission: 4-speed manual, FWD
Power: 55bhp @ 6000rpm
Weight: 584kg
Hagerty value condition #2: £24,100
2019 Hagerty value condition #2: £24,100
Hagerty 12-month value change: No change
Values of all variants of the Mark I Austin/Morris Mini Cooper have been increasing in value over the past few years, but Hagerty believes they have the potential to rise again in 2021, thanks to the 60th birthday. The first 997cc model now seems somewhat undervalued, given the prices asked for its later, larger-engined brethren. Plus, with just 1000 examples made, the early Mark I Mini Cooper 997 is a very collectable classic.
1988 – 1992 Porsche 944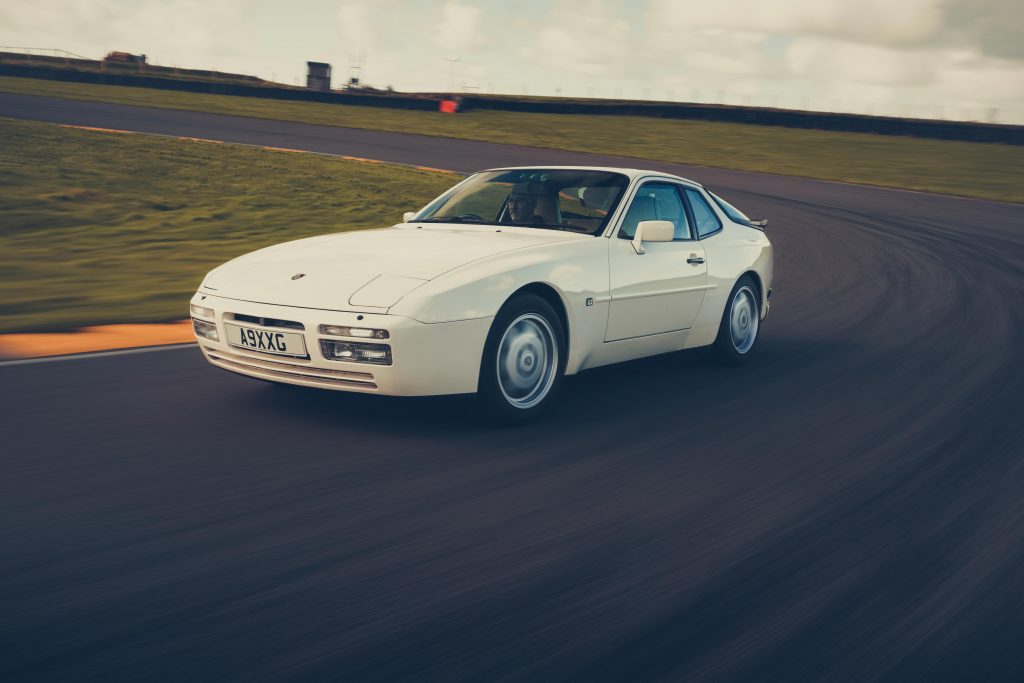 Like all the best sports cars, the Porsche 944 was forged in motorsport. Wait, you're thinking, it's an evolution of the 924 – itself, in fact, developed from the cancelled Volkswagen EX-425, a project to create a sports car for VW. But with many Porsche fans underwhelmed by the Audi-sourced 2-litre engine in the 924, Porsche needed something that would enhance rather than harm its reputation. Not one to do things by half, the company wheeled out the 924 GTP LM endurance racer, ready to take on the 1981 Le Mans 24 Hours with a new, 2.5-litre inline four-cylinder engine. It came seventh overall and won its class, and by 1982, the road-going version was launched with a toned-down version of that same engine; the Porsche 944 was born.
The owner of the car seen here, Mike Pollock, stumbled on the 944 when looking for a replacement to his Lancia Beta HPE. "I wanted another four-seat coupe, and when a friend of mine bought a 924, it led me onto the 944. Now I own three, although I have owned seven in total, and I use them every day. They're just great to drive and very easy to live with."
It's not hard to see Mike's point. His 1990 S2, complete with its 3-litre, inline four-pot – up in power and capacity from the 2.5- and 2.7-litre units of early cars, and not far behind the Turbo despite being naturally aspirated – is every inch the purist's daily driver.
Even with 143,000 miles showing, the engine feels smooth and generous in its power delivery, with the sort of instant, linear delivery that encourages the driver to confidently call on all 208 horses under the bonnet.
It's one of those cars that requires barely any conscious thought to drive quickly. The driving position is almost bum-on-the-ground and easy to get comfortable in. The dials are simple and clear, the steering wheel a pleasure to hold, the pedals nicely placed. It's all exactly as you'd want it, right from the off.
With a near-perfect weight balance, the front-engined, rear-wheel-drive 944 also feels delightfully light-footed and responsive. Yet there's a pliancy to the 944 which, after all, is designed to be a car for the daily commute as much as for satisfying a bit of weekend corner-craving. But it balances that dual purpose perfectly. The engine loves to rev and the steering is communicative and predictable, yet there's a useful amount of space for a couple of rear passengers, and a boot big enough to take a week's worth of gubbins for a holiday away.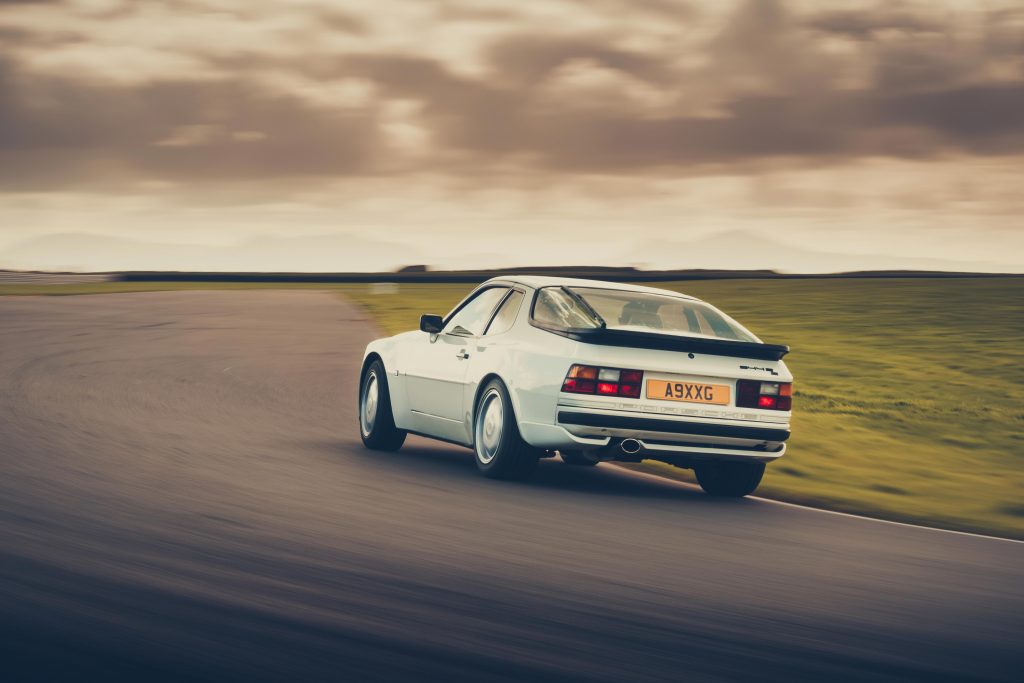 They're reliable, too. "Rust in the sills is the first thing you look for," says Pollock. "You can look through the vent in the B-pillar to see the state of the inside, as they rust from the inside out. Otherwise, they're mechanically very solid."
It even looks cool, with the huge rear window, sleek nose and pop-up headlights. Long gone are the days of the 944 being viewed as the poor man's Porsche. It is, in fact, just about the ideal attainable, fun and easy-living classic. Buy one now, or somebody else will.
1991 Porsche 944 S2
Engine: 4-cylinder, 2990cc
Transmission: 5-speed manual, RWD
Power: 208bhp @ 5800rpm
Weight: 1310kg
Hagerty value condition #2: £17,550
2019 Hagerty value condition #2: £16,650
Hagerty 12-month value change: +£900 (+5.4%)
The 944 is a cracking car, and with examples still available for just a few thousand, they're the new people's classic. Our pick of the bunch is the naturally aspirated S2. More drivable than the Turbo but with just 10hp less, the 3-litre S2 briefly shot up in value in 2016, and after a quick correction has been gaining steadily in value ever since. Now, we're seeing the best examples selling for in excess of our top Hagerty Price Guide figure: always a sure sign values are moving. We feel our average value of £17,550 will rise.
1986 – 1991 Renault 5 GT Turbo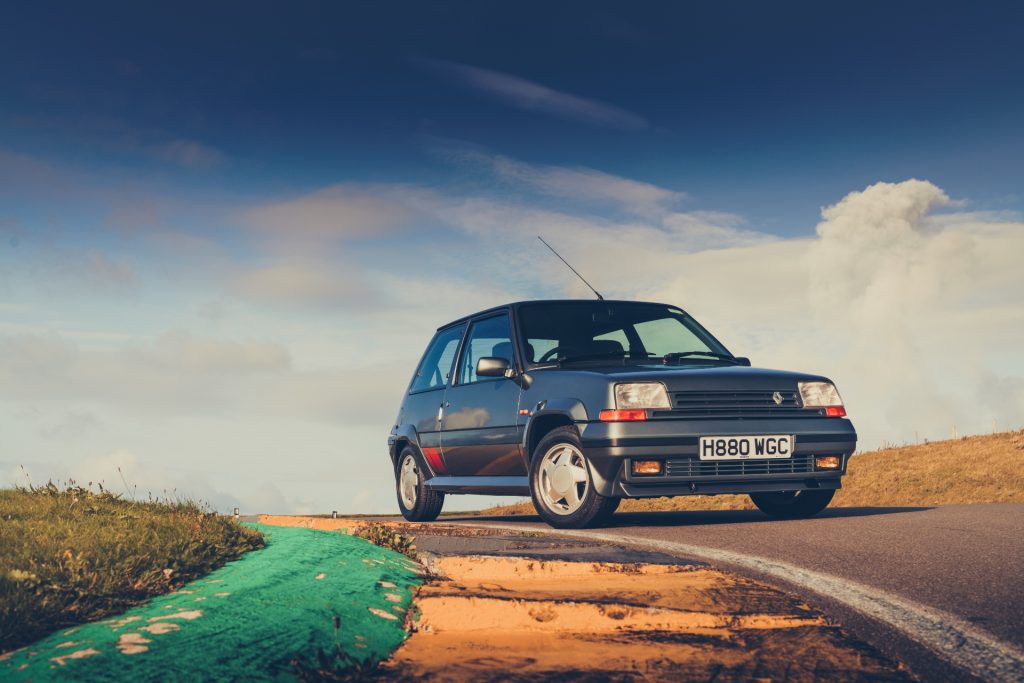 This story began in 1980 with the most unlikely of cars. A boxy-hipped, vented monster, the original 5 Turbo had its 1.4-litre engine mounted behind the driver, where it sent 158bhp to the rear wheels. Rally-spec cars such as the one that Jean Ragnotti won the 1981 Monte Carlo Rally in produced more than double that.
As rallying changed forever with the arrival of Group B in 1982, Renault took the more conventional approach of attaching a Garrett turbocharger to its front-engined, front-wheel drive Renault 5 road car. The Renault 5 Gordini Turbo was born, and the template was set for the second-generation GT Turbo that we have here – which arrived not long after the new generation of Renault 5, in 1984.
Muscling the 5 GT through Anglesey's very own corkscrew section of downhill twists and turns, the little hatchback feels raucous. There is direct, unassisted steering, a surprising amount of traction and an unabashed sense of hooliganism. This late, post-facelift example has 120bhp—around 110bhp of which is brought to its driver courtesy of the Garrett turbocharger, in a brief yet hilarious climax somewhere north of 4000rpm. It's no shrinking violet, then, especially in a car weighing so little.
Not much changed between that first GT Turbo and our 1990 example. A facelift in 1986 brought water-cooling and raised the power from 115bhp to 120bhp, but as you sit behind the spindly three-spoke steering wheel, eyeing the possibly even spindlier A-pillars and a dash that appears to have been designed by Casio (and made from the same plastics as its calculators), it's not hard to see and feel the 1980s roots here. Certainly, the Peugeot 205 GTI that was the Renault's nemesis feels a touch more modern inside, and it handles with zen levels of poise and precision compared to the blunt but bullishly fun 5 GT.
It pays to be mindful of the performance of the brakes as you hunt the high-rev stampede as the turbo finally kicks in, because the anchors are nothing if not vintage. Despite being vented discs up front and solid discs at the back, the brakes are quick to fade and not terribly good at stopping even when they are on form – especially for a car that is (technically) capable of 125mph.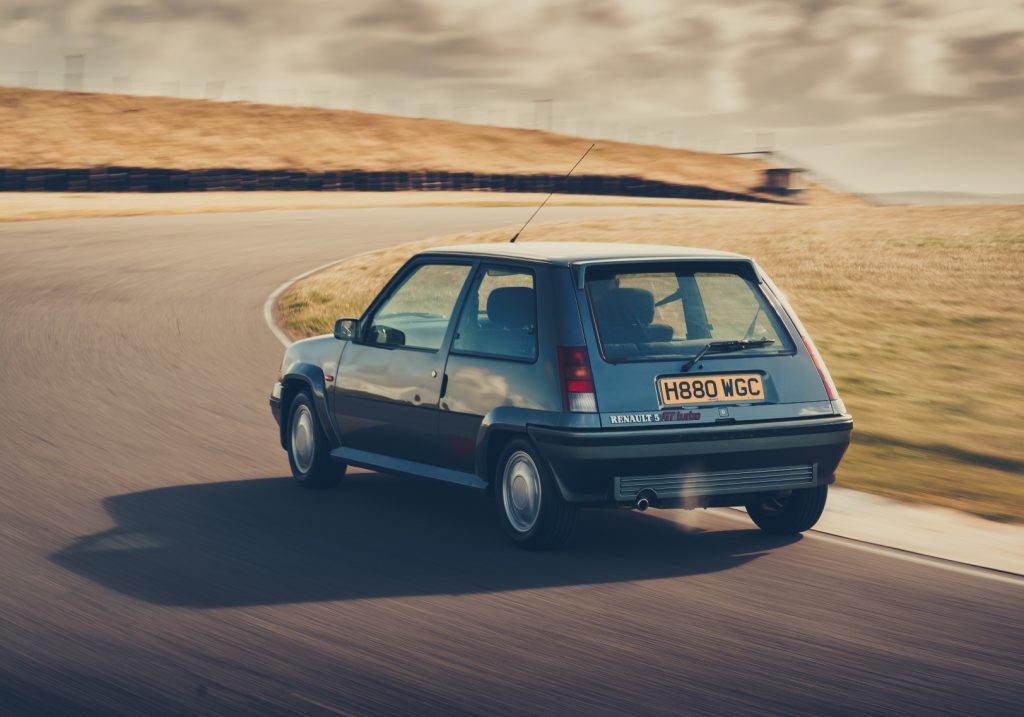 Don't let that put you off. Modifications could address such deficiencies. And when it comes to buying a fun, affordable classic, with the Renault, you're getting a car that feels alive at normal road speeds and distinctly different to anything modern. We should also stress the affordability element; you can get a decent Renault 5 GT Turbo for about half the price of an equivalent Peugeot 205 GTI, and what the little Renault lacks in finesse next to the Peugeot, it makes up for in swagger. Its price is starting to jump up, though, so buy quickly or this most bombastic icon of the hot hatch era could quickly become too valuable for its own good.
1990 Renault 5 GT Turbo
Engine: 4-cylinder, 1397cc, turbocharged
Transmission: 5-speed manual, FWD
Power: 120bhp @ 5750rpm
Weight: 853kg
Hagerty value condition #2: £12,900
2019 Hagerty value condition #2: £9300
Hagerty 12-month value change: +£3600 (+38.7%)
Hot hatches are the modern classic cars of the moment, combining performance, 1980s style and practicality. Values of popular models – the Volkswagen Golf GTI Mk I, Peugeot 205 GTI and Ford Escort XR3i in particular – have soared, but one is still obtainable, and it's more powerful than them all: the Renault 5 GT Turbo. With the Renault 5's looks, flared arches, and 115bhp on tap thanks to the Garrett turbo, its current value of £12,900, although appreciably up from 12 months ago, still looks as if it has significant potential to climb.
Toyota MR2 Mk III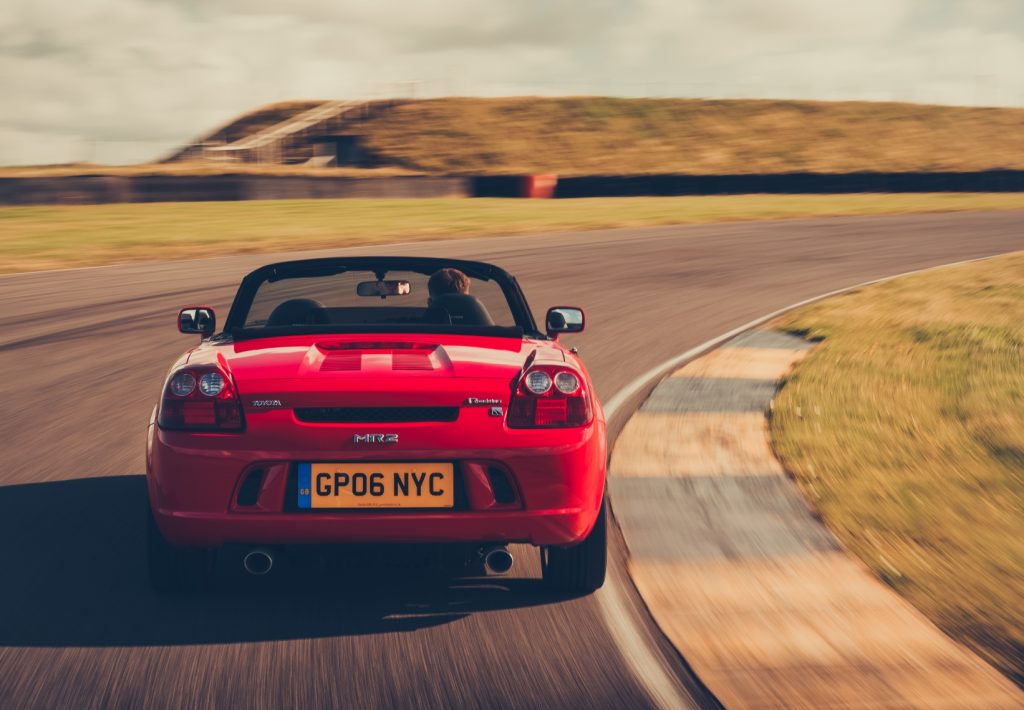 It's a puzzle why the most recent Toyota MR2 has not gained more respect with the car enthusiast community. Also known by the code-name W30, it is mid-engined, high-revving, rear-wheel drive, lightweight, and cheap to buy and run. In short, it's a better budget weekend toy than a Mazda MX-5 or Porsche Boxster, in just about every way.
Perhaps the only thing that the third-generation MR2 struggles to deliver is a useful amount of storage. Provided you can stuff enough of your belongings in the cubbies behind the slim but supportive seats for a happy weekend away, it delivers one of the most rewarding chassis for remarkably little cash.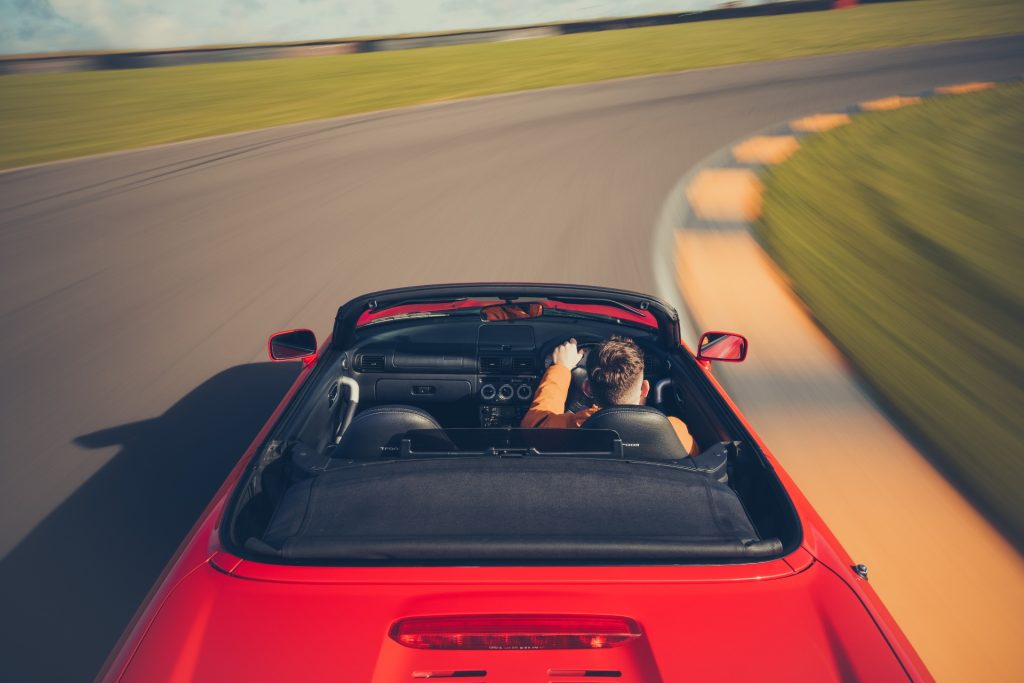 Some reviews of the period compared it favourably to the Lotus Elise. And climbing back into this Toyota GB heritage vehicle after all these years, the delights of the last MR2 come flooding back to us. Even around the faster, sweeping curves that make up much of Anglesey's brave, impossibly picturesque circuit, the MR2 always feels communicative and on its tiptoes; playful enough to thrill, yet talkative and reassuring enough to not be frightening.
Our test car is a late, TF 300 special edition – The Final 300, as it were, which arrived in 2006, some six years after it first went on sale in the UK. It was a brave departure from the MR2 Mk II, which offered a more focussed, power-centric approach and won lasting favour with the tuning and modified car scene. With the Mk III, Toyota went back to the principles of light weight, low power and big fun that started with the dainty, angular Mk I, which is itself an interesting if far rarer classic.
When it comes to the Mk III, there isn't a version that doesn't drive brilliantly. However, it's worth getting one with the six-speed 'box, if you can. It was introduced in facelifted cars from late 2002, and the shift is so light and positive that the gearbox virtually seems to suck the stick through the next gate. Plus, while no MR2 makes for restful motorway progress, the sixth gear keeps the free-revving 1.8 at a more tolerable background thrum.
That four-cylinder, alloy engine is a real gem, too. Of course, the MR2 could cope with much more than the 138bhp and 7.9sec 0-62mph time that it offers, but the enthusiastic climb to peak power at 6400rpm is a huge part of the entertainment. And the real joy is that, between the sweet, immediate handling and the long, predictable build of power, the little Toyota is fun regardless of how mundane the road and speeds involved.
However, the engine is also the only common reliability issue. The alloy, inline four-cylinder '1ZZ' engine has a reputation for allowing oil into the cylinders, causing misshaped bores and a damaged pre-cat, amongst other issues. If unchecked, you're looking at an engine failure, but the 2003 facelift brought improved reliability and many earlier cars have had the issue sorted.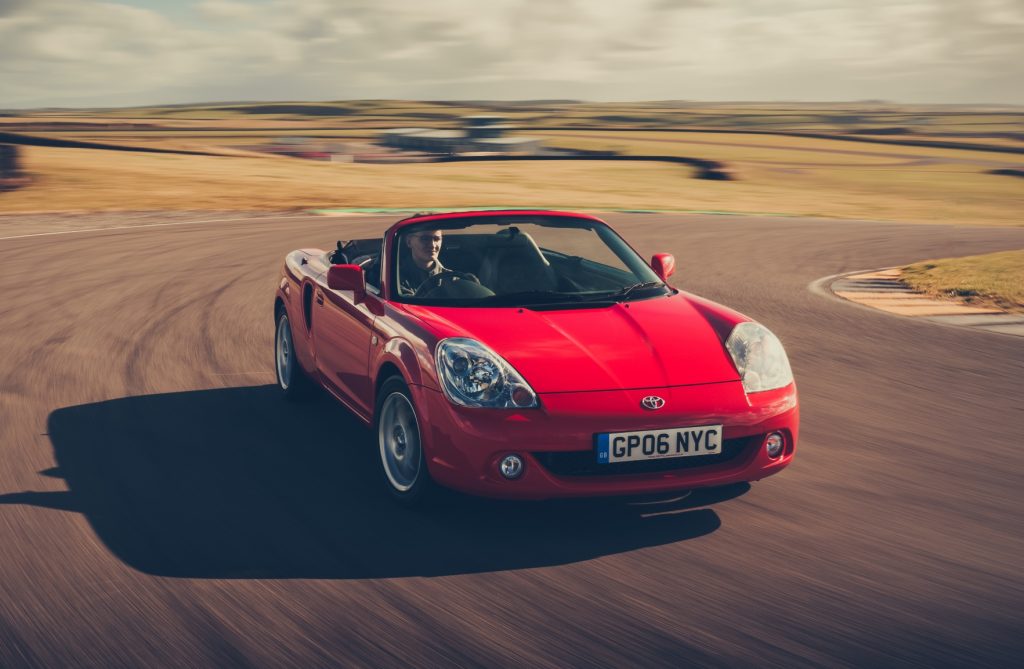 Ultimately, as long as the engine is maintained properly, there's no reason why an MR2 can't do 200,000 miles and more – and you'd enjoy every one of them. What a shame, then, that you won't find an MR2 in Toyota showrooms today. Then again, who knows; perhaps the Japanese company is working on a sub-1000kg electric version that would breathe new life into one of the most underrated roadsters of our time?
2006 Toyota MR2
Engine: 4-cylinder, 1794cc
Transmission: 6-speed manual, RWD
Power: 138bhp @ 5750rpm
Weight: 1,030kg
The Hagerty Valuation Team says
2020 Hagerty value condition #2: £4100
2019 Hagerty value condition #2: £3650
Hagerty 12-month value change: +£450 (12.3%)
How long can a car like the Toyota MR2 Mk III remain a secret? Even a rare unmolested example with Torsen LSD and six-speed gearbox will only set you back a few thousand pounds. Plus, with the exception of a couple of well-known mechanical issues, it has Toyota's robust mechanicals and leather or Alcantara options make the interior not a bad place too. With our HPG 'excellent' value at just £4100, the roadster from Japan seems undervalued.
Tracking the cars' values: 2019 vs 2020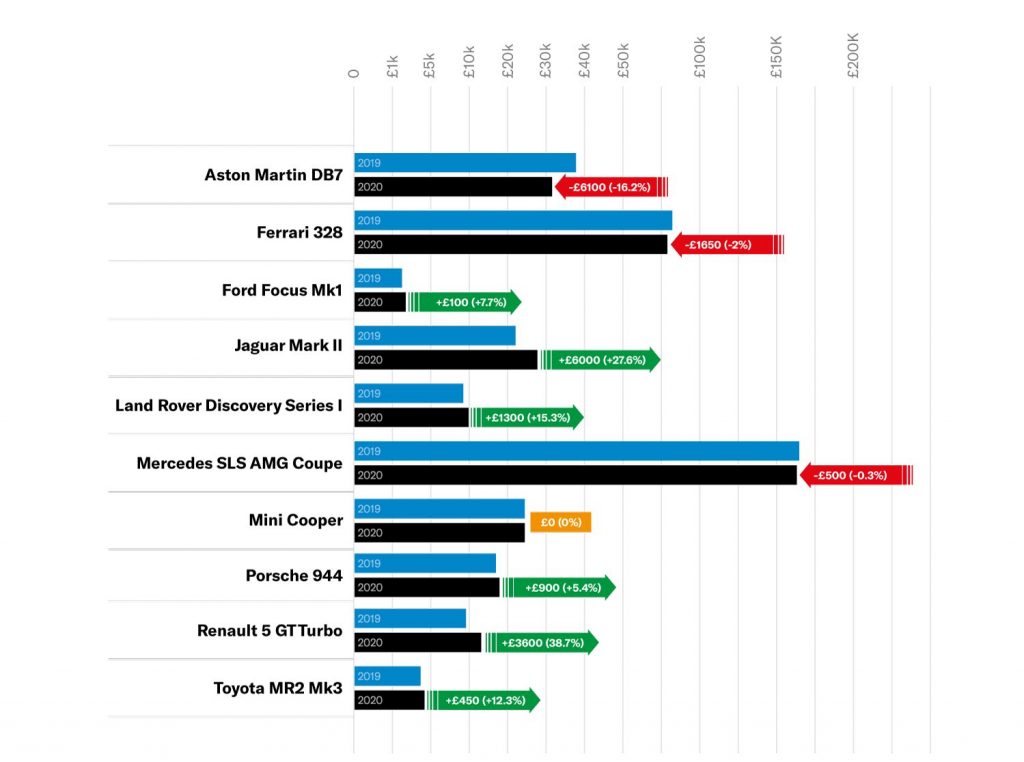 *The values shown are an average of models in all bodystyles in 'excellent condition' – Hagerty Condition #2. These are cars that could win a local or regional show. They can be former #1, concours cars that have been driven or have aged. Seasoned observers will have to look closely for flaws. To learn more about our values, click this link. With thanks to Auto Trader for valuation support.
Click here to see the star cars in the Hagerty US 2021 Bull Market list