I wrote the book on the Mazda MX-5. Well, I wrote a book on the Mazda MX-5. There are loads of them and most probably say much the same thing – that's kind of the risk of writing about something that everyone's already familiar with. Since 1989 Mazda has sold more than a million MX-5s. That's a lot of cars. So there are a lot of books.
Are there books on the MGF? I imagine there must be. For a good spell of its existence it outsold the MX-5, in the UK at least. MG's first all-new sports car of the 1990s (I assume we're not calling the RV8 "all-new", right?) was by latter-day Rover Group standards a bit of a hit, tapping right into the heart of the roadster boom created by the MX-5 at the dawn of the decade.
How much is your car to insure? Find out in four easy steps.
Get a quote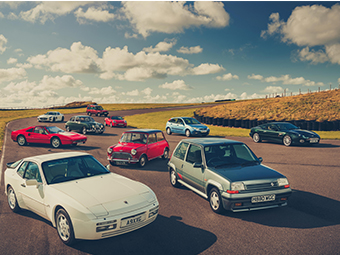 Design proposals came out of Rover itself but also companies like IAD (who'd been involved with the MX-5), but it was the local option, conceived by the then-spectacularly coiffured Gerry McGovern (now design overlord at JLR) and Gordon Sked which won out.
Mechanically it was surprisingly ambitious for its day, MG opting for a mid-engined layout rather than the traditional front-engined, rear-drive favoured by Mazda. The choice was made easier by effectively utilising the K-series-carrying subframe from a Rover Metro, spun through 180 degrees. Steering was electrically assisted – a technology in its relative infancy at the time.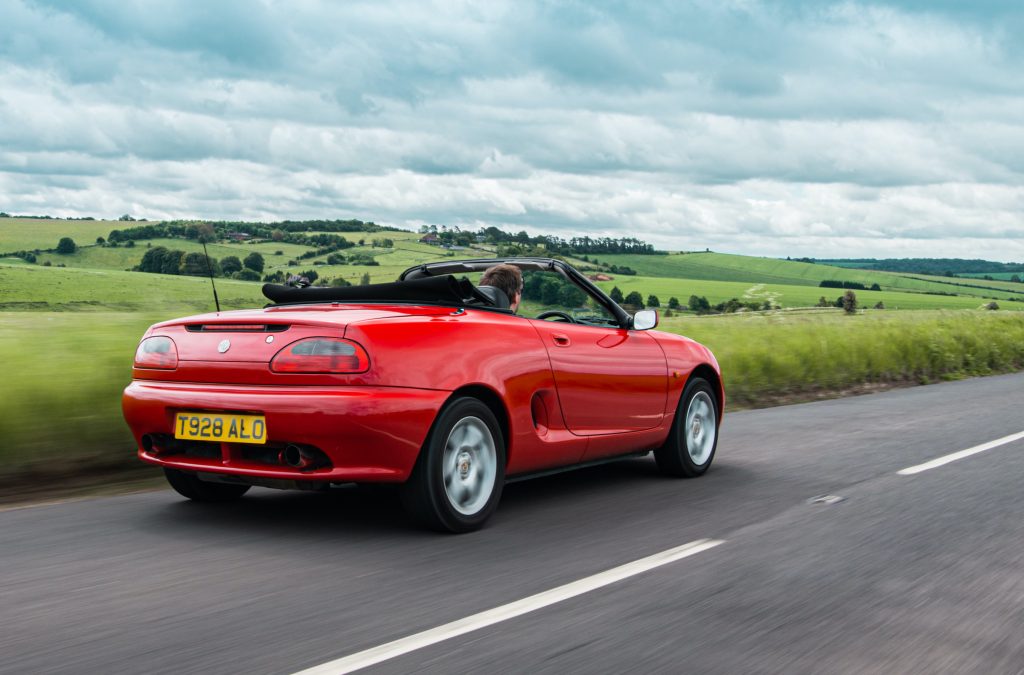 Off the rear subframe, and indeed a similar subframe at the front, Rover hung double wishbones, but the springing medium was the Hydragas suspension design (also nicked from the Metro), with its interconnected, fluid and gas-filled spheres, assisted by conventional dampers. For those unaware, Hydragas is not unlike a simpler take on Citroen's hydropneumatic design, the main difference is that they're always pressurised, and don't require an accumulator. Not quite as clever or versatile, but simpler and cheaper.
An odd choice for a sports car too, which is perhaps why when the MGF was replaced by the MG TF in 2000 – arriving alongside the Peter Stevens-penned and brightly-coloured MG ZR, ZS and ZT – it got a more conventional setup of coil springs and dampers. You can think of the TF as being the "second generation" F, with a final fling between 2007 and 2011, under Chinese ownership, the third.
Reviews were generally positive. Jeremy Clarkson, of all people, called it "one of the best thrills around" writing for Top Gear Magazine in October 1995, despite reservations over the gearing and driving position. Colleague Tiff Needell was less keen, calling it "dull", but that same month in Car Gavin Green gave it the nod over the then-ageing first-gen MX-5, the Fiat Barchetta, and the front-drive Alfa Romeo Spider.
Autocar? A solid four out of five, praising "the best MG since the Second World War" and falling for its looks and secure handling, if not its cabin and fun factor – though by 1998, with a new MX-5 around and despite the arrival of the more powerful VVC, the magazine's review score dropped to a middling three stars. "Lacks the delicacy and intimacy of a true sports car," read that year's Road Test Year Book.
Familiar, yet different
The car we've got today, and the first time I've so much as sat in MG's once-radical sports car, is a 1998 model on Hydragas, and representative of the kind you'll find on the used market for a couple of grand. It's owned by serial MGF and Mini buyer and Hagerty UK Events Manager, Adam Sloman, but was more of an opportunistic buy than the result of a long search, so it's what you might call straight, but not perfect.
What stands out immediately is how much tidier it is than any MX-5 you could get for similar cash these days. Perhaps it's the non-image of the MG brand among the kind of young buyers picking up old MX-5s. Or the gentler, older, less diverse scene, or maybe the MX-5 is just better ingrained in pop culture thanks to being a global phenomenon, but values of like-for-like examples aren't even close.
MG offered a VVC variant – that's Variable Valve Control in Rover-speak – which made 145bhp when new, a figure you'd need a post-2001 1.8-litre MX-5 to match, though this car is the regular 118bhp K-series, more on par with the contemporary 1.6-litre MX-5. But call it four grand to get a Mazda that doesn't need a patchwork of new metal underneath to keep the thing together, or twice that of an MGF. The Brit's a ruddy bargain.
The tradeoff is each car's perceived reliability. I can already hear the furious keyboard-bashing of K-series acolytes before I even mention the term "headgasket", and specialists came up with fixes long ago now. But it's not the hands-off experience you can expect from its Mazda rival and does not have that car's reputation for unburstable longevity.
(As I type, my own Mazda – an RX-7 admittedly – has just spent a month having its engine rebuilt as a precautionary measure. I therefore stand in solidarity with K-series owners, those with early water-cooled 911s and Boxsters, and others whose cars most people are too afraid to touch. May our time bombs all tick in terrifying unison.)
Anyway, while this car is running as it should, the previous owner has nevertheless fitted a loud siren and bright red LED to warn of low coolant, since there's no better cure than annoying and persistent nagging. Otherwise, everything is standard. Until you start it, when a Milltek silencer makes its presence known. But everything other than that. MX-5 fan duly baited.
On the road
The Rover Group did some fantastic colours back in the 90s, and while bright red wasn't one of the more imaginative ones, it's always suited the F's shape and was found on most of the early press cars. It's a good-looking car, don't you think? That cornering shot above is probably its best angle – it's a little too lozenge-like from the side and a bit tall at the rear, but the friendly face taps into that bright and optimistic 1990s energy, and the black windscreen surround keeps the visual mass nice and low.
Early observations include doors that shut with a clang rather than a thunk but an otherwise solid feel to the cabin, and a teetering seating position on the otherwise comfy chairs. The hood, meanwhile, is a bit fiddly. Ours protests at folding down as far as it should and flaps about a bit in the mirror, but it was a nice day, so I quickly forgave and forgot. In return, my forehead ended up the same colour as the MG's paintwork.
There are several things the F does well. Better than an MX-5 in fact, and probably better than other rivals from its production run, such as the BMW Z3, Fiat Barchetta or Toyota MR2.
The easiest one to identify is ride quality. The Hydragas setup really works, soaking up ripples and lumps like a much larger vehicle, if not enough to stave off scuttle shake. It's not as luxuriously wafty as one of Rover's contemporary saloons, but just like the similarly-suspended Metro showed up its Fiesta rival as being a bit lumpy, it's definitely among the better of its peers and takes the sting out of most B-road cragginess.
The K-series is sharp. Sharp in throttle response, and sharp in engine note, enhanced by that Milltek, which gives it a rasp like a grid full of race-spec MGFs – hands up who used to follow the one-make championship? – but also pleasingly raw and old-school. I'd not rank the F's engine as one of the all-time great four-cylinders, but it's got pep and enthusiasm. Ironically though, given MG ownership is synonymous with a bit of weekend tinkering, there's an almost total lack of mechanical accessibility because of that mid-engined layout.
It's also a bit hobbled by yawning gear ratios that take much of the snap out of the unit's delivery, but it's far from a deal-breaker and does make things easier on the ear at cruising speeds. The shift itself is also good. Not legendarily snappy like that of an MX-5, but pretty slick for one connected by cables to the engine behind you. MG placed the pedals correctly too, so a good heel-and-toe blip is never far away from the well-weighted brake pedal.
And for all that, I still prefer the million-selling Mazda.
In broad, sweeping terms, the MGF feels a bit like a sports car-adjacent experience, something designed for people whose corner-carving days are behind them but still aren't quite ready for the back-seat tartan rug. That admirable ride quality is emblematic of the whole car: it's rather nice not to be shaken to bits, but of all types of vehicle, surely the one where you can compromise at least slightly on comfort is a two-seater roadster. Once you meet the functional needs of a car's ride quality – i.e. not so stiff the tyres lose their hold on the surface – then you can concentrate on other qualities, such as precision, feedback and balance.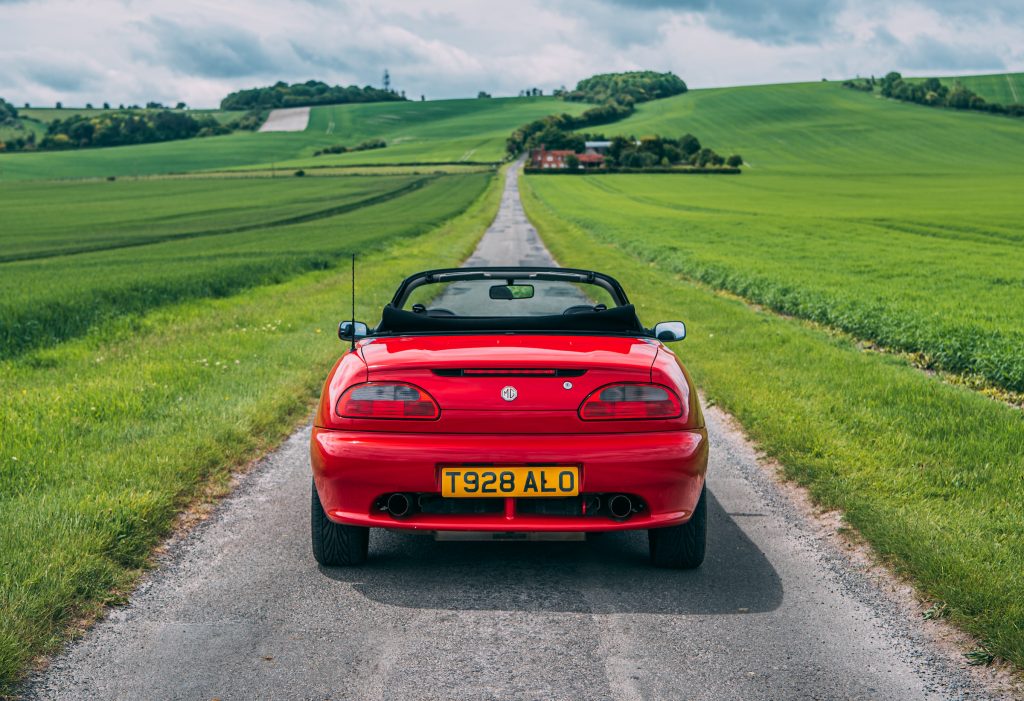 An MX-5 has these in abundance and it's hardly stiff as a board itself, but for my tastes the MGF trades a little too much interaction for its easy-going gait. For an owner trading up from a contemporary Rover 200 or similar back in 1995, it probably felt great. It's just responsive enough and just balanced enough to feel suitably sporty, and of course you can drop the roof, which improves everything from a trip to the shops to a European tour.
And with fairly quick steering, modest dimensions and good grip, the MG can be a bit of a hoot in lower-speed, tighter corners. There's a bit of roll but it's not all at sea, and with a little weight transfer and a hefty prod of right foot you can even coax it into small, easily corrected slides. It doesn't quite feel comfortable driven like this though, whereas its Japanese rival enthusiastically demands it, like a kid dragging you into a sweet shop by your jeans.
Lest you think I'm just being a yob, the kind of easy, on-its-toes, fingertip-pleasing feel you get from the Mazda is something the F's own predecessors, the Spridget and MGB, always did so well. The qualities that define cars like this are never more vivid when you're skidding about a bit at low, manageable speeds, balancing the controls and living out those Jim Clark fantasies, but they also percolate through the best cars from the moment you turn the first wheel, whether classic Lotus Elan or barmy new McLaren.
Still, coercing a bit of hard-won, low-speed silliness is better than driving this particular car at higher speeds. There's a deeply disquieting float and wallow which to me feels like a complete absence of damping, but owner Sloman and indeed MG club forums suggest is a symptom of different tyre brands front and rear. Swapping my roadster enthusiast hat for an old-timey journalism one for a second, I'd question whether something as simple as mismatched (but entirely legal) tyres at each end should cause genuinely scary behaviour at as little as 50mph or so. People take road trips in cars like this, and should you pick up a puncture, there isn't always the option of replacing a full, matching set.
MG Fabulous?
So it's nearly there, the MGF, but between the soft suspension, the minimal feedback, and a chassis that's at its best at a canter rather than a gallop, I'm not yet a convert. If its closest rival was designed to take away the hassle of those 1960s classics but kept the best bits, the MGF feels more like it wanted to capture their image rather than the experience.
There will be people reading this who disagree, or think I'm being unfair. There will be others who know MGFs inside out and are familiar with modifications that vastly improve the cars' characteristics. There will be some who think my own beau, the MX-5, is just some characterless Japanese appliance, though given the Mazda is older, easier to work on and rawer than the MG, I'd be inclined to disagree.
What I'd say in return is that I still genuinely enjoyed my first MGF experience, and that there's no disputing that they're currently a bargain for those seeking roof-down, fair-weather enjoyment. Road testers have a habit of looking a bit gloomy in photographs (you'll be pleased to know it means we're paying attention to the road, and not the camera) but I promise I spent most of the day with a smile on my face.
That said, my opinion on the car probably wouldn't change a great deal if I'd driven a perfect or even modified example of the car (though the later Trophy 160 model is intriguing). With a few exceptions, most of the Mazda MX-5s I've driven over the years have been low-budget, used-market cars in need of at least a little work, comparable to this car. They've all delivered a more involving, more focused sports car experience, whether at walking pace or on a track day.
Despite my misgivings, I'm glad to have given the MGF a chance, and now feel better qualified to appreciate its abilities as more than just a curious and semi-educated observer. But if you need someone to write a book on one, you might be better off asking elsewhere…
Thanks to Adam Sloman
Also read
The Mk3 Volkswagen Golf GTI is not as bad as we're told
Retro Rewind: Mazda MX-5 1.8i vs MX-5 R-Sport
Buying Guide: MGB Roadster and GT (1962-1980)