Fifty years ago, Fiat brought mid-engined sophistication to the masses with its X1/9. The TR7 was Triumph's riposte, but was it ever enough to restore faith in the UK's once great sports car industry?
You could say that the writing had been on the wall for some time. In 1968, British Leyland Motor Corporation's multi-brand offering included some of the most successful mainstream sports cars in history. The MG Midget and B, Triumph Spitfire and TR6 were all in their prime. But by the mid-'70s, their '50s-derived design and engineering was wearing thin, and the market was ripe for a new kind of affordable sports car. This time, though, it came not from Britain, but Italy…
Take a bow, the Fiat X1/9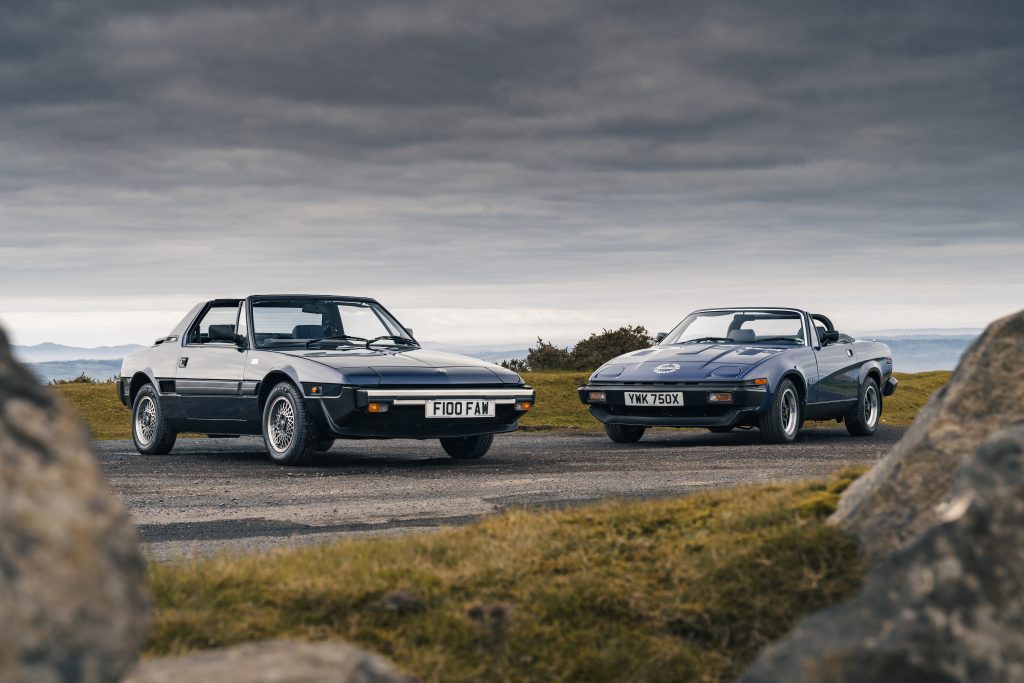 Launched 50 years ago, in 1972, the Fiat X1/9 gave a shot in the arm to the enthusiast car sector. Its clever mid-engined platform was a revelation at such a low price, and its futurist wedge design was right on point for buyers ready for a new flavour of sports car. That it was intelligently packaged, practical and drove like a dream must have been the worst nightmare for Triumph, MG et al.
They may already have had an inkling, though. In 1969, Autobianchi had shown an alluring concept based on its A112 model, called the Runabout Barchetta. Fiat purchased Autobianchi soon after, and the concept was put on ice, until company chief Gianni Agnelli realised that it had the makings of a perfect successor to the company's 850 Spider.
Development started immediately, with Fiat using its all-new and highly advanced front-wheel-drive 128 model as a base, but re-engineered with a mid-engined configuration. Design of the X1/9 was by Marcello Gandini at Bertone and its 128-derived 1290cc, inline-four engine by Aurelio Lampredi, which gave the car instant provenance from the creators of the Lamborghini Muira and Ferrari V12.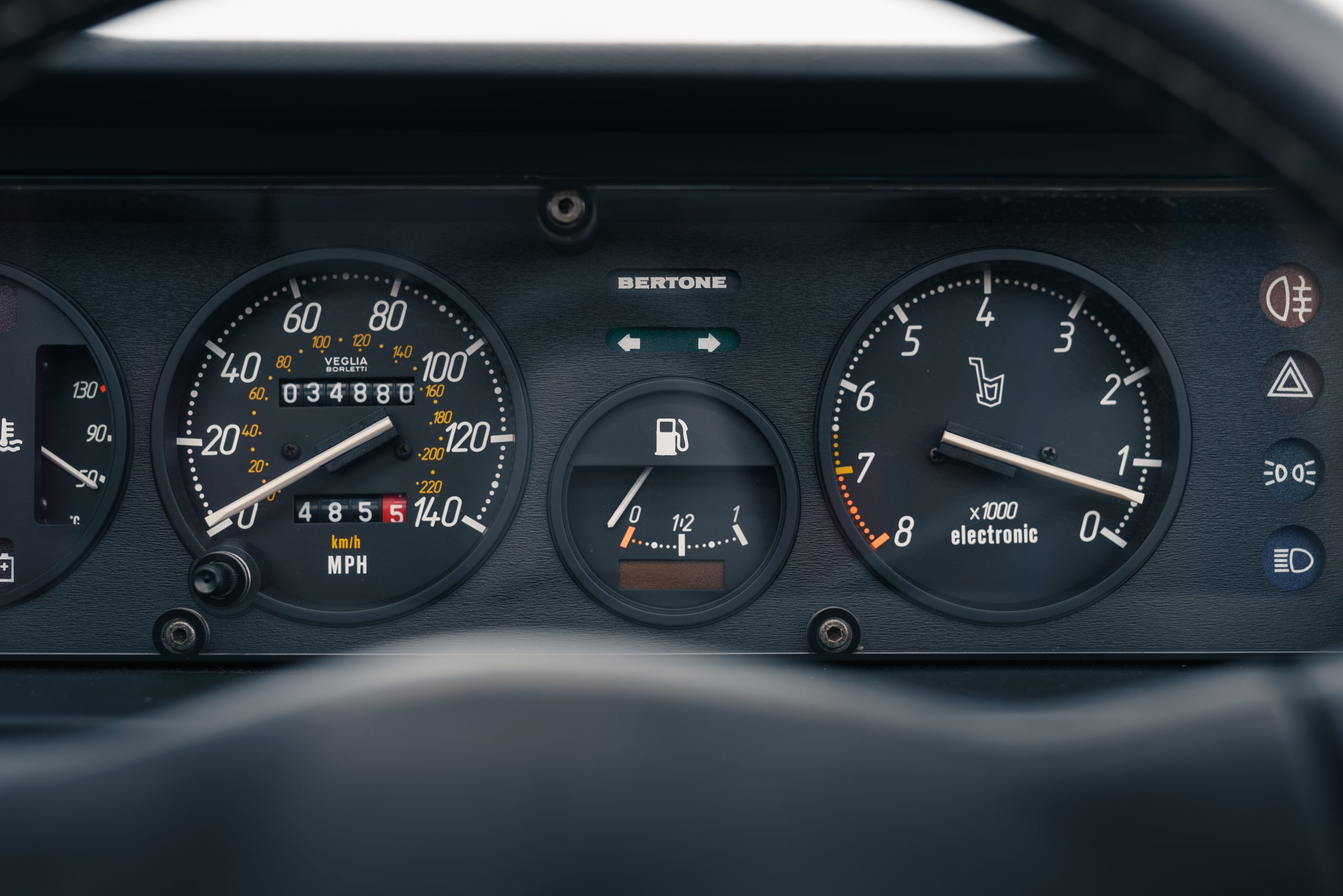 Mounting the high-revving, 73bhp engine amidships, gave the car a rearward bias for good traction, but confined major masses well within its axles, giving it highly responsive handling. The 128's MacPherson struts were employed all-round, and braking was by un-servoed discs at each corner.
The X1/9 was immensely practical. There was a generous boot at the front, large enough for not just luggage, but also for its targa roof panel to slot neatly above any contents. An additional boot behind the transverse engine, was also good for two soft overnight bags.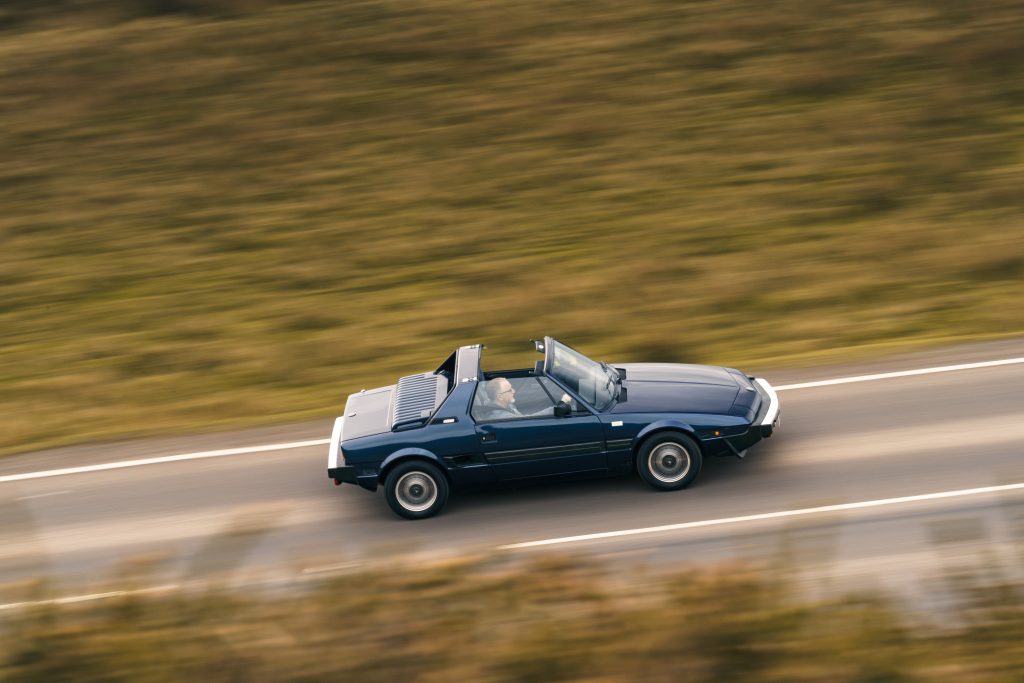 It was safe, too. Anticipating new US safety regulations, the X1/9 became one of only two cars to pass the impending 50mph head-on crash tests. However, the extra weight needed to make it so strong (which still only contributed to an 880kg all-up figure for the first-series model) blunted performance somewhat, with 100mph being only just attainable.
Which is why, despite a positive press reception, Fiat's UK importer opted not to take the car after its debut at the Turin Motor Show in 1972, holding out for a more potent 124 Spider replacement that never materialised. But in 1977, it finally grasped the nettle, and never looked back. Despite Motor magazine only achieving a maximum speed of 97mph and a 0-60mph figure of 12.2 seconds, its tester proclaimed: '(The X1/9) is stylish, fun to drive, economical and next to our own ageing rag tops is about the nearest you can get to real wind-in-the hair motoring at the price…What a car it would be with a bigger engine, though!'
Which is precisely what the X1/9 received the following year in time for the facelifted model's world debut at the British Motor Show in October 1978. Taking the new Strada model's 1500cc version of the Lampredi engine, the X1/9 became the car it always should have been. With power now up to 85bhp, as well as a commensurate lift in torque, performance was markedly improved. While it was hardly the cheapest car in its class (at £4,575 it was £579 more than the then 16-year-old MGB), it resonated with buyers, and even when Fiat stopped final assembly at its Lingotto plant in Turin in 1981, Bertone continued full production, re-badging the car as the 'Bertone X1/9'.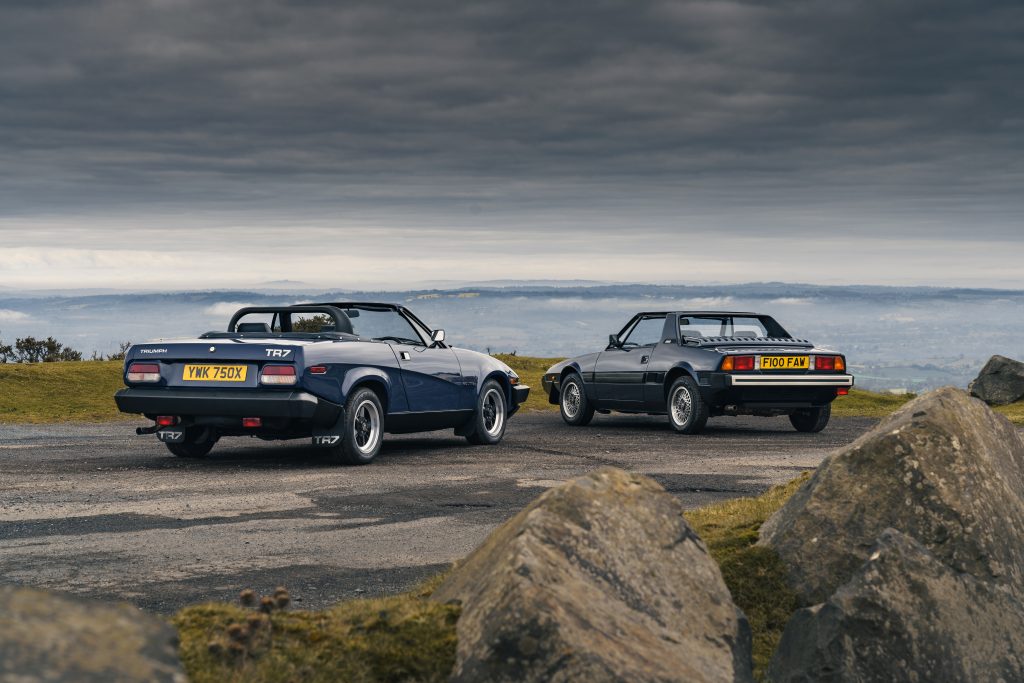 Production drew to a close in 1989 after 17 years, with 160,000 X1/9s sold, 15,000 of which reached UK shores. But as Motor opined when it welcomed the X1/9 to its pages: 'Its closest rival is Leyland's TR7…'. But exactly how close was it?
The TR7 brought a tear to Giugiaro's eye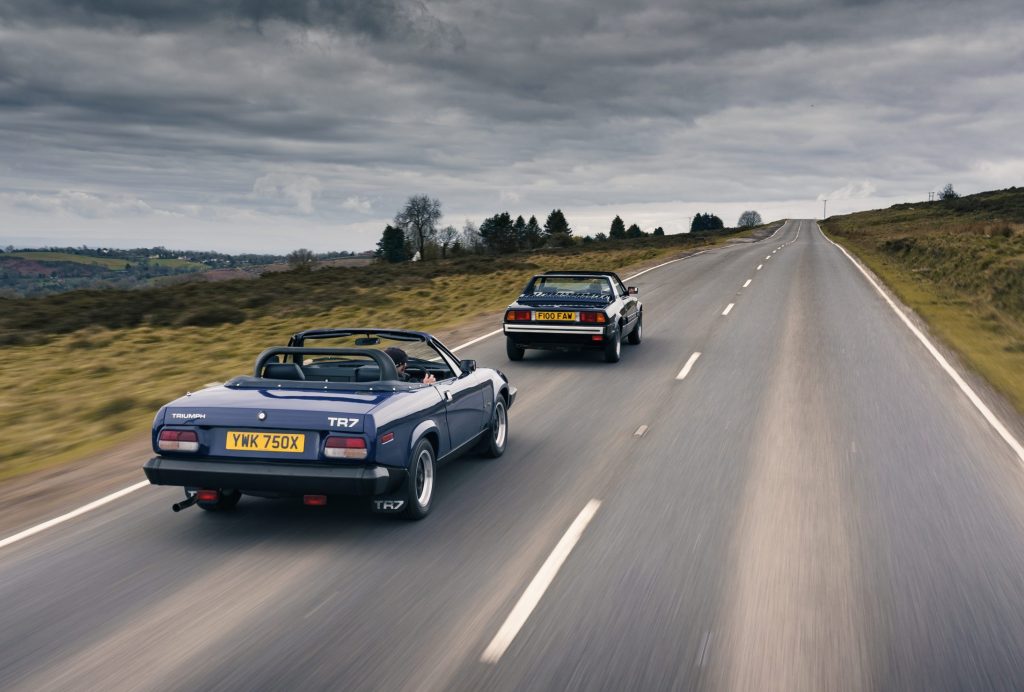 "Oh my God! They've done it to the other side as well."
Allegedly, these were the words uttered when Giorgetto Giugiaro saw the TR7 coupé at its Geneva Show debut in 1975. The legendary designer had mistakenly assumed that the car on display was a concept, split, as they often were, to show two design approaches. But what he actually saw was Triumph's new two-seater sports car in its final production guise.
To find out why the TR7 looked the way it did you need to go back six years to 1969. MG and Triumph, despite both being owned by BLMC since '68, remained rivals. So when Corporation chief Donald Stokes decreed that a new sports car was needed to mitigate lost US Triumph and MG sales due to the launch of rivals like the Datsun 240Z and Porsche 914, each brand started to develop its own new sports car.
Interestingly, MG's – known as 'ADO21' – was mid-engined, whereas Triumph's 'Bullet' concept was configured as a more conventional front-engined, rear-driver. Only one car was to be approved for production, and with US-buyer feedback equating conventionality with reliability, Triumph's proposal won the day.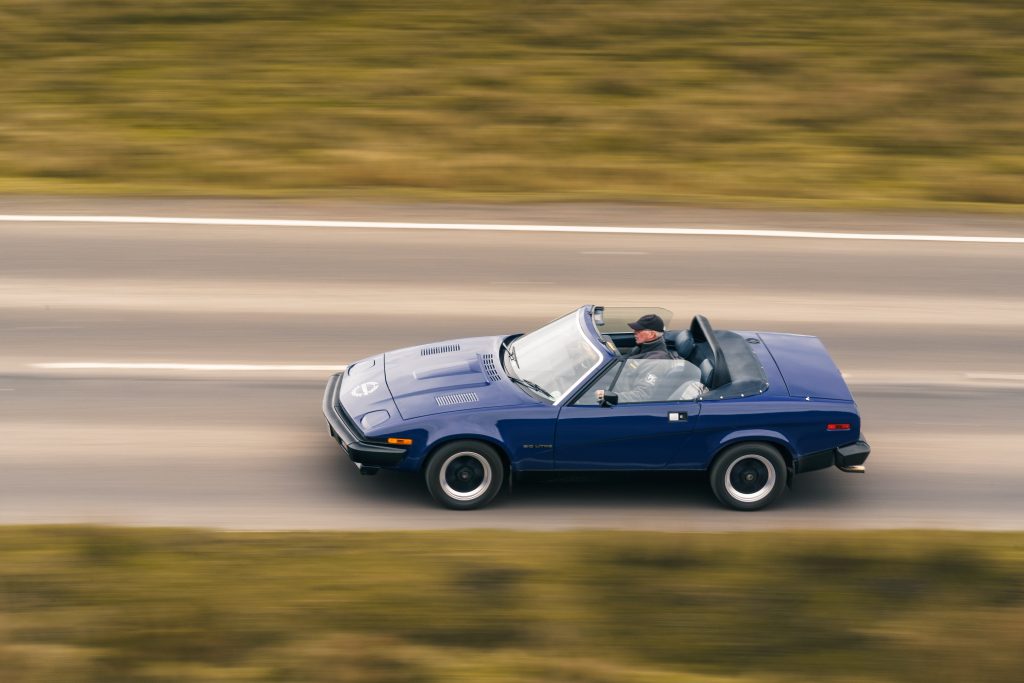 With Spen King heading up engineering development of the new car, Harris Mann, fresh from designing Austin's new Allegro, was drafted in to the programme. Dead set against giving the new Triumph a traditional look, he later told Classic Cars: "Subconsciously, I was influenced by the Lancia Stratos. That car, with its low front end and interesting body design features, gave a completely new look to the sports car."
Originally conceived with a targa-top, the TR7 eventually appeared as a fixed-head coupé, with Triumph initially fearing US regulations would kill off open-topped cars. Its radical design, which cleverly integrated the US-mandated 5mph bumpers from launch, while introducing a distinctive swage line from its bustled rear to its ultra-low front end, disguised a well-engineered car, but one with orthodox underpinnings. The Dolomite's slant-four engine was uprated to 1998cc (the Rover V8-powered TR8 came later) and mated to a four-speed gearbox (later five-speed). Suspension was by a well-located live rear axle and independently sprung at the front, with braking by front discs and rear drums.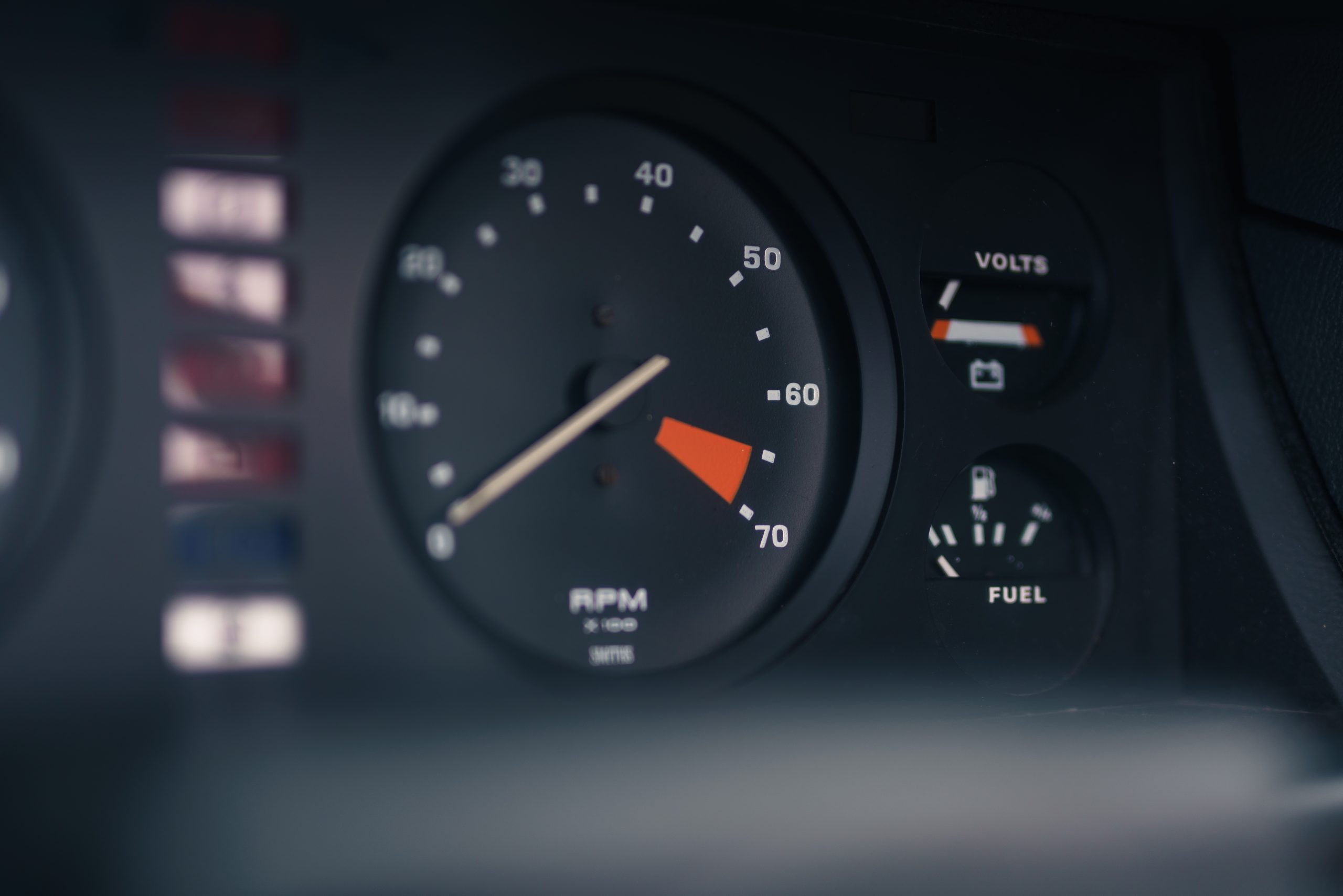 With first cars from Triumph's new Speke factory going to the US, UK sales didn't start until May 1976, the British press praising the TR7 cabin's practicality, size and comfort, but remaining polarised over Harris Mann's exterior design. That changed in 1979, with the launch of the Michelotti-designed convertible, which was altogether easier on the eye to buyers. It was also marginally lighter (by 20kg) than the coupé, despite having a strengthening box-section added to tie together the B-posts, as well as reinforced quarter panels.
All of a sudden, Triumph had an answer to Fiat's newly revised X1/9 1500 – they were even priced comparably, the Fiat only costing around £400 less in 1980. Alas, production woes linked to industrial action resulted in variable quality for the TR7, and despite a warm press reception to the convertible after its UK launch in March 1980, by May the following year BL announced that it was to end all TR7 production, with the last cars rolling off the line that October. In all, 115,000 TR7s were built during its six-year production life, nearly 29,000 of which were convertibles.
Driving the X1/9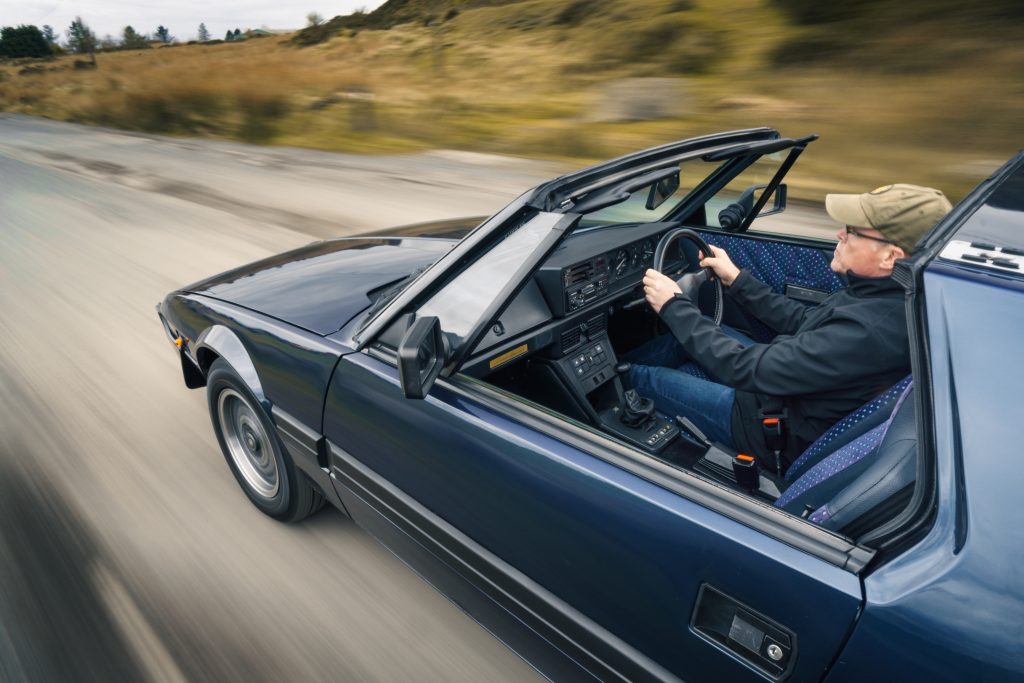 Andy Rowley's immaculate and original 35,000-mile Gran Finale edition X1/9 is, as its name suggests, from 1989, the final year of build. As such, it wears 'Bertone' badges, rather than Fiat, but in almost every other respect it represents the original facelifted 1500 model from 1979.
You sit in the driver's seat adopting a slightly long-arm, short-leg position. Facing you is a lovely, thin-rimmed, three-spoke leather-trimmed steering wheel devoid of any branding. Four dials for oil pressure, water temp, speed and revs (the latter's needle sweeping from right to left to its 6500rpm redline) are all present and correct.
The sun is out, so the targa-top is stored away in the front boot as we set out on our rural Shropshire test route. At lower speeds the Fiat feels taught and instantly biddable; its unassisted steering is light, despite relatively high gearing, and alive with feedback from the road's surface.
As we pick up speed, ignoring the shakes and shimmies from assorted interior trim, the X1/9's control over crests, and slicing through a series of well-sighted bends, is impeccable; it just asks for more, and only prudence and the fact that it's not my car keeps me from fully exploiting its potential. But even powering through an open bend for photography reveals only the merest trace of oversteer on these dry roads, accompanied by mild body roll over the rear axle.
Power from the zesty 1500 'four' is delivered with the kind of brio that makes you want to dip into its upper-rev band time and time again, as you keep it on-cam, quick-shifting the slightly wooden, but accurate, five-speed gear mechanism. A few months ago, I tested a 1988 Ferrari 328 GTB, and to me, the X1/9 feels like a scaled-down version of that car. Poised, sharp and exciting, and completely belying its 50-year vintage.
Driving the TR7 DHC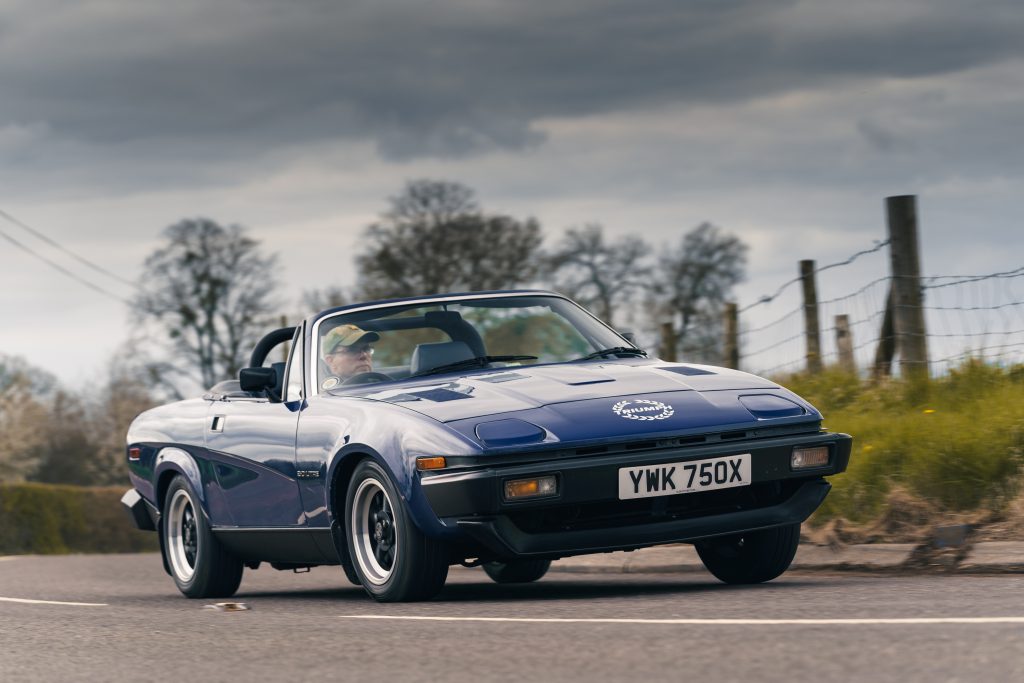 Like the Fiat, Steve Smith's lightly modified TR7 Drophead Convertible is from the last year of production (in this case, 1981). It wears 14-inch, period-correct Revolution wheels, a Safety Devices rollover bar, and Spax Adjustable dampers at the rear, but mechanically it's standard, save for electronic ignition and a more free-flowing exhaust manifold.
Compared with the Fiat's cabin, the TR7's is a more salubrious place to be, with larger seats, more shoulder and leg-room and more comprehensively equipped, with twice as many HVAC controls and a six-clock instrument binnacle. You sit higher than in the Fiat, but it's easier to find a more comfortable driving position.
Also like the X1/9, the Triumph is a practical car, with an easy-to-erect soft-top, and boot large enough for two golf-bags. Where it scores over the Fiat is engine accessibility for carrying out maintenance; the longitudinal engine is sited well back, mainly behind the front axle, leaving ample room to the sides and front of the unit.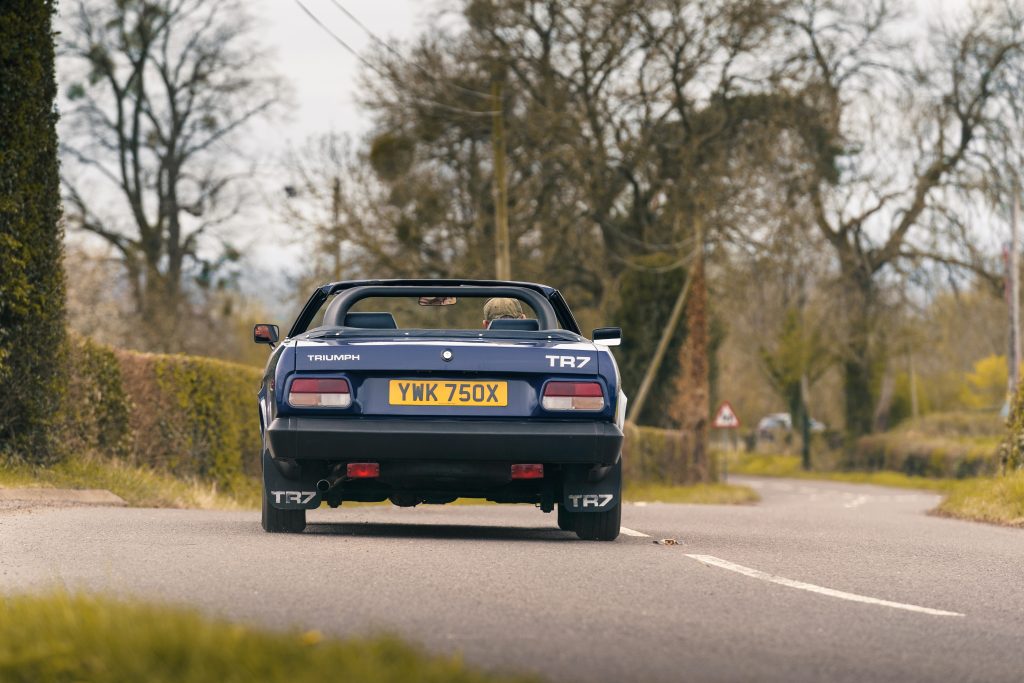 And to drive? Chalk and cheese with the Fiat. To me, the TR7 was/is the ultimate evolution of the MG B/MG BGT. Over gnarled road surfaces, it feels better screwed together than the Fiat, accompanied by a ride which is more pliant, but – as you pick up speed – less controlled and more prone to feeling like a product of the '70s, which the X1/9 does not.
That said, there's ample grip, with only mild understeer on tighter bends when you push on. Smith's TR has had variable (via a rotary control) electric power steering (EPAS) fitted at some point, and while the standard ratio remains, with assistance on or off, it feels vague on turn-in and never inspires confidence like the Fiat's steering does.
The TR's engine is a peach, though. Sure, it's not one for revs, but it's lusty from low-down, and you find yourself motoring along at 500rpm less than in the Fiat, enjoying the subtle pop-pop from its exhaust on the over-run, content that this is still a superb convertible in which to cover big miles in comfort.
A winner?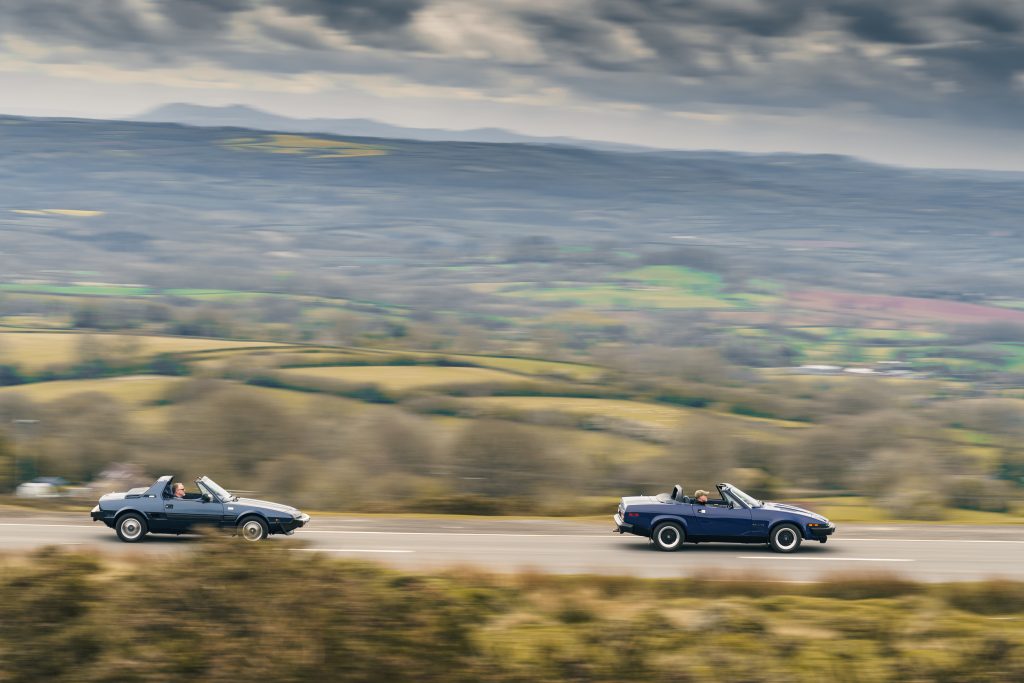 If you start with the premise of 'each to their own', there is no clear victor here. The TR7 DHC would have been the natural progression for many TR4/5/6 and MG B drivers, because despite its modernist aesthetic, deep down it embodied a chassis and powertrain approach that was well-proven and well-loved among traditionalists.
The Fiat X1/9, on the other hand, shook convention to the core. Subjectively, not only was its futurist design better resolved, but the engineering that underpinned it was so advanced and brilliantly well-judged that it resulted in one of the best-driving, affordable cars of any type from the '70s/'80s.
That both are criminally undervalued today (both our well-preserved test cars are insured for under £10,000) is as good a reason as any to start trawling the classifieds before prices start to rise.
Fast facts: 1989 Fiat (Bertone) X1/9 1500 vs 1981 Triumph TR7 Drophead Coupé
Price range (fair to concours): £4000-£21,000 vs £3000-£12,000
Engine: 1498cc, in-line, four-cylinder vs 1998cc, in line, four-cylinder
Power: 85bhp @ 6000rpm vs 105bhp @ 5500rpm
Torque: 87lb ft @3200rpm vs 119lb ft @ 3500rpm
Gearbox: 5-speed manual vs 5-speed manual
Kerbweight: 920kg vs 1020kg
0-60mph: 9.9 secs vs 9.5 secs
Top speed: 107mph vs 114mph
Read more
Retro Rematch: TVR Griffith vs Honda S2000
8 inflation-busting roadsters for summer fun
Buying Guide: Mercedes-Benz SL R107 (1971-1989)