The ageing process can be very cruel, taking its toll on cars from the moment they are launched 'till the day they go off sale and beyond. With the Mercedes-Benz SL launched in 1971 the opposite was true, as here was a car that matured and improved throughout its considerable 18-year lifespan.
It helped the R107 SL generation was engineered to an impressively high standard by Mercedes. Part of this was just down to how Mercedes-Benz built cars at the time, and it was also because the R107 needed to follow the celebrated W113 'Pagoda' model. The new car had to be better in every respect to appeal to Mercedes' wealthy clientele. Little wonder it became nicknamed the 'Panzerwagen' during its pre-launch development.
How much is your car to insure? Find out in four easy steps.
Get a quote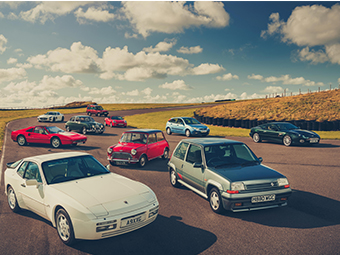 This name goes a long way to explaining that Mercedes did not go chasing the likes of the Jaguar E-type or Maserati Ghibli for outright speed, handling or sporting prowess. The SL was designed from the outset as a cruiser, a car to take you and your passenger from one end of the country to the other in comfort and then let you promenade in style. It also made the SL very safe thanks to its hefty crash structures, and Mercedes used a padded four-spoke steering wheel to further improve safety.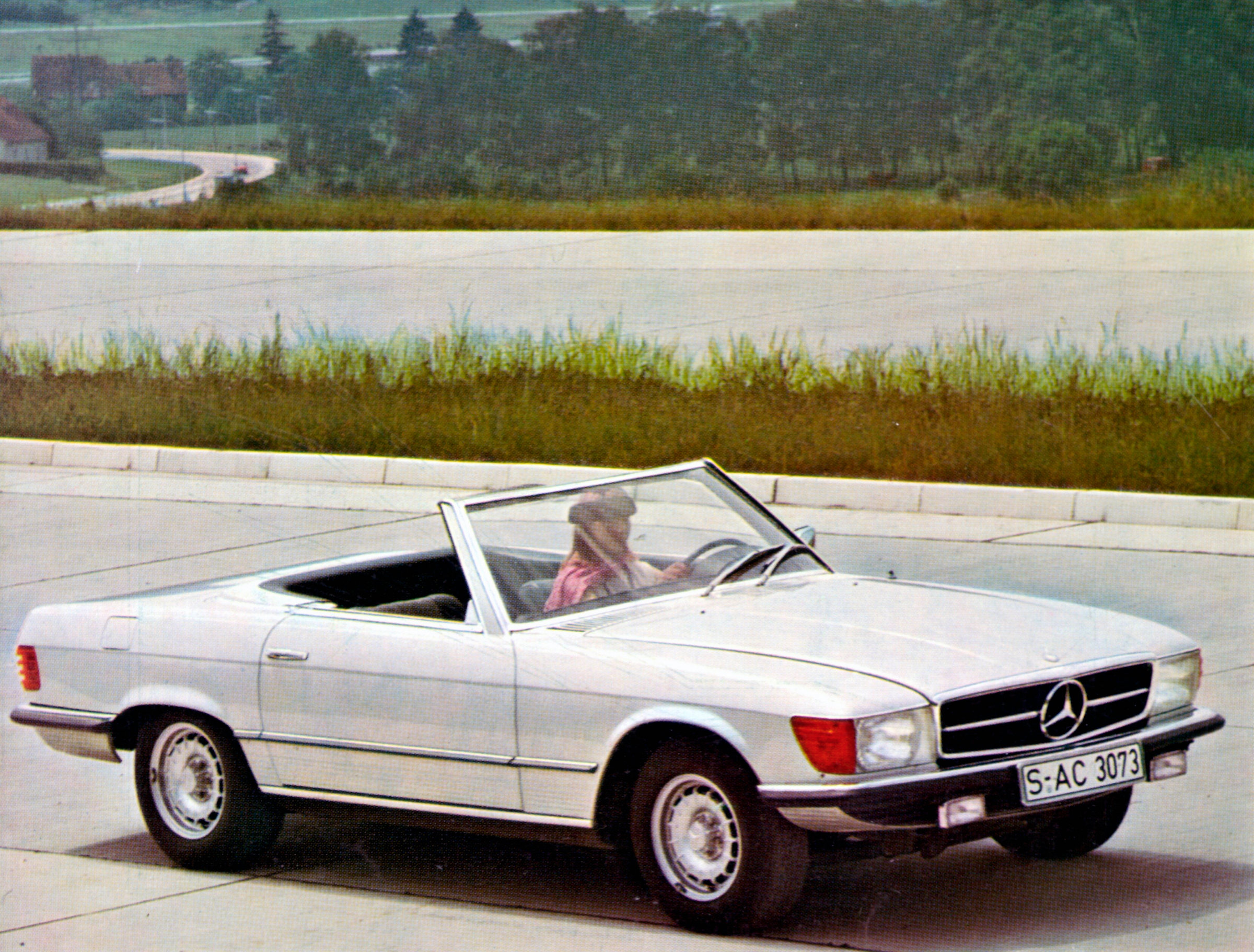 To power this heavier, more luxurious roadster, Mercedes drafted in the V8 engines from its larger saloons. The SL started off with a 350 and 350 4.5, the latter renamed 450 in 1973. Due to the fuel crisis of the early 1970s, Mercedes added the 280SL with its straight-six motor in 1974, and the range was never without a six-cylinder engine from then on; a 300SL replaced the 280 in 1985 and ran until the end of the model's life. Other V8 engine capacities were offered, encompassing 380, 420, 500 and the 560 as the ultimate Mercedes roadster.
During its life, the R107 SL was offered with ABS anti-lock brakes from March 1980, while a driver's airbag became an option at the beginning of 1982. Also in early 1980, the hard-top that was previously an option became standard equipment with all SLs, further adding to its all-round appeal. Even as the model approached the end of its production life, Mercedes was still innovating with the car and all versions gained a closed-loop catalytic converter in mid-1985.
The impressive strength and quality of the R107 SL has ensured the survival of a large proportion of the 237,287 built between 1971 and 1989. With plenty still in circulation, it makes this SL an ideal mix of classic roadster and daily driver, and their numbers mean prices are still relatively affordable, where Pagodas have moved beyond the pocket of many enthusiasts.
What's a Mercedes-Benz SL like to drive?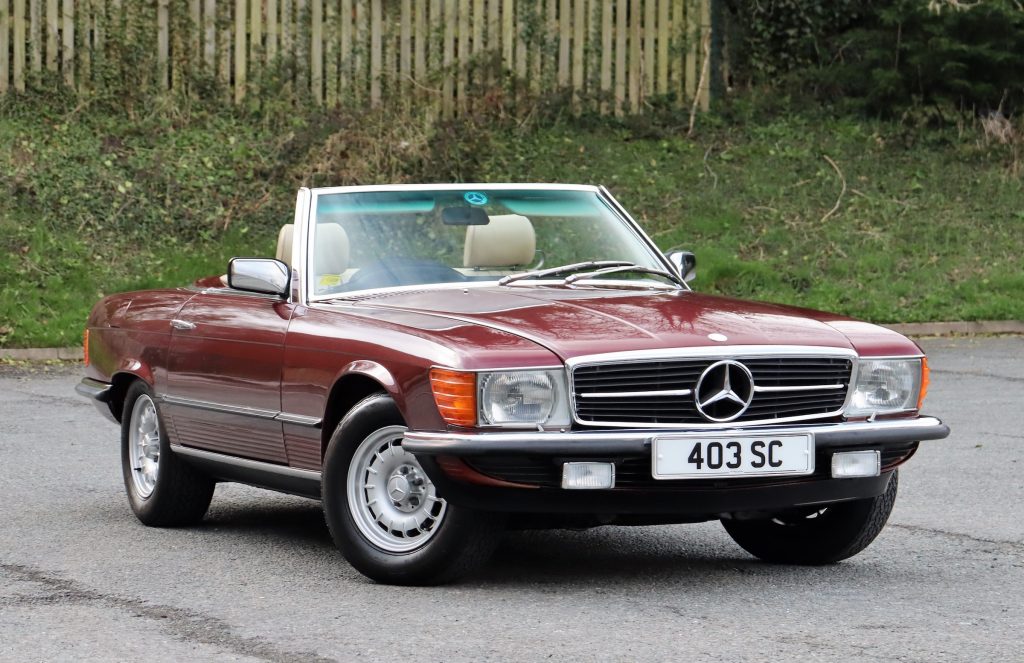 The R107 Mercedes-Benz SL was designed with the US notion of a 'personal luxury car' very much in mind, and this has a bearing on the way it drives.
While it launched with large-capacity V8 engines, they are muted in noise and performance compared to the rowdy American muscle cars still popular as the SL was unveiled. Mercedes quite rightly pitched the SL as a comfortable, luxurious car that could also be driven quickly when asked. It was not as nimble as an Aston Martin DBS and certainly not as quick as a Ferrari Daytona, but the SL was also far more adept for use every day and in all weathers.
Impressively, these abilities haven't really diminished – with the earliest cars now more than 50 years old, it remains very usable and easy to drive. Most buyers selected the four-speed automatic gearbox when new, even where it was an option, and cars with the four- or five-speed manual transmissions are like golden hen's teeth.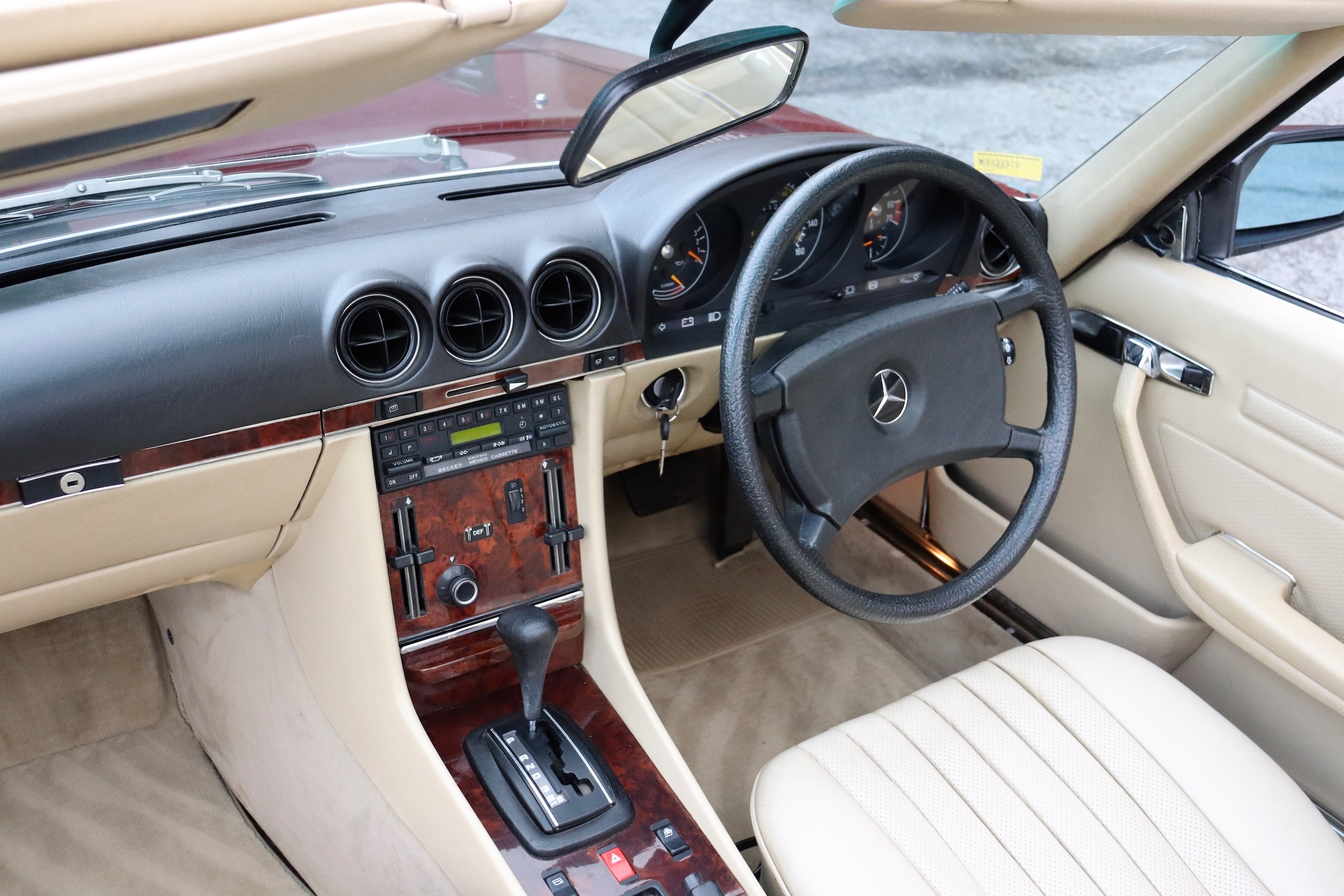 Performance is brisk rather than fast, with 0-60mph in around nine seconds for the first 350SL and seven seconds for the 500SL. In between lies the 300SL with its time of 8.4 seconds from rest to 60mph, and it's this engine that is the sweet spot for driving if you don't mind doing without the discreet V8 burble.
Regardless of engine and transmission, the SL prefers a more relaxed approach to driving, well short of the car's limits. Driven hard the handling is on the safe side, with the front end pushing wide long before the driven rear wheels give up traction. As such there's not much joy to be had exploring your inner Caracciola or Lang, so much better to ease back and enjoy the impressive mid-range urge from the refined motors. You'll also be able to appreciate the solidity of the SL's construction as there's almost no scuttle shake or shimmy over prickly road surfaces.
There is a clear line of progress in the way an SL drives as you move forward in the car's history. Early models have softer suspension and less steering feel, while later cars are more alert and precise, though still not sporty in the way a contemporary BMW is. With the roof down, the SL feels spot-on as the big armchairs offer excellent support and the cabin is not too buffeted by the wind at higher speeds. Raise the soft-top and it's watertight, though not very quiet. For more hush, you need to attach the hard-top that seals out much more road and wind noise.
How much does a Mercedes-Benz SL cost?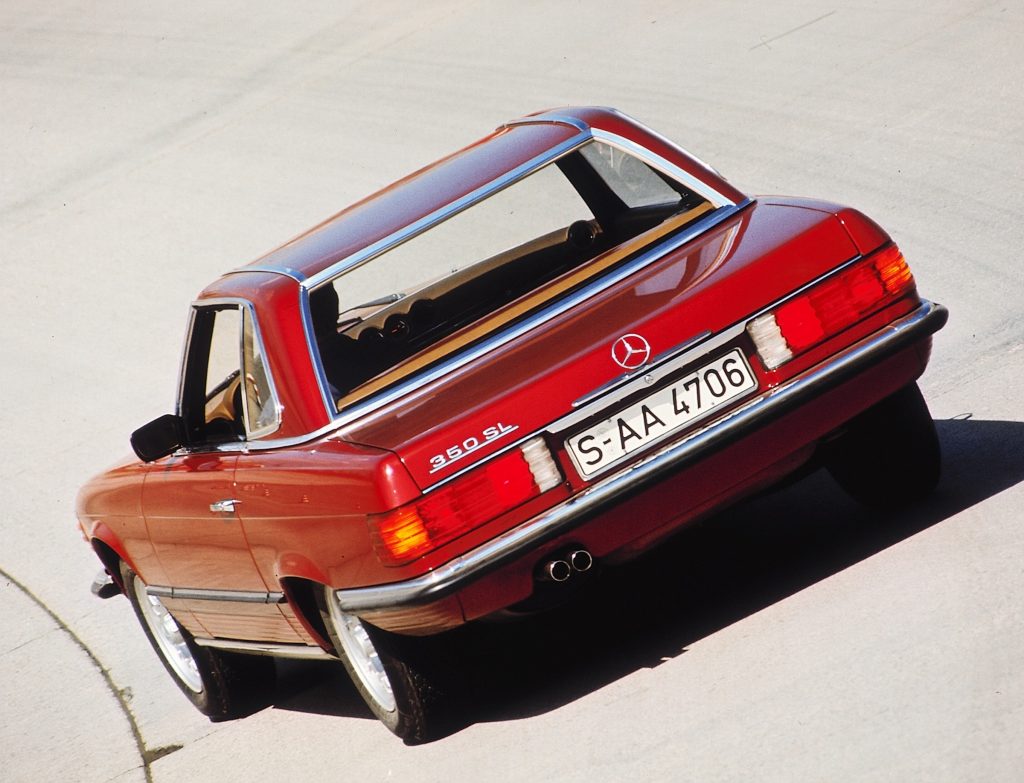 There is a greater spread of prices for the R107 generation of Mercedes SL than for most upmarket roadsters of its period. Much of this is down to condition, as a rough car will cost far more to restore than an SL that's already in good shape. It keeps the values of less cared-for examples low, so beware anything that seems temptingly cheap.
At the bottom end of the R107 SL market, a running and driving SL280 can be yours for around £10,000. It will need plenty of work to smarten it up, but it does offer an affordable means of running an SL of this era. The 300SL is more desirable and commands around £3000 more for a car in Condition 4 'fair' condition. Early 350 and 450 V8 models are about the same in price as the 300SL and this proves true whatever condition the cars are in. As a consequence, you can reckon on paying around £25,000 for a well sorted 300, 350 or 450, or up to £45,000 for the best of each. A 280 SL in tip-top shape will fetch a price in the high 30s.
The 500SL was the biggest engine offered to UK buyers and it sells for just over £24,000 in decent fettle – condition 3 or 'Good' condition in the Hagerty Price Guide. However, you'll need to double that to bag a low-mileage, immaculate example. As for the 560SL, it wasn't sold new in the UK so any cars here will be imports from the US or Europe. This pegs prices of the 560 to the same level as the 500, and make sure any 560 has had its headlights converted for driving on the left-hand side of the road.
What goes wrong and what should you look for when buying an SL?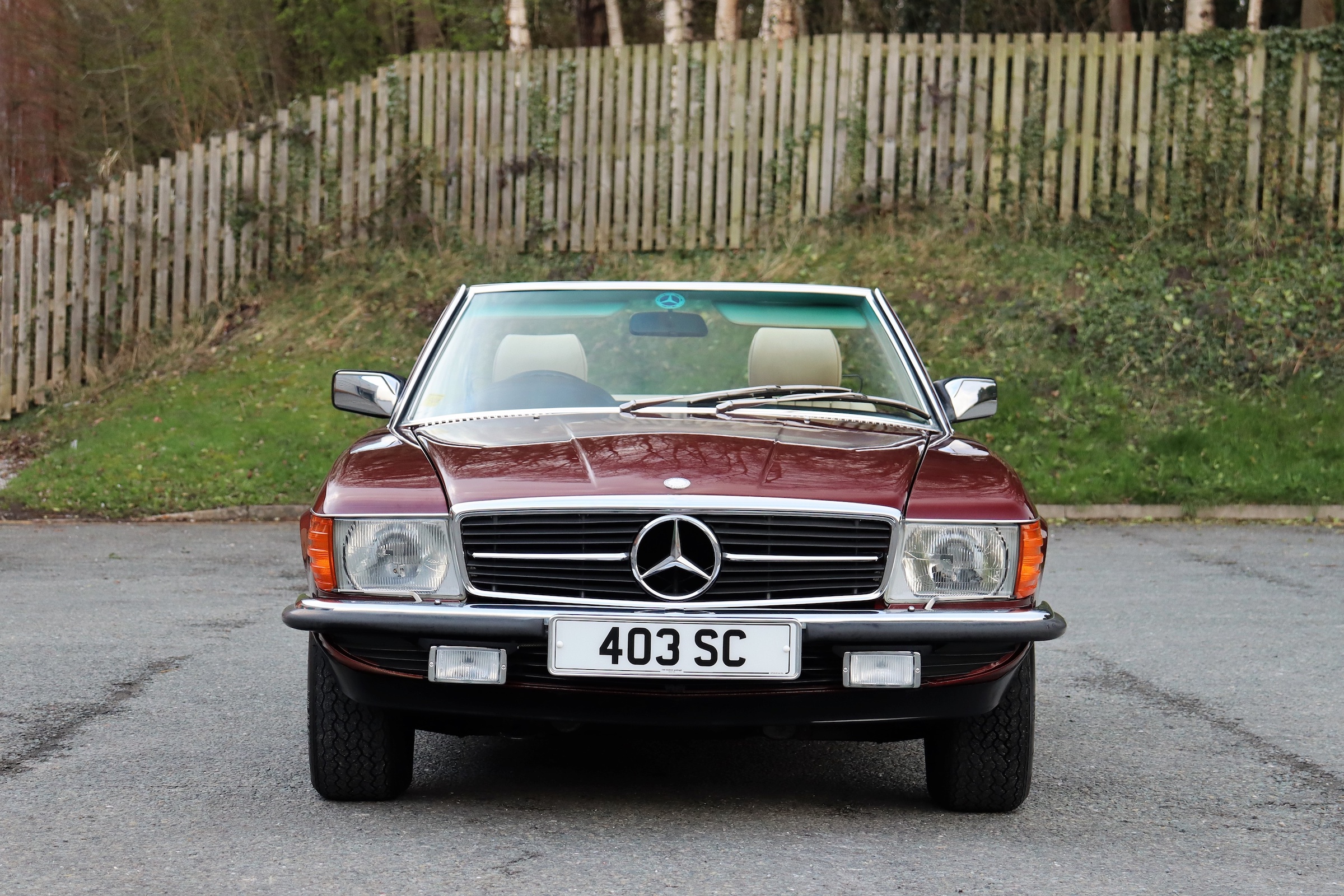 This generation of SL can shrug off sustained and regular use, but neglect will take its toll. This is especially true of the bodywork, which will be the biggest cost in restoring an SL. Carrying out a pre-sale check on the body is vital, as rust can be hidden beneath superficially shiny paintwork.
Start your inspection above the headlamps, looking for signs of bubbles or poor repairs. Then move on to the bonnet, boot, doors, wheelarches, sills, and floors. Look carefully all around the windscreen for rot and then check the bulkhead for water that has settled in here, causing corrosion. The bumpers rust from the back, so reach behind them to feel for any roughness. If the car comes with its hardtop, give that a thorough inspection, too.
Inside, the trim is just as hard-wearing as the rest of the SL, but look for worn fabric on the seats as it can be very tricky to match cloth to the car. Leather upholstery is easier to restore, while complete hoods can be fitted or the rear plastic screen replaced if it's gone milky. Mercedes' MB-Tex plastic alternative to leather is legendarily resilient though – a car will have had a hard life if it's showing significant wear.
Make sure all of the cabin electrics work, and try the central locking as it operates on a vacuum system that can leak. Any damp in the cabin is down to a worn hood and window seals, or corrosion in the bulkhead.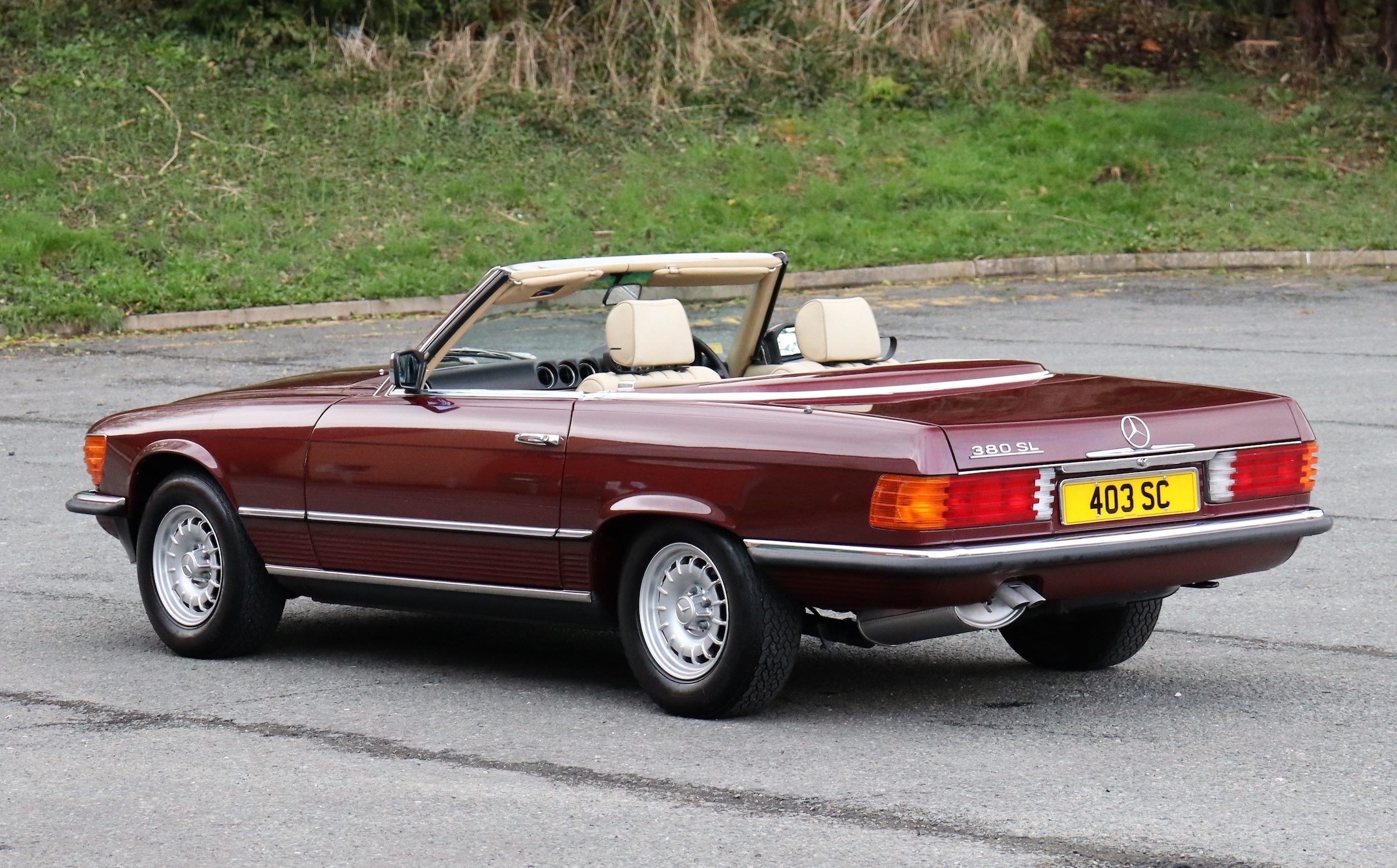 The good news with the SL is the engines are all very reliable and unlikely to give much trouble whether you choose a six-cylinder or V8 model. However, the V8s can suffer from noisy tappets. These can be cured with a simple oil change, but heavier wear may require new rocker arms. The radiator is the only other common weak spot as it has no protection at the front, leaving it susceptible to stone damage. Look for any signs of overheating on a test drive or leaks from the radiator.
The SL should be very smooth and quiet to drive. Any squeaks or rattles point to worn suspension bushes, which are easy for a specialist to replace and will have a positive effect on handling and comfort. A vague feel to the steering is almost certainly due to a worn steering box, which can be adjusted to take up the slack but will eventually need a rebuild. New steering boxes are still available from Mercedes, but they're expensive. The steering system also had a damper fitted and it becomes worn with age, so budget on replacing this at the same time.
Which is the right Mercedes-Benz SL for you?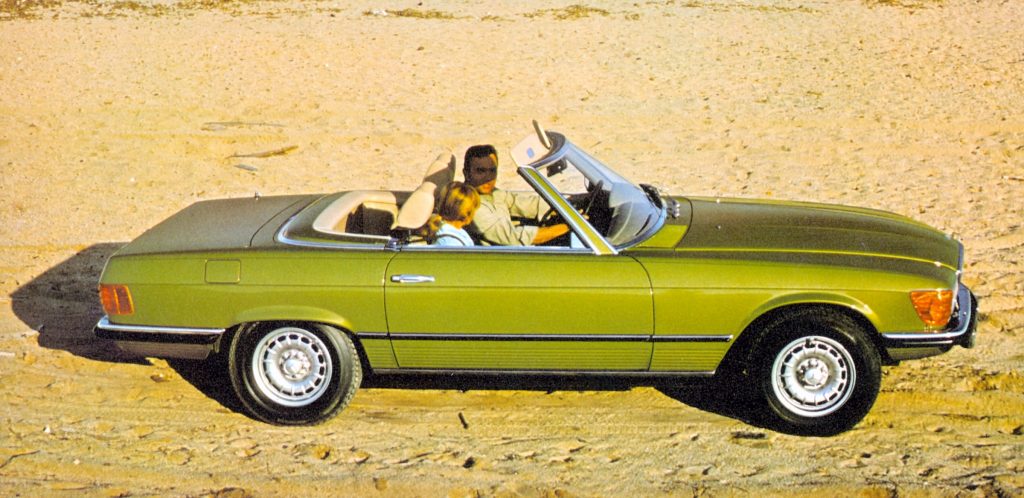 Given the long life of the R107 SL and the variety of engines Mercedes fitted over the years, there should be an SL to suit almost everyone. Six-cylinder cars are cheaper to buy and run than the bigger capacity V8 models, but don't rule out a 350 or 380 as they deliver much the same fuel economy as a 280 or 300SL. The straight-six cars do handle with a little more precision thanks to less weight up front though, and the engines are happier to rev.
Bear in mind the SL is not a sports car in the mould of a Porsche 911, but as an entry to SL ownership it's hard to look past the 1985-on 300SL as the best of the lot. It has cruising ability to match many of the V8 models and excellent refinement, while decent fuel economy means you can use it more without worrying about bills.
The 300SL also benefitted from Mercedes' improvements to the SL's suspension geometry for better handling and steering feel, as well as lower profile tyres as standard and a front chin spoiler to reduce front end lift at higher speeds.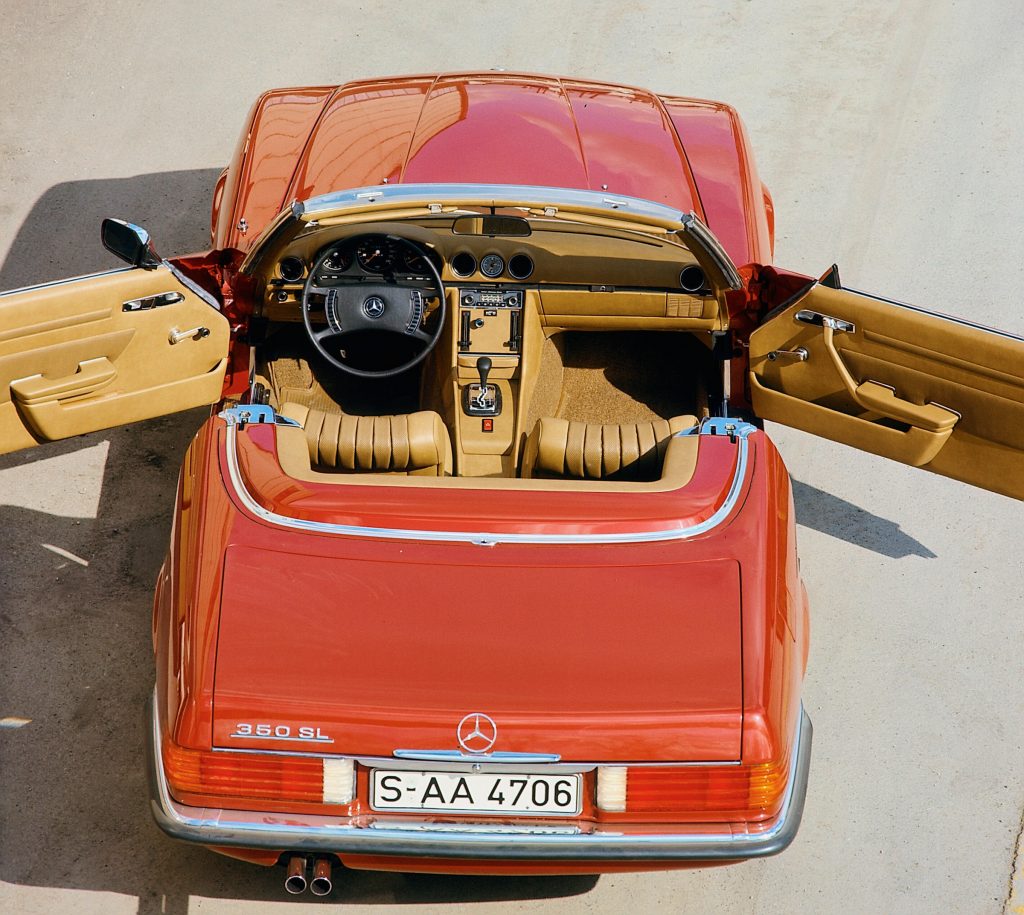 For those who must have a V8-powered Mercedes-Benz SL (and we don't blame you), the 500SL is the one to aim for in the UK as any 560SL will be an import, though don't let that put you off buying a 560 that's in excellent condition. It's more expensive to buy a 500SL but this model rewards with greater performance and barely any worse fuel consumption compared to its smaller capacity siblings.
Later versions from mid-1985-on gained more power with 245bhp, though slightly less torque, so choose on condition rather than age.
Read more
New AMG 43 turbo is first four-pot SL since the Fifties
The 190E EVO that Mercedes never made | Rendered with Kyza
The original Mercedes 300SL should have been a failure | Revelations with Jason Cammisa