Not a Porsche 911. Sometimes that's enough. We are, of course, huge fans of Porsche's rear-engined icon and crave all sorts of versions, from a simple air-cooled '70s car to a scary, wide-body monster like the 997 GT2 RS.
However, with Porsche's recent success steamrollering most rivals, killing-off others and filling every corner of social media in many different rare groove colours and suffocating houndstooth fabric, it's easy to forget that plenty of people don't really get the 911 at all.
Luckily for them there are other options. Even better, amidst stories of somebody buying yet another rotted-out barn find 911 for an unlikely (and frankly ludicrous) sum of money, these would-be rivals still mostly fly under the radar. That means values are firm but not yet stratospheric. The anti-911s really are a rich hunting ground.
How much is your car to insure? Find out in four easy steps.
Get a quote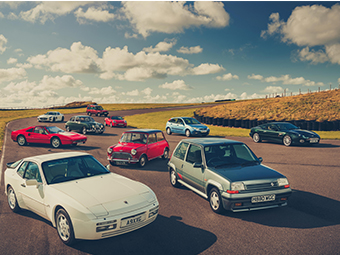 Especially those from the first decade of the millennium, where for a while the 911 looked under siege and, maybe, about to lose its position as the de facto choice for any car enthusiast. That seems a crazy notion today but with Aston Martin undergoing another revival, Audi selling pure sci-fi and Nissan bending the laws of physics with the new GT-R, these were heady days and the 911 didn't seem as impregnable as it does today.
Which brings us to our two very-much-not Porsche 911s. Gorgeous aluminium sculptures packing naturally-aspirated V8 engines, 6-speed manual gearboxes and offering two unique takes on the dream of the ultimate all-round sports car. The Aston Martin V8 Vantage is clean and handsome, channelling the past by updating the traditional front-engine/rear-drive layout and creating a quietly powerful and peculiarly English personality. It truly is a timeless piece of design. Audi's R8 is different. Mid-engined, packed with unusual design motifs and so forward-thinking it still looks almost like a concept car today.
The R8 should be heinously awkward and naff by now, of course. A clumsy monument to a moment in time that's long passed. Yet it's not. The Audi looks sensational and as fresh as it did all the way back in 2008. In fact, both Vantage and R8 make their successors look bloated and more than a shade heavy-handed. Better than a 997-vintage 911? That's not a question for today. We just want to experience them again and see if they're as delightful to drive as they are to behold.
Aston Martin V8 Vantage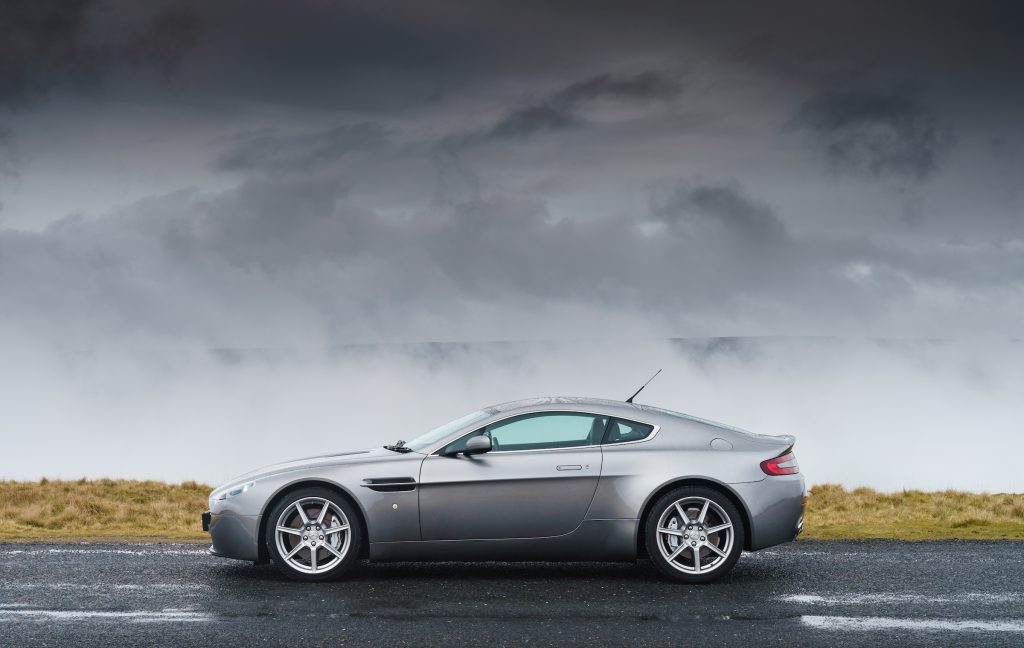 Remember when we wanted – no pleaded – for Aston Martin to move their design language on? DB9, V8 Vantage, DBS, Vanquish, Rapide… different cars but (save for the impossibly long and sleek four-door Rapide) almost indistinguishable at 50 paces. 'Come on, Aston,' we said. 'Try something new. Anything new.'
Oh boy, were we wrong! Jonathan Lupton's 2005 V8 Vantage is an absolute beauty. Quietly aggressive where its replacement is all shouty intakes, gaping grille and squinty headlights. Every line is scribed so cleanly, every curve so effortlessly flows to the next. I wouldn't change a single thing. To think an early V8 Vantage is available from little over £25,000 seems completely extraordinary.
Luckily, there's more to it than that. Beneath the flawless skin there's real substance. The V8 Vantage features a shortened, stiffened version of Aston Martin's aluminium VH (Vertical Horizontal) architecture also seen in DB9, a 4.3-litre quad-cam V8 pushed back as far as possible and behind the front axle line, 6-speed Graziano transaxle and double-wishbones all around. In 2008 the engine was bumped to 4.7 litres and 420bhp but even this early '05 car produces 380bhp at 7000rpm and 302lb ft at 5000rpm. Enough for 0-60mph in 4.8 seconds and a top speed of 175mph.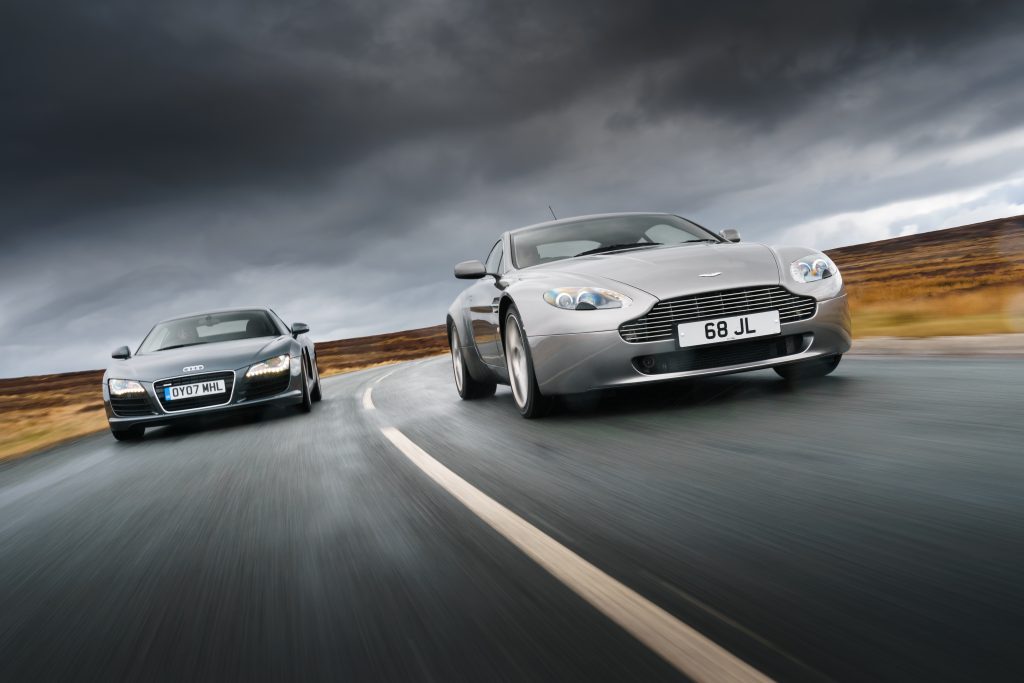 Richard's car is absolutely pristine and extremely lightly used, too. It shows just 8000 miles. The interior seems much better than I remember. The seats are slim yet brilliantly comfortable and mounted lovely and low; the machined metal dials look bespoke and the way the needles for speedo and rev counter wind in opposite directions just adds a bit of intrigue and fun; the steering wheel manages to feel chunky without erring towards overly thick and clumsy and little details abound to make the V8 Vantage really feel special. I love the triangulated bracing bars behind the seats, for example.
All the good stuff certainly outweighs the slightly cheap feeling and very busy centre console and the ugly switches for the electric seat controls. Besides, a short, flat-topped manual gearshifter rising out of it is enough to overshadow all manner of sins. In September 2006 Aston began to offer the SportShift paddle-operated gearbox but we'd recommend sticking to the manual 'box if at all possible. It just seems right and the automated manual is slow-witted and slightly clunky.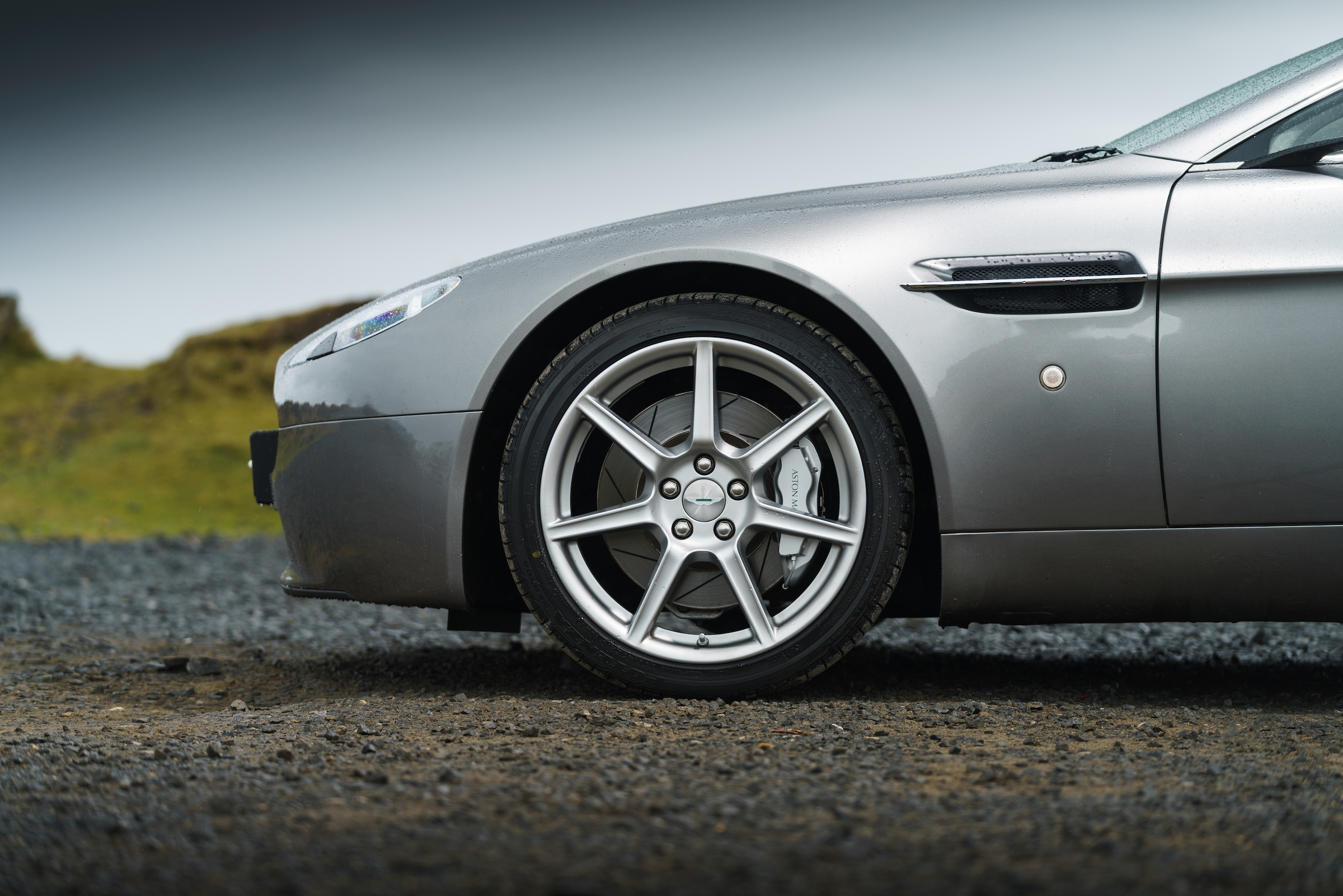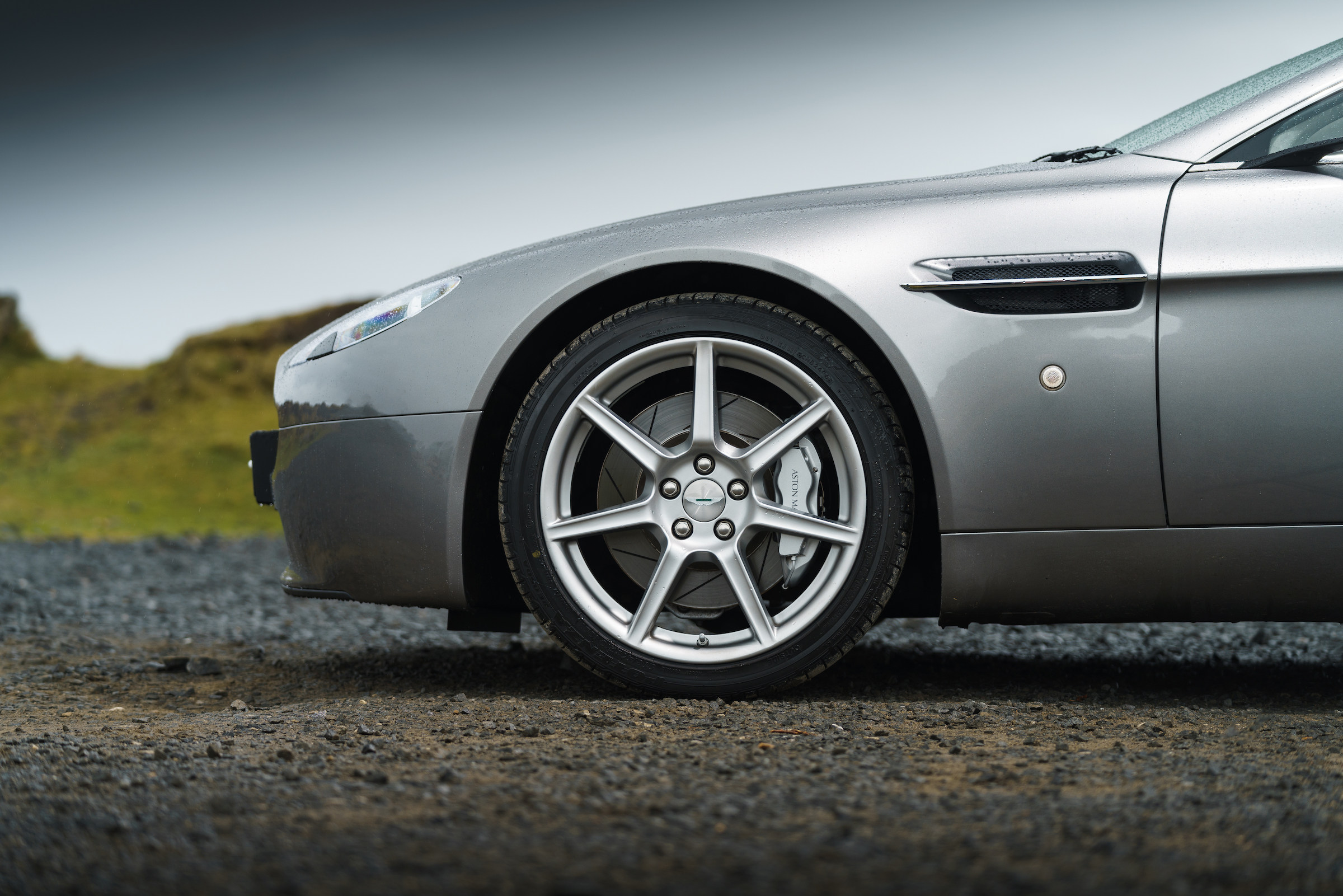 Once settled inside the only real oddity is that this compact car can feel strangely big and intimidating. It's wide and you sit so low, with high shoulder lines for those swan-opening doors (they rise upwards ever so slightly as they open) and the steeply-raked windscreen seeming to put you a long way from the outside world. A twist of the key brings the engine close, though. The 4.3-litre V8 has a deep, jagged note and is surprisingly aggressive. There's no mistaking this is a proper sports car with a brutal side to its character.
It's an impression backed-up even at low speeds by the V8 Vantage's dynamics. The steering is pretty heavy if you're used to the smooth, lightweight feel of modern ePAS systems but it imparts a sense of purpose. Plenty of feel, too. The gearbox isn't one of the greats but its rather vague, rubbery feel is at least partly rescued by a hefty weighting and a very short throw. The ride is busy and physical but stops short of harshness and with that V8 always spitting wickedly from the exhausts the Vantage has a muscular, no-nonsense feel. It exudes toughness. And excitement.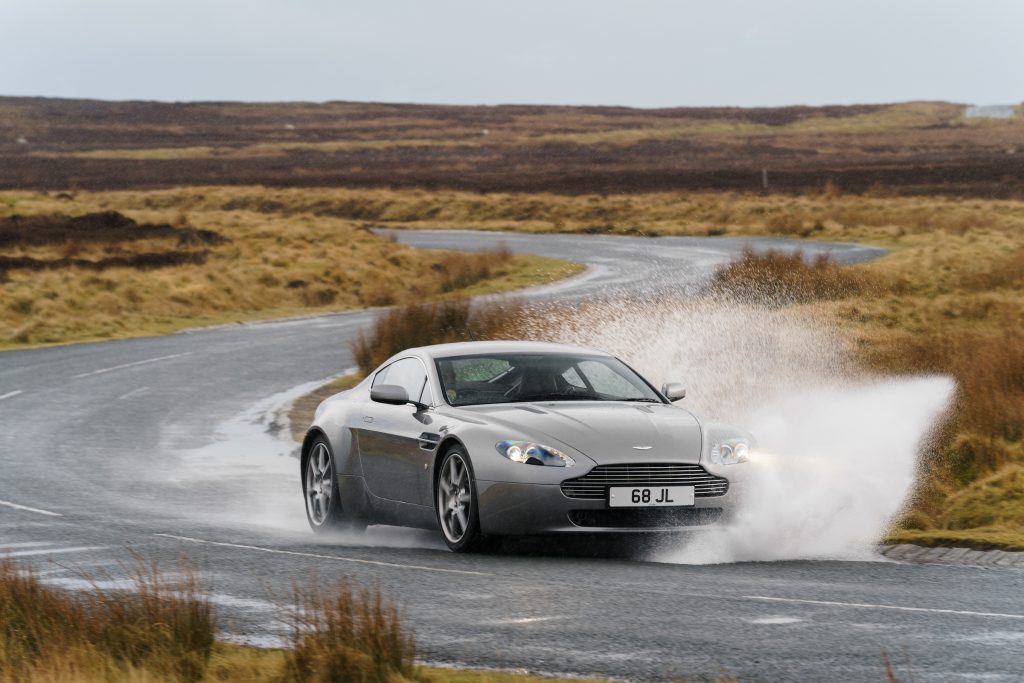 Start to drive it a little harder and some of that persona does erode. The engine struggles against the 1570kg until it's spinning past 4000rpm. The V8 might sound hard-edged and fierce but the performance can feel flat at times and the 4.3-litre unit only really bites if you're prepared to wring it out. Luckily, it feels happy to do so and has an unburstable quality that was proven in period by many class wins at the Nürburgring 24-hour in production spec. However, you can see why the post-2008 facelift cars fitted with the torquier 4.7-litre engine are considered more desirable.
Those cars also got a revised chassis set-up with stiffer damper mounts and bumpstops, new Bilstein dampers and stiffer front and rear springs, up 11 per cent and 5 per cent respectively. Again, on these roiling Yorkshire roads you can see why those changes were made. The V8 Vantage feels generally very well tied-down, there's excellent traction even in wet conditions and overall the package is balanced and agile.
Yet you want just a little bit more. The body control goes from tight and precise to soft and heaving over large crests or nasty lateral bumps, the steering column itself feels like it has flex in it and so the 'wheel chatters and clatters like you might expect in a convertible car, and these mixed messages at times make this small, taut car feel heavy. The engine eggs you on but the chassis seems like it's crying 'enough!'. The brakes seem fragile, too. This is a car that you enjoy at slightly lower speeds, revelling in the sights and sounds – oh, that sound – rather than its all-out ability.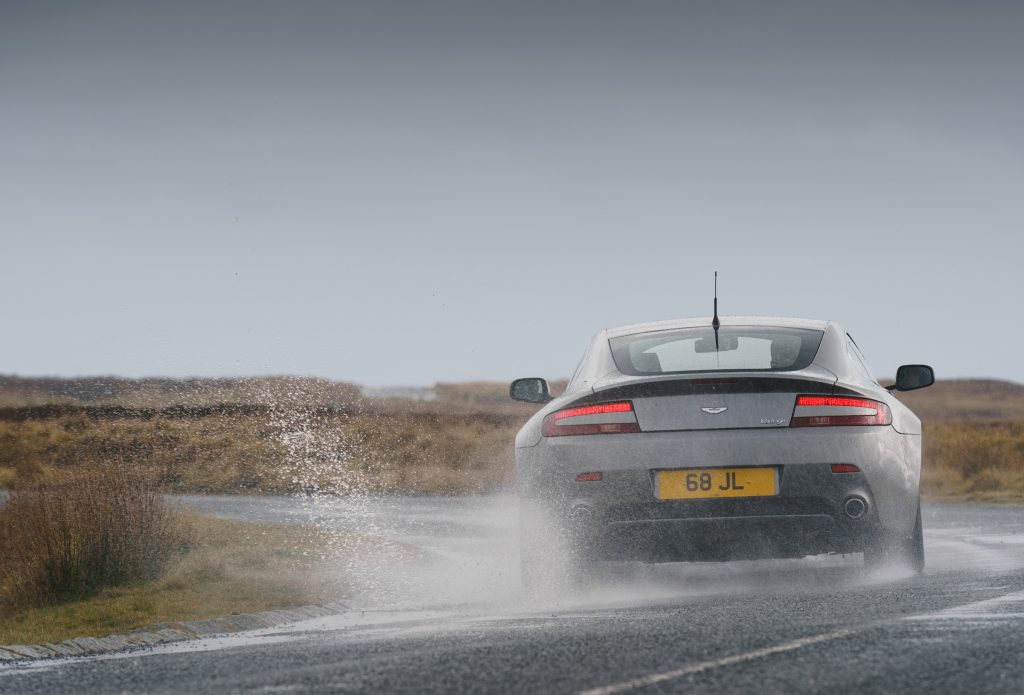 After several hours in this lovely example it's clear that an early V8 Vantage is a fantastic first stab at making a genuine 911 rival. It looks and sounds fabulous and feels special and hand-built in the best sense of the phrase. However, there's no question that the later cars got closer and closer to matching the Porsche for absolute dynamic capability whilst building on the inherent brutish character already evident.
It is an entirely covetable car, one that was a significant step forward for Aston Martin and proved popular with more than only the brand die-hards. If you can afford to stretch to a 4.7-litre car then that's the route I'd be inclined to take. Of course, even an early 4.3-litre V8 Vantage is still an event and is arguably the purest-looking of all. You might decide that's enough. And we'd understand completely.
Audi R8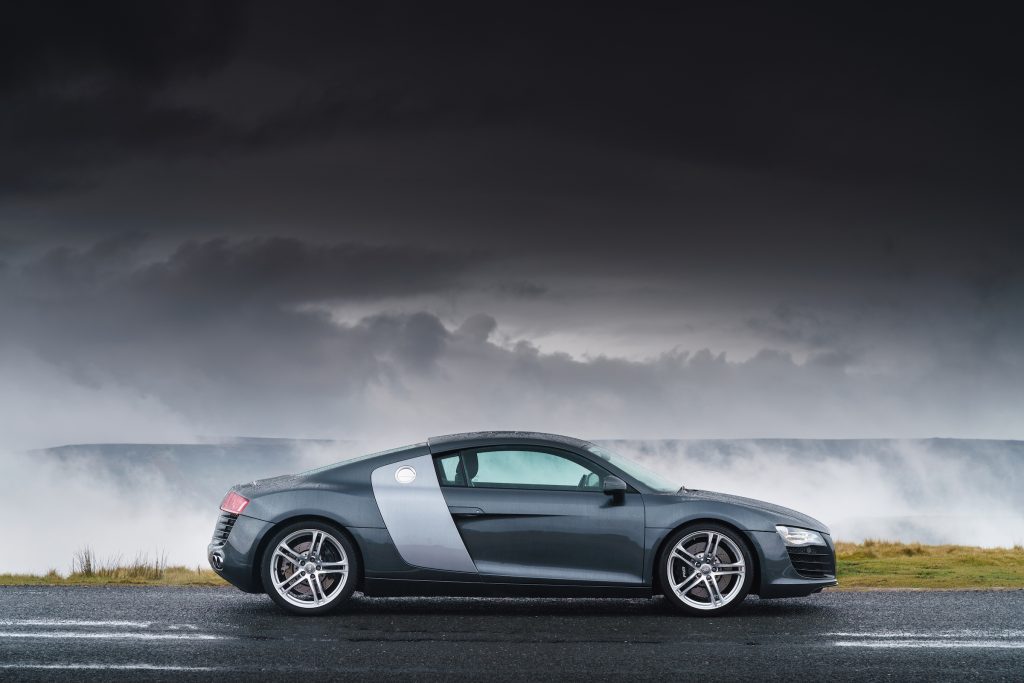 It seemed implausible at the time. The notion that Audi could create a car with the subtle, nuanced appeal and dynamic polish to match a Porsche 911 when the R8 was launched in 2007. In fact, that's not strong enough a word. It was laughable. Sure, there had been little hints that Audi could produce a properly multi-faceted performance car, most notably with the B7 RS4 that arrived in 2005.
But for the most part, Audi went down the sledgehammer route: Lots of power, tonnes of grip and a sort of invincible, relentless momentum. Effective but ugly. A world away from the elegant poise, tactile feedback and lightness of touch required for a true sportscar or junior supercar. The R8 looked a million dollars but nobody believed it could deliver a truly memorable driving experience.
And yet 15 years later I can remember my first drive in an R8 with crystal clarity. It blew my preconceptions – and everybody else's – clean apart. So light, such purity of feedback and an effortless poise that was a genuinely new flavour. Despite sharing much with the Lamborghini Gallardo and losing two cylinders and a heap of horsepower, the R8 had its own identity and was simply more polished, more precise and more entertaining than the Italian supercar. Not a bad start for a 911 rival…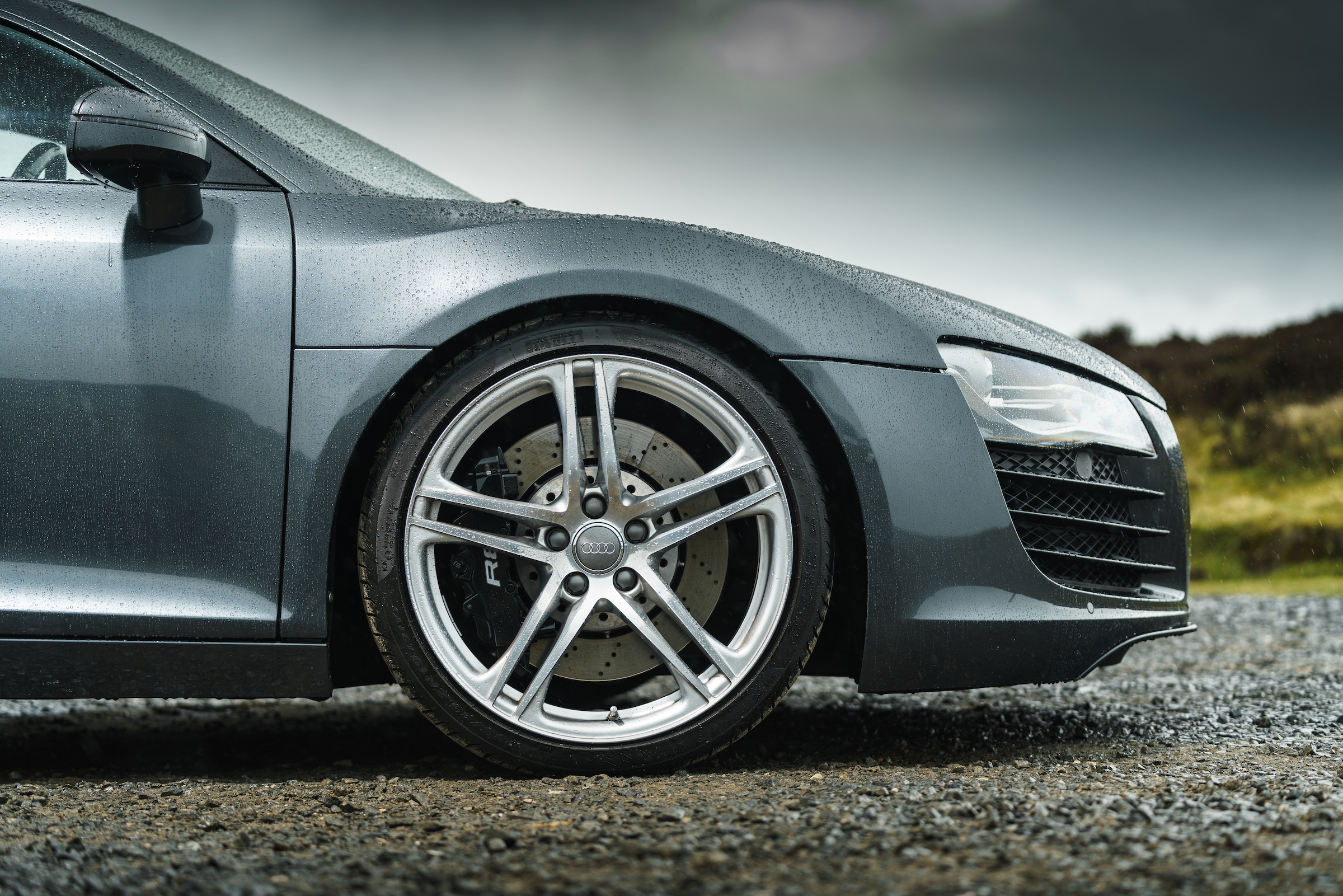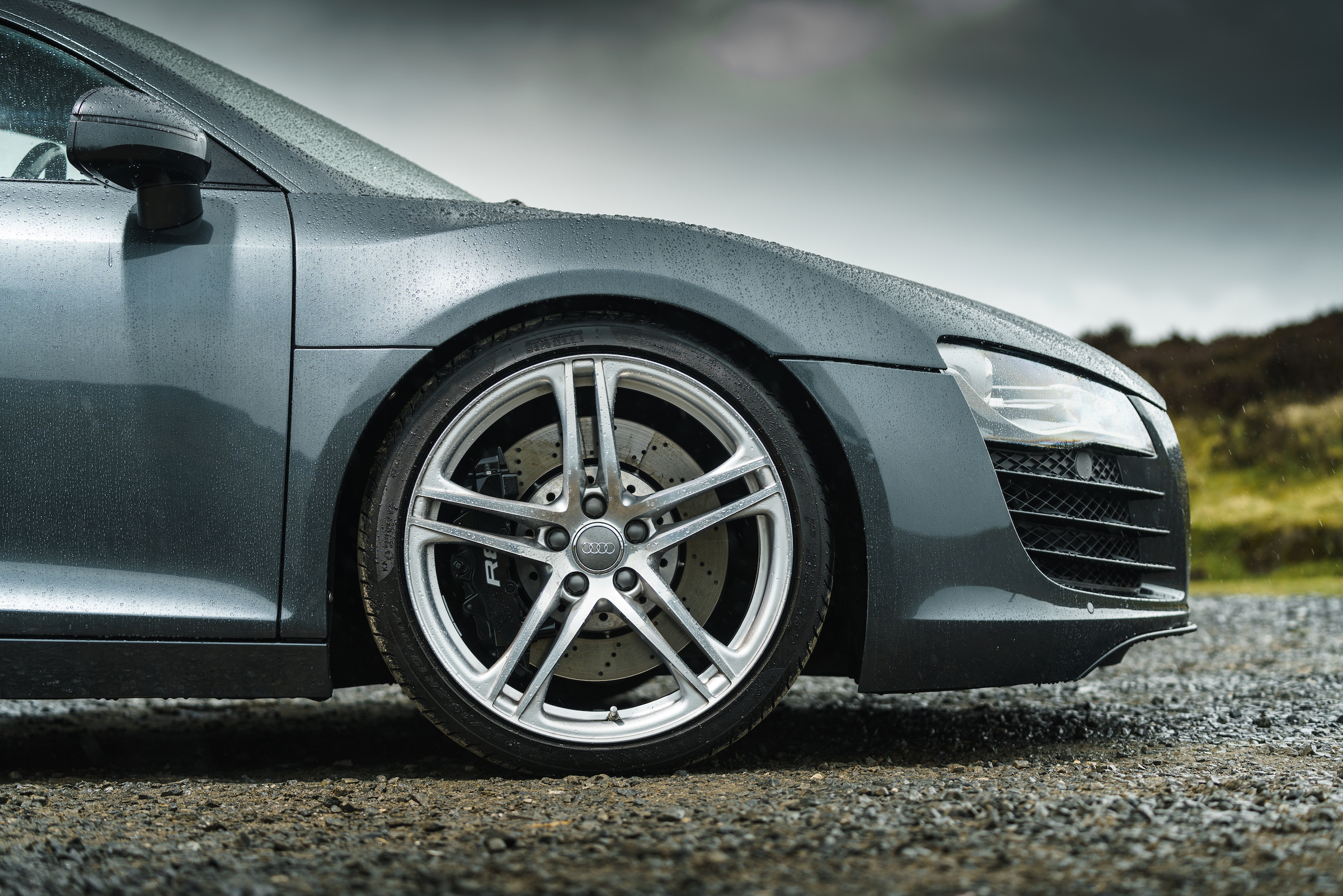 A full 15 years later I'm pleased to report that not much has changed. The R8 is superb. Maybe even better than when new simply because performance cars have got bigger, heavier and more focused on lap times and track performance in the intervening years. In a world of locked-down, ultra-responsive supercars with extreme tyres and sky-high limits, the fluidity of the R8 and its ability to deal with ragged roads and heavy downpours with equally deft control is deeply beguiling and bordering on the magical. It has a Lotus-like quality to its chassis married to a free-spinning engine that is sweeter than honey straight from the hive.
The good news starts before that engine bursts to life. To me at least, the R8 still looks so fresh and distinctive and when you swing open the door the interior has aged just as gracefully. Of course, it's not as extroverted as a Lamborghini and after the Aston the slightly generic Audiness of it all feels a little bit conventional.
The flip side is that the quality is good and even this well-worn example – check out the scratched-up metal gearshifter! – feels ready to take on another 50,000 miles. Unlike the pristine, low mileage Aston Martin, this battle-hardened Audi UK-owned car is representative of a lower-priced example you might find on the market. It could do with a cosmetic tidy but I think you'd still happily live with it and gently improve elements over time.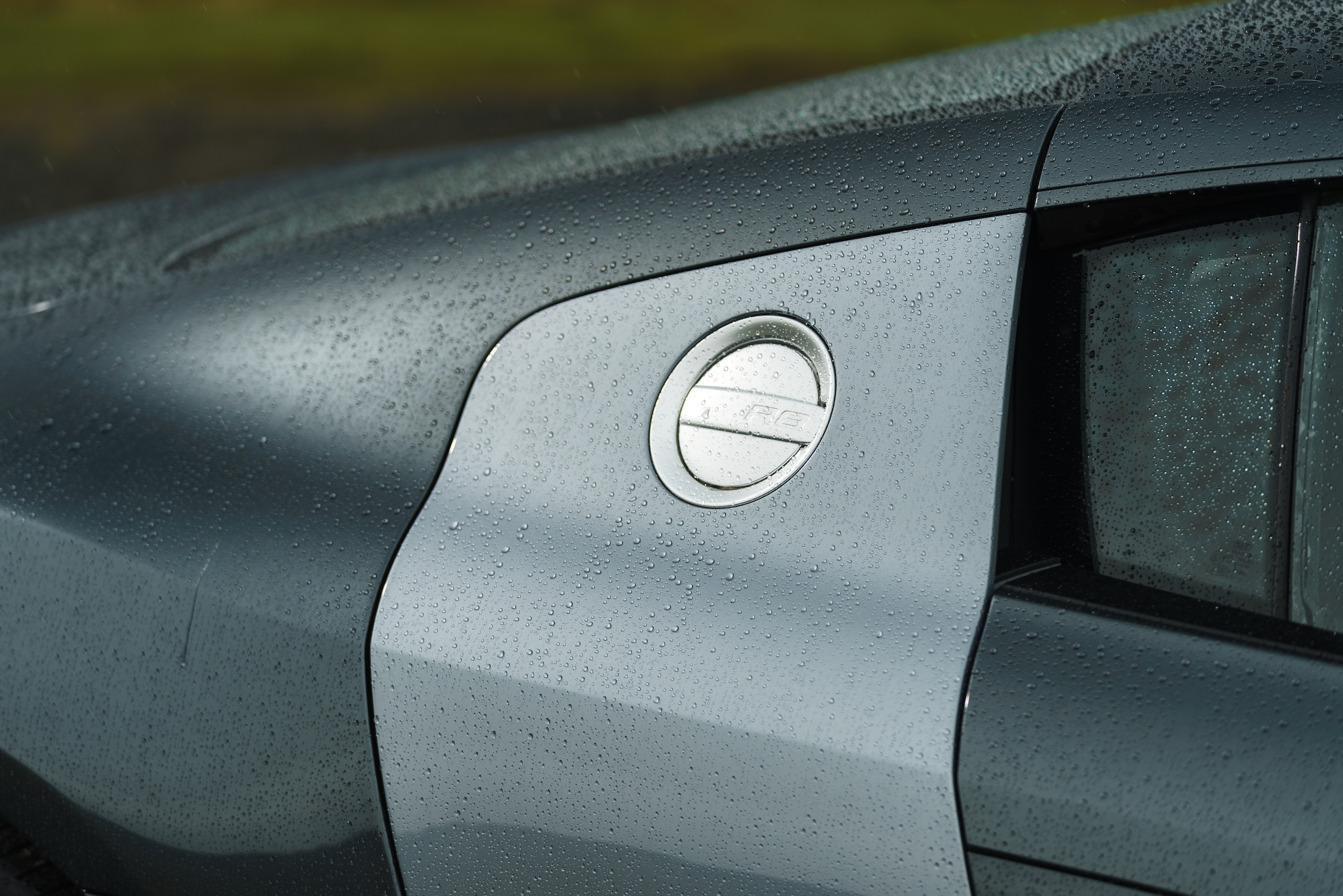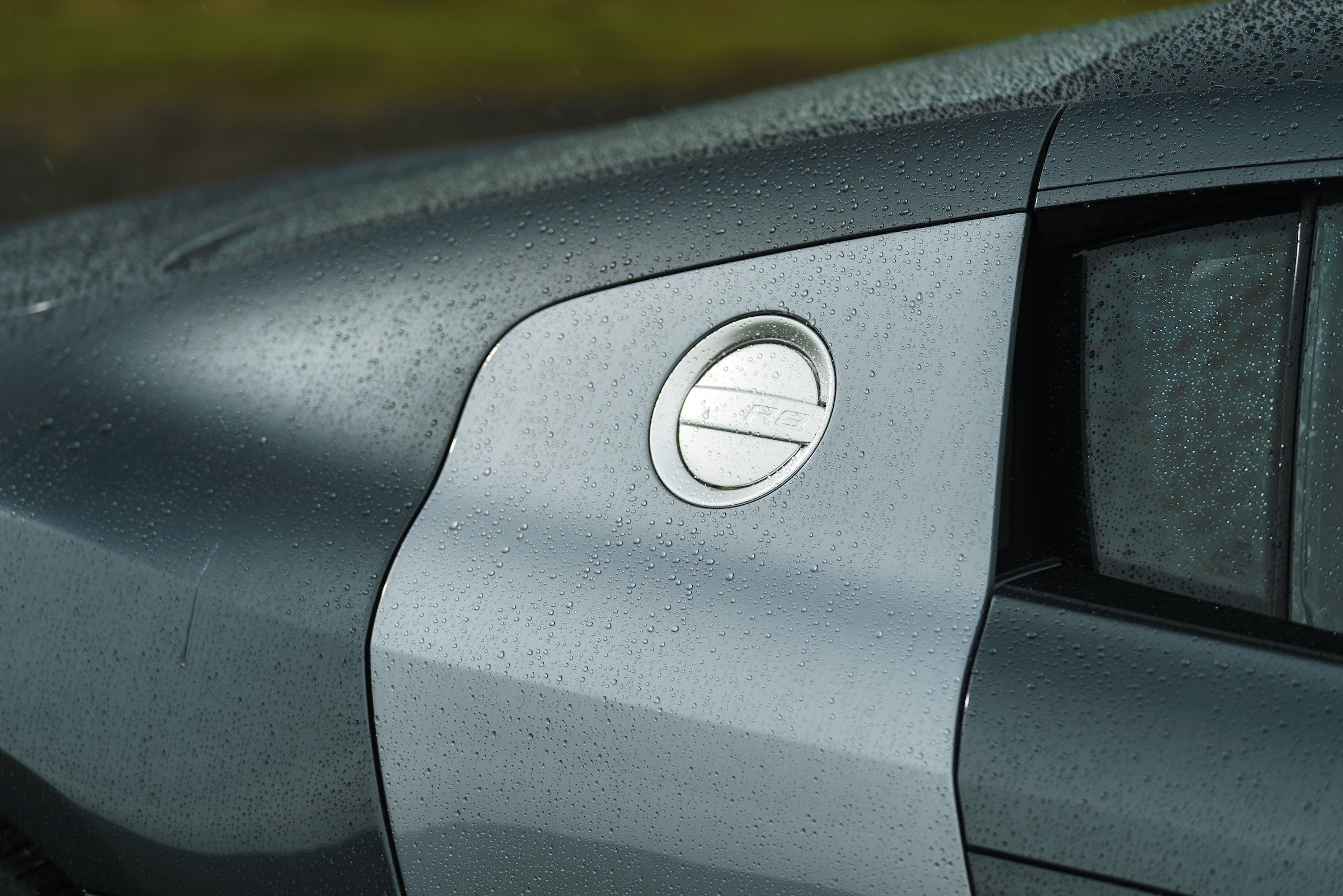 The highlight, of course, is the open-gated manual gearbox. I suppose there was a danger this could become a pastiche of an old Ferrari, but in reality it's just a bloody lovely detail, the scrapes, clicks and clacks add a real sense of drama and it shows that Audi has a bit of a sense of humour, too. It helps that the gearbox action is so short and precise. The dry-sumped 4.2-litre V8 starts with a little flourish and settles to a quiet, cultured idle, and selecting first is enough to know that it's going to greatly enrich the driving experience.
Once you're rolling you can feel the sophistication of the R8's chassis, underpinned by the stiff and lightweight Audi Aluminium Spaceframe concept (the entire body in white weighs just 210kg), double wishbone suspension and optional Magnetic Ride Control dampers. There's such cool control and although the ride is befitting of a sports car, the way the R8 rounds-off lumps and bumps is first class. This fleet-footedness is matched by the fast-spinning direct-injection engine and light and wonderfully detailed steering feel. There's such cohesion. The R8 isn't much lighter than the V8 Vantage at 1560kg but it feels so much more agile.
The gearbox really is a joy. The only trick to driving the R8 smoothly is to be mindful of how quickly the engine revs build or fall away. Upshifts need to be quick and assertive and the downshift blip is very easy to overdo. Delicacy is the key, not grand gestures. That's true of the whole car. The steering is low effort but highly precise, the chassis rewards accuracy and calm inputs. Drive the R8 with the subtlety and progression that it's feeding back to you and it really is captivating.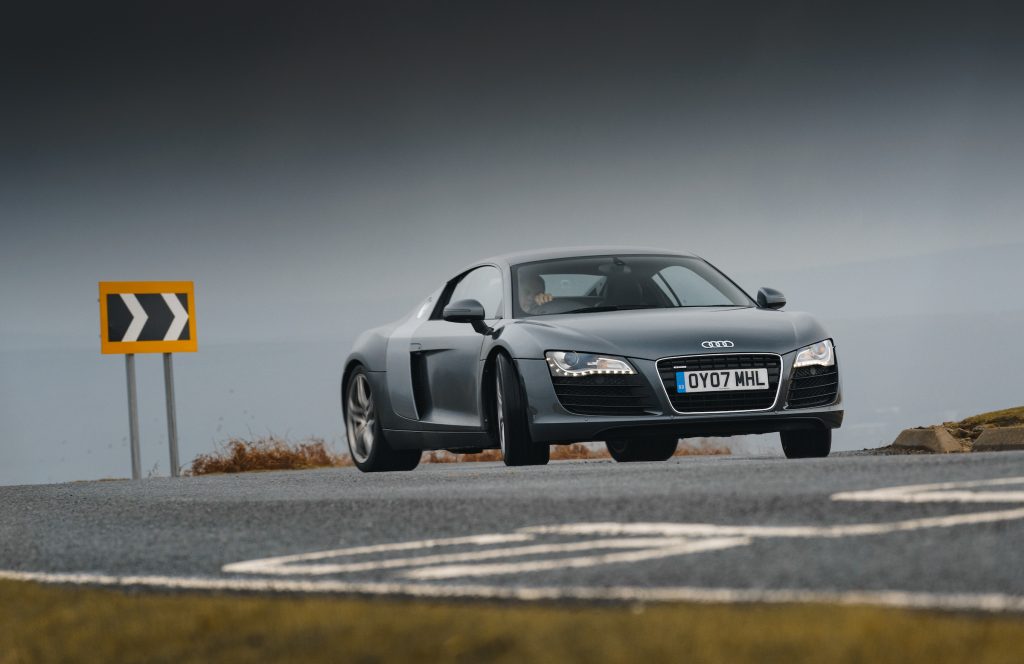 That isn't to say the R8 is all good manners and no thrills. Quite the opposite. The R8's four-wheel drive system is rear-biased and can send up to 35 percent of torque to the front wheels. The remarkable thing though, is that you'd never know. From the clean, uncorrupted feel of the steering to the wonderfully neutral chassis, there's very little hint that the R8 is four-wheel drive at all.
In fact, at the limit it tends towards oversteer and even at lower speeds always reacts to throttle inputs just as you'd expect a finely resolved mid-engined, rear-drive car to do. Ramp-up the dampers to Sport and there's extremely strong body control, too. Everything turns more intense.
I'm aware that this has turned into a eulogy but I'm comfortable with that. The Audi R8 is a triumph and a simply joyous place to spend time. If you like your sports and supercars loud and raucous then perhaps look elsewhere. However, should you appreciate balance, innate control, intuitive dynamics and one of the world's great engines spinning in a frenzy towards 8250rpm then don't hesitate. This is not a 911 (reason enough for some). But it's every bit as brilliant.
Like the sound of the Audi R8? Click here to browse R8 values using the Hagerty Price Guide
Fast facts: 2005 Aston Martin V8 Vantage vs 2007 Audi R8 4.2 V8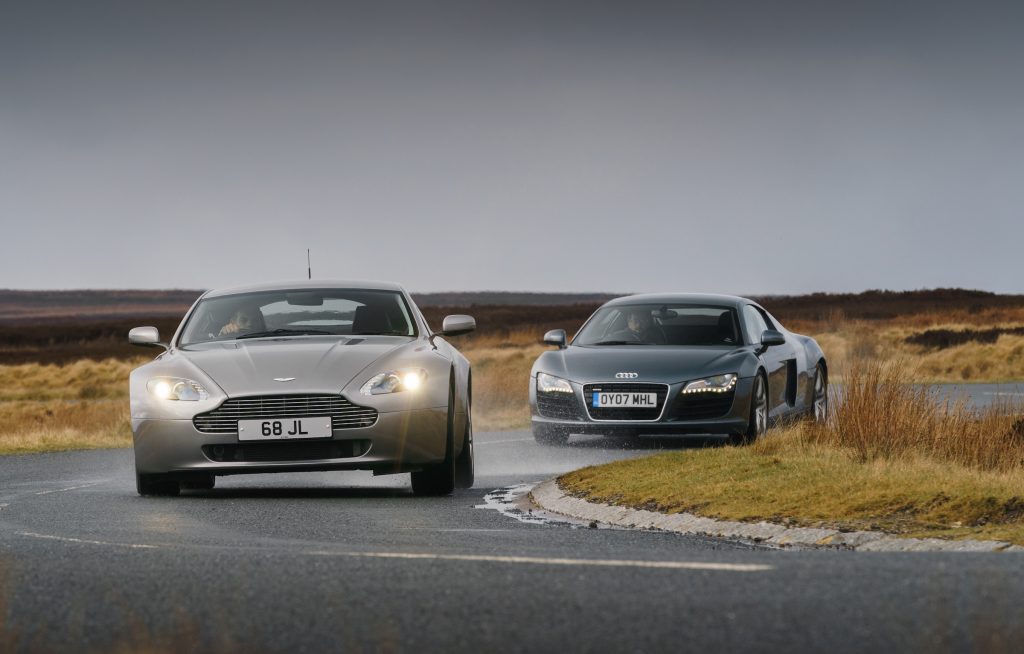 Price range (fair to concours): vs £32,500 to £57,000
Engine: 4280cc V8 vs 4163cc V8
Power: 380bhp @ vs 414bhp
Torque: 302Ib/ft vs 317Ib/ft
Gearbox: 6-speed manual vs 6-speed manual
Kerbweight: 1570kg vs 1560kg
0-60mph: 4.8 seconds vs 4.0 seconds
Top speed: 175mph vs 187mph
Editor's note
What other pairs of cars would you like to see Hagerty and contributor Jethro Bovingdon bring together? While suggestions on a postcard would be welcome, it may be simpler to leave us a reply in the Comments, below. Thank you! James Mills.