Imagine Alfa Romeo announcing today that its Stellantis partner, Maserati, had offered the 621bhp, 3-litre V6 from its mid-engined, MC20 supercar to be shoehorned under the bonnet of a front-wheel drive saloon. You'd think that parsimonious boss Carlos Tavares had finally tired of profitability, and thought: "What the hell – let's have some fun!"
Well, that's clearly never going to happen. But 37 years ago, two then Fiat-owned car brands decided that the concept of an outlandish engine bolted into a near-cooking sedan would not only have the potential to give sports saloons like the BMW M5 a bloody nose, but also help define the new model from a raft of other marques using the same platform. That wolf-in-sheep's-clothing was the Lancia Thema 8.32, and the numbers in its name came from the 32-valve V8 Ferrari engine mounted across its front axle.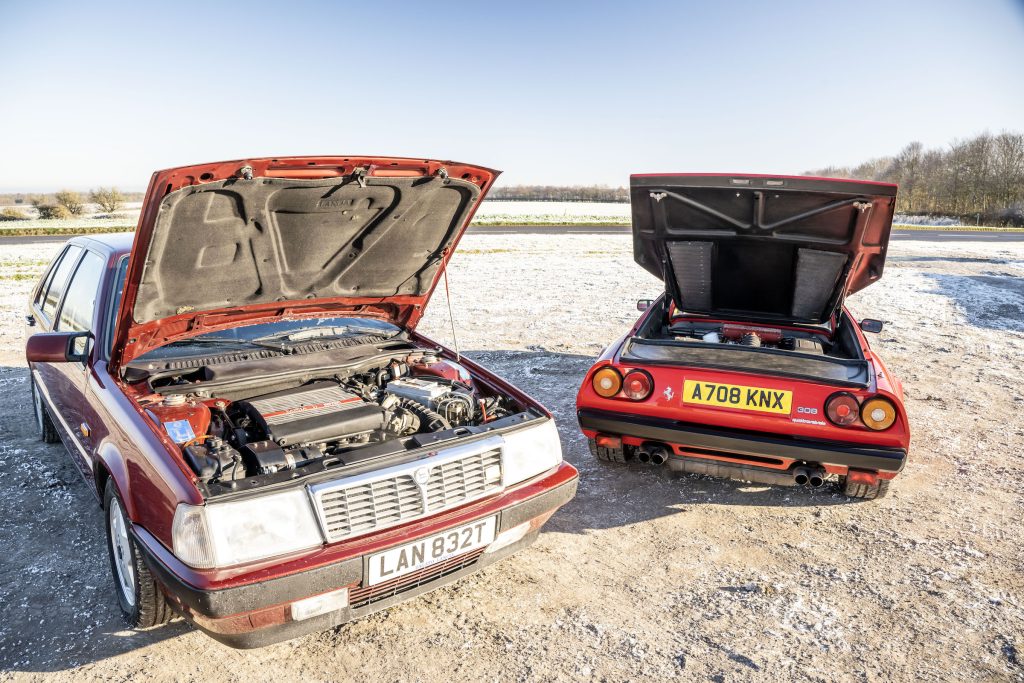 Of course, for a few grand more back in the day you could have had the real McCoy and a dollop more power. Ferrari had been building 308s since 1975, and the engine it gifted to Lancia (albeit in modified form) had come from the third iteration of that model: the 308 GTB/GTS QV.
Clearly, the immaculate and original Lancia Thema 8.32 and Ferrari 308 GTB QV joining us today are not here for a face-off, given their vastly different remits. What we do want to discover, though, is how an otherwise competent but mundane saloon performed when it was laced with such exotic hardware, and if it bears any comparison with the poster-boy from which its mechanicals originally derived.
Lancia Thema 8.32 – the ultimate '80s Q-car?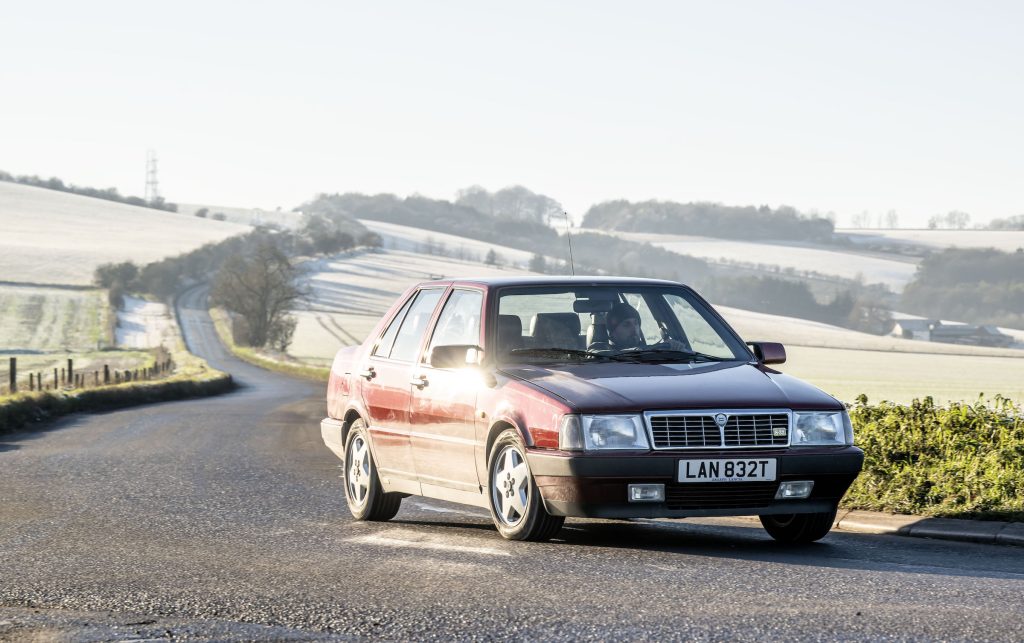 In 1988, the Lancia Thema cost £37,500. That made it more expensive than a Maserati 430 Biturbo, an Audi Quattro and a BMW M5. In fact, you could just about buy two Ford Sierra Sapphire RS Cosworths for the same money. Small wonder, then, that only a reputed nine cars reached UK shores out of a total production of nearly 4000 8.32s.
But actually, ensconced in the richly-trimmed leather driver's seat of Rajesh Sharma's first-series car as we schlep smartly across fast, well-sighted Oxfordshire roads, I'm wondering if this opulent Lancia was ever properly understood, or its true potential realised. With quite a few caveats thrown in, driving it today does leave you slightly agog, with much of that down to the sheer brilliance of Lancia's adaptation of the Ferrari engine.
More of that later, though. First, why and how did Lancia ever manage to bring such a complex and low-volume car to market? The Thema range was built on the Type 4 platform, co-developed by Fiat (which had owned Lancia since 1969), Alfa Romeo (also to fall under Fiat control from 1986), and Saab, to reduce costs across all brands. As well as the Thema, the Fiat Croma and Alfa Romeo 164 models which emerged from the collaboration all used a fully-independent, MacPherson strut version of the platform, with Saab going down its own route. However, when it came to body design, Alfa was the outlier, with the 164 sporting markedly different styling to the other siblings.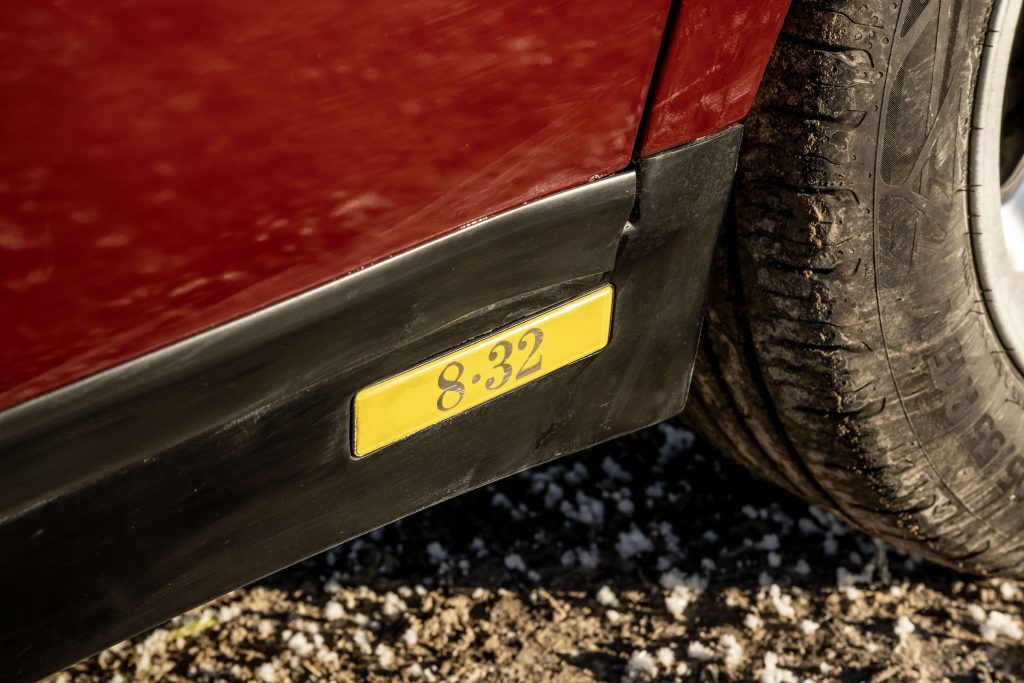 And it would be fair to say that the Thema's lack of individuality, despite the overall competence of its generic underpinnings, gave rise to thoughts of a halo model – one that would lift Lancia's image, while also taking the fight to four-door performance-bruisers, like the recently launched E28 BMW M5.
Fiat chief, Vittorio Ghidella, who'd overseen a transformation in the group's fortunes since being appointed in 1979, must have taken an overdose of brave pills when it was proposed that a Ferrari V8 should power the Thema's range-topper, rather than the existing 2.8-litre PRV V6 engine. The 2927cc unit from Ferrari's recently replaced 308 GTB/GTS QV (for Quattrovalvole, or four valves per cylinder) was an engineering masterpiece, but plucking it from the midships of a Maranello supercar and installing it over the front axle of a large saloon – and driving its front, rather than rear wheels, to boot – was no mean feat.
And given that the 8.32 was conceived more as a rapid, luxury conveyance, rather than an out and out sports-saloon, the inherently peaky 308 unit needed to be tamed. The Ferrari's 180-degree-throw flat-plane crank was therefore replaced by a regular cross-plane item with a 90-degree throw and a different firing order. The design of the 32 valves was changed, too, and while power dropped from the 308 QV's 240bhp to 215bhp, torque was beefed up to 210lb ft, 80 per cent of which could be accessed from 2500rpm, with the rest by 4500rpm. As we'll see, this created clear space between the nature of the 8.32's performance versus its Maranello cousin.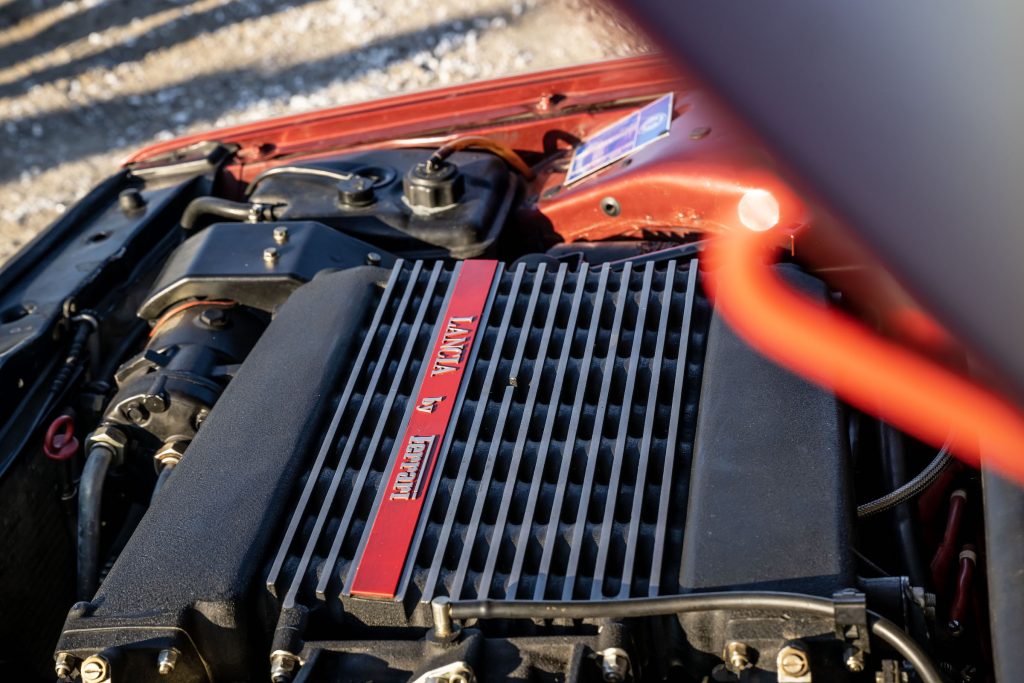 Chassis-wise, first-series cars had recalibrated passive dampers (with optional, but much criticised, electronic damper control for series-two models), upgraded 205/55 R15 Goodyear Eagle tyres, and ZF speed-sensitive steering, introduced to quell the inherent torque-steer with such a powerful front-wheel-drive set-up. The 8.32 was also the first Italian production car to be fitted as standard with anti-lock brakes.
Installing a Ferrari engine brought little visual drama to the outside of the 8.32, though. There was a new front grille, a deeper front spoiler, sill extensions and a twin-exit exhaust, along with some discreet '8.32' badging here and there. And if you glanced at the boot lid, you'd see a flush-fitting spoiler that, at the press of a button, could be raised by the driver to aid stability at higher speeds. But in essence, this was a sleeper, par excellence.
Sit inside the 8.32 today, though, and there's no mistaking it for any regular Thema. 'Our' car is trimmed in the optional and sumptuous Poltrona Frau leather, and along with generous swathes of burr walnut across the dash, it feels very much how you'd imagine a four-door Ferrari saloon to be, if such a thing had existed. There's no shortage of kit, either: climate control, multi-adjustable electric heated seats, and no fewer than eight dials, two of which are dedicated to the powertrain and electrical systems' condition – advanced tech, nearly 40 years ago.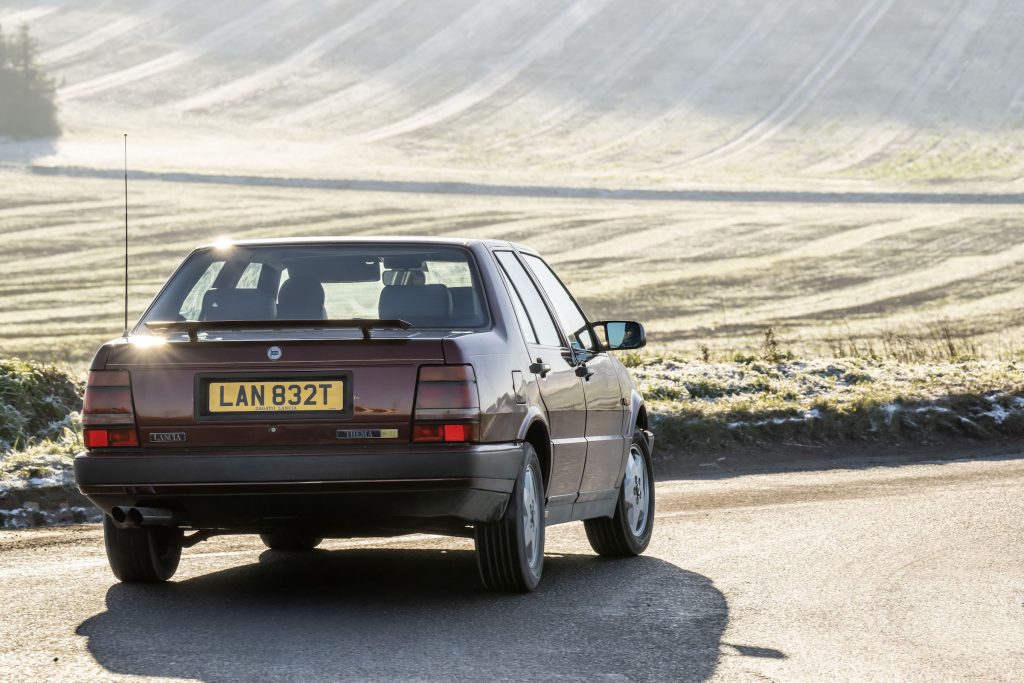 You sit high in the left-hooker (all 8.32s were left-hand drive) and almost look down at the steering wheel, which is slightly canted forward, Mini-style. Turn the key, and… well, this sounds nothing like a Ferrari. The 8.32 produces a cultured rumble at idle, more akin to something from Detroit than Maranello – a mix of the firing-order change and regular crank, I guess. Pull away, and you note the surprisingly light and progressive clutch action, matched by the slick, precise throw of the five-speed gearshift.
The long-travel throttle is responsive, and as the revs rise to around 3000rpm, you feel a growing slug of torque that isn't there in the Ferrari at this engine speed. Keep the motor percolating at between 3-4000rpm, and you're in its sweet-zone, wafting on a wave of torque. It's mellow and refined, too, even when you drop a gear and extend the revs towards the 7000rpm redline.
But does the rest of the car match the high bar set by its engine? High-set driving position aside, all-round visibility is excellent and unmatched by any modern car I've driven. Ride quality is supple, but perhaps at the expense of some body control at higher speeds. By today's standards, the speed-sensitive rack actually delivers good feel and linearity, but contemporary tests were less flattering. Either way, this is more a car for blasting across continents, than picking through typical British country lanes, the engine's mass dampening responsiveness and prompting understeer through tighter bends (hardly surprising, with weight distribution of 65:35, front to rear).
As Car magazine's Ian Fraser said when he tested the car in 1987: "…a high percentage of the 8.32's value must be in that Ferrari engine: be advised, it's worth every penny."
Ferrari 308 GTB QV – classic '80s poster-boy of the supercar world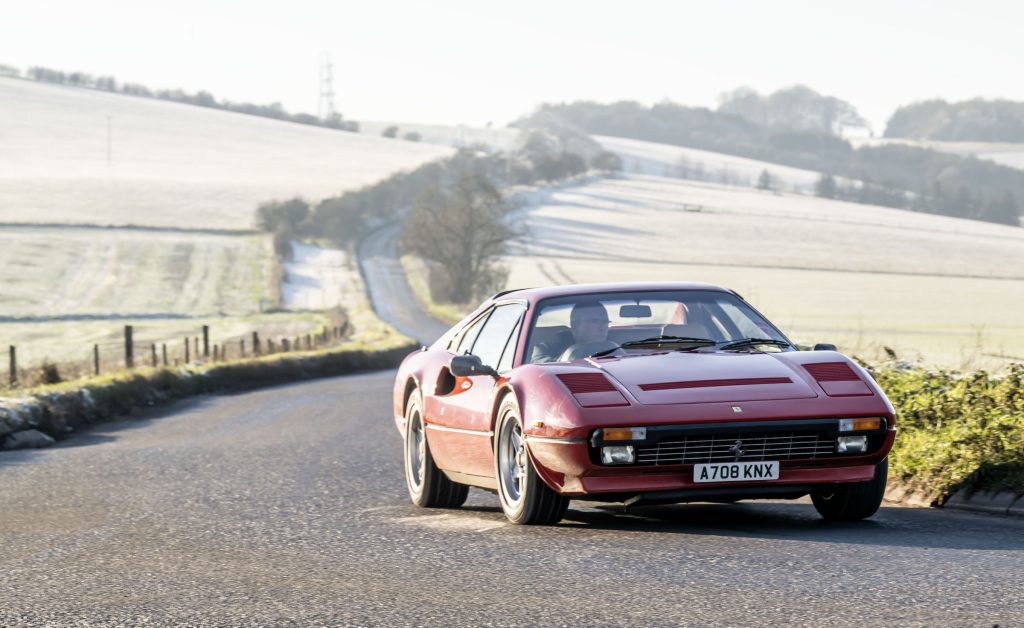 They say never meet your heroes, but fortunately I've been here before recently (albeit with a later 328 GTB), so I know that I won't be disappointed with the prospect of driving John Dickins' impeccably maintained 1984 308 GTB QV, which he's owned for the last 20 years.
The 308 was the car that adorned posters on my bedroom wall as a teenager, and I still think that it's one of the best-resolved mid-engined Ferrari designs, along with the Dino 246. And it was the 246 that the original 308 GTB effectively replaced, though this time officially badged as a Ferrari, rather than a Dino (a nameplate that continued for the 1974 Bertone-designed 308 GT4 2+2).
Pininfarina's Leonardo Fioravanti successfully melded references to the much-loved 246'S shape with a clear nod to the 308's big brother, the recently launched Berlinetta Boxer. The 308 was also the first Ferrari to do time in Pininfarina's wind-tunnel; quite a revelation, given the 170mph-plus top speeds of earlier cars, like the 365 GTB/4 'Daytona'.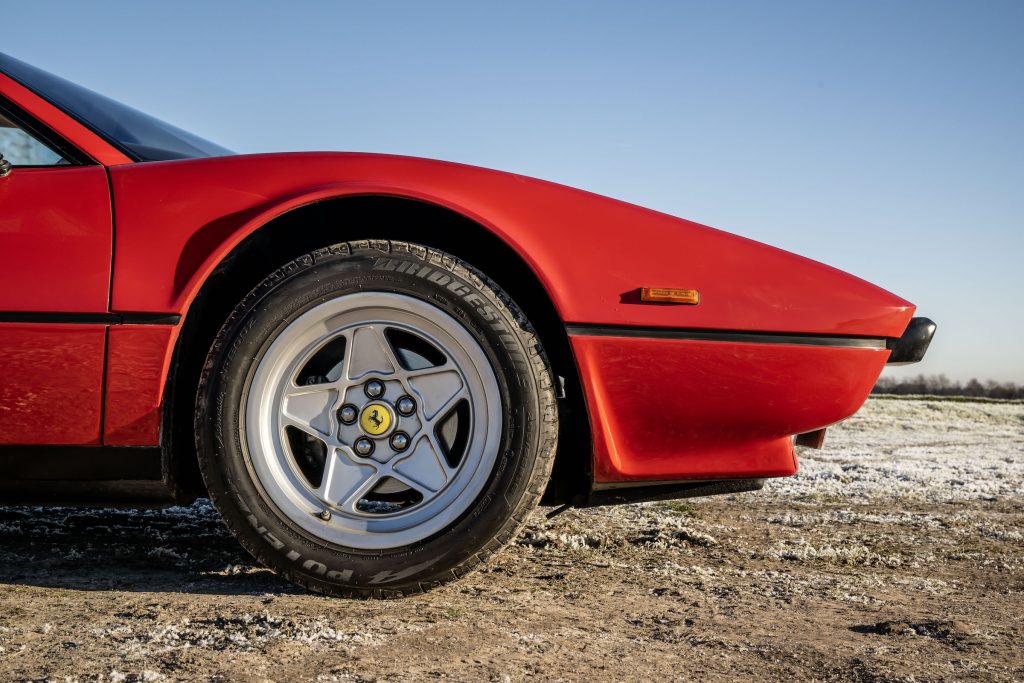 Dickins' QV that we're driving today was the third 308 variant since launch. Body-wise, there had been few changes from launch, the main one being a switch from fibreglass to steel panels over the tubular steel frame in 1977, contributing an extra 150kg to this car's 1400kg kerb weight. The chassis' double wishbones with coils over telescopic dampers at each corner, and ventilated brake discs all round had also remained.
But while the same 2927cc, four-cam, 90-degree V8 engine was used right up to the introduction of the larger capacity 328 in 1985, the first 252bhp carburettor cars were later made cleaner as fuel injected GTBi/GTSi models, albeit with a drop on power to a paltry 211bhp. However, in 1982, when the QV arrived with twice the valve-count, the power issue was addressed, rising to 237bhp at a heady 7000rpm, and generating 192lb ft of torque at 5500rpm (note the marked contrast to the 8.32's figure).
Whatever the variant, though, there was no doubting the 308's popularity, and it had become the best-selling Ferrari by the time sales stopped in 1985. Of course, this may have been helped by a certain TV private detective who drove one in the '80s, probably accounting for the runaway success of the targa-topped GTS, that in QV guise alone sold 3042 cars, versus only 748 of the closed-top GTB model.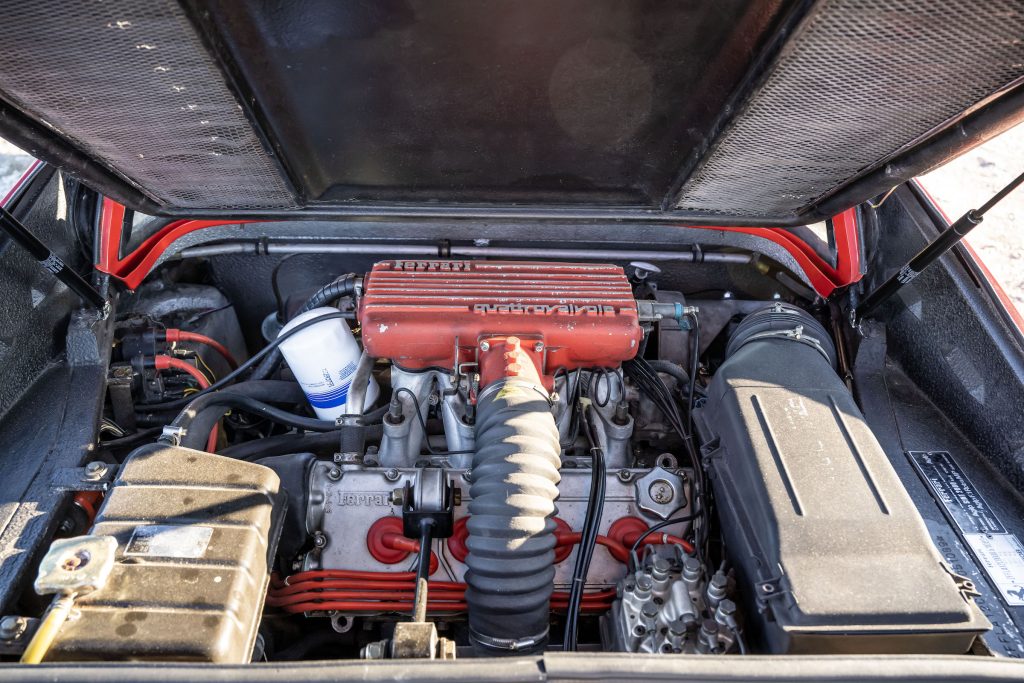 And that makes 'our' test car something of a rarity. Originally painted white at the factory, it's now presented in the more traditional Rosso Corsa, and arguably all the better for it. Dropping down into the Ferrari's driver's seat, you first note that almost all of the controls – including those for heating and ventilation – are neatly laid out in the centre console, rather than the dash.
At 5ft 7in, I'm compact enough to avoid contact with the roof lining (though not by much), but it's a stretch to reach the non-adjustable Momo steering wheel, which in turn is angled away from you, forcing a police-style hand-to-hand steering technique while manoeuvring the car; my legs are also canted left to reach the pedals. But these niggles evaporate when you see the open-gated, chromed gearshift surround with its spindly lever, feast your eyes on no fewer than seven analogue dials and marvel at the amount of open space around the cabin and the fine view out afforded by the 308's narrow A-pillars.
The aural drama actually starts before the engine fires, the starter motor itself seeming to spin at redline speeds. At idle and while pootling along the 308's V8 is subdued – anodyne, even. While photographer Barry Hayden's been snapping away, the car's cooled, so the gearshift is predictably recalcitrant initially, to the point where it's easier to skip second going up through the 'box (though the lower ratios are so close, it's hardly an issue). The unassisted steering is quite heavy at lower speeds, and reasonably quick at 3.25 turns from lock-to-lock for an unassisted system.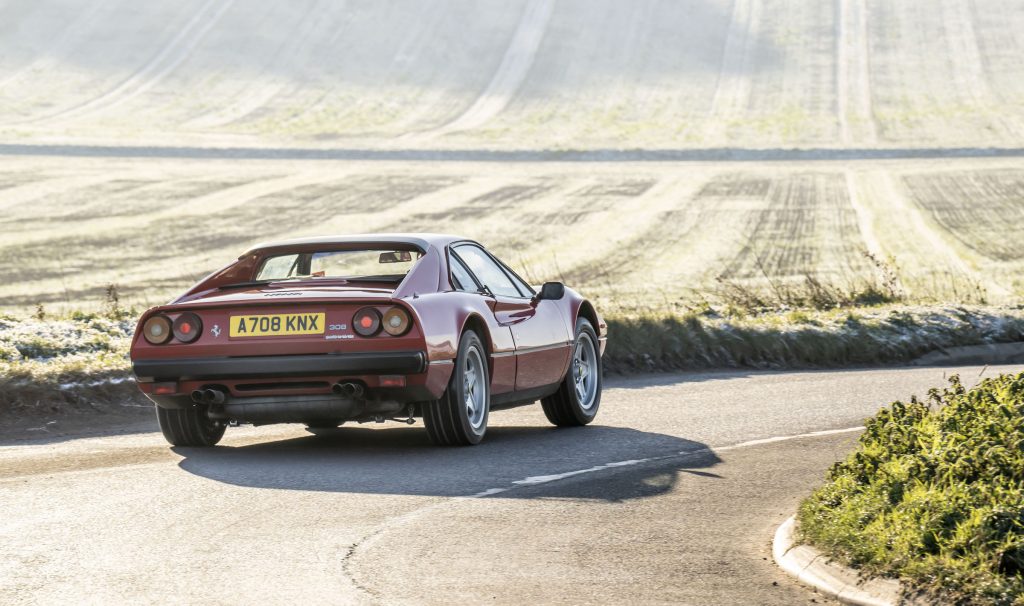 Happily, Dickins' car feels box-fresh, and all the main controls operate with a tight and well-oiled accuracy that must give a fair indication of how it was when new. Pick up speed, and the steering comes alive, rich with feedback (plus some kickback on gnarled surfaces) and even on damp roads offering generous front-end grip. Body control is way beyond expectations, goading you to brake later, and accelerate earlier through bends, even allowing a whiff of easily-sortable oversteer on the exit.
That engine, though. Fully-warmed, you need to extend it further than you'd expect to gain the full effect – ideally beyond 5000rpm. Gearchanges then become bullet-quick through the open gate, and Ferrari's native version of this V8 sounds as deep-throated and mellifluous as you'd expect it to be. And while it's not actually that quick, judged by even the standards of a modern 250bhp-ish hot-hatch, it's utterly captivating. Yes, the 308 requires concentration and focus to drive fast, but honestly, would you want it any other way?
Verdict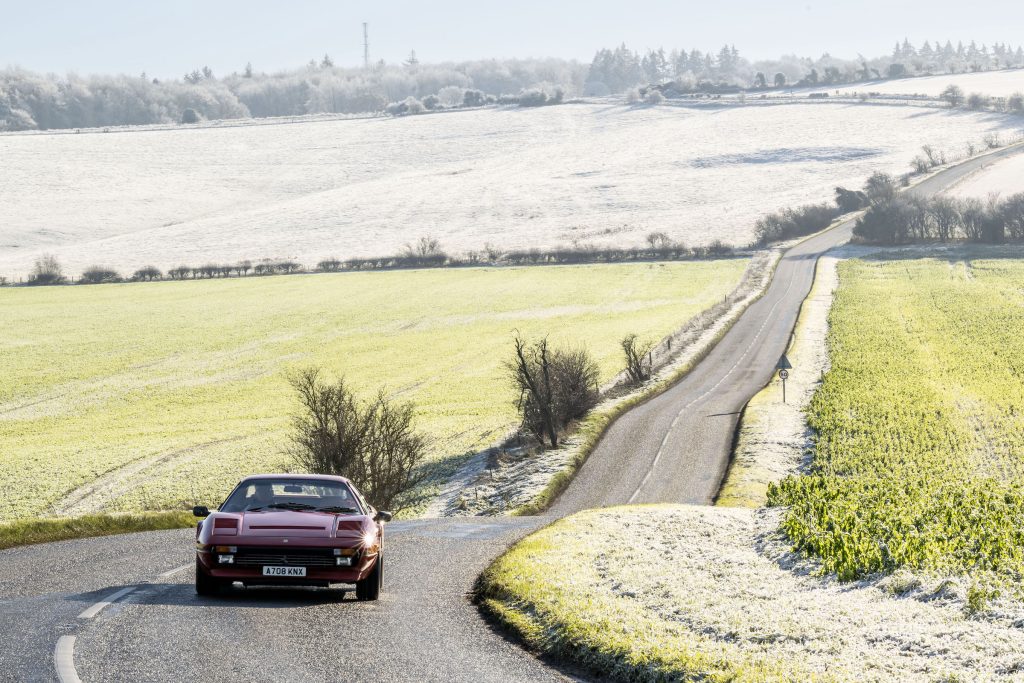 You're never going to be torn between these motors. The Ferrari 308 GTB QV is an out-and-out sports car, and even though it uses what is essentially the same engine as the Lancia's, almost everything it produces – power, torque, noise – is deployed in a completely different way, aligning exactly with the type of car it is. 'Lancia by Ferrari' is writ large on the 8.32's cam-cover, but if we're talking about the engine, that's surely the wrong way around, because Lancia's engineers truly did put their own stamp on it.
Torque-rich and flexible, with hints of NASCAR in its soundtrack, Lancia's take on Ferrari's V8 means that it's perfectly right-sized for the car, gifting it dose of savoir faire denied to other more humble Themas. Nonetheless, a front-wheel-drive chassis was always going to be the car's Achilles heel, but just imagine its potential had it been fitted with the Delta HF Integrale's four-wheel-drive system, and state-of-the-art adaptive damping…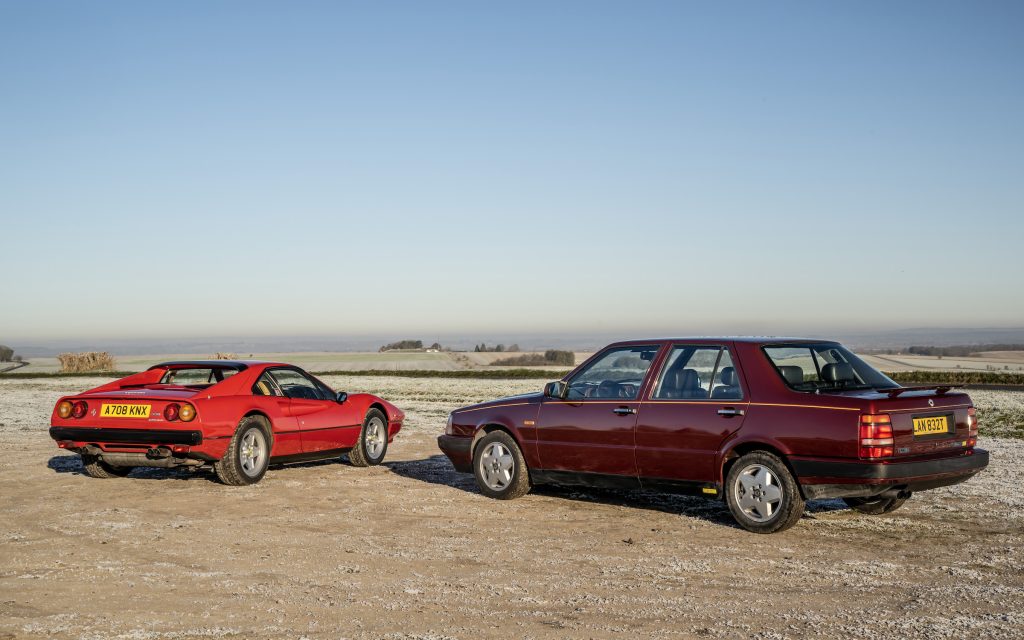 Fast facts: 1986 Lancia Thema 8.32 vs 1984 Ferrari 308 GTB QV
Price range (fair to concours): £15-25,000 vs £80-120,000
Engine: 2927cc V8 vs 2927cc V8
Power: 214bhp @ 6750rpm vs 237bhp @ 7000rpm
Torque: 210lb ft @4500rpm vs 192lb ft @ 5500rpm
Gearbox: 5-speed manual vs 5-speed manual
Kerbweight: 1400kg vs 1400kg
0-60mph: 6.8 secs vs 6.7 secs
Top speed: 149mph vs 158mph
Check out the Hagerty Media homepage for daily news, features, interviews and buying guides, or better still, bookmark it.