What was your first car?
A Mini
How much is your car to insure? Find out in four easy steps.
Get a quote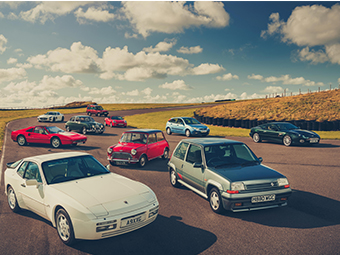 Tell us about your love of classic cars.
My father was an engineer who competed and always had nice cars, restored them, helped friends with their cars. I was born into a car loving family. My earliest memories revolve around cars and motor racing events.
Which classic car do you currently own?
What do you love about your classic car?
It's always an event to drive the Ferrari, more so than modern performance cars in my opinion. You become one with the car and the fact that it needs to be cared for brings you even closer. The car originally belonged to my late father and has been part of the family for 35yrs! I have owned classic Lotus, Fords, Mini's amongst others but the Ferrari will always be there, it's special.
What is your dream car?
Lancia Aurelia B20GT
Why did you choose Hagerty to insure your car?
I like the straight forward and very personal approach to dealing with their customers. Premiums are very competitive and the fact they don't diversify into other areas of insurance has maintained their expertise and authority within the classic car industry. I have recommended Hagerty to numerous friends and they too have found them to be excellent.
Are you a member of a car club?
Yes – Ferrari Owners Club & Club Lotus
If you would like to feature your classic car please complete our Q & A form.