Maserati and Ferrari have never seen eye to eye. The two Italian marques bear a grudge born out on the race tracks of Europe and continued on the road and in the boardrooms. In 1939, Maserati even went so far as to move from Bologna to Modena, a decision seen as an act of aggression by Enzo Ferrari at the time.
The bitterness between the two continued to bubble over the following decades before reportedly peaking in 1978 when Sandro Pertini, the then Italian president, decided to make a visit to Maranello and Enzo Ferrari refused to meet his cavalcade. His crime? He arrived at the factory gates in his presidential Maserati Quattroporte.
How much is your car to insure? Find out in four easy steps.
Get a quote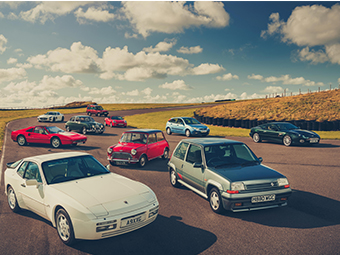 From then on, the tension began to cool as penniless Maserati stumbled from one disastrous takeover to another before it was eventually saved by Fiat. Friction resurfaced, again, in 1999 when Maserati suffered the indignity of being effectively handed over to Ferrari who then promptly relegated it to becoming its luxury division where, to Maranello's credit, it finally began to prosper. Then, in 2016 Ferrari left FiatChrysler and went it alone, leaving Maserati to fend for itself, and it didn't take long before the wounds reopened.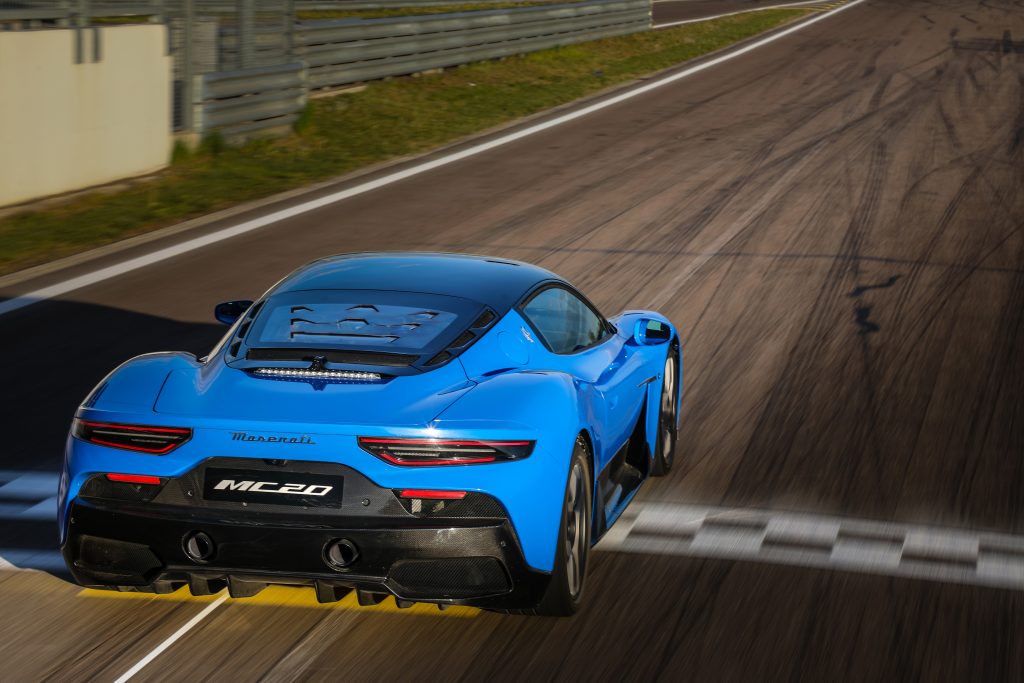 Which brings us to November, 2019, and the launch of the Ferrari Roma, at Rome's historic Stadio dei Marmi. To casual onlookers it would have seemed like just another launch of another expensive Ferrari, but back in the province of Modena there were shockwaves. Ferrari had launched a car that didn't so much tread on the toes of the Maserati GranTurismo as trample it into the dust. The Roma's unveiling would trigger an unlikely chain of events, ultimately resulting in the MC20 we're about to drive.
"Two can play at that game," Maserati seemed to say, two years ago when it announced the first details of a mid-engine sports car that would be a direct competitor to the Ferrari F8 Tributo. And here it is, the MC20, awaiting me at the Autodromo di Modena race circuit.
Developed in just two years from sketch to production car, including two million miles of on-road testing in hot and cold climates, and the minor matter of a global pandemic to contend with, you sense that Maserati had the Trident between its teeth as it set out to strike back at Ferrari.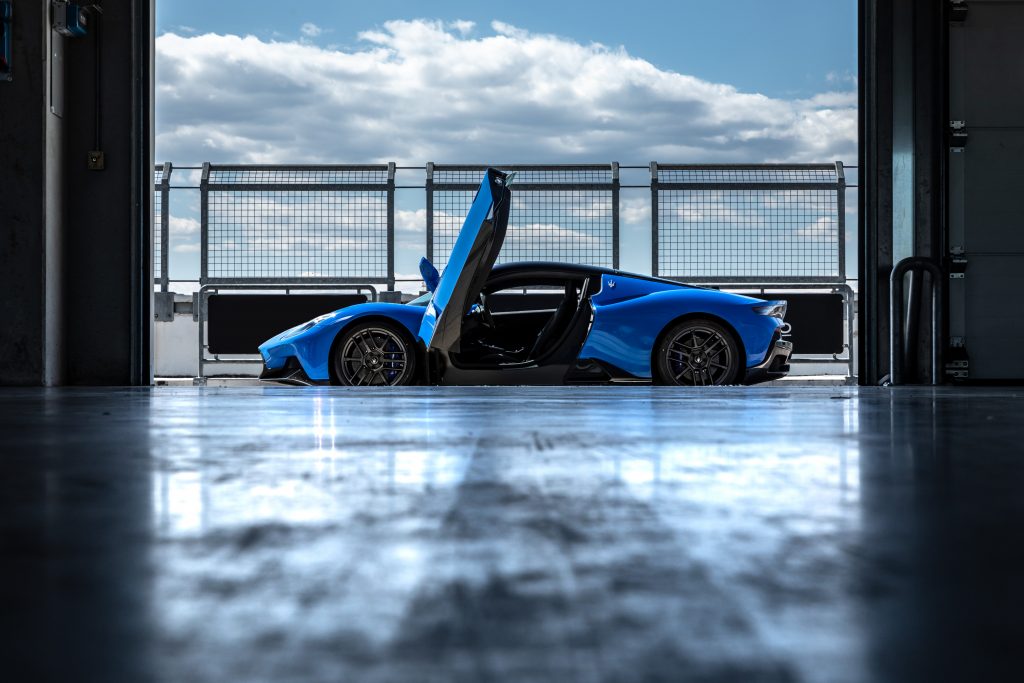 As beautiful as the F8 is, it's also somewhat "busy" in the metal, and it's hard to emphasise how much better the MC20 looks than both its rival and those early pictures. From its MC12-inspired nose, shrink-wrapped proportions and glorious design details, like the plexiglass rear screen complete with Trident graphic, Maserati's first supercar in a generation scores a direct hit.
Better still, its beauty is more than skin deep.
Instead of developing an aluminium chassis like the one the F8 Tributo uses – technology Ferrari can trace back to the 360 Modena, of 1999, which is developed with Alcoa – engineers at Maserati teamed up with race car-maker Dallara to develop a lighter, stiffer, more rigid carbonfibre tub. To this it attaches extruded aluminium subframes that feature cast aluminium suspension towers that look like a piece of sculpture.
Remarkably, the MC20 has been developed for both combustion engines and a pure-electric powertrain, with the latter mounting its batteries behind the driver and passenger to maintain the same weight distribution as the V6 twin-turbo, preserving its mid-engine handling balance.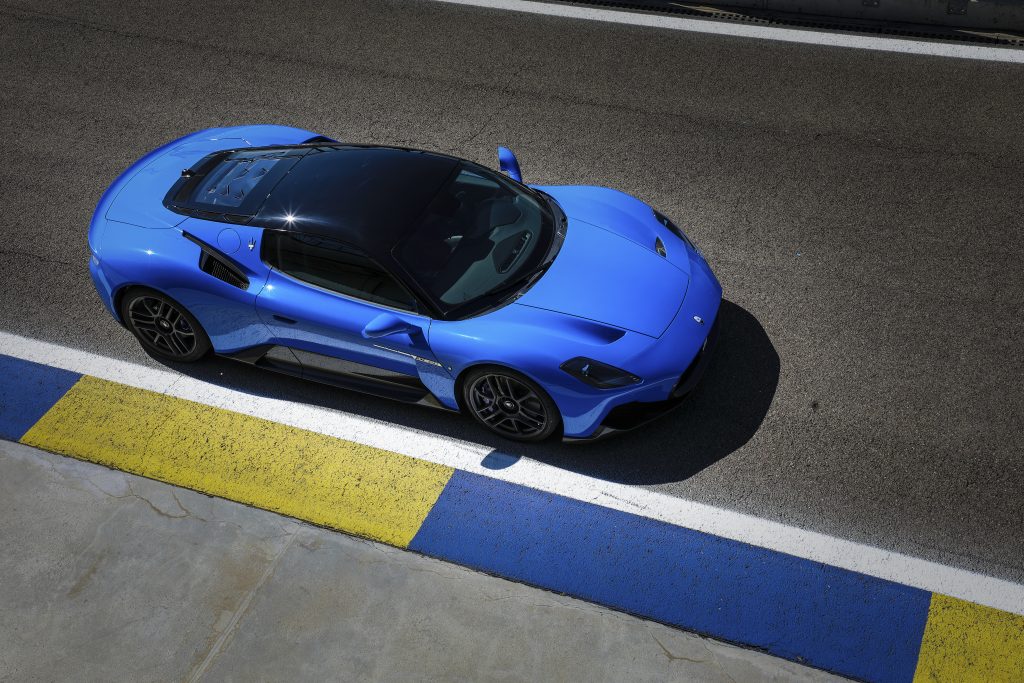 Perhaps more astonishing, since Ferrari pulled the plug on supplying engines to its arch-rival, the oversquare 90-degree dry-sump engine that powers the MC20 is entirely new, developed in-house by Maserati. The 3-litre unit shares nothing with any other existing block in the Stellantis group.
It also features bona-fide Formula 1 technology. The company has developed what it calls Maserati Twin Combustion (MTC) tech. So secret is this new technology that, just four weeks away from the car arriving in showrooms, the engineer in charge of the patented system wouldn't even show me the small part that makes its pre-chamber combustion possible. Nor would he even discuss what metal alloy it's made from.
If we really wanted to know, he said, go buy a car and strip the engine down yourself. He was only half-joking.
The theory behind MTC is to complement the traditional spark plug with a trick little prechamber, that moments before a traditional spark plug fires works like a miniature flame-thrower. The combination of spark and setting off the equivalent of a firework in the combustion chamber is claimed to be an even bigger, more efficient burn that allows the engine to produce mighty power. How mighty? Upwards of 210bhp per litre, while easily meeting emissions. Better still, the 621bhp and 538lb ft of torque the engine produces is only the beginning, with more powerful variants expected – all without having to resort to expensive (and heavier) levels of electrification.

And that brings us to weight. Thanks to a full carbonfibre body, Maserati claims the MC20 tips the scales at just 1475kg – though that's still a touch heavier than the F8 Tributo. That all leads to what's best described as explosive performance, with a 0-62mph time of just 2.88 seconds, a 0-124mph sprint of 8.8 seconds and top speed of 203mph.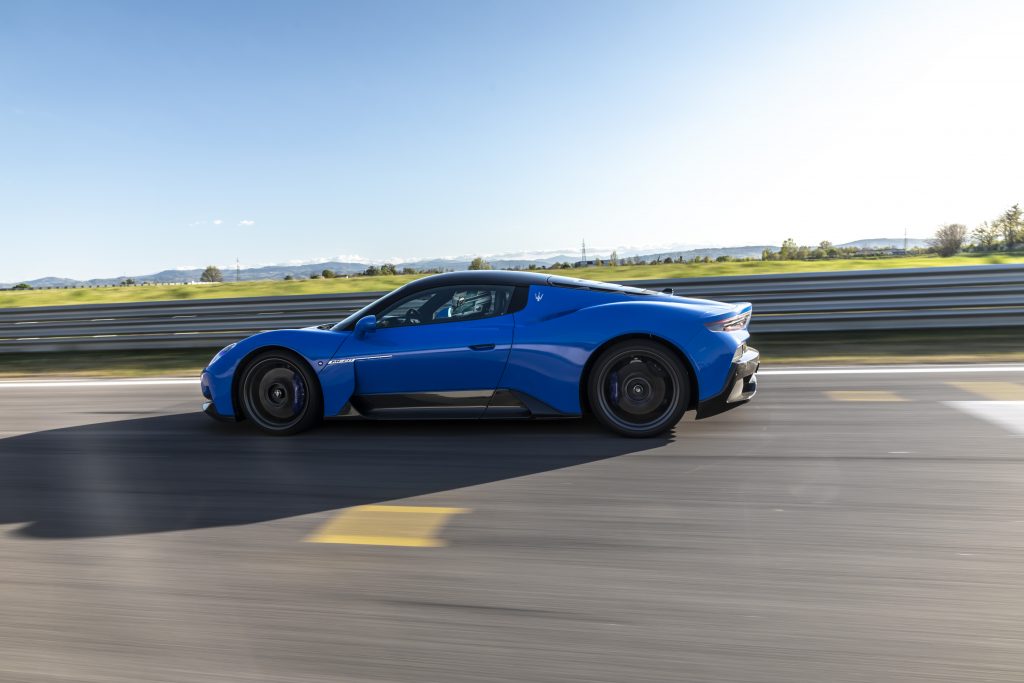 With tyre pressures checked by men in Maserati overalls, crash helmet donned, I stab the electric release and open the ultra-light butterfly doors to drop myself into the bespoke Sabelt seats. The light and spacious interior offers excellent visibility out, while the view ahead is evocative as it replicates the vibe of the MC12 Le Mans racer. The rear-view mirror projects a camera feed live from the tailgate. Without it, the pillar-box slit, complete with Lexan engine cover, reminds me of the Ferrari F40.
Instead of opting for the same seven-speed transmission as Ferrari, Maserati has adopted for an eight-speed dual-clutch gearbox used in the latest C8 Corvette. Leaving the pits, I flatten the throttle and gasp. Despite the short straights, the MC20 delivers relentless acceleration that's easily matched by the transmission's ability to keep pace with the high-revving V6.
Braking, with the optional carbon-ceramic brakes, is immense, and the MC20's ability to avoid understeer remarkable. Small drifts are also easily coaxed, with the MC20 set up to flatter fools like me.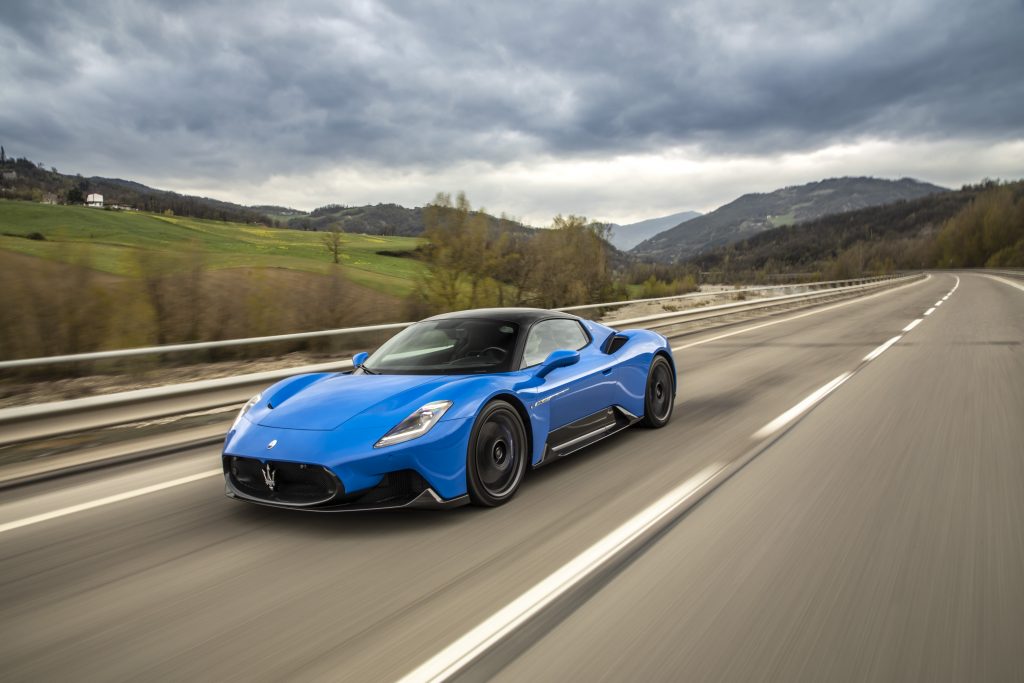 "We see a lot of people crash other brands' supercars, so for our car we made sure the Bridgestone tyre is progressive when it loses grip. It doesn't snap, it is easy to catch, no?" the accompanying engineer shouts across to me. Sure enough, a roll of the wrist is all that's needed to gather up a small slide.
From day one the MC20 handling was honed to ensure it flatters drivers of all abilities, with the ultimate aim of making you feel like a hero behind the wheel on track but it's on the road where the sternest test of any sports car lies.
Curiously, instead of the promise of driving nirvana, I'm told the MC20 engineers have found the 'very worst roads in the region'. I prepare myself for two hours in traffic on some anonymous ring road. Happily, the route prepared consists instead of some of the bumpiest, roughest country roads I've ever driven in Italy.
This lunar landscape throws lumps, bumps, cracks, potholes and downright evil cambers at the MC20's suspension and platform. And you know what? It's here, not the track, that MC20 shines. Instead of regular double wishbones all round, engineers have developed a unique five-link setup that allows them to use longer-travelling springs than normal.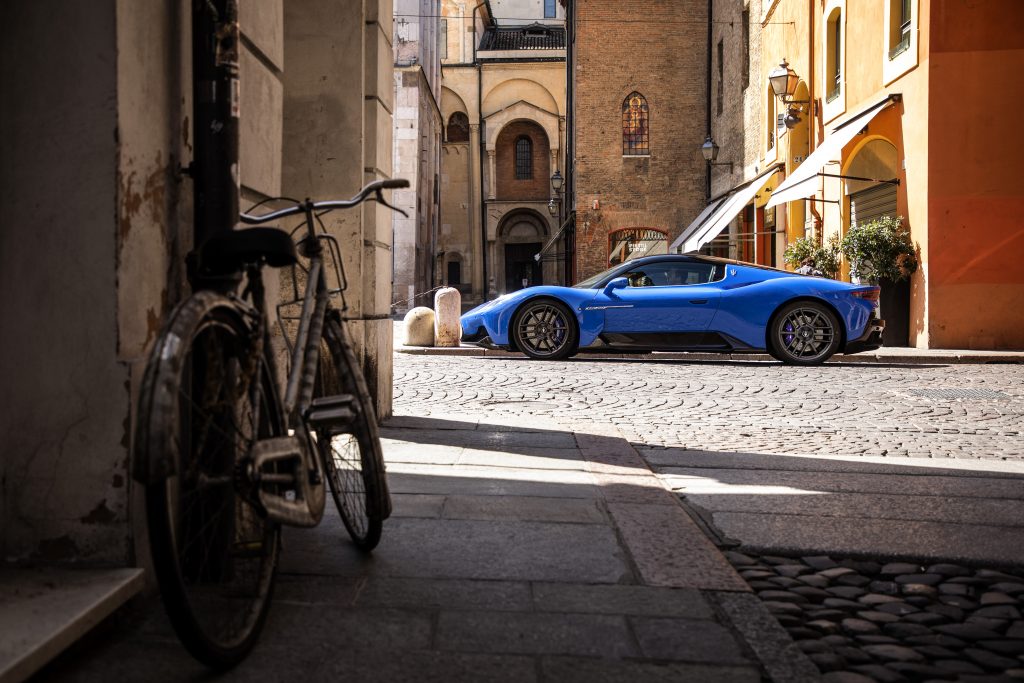 This means it feels like – and I kid you not – a rally car in its ability to shrug off a road's imperfections. Helping it cope are three-stage electro-mechanical dampers. Even in the softest setting, it dealt with a full four-wheels-off-the-deck yump that would test the front splitter integrity of some other sports cars. Instead, we land gently with no expensive-sounding noises. Better still, despite this compliance, body control is never lacking so cross-country pace is blistering.
Another highlight must be the steering, which feels perfectly judged and avoids the glassy lifelessness of some Ferraris. In fact the precision and accuracy communicates just how hard you can lean on those front tyres.
And after a couple of hours of hard driving in the hills, it's remarkable just how civilised the MC20 remains around town. It really is a supercar you can use every single day of the week.
The biggest compliment we can pay is it feels like a bigger version of the acclaimed Alpine A110 – one that just happens to be substantially quicker and, needless to say, substantially more expensive.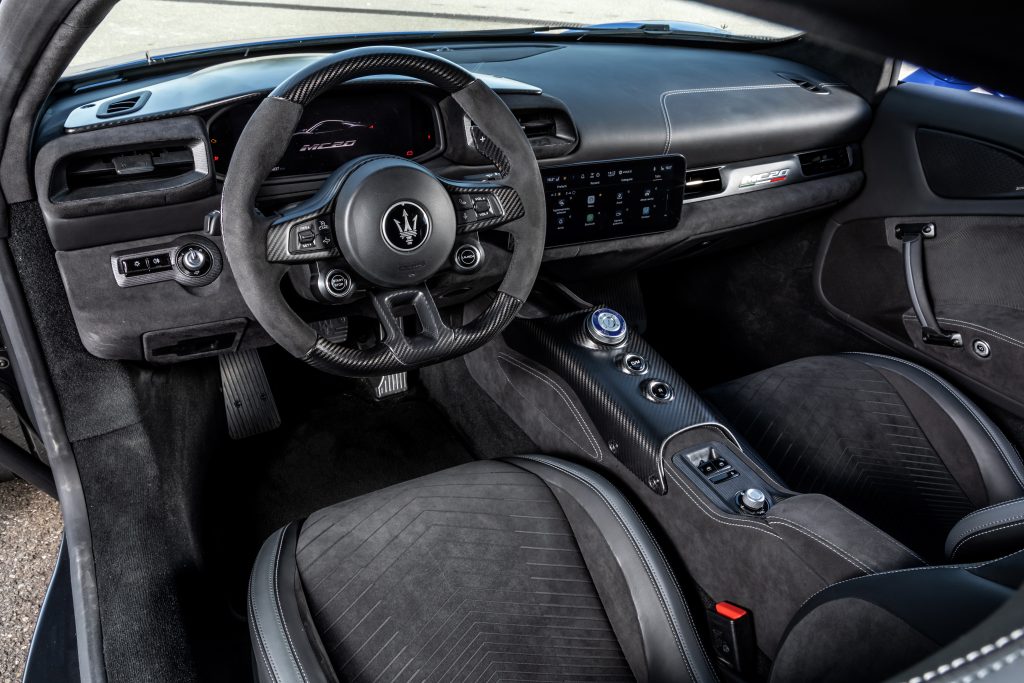 Of course, it's not perfect. The cabin doesn't feel as special as it should do. You have to use the touchscreen to access the climate control settings – but that said, it's miles better than the dated system found in the F8 and offers the Alexa smart assistant, Wifi Hotspot and the ability to manage some vehicle systems via the Maserati Connect smartphone or smartwatch app.
Your own tunes aren't a problem then, but sadly that cannot be said of the MC20's most glaring shortcoming, its soundtrack. Despite delivering the goods on the performance front, the twin-turbo V6 sounds interesting enough in isolation but lacks the howling repertoire of a good old fashioned V8. Maseratis says a fix is on the way in the shape of a lighter performance exhaust, as well as plenty of other lightweight parts like a set of forged alloy rims (-18kg) and some featherweight carbonfibre wheels (-28kg).
That could have been a serious chink in the Maserati MC20 armoury if it didn't look so drop-dead gorgeous, and drive in such an accomplished manner.
So the battle between Maserati and Ferrari rages. And long may it continue to do so – especially if Maserati can continue to raise its game as it has done with the MC20. The company has had its fair share of ups and downs but this is most definitely a turning point. The MC20 is an intelligent, well resolved car that is more user-friendly than its sublime styling and sophisticated technical specification suggest. Ferrari will have to respond, as will others in the supercar field, all of which means buyers in this rarefied segment of the market will enjoy ever better machinery in which to burn fuel and rubber.
2021 Maserati MC20 specifications
Price: £187,230
Engine: V6, 3000cc, twin-turbo petrol
Power: 621bhp @ 7500rpm
Torque: 538Ib ft @ 3000–5500rpm
Gearbox: 8-speed dual-clutch auto, rear-wheel drive
Kerbweight: 1475kg
0-62mph: 2.9 seconds
Top speed: 203mph
Fuel consumption: 24.6mpg
CO2 emissions: 261g/km
Read more
Top tridents: six magnificent Maseratis
Maserati 3200: Emerging Classic
Ferrari SF90 Stradale review