I think there may be something wrong with me. I've been devoid of Italian machinery in my life for about three months and, with the exception of a small incident with a jack which dented a wing, my two German classics have cost me nothing. They've just sat there, doing what I want them to do and not breaking. My bank balance is healthy, I'm sleeping a full eight hours and my blood pressure is that of a gym-going, teetotal twenty-five-year-old with no children. Then this week I found myself seriously considering whether to bid on a Maserati 3200 GT.
I'm not usually a masochist. I don't go to the Goodwood Members' Meeting without a coat, I don't mention Brexit at social gatherings and I'm not one of those nutters you see going sixty-five in an average speed check zone. And yet, when it comes to Italian cars, I just can't help myself.
How much is your car to insure? Find out in four easy steps.
Get a quote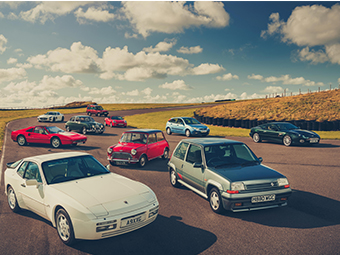 I think it may be that I'm always a bit of a soft touch when it comes to giving the benefit of the doubt. My kids understand this: every time they walk across the carpet in football boots, then swear they'll never do it again, I believe them. It's the same with cars. Even if a model has a bad reputation, I always think mine will be fine as long as I treat it with compassion. I'm not always right, but I feel it's better going through life with a positive outlook even if every now and again you have to hire a carpet cleaner. Or pay for an engine rebuild.
So, on to the latest Italian to turn my head. Earlier this week, I popped in to see John Markey at the H&H Classics showroom near Hindhead in Surrey. Parked outside was a Maserati 3200 GT Automatica in metallic blue with a grey leather interior. Instantly I was transported back to the first time I saw one, a Gumball Rally competitor in the late 1990s. Now, as then, I saw those boomerang back lights and all reason slipped away. I quickly discovered that the Maserati was for sale, an entrant in H&H's October auction at Duxford, and it was being offered with no reserve.
Now, the best thing about the 370bhp, 168mph four-seater Maserati 3200 GT coupe is that it is now ridiculously cheap to buy. The worst thing about the Maserati 3200 GT coupe is that it has been ridiculously cheap to buy for quite a while now and like any Italian performance car, they really don't like to be neglected. I also know all the common issues with them: throttle sensitivity, brake fluid loss and timing belts that require changing more often than British Prime Ministers. Plus, a friend owned one. A real petrolhead, he cosseted it right up to the point when an oilway randomly blocked as he was driving to Nottingham and the cams melted onto the heads.
I've also owned a Maserati before, a Merak. It was phenomenally beautiful, sounded wonderful and attracted more positive attention than any other classic I've owned. It was also just a little bit mad; I felt it was trying to kill me every time I drove it, and just after I bought it for a 'bargain' price I had to spend over £13,000 to get it through an MOT.
But this one seemed different. A quick look at the catalogue entry showed that it has had a lot of money spent on it: over £10,000 at HR Owen earlier this year, and cam belts changed just 4,000 miles ago. Probably more importantly, a check of the MOT history shows that this car has clocked up a steady increase in mileage since new and hasn't languished under a cover on a driveway for the past five years, waiting to explode like a clown car on the first turn of the key. Plus, the 3200 is starting to appreciate in value: the model is one that the Hagerty valuation team have been monitoring as an emerging modern classic.
So, shall I go for it? Shall I give it the benefit of the doubt, assuming the £10k cash injection has inoculated it against mechanical gremlins for the foreseeable future and renew my Maserati club membership? Or should I consider the other option, that the last owner picked up his bill from HR Owen, screamed 'THAT'S IT! I'VE HAD ENOUGH!" and ran, giggling manically, all the way to H&H. By the time you read this, the die will be cast. I'll either be pointlessly cleaning VW bits just to give me something to do, or I'll be the proud owner of a new Maser. Only time will tell whether the latter ends in setting-sun, Instagram-quality drives or a hazard lights in the rain on the side of the A34. Watch this space.