The older ones have a strongly Italian visual vibe, the later ones have a crisply Germanic aura, but Triumph's TR4, TR5 and TR6 sports cars nevertheless epitomise the butch British sportscar of the 1960s and early 1970s. Yes, European design houses – Michelotti, then Karmann – did the visuals but Brit enthusiasts heve never regarded these tough TRs as anything but their own.
'Hairy-chested', a 'proper sports car', that's what people say about these square-rigged machines with their separate chassis and muscular presence. Especially, they opined, when compared with a gentler MGB, an even meeker Sunbeam Alpine or, heaven forfend, the curious-looking, lacklustrely-performing TR7 that came after all the aforementioned.
How much is your car to insure? Find out in four easy steps.
Get a quote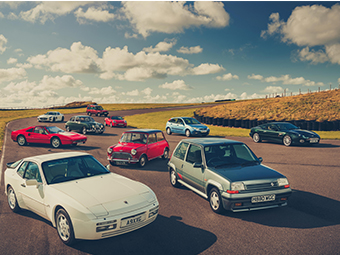 But the pundits didn't back the TR4's corner so loyally when it was launched for the 1962 model year. Under its handsome skin there remained the stout and simple chassis (albeit widened in track) from its TR3 predecessor, plus an enlarged version (2138cc instead of 1991cc) of its four-cylinder engine. But with full-height doors and wind-up windows, in place of cutaways and sidescreens, it caused hardy sports-car types to consider the TR4 a bit soft. Not for long, though; such sporting dinosaurs were soon outnumbered by those who saw no need for pain with sports-car pleasure.
Nearly 60 years on, the TR4 is still an intriguing machine. Other useful updates from the TR3 are the rack-and-pinion steering and synchromesh on first gear, the latter a first on a British car. Another such first is the fitment of fresh-air vents at each end of the dashboard, and the optional hardtop features a removable 'targa' panel. There was also the choice of the foldable 'Surrey' top to use in place of the rigid targa, useful because it can be stowed in the boot which the rigid panel can't. But it's the 'face', with its eyebrows over the headlights, that's the TR4's most distinctive visual feature.
This face continued for the TR line's next evolution, into 1965's TR4A, which is recognisable for its lack of vertical grille slats, its sidelights and indicators moved out to chrome fairings on the front wings, and its dashboard finished not in white paint but in straight-grained wood. The engine, whose wet-liner, pushrod OHV design had begun in the late 1940s with the Standard Vanguard and the Massey-Ferguson tractor, was uprated from 100bhp to 104, too. But the biggest change was underneath.
Here was a radically modified chassis with independent rear suspension by semi-trailing arms and coil springs, in place of the former leaf-sprung live axle. A link with the past remained with the rear dampers, though; they were still lever-arm units. For the US market, a cheaper version with a live axle was offered as an alternative, but it used an altered version of the new chassis rather than reprising the original TR4 one.
In 1967, Triumph finally abandoned the tough old four-pot and fitted a muscular development of the Triumph 2000 saloon's pushrod straight-six. Enlarged to 2498cc and fitted, in another UK production first, with Lucas mechanical fuel injection, this engine offered 150bhp and powered what was now named the TR5. External identifiers relative to the TR4A are revised front grille slats with black edges and no central badge, this having moved to an oddly offset position on the bonnet.
To drive, this is a much more different TR than the near-identical looks suggest. It's also the rarest model, lasting just over a year in production before being restyled to celebrate the new potency properly. That restyle, by Karmann, kept the doors, the sills and the windscreen frame but everything else went clean-cut, crisp-edged, fin-free and matt-black-detailed, with horizontal tail-lights and a bold new mouth. As a relatively low-cost update of an ageing design, it was brilliant.
Too bad that post-1973 UK TR6s have a power-reduction to 125bhp, done for emissions reasons and continuing until the separate-chassis TR dynasty ended in 1975. The US, incidentally, never got the injected engine in either the TR5 or the TR6, the 2.5-litre unit being fed instead by a pair of Stromberg carburettors and offering just 104bhp. TR5s thus equipped were dubbed TR250 and featured a transverse stripe on the nose. Today, ex-US six-pot TRs are sometimes offered for sale in the UK, perhaps with a right-hand drive conversion. With the right tuning, such cars can deliver injected levels of power – but be aware of exactly what it is you are thinking of buying.
What are these Triumph TRs like to drive?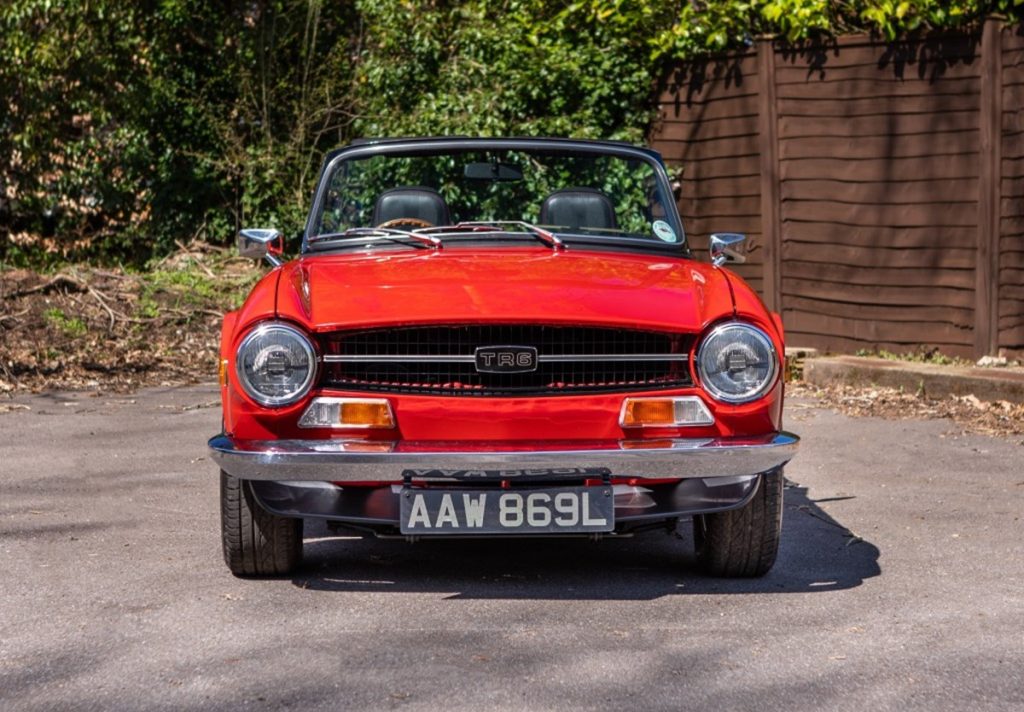 Even a TR6, with its veneer of modernity, feels a bit 'vintage' next to a unitary-construction MGB, never mind compared with a more modern sports car like a TR7 or, a decade or so later, a Mazda MX-5. It's that separate chassis, always squirming a bit and making the body shake over bumps. It's more a characteristic than a problem, but don't expect serene progress on imperfect roads as the doors oscillate in their apertures.
To TR fans, such raw dynamic retro-ness is part of their cars' appeal. There's a heft to the handling, and the steering is heavy at low speeds, but there's also a point-and-squirt demeanour that's very enjoyable in an old-school way. As speed rises the steering proves quick and accurate, and the balance is very benign with any tail-slithers easy to feel and correct. There's no doubt that the IRS (independent rear suspension) cars are a better bet in bumpy bends, and they ride a little more calmly, but any of these TRs is good physical fun.
The overdrive fitted to most cars works on second, third and top gears and makes for easy, relaxed cruising while offering a gear for every occasion. The gearchange itself is quite heavy, but accurate enough with strong synchromesh. Most drivers will be able to get comfortable behind the large steering wheel, and there's good storage space behind the seats – with a fitted cushion in some cars, making the TR a cramped two-plus-two.
And then there's the engine. In a TR4, it's a rorty, torquey thing, powerful enough to give a good time and always keen if not especially fast all-out. The TR5's and TR6's six-cylinder motor changes the character massively, its smooth blare giving an aural taste of Jaguar or Aston Martin, its ample power and torque propelling the Triumph with real vigour (nearly 120mph, 0-60mph in the mid-eights, at least in original 150bhp form).
As for the roofs, the regular soft-top fits well (if in good order), if not quite to an MX-5 standard, and is easy to raise and stow, while the hardtop with rigid panel installed brings a noticeable reduction in body-wobble.
How much does a TR4, TR5 or TR6 cost?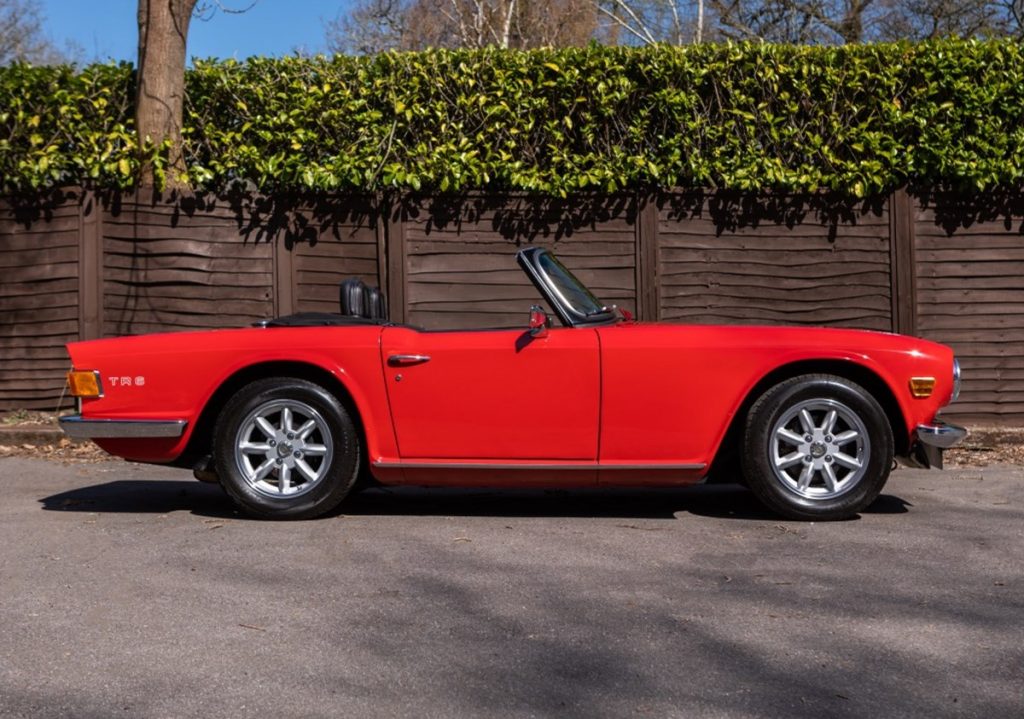 Perhaps surprisingly, the six-cylinder cars represent not only the highest prices for this cluster of TRs but also the lowest. The latter is because TR6s are the most numerous model, not least because they are the most recent and the type stayed in production the longest. That means demand is not as far ahead of supply as it is for the other TRs considered here.
According to the Hagerty price guide – which tracks the value of thousands of classic cars and can be browsed by clicking here – a usable but sad TR6 can be yours for as little as £6400 while a TR5 in a similar state might bust £17,000. For the very best you might pay £32,500 and £48,500 respectively; that last figure sounds a lot for a TR, but confirmation of the rare TR5's currency came in a recent Bonhams MPH auction at Bicester Heritage in which a very nicely restored example made £46,125.
Below the rarefied level of concours cars, a TR5 that's in excellent order but not so perfect that you'd be scared to use it typically costs around £39,000, a similar TR6 around £24,000. That said, TR5s are so scarce that sellers could well end up asking, and getting, higher prices. The TR250, of course, would be worth less, and US-sourced TR6s would similarly lag behind original UK cars in value.
In the middle come the TR4s. Despite the appeal of a pure, original-spec TR4, the TR4A tends to command a higher price because it's a more comfortable and more sophisticated car. Prices for a tatty TR4 start around £7500, for a TR4A a little over £10,000; at the concours end the gap narrows with Hagerty recording £38,200 for a TR4, £39,200 for a TR4A. Expect to pay £20,000-£22,000 for a really good TR4, £26,000-£27,000 for a similar TR4A.
What goes wrong, and what should you look for when buying a TR4, 5 or 6?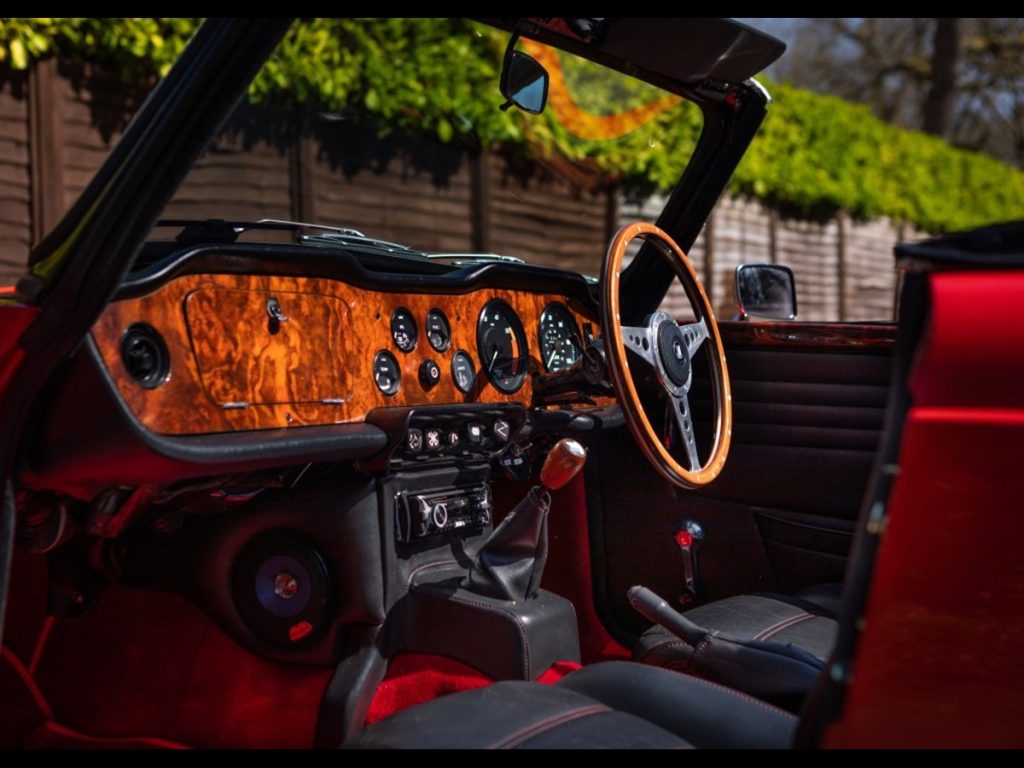 Rust. That's by far the biggest worry with these cars. Most of the body panels are available new from Britain's excellent classic parts industry (with one notable exception, which we'll come to), as are chassis sections or even a complete chassis. But you'll probably prefer to buy a car which doesn't have immediate need of the several suppliers' ample parts lists, never mind the labour in fitting and fettling the new metalwork.
Fundamentally, you need to check along the edges of, under and inside every steel pressing you can get to. The bolt-on front and rear wings harbour rot-promoting mud variously around the headlight, along their top edges and behind the door-catch pillar, and their lower regions also suffer along with the (structural) sills.
The rear deck behind the cockpit is also rust-prone, and the absence of a seam between it and the rear wings is bad news indicative of a filler bodge. Corners and edges of bonnet, boot and doors trap moisture and rust can bubble through. The floorpans and inner sills suffer when the cabin leaks, and then there's the windscreen frame.
This is very prone to rotting out along its lower edge, especially at the corners, and don't be surprised to find a filler repair here even on a car that looks superficially smart. But such a repair won't reinstate the strength necessary to hold the windscreen firmly and take the tension of the hood. If you can move the frame back and forth, it's rusted. New frames are unavailable, and repair is complex typically including replacement of the support posts that locate the frame in the scuttle structure. To do the job properly, including paint, the header rail, trim and sealing strips and a new windscreen, can cost several thouand pounds.
Now, the chassis. Have a good look all over, tapping the steel to check it sounds metallic rather than dull with corrosion, but the IRS cars require extra vigilance. Check the differential mounts, the rear suspension arm mounts and the so-called 'T-shirt' (after its shape) sheet-steel reinforcement for bulging and crumbling where layers of metal are welded together.
Don't expect brilliant panel fits, but the gap between the doors' rear edges and the rear wings should be consistent from top to bottom. If they are not, the chassis has become significantly weakened. A greater width at the top of the gap is the usual malady, as the rear of the chassis droops behind the rear wheels.
The four-cylinder engine is famously robust, and relatively easy to rebuild thanks to its removable wet cylinder liners. The six-cylinder unit is prone to heavy wear of its crankshaft thrust washers, exacerbated if past owners have tended to hold the clutch disengaged for long periods in traffic. This causes a drop in oil pressure and, in extreme cases, major internal damage. Check by getting someone to depress and return the clutch pedal while you watch for fore-and-aft movement of the bottom crankshaft pulley. It should be barely detectable at worst.
The six-pot's fuel injection has had a bad press over the years, and is prone to running rich to the detriment of fuel consumption (hence its non-use in the emissions-sensitive US), but it works well if set up properly and can be made reliable. A common and worthwhile modification is to use a Bosch injection pump and a fuel pipe coiled to increase its surface cooling area, which together cure the troublesome vapour locks that used to thwart fuel-injected Triumphs' progress back in the day.
Check the overdrive engages and disengages as soon as you flick the switch; delay or non-function is usually down to a solenoid fault and/or a need for an oil change. Specialists can rebuild the overdrive if the problem runs deeper.
Carry out the usual checks for worn supension joints (rocking the wheels, listening and feeling for movement and noises). Changing the rear lever-arm dampers for more efficient telescopics is a popular modification which can calm the ride and improve handling. Kits are available by Koni, Spax, Gaz and Avo.
In the cabin, don't be too dismayed if the trim has become split or tatty because most of it is available new. Mazda MX-5 seats are a popular mod, but saggy original seats can be revived with new rubber base diaphragms. Many owners have fitted burr walnut dashboards in an attempt to make a TR into something it was not intended to be, but the original, purer-looking, straight-grain design is also available new.
The inner steering column rotates in simple, and cheap, bushes which wear quickly; these will need replacement if the steering wheel can be wobbled side-to-side or up and down. Also likely to need replacement, if it hasn't happened already, is the gearbox end of the transmission tunnel. The original is a simple fibreboard moulding, fragile and not very resistant to the water and oil that heads its way. Specialists can supply a much tougher fibreglass replacement, but you'll have to drill your own holes for the many fixing screws.
That's a vignette which well suits a signifcant part of the TR vibe: it's a bolted-together car which can very easily come across as a collection of not entirely co-ordinated and harmonious parts. You'll know your TR is performing as intended when all its motions finally work together. When they do, it will feel great.
Which is the right TR for you?
For bangs per buck, a generous helping of the muscular British sports car experience and the greatest choice of cars for sale, the TR6 is your car. And if it's a later, less-powerful example, there's plenty of specialist expertise to pep it up a bit.
The two TR4s offer a more obviously retro experience, and you might prefer their uniquely characterful styling. An early live-axle TR4 is a charming machine and a lot of fun, and there's the bonus of relative rartity for little more than TR6 money – or perhaps less, if you're lucky. The TR4A is a good, safe place for your investment and a little more civilised than its predecessor, but the most alluring TR of all, as reflected in the prices asked, is the rare TR5 (just 2947 built, about a third of the US-market TR250's production number) with its combination of original styling and that creamy straight-six.
Is it worth the extra? That's your decision.
Read more
Join the Club: Triumph Sports Six Club
Buying Guide: Triumph Stag (1970 – 1977)
Rescuing a Triumph TR6 and Morgan Plus 8 | Barn Find Hunter