When we last left Barn Find Hunter Tom Cotter, he was visiting Dave Coleman, who was his driving partner on a cross-country adventure that Tom turned into a book, Ford Model T Coast to Coast. Dave owns a lot of treasured cars, and he was about to reveal a very special one when Episode 116 ended. Well, they're baaaaaack. And that very special vehicle is…
A chopped 1950 Ford lead sled. "Back in the day (before fiberglass and plastic body filler) when cars were being modified … when you wanted to change the contours of something you would use lead," Dave explains.
How much is your car to insure? Find out in four easy steps.
Get a quote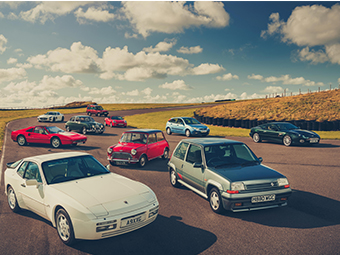 This lead sled has a four-inch chop, wide whitewall tires, red wheels, and its taillights have been frenched (smoothed). It also has its original flathead engine. Unfortunately, Tom and Dave can't get it started.
The two move on to a 1968 Dodge Charger with a turbocharged 383. When Dave says he'd sell it, Tom replies, "This could be a gold mine for somebody."
Tom turns his attention to a red 1993 Saab that's covered with moss on the outside and spiderwebs on the inside. With a three-cylinder, two-stroke engine, Tom says "It's like a Lawn Boy mower (that's a) car."
Up next is an unusual mid-1960s Formula Vee race car, the type of small racer that Tom says Emerson Fittipaldi started racing before eventually becoming a Formula One and Indianapolis 500 champion. It has Volkswagen front end, steering box, and transaxle, and its 40-horsepower spec engine was reversed and moved to the middle. "(Formula Vee) has very heavily policed rules. Twenty of these or 40 of these are on the track, and they're virtually the same … It comes down to who's the better driver."
Also on the tour of Dave's property is a 1976 Porsche 911 that was abandoned by its owner 20 years ago after Dave worked on the engine and transmission. "It's shot by now," he says.
In one of Dave's garages we find an MGA race car that racked up over 50 Porsche Club of American wins. Oddly enough, it has a Crosley badge on the front because Dave says he tried to enter it in a race as a Crosley. Coincidentally, there's an actual Crosley race car nearby.
Tom also checks out a 1974 Karmann Ghia that "looks like a solid car." Then he quickly admits, "Solid and Karmann Ghia are two words you don't use in the same sentence."
We wrap up this episode of the Barn Find Hunter with a gorgeous 1965 Porsche 911 that Dave says he's owned for 30 years and driven more than 100,000 miles. He's even done the coast-to-coast Cannonball Run in it.
"I hope you've enjoyed meeting my friend Dave," Tom says. "I think you'll agree that there are probably few people in the world that have tastes as eclectic as his. He's a hotrodder, he's a road racer, he's a restorer, and he does tours.
"You've got quite a place here, and a lot of neat cars," he says, turning to Dave. "And I'm surprised to hear that some are for sale. You might be getting a call."
Dave is philosophical. "When we leave here, we can't take any of the toys or any of the money," he says. "You'd better enjoy it while you're here."
Happy hunting.
Watch more
Rare Merkur XR4Ti, 80mph Model T, and turbo Hudson | Barn Find Hunter
Cleaning the 24K gold foil in a McLaren F1 supercar | Beyond the Details
The Nissan 240Z changed the reputation of a whole country | Revelations with Jason Cammisa