You're probably familiar with the shape, but you might not be familiar with the car: more than many vehicles Tom Cotter finds stashed away in peoples' collections, the Merkur XR4Ti wouldn't have looked out of place on European roads.
That's because it did, albeit under a different name and in a slightly different specification. The Merkur sold by Ford in the United States was effectively a Ford Sierra XR4i, but with one key difference: a 2.3-litre four-cylinder turbocharged engine rather than the Cologne V6 offered over here.
How much is your car to insure? Find out in four easy steps.
Get a quote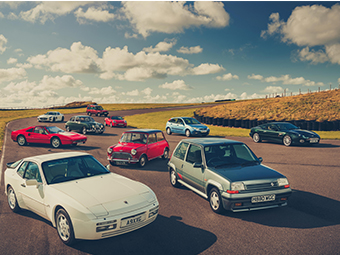 So North American customers got the same shape, with that unusual three-door hatchback layout with its C and D pillars, that bi-plane rear spoiler, and the pepper-pot wheels common to the Sierra versions.
It was, effectively, Ford of America's way of cashing in on a preference from some 1980s customers for European style, such as they might find from a BMW 3-series. The Merkur XR4Ti was pitched as German, and as the unusual name suggests, was sold by Ford's slightly upscale Mercury brand.
As Cotter's friend, Dave Coleman suggests, not all Mercury dealers were keen on the arrangement – to the extent of offering one customer a great deal on the car on the condition they never bring it back to them.
Elsewhere on Coleman's land Cotter examines his friend's turbocharged Hudson Pacemaker – originally a low-end version of the Hornet that dominated in 1950s NASCAR – and his 80mph Model T special. The latter really is special too, swapping out the T's usual sidevalve head for a 16v overhead-valve arrangement, doubling the car's power.
It's another fine haul, though Coleman seems to have one more thing to look at… something you'll have to wait until the next episode to find out about.
Read more
Tom Cotter is on a 7000-mile roadtrip in search of America's heart
For sale: The XR4Ti was winning touring car championships before the Sierra Cosworth had even hit the track
Our Classics: 1986 Ford Sierra RS Cosworth | Returning the suspension to standard