Why you want one: You get the 1940s experience in a 1950s body
Years built: 1955-62
How much is your car to insure? Find out in four easy steps.
Get a quote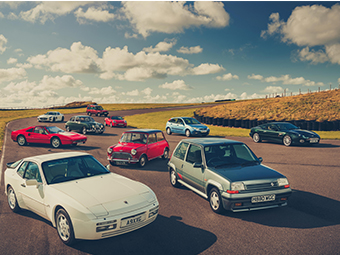 Production: MGA 1500 – 58,750; MGA 1600 Mk I – 31,501; MGA 1600 Mk II- 8,719; MGA Twin Cam – 2,111
Engine: 1,489 cc/1,588 cc/1,622 cc OHV 4-cylinder; Twin Cam 1,588 cc DOHC
Horsepower: 68-86 hp at 5,600 rpm; Twin Cam: 108 hp at 6,500 rpm
Top speed: 99-110 mph
The MGA can be traced back to Syd Enever's 1951 Le Mans Special, designed for George Phillips. Even though it had a TD chassis and XPAG engine, the car showed that streamlining had become a factor in even modestly priced sports cars. Unfortunately, Phillips suffered a blown piston in the 8th hour of the 24 Hours race, but both power plant and chassis issues would be improved when the British Motor Corporation combined Austin, Morris (and so MG) in 1952.
After WWII, aerodynamic bodies began to replace the upright grilles and open wings of the pre-war MG T-series and Morgan. The Triumph TR2 appeared in 1953, and the Austin-Healey 100 in 1954, both with 100 mph capability. MG countered with the TF, which faired the headlights into the front wings and tilted back the grille, but the aerodynamics were still poor, and top speed was only 80 mph. It was a no-win situation, traditionalists hated the styling compromise and modernists complained about the performance.
The MGA was launched at the Earl's Court Show in October 1955. It was foreshadowed somewhat by the ZA Magnette two years earlier, a smooth fastback sedan with a tuned version of the Austin A-Series engine. The MGA shared the same 1,489-cc, four-cylinder OHV powerplant, developing 68 bhp, but the low full-width roadster body lowered the passengers between the frame rails. The car's robust engine meant 0-60 mph in 14 seconds and its aerodynamics delivered a top speed of 95 mph. The MGA used the TD's independent front suspension and rack-and-pinion steering, but everything else was new.
Despite its looks, the MGA experience is familiar to owners of older sports cars. There were no outside door handles, and the top was practically impossible for one person to erect without getting soaked. Side-curtains with easily scratched sliding Perspex windows made for a drafty and leaky winter ride. However, an excellent factory hardtop was available from 1956, initially made of aluminum, then fibreglass. A fixed-head coupe with windup windows also appeared in 1956 and was quite weather-tight, though it turned into an oven, when the sun shone.
Nobody buys a MGA to drive in bad weather these days, and if you're looking for a vintage sports car, an MGA can be a satisfying experience. Most mechanical parts are easy to come by, body parts can be sourced, the seats are comfortable, and the gearbox easy to shift — once you get used to the crash first gear. Even the heater is reasonably effective. Wire wheels add a period touch, though wire-wheel cars command a premium. The axles are knockoffs, and wheels cannot be swapped like Triumph's bolt-ons.
The MGA changed relatively little in its seven years of production. The 1600 Mk I gained front disc brakes and a front sway bar when its engine was bumped up to 1,588 cc in 1959, and it had a top speed of just over 100 mph. The 1600 Mk II closed out the model in 1961-62 with a 1,622-cc, 86-bhp engine and top speed of 105 mph. The Mk II can be recognized by its recessed grille, instead of curved bodyline, and horizontal taillights, borrowed from the Mini.
The really expensive variation is the Twin Cam model of 1958-60, offering 108 bhp at 6,500 rpm, thanks to an alloy head designed by Harry Weslake. While fast — up to 120 mph — the engine required 100-octane petrol and proved shockingly fragile, though technological advances have solved many of those problems. The Twin Cam also featured Dunlop knockoff disc wheels, and four-wheel disc brakes. When MG gave up on the model in 1960, the remaining Twin Cam chassis were sold with pushrod engines as De Luxe models, and these are sought after.
Despite having wooden floors, which are easy to replace, the MGA's main enemy is rust. The hood, boot lid and doors are aluminium, but front and rear fenders and rocker panels should be examined on a hoist. MGAs have positive ground and carry twin 6-volt batteries beneath the rear floor, though many have been converted to single 12-volt units. Check for rust around the batteries. Also consider an import from South Africa or the West Coast of America, as LHD models can be switched to RHD.
The best Twin Cam roadsters and coupes have sold for as much as $75,000, which is more than double the price of the pushrod-engined cars. Fragility issues persist and Twin Cam engine parts are virtually unobtainable, so check the cylinder head has no cracks or repairs. Water pumps are also prone to fail, and impossible to find. Also be aware that post 1958 bonnets are curved differently, to clear the Twin Cam engine.
Buy the best car you can afford, unless you have long winter evenings, a nice warm garage with plenty of tools, and an irresistible urge to tinker. A good resource for a potential buyer is "The Essential Buyer's Guide," by Roy Crosier and David Sear, 64 pages, £9.99. It's published by Veloce at www.veloce.co.uk. It's small enough to fit in your coat pocket when tire kicking.
As always, check MG clubs to find cars for sale, and take an expert with you. Helpful clubs include: MG Car Club at www.mgcc.co.uk and the MG Owners' Club www.mgcars.uk. There's also the Worldwide MG Car Clubs list, www.mgclub.org.