Sorry to spoil the surprise up front, but no, detailing expert Tim McNair will not tell you his secret for cleaning the iconic 24 karat gold foil inside a McLaren F1's engine bay.
Apparently, it's the only trade secret he's not prepared to share, but that's probably okay, as we don't imagine too many other people get their hands on one, for cleaning or otherwise. Apart from Hagerty contributor Richard Tipper, of course, and we're sure he has his own secrets on the matter…
How much is your car to insure? Find out in four easy steps.
Get a quote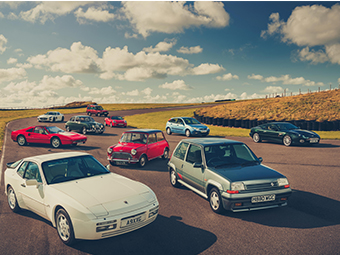 Either way, it's another fascinating episode with McNair focusing on details both visible and hidden – starting with the latter, cleaning up some of the components of the lower engine bay, normally concealed beneath the F1 GTR's aerodynamic undertray.
What is it about cleaning stuff that nobody will even see that's so satisfying? Perhaps it's knowing that said components are free to do their job without the risk of contamination by an outside source.
The same goes in this case for McNair's work on the F1's tail lights. These, famously, were the same component used on a bus back in the 1990s, though this simplicity means they're straightforward to clean. The lenses can be unscrewed just as they might on an older classic, perfect for cleaning up the reflectors, bulbs, and polishing the red and amber covers themselves.
If you thought such components don't get too dirty, just see how much gunk McNair removes from the screw holes, and how good the lights look after a polish.
And yes, McNair also cleans up the gold foil, which is covered in the dried-up remnants of water droplets. Whatever technique he uses, it certainly looks clean – and suitably expensive – afterwards, ready to be the literal highlight of the McLaren's engine bay during its next drive or at its next concours event. If it doesn't inspire you to give your own car a bit of a buff, we're not sure what will.
Read more
Elbow Grease: Cleaning your engine bay, and what to look out for
Dry ice blasting a McLaren F1 supercar | Beyond the Details
McLaren F1 takes top sales crown at Monterey with record result