It's 28 degrees C as we drive into the cool of a dense forest, fresh air rushing through wound-down windows, and I'm double blipping the throttle and down-shifting ahead of a long arcing curve. The 911's nose swings in light as a feather, weight shifts then settles over the outside wheels and soon I'm picking up the power, flat-six soundtrack echoing off trees that tower either side of the road. 4500rpm, 5500rpm, six-and-a-bit… shift. Blimey. I've driven the 911 Carrera RS 2.7 before, but never as enthusiastically as this.
Clearly we'd have revisited the Ultimate Classic 911 given this October marks the 50th anniversary of its unveil at the 1972 Paris Motor Show – it's one of the most revered sports cars of all time, after all – but this really is a staggering opportunity to drive not just a Carrera RS 2.7, but Sport and Touring versions back-to-back, both of which just happen to be perfect examples owned by Porsche itself.
How much is your car to insure? Find out in four easy steps.
Get a quote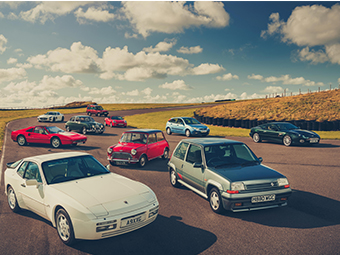 The PR lady pleads only that we treat both 'like beautiful women' before we're given the keys to hundreds of thousands of pounds' worth of metal and sent off through countryside pristine as a life-size model railway. No nervy owner along for the ride, no ruinous insurance excess, just a couple of support cars to fast-track us to the good roads and take some snaps. 'Enjoy'. Are they sure?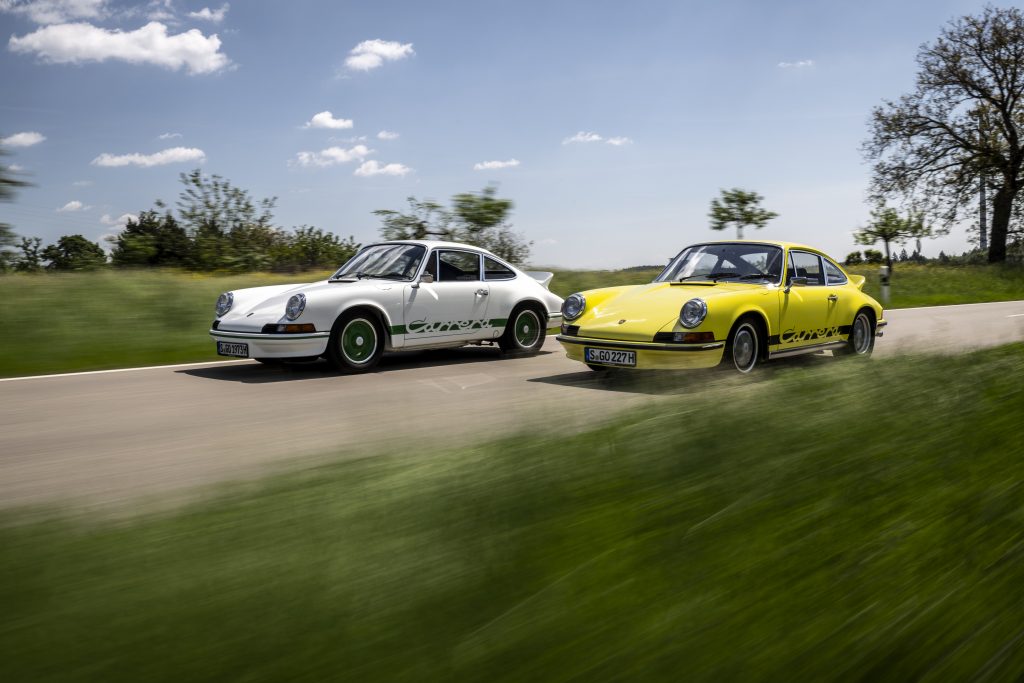 The context of RS development bears a quick refresher before we plunge into that, and boils down to Porsche needing a more competitive 911 for Group 4 motorsport. Using the 2.4 S as a basis, a small team of about 15 engineers started developing the Carrera RS in May – yes, May – 1972. The name basically means 'race motorsport', with Carrera lifted from the Carrera Panamericana road race (previously used on the 356, 904 and 906) and Rennsport being German for motorsport.
Usually dubbed 2.7 RS or '73 RS, the 911 Carrera RS 2.7 was first to introduce the now compulsory staggered tyres to the 911 line-up (6.0 x 15 inches at the front, 7.0 x 15 inches at the back), the rear wheel arches were widened by 42mm to accommodate, there was a firmer Bilstein suspension set-up, and lighter aluminium suspension components, thicker anti-roll bars, reinforced rear control arms and cross-members.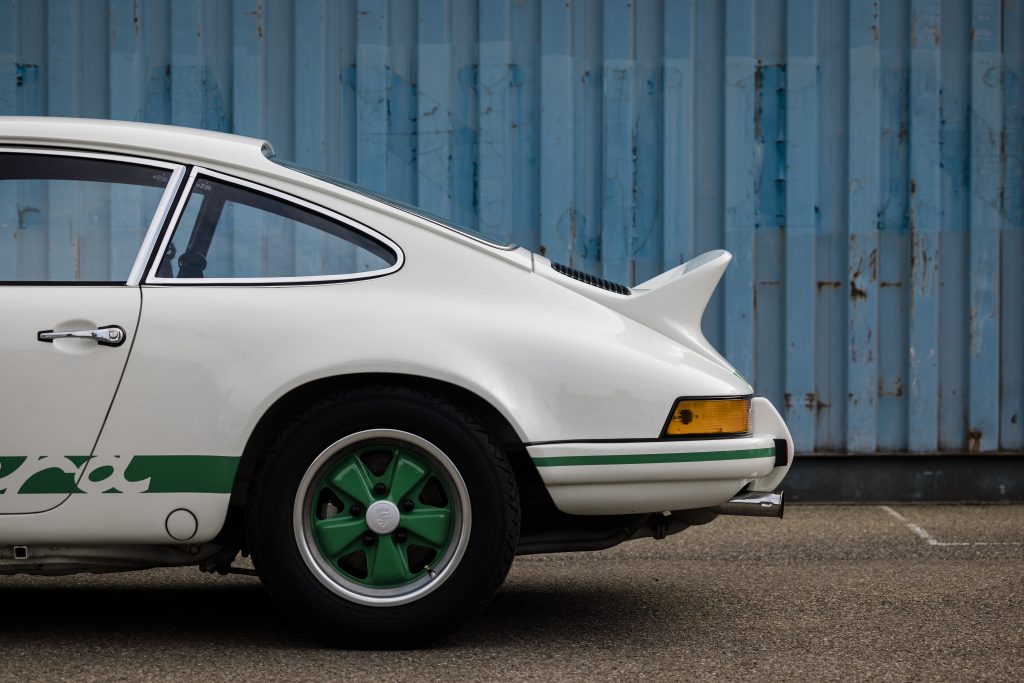 The ducktail spoiler didn't just look good, it also helped – along with a new front airdam – reduce lift by around a third, while stylised Carrera script down the flanks just made it look faster. The cherry on top was a flat-six bored from 2.4 to 2.7 litres, unlocking 207bhp and 188lb ft compared with 187bhp and 159lb ft for the 2.4, even if it was otherwise largely similar. All in, though, the RS was a much more capable performance car, the fastest German production car of its day.
Not that Porsche's sales boss was convinced – he reckoned shifting ten units might be a struggle, so the actual 1580 sold caught everyone out. There were just 17 base-spec cars, another 55 race cars, but the vast majority were either the Sport (also known as the 'lightweight', of which 200 were made) or Touring, accounting for the lion's share of production with 1308 units. Both were ticks on the options list.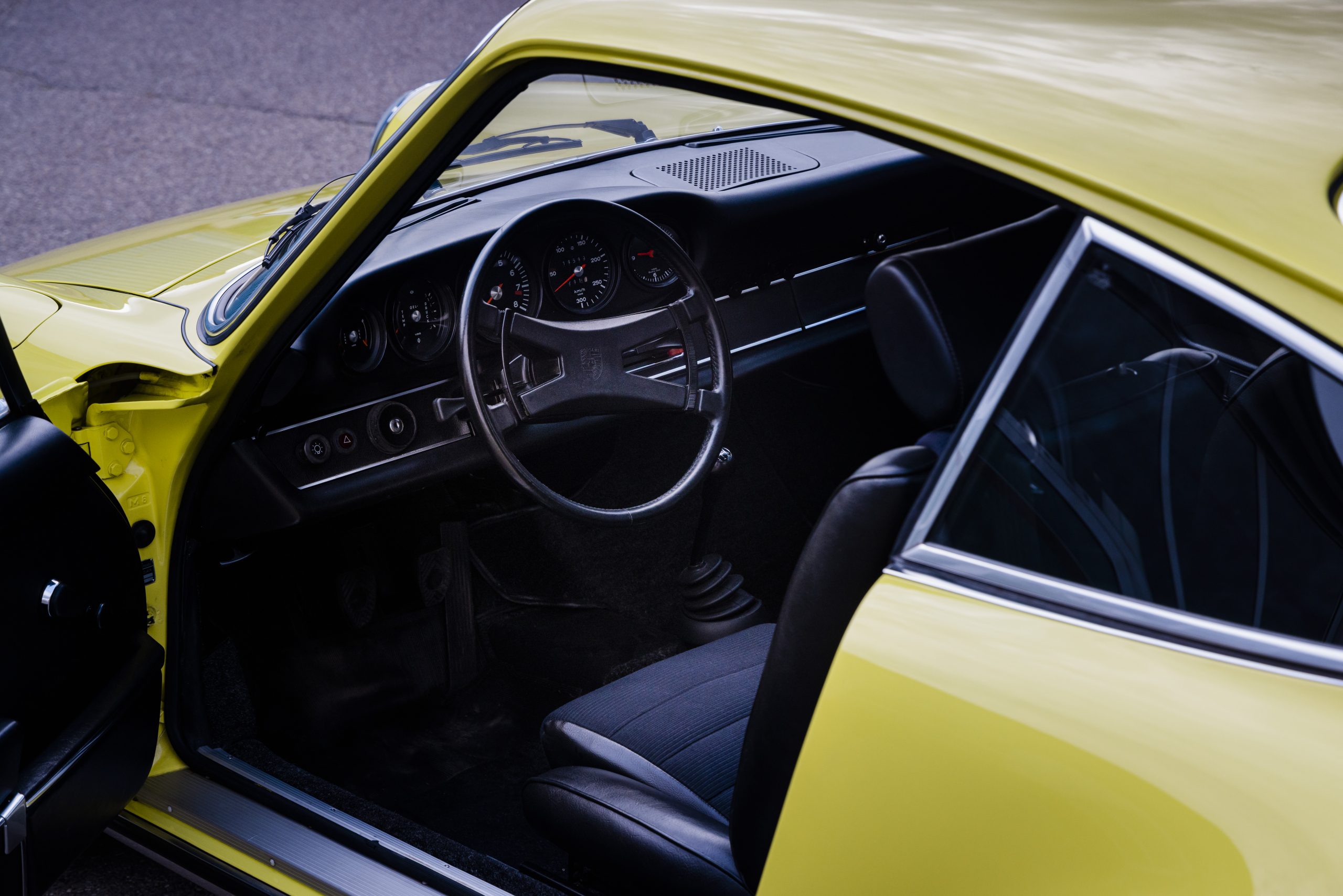 Choosing the Touring (or M472 option) added 2500 Deutschmarks to the RS's 34,000Dm base price, and added back all the 2.4 S interior bits that had been removed to save weight on the homologated racecars. Porsche quotes 1075kg for the Touring, and that's the car I jump in first, its of-the-era Bright Yellow bodywork set off by black graphics, Fuchs alloys and sparkling brightwork. If I don't look cool now, there is officially no hope.
The seats squish comfortably as you lower yourself in, there's a thin-rimmed four-spoke steering wheel wrapped in leather, the rear seats are still in place and while it's somewhat austere, there's no overtly racey flavour here – as you'd expect given it's basically a 2.4 S.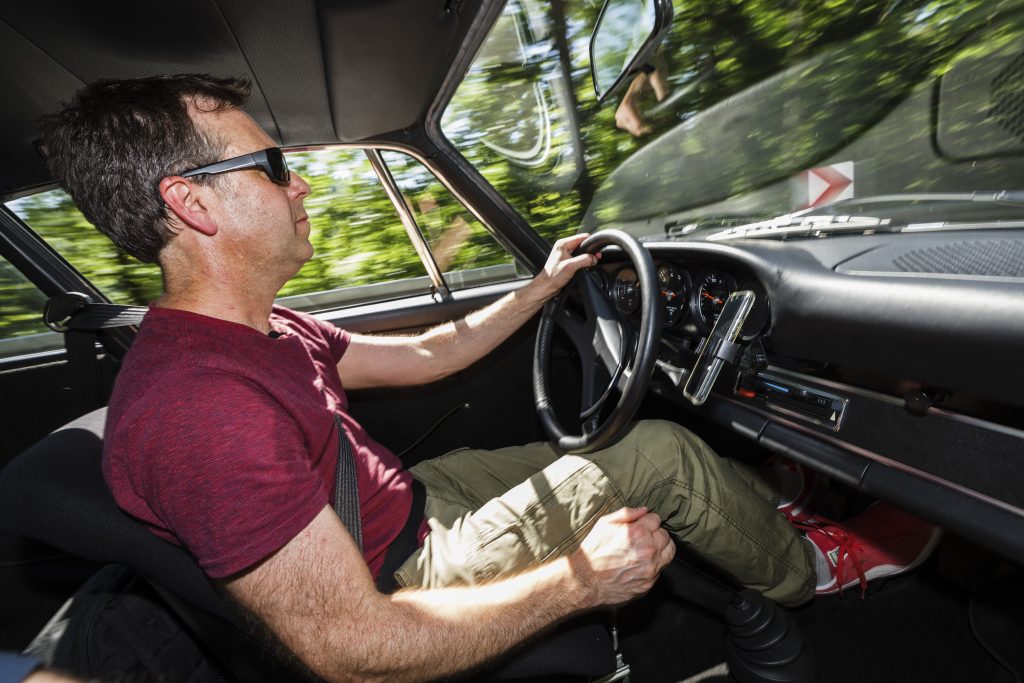 Turn the ignition key, prod the throttle and the RS catches in a breathy burst of revs like I've just given it CPR, rev needle flicking wildly, and soon we're out of Kallenberg's industrial sprawl and onto the smooth roads that flow through the countryside. The unassisted steering's perhaps lighter than expected, the ride pleasingly elastic, and the compact body and generous glazing quickly puts me at ease. Only a long-winded gear shift is cause for complaint.
Considering its modest performance, the RS pulls keenly from low revs, complementing its easy-going nature, but really it's the thrill of the chase as you accelerate, with a treble-laden soundtrack, a top end spinning in immaculate mechanical harmony and incremental delivery that keeps on giving and encouraging. A 7200rpm redline is marked on the rev counter, but it feels natural to shift a little below the quoted 6300rpm power peak – still, nice to have such generous headroom when you're busy at the wheel.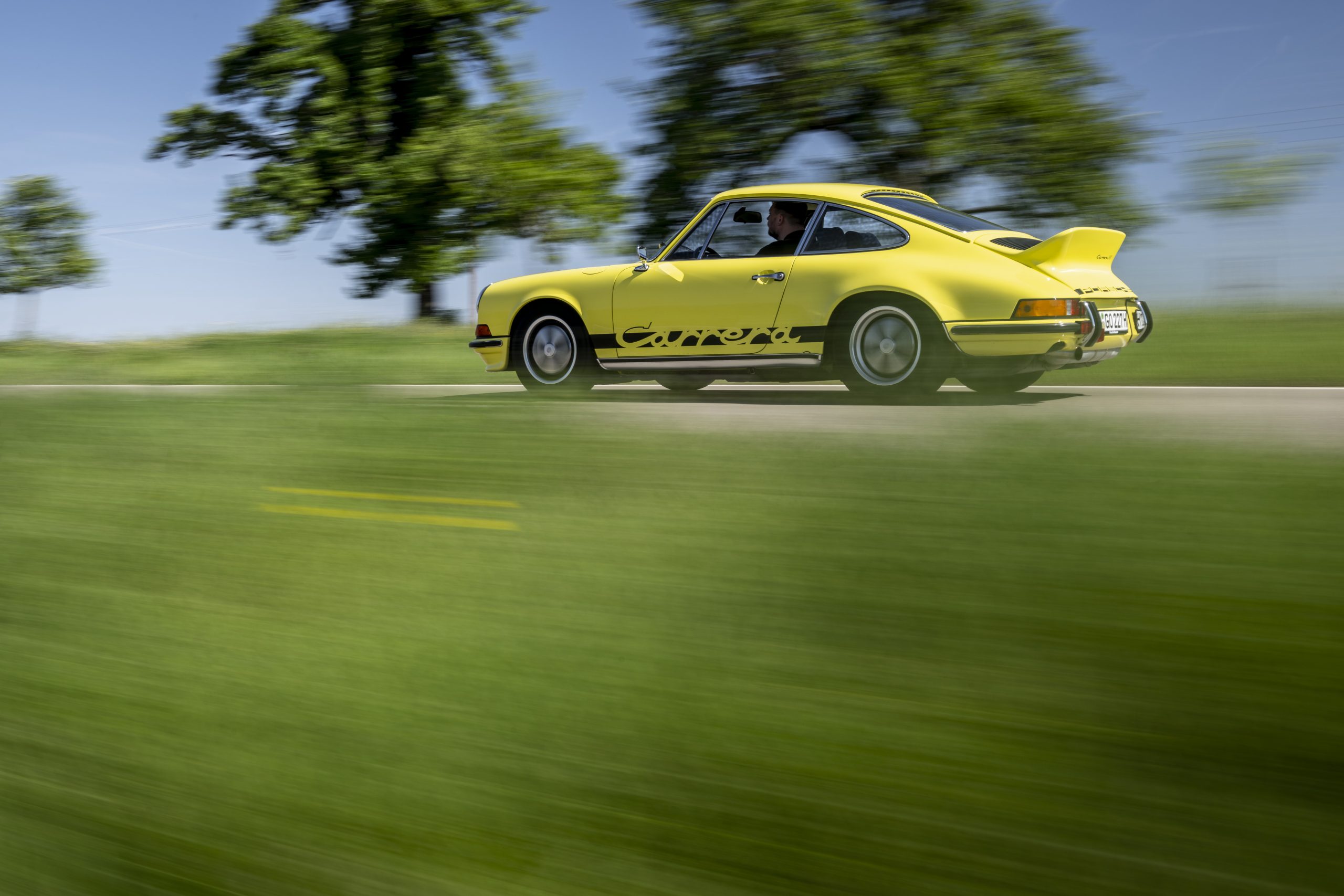 There's a trust-building phase as you pick up speed in the RS. Its nose has a certain floatiness, and while the steering rack is responsive, there's not much in the way of weight or detail in those first few degrees to say the front wheels are turning. It's something only repeat exposure can overcome, but I start making bigger, more positive steering inputs to dig into that weight and feedback faster. There's some progressive roll over the outside front wheel as the RS settles into a corner, and a sense that the weight is very much at the rear and ready to move it the moment you snap shut the throttle. Resist the urge, keep it on.
Pedal weights have Porsche's trademark precision, with a firm brake pedal and initial tension at the top of the throttle giving way to sparkly response. Be quick and positive with the shift and you're less likely to get lost in the neutral no-man's land, and double blipping those down-shifts doesn't just add theatre, it helps because the revs fall away so quickly – this is a really responsive engine. The missing part of the jigsaw is being unable to heel-and-toe because the brake and throttle are offset like pedals on a penny farthing. I feel less able to baby the weight transfer during braking and down-shifting as a result – I'd have to sort that if ever I found the £300,000 plus these cars command.
Overall, though, the vibe is more sporting GT than hardcore road racer, and highly enjoyable as a result.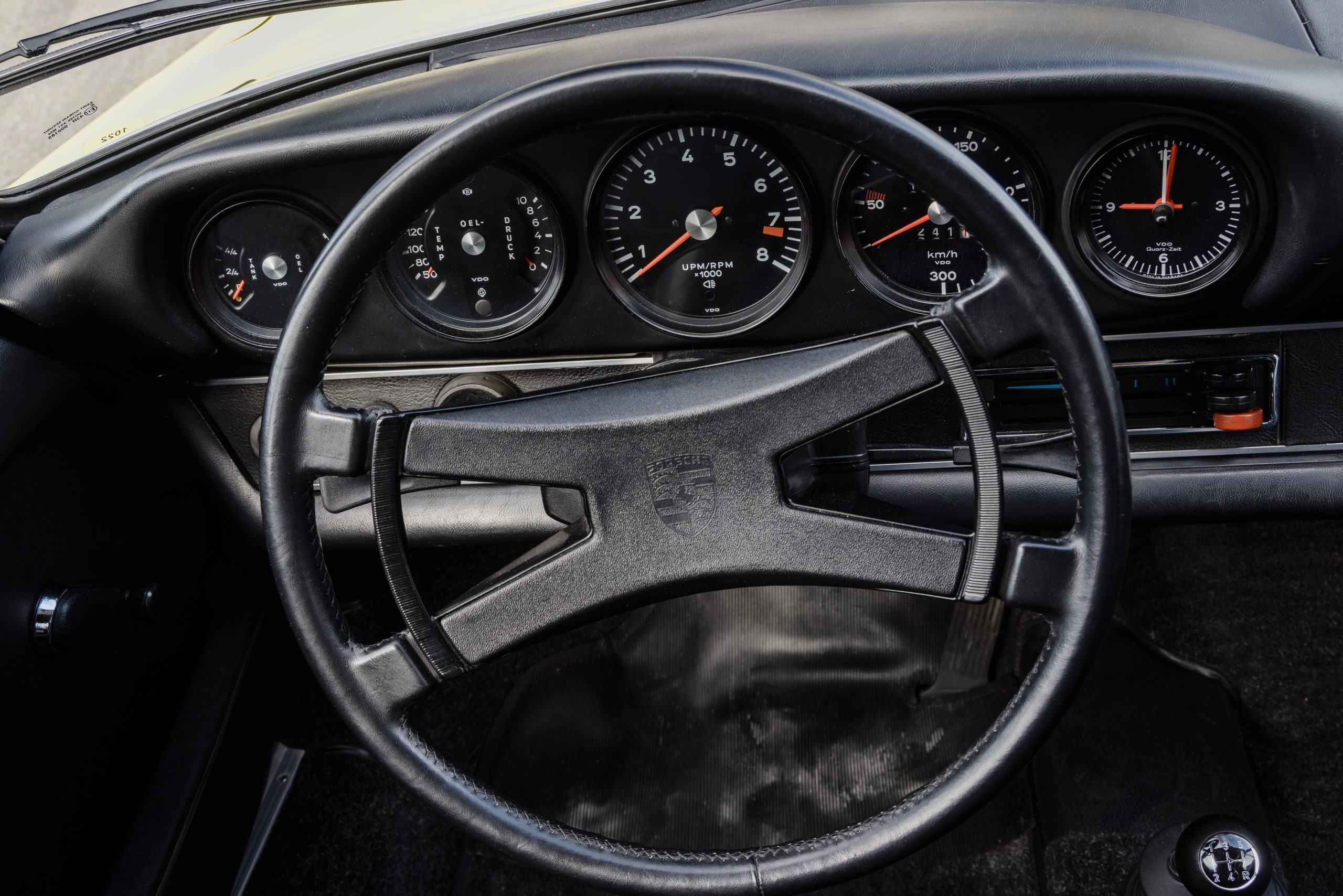 Time to jump in the Sport, aka the 'lightweight' and one of 200 RSs with this M471 option pack. It introduced a pared-back spec that depended on customer order, but included what are now road-legal racer staples like removed rear seats and carpets. Ultimately it'll depend on the car but the factory quotes 960kg to the Touring's 1075kg.
Unlike today, though, less cost less – the Sport added 700 Deutschmarks to the RS's 34,000Dm price, the Touring 2500Dm. Either way, buyers were paying a 10 per cent or so maximum over the 32,000Dm 2.4 S for a Touring, not bad considering it's now around three times the value.
The Sport is the gnarlier kind of character that customers signed up for. I pull the door shut with a strap rather than a handle, the (optional) seats are thimble-like fabric buckets, and though not particularly uncomfortable, I do sit bolt upright, and my knees are more prone to snagging the steering wheel, adding to my lack of dexterity with the pedals.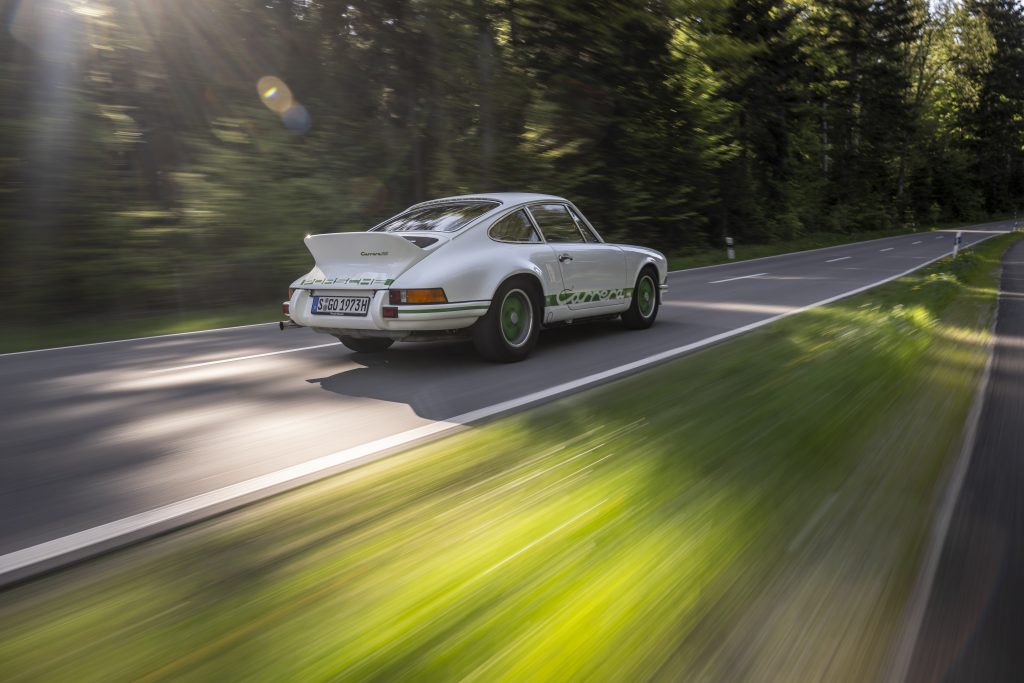 With the windows dropped I notice no difference in road noise, and oddly I don't notice any uplift in acceleration given the weight difference, but there's a chunkier, tougher feel overall – the suspension is apparently the same, but removing weight effectively stiffens it, something palpable through heftier if still user-friendly steering and a firmer chassis. I like it, but a Touring is more fluid on the road.
We've got a Porsche Cayenne support car up ahead as well as – ahem – a Mercedes C-class cabriolet for photography, we've been delayed by traffic earlier on, and speeds are starting to pick up to claw back time. I'm working hard to overtake slower traffic, but not as much as I'm sweating in the fast corners where weight is definitely moving around – the nose feels darty, and there's a load of weight limbering up behind me, the physics of it now palpable.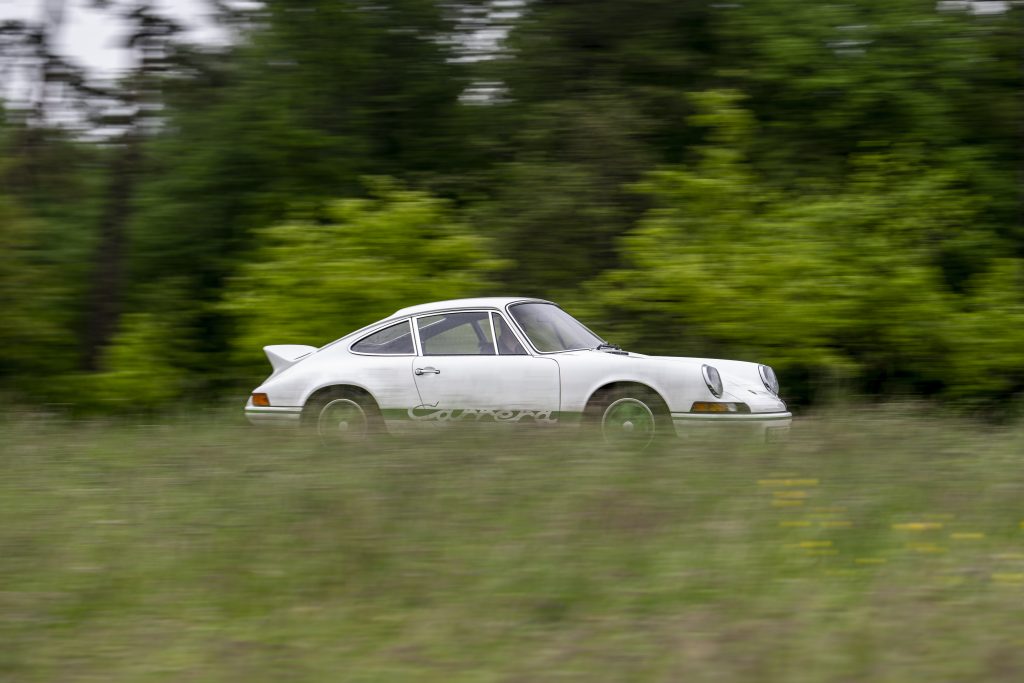 It's easy to dismiss the RS's now middling performance on paper, but keeping up the momentum and making that performance really work for you on a quick road like this remains a mouth-drying challenge. Really I need more room for error to understand it fully, but today I'm simply happy to avoid the errors, drive a Sport and Touring pretty quickly and return both to Porsche in the same condition they left.
Which one to take home? Much as the Sport feels a more natural fit for the RS ethos as we know it today, it's the Touring that, on this evidence, feels the sweeter drive on the road – more purposeful than a 2.4 S, but still with the user-friendliness central to the best 911s. If I could drive it all the way home now, I would. Who knows, maybe for the 60th?
The Porsche Museum opens an exhibition dedicated to 50 years of the Carrera RS 2.7 from 20 September 2022
Read more
Rematch: Porsche 911 Carrera vs 944 Turbo
Less Is More: Porsche 911 '992' Carrera
A few things to know before stealing my 914