Yesterday I went through a routine I've been following not for years, but decades. I set an alarm for 4.30am, and was breakfasted and in the car by 5.00am. My route was the same as ever: half an hour on A and B roads to reach the mountains, an hour's play at altitude on deserted roads and half an hour to return by the dual carriageway to be home before most people have had their cornflakes. It has been my standard test route since I moved to the Welsh borders in the mid-1990s and what it won't tell you about the strengths and weaknesses of a road car's dynamic make up isn't worth knowing.
Yet yesterday was also somehow different. My transport was a new '992' series Porsche 911. What's more, it was the recently introduced standard Carrera model, whose only extras were some Carrera S wheels and a sports exhaust. No trick anti-roll bars or active engine mounts, no four-wheel steering, no carbon ceramic brakes. And once more the old adage came back to me: less is more.
How much is your car to insure? Find out in four easy steps.
Get a quote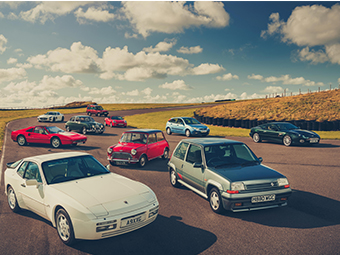 Or at least it seems it has always been that way when the subject is the standard production Porsche 911, from which I therefore exclude exotica such GT3s, RSs and, indeed, GT3 RSs. I have, for instance, driven an example of every 911 Turbo to go on sale over the last 45 years and I've still to find one I prefer to its normally aspirated equivalent.
In recent years you've been able to configure your 911 almost any way you choose: you can have a Targa or convertible, four-wheel drive, paddle-shift gears, three different body widths and so on and on and on. But I'll tell you this: of all these 911s, the one every colleague whose work I respect wants to drive is a base spec, rear drive Carrera coupe.
Why? Because even today, they are the ones that fit best our image of the 911. They leave the impression that, whatever the order in which they go on sale (which will be determined by marketing, not engineering), the standard Carrera coupe is the 911 from which all others are derived. The sense they impart is that Porsche worked and worked and worked to make this stock offering as good as it possibly could and only then started to think of how to engineer the derivatives that must then be spun from it. I'm not saying that's how it works, just how it feels it works.
And there's a good reason for that: it's the way 911s always were, and I think those of us who are old enough to remember quite early 911s and fell in love with them at very first sight, are always trying to get back to that ideal.
Or, more precisely, our image of that ideal. So what is a really early 911 actually like, and is there really anything other than an engine location, configuration and a three digit number to connect them any more?
Of course if you believe the legend, all the early 911 was interested in was punching pretty shapes in hedges at the exits of wet roundabouts. They spun, they locked their front brakes prematurely, their interiors were a mess and their heating and ventilation was an even bigger mess. All of which was true, which may explain why 911 sales in the mid to late 1960s were not actually that great, forcing Porsche to introduce first the four cylinder 912 and then the poverty spec 911T.
But it's not the whole truth. Yes those early cars were tricky, but largely because they had completely inadequate tyres. From 1964-68 the 911 came as standard with 165 HR 15 tyres at both ends, which was not enough rubber at the front let alone the tail-heavy rear. The tyres on my daughter's 1-litre Toyota Aygo are the same width. Today with more sensibly proportioned tyres, made from much better material (yes, even visually identical 'classic' tyres re-issued by their manufacturers), the handling issues are a thing of the past.
Or, at least, they should be. But you still need to know how to drive a 911. Another car I drove last year was a brand new 911 Carrera Cup racing car. And just before I drove I'd been hooning around Silverstone in a factory Cayman GT4 racer. And as I was being strapped into the 911, the chief engineer leaned in and said, 'I've just had a look at your data from the Cayman. If you try to drive this car like that, you will crash.' Which didn't leave much room for interpretation. I enquired what I should do differently. 'Use about half the brake pressure, don't be over ambitious with your entry speed but get back on the power as soon as you can and use that traction.' I once raced a FIA-specification short-wheelbase 911 at the Le Mans Classic and his words could have applied just as well that car, 54 years its senior though it was.
And there is good reason for that, for down all the generations and decades two constants that have not changed: that flat six motor and its location where the luggage should go continue to be the defining characteristic of the car. You may not feel that as you waft your 992 along the motorway in comfort and silence, but drive a 911 the way a 911 was designed to be driven, and the influence of that engine's configuration and position spring to the fore almost as readily now as they did then.
The reason people have lost the sense of this is simply that you have to go so much harder and faster now than then before these behaviours start to manifest themselves. There are two reasons for this. First and more obviously, a new 911 has an enormous amount of grip and even when that runs out there are tiers of electronic wizardry that require disabling before its natural form is revealed. Secondly, Porsche is very aware that many and perhaps even most customers don't necessarily want a car with highly individualistic handling characteristics. I often called the previous 991 generation 'the 911 for people who don't want a 911' because you had to drive the wheels off it before it would start to respond like a 911. I'm glad to report the new 992 is a far more accessible machine.
But what I find most impressive is that those links between the original and current 911 remain. It's been 23 years since Porsche last built a 911 with a single component interchangeable with an original car. Since then the engine has become cooled by water, the wheelbase extended again and again, the steering assistance changed from hydraulic to electric. These are not insignificant mods, they are fundamental. And yet the character of the 911 has been preserved, and of all its many achievements on road and track, that is the most impressive of all, and the reason it remains the world's greatest sports car.
Even so all the battles that have been fought and won these last 57 years do not compare to that which its designers and engineers must shortly face: making a credible 911 out of car powered by nothing other than electricity. For myself I'd rather Porsche killed the car than make one that was unworthy of the name. Time alone will tell if Porsche can rise to the enormity of that challenge.