Price: £2950
Mileage: 45,000
Condition: Cloth-trimmed perfection
Seller: eBay
Until fairly recently your author owned a 1996 Toyota Paseo. It didn't get mentioned much around here, largely because it was scarred literally and metaphorically by a large, rusty dent in one door. But having picked it up for nothing more than a donation to charity, it provided twelve months of reliable and almost comically cheap service.
How much is your car to insure? Find out in four easy steps.
Get a quote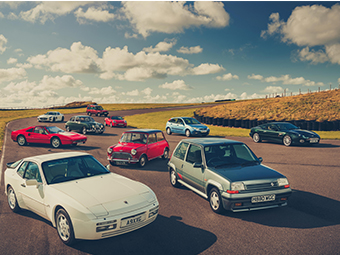 What surprised me most though was how solid it felt. Rattles were minimal, and it felt mechanically tough despite being among the most downmarket cars in the mid-'90s Toyota range.
What then must a car much higher up the Japanese brand's food chain, and in much better visual condition, feel like? Because that's what we have here with a 1997 Toyota Camry 2.2 auto, on sale in Bradford.
If you have a penchant for Toyotas and a habit of browsing eBay, then you've probably noticed this particular dealer before. They seem to specialise in the brand, but not just that, have some kind of portal back to the 1990s, as that can be the only explanation for just how many apparently untouched examples of the marque they manage to find. We could just as easily have chosen a one-owner, 38,000-mile Carina E for this week's Unexceptional Classified.
In some ways the Carina would be more appropriate, being a step down from the Camry and presented in distinctly unexceptional 1.6-litre, automatic trim. But then this Camry's an auto too, of similarly low miles (45,000), and while it wears alloy wheels rather than trims, the original owner thankfully avoided ticking the box for Toyota's slightly plasticky leather back in 1997.
The grey-aubergine hue velour has survived very well, though that's to be expected given the mileage. The headrest trim appears to be coming adrift, but that could be fixed fairly easily we suspect. The steering wheel's a bit shiny, but they call that patina these days, don't they? And at the end of day, what do you expect from a 24-year old car?
There aren't many details in the ad, other than noting an extensive service history. The MOT history though is a sea of green, having passed every one of its 16 tests first time, and with only minor advisories. If it's as clean underneath as it looks topside (and indeed the engine bay), then this could be one of those hugely reassuring cars that needs nothing more than regular checks and an annual oil change.
Perhaps the best thing though is that it'd be as easy to drive as it would be to look after. Camrys have never been the sportiest of things, and while this harmed their review scores against more exciting but less enduring opposition, today it means being able to enjoy a 1990s motoring experience with almost none of the drawbacks of running an older car.
The Paseo was great at that too, effortlessly slotting into modern traffic conditions, but this Camry's larger (but still four-cylinder) engine, auto 'box and air conditioning should make daily running even more relaxing. The only possible drawback, at least at current fuel prices, is sub-30mpg economy, and £280 a year tax in the pre-2001, over-1549cc VED band.
This Toyota Camry will be bang on the 25-year age limit for being welcomed into the 2022 Festival of the Unexceptional, which is reason enough for some of you out there…
Read more
Unexceptional Classifieds: Renault 6 GTL
Cult classic AE86 Corolla gets reproduction parts boost
Toyota RAV4 driven: The ideal all-weather budget classic?