Price: £2795
Mileage: 30,800
Condition: As clean as only a one-owner car can be
Seller: eBay
For those who get hot under the collar for beige family cars of the 1980s (we know you're out there), it'd be remiss of us not to mention the 1987 Toyota Carina fastback we found when searching for this week's unexceptional classified.
How much is your car to insure? Find out in four easy steps.
Get a quote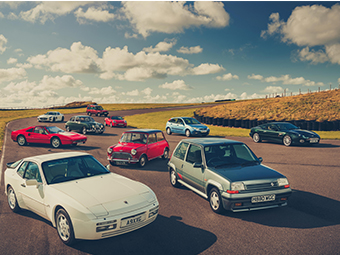 It's perhaps slightly over-egging the pudding to suggest, as the dealer does, that it's a "very sought-after classic motor" – we're not talking an AE86 Corolla here – but the two-tone paintwork is quite something (elephant over latte, maybe?) and the awkward rear-end arrangement with that enormous plastic numberplate surround scores highly on the Concours de l'Ordinaire front.
But actually, our pick for this week is both a little smaller and a little newer, albeit from the same Japanese stable. And while the Carina's fifty-shades-of-beige approach has unexceptional appeal, so does this 1991 Toyota Starlet's crisp red paintwork, hubcapped steel wheels and overall tidiness.
The car's condition can be partly explained by having averaged little more than 1000 miles per year since new, yet at £2795 the asking price is under £100 for each of those years on this planet too.
It's yet another example of those unlikely survivor vehicles – cars that were so inexpensive and unremarkable when new that it's borderline miraculous they've survived for decades without being abused or simply worn out.
As is often the case, that's probably because the ad claims it's a one-owner car. We won't speculate on why the car may now be on the market – you can draw your own conclusions – but as ever it's something of a rare opportunity to pick up such a car in effectively unmarked condition. The only notable wear visible from where we're sitting is some peeling on the driver's door card, and a rough-looking dealer sticker in the rear window. Not bad for three decades.
This 1991 car is a fourth-generation Starlet, and the second that used front-wheel drive. It also spawned a host of offshoots, from the hot Glanza models (popular Japanese imports) to the Paseo coupe (an example of which your author owns) and the loopy but utterly charming Sera, a Japan-only butterfly-doored coupe.
The Starlet is, of course, least exceptional of the lot, particularly in 999cc carburetted form as seen here. GL was the sole trim line until 1993. Drivers did get some colourful cloth trim, a radio cassette and even a five-speed gearbox, not yet a given at this point in the market in 1991, but otherwise it's about as simple as cars come. Check out that minimal gauge cluster as proof.
Doing the usual MOT check, previous advisories seem relatively minor, and the current ticket lasts until December.
It's probably not a car you'd want to actually use through winter, given its condition, but as far as unexceptional classics go, you'll probably struggle to find something more dependable than a Toyota like this either.
Read more
Unexceptional Classifieds: Toyota RAV4
Retro Rewind: Mk4 Toyota Supra vs Mk5 Toyota Supra
Bland of the rising sun: 13 unexceptional cars that put Japan on the map