It didn't start with The Fast and the Furious. Not even a little bit. The ever-successful film franchise certainly played a part in solidifying the Mk4 Toyota Supra's lofty podium in the performance car hall of fame but, to anyone who was even remotely interested in cars, the Supra reached stardom years before Paul Walker and Vin Diesel.
Launched in 1993, it was a high watermark for Japanese performance cars. With the twin-turbo, 3.0-litre straight-six engine firing 326bhp at the rear wheels and enabling it to hit 0-60mph in just 4.6sec, the Supra 3.0 Bi-Turbo was up there with the Ferrari F355 and Porsche 911 Turbo for performance. This was no mere sports car, this was Toyota's supercar.
How much is your car to insure? Find out in four easy steps.
Get a quote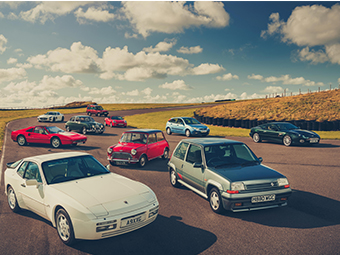 Yet, for all its big-winged bravado and 'affordable Ferrari' appeal, the Supra was still an expensive prospect and it never sold in any great numbers. Less than 600 examples found homes in the UK, and it was axed in 1996 – four years before a rather lurid, heavily modified, hazard orange Supra hit the big screen and, famously, the ten second quarter mile.
To purists, though, it's finding a Supra that hasn't been modified that's the holy grail. The 'JZ' straight-six engine is famous for happily taking comical amounts of power from countless tuning modifications, and the people who bought them often did just that.
Not so in the case of this factory standard, Storm Blue, low mileage, UK example. This sort of untouched, Supra Bi-Turbo complete with the rare manual gearbox is almost unheard of today. Nice, standard Ferrari F355s of the same vintage are as common as weeds by comparison, so we hardly needed more reason to get it together with its modern successor, the Toyota GR Supra. Hold on tight as we run another Retro Rewind…
Mk4 Toyota Supra 3.0 Bi-Turbo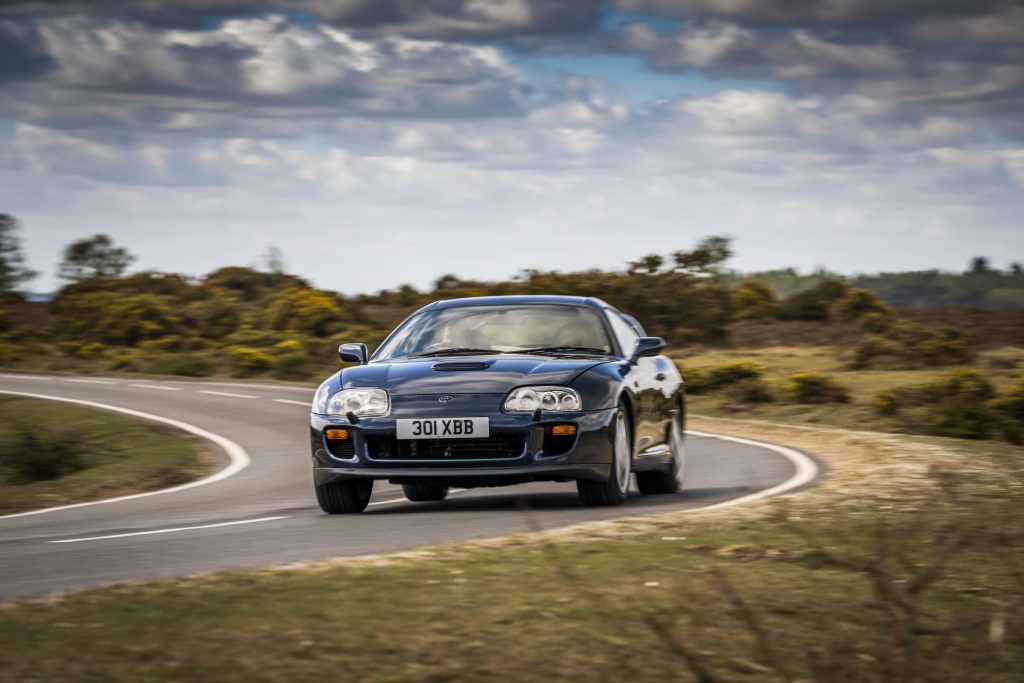 Let's face it, interiors weren't the strong point with most Japanese cars back in the '90s. In fact, they're not typically a strong point even now, but more on that with the new GR Supra we'll come to.
Slide into the Mk4 Supra, which requires more of a bum-shuffle and drop than you might expect thanks to the low-set seat, and you're greeted with a stack of buttons to the left of the wheel. While some minimalist modern dashboards would actually benefit from a few more dials and buttons, the Supra's is a great example of how the random 'give it another switch' approach taken by Toyota in the '90s was also rather misguided. With rotary dials, rocker switches and push buttons to spare, it's certainly function over form.
Those dials are another matter altogether. With the rev counter large and central, the speedo secondary to it on the left yet positioned perfectly so that the day-glo needle on crisp, white-over-black font is instantly visible at a glance, things are concise and clear. There are prettier analogue dials, sure, but it's hard to believe that this beautifully straightforward setup can ever be improved upon for fitness for purpose.
Which is good, because you are going to want to keep an eye on them. On the move, the Supra Bi-Turbo is a heady blend of sophisticate and supercar; even nearly thirty years on it has a slick, surprisingly refined nature that, in easy-going progress, can see you building speed with alarming nonchalance. Given the fairly soft suspension and 17-inch wheels, the cushy, loping ride comfort is a big part of what gives the Supra this unexpected GT feel.
It also brings with it a fair amount of body roll through corners, but never enough to unsettle the Supra or even to really make you overly conscious of the body shifting about. There's loads of mechanical grip, too. Despite headline figures suggesting that the A80 Supra Bi-Turbo might be a drift hero even in factory spec, it actually proves to have a deft, fluid and quite forgiving cornering style that feels utterly at home on British roads. You can lean heavily on it through corners, balancing the body weight nicely, and playing on the alertness and adjustability running through the chassis that responds so intuitively to changes in the throttle position, and it feels wholly predictable and delightful. None of your '80s and '90s turbocharged widow-makers here, thank you very much.
Sure, with that long nose, a fairly slow steering rack, a slightly stodgy but still satisfying shift to the six-speed manual gearbox, and more than a touch of the long-legged GT to the whole affair, there are more precise cars from the Supra's era and beyond. But the breadth of talent that Toyota engineered in is impressive. From the weight saving program that saw the Mk4 Supra weighing some 100kg less than its predecessor to the deft handling and loping touring manners, it's far more than 'just' a fast car. And let's not forget the looks, which are inspired by Toyota's unfeasibly beautiful '60s 2000 GT coupé and also made the Supra one of the most aerodynamic cars on the road in its day – helping it to a 156mph top speed. The wing alone deserves its very own display in the sports car hall of fame.
But, ultimately, it is that 2JZ-GTE engine that immortalised the Supra.
It's all about those sequential turbochargers. Let the revs build up, past a nostalgic spot of lag and up towards 3000rpm, by which time the first turbo is on a rolling boil and boosting you up the road at an increasingly riotous pace as the in-line six-pot rasps a metallic resonance behind you. But it's when the second turbo joins, a heartbeat before 5000rpm, that the Supra reveals its true colours. Just at the moment when you'd expect many turbocharged cars to be heading for the 'change-up-because-there's-no-point-anymore' wheeziness, the Supra goes full supercar slayer. That second shove in the kidneys is a euphoric, addictive, frenetic moment that carries on well past the peak 326bhp at 5600rpm. It's one of those instances that makes you wonder at how your fleshy, unpredictable, hard-to-please human mind can be so intoxicated by nothing more than speed and machine.
Make no mistake about it, the Mk4 Toyota Supra Bi-Turbo is one of Japan's all-time finest moments; an automotive two-finger salute to the west that still resonates today.
Mk5 Toyota GR Supra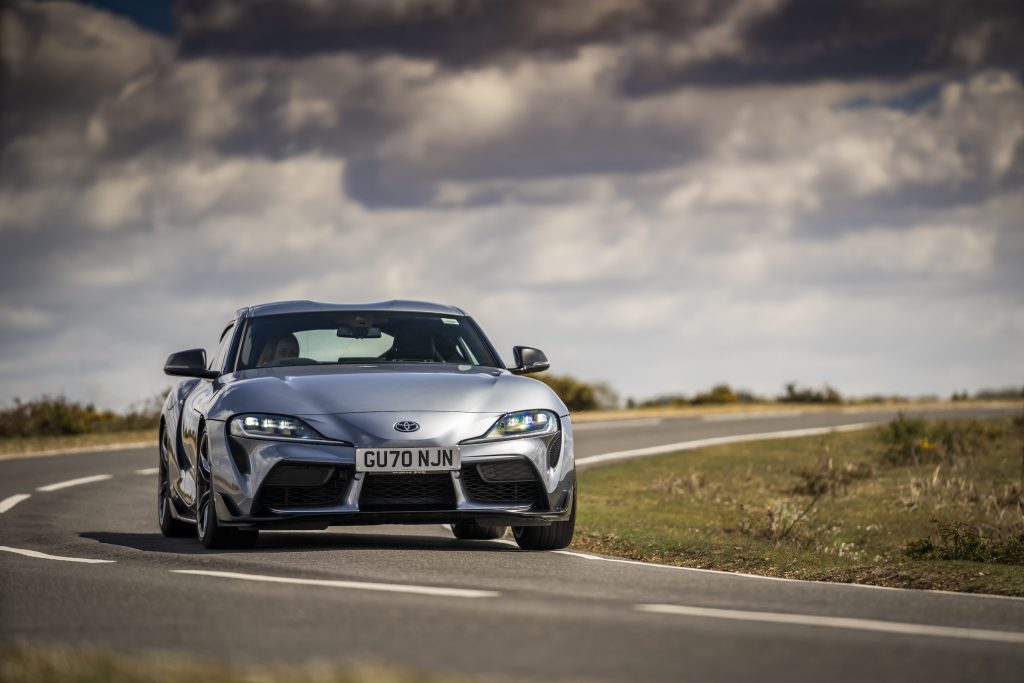 Look, let's just get it out of the way and say it: there's a BMW underneath this Supra. Yes, that's right. You know it, we know it, the world knows it and yet the truth is that most people who buy it will likely not care, or may even be grateful for it.
After all, back to those comments on the interiors being perhaps not the most desirable trait for the typical Japanese vehicle – the new GR Supra has got it sorted. Snug seats, digital dials, just the right balance of simple, straightforward switches and whizzy touchscreen tech, it is a properly lovely place to sit. If you want anyone other than Toyota to design your Toyota's interior, it's probably BMW.
But do you want them to do the engine and chassis, too? Well, that's a tougher call since Toyota and Lexus are hardly layabouts when it comes to in-house chassis and engine delights, and the fact that they are typically so brave and unashamedly different with their performance cars has made such a close collaboration a little hard to stomach for JDM purists.
D'you know what? If a BMW collaboration and raiding the Z4 parts bin was what was needed to get the Mk5 Toyota Supra past some teeth-sucking in the finance department and into production, we're all for it.
The first sniff of a potential A90 Supra arrived with the Toyota FT-1 concept in 2014, but it wasn't until 2020 that the finished product made it to the roads – no fewer than 17 years after the A80 Supra bowed out.
And if you can choke down the knowledge that there's German mechanicals lurking within, it absolutely lives up to expectations. In fact, peculiarly, it's the modern Supra that provides the lairier, more flighty handling of this pair. It's as if Toyota actively engineered in a willingness to oversteer that's rare in most modern sports cars, just to make it edgy enough to justify the fabled Supra badge. Whatever the reason, the new Supra has a quite forceful, fiery character.
Even when you dial it back and take it easy, the 335bhp 3.0-litre turbocharged inline six has an egging-you-on rumble to it, the suspension feels taut and the steering quick. Sure, you can sit back, swipe through Apple CarPlay and smug along very comfortably. Anyone with a willingness to own a car as attention grabbing and performance-focused as the A90 Supra will be more than happy with its day-to-day liveability. The super-slick, eight-speed automatic gearbox is a big part of that, too.
But that overt bolshiness is exactly what saves the new Supra from being just a bit too 'BMW' for its own good. This is a sports coupé that goads you on all the time. The 'six is tuned to a proper roar with a rebellious, angry crackle on the overrun, the steering is darty – even the swoops, kinks and vented hollows of the body speak of a car that wants to make a grand statement.
It is, actually, quite something to behold and it's also quite the hairy-chested thug to drive. Most importantly, and to Toyota's credit, it absolutely has its own character. It stands out from the crowd both literally and metaphorically and, notably, has a very disparate appeal from the softer, top-down tourer that is the BMW Z4.
It's worth pointing out, too that the new GR Supra churns out 335bhp but weighs 1,495kg. A rather impressive weight by today's standards, with airbags and far more to factor in. Yet the Mk4 also manages 326bhp, and weighs as little as 1410kg. Whether that's a sign of progress given the new Supra's placement as a mid-range sports coupé, or a sign of the old Supra's prowess given how closely matched it is to a car that's some two decades its junior, it's a neat symmetry.
Yet it has to be said that the new car lacks the grace and sophistication of its predecessor. Before driving this lovely example of a Mk4 Supra, those traits seemed unlikely hallmarks of a car that is perhaps most famous as a modified car nerd's dream thanks to its propensity for being tuned to up to 1000bhp and beyond. But while the latest Toyota Supra serves up the sort of machismo that, peculiarly, feels to this writer like it has distant echoes of the rally-bred brutalism of the Toyota Celica GT-Four and its foes, it feels miles apart from the breadth and poise of our stock, Mk4 Supra Bi-Turbo.
Different characters or not, they are both emotive, desirable machines. But, of course, the last word here has to go to the earlier Mk4 A80.
When we were teeing up the logistics for this feature, we got some quotes for how much our unicorn-status, unmodified Toyota Supra Bi-Turbo was worth, with the answer eventually coming in at 'around £40,000.' That seemed rather a lot, to your author at least. Then I drove it. And now? That doesn't seem like very much at all.
Fast facts: Mk4 Supra Bi-Turbo vs Mk5 GR Supra 3.0 Pro
Price: £40,000 vs £54,365
Engine: 3.0-litre 6-cyl bi-turbo vs 3.0-litre 6-cyl turbo
Power: 326bhp vs 335bhp
Gearbox: 6-speed manual vs 8-speed auto
Kerbweight: 1620kg vs 1495kg
0-62mph: 4.9sec vs 4.3sec
Top speed: 156mph vs 155mph