Price: £3995
Year: 1995
Mileage: 138,000
Condition: Never seen the beach (even though it'd be perfect)
Seller: eBay
There is no big black book that lists whether or not a car is unexceptional. Broadly speaking if your car is a low-end model of a once-popular vehicle and is over 25 years old, it's probably in the right ballpark for Hagerty's Festival of the Unexceptional, but some cars still cause head-scratching.
How much is your car to insure? Find out in four easy steps.
Get a quote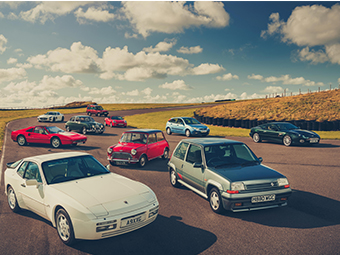 Where does this 1995 Toyota RAV4 lie, for instance? The Japanese giant's 1990s soft-roader almost feels like a bridge between the old and new worlds these days. Peer out of your window and there's probably a small SUV or crossover parked on your street, such is their popularity. The RAV4 played a big part in blending the style and some of the capability of old-school off-roaders with gentler road manners and more acceptable refinement, economy and performance.
It was as fresh as new cars came on its 1994 launch. This was a time, remember, when hot hatchbacks had been neutered by crippling insurance premiums thanks to a decade of joy-riders and ram-raiders, and aside from Mazda with its MX-5 and Toyota with its own MR2, there weren't many affordable sports cars either. And the average new family car was despicably dull, so it's no surprise buyers fell over themselves for cars like the RAV4.
Objectively this particular 1995 RAV4 ticks all the unexceptional boxes. It's old enough, it's painted in refrigerator white, it's surrounded by a ring of unpainted plastic, and inside you'll find the child's plastic golf club that is Toyota's 1990s automatic gear selector.
It's also, according to the eBay listing, got 21 stamps in its service book, and while there are a few dabs of red paint in its MOT history (its exhaust, front pads and a CV joint boot may all need attention before the next one), you know how much we value a healthy service record when selecting these unexceptional classifieds. Someone has clearly cared for this RAV4 and its period-perfect swirly three-spoke wheels.
Check out that cabin too. The driver's side seat bolster looks a bit flappy, but otherwise it seems as fresh as the Macarena. Being the quirky but mildly less practical three-door it seems to have escaped a life as a dog-wagon too so the boot and rear seats look no worse off than the front row.
It's easy to sneer at cars like the Toyota RAV4, and perhaps its impact has been dulled by the fact that nearly everything seems to be an SUV these days. But it's also part of the motoring landscape, and that, we think, might just be enough.
Also read
Unexceptional Classifieds: Ford Fiesta 1.3L automatic
Retro Rewind: Mk4 Toyota Supra vs Mk5 Toyota Supra
Bland of the rising sun: 13 unexceptional cars that put Japan on the map