Price: £3995
Mileage: 66,900km
Condition: Befitting of a life in Spain
Seller: Car & Classic
Among the many joys of unexceptional motoring is the experience of driving a car that you can almost guarantee you won't see coming the other way on the average journey. If you manage to turn up at the Festival of the Unexceptional in a model that nobody else has brought, you've done particularly well.
How much is your car to insure? Find out in four easy steps.
Get a quote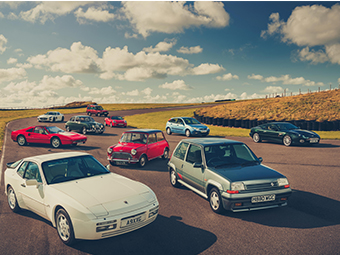 Now by writing about the Renault 6 GTL you see here, the chances of more than one turning up at next year's Festival have probably multiplied, but when was the last time you actually saw an example of Renault's late 1960s to mid 1980s family hatchback?
Vanishing even in their native France, the ever-popular How Many Left website suggests there are just 13 registered on UK roads. According to enthusiast website PetrolBlog, which last year put together a list of endangered Renaults, only the 6's successor, the pear-shaped 14, is rarer, with only six remaining.
The 6's numbers actually appear to have gone up by two in the past year. Perhaps that's because people are starting to import them, as evidenced by the left-hand-drive example for sale on Car & Classic. It hails from Spain, whose dry weather probably makes it now the best place to secure decent examples of older French cars.
Whether you import, track down a remaining right-hand drive example, or simply hand over £3995 for this maroon example, the 6 has plenty going for it. It's an interesting shape, like a scaled-down Renault 16 (around 80 of those remain, in theory), while the Renault 4-sourced mechanicals couldn't be simpler.
The other advantage of using bits from the 4L is that you get to enjoy a dashboard-mounted gearshift and completely flat floor. At the same time, the 6's higher position in the range means niceties such as carpets (many 4s use rubber mats) and a more comprehensively-equipped dashboard.
As a Spanish car, this 1977 example actually has a 1037cc engine, which helped it sneak inside a Spanish taxation class at the time (unlike the larger 1.1 Cléon-Fonte unit used elsewhere), but with 49bhp it should just about hold its own in modern traffic.
Without being able to peer underneath we can't comment with too much certainty on its condition, but it presents well in the exterior photos, particularly on those Gordini wheels (two genuine, two replicas according to the ad). Inside, the seat covers are a bit saggy, which is either fixable or easy to ignore, and the busy engine bay all seems in order.
It doesn't even seem too badly priced. Renault 4s have begun creeping up recently, but the Renault 6's obscurity works in its favour when it comes to affordability. Well, providing we've not let the cat out of the bag by talking about it here…
Read more
Unexceptional Classifieds: Škoda 120L Estelle
Interior designer's Renault 4 is a mobile lounge
How will you do in our fiendish French car quiz?