The Renault 4 is a utilitarian icon. It's almost anti-design; when Autocar magazine first tested it in 1962, it wrote that "it is obvious that no artistic stylist spent sleepless nights pondering on its design." Time has imbued it with character, but its boxy form is clearly one of practicality rather than fashion or aerodynamics.
But, to celebrate the Renault 4's 60th year on this planet, Renault has handed its people's car to French interior and product designer Mathieu Lehanneur, and the car you see here is the undoubtedly stylish, if rather less practical result.
Combining utility and artistic design is not a new concept, and recent models like Spectre Vehicle Design's beautifully detailed classic Mini suggest that taking something simple and making it ornate is increasingly in vogue. But Lehanneur has really gone to town on the 4L, which is called Suite No4 – something most apparent in its polycarbonate rear end.
The designer has chopped away most of the structure aft of the front doors to create what might be the basis of a Renault 4 pickup, but then rebuilt it in transparent panels to create a kind of artist's studio effect. The boot floor has then been trimmed in a natural fibre covering, and extends outwards when the tailgate is open to form a sheltered seating area.
While the other end of the car has retained more of its original structure, the grille is now formed from polished (and quite rippled) aluminium, while the paintwork has a unique cement-like finish to accentuate the architectural feeling. Inside, meanwhile, Lehanneur has trimmed the seats and dashboard in yellow velvet and the backs of the seats are trimmed in a thick, ribbed chenille fabric, "for a robust look".
Harder to spot at a glance are the transparent solar panels that make up the roof – providing a trickle of charge for the car's batteries, since like Renault's e-Plein Air concept a few years back, Suite No4 has been converted to electric power. That 2019 concept used the 17bhp drivetrain from a Renault Twizy, so we'd guess this is similarly motivated.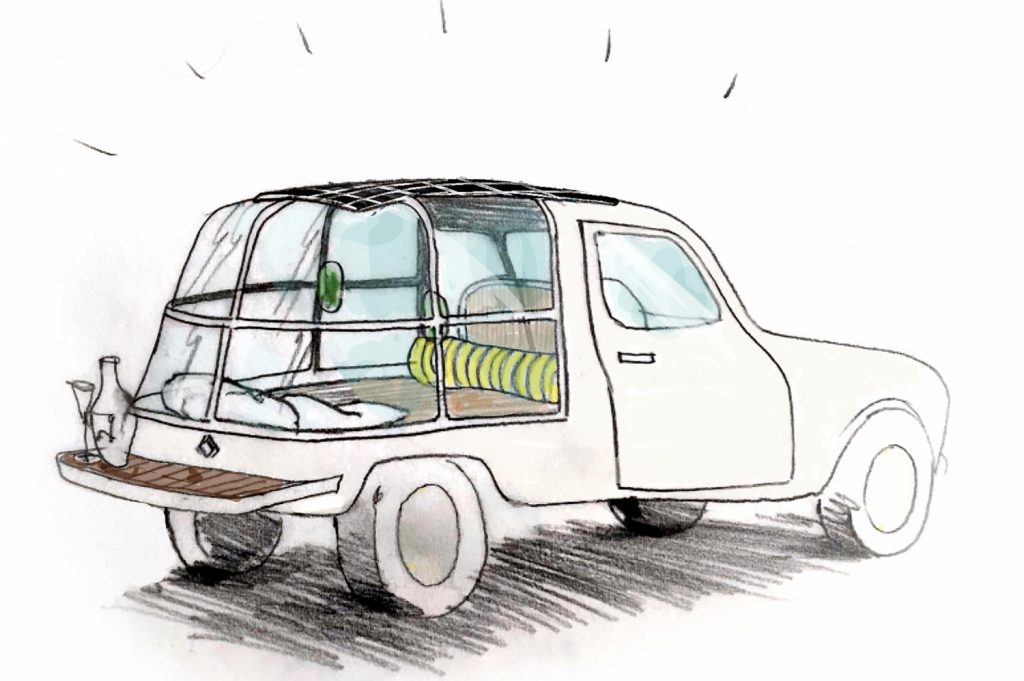 "I wanted to merge the worlds of cars and architecture," says the designer, "to create an open-air hotel room. Even better than the finest palatial suite, the car is exactly where you want it to be, whether that's by the sea, in the middle of a field or driving around the city you've always dreamed of."
Well, he would say that, but it's a unique take on an otherwise familiar car. The idea of motoring silently to a beauty spot and contemplating life from the back of our own mobile Renault 4 lounge doesn't sound too bad to us.
The car is making its exhibition debut at the Maison&Objet fair this weekend at Christie's in Paris, before heading on to the L'Atelier Renault store also in Paris in November, and then the next Maison&Object at Villepinte, just outside Paris, in late January.
Read more
Future Classic: Renault Avantime
Cabin fever? 12 wild interiors from a dozen decades of the car
The intersection of cars and architecture is where we'd love to live