It's the new millennium, and an exciting time to be a fan of the Renault brand. The company is riding high in motorsport, having spent much of the last decade at the top of Formula 1, BTCC and the high-revving F2 rallying class. Hot Clios with both four and six cylinders (and engines both in front and behind) are rolling out of Dieppe and (in the V6's case) Uddevalla in Sweden, and what's more, design chief Patrick Le Quément has some truly barmy vehicles on the drawing board. And none came more barmy than the Renault Avantime.
Le Quément's styling direction at the time reached its zenith with the second-generation Mégane of 2002, but the Avantime got there before it, and both were effectively previewed first by 1995's Initiale concept, and then more overtly by the Vel Satis concept of 1998.
How much is your car to insure? Find out in four easy steps.
Get a quote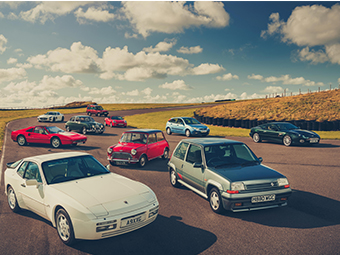 Vel Satis – the concept, rather than the eventual production car of the same name – was a low-slung, four-seater coupé with a one-and-a-bit-box silhouette, the "and-a-bit" being a curved rump behind an upright, but laterally curved, rear glass. The front, meanwhile, was as wedgy as anything that came from the 1970s, stretching in an almost unbroken arc to the top of the aforementioned rear screen.
It hinted at Le Quément's desire to both cast off Renault's ultra-conservative recent past (typified by cars like the 21 and the Safrane), and also express the best elements of French design in architecture, fashion and luxury in an automotive form.
He was arguably more successful at this than Citroën offshoot DS's later attempts at the same. Le Quément's Renault tried to genuinely innovate with forms and concepts (sensation of space, for instance, was hugely important – just as it had been with Renault's iconic Espace and Le Quément's own Twingo), whereas DS simply created conventional cars with slightly fussy detailing, like a Hermès handbag.
Commercially the Mégane II of 2002 was probably most remarkable – probably the last C-segment family car to adopt a genuinely novel shape, echoing the Vel Satis concept's tail end if not its wedge-like nose. TV adverts played on the unusual rear, to the tune of Groove Armada and Fatboy Slim's 'I See You Baby' (whose refrain, if you don't remember, continues "…shakin' that ass"), but the quirk didn't seem to affect its sales potential against far more conservative rivals.
The production Vel Satis launched in 2001, on the other hand, was undoubtedly a step too far. Its front end was more like the concept, the rear less dramatic, and the bit in the middle a lot taller, for a large and surprisingly luxurious cabin. It wasn't without merit, but those merits were few and far between, and where they did exist conferred little advantage over far more conventional, not to mention more prestigious, rivals.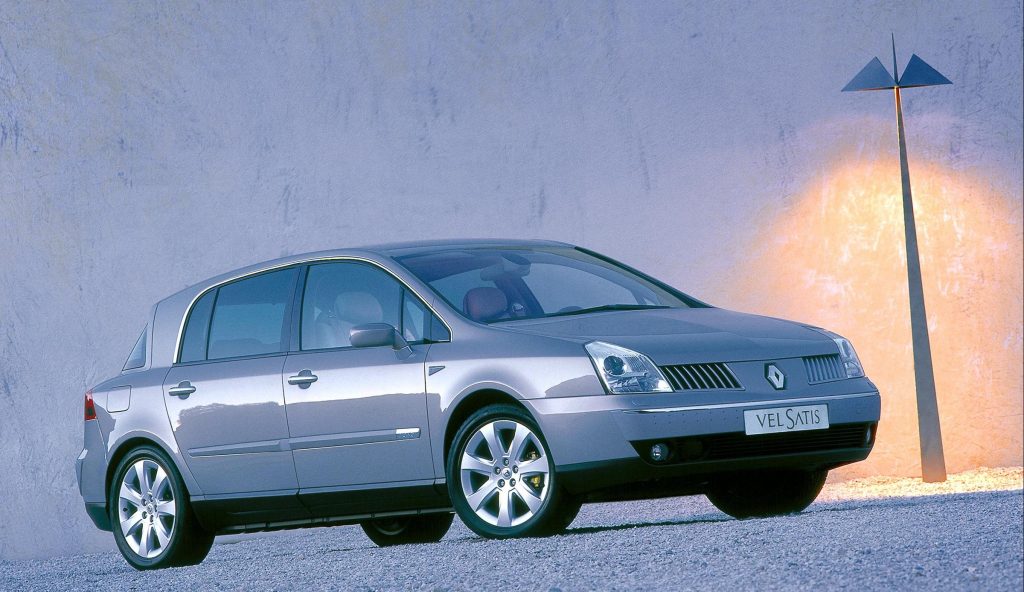 Then there was the Avantime.
Like the Vel Satis, it sold poorly. So poorly in fact (just over 8500 units from 2001-2003) it effectively sank Renault's partner Matra, which had been commissioned to build it when Renault pulled the Espace in-house. But today it's viewed with considerably greater fondness than the Vel Satis – perhaps because after two decades it's still virtually impossible to think of a rival, and it therefore stands proud as something truly unique on the road.
Ostensibly, it's a four-seat Espace. If that sounds like a curious concept, consider that it actually wasn't all that spacious despite its sizeable stature, the rear seats in particular being a little cramped and the boot nothing to shout about. By MPV standards it handled well, but next to a conventional coupé, it was about as dynamic as you'd expect. And while the powerplants were adequate – a 2-litre turbo four and a 3-litre V6 similar to that found in the Clio V6 – Renault neglected, at least in the UK, to offer the turbodiesel engine that was becoming obligatory for decent sales potential in the early 2000s.
Still, we come back to its uniqueness. Everything that makes an Avantime an Avantime, even the parts that are objectively below-average next to its contemporaries, today contribute to an ownership experience you cannot find anywhere else.
No other car has the Avantime's colossal double-hinged doors. None have its kite-like rear light clusters, and even the grandest coupés from Mercedes-Benz can't match its expansive pillarless sides and enormous glass roof panels. Only recently have vehicles wearing the word "coupé" offered a similarly lofty driving position, but all of those are claustrophobic SUV-based things, designed to shield you from the world rather than – like Le Quément's prior project, the Twingo – make you feel a part of it.
It should come as little surprise that the Avantime already has a cult following. You'll find the best examples for sale through tight-knit owners' communities, and even outside of those, prices have been steadily creeping upwards for the past few years (though it remains a relatively affordable car, for the time being). There's quite a range when it comes to condition too, common Avantime maladies including corrosion on the alloy roof bars, rubberised interior plastics looking rough, and cambelt failures on 2-litre cars.
But no classic, future or otherwise, is without its issues, and we frequently deem the ownership experience worth it in return for a driving experience that can't be found anywhere else. If that doesn't apply to the Avantime, then we don't know what does.
Read more
Take a chance on me: The £200 Renault Safrane that paid off
Unexceptional Classics: Édition française
22CV: Citroën's V8-powered Traction Avant remains a riddle