Toyota has announced it will offer a selection of reproduced parts for one of its most popular classic models, the AE86-generation Toyota Corolla.
Few cars define "cult classic" better than the AE86. Well-received in contemporary reviews and briefly successful in touring car racing and rallying, it would likely still be largely forgotten today if not for its legendary status in the motorsport of drifting.
How much is your car to insure? Find out in four easy steps.
Get a quote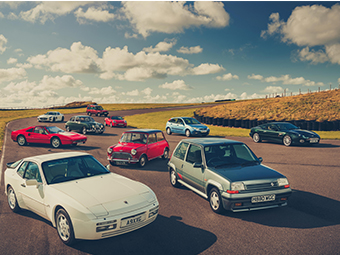 The sport took off on the mountain roads of Japan in the 1980s but was brought to global prominence through the media of manga comics, anime cartoons and videogames. At the head of it all was the AE86, often referred to as the "hachi-roku", Japanese for "eight-six", as one of the most affordable routes into a rear-wheel drive platform.
Well, it was at the time anyway, but these days the AE86 – known as the Corolla GT in the UK, but better known worldwide as the Corolla Levin and the pop-up headlight Sprinter Trueno – is becoming increasingly valuable.
As with all cult products, demand eventually outstrips supply, and prices have been rising accordingly for many years now. When that happens, standard examples become most prized of all, and that's where Toyota's reproduced parts, sold through the Toyota Gazoo Racing brand, come in.
The earliest AE86s are now nearly 40 years old, and as almost anyone who has tried to maintain an older car short of a Mini or a Beetle will attest, parts supply can be the single greatest barrier to maintenance or a successful restoration.
By reproducing a range of parts, Toyota Gazoo Racing will help keep its cult model on the road – just as it has also recently done for the A70 and A80 generations of Supra, the exotic 2000GT, and the 40 Series Land Cruiser.
The parts, including brake calipers, steering knuckles and rear driveshafts (Toyota hasn't confirmed what else will be reproduced) will be available through regular Toyota dealers worldwide, but only as long as stocks last. If you have an AE86 restoration on the go, it may be worth getting in there early as a result, as there's no telling whether Toyota will commission another run from its suppliers.
Full details can be found on the Toyota Gazoo Racing Heritage Parts website.
Read more
The Toyota GR86 is a modern day Porsche 944 | Jason Cammisa on the Icons
Toyota RAV4 driven: The ideal all-weather budget classic?
Tofu Tax? Toyota Corolla AE86 sells for £46,250