If the Toyota AE86 Corolla is best known in popular culture for delivering tofu, then the Corolla that has just sold through Car & Classic's latest online auction is probably better suited to shuttling around the finest cuts of Wagyu.
That's because it's achieved a record sum for the model at auction of £46,250, even beating an American record set earlier this year of $40,000, approximately £29,000.
How much is your car to insure? Find out in four easy steps.
Get a quote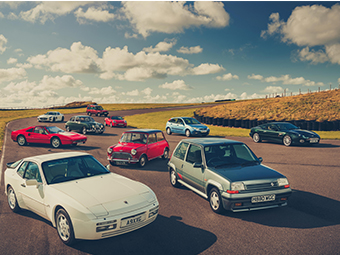 It's the latest indication that classics from the 80s and 90s are attracting serious market interest, and Japanese classics in particular, following similar records set by a Nissan Skyline GT-R R34, and a Mitsubishi Lancer Evo VI Tommi Mäkinen.
While this 1987 Corolla GT didn't quite hit those heights, it's still an impressive sum for a car that back in 2006 was almost written off for damage as minor as being keyed – meaning its value back then was likely considered by the insurance company to be just a few grand.
Amazingly, the car has been owned by the same lady since new, who bought it back in 1987 as a present to herself after separating from her partner. The car has since been serviced every year, the first nine at a Toyota dealership, and is in completely standard and original condition – with a few choice, and era-appropriate options, such as a Nokia phone cradle and Toyota mudflaps.
That alone makes it strikingly different from most other AE86 Corollas on sale. While the model is best remembered in the UK for a brief stint in the British Touring Car Championship and it's prized in Ireland as a rally car in much the same vein as the Mk2 Escort, its international recognition now largely hinges on the lightweight, rear-wheel drive Corolla's impact on drifting culture.
In Japanese Sprinter Trueno form – complete with pop-up headlights rather than the fixed units of all UK models – the AE86 was the star of the manga comic (later turned anime series) Initial D, where young hotshot and tofu delivery boy Takumi Fujiwara would race in battles on the local mountain passes.
While the model has always been popular in Japan as a result, the car's global profile has risen sharply over the past decade and has now become – as this auction shows – quite valuable.
Standard UK models were offered with a 1.6-litre, twin-cam "4A-GE" four-cylinder, also found in the Toyota MR2 and Corolla GTi of the period, while power was delivered to a live rear axle via a five-speed manual gearbox. The vast majority that come up for sale, however, often feature tweaks to both engine and suspension – which makes an original survivor like this all the more special. If recent sales are anything to go by, it might not be the last time we see one achieving a record price either.
Read more
Our Classics: 1994 Mazda RX-7
Unexceptional Classifieds: Nissan Sunny Coupé
Tiny Happy People: Driving a titchy classic kei car is big fun