Earlier this year a Mitsubishi Lancer Evolution VI Tommi Mäkinen Edition set a record price for the model when it sold for £100,100.
On Saturday July 31, that number could fall once more when the first UK-registered Tommi Mäkinen Edition goes up for sale with Silverstone Auctions – with a guide price of between £115,000 and £125,000.
How much is your car to insure? Find out in four easy steps.
Get a quote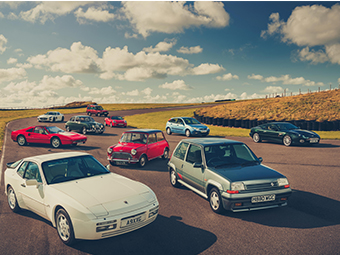 The car that sold in May was part of Mitsubishi UK's heritage fleet, sold off by the manufacturer as part of Mitsubishi's plans to leave the UK. When new and later in its life the car was a darling of motoring magazines, and had even been signed on the bonnet by the multiple World Rally Championship-winning Finn himself – and had little more than 10,000 miles on the clock.
The latest example is on similarly low miles, at around 11,000. It's also recorded as car number one from the 50 officially imported to the UK. Graphics that contrast with the Passion Red paintwork were optional and specified on this car, giving it the right "just finished Sweet Lamb" vibes, and the car appears to be in completely standard condition and clean enough to eat your dinner off the underside of it.
The Evolution VI Tommi Mäkinen arrived at the end of 1999, celebrating the Finn's four WRC titles and replicating the colour scheme of his 1999 Marlboro-liveried steed. All UK market cars were based on the higher-specification GSR, but featured different bumpers, white 17-inch wheels from Enkei, and various Mäkinen-themed details, while worldwide production was limited to 2500 units.
While regular Evo Vis can be found in the £20,000 range though, the Mäkinen's special status has long elevated prices, and the recent sale of the Mitsubishi UK car has no doubt spurred a few more to market.
The Mäkinen is one of several cars coming up at the Silverstone Classic sale with incredibly low mileage, including an unregistered 1990 Mini Cooper RSP with only 39 miles, a 2018 Ford GT on 648 miles, and a 1993 Porsche 964 Turbo S 'Leichtbau' on 45 miles. Those, plus the full lot list, can be found here.
Read more
Why homologation cars of the 80s and 90s are top gun
Our classics: 1996 Subaru Impreza Turbo
Retro Rewind: Mk4 Toyota Supra vs Mk5 Toyota Supra