At the wheel: David Lillywhite
Owned since: February 2015
Hands-on or hands-off? Hands-on again
Current condition: Shiny and road legal again
David Lillywhite is founding editor of Magneto magazine and past editor of Octane. He's owned more than 40 cars, the majority of them classics, and is on his third Impreza Turbo. Scroll down to follow the story…
23 March, 2021: What lies beneath
A wise man once pointed out to me that a classic-shape Impreza is as near as you can get to a Porsche 911 at sensible money. I happen to agree – it's not just the sound but the mechanical feel, the grip, the way it accelerates – and so I'm now on my third, and oldest, Impreza Turbo. In all, I've covered around 150,000 miles in them over the last 15 years, having owned many other cars in between.
This one, a wagon, is the most special, and yet the worst in some ways. I wanted something that would stand out from the masses of Imprezas out there, something with a bit of provenance. After six months I found this pre-facelift, early-1996 wagon, on its third owner and unmolested. (The above photo shows it as it was when I took it on.)
How much is your car to insure? Find out in four easy steps.
Get a quote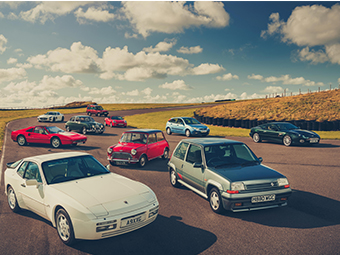 Best of all, it was an early Prodrive conversion, from the days when the Banbury-based company was running the world championship-winning Subaru rally team. Prodrive recognised the potential in the road car and used its rally preparation knowledge mostly to improve the suspension, along with exhaust, wheel and interior upgrades.
In fact, these early conversions like mine could be ordered to the exact specification as Prodrive's now highly-sought after McRae Impreza limited edition: Bilstein suspension, Eibach springs, thicker rear anti-roll bar, Prodrive exhaust system, 16in Speedline Safari wheels in place of the standard 15s, Momo gearknob and Recaro front seats (plus retrimmed door cards and rear seat to match). These were converted in-house, unlike the later Prodrive conversions.
My car was fitted with a security system and electric glass sunroof when it arrived in the UK in January 1996. It then went to Prodrive for the wonderful Recaro upgrade at a cost of £1900 (on a £17,000 car); what an improvement on the awful flat, tweed-look seats of early Impreza Turbos though.
I think it was also fitted with Prodrive alloys but by the time I bought the car, for £2000 in early 2015, it was on later-model alloys. Thankfully the Recaros were still intact though. It had covered just over 80,000 miles and was running well but rust was starting to bubble through the rear wheelarches. Still, there were no signs of nasty modifications or accident repairs…
Two weeks later a local lady drove into the side of it, damaging the passenger side front wing, both doors and rear wheelarch. The insurance company – not Hagerty! – tried to insist on taking it away for assessment, while at the same time valuing it at £800 pre-accident. The likelihood was that they would pronounce it a write-off and I wouldn't see the car again; a long fight ensued and in the end the company agreed to a cash settlement of £800. There's an obvious lesson to be learnt there about non-specialist insurers.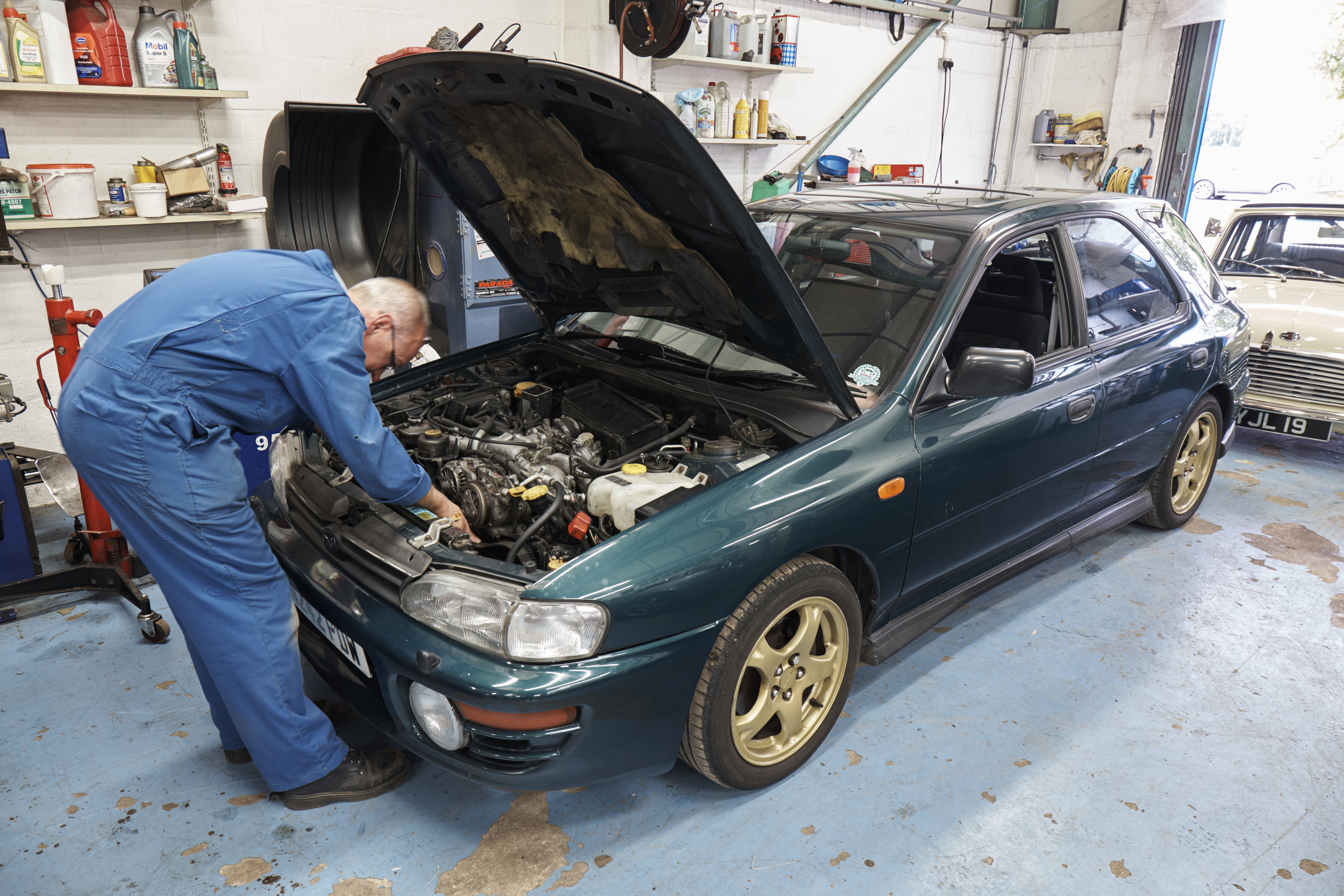 So it was repaired, and I continued to use the Impreza as my everyday car. I fitted Powerflex suspension bushes, changed the rotten radiator and made repeated attempts to quell the cam cover oil leaks. It had replacement cambelts and multiple oil changes over the following years.
The exciting stuff came when I started investigating those early Prodrive specifications for the all-wheel drive machine. I contacted Bilstein to ask if they knew anything about the Prodrive-developed struts. The answer was no, followed by a call a few days later saying a crate of Prodrive-spec Impreza struts had been found in the warehouse, having been there for years unidentified. I had to have a set.
An Impreza forum member had already commissioned a batch of Prodrive-spec springs from Eibach, so I bought those too. The conversion genuinely transformed the car, making it much more stable and responsive but without making the ride any firmer. Amazing.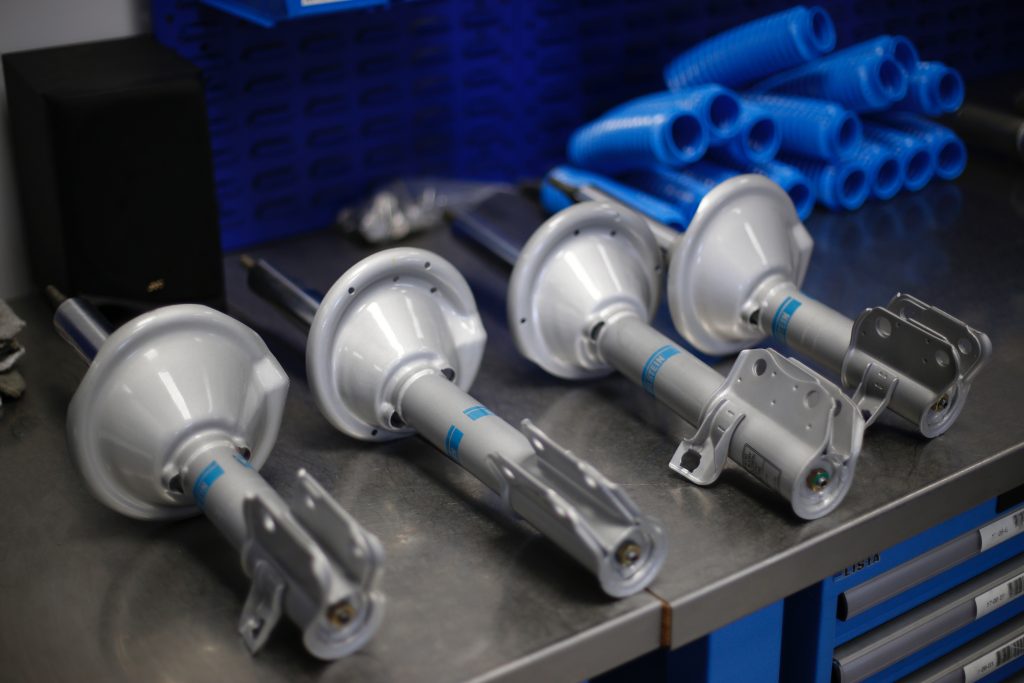 The finishing touch was tracking down a set of original Prodrive-fitment Speedline Safari wheels and a thicker rear anti-roll bar. Now it was a proper Prodrive car to me, just like the cars in the eBay-find Prodrive brochures.
Last year though, I realised how badly the years were treating my beloved Impreza. The rear wheelarches were rotten and I dreaded looking under the plastic sill covers. The final straw was an MoT advisory of a small hole in a chassis leg. It was time to make a decision: sell or invest.
To my shame, I tried selling, but a rusty Impreza is worth nothing except in parts, which wasn't an option to me. Instead, I shipped it to a mate's restoration workshop, Skunkwerks, and there it's been ever since. You'll have to wait for the next instalment to hear about the horrors uncovered.
4 May, 2021: Body beautiful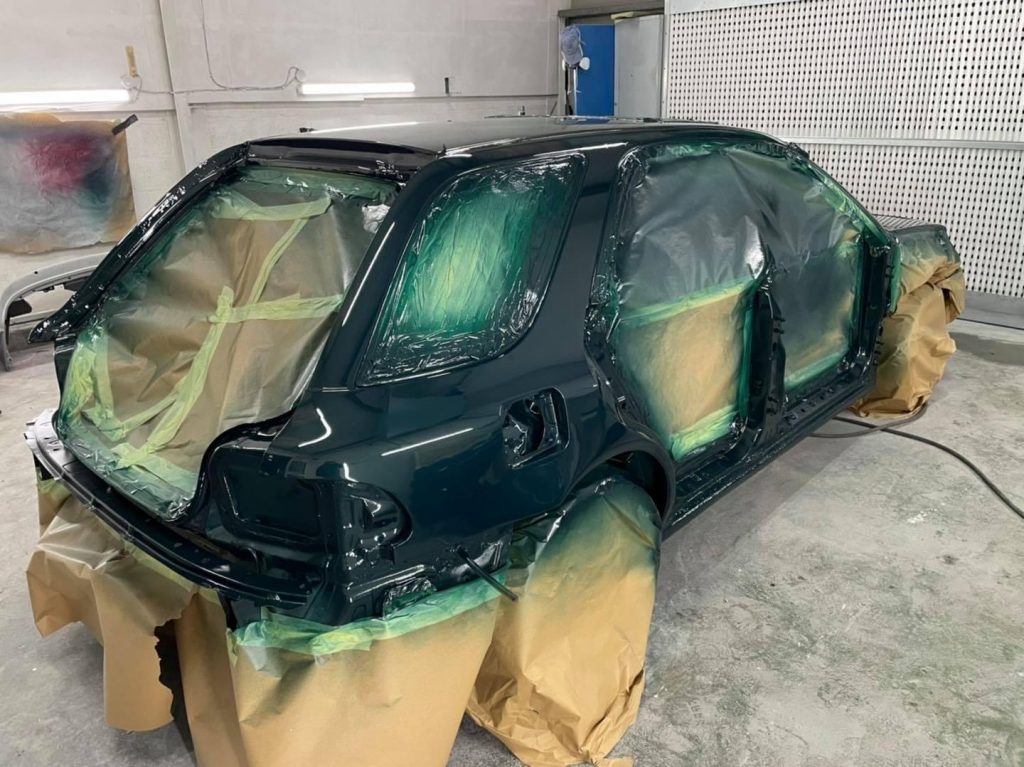 I left you last time having set the scene of my love for this early Impreza wagon – and how I then tried to sell it, failed, and guilted myself into delivering it to a friend for 'a refresh'. Oh, how I laugh when I look back…
It all started on a trip to Le Mans in 2019, sharing the drive with Sam Anker, a former JLR engineer who'd just set up a restoration business, Skunkwerks, in Lancashire. We got chatting about the Subaru, which even back then was showing the results of four years and 80,000 miles of my everyday use in all weathers. I rashly promised that if I decided to keep it, then I'd be happy for Sam to get it back to a more presentable condition.
Eight months later, having offered it for sale at £2000 and receiving no interest at all, I agreed to hand it over to Sam. I knew that it would need the leaking cam covers re-sealing, a driveshaft replacing, a thicker rear anti-roll bar fitting, the inoperative electric sunroof looking at, and an investigation into how much rust was hiding behind the bubbling rear wheelarches and under the plastic sill covers.
Then lockdown hit, so another few weeks passed before Sam could take the Subaru. By then the insurance and MOT had run out, so the Subaru was ignominiously taken to Skunkwerks on the back of a transporter.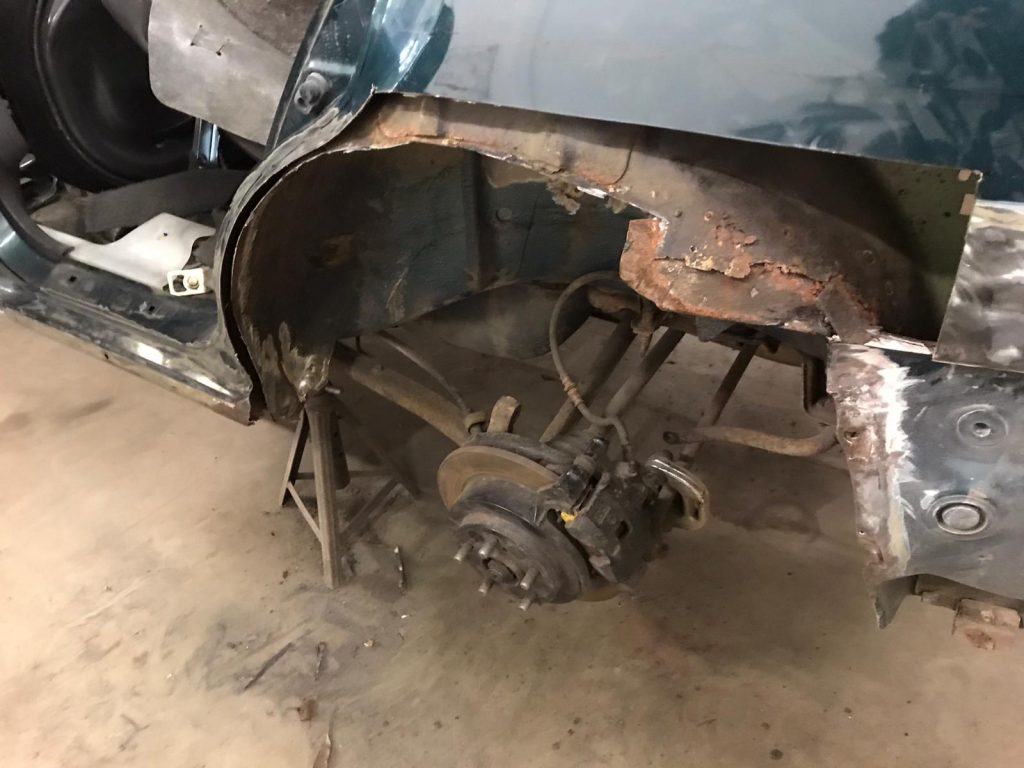 Once there, Sam ripped straight into it and the news wasn't good. Sure enough, there was serious corrosion in the sills, the rear inner and outer wheelarches were rotten, the bottoms of the front wings were bad and a couple of chassis legs needed repairs.
All of that was expected though more extensive than I'd realised. But what very few online and print buying guides on Imprezas ever mention is that if an Impreza's rear wheelarches are rusting, then the rot is likely to have started higher up in the bodywork, particularly in the rear suspension turrets. I asked Sam to take a look – and sure enough the turrets were bad too. This was turning into a full restoration.
As Sam continued on his rust-finding mission I ordered new panels where I could. Replacement sills and inner and outer rear wheelarch repairs are sold in the UK by Ray Culver at Automotive Repair Panels (who also has a fine collection of early Imprezas, including the first Prodrive conversion). I initially opted for Ray's budget sill repair panels but quickly realised that we needed his full replacement sills instead, at around £100 per side.
I'd bought some cheap secondhand front wings a couple of years back, but they needed work. Genuine Subaru front wings are around £185 each; pattern panels are about £65 each. Seeing as the used wings would need an hour or two of professional labour to get them into shape, I took a gamble and bought new pattern parts instead – and news back from Sam a few days later was that they fitted perfectly. Phew.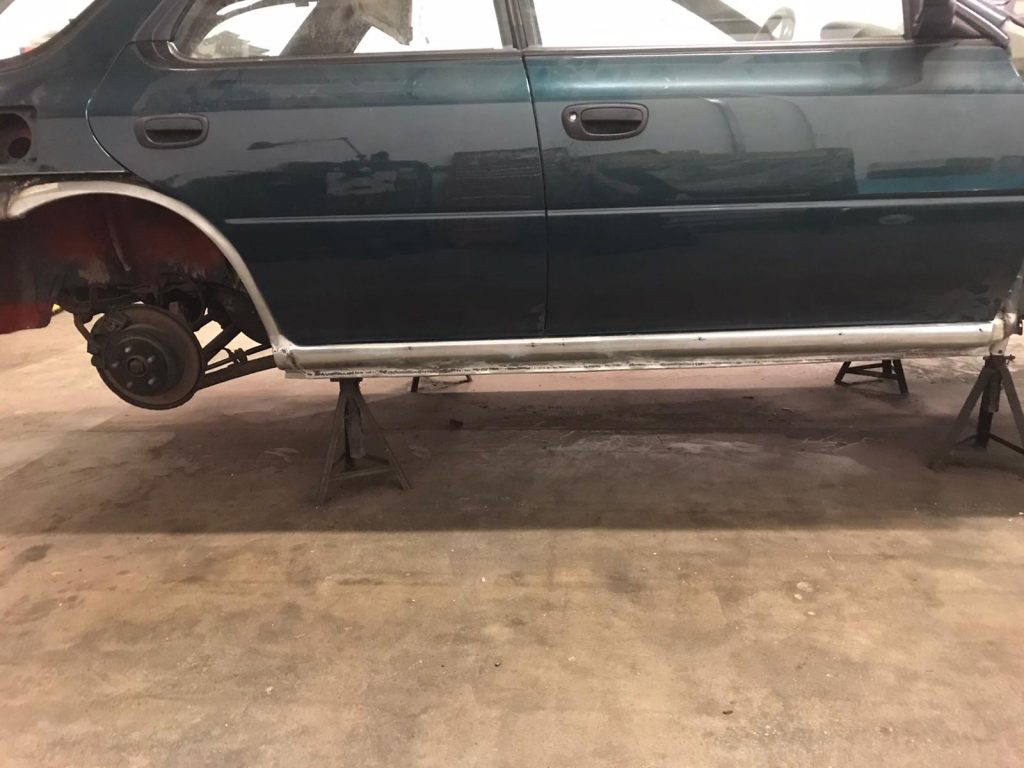 Meanwhile Sam was cutting the rot out of the turrets from inside the boot and under the arches, and fabricating and welding new metal in its place. He also brought in a specialist to remove the many small parking dings in the doors, plus a nasty dent in the driver's side roof rail from before my time with the car. For a bargain £80 all the dents were removed, rather than leaving them for the bodyshop to fill and sand.
Sam had been on the hunt for bodyshops in his area, because those he already knew had long waiting lists. The best bet seemed to be RO Performance in Bury; they sent someone to inspect the car for a fixed-price quote, and once Sam was finished with the welding, collected the Subaru from Skunkwerks and started work immediately.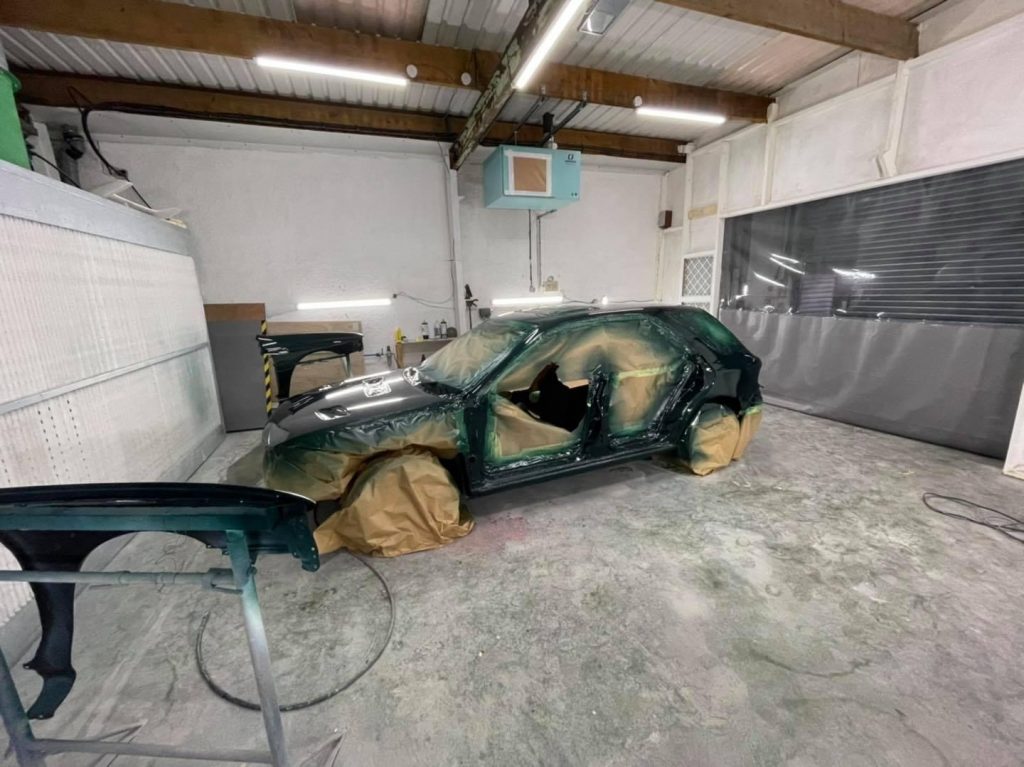 They removed doors, bonnet and tailgate but left the windows in to keep costs down. Once in primer, they invited Sam to visit to check he was happy, at which point I paid half the agreed price, and then the next thing I knew the RO Performance Facebook page was showing pictures of one very shiny Impreza wagon in its original Deep Green metallic. Wow! It wasn't long before it was back with Sam for reassembly, which is where I'll leave you until the next instalment.
06 July, 2021: Smoke! Sagging headlining! Sunroof shenanigans!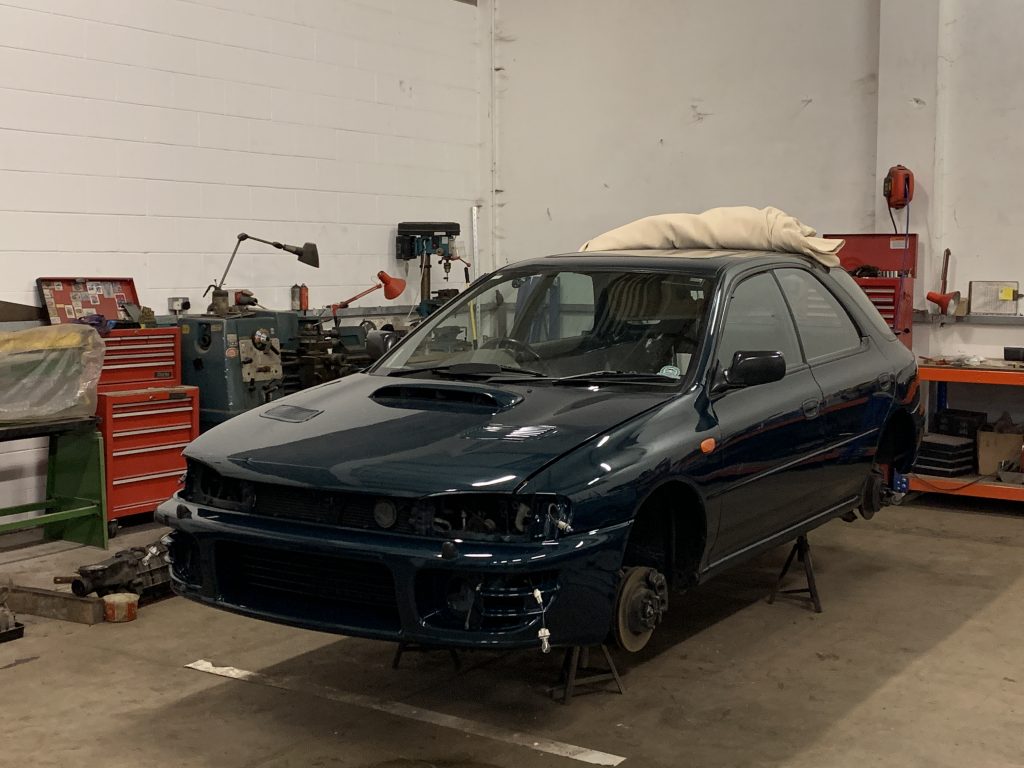 There's a stage in every restoration when the car looks more or less complete but the to-do list seems as long as ever. The Impreza hit that stage a few weeks ago, when RO Performance transported the repainted rolling shell back to Skunkwerks, ready for the last push to bolt it back together.
Sam at Skunkwerks then set to the mechanical jobs, starting with the front brake calipers, which had partially seized while the car was sitting around. At the same time, Sam looked at various solutions for the corroded rear brake pipes, which have been flagged up as an MOT advisory for years, never quite bad enough to fail. Replacing like-for-like means dropping fuel tank and rear subframe – shudder – so we decided to use Aeroquip lines instead. The rear flexi hoses were replaced with braided lines to match those I'd fitted to the front a couple of years back, when I also replaced the discs and pads. As an aside, I went for EBC Yellowstuff at the time, which stop well but produce more dust than any previous pads I've used.
The rare Prodrive-supplied Speedline Safari alloys were sent for blasting and powdercoating in the correct Speedline Gold. While they were away Sam cleaned up the Bilstein suspension struts and fitted a thicker rear anti-roll bar, once he'd had it blasted and powder-coated.
Then it was time to fix the oil leaks. Ever since I've owned the Impreza, the cam covers have dripped oil onto the exhaust manifolds, which can be alarming if the car hasn't been used for a couple of weeks because the oil burns off with a plume of smoke out of the bonnet vents.
There had been two previous attempts to fix the leaks, neither of them by me because it's a nasty job on the flat-four engine, with little clearance between the low-down cam covers and the engine bay sides. The first attempt tried pattern part rubber gaskets but didn't last long. The second attempt identified that one cover was warped, so a used replacement was sourced, and fitted with genuine Subaru gaskets.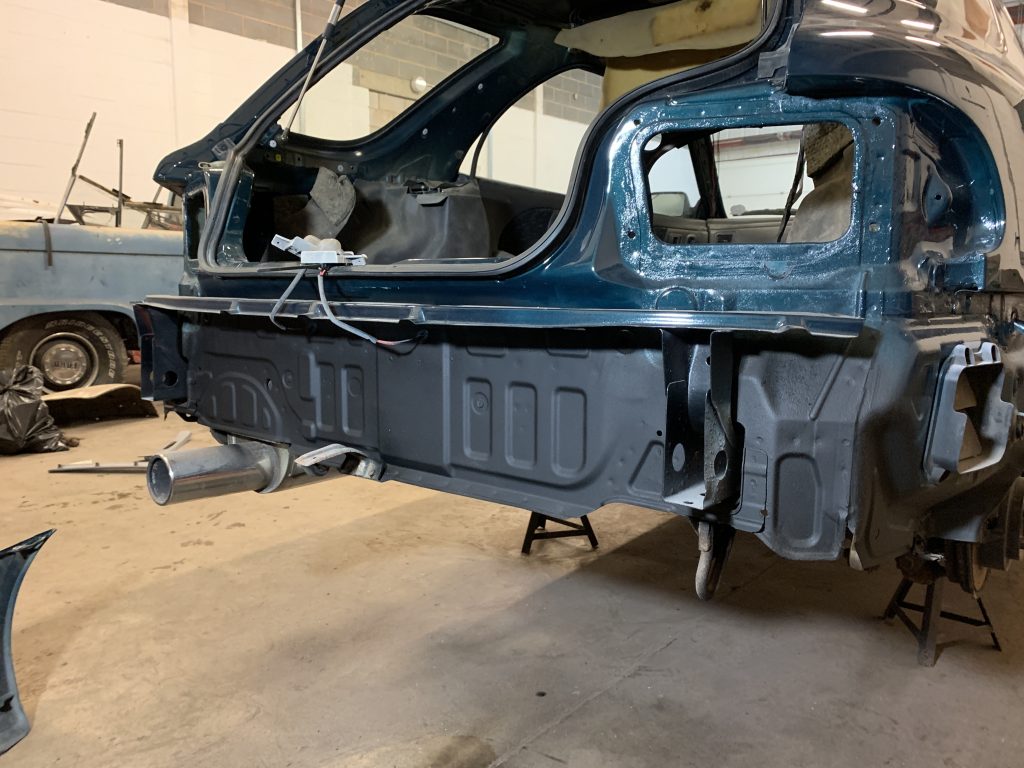 That one lasted longer but an inspection about three years ago at Roger Clark Motorsport (brilliant on Imprezas) noted that they were leaking again, this time from the fixing bolts. The recommendation was to try again, this time with genuine Subaru sealing washers on the bolts as well as gaskets.
So that was Sam's instruction, with the parts sourced from the amazing ICP (Import Car Parts) in Bishop Auckland. At the same time, Sam spotted a drip of oil from the turbo, which seems to have stopped now, so it's likely that the turbo seals had dried out a little while the car was sat around.
Refitting lights was easy, but with aftermarket rear light seals from ICP rather than relying on the mastic that the factory used. If an Impreza has a wet boot carpet, it's usually due to water getting in via the rear lights. The wheelarch and sill covers needed new fixing clips (sourced from ICP and from eBay) but the trickiest job of all was yet to come.
I'd removed the sagging, disintegrating nylon headlining from the Impreza before I sent the car to Sam at Skunkwerks, partly to get at the non-functioning electric sunroof motor, partly because it was becoming a biohazard. My faultfinding confirmed power at the sunroof motor; Sam found that its internal gear had stripped. It was made by Vermeulen, later bought by Webasto, and parts are still available.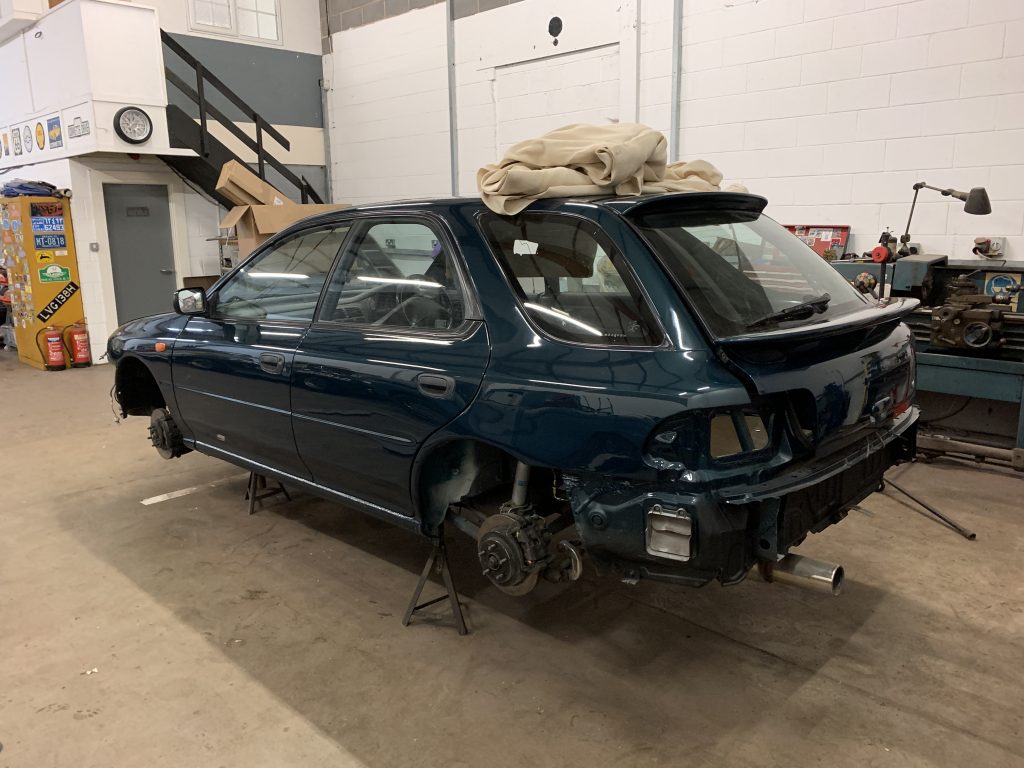 It was originally fitted by a sunroof specialist in Wales, commissioned via the importer or supplying dealer when the car was new. What was clear was that though the sunroof had been fitted well, the original hardboard headlining backing had been hacked around (ok, bodged) to fit around the sunroof. Perfectionist Sam was appalled, and I wasn't too impressed.
I managed to find a wagon headlining from a breaker, for £100 (including postage) due to their rarity now, but it was slightly different from the original, and with Sam's hourly rate clocking up as he struggled to make the board fit, this became possibly the most expensive Subaru headlining in history. The irony is that I don't even like sunroofs.
And that was the car finished, just awaiting wheels to return, now with new tyres from Vintage Tyre Supplies. Next up, taking the Impreza for its MOT…
10 August, 2021: Shakedown stage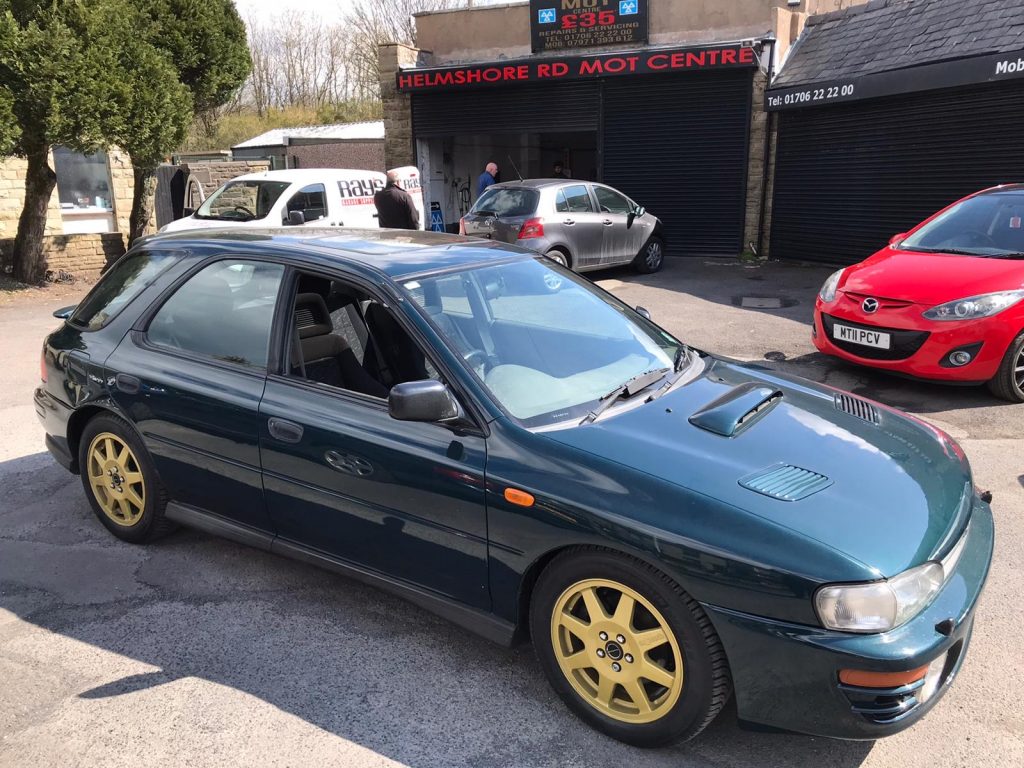 The Subaru is home! It barely seems to have registered with the neighbours that it's been missing for nearly a year or that it's now much shinier, though 11-year-old Bobby over the road is pleased that "the green car with the gold wheels" has reappeared.
After all the hitches with the fiddly headlining in the final stages of the rebuild, it was a big relief to receive an "It's passed!" WhatsApp message from restorer Sam Anker of Skunkwerks when it sailed through the MoT. Another message swiftly followed mentioning that the tester complimented Sam on the condition of the car and the quality of welding underneath – that will be the new sills and the chassis leg repairs then…
Sam isn't going to thank me for mentioning that he spent an unhappy hour before the MoT trying to work out the windscreen washer 'fault'. Having traced and tested the wiring he called me in frustration but I couldn't think why the washers no longer worked. Until, that is, I remembered one of the quirks of the Impreza – pulling the wiper stalker back simply gives a single wiper but isn't meant to operate the washers, though it's easy to assume it should. In fact, the button on the end of the stalk operates the washers. Poor Sam had to admit that actually, yes, the washers were working after all…
The final touch before the MoT was a new set of tyres. The old ones still had a fair bit of tread but were beginning to crack through age, and seeing as they'd had to come off for the wheels to be powdercoated it seemed mad not to replace them. I quizzed Vintage Tyre Supplies on what would suit the car; the answer was Dunlop CrossClimates, so that's what I went for. They're an unusual but clever choice for the Subaru, giving it even better wet weather grip and decent tread life. I'll report back on how they feel.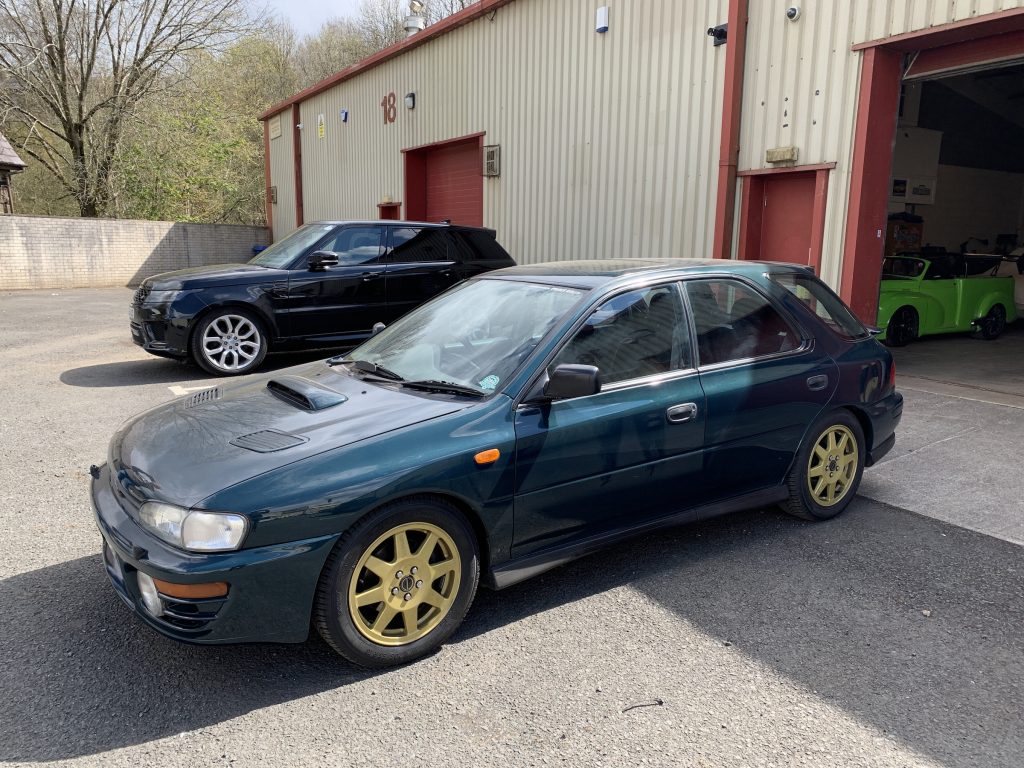 Sam put a few shakedown miles on the Subaru to make sure all was okay. As a Mitsubishi Evo owner, he was keen to compare the Subaru with his own car, which we'd driven to Le Mans in 2019. My feelings back then were that the Evo, though only three years newer, felt more modern and higher quality, particularly inside, but was harder-riding with more transmission noise. I wasn't convinced Sam would like the Subaru as much.
I was wrong: he was impressed with how well it rides on its Bilstein suspension, at its pick up from the less powerful engine and at the lack of squeaks and rattles for a car that's now 25 years old. It wasn't long before Sam gave me the all-clear to brave the train up north to collect my beloved Impreza.
It was quite a moment seeing the finished car. Sitting in it, I felt immediately at home again and all worries at the 170-mile, three-plus hours trip home evaporated. I did my best to ignore Google Maps and made my way over the moors for a while before realising that I was running out of time. So, instead, I hit the A1M for a long, fast blast, punctuated by just one stop to fill up with fuel and check for oil and coolant leaks. I'm pleased to say all was good.
Now the Subaru is enjoying a more pampered life, reserved for special outings – including to the Goodwood Festival of Speed – and living in a warm garage the rest of the time. Once I've finished writing this I'm heading to Norfolk in it, dropping off my Saab 96 seats at a trimmers on the way. It still has to earn its keep you know…
15 March, 2022: Exhaustive exhaust search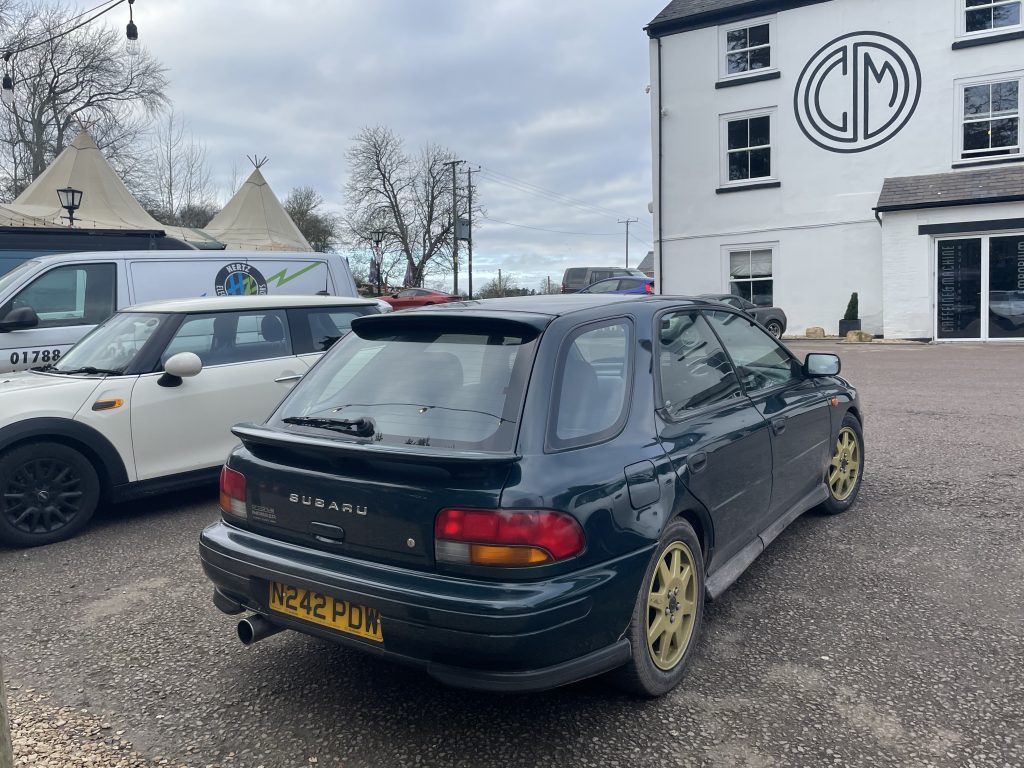 Well this is all a bit shocking. Seems I've not updated here for a while, and that makes me realise that I've not used the Subaru nearly enough – though you'll see from the pictures that it did at least have a fast blast over to Caffeine & Machine recently.
So what's happened? It's the age-old convenience versus classic problem. The Subaru is in my garage; a tight fit but easy to access. But my everyday Honda CR-Z is on the drive, even easier to access. And more fuel efficient. And less precious to me. Isn't this the same slippery slope that I've been down before, most recently with an immaculate Porsche 996? I ended up selling the 996…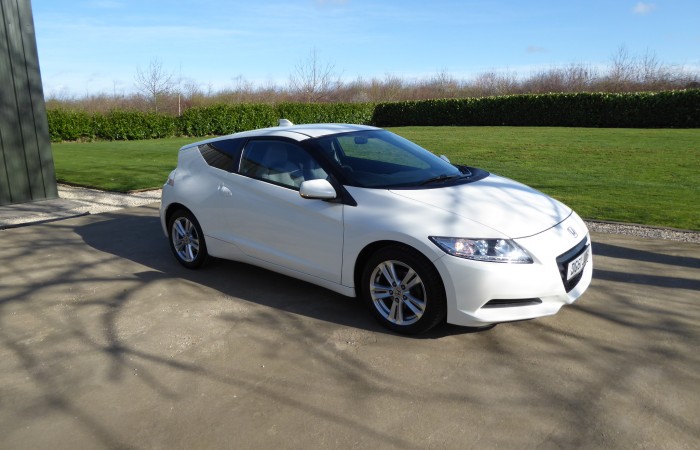 That's not going to happen this time around. The Subaru is a great everyday car. I know that because it was my everyday car for five years, covering nearly 80,000 miles in that time. It's been super-reliable, it's comfy, it will do 28-30mpg in normal driving (not hanging around but not thrashing the life out of it) and it's great fun.
So rather than under-use the Subaru I'm going to sell the Honda. It's time anyway, and without it I'll use the Subaru through the summer while adding to the rustproofing ready for the autumn. The thought of rust returning turns my stomach, after so much work last year to eradicate the rot from the rear wheelarches and suspension turrets, the front wings and the sills. Please, never again!
Other jobs include tidying the engine bay, which is currently clean but scruffy. It needs a few bits repairing but I'm keen to keep all the original stickers in place (obsessive, me?). I do have a strut brace that I might fit but that needs to be cleaned and painted.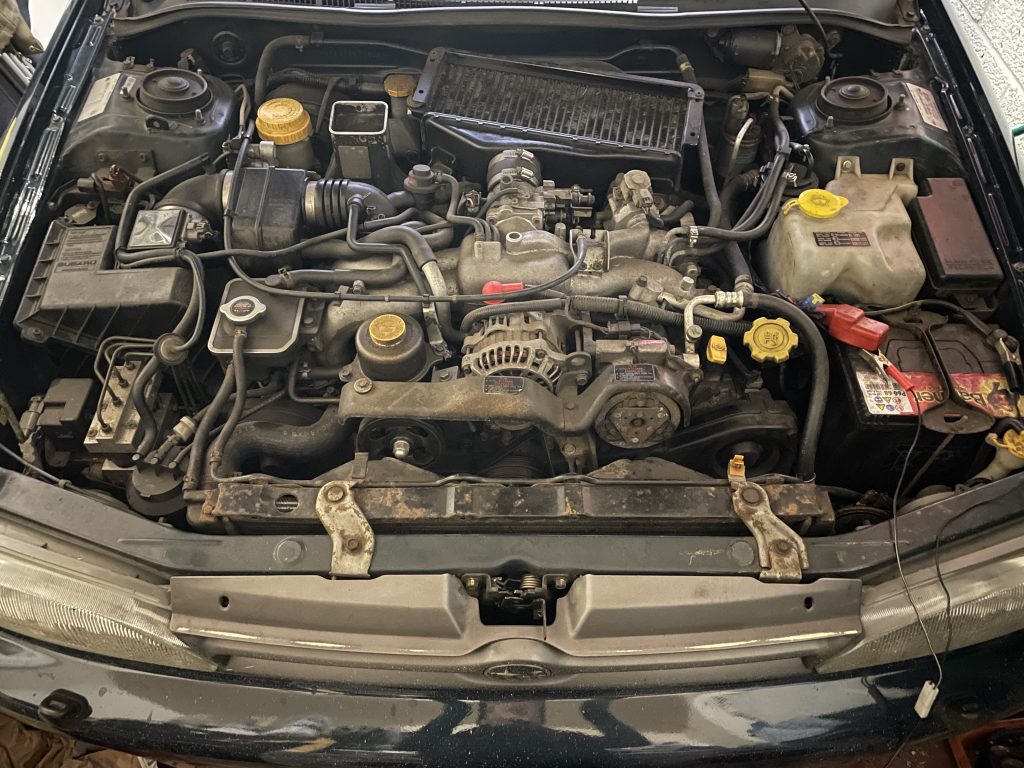 There's something else that's been bugging me: the exhaust note. My two previous Imprezas sounded better than this one. The Hawkeye was on a standard system but had a pleasing throatiness to it that made it feel pure Subaru. The 1997 facelift Classic had a Hayward & Scott exhaust, and it sounded epic without being an embarrassment or resonating at high speed.
This one, a pre-facelift Classic, sounds… ok. It's got a reasonable burble to it with the Prodrive back box but the rest of the system is original, so it's still quite restrained. Weirdly, it also whistles from the exhaust very slightly as the turbo starts to boost. On the standard back box, there's no whistle and the car feels smoother and actually a little quicker, though I think that's because it doesn't sound as though it's working as hard. But the flat-four burble is suppressed so some of the character is lost.
What to do? Hayward & Scott systems are no longer made and used systems are an extortionate amount of money. A full Prodrive system would suit the car's provenance (being an early in-house Prodrive conversion). What I don't want is a dustbin-sized tail pipe and an exhaust note that wakes the dead and makes me want to kill someone after a long journey. All sensible suggestions welcomed.
Meanwhile, I've got my grandad's old Saab 96 V4 to finish and I need to thoroughly clean the Subaru. I've never been a big fan of the HS2 project but driving through some of the mess created by it on several occasions on the way to and from Caffeine & Machine made me like it even less. Still, Caffeine & Machine is a great place – just be sure to visit it but do try to skirt around any HS2 workings.
Tweet to @djlillywhite
Follow @djlillywhite
Impreza fan? Bookmark this page as David will regularly report on his Subaru Impreza Turbo.