A Fiat 500 – the 1950s/60s/70s version at least – is very small. Smaller than an original Mini. In Europe, nothing apart from a bubble car was tinier. In Japan, though, tiny cars were (and still are) a well-populated sub-category of their own, containing some microscopic jewels of cleverness.
These are the keijidōsha or 'kei' cars, designed for narrow and crowded Japanese streets and, in some cities, able to be bought by people who had no off-street parking and otherwise wouldn't have been allowed to own a car. The rules of kei-car definition have changed over the years, and since 1998 they have been allowed to be up to 1.48m wide and to have engines up to 660cc. From 1951 to 1976, though, the width limit was just 1.3m (4ft 3in) and engines were limited to 360cc. Next to such cars, a Fiat 500 (1.32m wide, engine of 479 or 499cc), seems recklessly extravagant.
How much is your car to insure? Find out in four easy steps.
Get a quote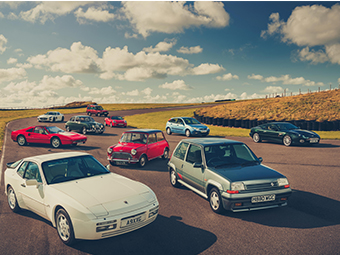 Now, here I am at the Tiny Car Company just outside Chelmsford, Essex. Before me are several very small cars, assembled for sale by company founder Tristan Brunt who's 6ft 3in tall. Does he fit? "Sometimes I have to splay my knees a bit."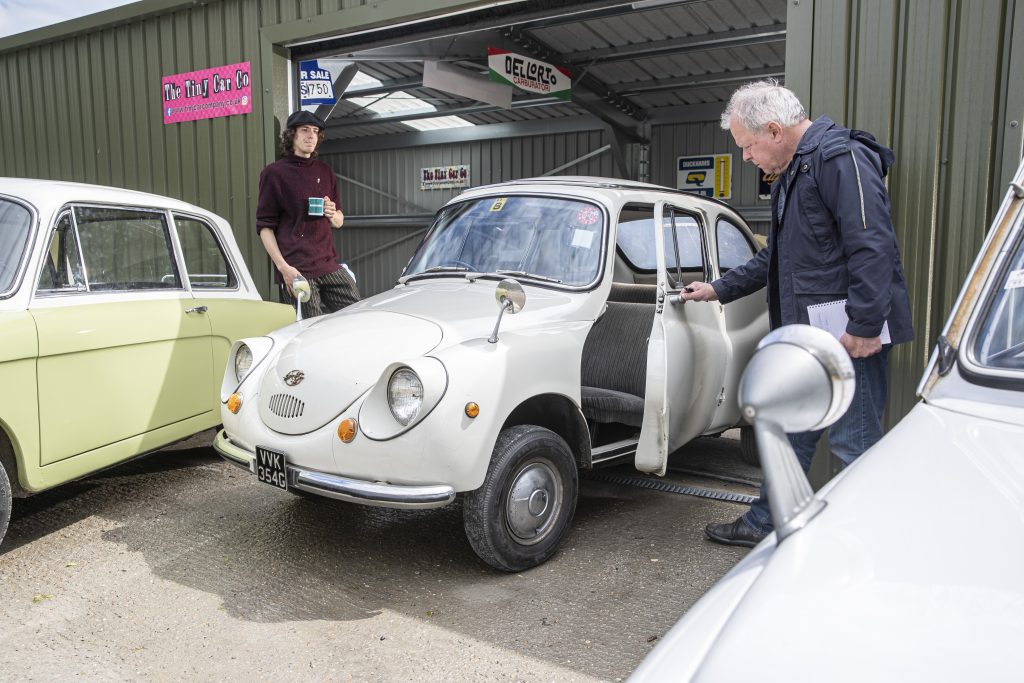 In pride of place are his two smallest temptations, both by Subaru, both in that 1951-to-1976 kei-car category. "Mostly I sell Fiat 500s to non-car enthusiasts, but these are a bit different and a bit of fun. People don't really know what they are, and expect a Subaru to be metallic blue with gold wheels and a rally heritage."
Tristan, 23, started the Tiny Car Company less than a year ago, quite an achievement given Covid and all, and already he's looking to relocate to a bigger shed, its build nearly finished, across the yard from his current one. "My parents are 1970s obsessives," he says, "and it's rubbed off on me. I'd really like a Bond Bug, or a Honda Z.
"When I was 16, I decided to take my dad's Fiat 600 to bits. He'd given it to me for my birthday. It had a hot Abarth engine and used to be raced by a guy called Wally Pratt." I know the car, I reply; I drove it in 1987 and wrote a story about it in Motor magazine. "No way! That's amazing! Well, the shell went rotten and all the goodies went into another one, and that's the one it has now. One day I'll get it all back together again."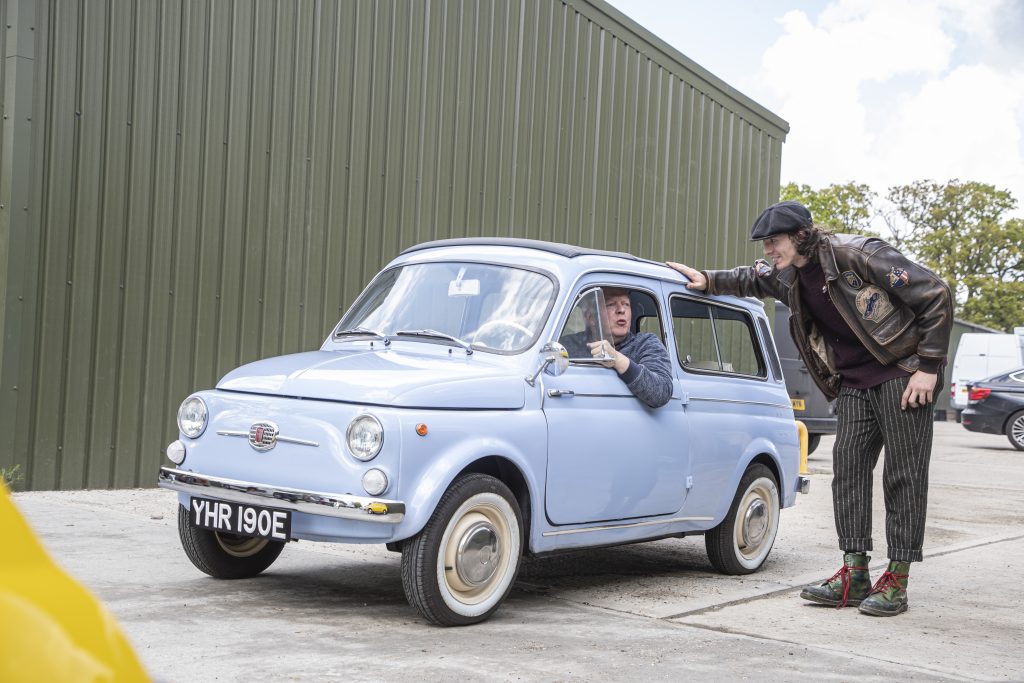 Tristan got some help from his father to to fund a trip to Italy and buy a few 500s, got them shipped back here, improved them a bit and sold them. Then he searched out, bought and sold a few more and realised he had a business, which wasn't necessarily how he thought things would turn out once he'd finished his media production course at university. It just shows that if you're enthusiastic enough and have an eye for the right cars, your hobby can turn into something bigger – even in a pandemic.
So, the kei cars. Up to now, my experience with these Japanese miniatures has been with surreally hot 1990s examples brought over by their manufacturers' UK importers to gauge press, and public, reaction. Those most indeliby imprinted in my brain are a pair of turbocharged terrors with tiny four-wheel drive systems, both with names so long they required the whole length of the sill to be stated in full. They were the Mitsubishi Minica Dangan ZZ and the Daihatsu Cuore Avanzato TRXX, three-quarter-scale models of fierce hot hatchbacks. 'Frisky' barely scratches the surface of their waywardness at full chat on a bumpy road, especially the manic Minica.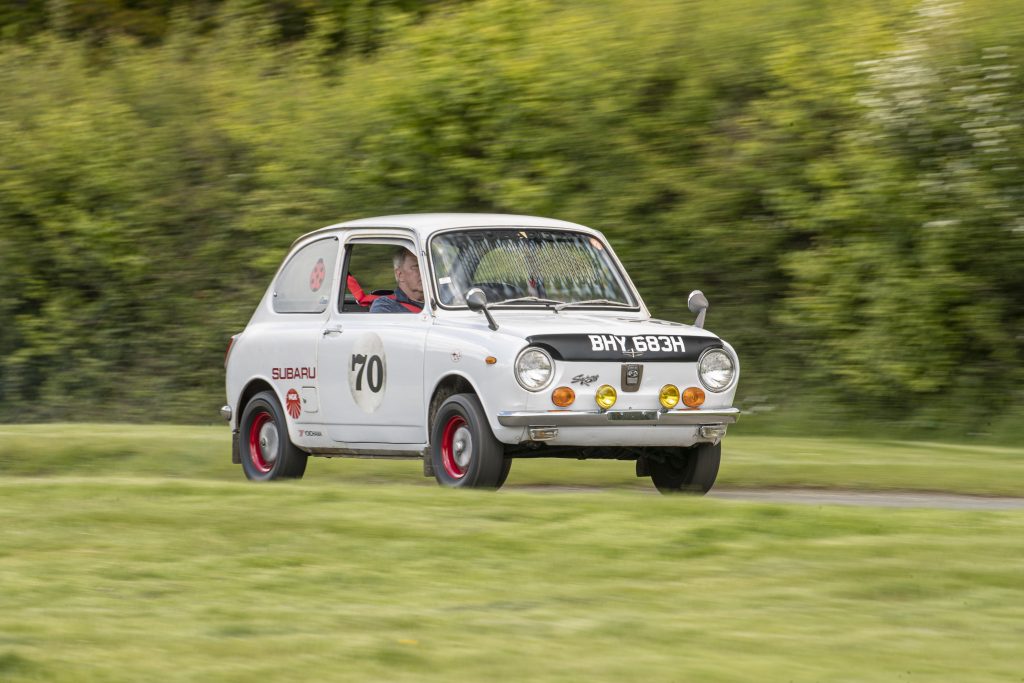 Tristan's Subarus are earlier and purer. They are a 1968 Subaru 360, a model launched in 1958, cartoonishly rounded and Subaru's first production car, and a 1970 Subaru R-2 Sporty Deluxe with shades of shrunken Fiat 850 and, on this example, a nice line in distressed racing graphics. But before I enter their miniaturised world, I'll calibrate myself with the standard tiny-car template: the Fiat 500.
This is not a normal 500, though. It's a Giardiniera, the estate-car version whose name suggests an appeal to Italian farmers tending to their vines or, more likely, plain frequenters of garden centres. For this it's ideal, with a flat load platform revealed behind the side-hinged rear door and a folding rear seat which, when folded, matches the platform's level. Lift the platform and you'll discover a topological variation on the regular Fiat air-cooled vertical twin, this one laid on its side to become what you might call a flat-parallel-twin – if you had to give it a name.
Estate-car changes apart, this is a regular 1967 500 with 18bhp to haul it along. Those changes include a higher rear ride height to allow more suspension travel, given the potential for carrying stuff, so when unladen there's a comical amount of positive camber in the swing-axle rear suspension. All Giardinieras, incidentally, have rear-hinged main doors even though 500 saloons went front-hinged with the 500F model in 1965, and from 1966 to 1968 they were built for Fiat by its Autobianchi subsidiary. Our pale blue car is one of those.
It recently emerged from a major three-year UK restoration, but Tristan warns me there's still some shaking down to do before it's ready or sale. Most obviously it has an engine shake verging on the eye-blurring at low engine speeds, but replacing the incorrect-spec engine mounts will fix this. It also has a particularly sweet gearchange, requiring a double-declutch for downshifts like all 500s (there's no synchromesh, just dog-clutches) but very forgiving of imperfect co-ordination of clutch, gear lever and accelerator.
Of course the Fiat feels very small, although airy with its big windows and sunroof, and slightly precarious at the tail. You can sense that it's built down to a very low price because there's little finesse in the way its controls operate, but that's how Fiat 500s are. The kei-cars were built down to a price, too – so how will they compare?
First off, the Subaru 360. It weighs just 410kg, helped by the 'Over Top' fibreglass roof and Perspex rear window, and it makes an extraordinary 25bhp (probably a 'gross' figure, so the reality is a little less) from its 356cc engine. It's a rear-mounted, air-cooled parallel-twin like the Fiat's, but unlike the Fiat's it's transverse and, crucially, a two-stroke. This second fact means not only that it's more powerful per unit of cylinder capacity, but also that its pistons can be arranged so one is up when the other is down, rather than both moving together. It makes the engine a whole lot smoother.
That's not the first difference I notice relative to the Fiat, though. Instead, it's that the door, rear-hinged again, opens and shuts with delicate precision and that, once inside, nearly everything else moves similarly in that oh-so-Japanese way. The front seat cushion is a two-person bench, but there's just about room for two small people in the back.
It has a proper key starter, not a floor lever as in the Fiat, and the three tiny pedals are floor-hinged like those of another air-cooled, rear-engined machine, the early 911. First gear is on a dogleg, left and back, and the top three gears have synchromesh. Up to a point.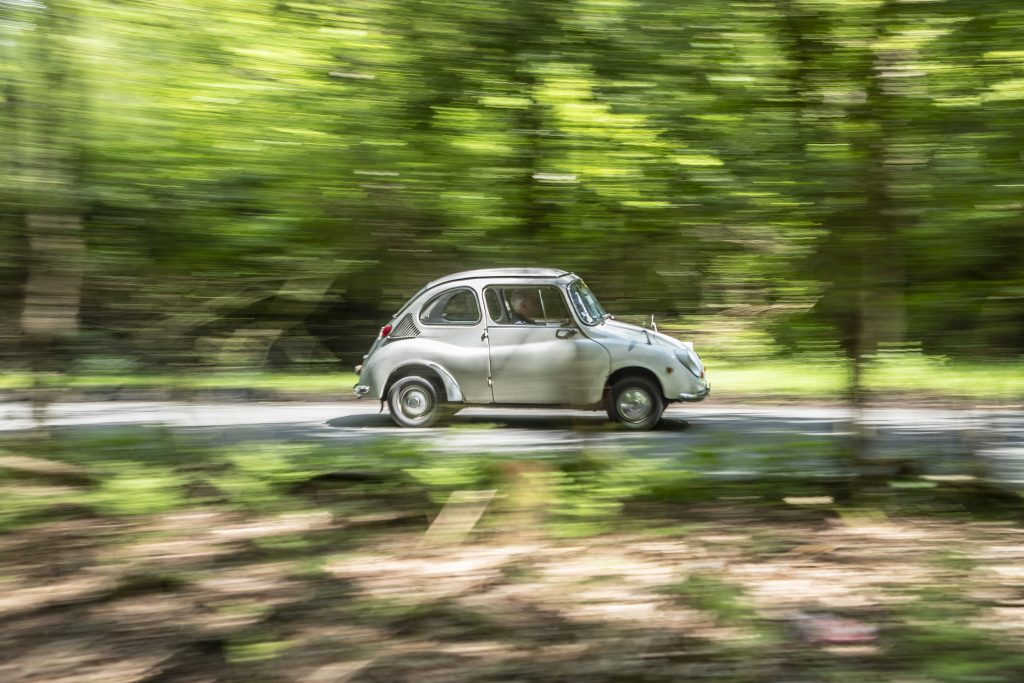 We're off, in a haze of blue two-stroke smoke and a smooth, eager buzz aft. The steering is almost ludicrously light, helped by the age-hardness of the tiny 4.80-10 tyres, and the 360 feels almost frisky until there's a hill to climb. Diving into a downhill right-hander it proves to have comically little grip, especially at the swing-axled tail. It's a while since I've driven something that feels so precarious as it dithers over whether to understeer, oversteer or just steer. But at these speeds it's all good, harmless fun.
This 360 was imported by a trader who normally brings in more modern Japanese machines, having bought it 'by mistake' at a Japanese auction after putting in a bid he thought too low to succeed. It then failed to sell at a UK auction and sat in a showroom in Hayling Island for a few years until Tristan, who had been eyeing it for a while, bought it. Patina abounds, but it's solid and it all works. Truly, this is Japan's Fiat 500.
Subaru, though, was keenly aware of the 360's failings and set about fixing them with the R-2 launched in 1969. Here was a roomier, more modern body, under which lay new rear suspension with semi-trailing arms and much less camber change, and the 'EK33' engine now offered a heady 30bhp (probably 'gross', again).
And in Tristan's Sporty Deluxe we find miniature motorsport-look seats with rows of eyelets like you'd find in a Ford GT40, and a proper Nardi steering wheel to go with the R-2's properly adult, if still miniaturised, dashboard complete with original torch beneath. Outside are fat Yokohama trackday tyres (added by Tristan and meant for a Mini) to set off the tiny wheels with their exposed, finned brake drums. There are many signs of surface rust where the paint has worn thin, but no nasty bubbles. Patina, again.
These cars are much prized in Japan, and the president of Japan's Subaru Society would allow this one to leave only if accompanied by another spares car, and a further stash of spares, to ensure it could stay in use and be enjoyed. And use it you most certainly can, because once past 5000rpm (leaving a further 1500rpm or so of usable power band) it's really quite perky. It will eventually get past 70mph, and in getting there you'll have enjoyed an all-synchromesh gearbox with a normal shift pattern and a deliciously light, easy action.
At lower engine speeds it feels a bit flat but it's happy to vroom-pop gently along in its aromatic two-stroke miasma, of which there's rather less than with the 360. As for that revised suspension system, it's a revelation. Those fat tyres grip like crazy, helping towards a turn-in bordering on the hyperactive until you learn a light touch, yet the tail stays planted and faithful. It's, yes, a little go-kart, an over-used analogy but this time truly merited.
City cars could hardly be cooler than this, and for a while Tristan had a great time using it every day. But we'll end with another chic city accessory, which brings us back to the default Fiat 500 template. It's an Autobianchi Bianchina from 1964, a high-fashion restyling of the Fiat complete with tailfins, a buttressed rear window and two-tone paint. Inside is (relatively) luxury-look trim including a gold-faced instrument cluster, and the whole thing is gloriously, unnecessarily indugent.
"It's the Italian equivalent of a Riley Elf or a Wolseley Hornet," Tristan observes. And to drive? Unsurprisingly, it's just like a Fiat 500. That means it lacks the completeness, precision, engineering polish and mad vitality of that captivating Subaru R-2. Am I smitten with the Sporty Deluxe? You bet. Unsurprisingly, just weeks after I visit the Tiny Car Company, the Sport Deluxe is sold. But the others are still waiting to go to a good home. Could that be you?
Read more
Buying Guide: Mini Cooper (1961-1971)
Your Classics: Iain Ralston and his Suzuki Cappuccino
Start them old: Learning to drive in classic cars