My daughter is giving me that look. The look that says, 'Don't even think about it'. The look that says, 'Get me out of here before I escalate the situation'. The look that says, 'I will disown the family if you put me through this.'
"This should be fun!" I say, doing that thing that all parents do and acting oblivious to her body language.
How much is your car to insure? Find out in four easy steps.
Get a quote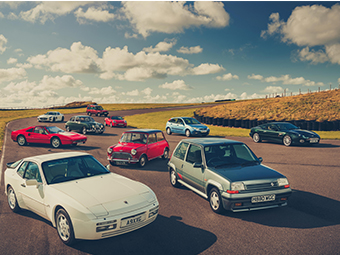 We're at the British Motor Museum, in Gaydon, Warwickshire. In one corner of the car park, behind barriers, a driving course is set out with cone-guided lanes. And lined up, awaiting 17-year old Pia Mills – a learner driver with a provisional licence – is a 1934 Austin Seven, a '59 Morris Minor convertible and a '63 Vauxhall VX490 HB.
They are, to put it mildly, a tad different to a 2018 Renault Twingo, the only car she has experience of driving. She reacts as though I asked her to hand over her iPhone and replaced it with a gramophone.
Pia is here because of an inspired move from Young Driver, the organistion that has been helping tomorrow's drivers get valuable seat time before taking their driving test, preparing them for all that emotive stuff like independence, the freedom of the open road and, er, the theory driving test and 'show me, tell me' vehicle safety questions.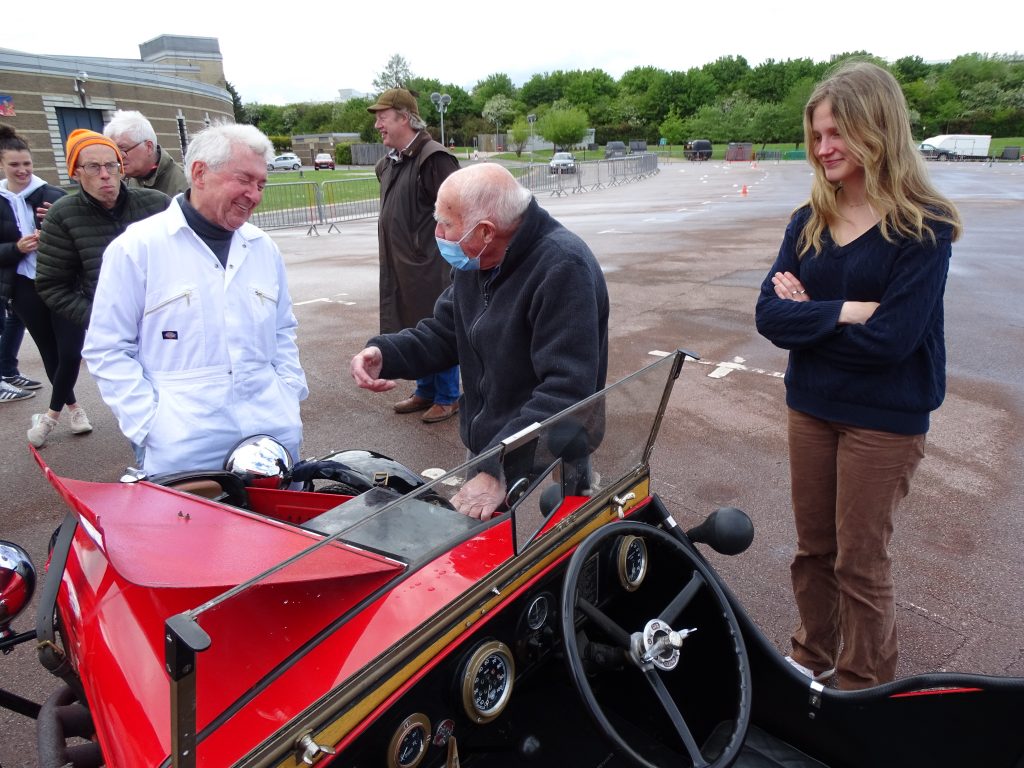 It has introduced a new experience that encourages young drivers to get behind the wheel of a classic car. Who knows, perhaps after discovering the 'joys' of a starter handle or choke, and feeling what it's like to drive with the wind in your hair and flies in your face rather than being bombarded with Snapchat streak stats, young drivers may be pleasantly surprised to find they enjoy stepping back in time?
Founded in 2009, Young Driver original concept was simple: let anyone aged 10 to 17 and more than 1.42 metres tall get behind the wheel of a dual-control Vauxhall Corsa, alongside a qualified ADI driving instructor. Quentin Willson, a patron of the organisation and perhaps best known for his time as host of BBC Top Gear, tells Hagerty it was spun out of an idea that was planted after Ian Mulingani, Young Driver's Managing Director, saw the results of a study conducted in Sweden that considered the impact of lowering the age of the provisional driving licence, from 17 and a half to to 16, extending the time to learn to drive.
"They did a test with two groups of people," Willson explains, referring to 1999 research carried out for Accident Analysis and Prevention, by Elsevier Science. "One group was people aged under 17, the other was people aged 17. The 17-year old group went through the normal learning-to-drive process of, undergoing normal lessons and the test over a six-month period. The other group underwent a year-and-a-half of tuition. When you compared the accident statistics for the two groups, two years after passing their test, the average reduction in accidents for the drivers that underwent the early training was 40 per cent.
"Where I come from that's the biggest kind of difference in any road safety survey or experiment that I've ever seen. So that's why we set up Young Driver," adds Willson.
This is a significant contribution to preparing drivers for the road ahead. And it's set against a backdrop of declining numbers of young motorists. A total of 2.97 million people aged 16 to 25 hold a full licence, down from 3.32m in March 202, and 3.42m in 2012 when records began.
Young Driver has been a roaring success, in more ways than anxious parents and nervous students may have imagined. There are now 70 venues where young people can try their hand at driving, and around 900,000 lessons have been delivered. And before the environmental finger can be wagged at Young Driver, those lessons are claimed to be carbon neutral.
It has pledged to plant a minimum of 1000 trees a year, offsetting the emissions of its vehicle fleet. Sue Waterfield, head of marketing at Young Driver, says the organisation has a duty to not only the environment but the young, formative minds that learn to drive with the company. "Our customers are 10–17 year olds who represent the next generation of motorists. The environment is of great concern to them and moving Young Driver toward being a carbon neutral company is a crucial objective." To that end, Waterfields says Young Driver teaches students "…to be more environmentally conscious behind the wheel. Youngsters taking lessons with us will be taught best practice for greener driving – such as a light touch on the throttle and brakes, anticipation to avoid wasting energy and switching the engine off whenever possible."
Before any engines can be switched off today, they have to be started. And that is no small feat when your car's engine has to be cranked to life using a starter handle. Pia, my daughter, looks on, a little confused – perhaps wondering why the nice gentleman doesn't simply put a key in the ignition and give it a twist or press a button on the dashboard, rather than labouring, doubled-up, over a crude looking handle?
Soon enough the Austin Seven is firing on all cylinders and the instructor is talking Pia through the controls of the dinky little car that proved a huge success in the '20s and '30s. Like all the classic cars used, the Seven features dual controls. That said, there isn't too much to bump into on the private course, other than the traffic cones that mark the route.
After stalling when pulling away, the Seven is cranked back to life and for the next 15 minutes Pia is all smiles, clearly enjoying the way the little sports-bodied Seven feels from behind the wheel.
"It was great fun but the pedals are absolutely tiny," exclaims Pia. Sure enough, peering into the footwell I can see that they weren't exactly designed with wide, Nike Air trainers in mind. "It was easy to steer but I used more revs than I probably needed to and the gearstick isn't marked, so I just had to trust my instincts," she reports. The most endearing aspect of the Seven isn't what you might imagine: "The horn is really fun!"
Next comes the car that's caught her eye – the 1959 Morris Minor convertible. After another 15-minute session, there follows a debrief Danica Patrick would be happy with. "This was hard to drive. It was difficult to balance the clutch and accelerator, and the clutch seemed to bite a long way up from the floor. I'd have liked to put the roof down [it had been raining] but I still enjoyed it a lot and found it was the easiest to park."
Those skills – feeling your way around the quirks of an old car that needs to be handled with some degree of sympathy – are useful, says Quentin Willson. "Kids can be more sympathetic to the rise and fall of the engine, the movement of the clutch, the amount you have to press the brakes to stop. These days you're desensitised to modern cars and that kind of being sympatico with the mechanicals is really important. If you have to plan ahead for braking distances, manage large turning circles and think about what you're doing, that's got to be a good thing for awareness – and if you're having fun at the same time then I'm all for it."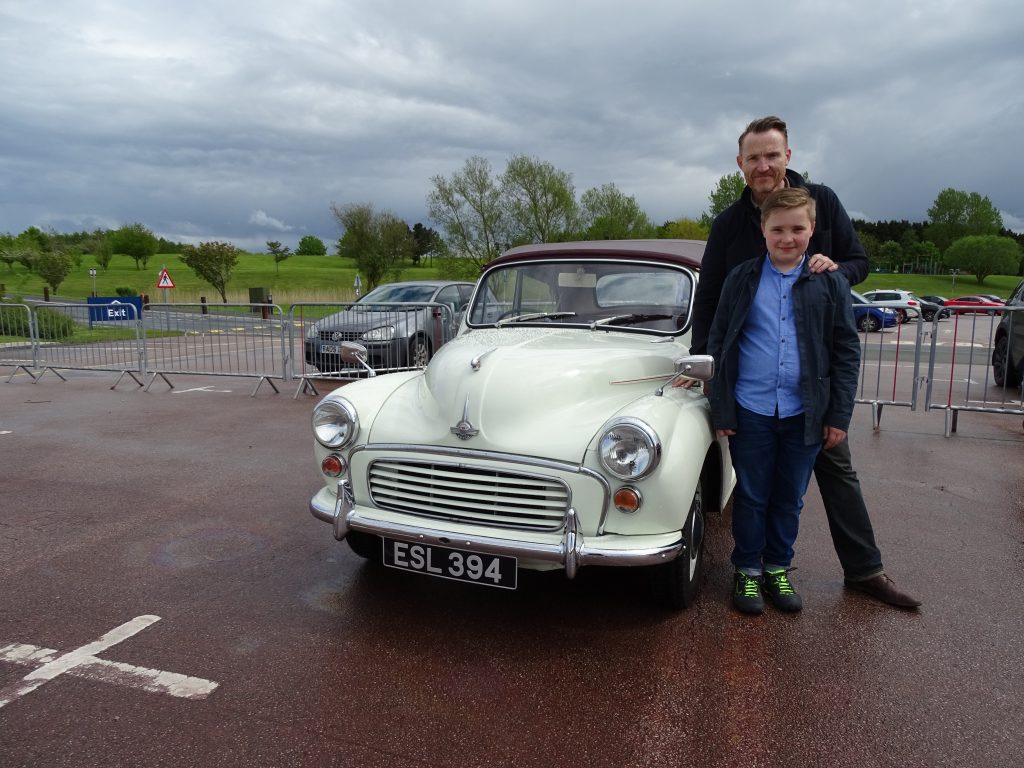 Chester Ferrier seems to echo those thoughts. The 12-year old from Barnsley, Yorkshire, has been treated to a surprise drive by his father, Sacha, with a drive of the Vauxhall VX490. Sacha and Chester have a Morris Minor at home, which Chester has driven, but as much as Chester is a young petrol head who enjoys watching Top Gear, he reckons his friends would rather hang out playing games on their Sony Playstations: "If I could persuade my friends to come and try this I think they'd enjoy it; it's a bit different. I would recommend it."
The final drive of the day for Pia is with the youngest car of the lot, the 58-year old Vauxhall VX4/90 HB. It's a rare thing, with only 10 estimated to be left on Britain's roads. Despite being the most modern, the big steering wheel and wide tyres take their toll, with Pia reporting that the steering is noticeably heavier to handle than the other cars. This was Vauxhall's sporting saloon of the day, but I'm not entirely sure that explains why it needs so many revs to pull away without stalling. Perhaps the clutch is due for retirement.
This may be preaching to the converted, but Young Driver's efforts are to be applauded. It has added a new and different dimension to the experience of learning to drive, and says that in the longer-term it plans to roll out the classic courses to as many as 10 of its locations, spread around the country. Each lesson costs £25, and as gifts go, be it for passing exams, birthdays, Christmas or just because they deserve it, it's more memorable than most. And hey, who knows what seeds it might sow for the future…
Has this exercise opened Pia's eyes to the appeal of classic cars? "It was just a really fun and different experience, and it made me appreciate that modern cars make everything so easy that you don't have so much to think about when you're driving," she tells me.
"Does this mean I can drive your old cars, Dad?" she asks, mischievously. I give her that look. "Pass your driving test then we can talk about it…"
To find out more about the classic car experience from Young Driver, click here.