Price: £5995
Year: 1988
Mileage: 53,700
Condition: Ready for the Midnight (bingo) Club
Seller: eBay
It was a race between two particularly unexceptional horses for this week's Unexceptional Classified.
How much is your car to insure? Find out in four easy steps.
Get a quote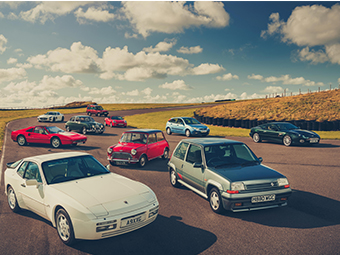 In lane one, representing Sweden but less likely to receive points from the judges than the country's Eurovision entry, a startlingly beige example of a Volvo 340DL. It's in quite remarkable condition and you can almost feel that soft mocha-coloured cloth from here.
But we endeavour not to repeat ourselves here in classified corner, and already featured a 340 back in January, albeit one not nearly as appealing. Running adjacent was our eventual pick, a 1988 Nissan Sunny Coupé, and what a pick it is.
Read contemporary reviews and this generation of Sunny could have been called the Cloudy for all the light it shone on the world; when people picture the archetypal dull and characterless Japanese car in their heads it's usually somewhat unfair, but Sunnys of this era were unexceptional fresh from the factory floor.
The Sunny Coupé, as is a coupé's mission in life, was an attempt to add some pizzazz to the range. And boy howdy did it almost do nearly that, its 1980s origami lines looking perhaps more handsome today than they did at launch, but not quite elevating onlookers' heartbeats to the same level as the turbocharged Nissan 200SX or V6-powered 300ZX sold alongside.
Interesting visual touches include a flush-fitting front grille, a strong character line rendered by the side rubbing strip, and a rear screen that wraps around to butt up against the Sunny's sloped B-pillars. That other indicator of 1980s style, the heckblende (that colour-coded piece of plastic spanning the rear light clusters) is also present and correct.
The Coupé gets plenty of unexceptional points on its own for being rare and unloved, but the seller of our classified find is also at pains to point out the ZX designation on the V5 is incorrect, and that this one's actually a GSX.
While the latter might sound sportier than the former, the reality is the other way around. ZXs got a relatively peppy 122bhp twin-cam four-cylinder, good for a 0-60 scrabble of only 8.5 seconds. The GSX, though, made do with a single-cam 1.6 and only 84bhp, sweeping to 60 in a rather more leisurely 11.5sec, no quicker than the common-or-garden saloon.
The cabin did at least get some sporting flair, and the one on this car looks as original as they come. The three-spoke steering wheel is sportier than the 6000rpm red line, but those well-bolstered seats look smart, and all that glass must be great for visibility. Oh, and if the engine bay shot didn't give it away, the Sunny was of course front-wheel drive, so no budget drift car potential here.
Entries for this year's Hagerty Festival of the Unexceptional have already closed, but if you wanted to sneak into next year's event in something unexceptional, but don't want to give up a taste of coupé glamour, this might just be the best way of doing so.
Also read
Unexceptional Classifieds: Lancia Dedra
Unexceptional Nissans: Leaf overtakes Bluebird production at Sunderland plant
Future Classic: Ford Puma