Spend any time in the north east of England and you'll notice the roads are awash with Nissans. Buyers are fiercely loyal to the Japanese brand because it's been a key employer in the region since 1986, and the opening of the Nissan Sunderland Plant.
Then, the car rolling off the production line was the Bluebird, the first wholly Japanese car to be built in Britain. Things are a little different thirty-five years later, with Toyota and Honda having joined the push to build cars in Britain. And at Nissan's Sunderland site, the pace of change is perfectly illustrated by what's being built now – the electric Nissan Leaf. Produced at the plant since its debut in 2012, Nissan has been watching the numbers clock up and announced this week that production of the Leaf had overtaken the Bluebird.
How much is your car to insure? Find out in four easy steps.
Get a quote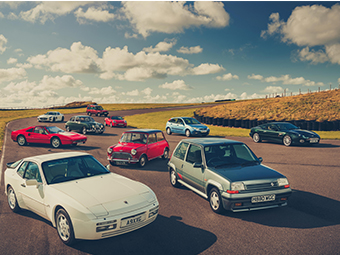 That's right, Nissan's pioneering EV has now found more homes than its Festival of the Unexceptional favourite. A total of 187,178 Bluebirds left the line between 1986 and 1990, when it was replaced by the Primera, while 195,380 Leafs (and counting) have left Sunderland since 2011 with no end yet in sight. More than 6000 people now work at Sunderland building the Leaf, Juke and Qashqai, with 19 staff who started in 1986 still working on the Leaf today.
The Bluebird showed Nissan could match its Japanese quality standards in plants overseas. The model was also instrumental in avoiding Japanese import quotas at the time – one reason Japanese cars built before the 1990s are so uncommon on UK roads today. While unremarkable, the Bluebird's dependability was instrumental in banishing the memory of rapidly-rusting Datsuns in the UK market.
There is a subtext here with the Leaf's popularity, which is that it's taken nearly a decade to overtake the figure the Bluebird managed in five years. But with half a million Leafs produced globally (meaning almost two out of every five have been built in the UK) the EV has still been a success. Along with recent partner Mitsubishi and longer-term partner Renault, Nissan was one of the first major automotive brands to commit to electric power – a path down which almost every car manufacturer is now heading.
Would it be presumptuous to also suggest that the Leaf is the definitive unexceptional car of the future?
It's certainly closer to the Bluebird than you might think, even ignoring the production figures. Both represent the generic family car of their respective times, and each did its job without ever coming close to being an enthusiast's car of the day. In 35 years' time, early Leafs are likely to be as uncommon a sight as Bluebirds (and indeed Primeras) are today, and prized by a small but dedicated band of owners in much the same way.
You can scoff, but we reckon there may be a few Leafs, Jukes and Qashqais – proudly built in Sunderland, of course – sitting on the Festival of the Unexceptional lawn come 2056…