Price: £4500
Year: 1990
Mileage: 24,500
Condition: Box(y) fresh
Seller: eBay
Whatever is to become of Lancia? In the space of three decades it's gone from the peak of World Rally Championship success to a one-car brand with little in the way of enthusiast equity.
How much is your car to insure? Find out in four easy steps.
Get a quote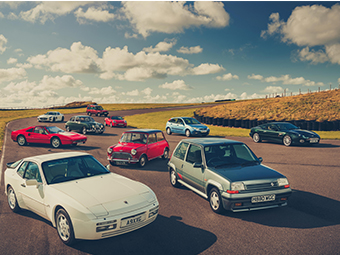 That one model is the Ypsilon, itself no spring chicken these days being effectively a posh version of the 2003 Fiat Panda. UK readers may remember it badged as a Chrysler and sold alongside the similarly Chrysler-badged Delta and the actual Chrysler 300C… which in mainland Europe became the Lancia Thema. It was all a bit confusing and incestuous. Perhaps the worst offender was the Flavia, a rebadged version of the contemporary Chrysler 200, a car that struggled to be competitive even in its native North America.
In fairness, Lancia did the best it could – cast aside preconceptions and the Flavia wasn't a terrible looking car, and its interior was better than the American car that spawned it. But for anyone who remembers Fulvias, Stratoses or Delta Integrales – or indeed the original Flavia – the era of rebadged Chryslers and long-in-the-tooth superminis has to go down as a low point.
Not that everything Lancia has ever touched has turned to gold. Take the Lancia Dedra, for instance. Arriving in 1989, it squeaked into the range between the Delta hatchback and larger Thema saloon and is almost entirely forgotten.
One of many Italian cars from the period indirectly related to the Fiat Tipo (elements of which wouldn't disappear from our roads until the Alfa Romeo GT bowed out in 2010), the Dedra's direct platform-mates were the similarly forgotten Fiat Tempra, and the more celebrated Alfa Romeo 155.
It was a saloon punching above its station. Contemporary road tests pitted it against cars as grand as the Mercedes-Benz 190E and BMW 3-series. It did not, as you might imagine, emerge victorious, though a range of fizzy four-cylinder engines and a space-efficient cabin in a class not known for it gave it merit.
Car magazine writing in May 1991 nevertheless delivered the damning verdict that it "makes neither a good ordinary car, nor a good sporting one". Lancia left the UK soon after and we were denied the dubious joys of its replacement, the Lybra, but got to enjoy the aforementioned Alfa Romeos instead, so it wasn't all bad.
However – and you probably know what's coming here – general disinterest in the Dedra makes it one of the few Lancias truly worthy of "unexceptional" status. And as you can see here, we've found one for sale, a 1990 Dedra 1.8ie with low miles for the captive-audience price of £4500.
And maybe it's just us, but there's something quite appealing here. The 1.8 was the UK's entry-level motor, but still good for 60mph in 9.8 seconds and mpg in the mid-thirties.
Ordinarily we'd steer clear of a car that's been modified, particularly when it comes to the unexceptional end of the market, but in this case it's an indication that despite the car's rarity, the previous owner presumably cared enough to make an effort. Sure, those cross-spoked BBS alloys could do with a refurb, but it gives the Dedra a bit of a BTCC vibe, which we appreciate.
The nose-up stance may need some looking at (they didn't do that from the factory) but the bodywork, complete with Abarth side skirts, looks straight. The interior looks great too, right down to that aftermarket but very period-correct four-spoke steering wheel. Dealer plates mean we can't check its MOT history, so go in with your eyes open.
Lancia has had its ups and downs over the years, and more recently they've mostly been downs. We'd all love a Fulvia or Integrale on the drive to remember the good days, but if you can't stretch to one of those, then this Dedra is at least a slightly more fitting alternative than a ten-year-old Ypsilon.
Also read
Are you brave enough to take on this pre-war Lancia barn find collection?
The Fiat Tipo introduced platform sharing but forgot about pizzazz
9 of the strangest cars that the Fiat Group never made