Price: £8500
Year: 1983
Mileage: 62,000
Condition: Never seen a rally stage (obviously)
Seller: eBay
The Lancia Delta Integrale remains one of the most successful rally cars ever produced. Its successes spanned both the 1980s and 1990s and it dominated the Group A class, relinquishing to Toyota, Subaru and Mitsubishi only when the works team finally pulled out at the end of the 1992 season.
How much is your car to insure? Find out in four easy steps.
Get a quote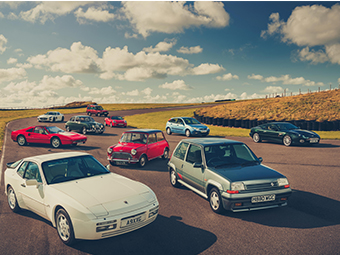 Throw in the Delta S4, and the model had some Group B success too, with five wins before the category was banned in 1986, following a spate of accidents of which the deaths of Henri Toivonen and co-driver Sergio Cresto – in an S4 – was the final straw.
With a backdrop like that, it's easy to forget that the Lancia Delta, senza Integrale, was actually just a regular old family hatchback whose greatness was thrust upon it, rather than designed in. Unexceptional, you might even call it – and we've found a 1983 Lancia Delta 1500 LX on eBay to remind us of that fact.
Yes, we know it's the second Lancia in just a few weeks. But just look at it! This 1500 wasn't even at the bottom of the Delta food chain, but somewhere in the middle. You could get a 63bhp 1.1-litre in Greece, but in most markets a 74bhp 1300 was the starting point, while the 1.5 you see here was granted a comparatively muscular 85bhp and 91lb ft of torque. That's half an HF 4WD and less still than any Integrale, but then family hatchbacks were light back in the day, and the 1500 had only 975kg to pull around.
It was the front wheels alone doing the pulling, too, and we'd be surprised if those wheels are any more than 13 inches in diameter. It's a neat enough shape – another Giugiaro piece, if you couldn't gather from the boxiness – but in humble LX specification it's perhaps not shown off to its best.
A lifetime of gawping at Integrales can't help but make a normal Delta look a bit pasty in comparison, like the kid that gets picked last for the sports team. It's hard to believe Giugiaro picked that aerial placement on the C-pillar too.
The interior's mostly as boxy as the outside, with the exception of those chequer-print cloth seats and matching doorcards. Adding to this car's rarity is that it's actually a right-hand drive model, so has been here all along, and the listing states that the car has been Ziebarted since new, which is probably why that red colour you see is paintwork, rather than iron oxide.
A quick check of the MOT history suggests it spent some time off the road between 2014 and 2020, but there's certainly nothing too scary and there aren't even any advisories on the most recent ticket.
A price tag of £8500 is quite a lot to part with, particularly if you remember tidy Integrales going for similar just six or seven years ago, but for some context, there's also a 1988 8v Integrale on eBay right now for nearly £27k (and if it's truly concours, as the ad states, the Hagerty Price Guide suggests that's a pessimistic figure).
You'll find better value in other unexceptional offerings, but not many others can boast such close links to a true motorsport legend.
Also read
Unexceptional Classifieds: Lancia Dedra
Join the Club: Lancia Motor Club
Revenge is sweet: Maserati MC20 review