In April our colleagues at Hagerty US predicted that this 2002, R34 Skyline GT-R V-Spec II Nur which has covered a mere six miles could break the half-million dollar mark. That prediction came true last weekend, when the car sold for nearly £400,000 – $549,000 (including fees).
The sale, conducted online by Japanese company Bingo (formerly BH) Auctions, smashes the previous record for a Skyline at auction, set by a Kenmeri 1973 Skyline GT-R, which sold for £330,000 ($430,000) in January, 2020.
How much is your car to insure? Find out in four easy steps.
Get a quote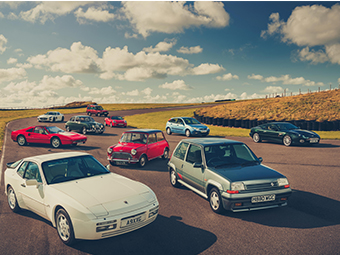 What makes this Skyline so special? The V-Spec II Nur trim, with its more powerful engine and assorted upgrades, is near the top of the GT-R pecking order. It's also essentially fresh from the factory, showing just 10 kilometres – six miles – on the clock. It has never been driven by its owners, the floor mats are still wrapped in their packaging, the protective seat covers and film placed on the car's sills to protect it during transport are still in place and the new oner can feel as though they're the first to hold the keys and sit in the driver's seat, even though they aren't.
For a generation that grew up with Gran Turismo on their Play Station, 2 Fast 2 Furious on their TV, or evo magazine on their coffee table, the R34 Skyline GT-R is a legend of the Japanese performance car scene. There may be other JDM legends like the Subaru 22B or the Honda NSX-R, but for most JDM fans, the R34 surpasses them all, and it's why collectors immediately took notice when the R34 was brought to the market.
The Japanese machine headlined a group of like-new, unregistered cars, which included a 96-mile 1996 Chevrolet Corvette Grand Sport and a three-kilometre 2017 Porsche 911 Speedster.
The record price is evidence of how the international market for Skyline GT-Rs, particularly those of the R34 generation (1999 – 2002) is accelerating with the same vigour of the twin-turbo, all-wheel drive car. To get a sense of how quickly things have changed, consider that BH Auction sold this very car back in 2018 for $316,500. That's a 173 per cent increase in value in just over three years. The record comes on the heels of a 1999 GT-R selling on Bring a Trailer for more than $320,000. Another listed right now has sailed past $250,000 with a day to go. And these are just the sales Hagerty is aware of. The private market is also white hot.
Part of the reason for that is there's strong competition from buyers in Japan, America, Europe and beyond (it has not yet been confirmed where this GT-R will wind up). Additionally, interest in the R34 is driven by comparatively young drivers, according to Hagerty insurance data, indicating that demand for the car will only rise as more millennials hit their peak earning years.
It all points to prices remaining strong for the foreseeable future. And with substantially rarer and more sought-after examples out there like the NISMO built 400R (R33) and Z-Tune (R34), million-dollar Skyline sales may already be occurring behind closed doors. The first seven-figure Skyline sale at auction could soon be upon us.
Via Hagerty US
Read more
A love letter to the JDM car scene
American collectors are scouring the globe for Defenders, Skylines and Land Cruisers
Rising fun: five of the greatest JDM performance cars